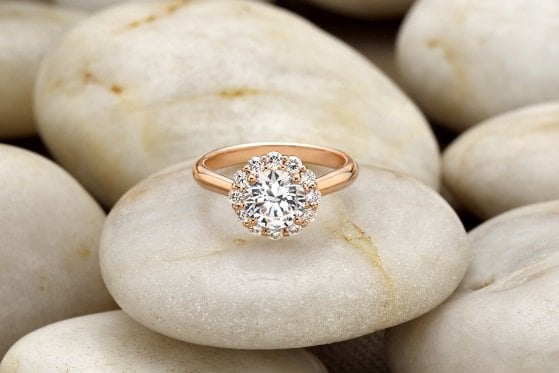 Rose gold is becoming an incredibly sought after precious metal choice for engagement rings. And with the warmth of its rose hue providing a decidedly feminine aesthetic, it is easy to understand the appeal of rose gold engagement rings.
What is Rose Gold?

Rose gold gets its lovely pink color from combining a copper alloy with pure gold.
Other common alloys are yellow gold and white gold. The pink tone of rose gold is sophisticated and subtle, and it sets off the brilliance and fire of diamonds beautifully. The warmer tones and overall depth of rose gold also make it a flattering choice for a variety of skin tones.
The Appeal of Rose Gold

Although we are seeing increasing interest in rose gold right now, it is not a new precious metal choice. In fact, it would be misleading to consider it a new trend. Rose gold has been fashionable and desirable since the Art Deco era of the 1920s, and its revival reflects an overall return to an attraction to vintage jewelry, including both antique inspired engagement rings and one-of-a-kind antique rings.  Many women are drawn to rose gold engagement rings because the soft, warm hue is such an ideal match for a vintage look.  Pink hues are feminine and elegant—yet still whimsical.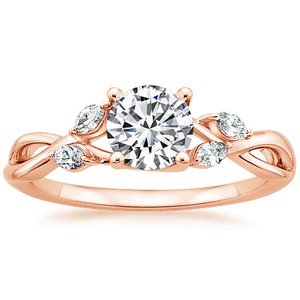 Beyond vintage settings, we think rose gold is also an ideal choice for modern engagement rings. Since rose gold is a unique precious metal choice, it can offer a modern twist to an engagement ring and a more distinctive look.
More Rose Gold Options

There are other choices for adding this sought after precious metal to your jewelry collection. Celebrating a special occasion? A great option would be to select one or more rose gold rings to stack together, perhaps with some bands you already have. You can also mix rose gold bands with other precious metals for a ring stack with a modern, fashion forward look.  Adding a rose gold element will provide you with a lot of versatility and flexibility with your jewelry.

However you choose to incorporate rose gold jewelry into your collection, this elegant, gleaming precious metal is sure to become a go-to selection.