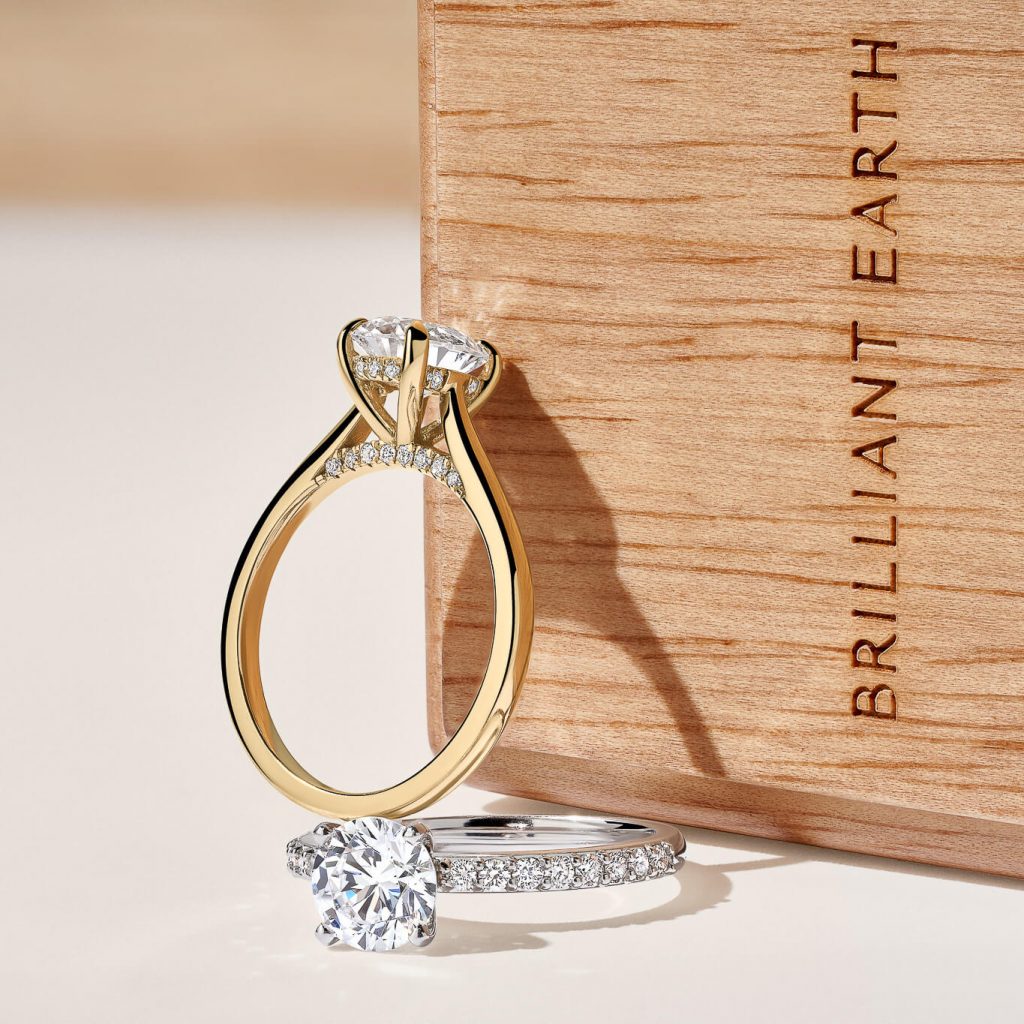 Once you say yes to the engagement, the fun begins. Of course, planning for the big day is high on your list of things to do, but have you thought about how to care for your new engagement ring? An often-overlooked part of owning a ring is planning to take care of it now and through the years to come. Most brides-to-be are naturally busy during their exciting wedding season, so we put together an easy-to-follow guide to help you keep your new jewelry just as gorgeous and safe as that first day you slipped it on your finger. 
Many of our investments have a clear monetary value, and any fine jewelry you receive upon an engagement is no different. A ring's sentimental value may be protected by keeping it literally close at hand at all times, but simply wearing the ring day in and day out may not be enough to keep this meaningful and likely expensive bauble safe.  
Read on for our eight tips to protect your engagement and wedding jewelry investment. 
1. Protect It with Insurance 
Arranging insurance coverage for your ring is one of the easiest ways to make sure your jewelry's value is protected if it's lost, stolen or damaged in any way. Upon its initial purchase, the right coverage for your engagement ring can be determined based on its monetary value. But if it is passed down or inherited in some way, a jewelry appraisal may be needed to make sure coverage is adequate. Relying on insurance coverage is a great way to rest easy knowing that if the worst happened, insurance would replace or repair this important piece. Since replacing or fixing a damaged ring can be a great expense, it is often a challenge to budget for replacement or repairs for many couples. 
Remember that your engagement jewelry, as well as your bridal set, should also be insured. Jewelry insurance is available in four main ways: under a homeowner's or renter's policy, through the homeowner's or renter's policy with a jewelry addition, as a specific property policy, or through a specialized jewelry policy. In addition, for any valuable jewelry, having pieces re-appraised every five years or so is a good idea to make sure that the value of the stone and metal of the band and diamond is properly assessed and covered. 
Learn more about Brilliant Earth's Jewelry Insurance by Lavalier
2. Protect It by Leaving it on Your Finger 
While this new addition to your hand sparkles and shines, it usually is a new experience to wear such a valuable piece daily, so considering how to care for it might not cross your mind as often as it should. For some who are newly engaged, wearing a new diamond or precious gemstone day in and day out can be exciting, but also takes some getting used to. The best habit to develop is simply leaving the jewelry on at all times unless you are visiting the beach where a lost piece would be almost impossible to locate, working out, or doing other manual tasks such as cleaning or lifting heavy objects. Constantly removing your jewelry can put your new diamond ring at risk of being forgotten, becoming lost, or even causing damage. When you do need to remove your jewelry, we recommend storing it in a consistent place each time or locking it up safely in a secure storage container for protection from damage when not worn at home.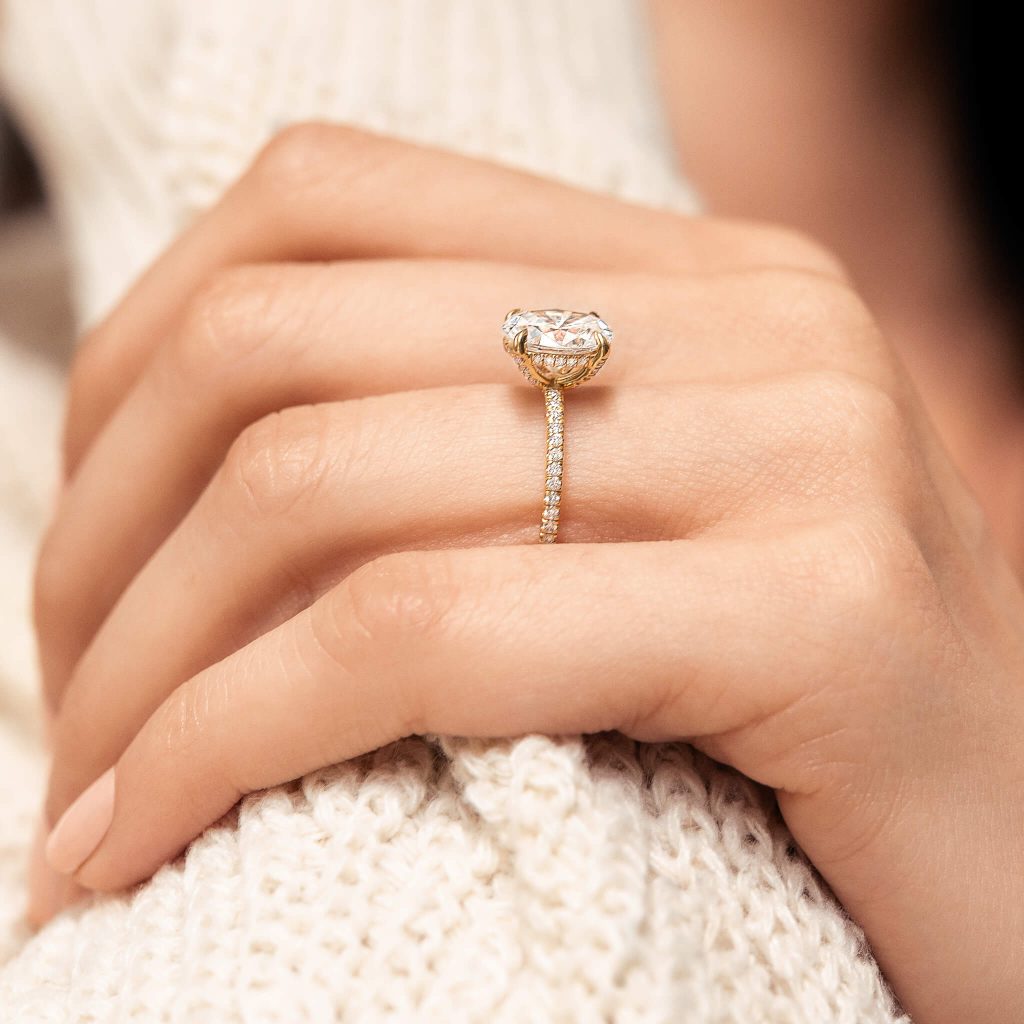 3. Protect Your Engagement Jewels When Not Wearing Them 
There are a few times when removing your new ring is the best course of action. But instead of just slipping it off your finger without a care, the best protection for your new diamond is to carefully plan. You can plan to not wear your engagement diamond during specific times and select a replica to wear while your real one is safe. Finding a duplicate for your diamond is not difficult since many department stores and specialty stores have fantastic replica jewelry that mimics most of the popular engagement or wedding styles. At a fraction of the cost, you can wear the replica jewelry while your engagement diamond is safely tucked away at home. 
But when is the right time to not wear the real thing? If your jewels are not yet insured, wearing a duplicate can keep the real one safe. Other times to wear a replica for safety reasons might be during travel, especially overseas, where a large diamond might be attractive for theft or when a lost piece of jewelry would be impossible to search for. Replicas can now be found of such high quality that no one may even suspect that the jewel on your finger is not your real ring at all. 
4. Professionally Cleaning Your Ring Protects Its Surfaces and Stones 
One of the best ways you can keep your jewelry protected is to schedule regular cleanings of the stones and band. While some might think that this would be more of a luxury than a necessity, we know that protecting an investment like a car or a house also requires regular cleaning. Treating an investment piece to a regular steam clean by an on-site jeweler can ensure that no harsh chemicals damage the stone or metals as well as provide you with a ring that looks just as brilliant as the first day it was worn. A twice a year refresh by a professional is also a good idea because it can help to manage the structural integrity of the stone and setting. 
Another reason to have your engagement jewelry scheduled to be cleaned by a professional is to simply remove the normal residue of dirt and oils on the stone that can dull the shine. And why have a gorgeous engagement ring that doesn't show off its stunning cut and carat? At-home cleaning, unlike professionally steam-cleaned methods, can be abrasive while scrubbing directly on a stone or metal can cause unintended damage. Professionals use delicate steam that shines up diamonds and bands without the use of potentially damaging chemicals to restore jewelry to its original beauty.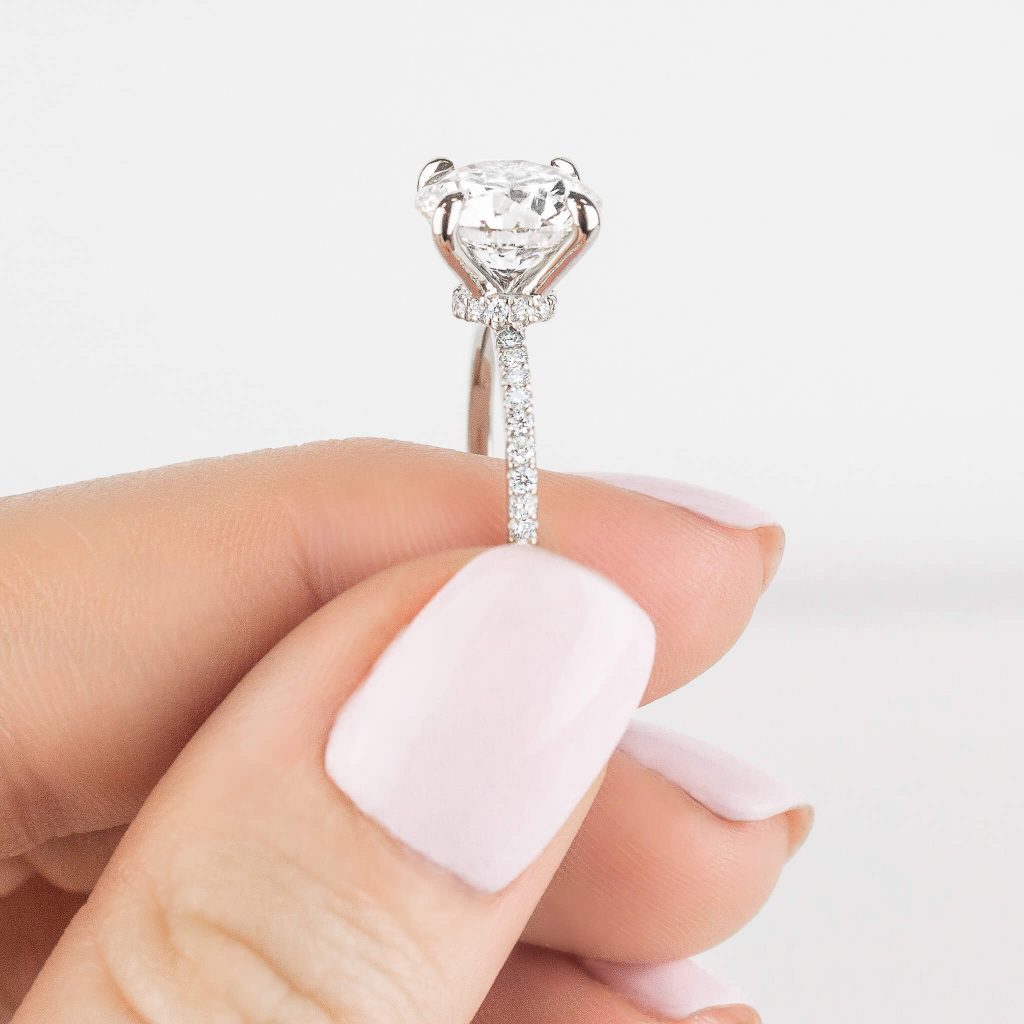 5. Checking on the Setting, Diamond, and Band Health Regularly 
One of the best ways to keep your treasured engagement jewelry safe is to give it a thorough, regular review to determine if the prongs are secure, the stone is intact, the band is unchanged, and no parts are loose or missing. When a regular review of jewelry is performed, the start of any mishaps can be easily caught before you end up down on the floor looking frantically for a missing stone from a loose setting. A regular check of your diamond can also catch any build up of residue or even small particles that need to be removed, like an errant grain or sand wedged into the setting from the impromptu beach trip. 
6. Avoid Harsh Chemicals 
To keep the brilliant shine of your engagement ring's center stone , avoid harsh chemicals. Washing your hands is an unavoidable task, but the use of hand sanitizers can actually damage your diamonds as well. When your ring is on your hand, avoid using any harsh chemicals whatsoever. 
Other substances to avoid while wearing engagement jewelry are bleach and other similarly strong chemicals used to clean as they can also cause harm to a diamond or metal band. While it is true that a diamond is one of the strongest substances on Earth, a diamond that is cut and honed can crack, chip, or even discolor with exposure to some harsh chemicals or elements. Avoiding them when possible is the best way to keep your diamond jewelry in the best possible condition for a lifetime of love and wear.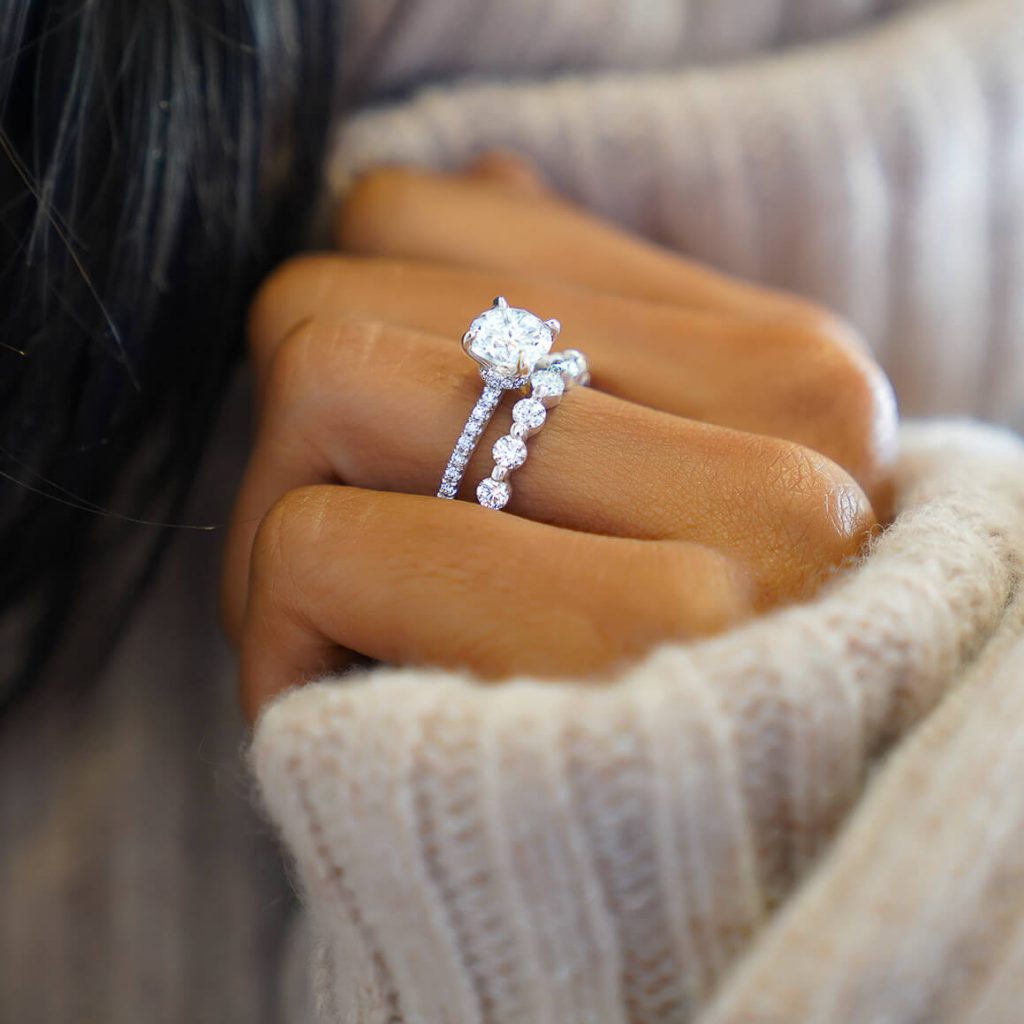 7. Sizing Matters
If your engagement ring is too tight or too loose, a resize is necessary. A band that is too loose is not only in danger of dropping off and becoming lost or damaged, but a band that spins or sits away from the finger is at risk of damage to the setting or stone. Resizing a band doesn't have to take too long, and is even complimentary at Brilliant Earth within 60 days of your purchase! But avoiding resizing can be a recipe for disaster. On the other hand, frequent resizing can actually weaken the band's metal and could affect the setting of the diamond – so be careful not to do it too often. Investing in one correct resizing may be necessary to protect the integrity of the diamond and band and can be done at the initial purchase or upon selection of the bridal set. We all know that when our hands become chilled, our fingers can shrink a little. So, it's wise to keep an eye on your valuable ring during cold weather or even around chilly water. 
8. Protecting Your Gorgeous Diamond Everyday
Wearing an engagement diamond is one of the most exciting pieces of jewelry most of us will ever own. But it is a big investment, so using common sense every day when wearing it is important for a newly engaged person to become accustomed to. With our tips and tricks, brides-to-be can be sure to keep their special jewelry safe and in perfect condition through the wedding and for many years to come.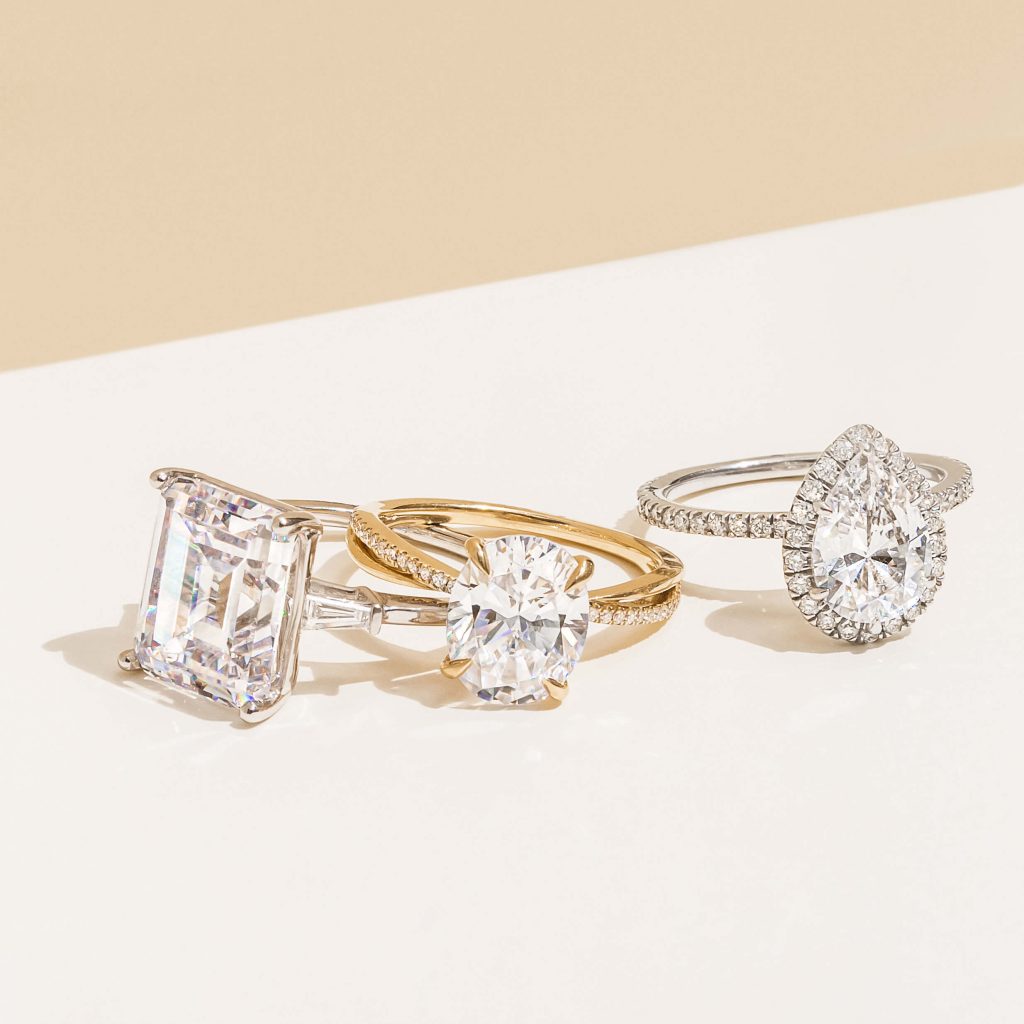 Final Thoughts 
Did you find this blog helpful? Let us know in the comments below, or on our Instagram, Facebook or Twitter!