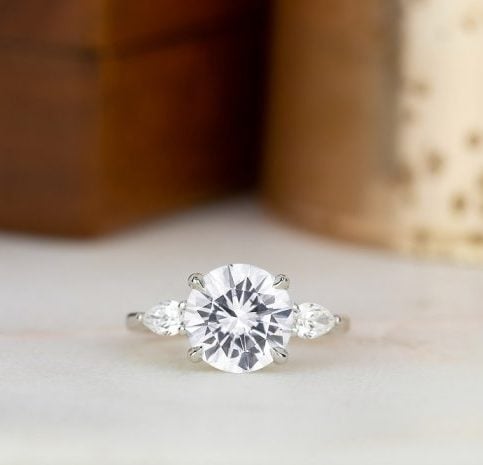 When thinking of sapphires, royal blue gemstones typically come to mind, but have you heard of white sapphires?
What Is A White Sapphire?
Mined from the earth, sapphires are a type of aluminum oxide. While the best-known color for sapphires is a rich blue, slight differences in the chemical properties of the stone's composition cause variations in the color, resulting in the icy white color of some stones.
Are White Sapphires Good for Engagement Rings?
Yes! While not as brilliant as diamonds, white sapphires are prized for their bright, white glow and durability. Because of their beauty and strength, white sapphires are suitable for everyday wear in jewelry like engagement rings or wedding bands. Whatever the ring style, white sapphires make for a stunning choice.
Do White Sapphires Turn Cloudy?
Over time, any gemstone will collect residue from things like makeup, lotion, household cleaners, and daily exposure to the elements. Because of their colorlessness, white gems like white sapphires tend to get cloudy faster than colored gems. However, regular at-home cleaning is an easy and quick solution to combat a cloudy appearance. You can clean sapphires with warm soapy water and a soft cloth or toothbrush.
Are White Sapphires Like Diamonds?
With a similar look to that of diamonds, a white sapphire ring can offer a beautiful, more affordable alternative to the traditional engagement ring center stone. However, there are distinct differences in the durability, brilliance, and appearance of the two gems.
Will People Be Able to Tell That My Engagement Ring is a White Sapphire and Not a Diamond?
White sapphires and diamonds have slight visual differences, and people may be able to tell that your sapphire is not a diamond when looking at it. However, if you love the idea of a white sapphire, don't let that deter you! Both gems have their own unique beauty.
White Sapphire vs. Diamond
Appearance
One of the biggest differentiators between white sapphires and other white gems like diamonds and moissanites is its unique brilliance. White sapphires will have a very silvery gray glow to them, as opposed to the fierier rainbow flashes seen in diamonds and moissanites.
Durability
Both sapphires and diamonds are hard gemstones and are suitable for jewelry that will receive everyday wear, including engagement rings. Because of this, both gems will have crisp and clean faceting since the stones are hard enough to be cut precisely. Diamonds are the hardest gemstone with a 10 on the Mohs Hardness Scale, and sapphires are right behind them with a 9 on the Mohs Scale. Both gems will be durable and resistant to chipping, cracks, and cleavage.
Brilliance
White sapphires have a more silvery/white-gray sparkle while diamonds will reflect a mix of white and rainbow brilliance. This is because white sapphires reflect less light than diamonds do, but also because their light refraction highly favors white light over colored light or "fire." Diamonds have a high refractive index and dispersion – meaning they are optimal for refracting and reflecting light for maximum sparkle. Sapphires have a lower refractive index than diamonds, meaning that it is tougher for light to sparkle through things like dirt and residue on a sapphire.
Price
If you are looking to purchase a large center gem for a ring within a budget, a white sapphire might be the right choice for you. White sapphires are typically significantly more affordable than diamonds of comparable size and quality. If you like the silvery look of a white sapphire and want a large center gem for your ring, choosing a white sapphire vs. a diamond could potentially save you hundreds, or even thousands, of dollars.
Pros of White Sapphire Engagement Rings
White sapphires are a great value and will allow you to get a large, show-stopping gem for a reasonable price.
White sapphires are a unique choice for someone who wants a white gemstone but is interested in a non-diamond option. Sapphires are a beautiful and valuable alternative to diamonds.
Sapphires are sturdy and durable gems that can last a lifetime and are heirlooms in the making.
Cons of White Sapphire Engagement Rings
White sapphires are not as brilliant or sparkling as diamonds.
Because of their low refractive index and colorlessness, white sapphires do require frequent cleaning and regular upkeep.
If the look you are truly wanting is that of a diamond, a white sapphire will not be a perfect match or "dupe."
Our Top 10 Favorite White Sapphire Engagement Rings
1. Waverly Diamond Ring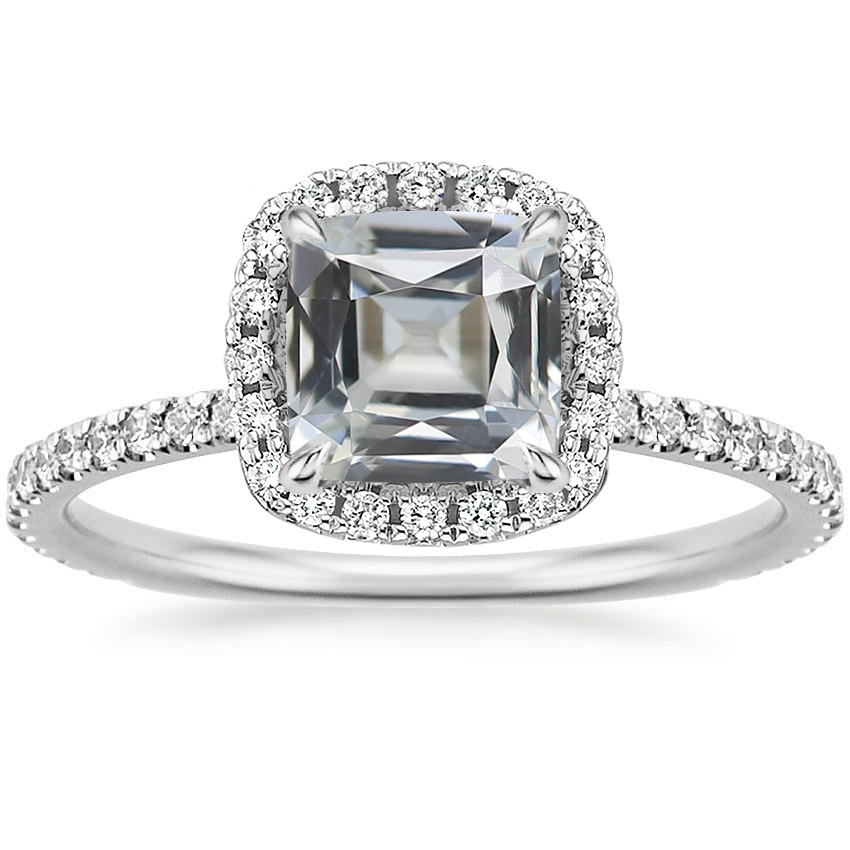 This sparkling halo setting features beautiful scalloped pavé diamonds that encircle the center gem and adorn the band. A diamond-encrusted gallery makes this ring truly spectacular.
2. Demi Diamond Ring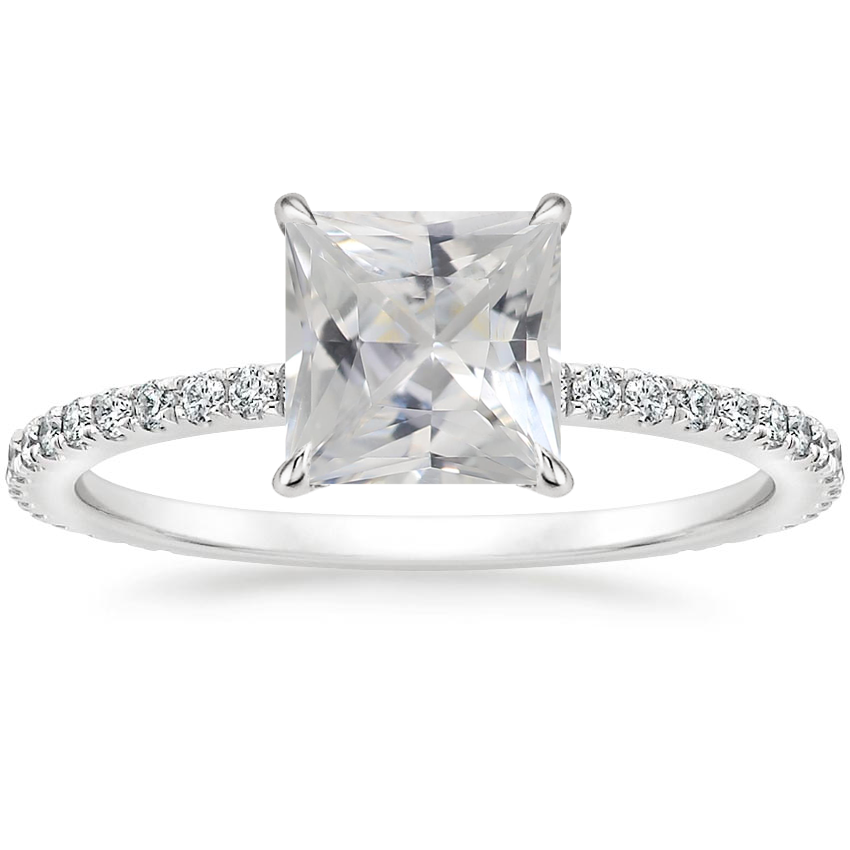 Diamond accents, like the pavé diamond band on this dazzling modern ring, help bring the diamond sparkle and highlight a white sapphire center gem. This elegant engagement ring also features a glittering hidden halo of diamonds that wraps around the center gem.
3. Four-Prong Petite Comfort Fit Ring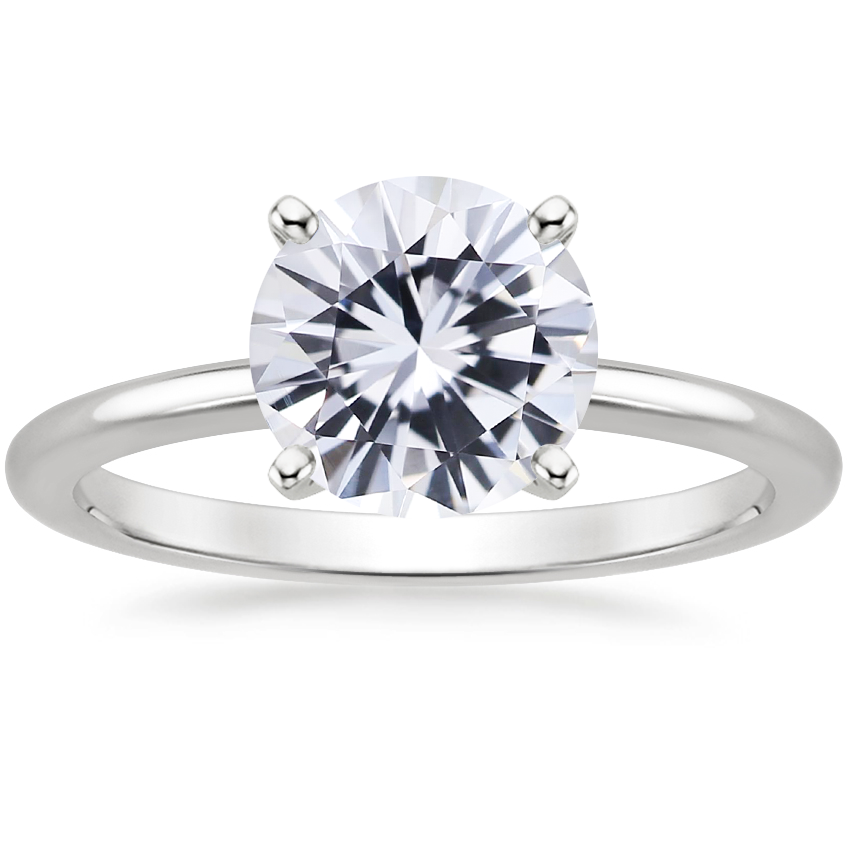 When highlighting a show-stopping gemstone, you can't go wrong with a classic solitaire design. Petite and delicate, this classic four-prong setting has a rounded inside edge for increased comfort.
4. Selene Diamond Ring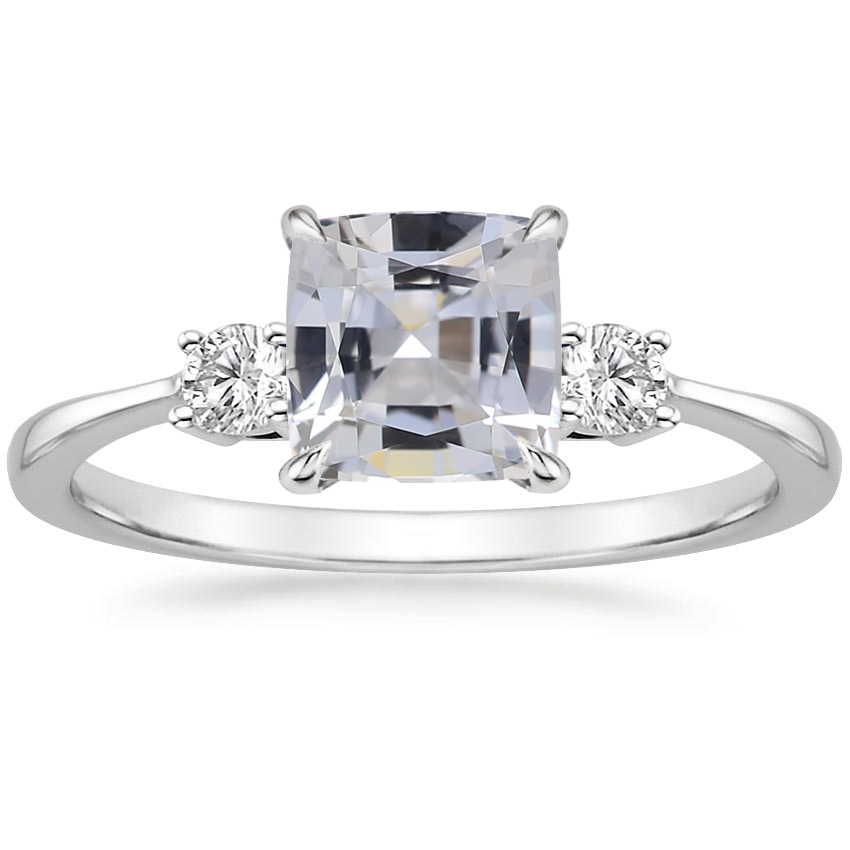 Classic simplicity defines this delicate three stone setting, which features a thin precious metal band that gently tapers towards a diamond accent on each side of the center white sapphire.
5. Nadia Diamond Ring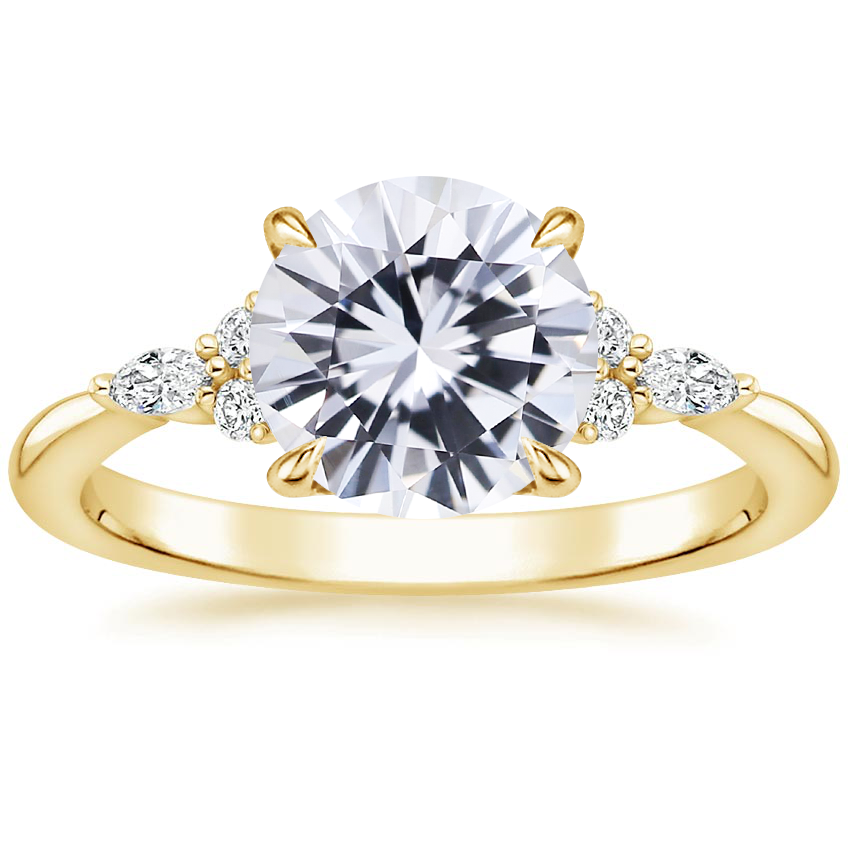 This elegant ring features a dazzling cluster of round and marquise-shaped diamonds that rest upon the shoulders of the gently tapered band. The center white sapphire is held by four claw prongs as it sits upon a slightly open gallery.
6. Versailles Diamond Ring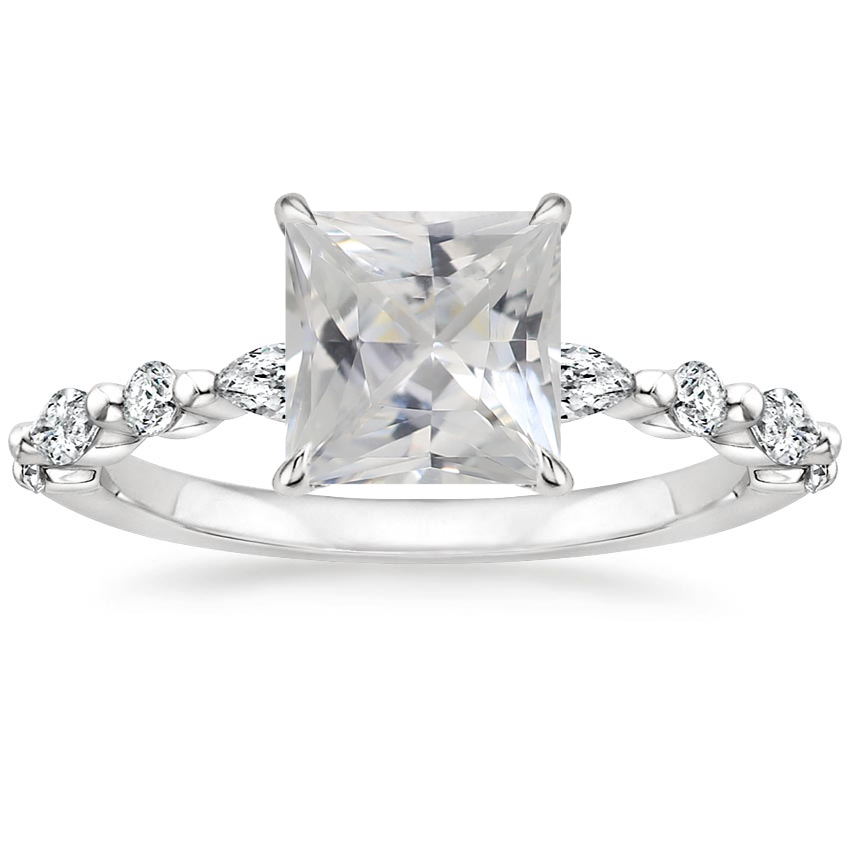 Alternating round and marquise diamonds create an alluring pattern in this chic and distinctive engagement ring.
7. Petite Twisted Vine Diamond Ring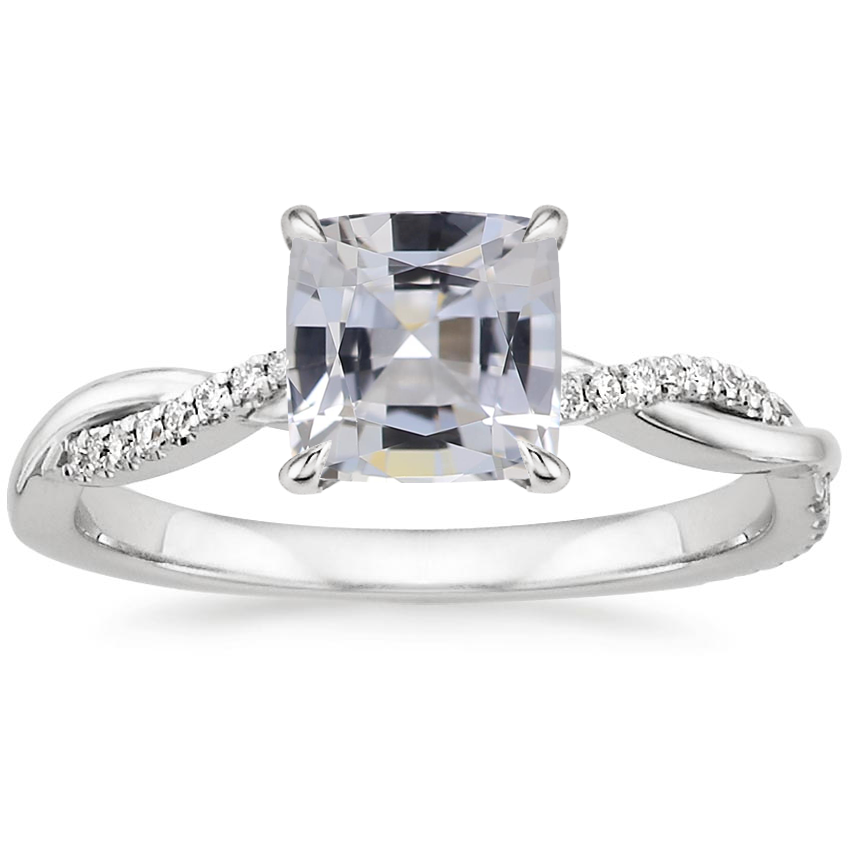 This beautiful nature inspired ring features a shimmering strand of pavé diamonds entwined with a lustrous ribbon of precious metal.
8. Three Stone Petite Twisted Vine Diamond Ring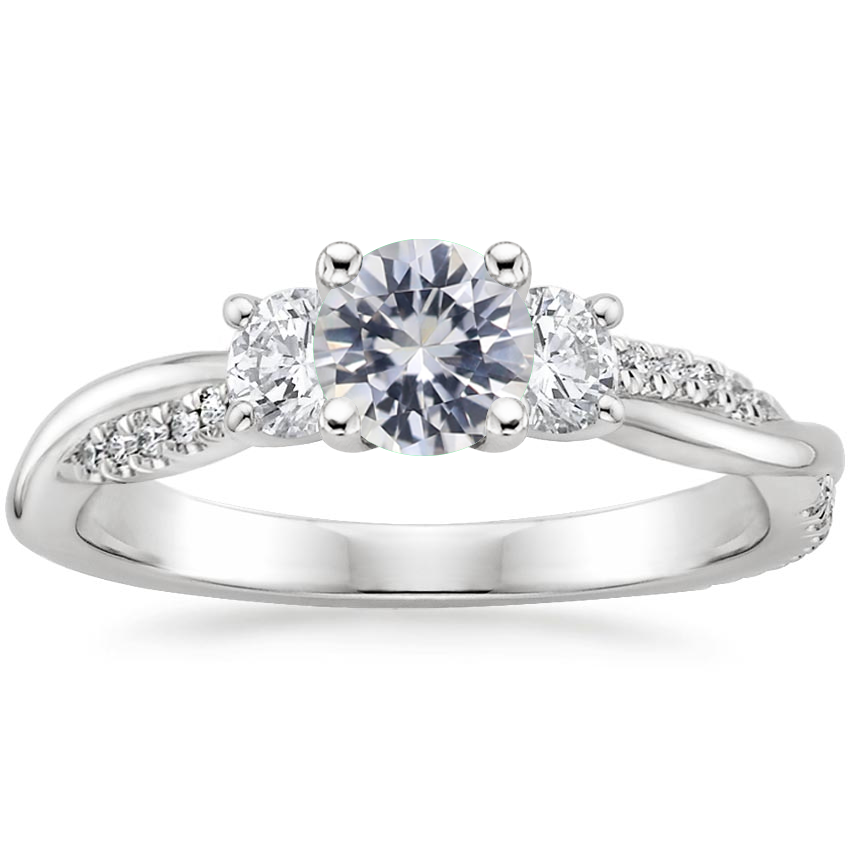 A nature inspired twist on the classic three stone ring, this design features entwined vines shimmering with pavé diamonds.
9. Luxe Sienna Halo Diamond Ring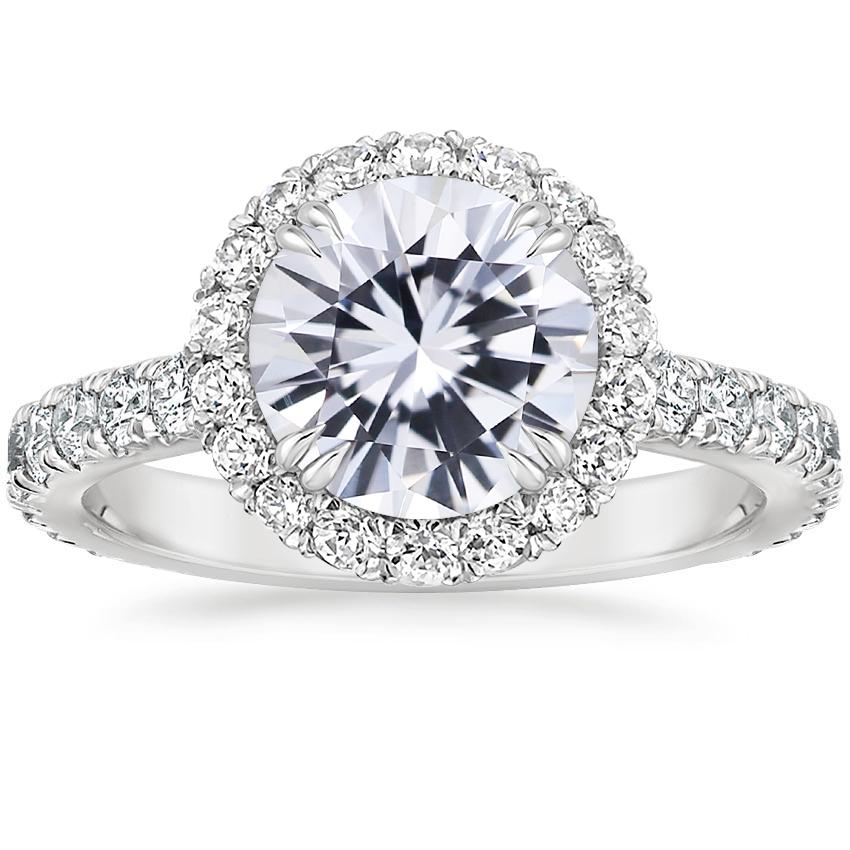 Elegant French pavé-set diamonds form a stunning halo, surrounding the center gem in a ring of brilliant light. Dazzling diamond accents adorn the band and gallery for a truly glamorous effect.
10. Secret Garden Diamond Ring

Glistening marquise-shaped diamond buds rest on whimsical vines of precious metal winding towards the center white sapphire for a look of natural elegance.
Final Thoughts
Which of these white sapphire engagement rings do you like the most? Share your favorites with us on our Instagram, Facebook, Twitter, or in the comments below!