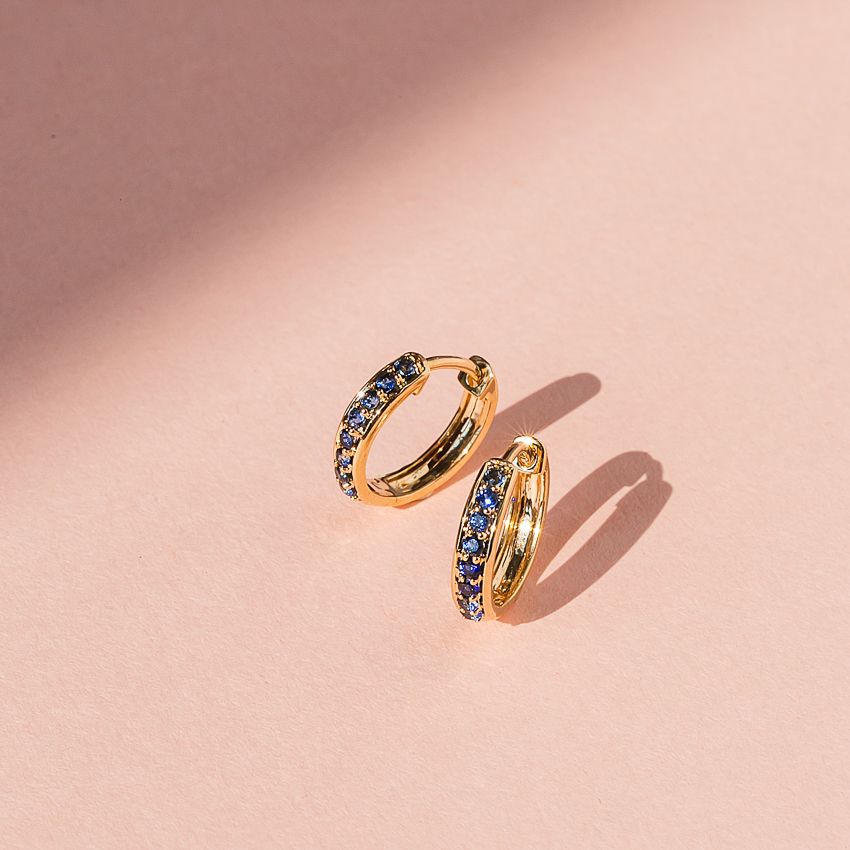 September is the beginning of the beautiful and romantic autumnal season. September's birthstone is most recognized as the sapphire; it represents loyalty, romance, and high society. It's a popular gemstone for engagement rings, especially in the royal family (we see you, Kate Middleton). 
While blue sapphires are the most commonly thought of when someone mentions sapphires, they come in many beautiful colors. Many people regard yellow sapphires as the official sapphire birthstone color for September. As far as we are concerned, choose your favorite shade and it still counts as a September birthstone.  
There are a few other gemstones that represent September besides sapphires. Read on to discover some other hidden gems. 
September Birthstone History & Symbolism
Many people get married in the month of September because of the comfortable weather and beautiful scenery when the leaves start to change color for fall. Fall is the season for change, reinvention, reimagination, and shedding old lives to bring in new chapters. 
The word 'sapphire' comes from the Latin 'sapphirus' which means blue. It has language roots in Ancient Greek and the Middle East as well. 
The Greek God, Apollo, who symbolizes and protects archery, music, dance, truth, prophecies, healing, disease, the sun, light, and poetry, has been honored by ancient Greeks wearing sapphires. They often brought sapphires to Apollo's temples and wore them to pray for help healing the sick.. 
In addition, Sapphires hold legends of being able to protect their wearers from snakes and evil creatures. Some people even believed sapphires themselves could kill snakes and spiders with their gemstone-derived powers. 
In Ancient Persia, the sapphire was hailed as the 'Celestial Stone' and thought to have great spiritual powers. 
And in the Middle Ages, priests and the clergy adorned themselves with blue sapphires to symbolize the skies of heaven, believing it to help them resist temptations and sin. Around this time, many think that royal nobility, kings, and queens wore sapphires to protect themselves from war and plagues. 
Where is the September Birthstone Found?
Sapphires are often made in labs, but not always. In nature, sapphires come from all over the world, primarily Sri Lanka, Madagascar, Australia, India, the United States, and Myanmar. 
Sri Lanka, in particular, boasts the world's most sought-after sapphires because of their rich, shimmering blue hues. Sapphires from Sri Lanka are some of the most expensive. 
Value of the September Birthstone
Sapphires are regarded as one of the most valuable gemstones. As such, they are some of the most expensive, next to pearls, rubies, and diamonds. 
Lapis lazuli and zircon are close seconds as far as September birthstones go, based on different world calendars, but they are less valued simply because they are lesser-known and don't have as rich of histories as sapphires. However, it is important to note that zircon is not zirconia. Zirconia is a simulant diamond while zircon is a valuable natural gemstone. 
September Birthstone Cleaning and Care Tips
Sapphires are strong and you don't need to be overly careful when cleaning them. You can use ultrasonic cleaners and steam with no problem, but soap and water will do the trick. 
Of course, we always recommend being gentle with your gems so as not to scratch them, but they can withstand daily wear. Storing your sapphire gem jewelry in its own container or bag will keep it safe. For example, you can use a velvet-lined jewelry box with separate sections. 
Finally, be careful not to wear your jewelry too close together, such as wearing two gemstone rings next to each other, as they could scratch each other. 
September Birthstone Facts
Sapphires represent high society, class, honesty, loyalty, pure souls, kindness, good temper, wisdom, and genuine integrity.

 

There is a famous sapphire called 'Star of India,' which is the world's biggest sapphire gemstone found to date. It resides in New York's Natural History Museum.

 

When Prince Charles of Wales proposed to Princess Diana, he gave her a ring of grand sapphire and diamonds.

 

Diamonds are the hardest stones with rubies and sapphires coming in close behind — which makes them more resistant to scratching and wear and tear.

 

In medieval times, it was thought that blue sapphires could not be worn by adulterers, because the stone would change into another color.

 

Sapphires, zircon, and lapis lazuli are the most popular September birthstones, with lapis lazuli representing the September Zodiac signs Virgo and Libra.

 

Prince William proposed to Kate Middleton with a 12-carat sapphire engagement ring in 2010.

 
September Birthstone FAQs
What are the two birthstones for September?
September birthstone jewelry can include zircon, peridot, agate, moonstone, and sardonyx in addition to sapphires. Zircon is the most common runner-up to sapphires for the actual month of September. 
In addition, the Zodiac has separate birthstones for Virgo and Libra, the two signs that share the month of September. These stones include lapis lazuli, opal, carnelian, jasper, and citrine. 
What is the September birthstone color?
September's birthstone color ranges from a rich, deep blue color to a light, almost clear blue, but sapphires come in many shades, such as white, pink, yellow, gray, orange, brown, and green. They even come in red, but a red 'sapphire' is actually a ruby! Both come from the mineral corundum. 
Final Thoughts
Are you a September baby?  Which color of sapphire is your favorite? Let us know on Instagram, Facebook or Twitter, or in the comments section!