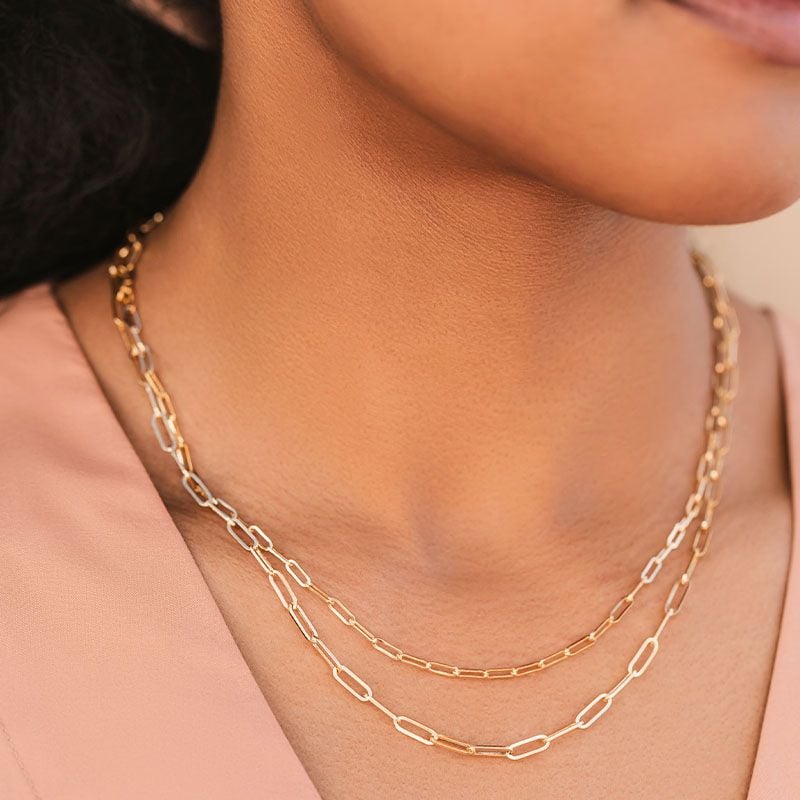 What Are the Different Necklace Sizes?
Necklaces range in size from trendy choker-like styles that measure at 14 inches, traditional, elegant pendants that rest at the average 18 inches, while many strand styles and men's necklaces reach 30 inches and beyond.
Necklaces generally range in length from 14 inches to 36 inches. Choosing the right necklace size depends solely on personal style: do you prefer something that rests just above the collarbone? Or something that rests further down the chest? Or you may decide to wear multiple different chain lengths at once to create a chic stack.
As a note, we haven't broken this up by gender. We recognize that the size, shape, and needs of a person's body and style vary greatly across the population and we aim to give the most informative information possible based on where necklaces rest on the human form. Let's dig into the different sizes and where they'll rest on your chest!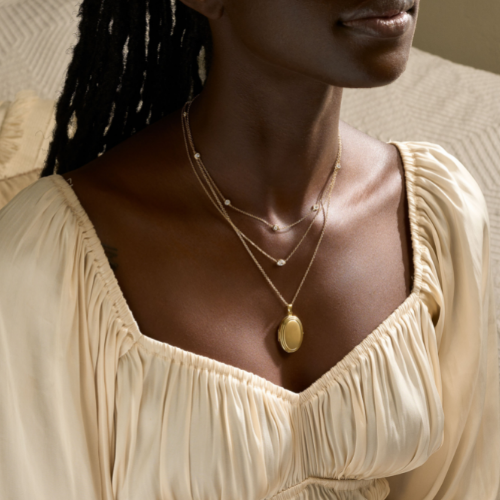 What Are the Standard Necklace Lengths?
Necklaces come in standard sizes of 14", 16", 18", 20", 22", 24", 30" and 36". Though all necklaces are standardized in size, each length will rest differently on different body types.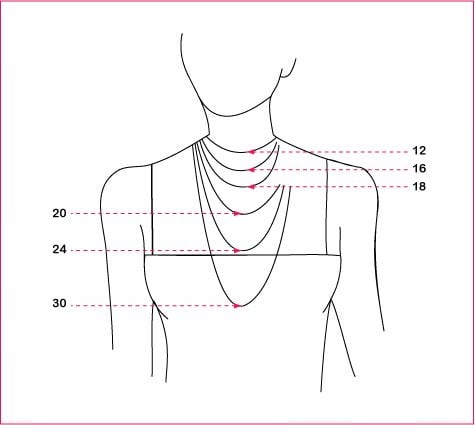 14 Inch Necklaces
Generally the shorter length of necklaces for women on offer, 14 inch chains rest around the neck like a choker, making this length a trendy choice for those ready to make a statement. 14 inch necklaces also pair incredibly well with other chain lengths as they won't get tangled at the base of your neck.
16 Inch Necklaces
These necklace lengths rest just above the collarbone and are the shortest necklaces not considered chokers. They also pair well with others and are not quite as bold as chokers –they're trendy but still chic.
18 Inch Necklaces
This length is what's considered the average necklace length. It's certainly the most common and rests just below the clavicle – you'll often see this length worn with a traditional pendant for a sweetheart look.
20 Inch Necklaces
More often than not, this is the shortest length on offer for men's chains. For both men and women, this length falls an inch or two below the collarbone and can easily be worn beneath higher-cut shirts and sweaters.
22 Inch Necklaces
These necklaces rest about halfway between the clavicle and the sternum. For women, this length is often worn with a pendant over the clothes in a trend-forward outfit. For men, this length is often chosen for statement chains that can be worn on top of or underneath clothes.
24 Inch Necklaces
Reaching towards the top of the ribs, 24 inch necklaces are one of the longest necklaces you'll see worn by both men and women that aren't doubled over. They stack excellently with other chains for a glammed-up look. They're also the most popular necklace length for both men and women in religious and sentimental items.
30 Inch Necklaces
Most often, these necklaces are doubled over. If worn as-is, they almost reach the stomach. The long length provides flexibility – in doubling it over you can have two necklaces of the same size or split the lengths so one strand is choker-length while the other dangles below.
36 Inch Necklaces
Also a popular necklace size to be worn doubled over, 36 inch necklaces are generally the longest on offer. These can reach past the belly button on both men and women.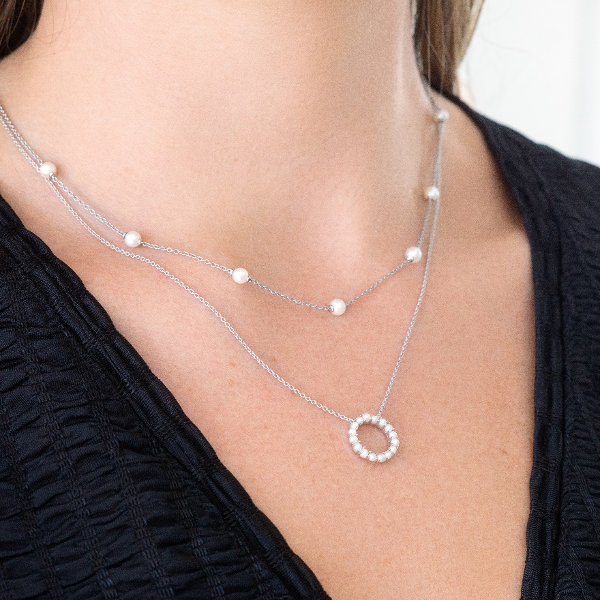 Factors to Consider When Selecting Necklace Lengths
Height
Most average-height or taller people can wear any length necklace. If you're taller than average, a shorter necklace may not be best to balance out your look. The opposite is also true: if you're petite height-wise, an extra-long chain may fall even lower on you than on the average person.
Neck Size
Some people's necks are narrower than others – in this case, a short chain will fall a little lower than the average. For example, a 16 inch chain may appear to fall at the 17 or 18 inch range if the neck in question is thin.
For people with thicker necks, a longer chain length will have the opposite affect: it'll make the necklace look shorter. If your neck is thick, we recommend choosing the next longest length so that you can achieve the style you're looking for and also be comfortable!
Outfit and Styling
Different necklace lengths work best with different outfits. For example, a super plunging blouse may want to wear a longer chain to fill the space. Long chains also look fabulous on top of more flowy blouses and many people choose to also add a large pendant for extra oomph.
These days, stacks are all the rage: no matter what kind of shirt or neckline: stack, stack, stack. The most popular stack combination is wearing 16, 18, and 20 inch necklaces all together so that the pendants and chains rest closely together without touching.
Other people choose to not only mix lengths but also mix metal. Wear a 16 inch silver necklace with a heavy 20 inch gold one for a bold, adventurous look.
You can also mix and match different chain widths. A 14 inch dainty, minimalist pendant pairs excellently with a thick, 16 inch statement necklace.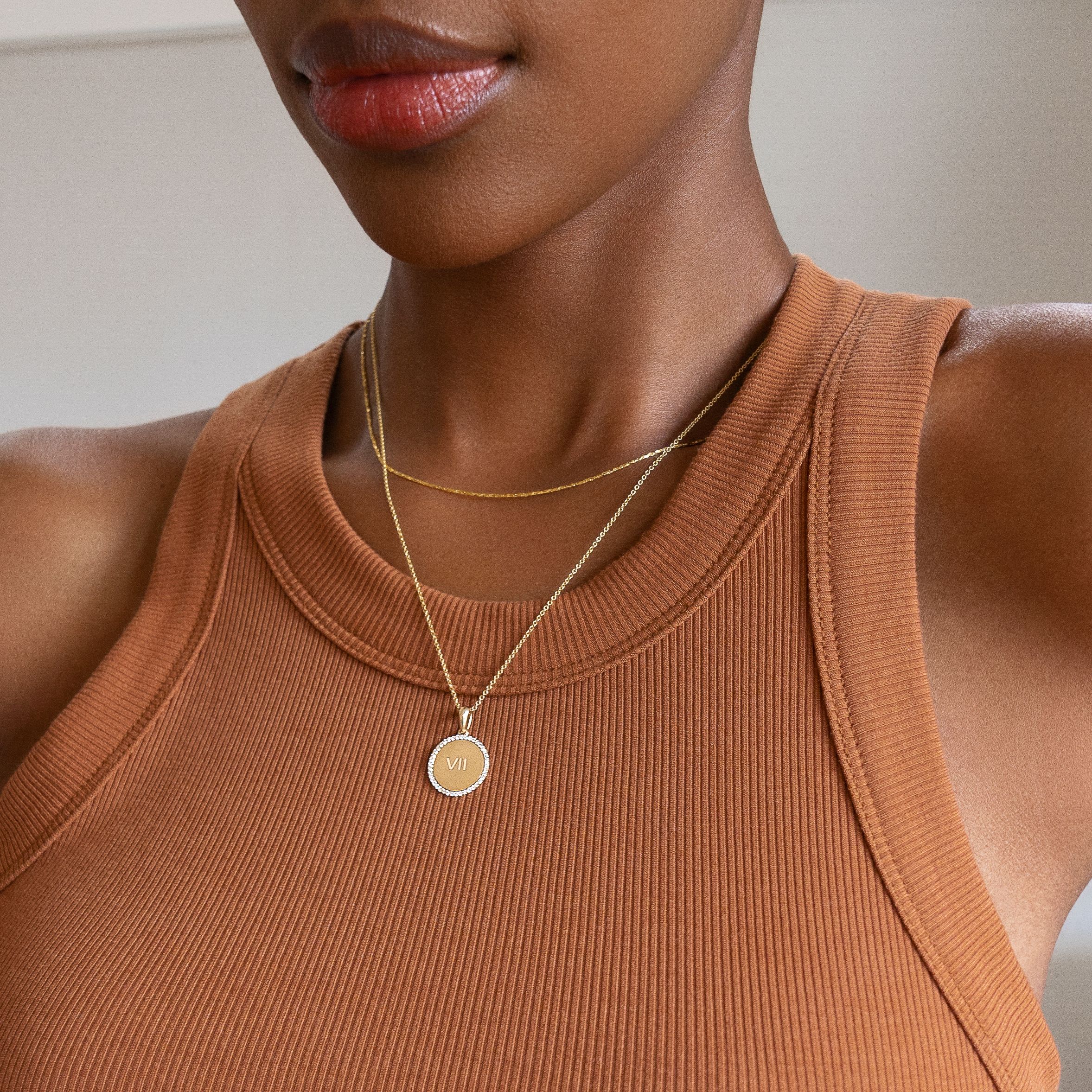 How Do I Know My Necklace Size?
There are two ways to measure the length of a necklace.
If you already have a necklace whose length you love, you can use its measurements to decide the length of your next purchase. You can take the measurements of your existing necklace using either a string or a tape measure by laying it down and straight on a flat surface and taking the measurements.
The second way is to take a flexible tape measure and put it around your neck as if you were wearing a necklace. Then adjust it to the desired length then note down the measurement.
Alternatively, you can use a string to take measurements in the absence of a tape measure. put a marker on the string at the point you want your necklace to reach. You can then measure it later against a tape measure or a ruler then note it down.
What's a Good Necklace Length for Women?
Women's necklaces usually range between 16 inches and 20 inches, with the most popular length measuring at 18 inches. The way the necklace rests will be determined by the unique shape of a women's body – so we recommend taking in factors like neck size and torso length.
In Conclusion
The best necklace lengths will depend on the day, your styling choices, and the size of your body. Luckily enough, the sizes are standardized across the jewelry industry and apply to both men and women – there's no convoluted and confusing metrics, you just need to figure out what works best for you. We recommend using the above measurement tactics to determine what looks best or visiting a jeweler and trying on different lengths. To each their own!