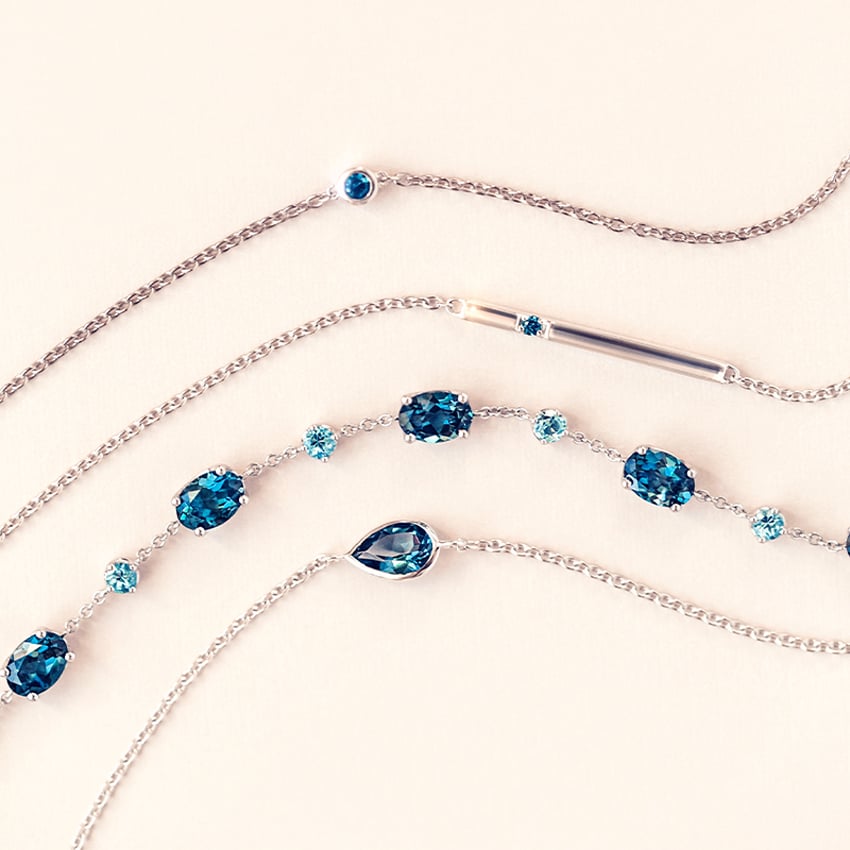 Tale as old as time, superstition as old as rhyme — what does this ancient wedding proverb actually mean? A blessing for bliss, this age-old poem invites brides (traditionally) to wear an object symbolizing each "something." The bride walks down the aisle with these trinkets on her wedding day, which protect her during the ceremony and promise a long, happy marriage to come.
Read on for a brief history of the sing-songy phrase, and fun, creative ways to modernize the four objects for your wedding (there's technically five, but more on that later).
What is the Saying Something Borrowed Something Blue?
"Something Olde, Something New, Something Borrowed, Something Blue, A Sixpence in your Shoe." This is the full Old English rhyme, each "something" representing well wishes offered by friends and family on a couple's wedding day. It's essentially a recipe card for your marital success, and the list of ingredients is worn by the bride to ensure that future happiness.
What Does the Saying Something Old Something New Something Borrowed Something Blue Mean?
Like breaking a bottle of champagne off the bow of a ship, the "something borrowed" rhyme is a superstitious send-off, hoping those soon-to-be-wed have a bon voyage in their marriage. There's a specific meaning attached to each of the mementos, and we get into the purpose suggested by that mythical lore in a bit. Somehow the keepsakes were carried with the bride down the aisle (in her dress, bouquet, veil, jewelry, etc)., offering a line of defense to the happy couple.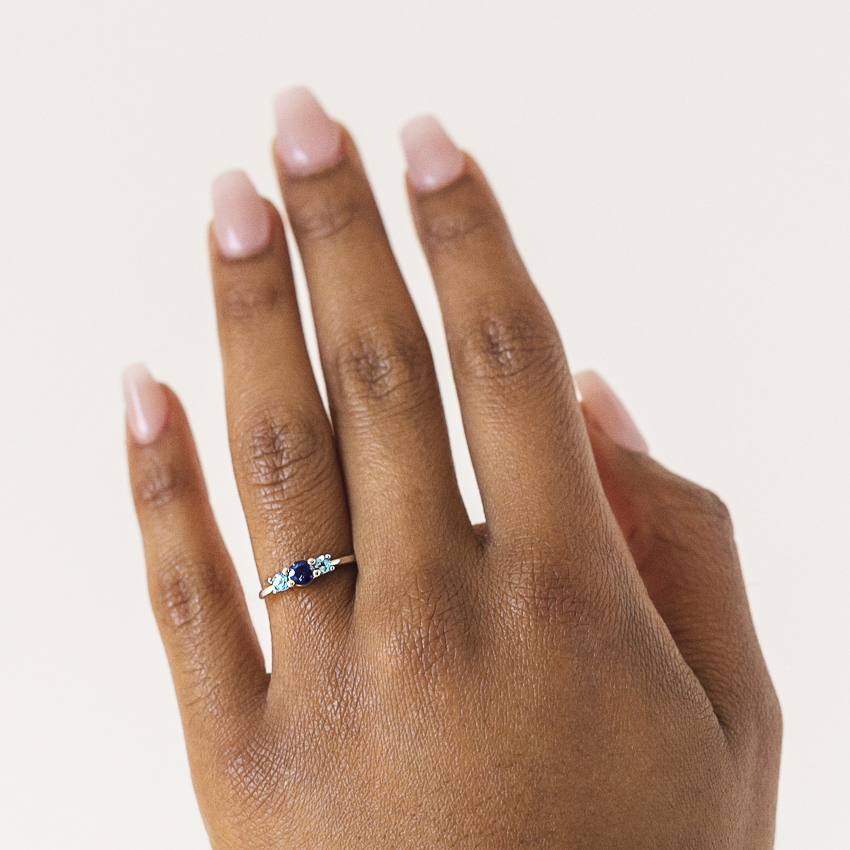 Who Gives the Bride Something Borrowed Something Blue?
It was customary for the women in a bride's life to gift her the pieces of the poem. It was meant to pass along the fortune and fidelity of their marriages, like if happiness was an heirloom. But you can put your own twist on these good luck charms, including who gives them to you. It can be a romantic gesture for the couple to offer each other the trinkets as a toast to their belief in their abilities to make their own luck.
The History of Something Old Something New
The "somethings" are meant to protect any babies-to-be in a new marriage. Each part of the poem was meant to be given to the bride to shield her fertility. In some origin stories, the threat to her pregnancy is the glare of an evil eye, and in other's, it's the bride's former suitors. Both intend to curse her upcoming marriage and leave the bride barren. The objects mentioned in the proverb are worn during the wedding ceremony to trick those villainous forces. They keep the bride's womb safe from wicked spells on her big day.
Whether or not each trinket is worn on a dress or suit, you can find ways to honor the symbolism while making each object meaningful to you. Each "something" can make an appearance throughout your day. For example, you might borrow champagne flutes from your grandmother's wedding, or head to your reception in a new getaway car after the ceremony. Some couples even combine the borrowed, blue, old, and new in one object.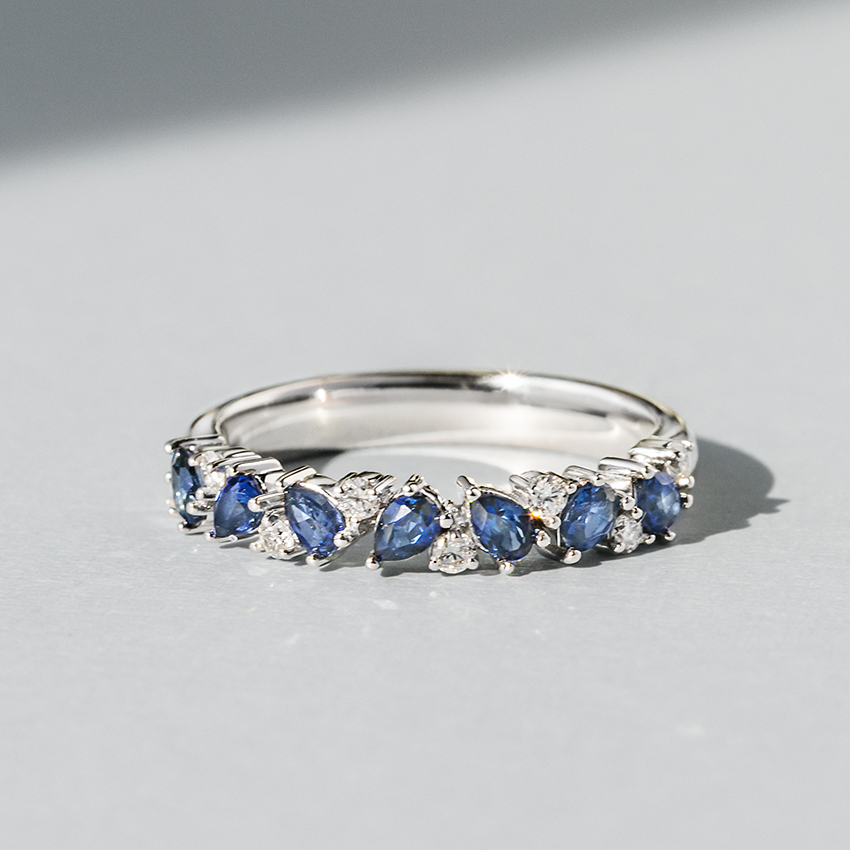 "Something Old" Meaning & Ideas
"Something Old" Meaning
"Something old" is intended to bring continuity to the couple, connecting their past to life in their new marriage. These objects can pay tribute to ancestry, or an homage to your heritage. Often, they convey cherished memories. But they can also be antique-ish. A retro look or vintage feel can capture the sentiment of "something old." For instance, your wedding day attire might be old-fashioned in style, or the passage read might be from a secondhand book. "Distressed," "weathered," "upcycled" — all easily have the same well-worn energy.
 "Something Old" Ideas
An heirloom, such as a brooch, pin, or watch
Sewn-in fabric, such as a veil, dress, or handkerchief
Photos in a locket, especially of departed relatives who can't be in attendance
Your Vintage-Style Engagement Ring:
Nova Diamond Engagement Ring in 14K Rose Gold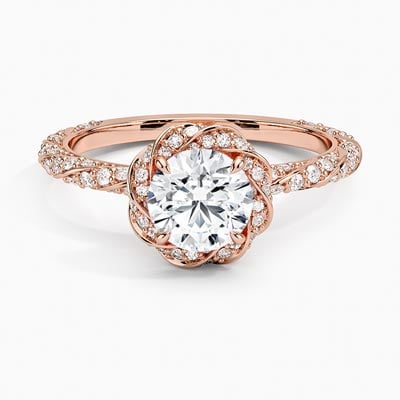 Canela Ring in 18K Yellow Gold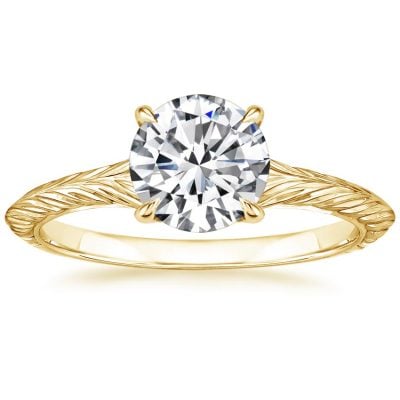 Your Vintage-Inspired Wedding Ring:

Hudson Ring in 14K Rose Gold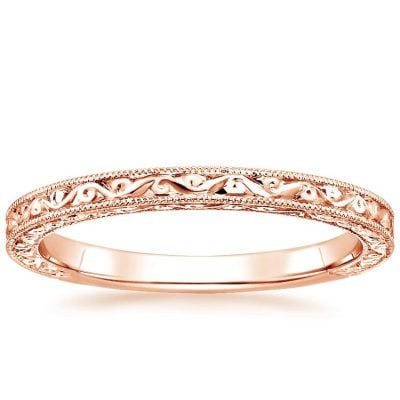 Laurel Diamond Ring in 18K White Gold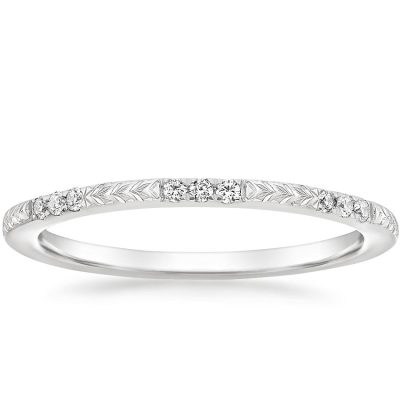 "Something New" Meaning & Ideas
 "Something New" Meaning
"Something new" held hope and optimism for the couple's next steps. It's meant to express your individuality, and promise a fresh beginning. This might be the easiest one to come by, since it's usually gifted (while old is thrifted).
"Something New" Ideas
Tattoos
Lingerie
Bow ties
Cufflinks
Your Wedding Ring:
Versailles Diamond Ring in 18K White Gold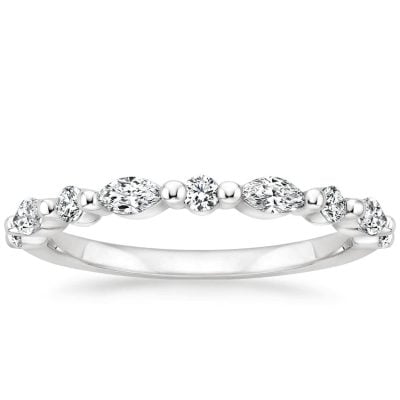 Marseille Diamond Ring in 18K Yellow Gold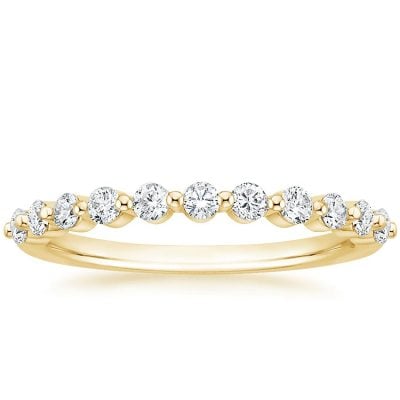 "Something Borrowed" Meaning & Ideas
"Something Borrowed" Meaning
"Something borrowed" is to be leant by a friend or relative who is in a successful partnership so you can channel their good juju. It doesn't have to be vintage. While traditionally this took the shape of a proud parent's undergarments (again, fertility), there are endless ways to embody this custom. You can make alterations to attire to suit your size and style. If you don't want to borrow clothing or accessories, you can read vows from a relative's wedding, etc. You just want a happy couple's vibes.
This is an opportunity to celebrate the system of support that you and your partner have around you, even if that's chosen family. This part of the poem captures your community, and the people who have got your back.
"Something Borrowed" Ideas
Wedding dress or suit passed down for generations
Heirloom accessories like earrings, a necklace, tiara, or hair comb
Perfume or cologne
Heirloom Jewelry from a Loved One:
Baroque Freshwater Cultured Pearl Earrings in 14K Yellow Gold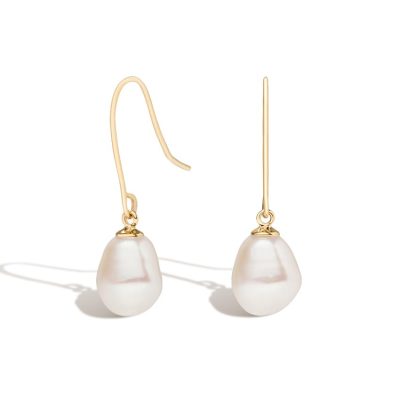 Oval Diamond Locket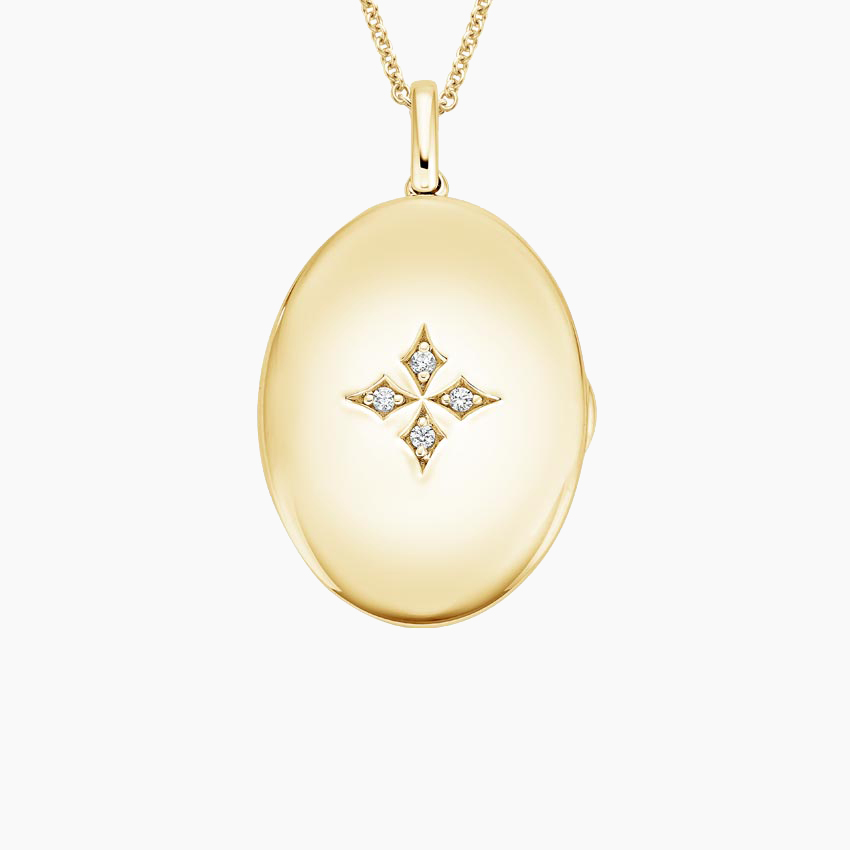 "Something Blue" Meaning & Ideas
"Something Blue" Meaning
"Something blue" signifies a love full of purity and fidelity. Hence the expression "true blue." Traditionally, blue was worn as a garter. But you do you, blue blue.
"Something Blue" Ideas
Flowers in a bouquet or the ribbon around it
Shoes or messages written on the bottom of them
Blue hair
Blue manicure
Blue thread, worn as a monogram of new initials
Blue Gemstone Jewelry:
Marina Necklace in Silver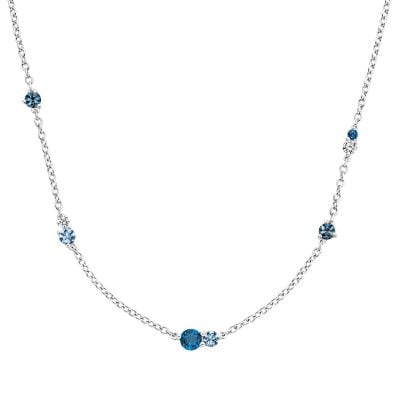 Florence Sapphire and Diamond Earrings in 18K White Gold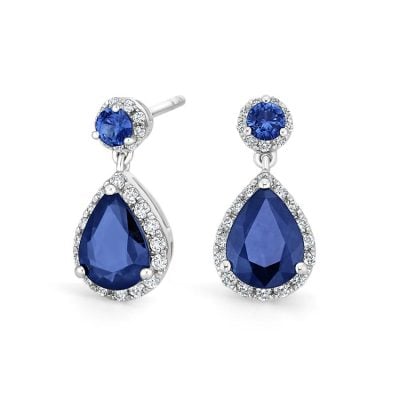 "Sixpence in Your Shoe" Meaning
 "Sixpence in Your Shoe" Meaning
The ending of the original Old English rhyme, "Something Olde, Something New, Something Borrowed, Something Blue, A Sixpence in your Shoe." While the "somethings" are open to interpretation, the sixpence is the most specific part of the rhyme. It's basically a lucky penny, inviting prosperity into the lives of the couple. It started as the bride's family gifting silver coins to the groom's family as a dowry. Then, the father began giving the sixpence to the bride before walking her down the aisle, and it was worn in her left shoe.
It makes sense that this segment fell off of the rhyme since the coin itself hasn't been made since the 70s. Most people incorporate a penny from their birth year or the year they met their future spouse. The coin can also be symbolic, worn as an anklet or medallion necklace.
Final Thoughts
You don't have to be a bride, and you and your partner don't even have to be looking to be parents. The objects themselves can be as small as a button, and these tokens can simply be worn for reassurance that as you're getting hitched, it'll go off without a hitch. Whatever you decide to make of the rhyme, the spirit of the tradition should send you and your partner well on your way into happy nuptials.