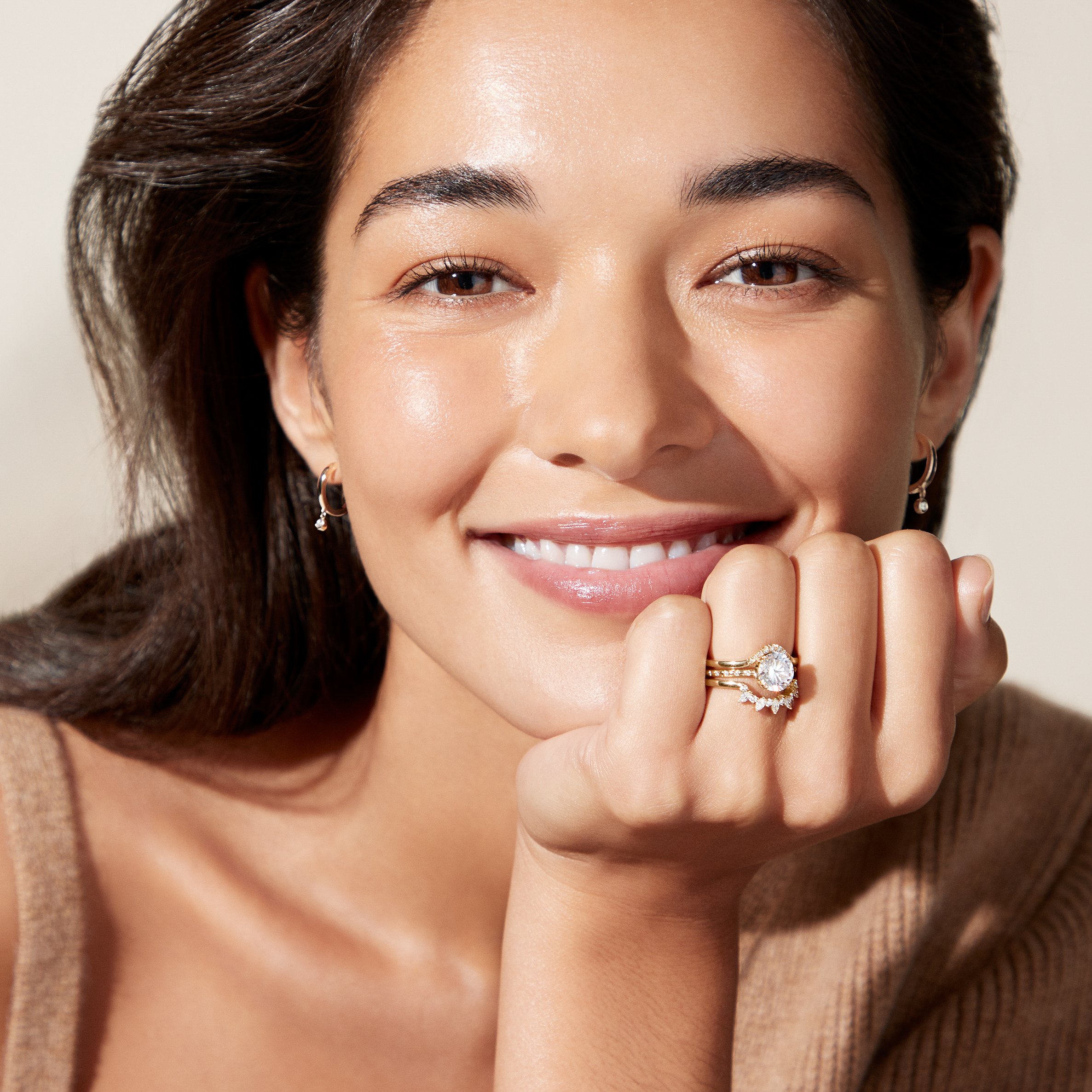 While your engagement ring takes the spotlight leading up to your wedding day, finding the perfect wedding band to pair with your sparkler is just as important of a task when it comes to completing your bridal look. After all, while the engagement ring symbolized your commitment and your promise to be wed, the wedding ring is the official symbol of union and marriage.  
As if choosing an engagement ring that embodies your unique style, feels timeless, and suits your lifestyle wasn't a challenging enough task, now it is time to find the perfect wedding band to pair with your unique engagement ring. So, where do you start? Read on to discover our stylists' tips on how to create your dream bridal set.  
What wedding band looks best with my engagement ring?
One of our most frequently asked questions is, "which wedding band looks best with my engagement ring?". Like your engagement ring, a wedding band is a piece you will wear every day and should reflect your personal style. Our Find My Matching Wedding Ring tool can help with your decision by allowing you to see your engagement ring paired with any Brilliant Earth wedding ring to find your perfect match. If you are opting for a stacked or nested bridal look, our Create Your Own Ring Stack Tool allows you to see up to three wedding rings stacked with your engagement ring for endless styling options. Our Jewelry Specialists are also ready to lend their expertise in a personalized appointment to help you find your dream bridal set – both virtually or in person! 
How do you combine an engagement ring and wedding band? 
The first step to choosing a wedding band is determining whether your engagement ring can sit flush with a straight wedding ring. Many classic engagement ring styles are already designed to sit flush with straight bands. Look for an elevated head that allows the center gemstone to sit above the band, like in the Petite Shared Prong Diamond Ring or the Waverly Diamond Ring. 
These styles and similar designs offer a straightforward option of pairing with a straight wedding band for a close fit. In addition, many Brilliant Earth engagement rings can be purchased as part of a matched set that includes a perfectly coordinated wedding band. But if your engagement ring has a fancy shape center stone or elaborate design that requires a custom fit wedding ring, just contact our custom design team—we are happy to help you explore designing a custom piece! 
Contoured wedding bands are another great option that also allow a wedding band to sit flush with the engagement ring. A contoured wedding band is designed to match the curvature of your engagement ring. Most frequently, that means a contoured band is shaped at the front to follow the contours of your engagement ring, and then straight in the back. Not only does this design technique work well with many engagement ring styles, but it also adds a modern and unique twist to your bridal set.  
While the stacked, flush-fitting engagement ring and wedding band have become something of a modern tradition, don't forget that we are making our own traditions all the time! If a straight wedding ring does not sit flush with your engagement ring, yet you are not drawn to a contoured band, consider wearing your two rings on separate hands or adding additional stacking rings to your bridal set. Alternatively, stack the rings on the same ring finger, but wear them with a gap. All these approaches recognize that each of your rings has its own distinct features and deserves individual attention. 
Are engagement rings supposed to match wedding bands? 
There are no rules when it comes to how closely your wedding band should match your engagement ring. While some may prefer a perfectly matched set, some may want to get playful with combining contrasting metal types, diamond shapes, textures, and band widths.  
Choosing a Metal
While is it most frequent practice to select a wedding band that is the same metal type as your engagement ring, mixed-metal bridal sets are becoming increasingly popular. Mixing white, yellow, and rose gold can create a stunning and unique combination. Our Find My Matching Wedding Ring tool is a great starting point to discover which metal combination is best suited for you. 
Styles and Types of Wedding Bands 
After considering whether you want your wedding band to sit flush and selecting a precious metal, the next step is to choose a wedding band style. The five most common categories for wedding bands are: classic, contoured, notched, and unique diamond accented.  
Best Engagement and Wedding Ring Combinations Based on Diamond Shape 
Read on to discover some styling tips for some of our most popular center stone cuts.  
Round-Cut Stone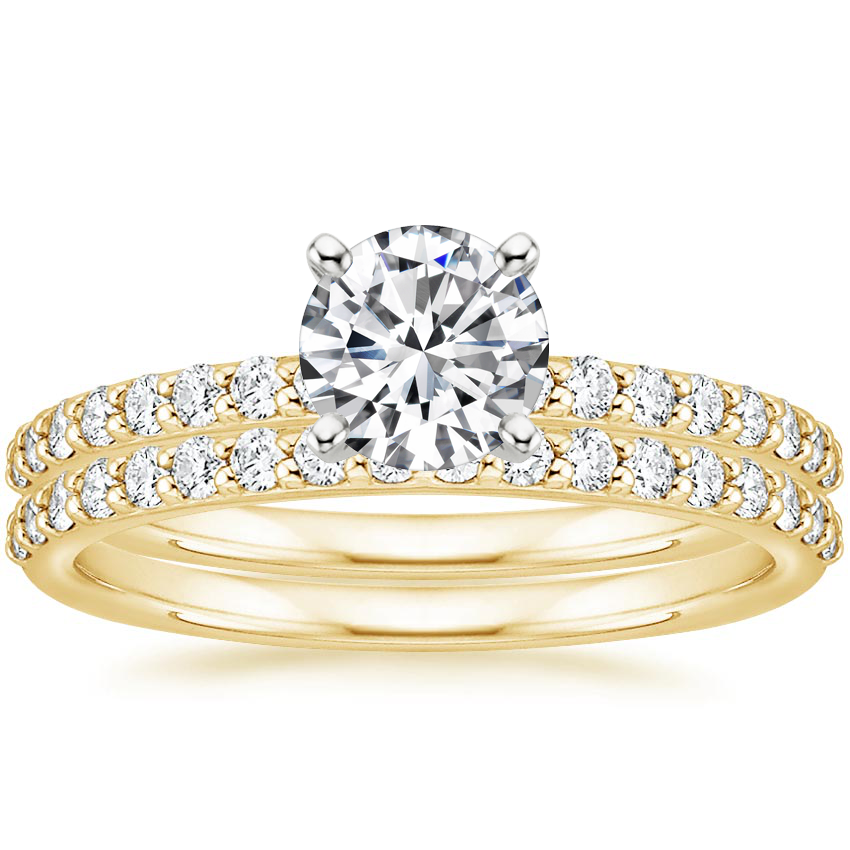 The most common and arguably the most versatile shape for an engagement ring center stone, round diamonds pair well with a wide variety of wedding ring styles. From classic styles to wedding rings featuring fancy shaped diamonds, round center stones play well with a diverse set of styles.  
Princess-Cut Stone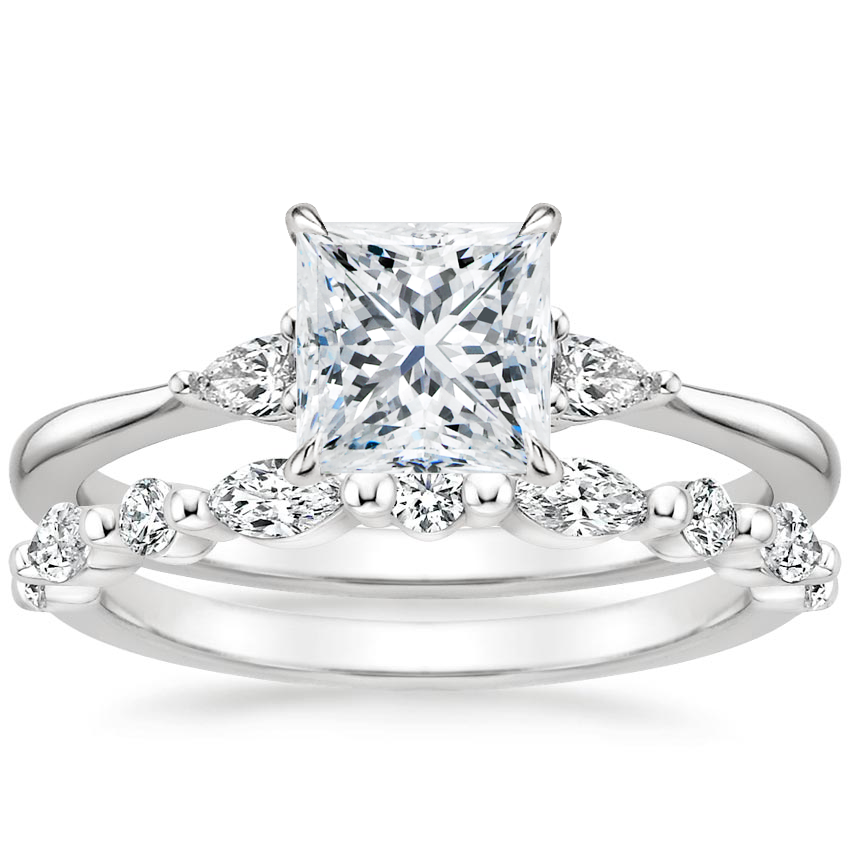 The faceting pattern of princess cut center stones provides a unique sparkle and brilliance. This sparkle is complemented well by bands featuring round diamonds and classic design styles.  
Cushion-Cut Stone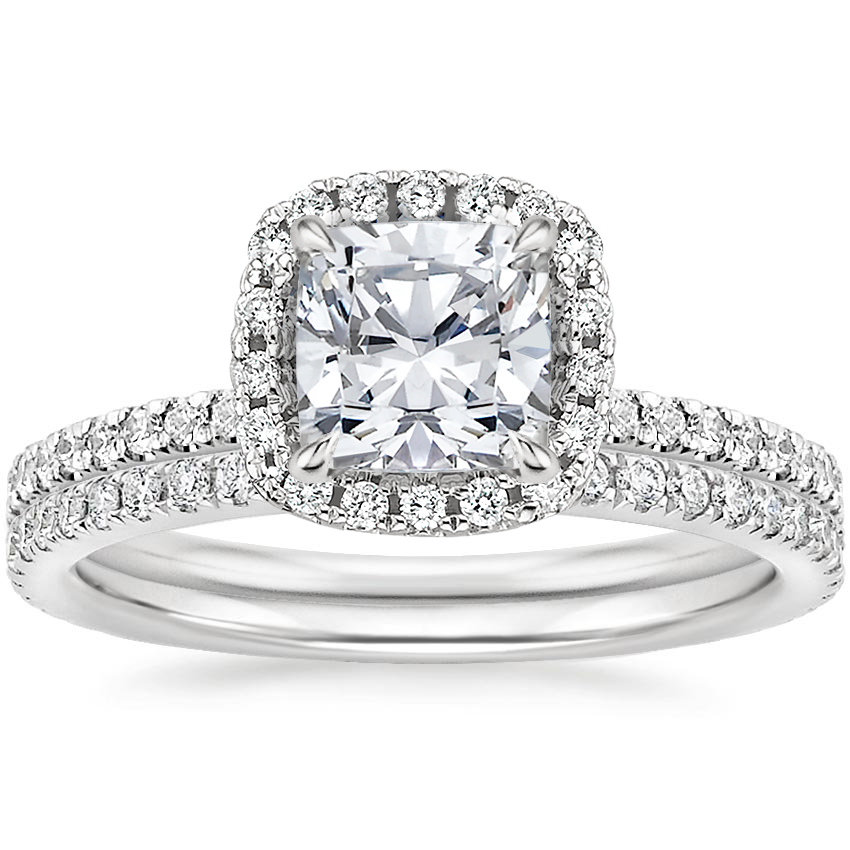 While princess cut diamonds pair well with contrasting shapes, cushion cuts pair well with similar shapes. We suggest a classic eternity band or all-metal style.  
Emerald-Cut Stone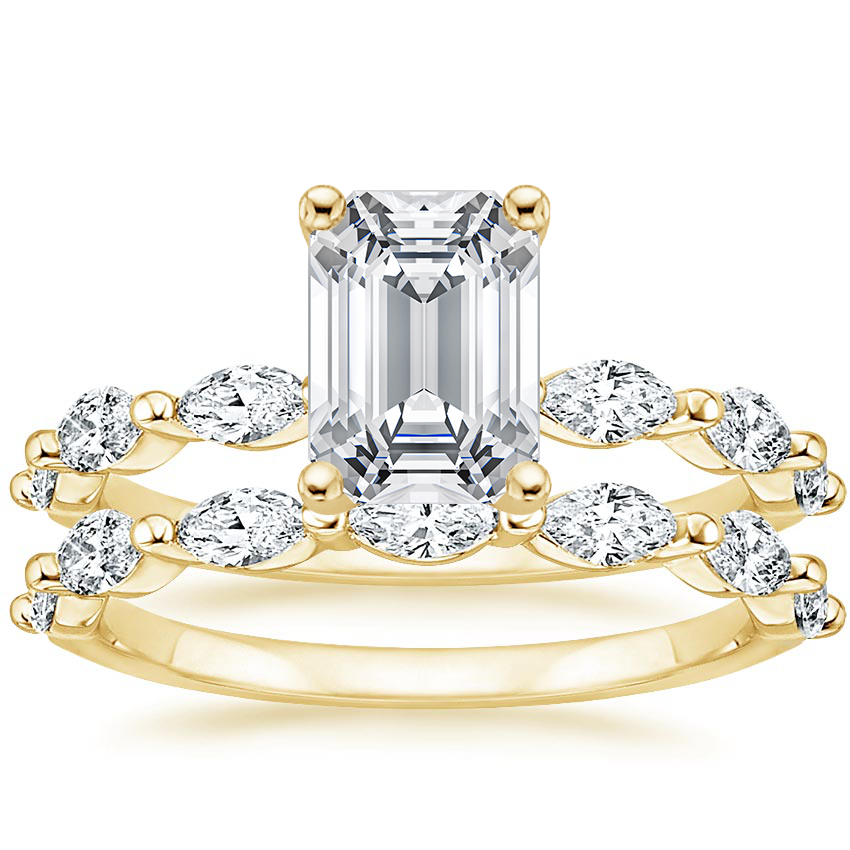 The step cut of an emerald diamond center stone gives off a more subdued sparkle than other shapes. For added brilliance, we suggest pairing your emerald engagement ring with a band featuring round or other fancy shaped diamonds such as oval or marquise.  
Marquise-Cut Stone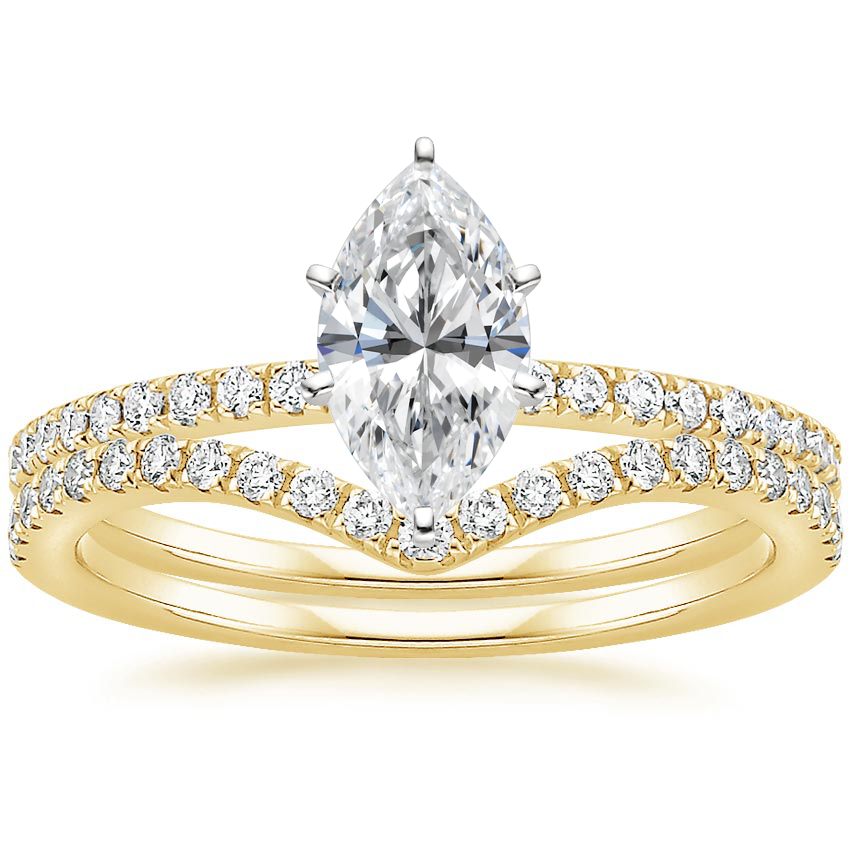 The curving, oblong shape of a marquise cut diamond is flattering and distinctive. A contoured band is a great option to highlight the unique silhouette of a marquise diamond.  
Oval-Cut Stone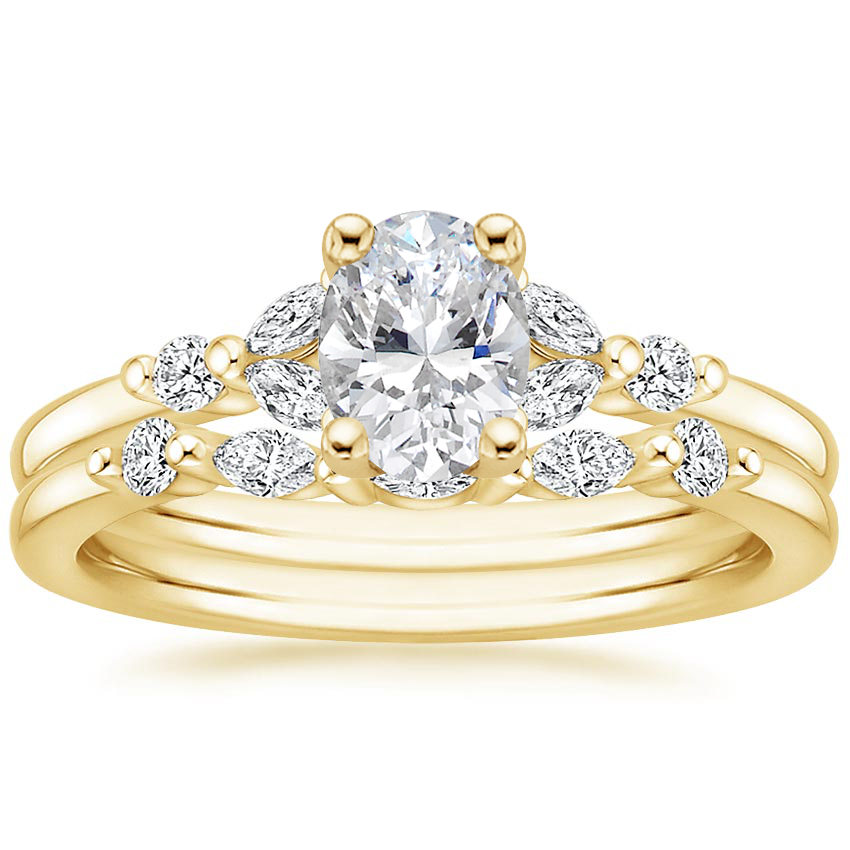 Oval center stones pair effortlessly with many wedding ring styles. We suggest pairing your oval engagement ring with a wedding ring featuring fancy shaped diamond accents for a unique bridal look that highlights the brilliance of the oval shape.  
Final Thoughts
 If you have questions about the best wedding band to pair with your engagement ring, contact a Brilliant Earth jewelry specialist for personalized assistance. We are excited to help you create a beautiful match!