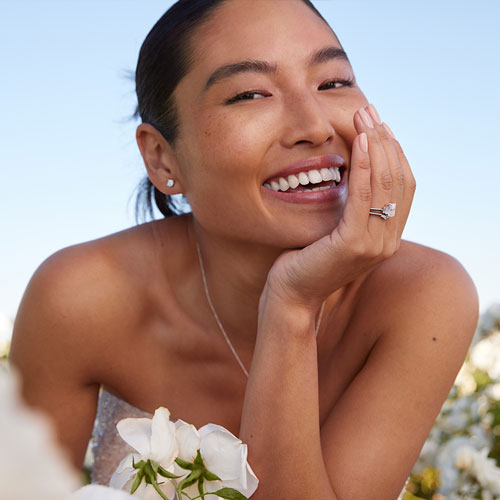 Let's raise our glasses to 2022 – the year the bridal jewelry industry fell head over heels for unique accents, layered stacks, nontraditional center stones, and 80's retro glam. Now it's time to cheers to what's next: here's to 2023!
This year, we met with Kathryn Money – our SVP and engagement ring expert — to gaze into the crystal ball (a.k.a. the data sheets) and predict 2023's top engagement ring trends. Here's what we forecast:
Our SVP, Your Trend Forecaster
Kathryn Money, your 2023 trend forecaster, is our Senior Vice President of Merchandising and Retail Expansion and no stranger to tracking the trends – she's spent the past eight years at Brilliant Earth leading our designers and merchandisers in curating sought-after styles that speak to the era they were designed in. Thanks to Money's direction and expertise, our engagement rings continue to be contemporary, of-the-moment pieces that reflect our sustainability-driven ethics as well as the desires of our customers.
When considering the trends of engagement rings next year, Money remarks that "the top engagement ring trends of 2023 will allow couples to express their individual style," further elaborating that "colored gemstones add vibrancy, unique details elevate the classics, unisex styles break with tradition, and vintage-inspired motifs make modern designs timeless heirlooms."
Now that you know you're in expert (and jewelry-adorned) hands – let's dive into the engagement ring trend details of 2023!
1. Colorful Gemstones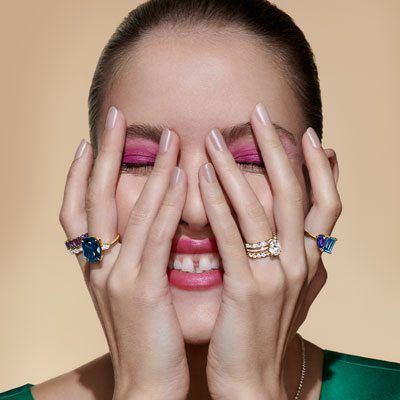 Couples this year are opting to stand out instead of blending in. Pops of color like deep violet, spring green, and fiery red add whimsy and originality to bridal designs, allowing for tailored personal expression via eye-catching hues.
"Celebrities and customers alike frequently choose colored gemstones as they often have a special meaning," observes Money, such as "a favorite color, birthstone, or associated quality with a particular gemstone." Colorful center stones are the new tried and true, as exemplified by celebrities Jenny Slate, Kristen Bell, Zoe Saldana, Katy Perry, Lady Gaga, Blake Lively, and Scarlett Johansson who all wear vivid engagement rings that pack a whimsical punch of color.
Be on the lookout for all things cool-toned next year, as Money maintains "green and blue-hued stones, including emerald, alexandrite, and classic blue sapphires will be particularly popular."
Viridian Toi et Moi Emerald and Diamond Ring in 18K White Gold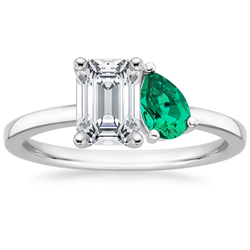 We all know toi et moi's are having a major moment. This particular style features a pear-shaped green lab emerald that evokes a fresh, springtime feel alongside a diamond offered in nine different shapes.
Arden Diamond Ring with Lab Emerald Accents in 18K Yellow Gold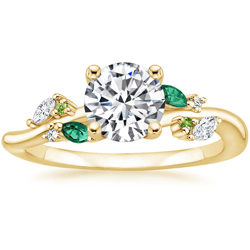 Garden party chic, this ring features diamond and green emerald buds that blossom across a precious metal vine.
Indigo Melody Ring in 18K White Gold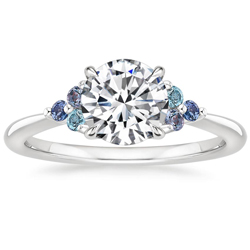 Reminiscent of the Mediterranean Sea, this azure style brings on the blues with a cluster of aquamarine, lab sapphire, and lab alexandrite.
Aimee Aquamarine Ring in 18K White Gold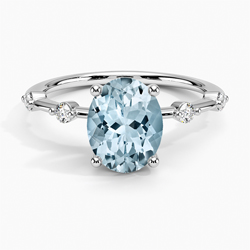 Our ultra-thin Aimee design is a top contender for most popular newcomer this year. This version features a sky-colored aquamarine that fulfills the old wedding lore of a lucky 'something blue.'
2. Unique Solitaires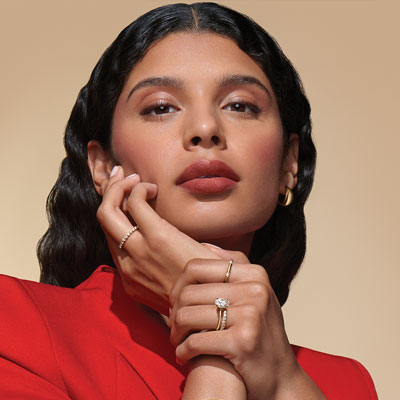 Like the best cocktails, this 2023 trend comes with a twist. Gone are the days of classic, simple solitaires. According to Money, "modern updates to classic looks will be more sought-after in 2023." Instead of traditional prongs, couples this year are intrigued by bezel settings and double prongs. Newly popular hidden halos transform what appears to be a solitaire into a shimmering, luxe design. And perhaps the edgiest 2023 trend yet, chic east/west settings that flip elongated stones horizontally for an utterly unique look. "This trend is all about styles that appear to be traditional but are elevated by their craftsmanship and subtle, distinctive details," Money concludes.
Delilah Twist Solitaire Ring in 18K Yellow Gold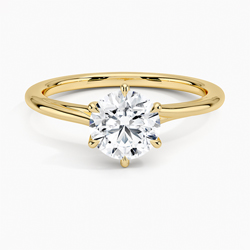 The shank of this on-trend ring twists upwards, creating a solitaire look that's full of movement.
Petite Luna Bezel Ring in 18K Yellow Gold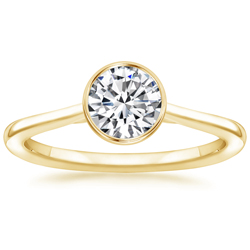 This ring utilizes a bezel setting to secure the center stone rather than traditional prongs for an edgier, of-the-moment design.
Jovie Crossover Ring in 18K White Gold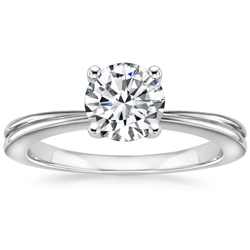 Arcing metals cross over one another in this elevated style that takes a regular solitaire and adds textural intrigue.
Lévita Ring in 18K Yellow Gold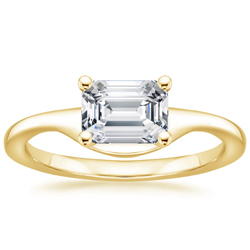 Rather than sitting at the middle of the setting, the center stone of this ring floats dramatically above the band in this magic, one-of-a-kind solitaire.
3. Bold Stacks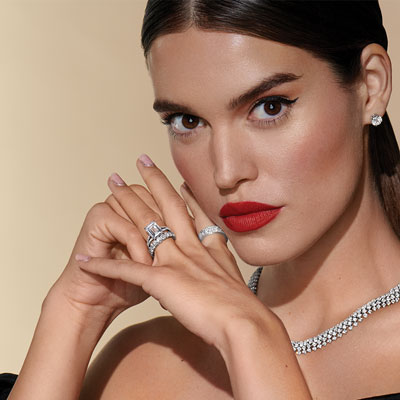 Ring stacks come to life when two or more bands are placed on a single finger, creating a cohesive and striking look. "Trends have increasingly turned towards stacking," notes Money in reference to the coming year. It's all about the more the merrier in 2023, so go bold with a maximalist stack, or, as Money advises, choose a "contoured or nested ring that can create a unique, individualized look while highlighting the center stone." A stack can also be comprised solely of bold wedding rings that, when united, make enough of a statement to celebrate your one-of-a-kind love story.
Insider tip: Design your own ring stack with the use of our cutting-edge technology that allows virtual customers to visualize and bring to life their dream design.
4mm Mojave Ring in 18K Yellow Gold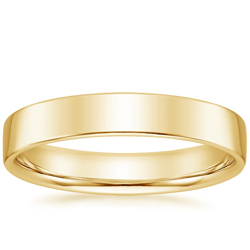 The sleek, uniform edges of this classic band make it the perfect ring to start a stack with. 4mm is an excellent width – not too chunky and not too delicate – to make a statement but keep things comfortable.
Emerald Eternity Diamond Ring in 18K White Gold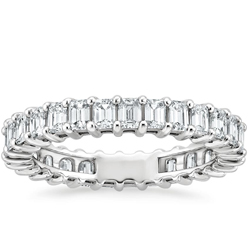 Emerald cut diamonds have topped the popularity charts for years – and this eternity band might be the most fabulous of them all. A true showstopper that adds a hint of glam to your 2023 stack.
Luxe Tres Ring Stack in 18K Yellow Gold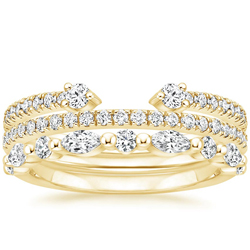 This curated stack allows you to reach new fashion heights with minimal effort – we'll choose the bands; you rock them (and get a 10% discount while you're at it).
Abierta Diamond Ring in 18K Yellow Gold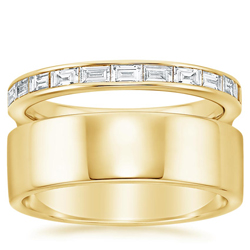 Get the look of two bands in one with this trendy stacked piece. A chunky band rests beneath a baguette diamond adorned second band for an edgy, luxe look.
4. Inclusivity & Self Expression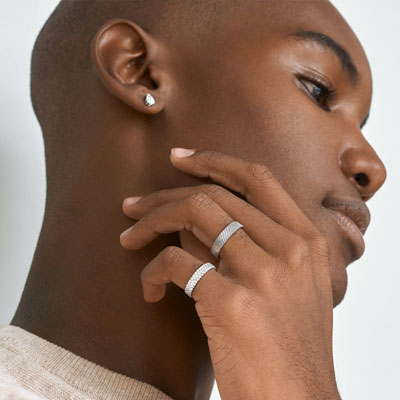 In 2023, it's on trend to be yourself and be yourself proudly – including how you choose to express yourself with jewelry. "Customers are selecting jewelry that uniquely celebrates who they are," Money affirms.
At Brilliant Earth, our designers are committed to crafting pieces that allow each customer to express themselves how they see fit – without conforming to rigidity, tradition, or stereotypes. Money adds that, "Inclusivity is a key part of our mission, and our breadth of designs, including gender neutral styles, inclusive sizing, and Create Your Own Ring functionality allow customers to personalize their ring and truly make it their own."
Our MX, rings for everyone, and men's engagement ring collections fluidly blur the boundaries of traditional jewelry practices are living examples of this commitment – through extended sizing, nontraditional engagement rings, and more traditionally 'masculine' wedding bands that act as engagement rings themselves.
Horizontal Petite Comfort Fit Solitaire Ring in 18K Yellow Gold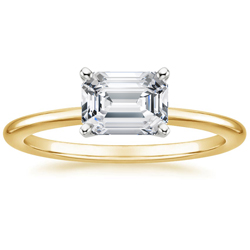 The timelessness of this style transcends tradition – it's simply, chicly, the one: classic bead prongs cradle an east/west set center stone while a lustrous band completes the iconic design.
Morgan Bezel Ring in 18K White Gold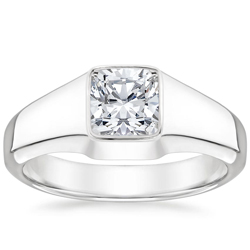 A thick band creates a modern, fluid, statement look in this bezel design. This ring can be worn on the conventional ring finger or on another to celebrate your love your way.
Equality Baguette Diamond Ring in 18K White Gold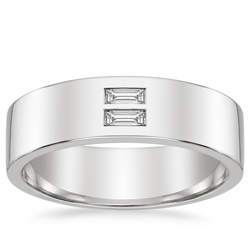 The symbol for equality sparkles brightly and symbolically in this chunky diamond band that is as on-trend as it is meaningful.
Silas Tension Style Diamond Ring in 18K Yellow Gold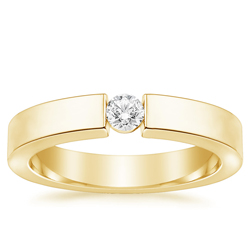 Two lustrous ends of the precious metal band create a floating look in this tension style ring for a magical, one-of-a-kind look.
5. Vintage & Art Deco Designs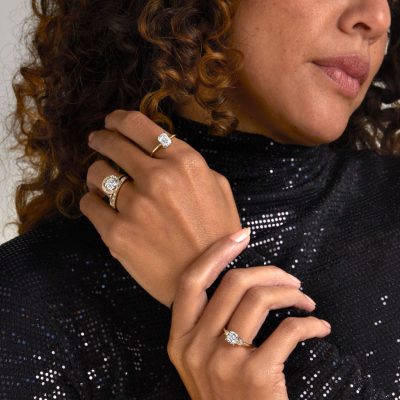 Money explains that "jewelry trends cycle, but vintage designs have a lasting, timeless appeal," and 2023 is certainly swooning for all things vintage-inspired. Charming motifs like filigree and etched starbursts keep romance alive in ring form, bold motifs reminiscent of Art Deco architecture keep things grounded, and baguette diamonds sparkle like a 1920's cabaret, bringing a hint of old school glamour.
Intriguing blends of modernity and traditionalism are in this year and "customers are on the lookout for styles that seamlessly blend vintage elements with contemporary craftsmanship," articulates Money.
Jaqueline Art Deco Diamond Ring in 18K Yellow Gold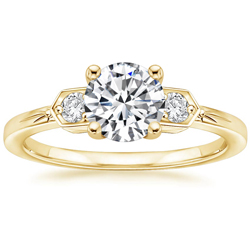 Starburst etchings adorn the sides of this ring, adding a hint of vintage flair to a timeless three stone look.
Anita Art Deco Ring in 18K White Gold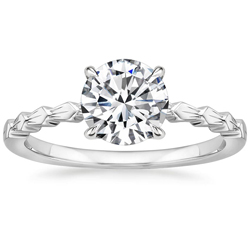 Our designers studied architectural motifs of the Art Deco era and sketched this ring, incorporating the fluted forms often visible on the great buildings of the period (like the Empire State).
Cinta Art Deco Diamond Ring in 18K Yellow Gold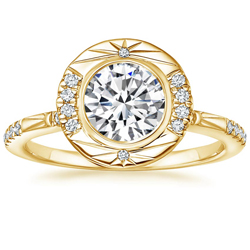 A lustrous metal halo adorned with diamonds and starburst etchings exudes all things 1920's glamour in this jazz-age inspired stunner.
Nouveau Diamond Ring in 18K White Gold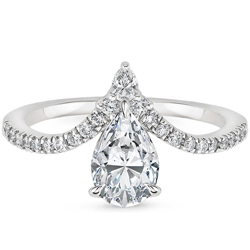 Motifs of the Art Nouveau movement come to life in this diamond-studded style that curves strikingly towards a statement worthy point.
6. Expect the Unexpected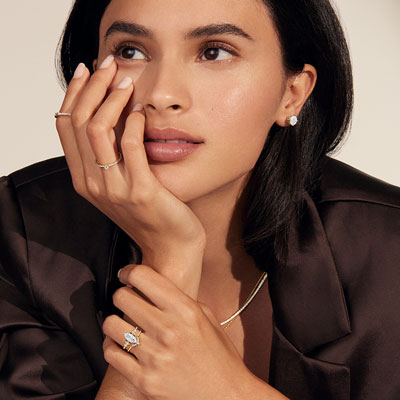 In 2023, modern engagement ring trends are taking in a breath of fresh air: prepare to be refreshed with contemporary designs that sing out with the old, in with the new. Our designers stay on-trend by continually ideating sketches that push beyond standard designs to develop something of-the-moment – and this year customers are on board. "Couples are looking for modernized silhouettes that include distinctive, design-forward details," Money confirms. Asymmetry, open bands, and split shanks will have a major moment and hidden details will continue to surprise and delight.
Côte Asymmetrical Diamond Ring in 18K Yellow Gold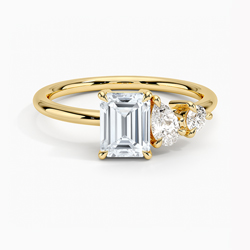 While so much of the bridal industry focuses on perfect symmetry and grace, it's the asymmetry of the side stones that give this design a unique and captivating flair.
Tressa Split Shank Diamond Ring in 18K White Gold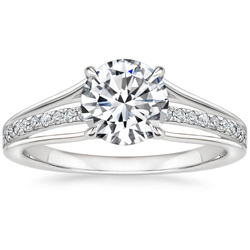 We're doing a triple take for this ring that features a strand of diamonds resting between two statement splits for a three-split take on an ever-classic two-split design.
Stanza Diamond Ring in 18K Yellow Gold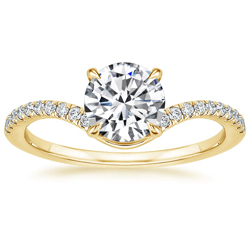 Like Shakespeare's best sonnets, the Stanza surprises and delights: the center stone appears to float above the gently curving, diamond-adorned band for a romantic yet ethereal look.
Pisa Diamond Ring in 18K White Gold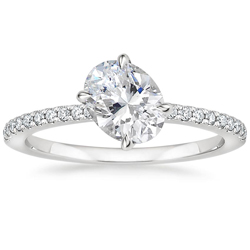 Crafted with cutting-edge craftsmanship and security in mind, this design leans – in all the right ways. The center stones are angled, taking a modern engagement ring silhouette and elevating it.
7. Multi Stones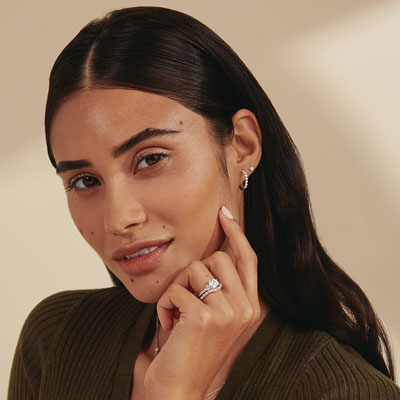 Two is undeniably better than one. When it comes to diamonds and gemstones, we'll take three – or five! And so will 2023 – this year, toi et moi's, three stone rings, and five stone rings "will continue to be popular" states Money, elaborating that, "toi et moi's hold a lot of potential because you are not only picking two shapes but you can also mix in a play of color to create something even more unique." Beyond their aesthetic qualities, Money notes that toi et moi rings are also "symbolic – as toi et moi means you and me."
Three and five stone rings, unlike the new toi et moi trend, have been around for quite some time (think Megan Markle's three stone that features two round side stones from Princess Diana's collection) and in 2023 they're making a serious comeback.
Luxe Cometa Diamond Ring in 18K Yellow Gold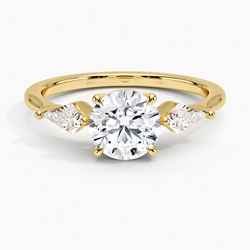 Kite-shaped diamonds set this three stone style apart with sleek pointed tips that taper towards the lustrous band.
Luxe Rhiannon Three Stone Diamond Ring in 18K White Gold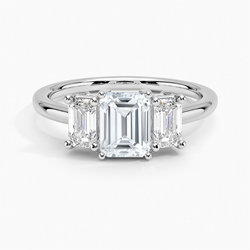 A classic beauty, the Rhiannon series features emerald-cut diamonds that rest on either side of the center stone for a modern, elevated, three (or five) stone design.
Corinne Five Stone Diamond Ring in 18K White Gold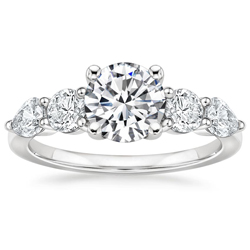 Multi mixed stone designs are making their way into the market and the Corinne is the perfect example: two round diamonds flank the center stone while two pear diamonds complete the unique five stone look.
Alma Toi et Moi Diamond Ring in 18K Yellow Gold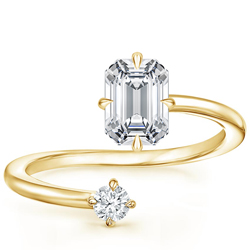 The toi et moi was made popular by Megan Fox's recent engagement, but we don't think the love this style is going anywhere. The perfect combination of modern and timeless, toi et moi rings push the boundaries of design in all the right ways, becoming instant-classic yet edgy rings.
In Conclusion
The top engagement ring trends of 2023 reflect how brides-to-be are expressing themselves this year: colored gemstones add flair, unique details elevate the classics, unisex styles break with tradition, and vintage-inspired motifs make modern designs timeless heirlooms.
No one can predict of all the memorable events, surprising details, and meaningful moments 2023 will bring – but one thing is certain here at Brilliant Earth: we'll continue to innovate, dedicate ourselves to our mission of sustainability, produce state-of-the-art rings and fine jewelry, and keep the trends top of mind.