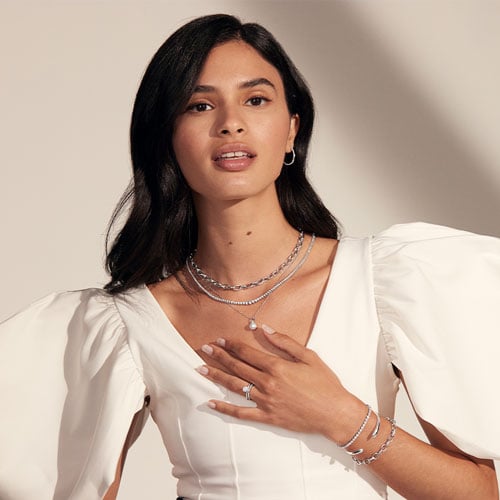 Let's say a fond farewell to 2022 – the year the jewelry industry was captivated by colored gemstones, layered stacks, and a return to staples and basics. Now it's time to raise a glass to what's next: cheers to 2023!
This year, we met with Kathryn Money – our SVP and fine jewelry expert – to gaze into the crystal ball (a.k.a. the data sheets) and predict 2023's top fine jewelry trends. Here's what we forecast:
Layering Basics: Beloved basics reach new heights in cohesive combinations that create chic stacks.
Hoops: Classic plain hoops and diamond accented styles continue to be on-trend staples in every wardrobe.
Tennis Everything: Luxe, red-carpet ready diamond links become accessible for everyday wear this year.
Personalization: Sweet-nothings, initials, birthstones, and name necklaces transform aesthetic styles into meaningful, personal designs.
White Tone Metals: No one's going for the gold anymore – in 2023 white tone metals, like silver and white gold, will take first place.
Men's & Unisex Jewelry: Jewelry for men is back in vogue, with unique, handsome silhouettes that everyone can pull off.
Toi et Moi: Two is undoubtedly better than one and toi et moi styles are bringing on all things Parisian chic.
Our SVP, Your Trend Forecaster
Kathryn Money, your 2023 fine jewelry trend forecaster, is our Senior VP of Merchandising and Retail Expansion and a bona fide tracker of the trends. For the last eight years, she's led Brilliant Earth designers and merchandisers in curating and creating contemporary styles that speak to the era they were designed in. Thanks to Money's expertise and direction, our fine jewelry continues to be sought-after, of-the-moment, as well as reflective of our sustainability-driven ethics.
In relation to this year, Money evaluates that "the top fine jewelry trends of 2023 reflect a move from minimalist to maximalist and from traditional styles to a more personalized, meaningful look." This means that bold, meaningful, and unique looks will be in – and we're excited.
Now that you've met 2023's expert forecaster, let's zero in on all the details!
1. Layering Basics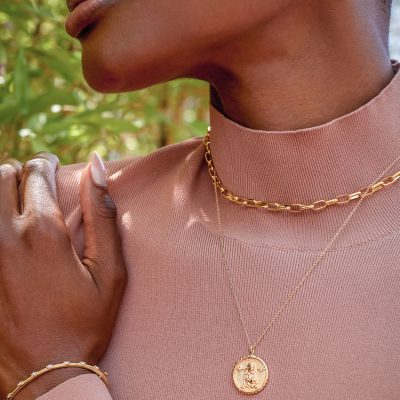 2023 is all about layering the basics into chic stacks. "Cohesive layering is an art form in the jewelry world – and our customers excel at it," attests Money, confirming that this year, "the layering trend will continue with mixed metal stacks, bold combinations, and creative takes on timeless styles that bring stacking to a new level." So, take the opportunity to get creative – pair dainty pendants with statement necklaces, tennis bracelets with edgy cuffs, and lustrous hoop earrings with shimmering diamond studs.
Necklaces:
Chain necklaces are all the rage – and for all the right reasons. These necklaces come in a myriad of types, from delicate link chains to bold herringbones, and each act as the perfect fashionable and stackable staple to begin any stack.
Insider tip: pair more delicate chains with chunkier styles for a supremely of-the-moment look.
Vera 18 In. Link Chain Necklace in 14K Yellow Gold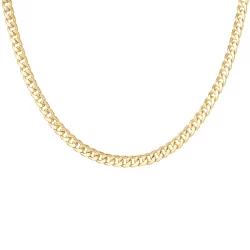 Chain links are the most classic form of chain and the perfect basic to start your stack.
Dezi 16 In. Herringbone Necklace in 14K Yellow Gold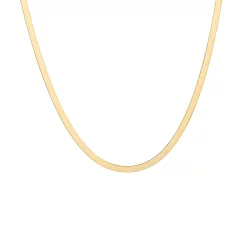 Herringbone chains are chunky, bold, and slinky, and the Dezi is the quintessential example. These chains have a knack for laying completely flat, making them excellent stackable options.
Lyla Rope Chain Necklace in 14K White Gold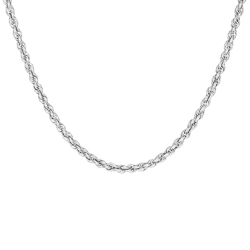 The Lyla puts the perfect twist on a classic design, with linked metal that twirls effortlessly, bringing necessary movement to any layered 2023 look.
Lola Paperclip 16 In. Chain Necklace (Small) in 14K Yellow Gold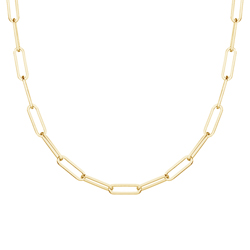 Our infinitely loved Lola paperclip chain features open links for a modern, edgy, and highly stackable look.
Bezel Strand 18 In. Diamond Necklace (1/3 ct. tw) in 18K Yellow Gold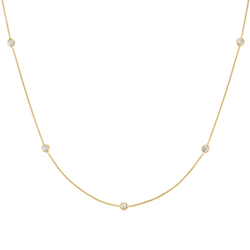 Who doesn't want their stack to sparkle? Add a strand of diamonds to yours this year for a hint of whimsical luxury.
Bracelets:
Bracelets are an effortless way to up-level any look and are easily stacked to adorn the wrist in glimmering light. Chain bracelets and diamond-accented bracelets are especially popular: mix the two to create a chic pair.
Lola Paperclip Bracelet in Silver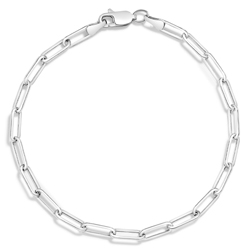 Our coveted Lola bracelet features paperclip links that adorn the wrist with on-trend flair.
Fia Link Chain Bracelet in 14K Yellow Gold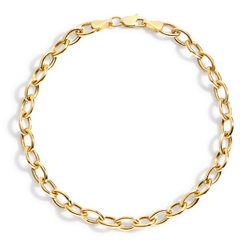 Classic simplicity defines the Fia – with round links that leave open space, making it the perfect basic to build a stack on this year.
Homme 7 In. Link Chain Bracelet in 14K Yellow Gold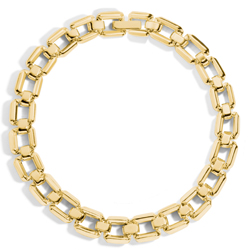 Our Homme series brings an on-trend unisex look to anyone's style with square, handsome links that bring angularity and edge.
Five Diamond Bezel Bracelet (1/2 ct. tw.)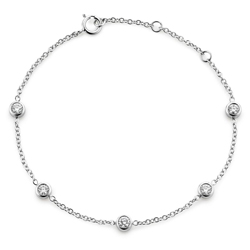 Five shimmering diamonds adorn this bezel bracelet that adds the perfect hint of shimmer to any 2023 stack.
Diamond Studs:
Diamond studs are never out of style, and 2023 is no different. Low-profile yet glamorous, a stud earring created with a lab or natural diamond is a timeless choice that elevates any ear stack.
Round Diamond Stud Earrings (1 1/2 ct. tw.) in 18K White Gold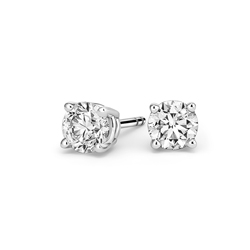 Studs complete an ear stack. They're comfortable and versatile. These natural diamond versions are perfect for anyone looking to add luxe sparkle to their 2023 look.
Lab Created Diamond Stud Earrings (3/4 ct. tw.) in 18K Yellow Gold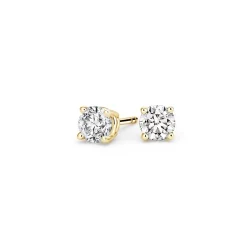 Since lab diamonds are trending this year, opt for lab diamond studs to save on price while still maximizing sparkle.
2. Hoops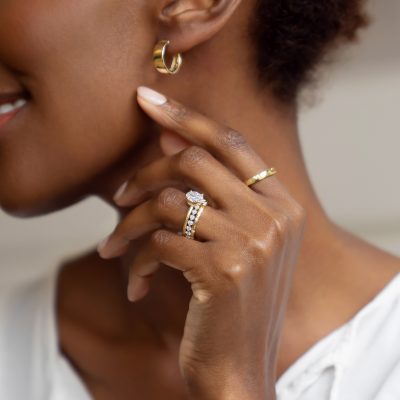 Hoop earrings are undeniably the little black dresses of the 2023 jewelry world: everyone needs a pair. Money explains that "hoops are key wardrobe staples due to their versatility – you can dress them up or down, opt for glamorous diamond hoop earrings, or keep it sleek and simple with a plain metal pair that's perfect for everyday wear." This year, it's on trend mix and match hoops in various stacks for looks that keep it simple or make a serious statement.
Classic Hoop Earrings in 14K Yellow Gold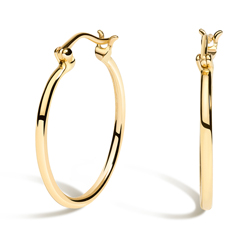 The name speaks for itself – these classic hoop earrings are the true LBD's. Pair them with other sizes, diamond-accented styles, or rectangle hoops to create the perfect stack.
Bliss Lab Created Diamond Hoop Earrings in 14K White Gold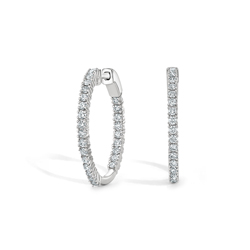 The Bliss hoops are truly blissful, and act as sparkling additions to any 2023 stack that needs brightening.
Echo Diamond Hoop Earrings (3/4 ct. tw.) in 18K White Gold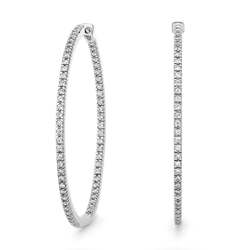 If you want to be extra luxe, pair the Echo hoops with the Bliss hoops for the ultimate diamond-studded duo.
Lab Diamond Elongated Hoop Earrings (1/3 ct. tw.) in 18K White Gold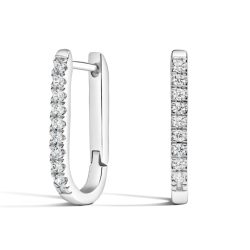 The ovoid shape of these lab diamond hoop earrings brings an eye-catching, unique look.
Baguette Diamond Hoop Earrings (1/2 ct. tw.) in 14K Yellow Gold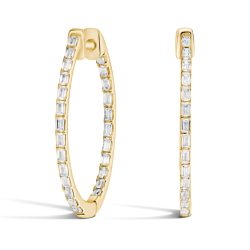 Baguette diamonds are another on-trend item this year, and these hoop earrings are topping the charts.
Calypso Twist Hoop Earrings in 14K Yellow Gold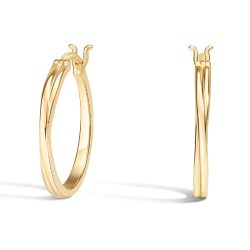 Twisting layers of precious metal create a full-of-movement look in these classic-with-a-twist hoops.
3. Tennis Everything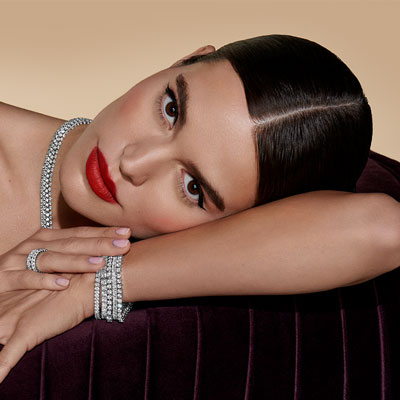 "Tennis items are back in a serious way," Money remarks. And tennis bracelets and tennis necklaces are no longer only made for the red carpet: "fashionistas these days are finding ways to make the look accessible and casual." Tennis everything is on trend enough for the everyday in 2023. With shimmering links that evoke understated glamour, these styles are particularly sophisticated in a stack "with other materials including yellow gold, gemstones and pearls," advises Money.
Tennis Necklaces:
Tennis necklaces are reminiscent of the bygone era of true romance and old Hollywood glamour. Luckily for us, they're back in style. Wear them on their own as statement pieces or add to a stack for a more understated look.
Diamond Tennis Necklace (5 1/2 ct. tw.) in 18K Yellow Gold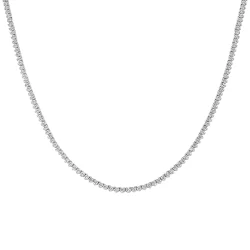 Classic, effortless, and timeless. This on-trend diamond tennis necklace sparkles in five and a half carats of diamonds that grace the neck with shimmering light.
Petite Diamond Tennis Necklace (2 1/5 ct. tw.) in 18K Yellow Gold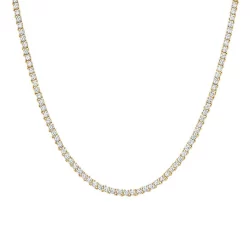 If you want to maximize the sparkle at a better price this year, opt for a petite necklace that features diamonds that wrap only half of the way around – they are more cost-effective and easily dressed-down for an everyday look.
Melrose Lab Diamond Necklace (7 2/5 ct. tw.) in 18K White Gold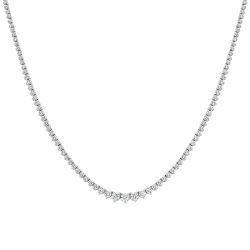 Lab diamonds create stunning tennis necklaces that match their mined counterparts in sparkle – the Melrose features a riviere style that evokes old Hollywood glitz and glam.
Tennis Bracelets:
Classic as ever, tennis bracelets are back with a glimmering vengeance this year. As with their necklace counterparts, they can be worn on their own for a sleeker look or added to a trendy wrist stack.
Diamond Tennis Bracelet (3 ct. tw.) in 18K White Gold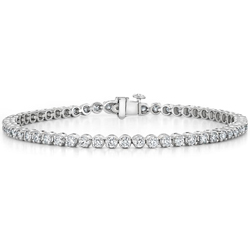 The perfect start to any wrist stack, this diamond tennis bracelet shimmers and wraps the wrist in lustrous light.
Olivetta Lab Diamond Tennis Bracelet (3 1/3 ct. tw.) in 18K White Gold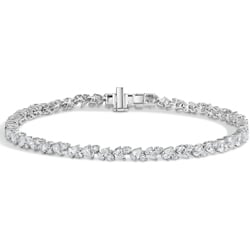 A romantic take on a classic tennis design, the Olivetta features round and pear-shaped diamonds that add unique, floral flair.
Beatrice Lab Diamond Tennis Bracelet (1 ct. tw.) in 18K Yellow Gold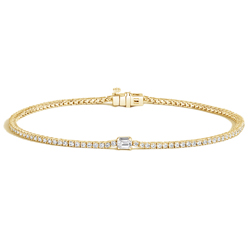 The Beatrice fits in with 2023 well as it's all at once modern and classic. A trendy emerald-cut diamond takes center stage along it's shimmering links.
Paperclip Lab Diamond Tennis Bracelet (1/2 ct. tw.) in 14K Yellow Gold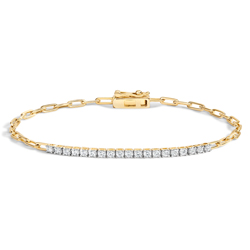 Another example of two trends in one: this paperclip lab diamond bracelet seamlessly blends modernity and traditionalism for a bold, on-trend look.
4. Personalization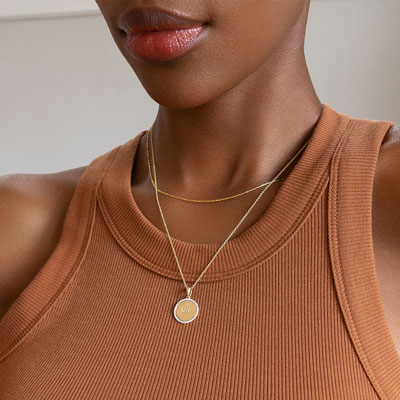 Whether it's a jewelry gift for someone special or a gift for yourself, "putting a personal touch on a jewelry design makes it that much more meaningful," Money advises. This year, "we'll see customers getting creative with their personalization, from name necklaces and initials to Zodiac pendants." Birthstone jewelry and sweet-nothing engravable jewelry will also continue to be as ultra-popular as always.
Engravable Tag Pendant (Large) in Silver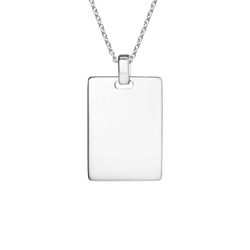 Sleek modern edges create a modern, on-trend look in this design that can be personalized with an engraving for added sentimentality.
Engravable ID Bracelet in 14K Yellow Gold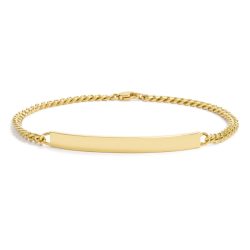 ID bracelets are back in style and this engravable version is the perfect gift for others or for yourself!
Engravable Bangle Bracelet (5mm) in Silver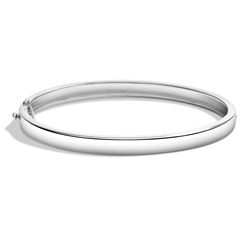 Bangle bracelets are both comfortable and chic – better yet, this one is engravable. Add a hint of personalized flair with a unique and meaningful engraving.
Pisces Zodiac Diamond Pendant in 14K Yellow Gold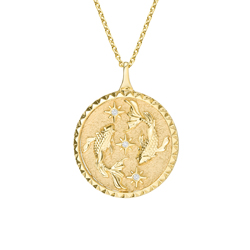 Zodiac designs (especially this medallion version) are in. Personalize your medallion necklace with the symbol that represents your star sign.
Insider tip: our Zodiac designs come in a luxe version that features a halo of diamonds around the medallion for added sparkle.
Teardrop London Blue Topaz Pendant in Silver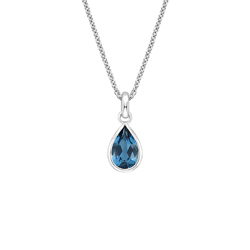 Birthstones are back in this year! Each month is represented by a different gemstone, check out this birthstone jewelry guide to figure out which stone celebrates you.
Create Your Own Four-Prong Earrings in 18K Yellow Gold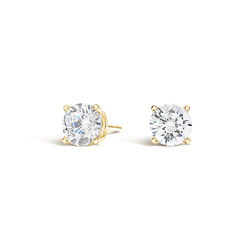 Perhaps the best way to personalize a design is by creating it yourself. Our design your own diamond earrings allow you to choose the setting as well as the (lab or natural) diamonds a piece is set with.
Create Your Own Single Bail Four Prong Pendant in 18K White Gold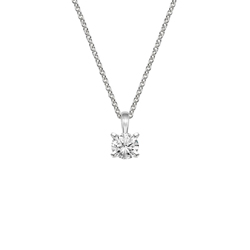 We offer the same personalization capabilities with our design your own diamond necklace and design your own gemstone necklace processes. We offer each customer the opportunity to create a one-of-a-kind style that reflects who they are.
5. White Tone Metals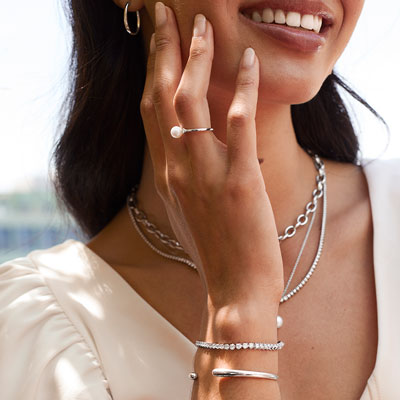 White metals – like white gold and silver – are taking over last year's yellow gold jewelry trend. Money puts it succinctly – they've "made a comeback." Elaborating, she notes that "millennial pink made way for the recent yellow gold trend, but now, we're seeing customers mix metals or opt for all white tones to complete a look, especially when there is an element of chunkiness." So, this year, plan to see a lot of white tone styles, especially layered in edgy, chunky stacks.
Insider tip: read our guides to learn the difference between platinum vs. white gold and white gold vs. silver.
Daria Wide Bangle Bracelet in Silver
Make a statement with this ultra-chunky style that can be worn with a modern-chic outfit or a down to earth look.
Vera 18 In. Link Chain Necklace (3mm) in 14K White Gold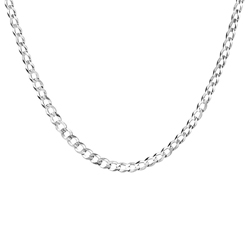 This year, a classic link chain necklace is a necessary basic and can complete any look with lustrous shine.
Silhouette Cuff Bracelet in Silver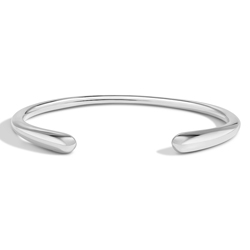 Fluid and organic, this cuff bracelet is a 2023 mainstay that can be worn on its own or added to a stack.
Oval Hoop Earrings in 14K White Gold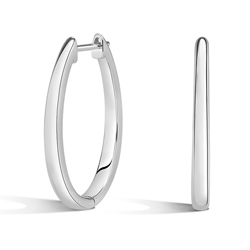 If you already have a pair of round hoops these oval-shaped hoop earrings are the next best thing this year.
Diamond Link Bracelet in Silver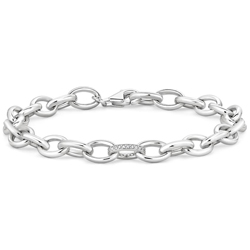 Classic diamond links are accepted by shimmering diamonds set in silver for a trendy look.
6. Men's & Unisex Jewelry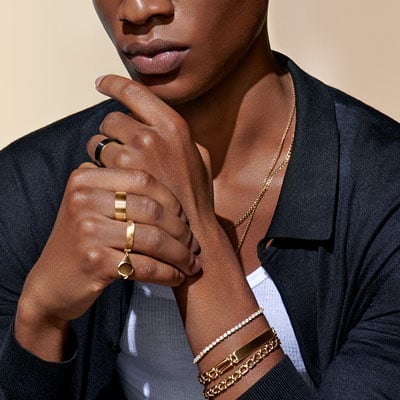 "Men are getting into jewelry this year in a big way," Money confirms – and everyone's the better for it. "Chains, cufflinks, and alternative metals are becoming increasingly popular forms of self-expression." In 2023 you'll see people wearing traditional men's styles fluidly. Especially trending in 2023 are "pearl elements that complete looks in men's jewelry," Money adds, so be on the lookout for strings of them.
At Brilliant Earth, our unique men's line is called the Homme Collection, and features beveled edges that modernize those more traditionally masculine silhouettes with sleek, high polish edges.
Homme Engravable Cuff Bracelet in Silver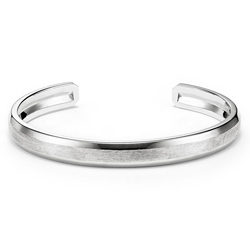 This silver cuff is both sleek, handsome, and practical.
Homme Tree of Life Pendant in Silver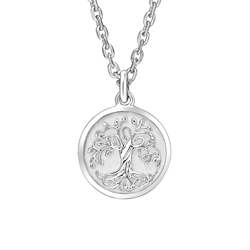 A tree of life is depicted on this medallion necklace, making for both a meaningful and a visually pleasing look.
Onyx Dogtag in 14K Yellow Gold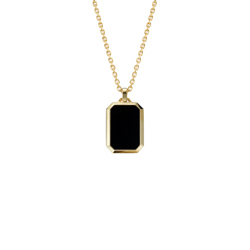 Black onyx is all the rage in unisex jewelry. This dog tag features a rectangular shape for an on-trend, edgy design.
Two-Toned Hinged Bangle in 14K Yellow Gold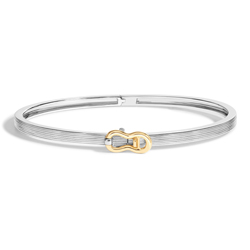 Mixed metal men's jewelry is a bold choice for your 2023 look. Pair it with other mixed metal items for a cohesive look.
Milo Rope Chain Necklace in 14K Yellow Gold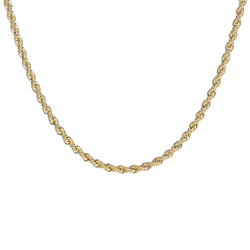 Rope chains are in as basic, everyday items this year. Layer with other chains for an of-the-moment stack.
Homme 7 in. Link Chain Bracelet in Silver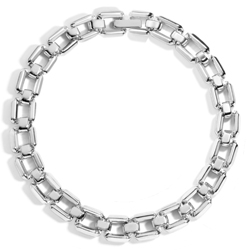 Bracelets make for excellent additions to anyone's wardrobe and this one-of-a-kind link chain bracelet is as handsome as it is on-trend.
Lab Created Diamond Stud Earrings (1 ct. tw.) in 18K Yellow Gold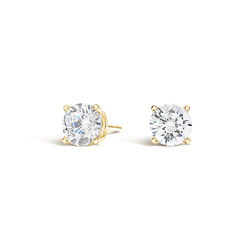 Studs are a must – for men and women. These lab created studs sparkle as brightly as their natural counterparts and come in at a better price point.
Round Diamond Stud Earrings (3 ct. tw.) in 18K White Gold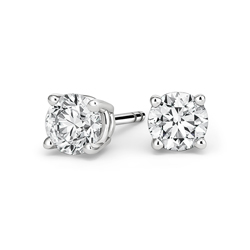 Everyone deserves a luxe moment. These three carat natural diamond studs are just the thing to ring in 2023 in glamorous style.
7. Toi et Moi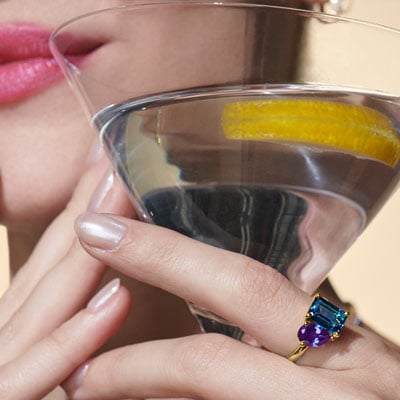 What started as a red-hot trend in engagement rings with Megan Fox's toi et moi design is "running over into everyday jewelry options," points out Money. Our collection of colorful cocktail rings features two toi et moi styles, one in pink and one in blue, and our sapphire and aquamarine toi et moi earrings and pendant are as on-trend as can be. "Because these styles feature both unique stone shapes, such as gemstone hearts and ovals, as well as color options, toi et moi styles are both trend-forward and symbolic." In 2023, prepare to see a lot more of personalized 'you and me' styles out there – it takes two to tango, after all!
Toi Et Moi London Blue Topaz and Lab Alexandrite Cocktail Ring in 18K White Gold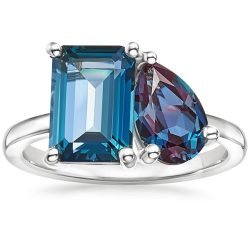 This style gives us anything but the blues – but the blue hues are on point. Moody blue and vivid purple gemstones create a regal, bold toi et moi design.
Toi Et Moi Morganite and Pink Tourmaline Cocktail Ring in 18K Yellow Gold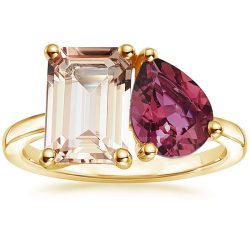 This toi et moi design is the rosé of the ring world: and we want a glass. Morganite and tourmaline create a rosy-hued and romantic look.
Sapphire and Aquamarine Toi Et Moi Pendant in Silver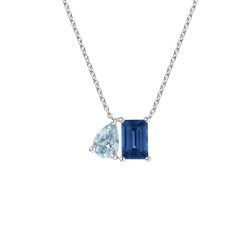 In 2023 and beyond, toi et moi styles will reign supreme. This blue pendant version features a shining sapphire and aquamarine for an ocean-inspired look.
Sapphire and Aquamarine Toi Et Moi Earrings in Silver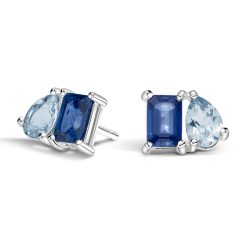 Two is better than one in this toi et moi pair of earrings that perfectly match the above necklace for an effortlessly on-trend, blue-hued look.
In Conclusion
Money put it best – "the top fine jewelry trends of 2023 reflect a move from minimalist to maximalist and from traditional styles to a more personalized, meaningful look." This year is all about bold styling, white tone metals and mixed metal styles, and meaningful pieces that personalize your look.
No one can predict of all the memorable events, surprising details, and meaningful moments 2023 will bring – but one thing is certain here at Brilliant Earth: we'll continue to innovate, dedicate ourselves to our mission of sustainability, produce state-of-the-art fine jewelry, and keep the trends top of mind.