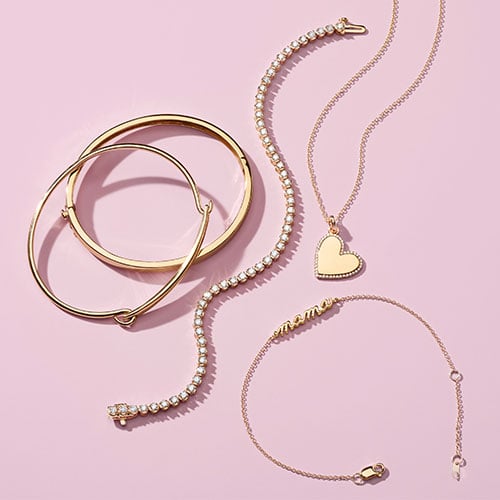 Welcoming a new addition to the world is no small occasion and no small feat. Push presents are the perfect opportunity to commemorate a memorable moment in a new mother's life.
From traditional diamond designs to unique gemstone pieces and plain metal silhouettes, gifting jewelry is a classic and ever-welcome way to recognize the awe-inspiring and difficult path to parenthood.
What is a Push Present?
 Often referred to as 'baby baubles' or 'baby mama gifts,' push presents are unique gifts given to new mothers from family members and loved ones in gratitude for giving birth after nine months of pregnancy.
To mark the special occasion, push present jewelry will stand out from other gifts as a symbolic, meaningful, and from-the-heart piece.
When Did Push Presents Become a Thing?
Hundreds of years ago, the idea and ceremony of 'push presents' was born in India. There, new mothers were (and still are!) showered with jewelry, gifts, and presented with a feast of fruits and sweets upon the birth of their baby. In other places, like Greece, gold has historically been considered an auspicious gift for new mothers at the end of their pregnancy journey.
Push presents became trendy in the United States in the 1990's when celebrities adopted the historic tradition and added modern, extravagant twists. Now, push presents are commonplace in pop culture to commemorate the extraordinary efforts of pregnancy and childbirth.
How Expensive Should a Push Present Be?
Quality is as important as meaning when considering a push present. Choose an item built to last a lifetime – like a mother's love for her child – so she can treasure it always.
It truly takes a village, and whether you are choosing a gift for your daughter, your wife, your dear friend, or your sister, all push presents should represent the confirmation that your support is ever-present and unwavering. Each time the new mother in your life looks at your gift she should remember that you will unconditionally have her back.
Our jewelry designs range from sophisticated and budget-friendly items to glamorous, dripping-in-diamonds designs. Either way, ensure the gift is personalized via our engraving services or a thoughtful, handwritten note.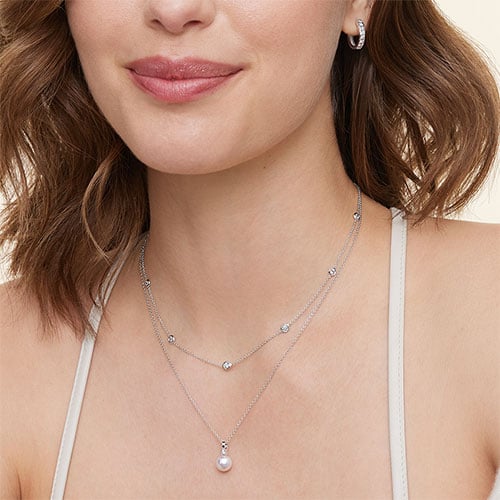 Why Jewelry is the Best Option for a Push Present
When designed with meaning and high-quality materials, gifting jewelry is both practical and special.
When chosen carefully, jewelry provides a new mother with an affirmation of who she is as it can be worn anywhere—during playtime, to the office, on brunch dates, and through late nights taking care their little one.
A fine jewelry design also lasts through the early years of motherhood and beyond, serving as reminder of the beginning of a life-long journey.
Gifting jewelry as a push present also gives the gift of an heirloom, something a mother can pass down to her children and onwards through generations.
The Best Types of Push Present Jewelry
Necklaces: always a stellar choice, necklaces make the perfect push presents because they are suitable for everyday wear. From traditional diamond pendants to modern medallions, a necklace is a sure-fire way to please the new mom in your life. Choose a locket and add meaningful picture to it for a heart-warming gift.
Bracelets: classic tennis bracelets make amazing push presents as they are a classic yet understated choice. Often times tennis bracelets come with safety clasps, making them practical to wear in all phases of motherhood. Modern silhouettes, such as cuffs, also make the perfect push present for trend-forward moms and a gifter on a budget.
Earrings: a great pair of earrings adds style and flair to any outfit–from comfy clothes to a fancy night out. Classic diamond studs are always an excellent choice or choose a pair of gemstone earrings in a color she'll love.
Charms: charms are an excellent way to make a strong statement—pair them with a simple necklace or bracelet and it'll be treasured always.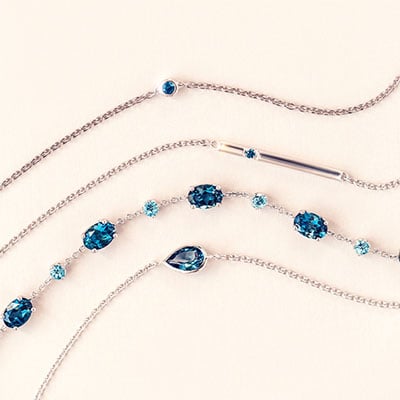 Other Factors to Consider When Buying Push Present Jewelry
 When considering gifting jewelry to new mothers, it's wise to consider the following:
Style: be sure the style of jewelry you choose is something that fits in with her unique flair. If she's traditionally understated, chose an item that isn't too bold. If she's glamorous, get her something flashy. If she's a yellow gold girl, don't go the platinum route.
Design: beyond matching with her style, this gift should be designed with meaning. Choose a design that reflects a powerful emotion like gratitude, strength, love, or kindness.
Color: choose a color that holds meaning. Jewelry with red gemstones could signify love and gratitude. Blue gemstones could wish a new mother tranquility and peace. Yellow gemstones bring joy and warmth to any day.
Flexibility: choose an item a new mother can wear anywhere. Life will be full of tasks and chores but will also have moments of excitement, occasional date nights, and some fun. Ensure the design is flexible enough to compliment different types of activities.
Birthstones: consider gifting the new mother in your life a birthstone piece to commemorate the month she became a mother.
Heirlooms: gift a design that will last (and be fashionable for) a lifetime and beyond.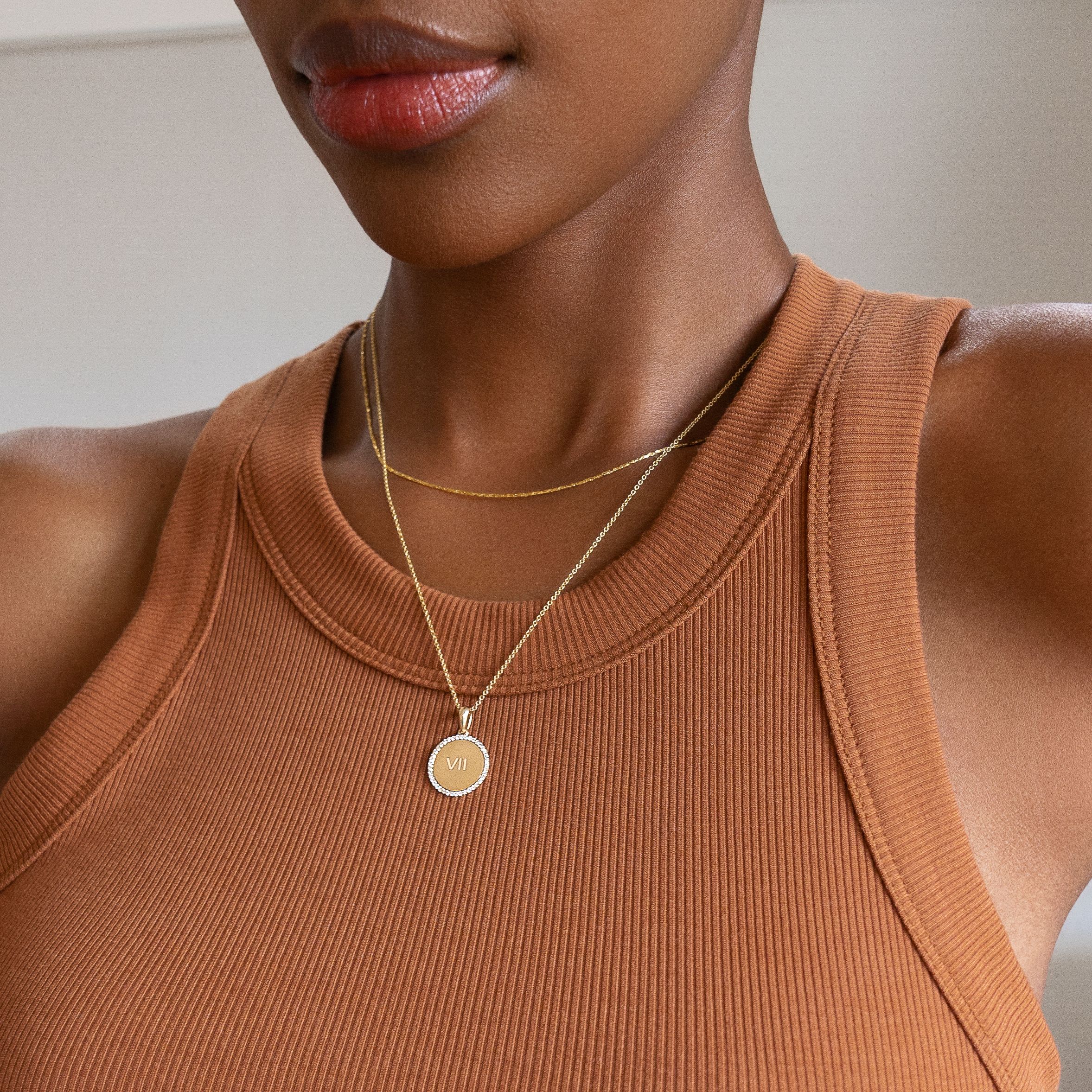 Gift Ideas for New Moms
Now that you're familiar with all things push present, take a peek at our selections and gift the new mother in your life something special.