"It is not often that someone comes along who is a true friend and a good writer." -E.B. White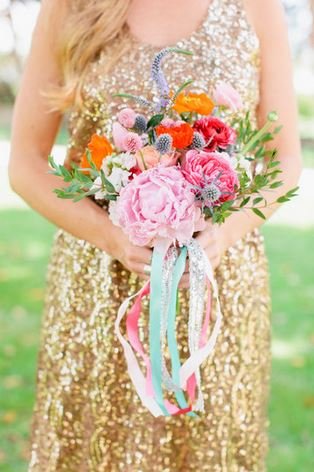 So you're the maid of honor, congratulations! You will now get to complete a number of wedding-related tasks, hopefully with grace and ease. You will: act as the fearless bridal party leader, listen to everything the bride says, host a bridal shower, record gifts for thank you card purposes, plan the bachelorette party, purchase your dress and shoes, run last minute emergency errands, attend the rehearsal, talk the bride down from a panic attack, walk down the aisle, walk back up the aisle, and bustle the gown.
This is really just the tip of the iceberg. The maid of honor plays a huge role throughout the wedding, though she's mostly working in the background. You might be expected to hold the bouquet during the vows, carry the groom's ring, help receive guests, help the bride go to the bathroom (only because you love her) and help the bride change for the honeymoon. This varies from wedding to wedding, but the responsibilities are nonetheless extensive. You will do all of this gladly, because you love the bride and you want her big day to run smoothly. For some, the only bad part about being the maid of honor is standing up to deliver the dreaded speech.
So what should you put in this thing? What is appropriate to say and what's not? Should you crack jokes? Should you mention those parties from your college days or an embarrassing (hilarious) childhood moment? It's difficult to know how to approach the maid of honor speech, which has the potential to yield results that are mortifying for everyone involved.
Speeches are, for better or worse, an important part of the wedding. Words are incredibly powerful. Even if everything else in the wedding has gone wrong, a beautiful, well-delivered speech can remind everyone about why they are there. At the heart of a wedding, the cake and the dress and the venue are all inconsequential; the love shared by everyone in the room is what matters. Your speech has the ability to remind everyone of that fact.
So here's a list of general dos and don'ts for the speech. Some of this should be common sense, but some of it might just inspire you.
THE DOS
DO: Keep your speech lighthearted and speak slowly.
Avoid topics that might cast even the smallest shadow on the happiness of the day. If you are going to mention a recently deceased friend or relative, try to do so in an inspiring way, such as saying how proud they would have been if they could have been there. Only do this if the deceased was a shared friend or relative. If you are going to mention the economy or war, try to do so in a joking manner, and only if it is somehow relevant. DO NOT mention the divorce rate. If you're not sure how something is going to be received, stay on the safe side and don't say it. You can address the significance of marriage without being a downer: just be heartfelt in what you say and how you say it.
In addition, be careful that you maintain your normal tone of voice. Under stress, our voices tend to shoot up 100 decibels and our words come out at the speed of light. Don't speak with false enthusiasm, but don't be monotone either. To hit the right tone and pace, try to pretend like you are giving your speech to the bride and groom privately.
DO: Take a public speaking class.
15% of Americans face a "dramatic fear" of public speaking. By "dramatic fear" they probably mean fainting, crying, and/or zombie-like symptoms. It has been said that humans fear public speaking more than they fear dying and a variety of other terrifying things.
If you suffer from this brand of fear, don't panic. It can be lessened with some hard work and bravery. All you need to do is look into attending a local public speech class. If having to give a maid of honor speech forces you to overcome your phobia, it might be the best thing that has ever happened to you!
DO: Make notecards.
For some of us, the fear of public speaking stems from the fear of forgetting your lines. Make cards and keep them on the table in front of you so that the room can't see them, but you can quickly flip to one if need be. You don't need to write down the whole thing, just the key words.
DO: Paint a beautiful picture of the bride and groom's relationship.
Don't mention every time they broke up and got back together, and don't mention any prior indiscretions on either side. Gloss over all those times when the bride ranted about him, and leave out every time you saw them fight. If you don't do this, you might as well come out and say that you think their marriage won't last. Instead, give a short, sweet synopsis on how they met, a few funny stories, and make sure that you sound extremely confident in their chances for the future.
DO: Steal your material.
While you shouldn't use a pre-written speech that you found online, it's a great idea to include a few famous quotes about love and marriage. Most of us aren't poets or authors, but all of us are smart enough to find an appropriate quote. Try to find something that will make people laugh, cry (happy tears!), or think about the profundity of marriage.
If you want romantic and relatable, try this quote from Robert Fulghum's novel True love:
"We're all a little weird. And life is a little weird. And when we find someone whose weirdness is compatible with ours, we join up with them and fall into mutually satisfying weirdness—and call it love—true love."
If you want to infuse a (good) joke into your speech, try this quote from Agatha Christie: "An archaeologist is the best husband a woman can have. The older she gets, the more interested he is in her."
Try not to give too much marriage advice (especially if you're not married yourself). The best advice would be about happiness in general, emphasizing patience, unconditional love, and positive thinking.
DO: Speak highly of the groom
Even if you don't know him well, or you think that your friend is making the biggest mistake of her life, find something nice to say. Everyone has some redeeming qualities, so take some time to figure out his. If you want to remain friends with the bride, the groom is someone that you're going to have to learn to get along with. The speech is a great place to extend an olive branch.
THE DON'TS
DON'T: Get drunk.
At least not before your speech! If you are one of the terrified 15% of Americans, use other relaxation techniques to calm yourself. Feel free to jump into the libations (responsibly) when you're done. If you make a fool out of yourself while drunkenly attempting to deliver your speech, you will most likely end up on YouTube.
DON'T: Be anti-marriage.
Don't express these sentiments in your speech, even if you are doing so in order to emphasize how the bride's relationship defies your preconceived notions. You might be booed offstage before you can get to that part. For example, avoid quotes such as this one from Ambrose Bierce's The Devil's Dictionary:
"Love, n. A temporary insanity curable by marriage."
If your goal is to never be invited to another wedding ever again, this is the way to go.
DON'T: Mention the bride's past boyfriends or any other intimate details.
There is no good reason to mention past boyfriends, and if you do you're liable to make everyone in the room uncomfortable. The last thing you want to do is open a can of worms between the bride and the groom on their wedding day. Also, don't mention past exploits, including those crazy college nights or anything that happened at the bachelorette party.
DON'T: Drag on forever.
You can say everything you want or need to say within five minutes. Anything else can be said in private later on. You are probably not going to be the only one giving a speech, and you don't want to put your audience to sleep. Ceremonies can be long, so everyone probably wants to get to the dancing and eating by that point. You don't want the only memorable thing about your speech to be that it wouldn't END.
DON'T: Express your undying passion for the groom.
Or the bride. Or anyone really.
(Know a best man who could use some speech advice? Have him check out our Do's and Don'ts of Best Man Speeches for guidance.)