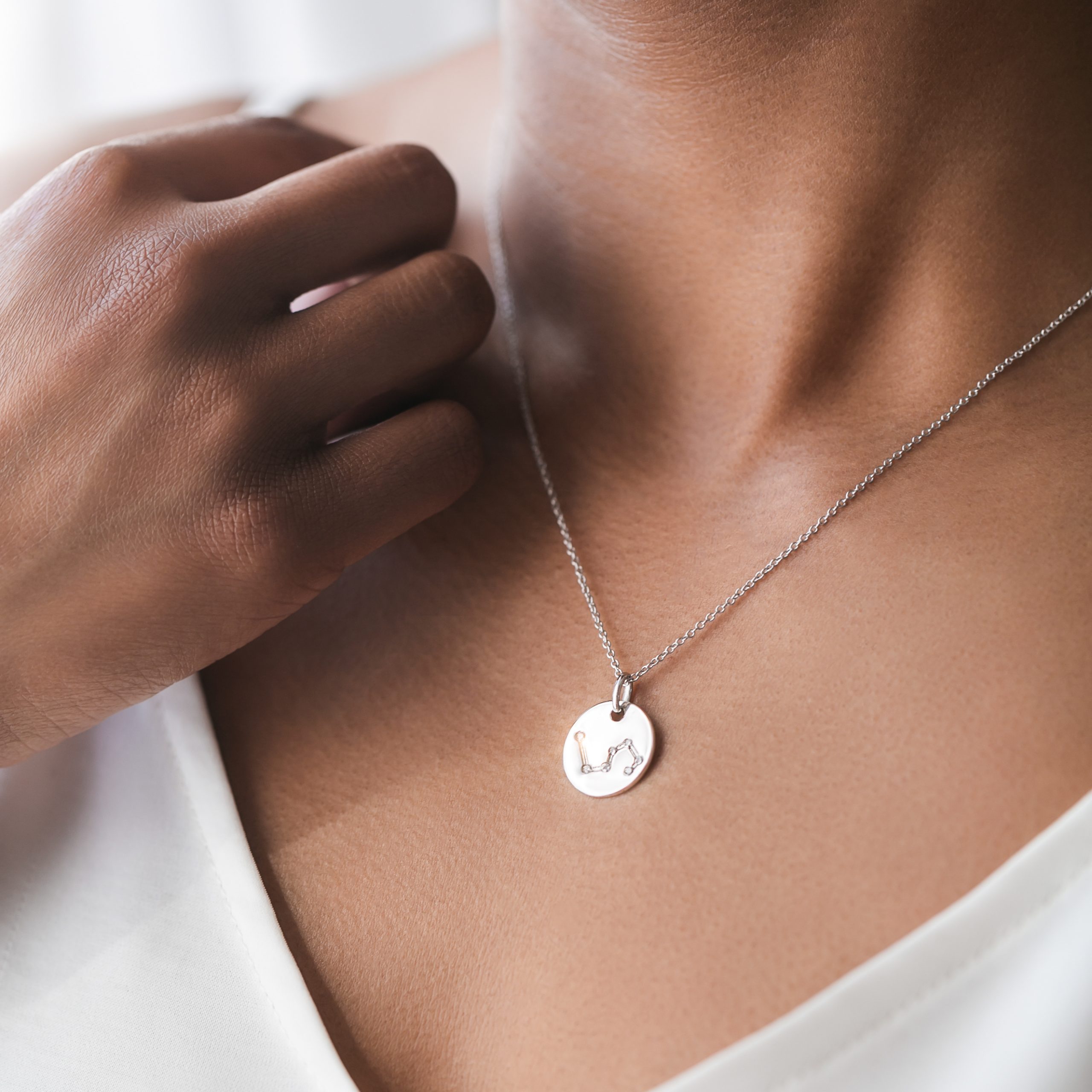 Leos are fire signs represented by the lion and ruled by the sun. Those born under this sign are natural leaders and known for their confidence, creativity, and irresistible charm. Some famous Leos include Kylie Jenner, Cara Delevingne, Anna Kendrick, and Jennifer Lopez – all excellent examples of this dramatic, creative, self-confident, and powerful fire sign. 
Read on to discover more about the Leo's unique attributes and our top fine jewelry picks for those born under this bold zodiac sign.  
What is the Zodiac sign for Leo?
This spirited fire sign is represented by the lion. The symbol for Leo imitates a Lion's mane and is the Greek character for the letter "lambda", the first letter of the Greek word leon, which means "lion." The lion is said to represent Leo's greatest trait: bravery. Self-confident, dominant, loyal, and natural born leaders – the "king of the jungle" is the perfect symbol for this bold sign.  
What month is a Leo Zodiac sign? 
The second of the three fire signs, the Leo zodiac is primarily held by those born in August. Every year between July 23rd and August 22nd, the sun makes its trip to the 5th sign of the zodiac: Leo. The transition from July to August marks the shift from the sensitive water sign of the crab to the fiery and bold lion. Leo season brings a willingness to be bold, playful, creative, and expressive. This month's horoscope puts the spotlight on our relationship with ourselves and a shift towards self-expression. During Leo season, we might seem self-serving at times, but after all, Leo is ruled by the sun which is the central force of our solar system.   
What are the personality traits of a Leo?
Just like the lion that represents this sign, Leos are creative, confident, bold, courageous, and are natural born leaders in the Zodiac. Leos rarely shy away from a challenge and are often trailblazers – whether that be in their career or setting the latest fasion trends. Leos insert ambition into everything they do. Their confident and assertive nature allows them to easily trust their instincts and follow through with any task.  
Like Aries and Sagittarius, Leos belong to the element of fire and are naturally warm hearted in love, life, and relationships. Their intense and spirited energy allows Leos to thrive in social settings and easily make friends. Often the center of attention, Leo's natural dazzle and charisma cannot help but command attention.  
Leos pride themselves on being self-aware and are in constant search for opportunities of personal growth. They tend to surround themselves with those that are proactive, confident, and as equally enthusiastic about life. Leos make great friends and partners as they will always challenge you to be your best self.  
What are the strengths of a Leo?
The presence of a Leo can always be felt as their natural ability to lead never fails to shine through. Leos have a loud inner roar that they fearlessly follow and naturally attracts others. Their unwavering confidence, bravery, and charisma leads them to strongly pursue their passions and never avoid a challenge. Leos love the limelight – they tend to shine the brightest in the room and attract people with their warmth. 
What is the Zodiac stone for Leo?
Vibrant green peridot is Leo's zodiac stone. Peridot dates back to the ancient Egyptian times where it was called the "gem of the sun" (quite fitting for a fire sign that is ruled by the sun). Myth has is that peridot can ward off evil and reduce negative energy and fear for its wearer – which may be of benefit to this courageous lion. This green gemstone symbolizes purpose and focus, which enhances the natural drive and bravery that a Leo possesses.  
With the inclusion of outside elements, certain gemstones can occur in every color of the rainbow. Peridot, however, only exists in subtle shades of green. Its unique light olive-green color is beloved by many. Vibrant peridot birthstone jewelry makes the perfect birthday gift for the Leo in your life.  
Leo Necklaces and Jewelry Gift Ideas
Leo Diamond Pendant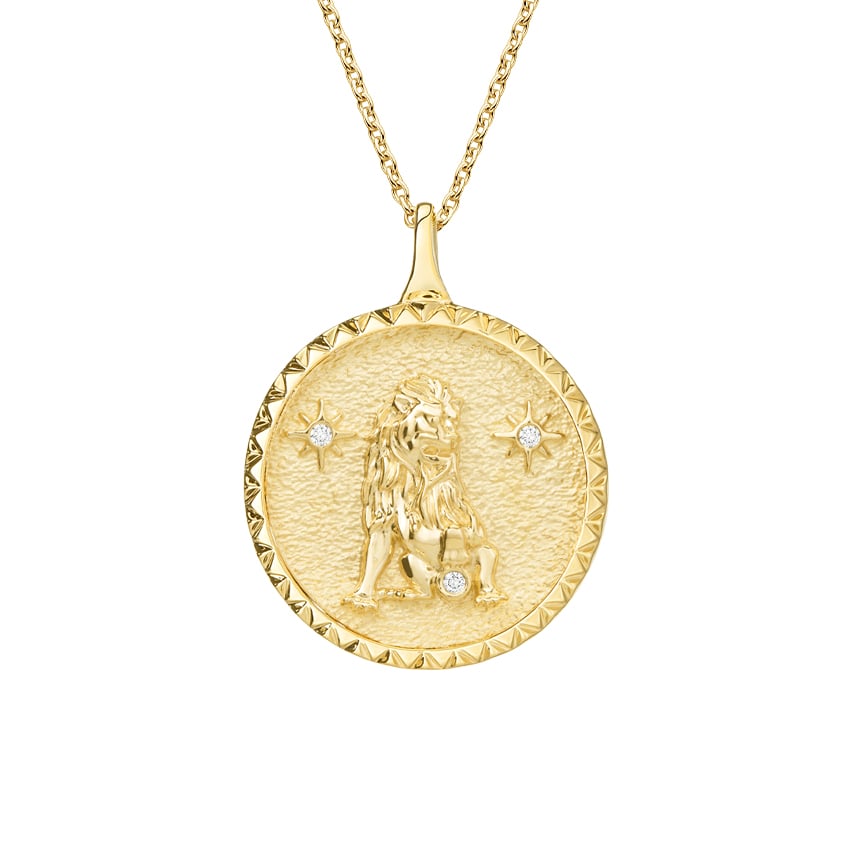 A lion embossed on a gold disc adorned with three starlike diamond accents empowers this medallion and its wearer with the characteristics of the Zodiac fire sign Leo: courageous, vivacious, affectionate. 
Leo Constellation Pendant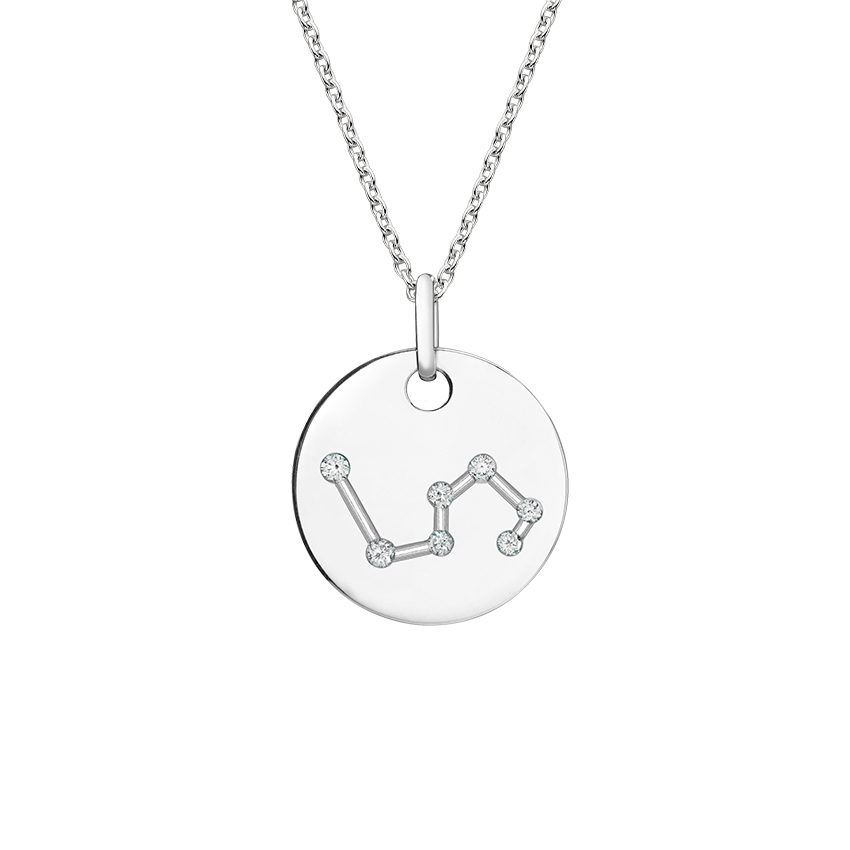 Full of personality and charmingly chic, this astrological pendant features the Leo constellation mapped out in glistening diamonds. Perfect for you or the Leo in your life, this necklace dazzles like a starry nighttime sky. 
Trilogy Lab Created Ruby Stud Earrings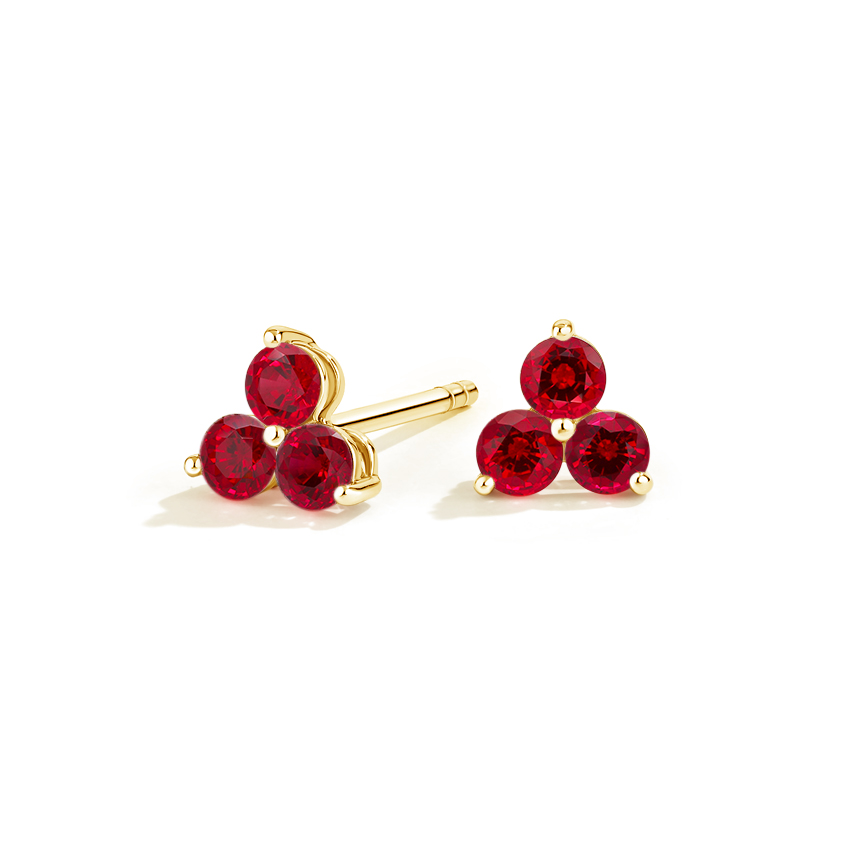 Red, orange, and other warm-toned gemstones are a great fit for passionate and bold fire sign. The rich and luxurious hues of rubies will appeal to Leos who love the allure of standing out from the crowd. Six round lab created rubies are paired together in chic and powerful trios in these effortless everyday earrings. 
Lab Created Ruby Tennis Bracelet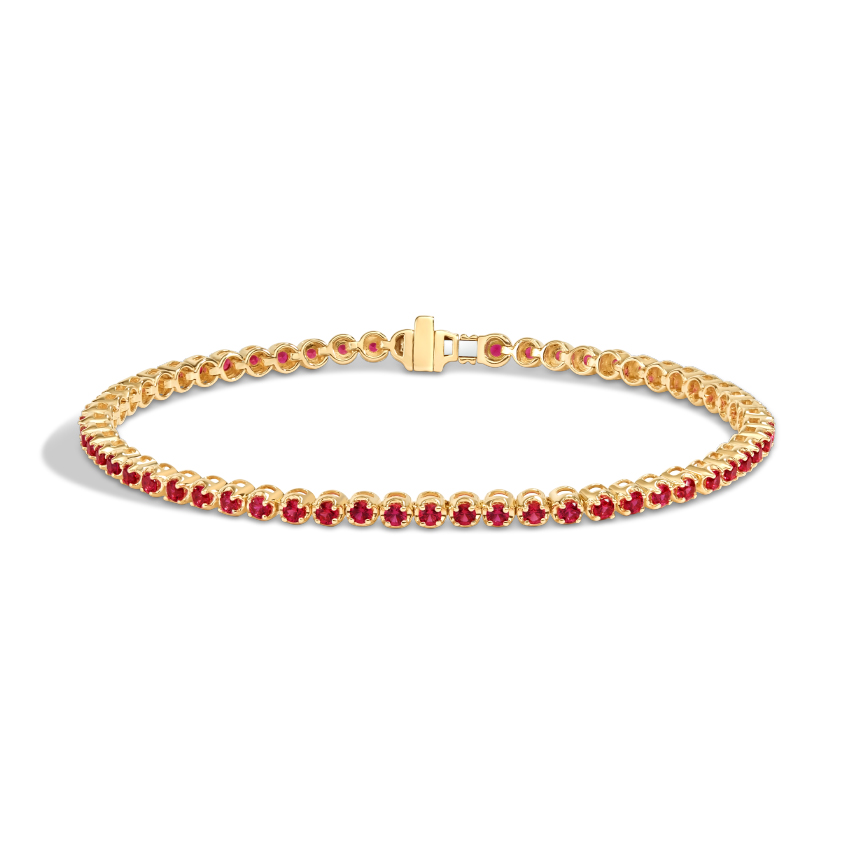 This eye-catching tennis bracelet embellishes the wrist with beautiful lab created rubies individually set in lustrous links.
Beatrice Lab Created Ruby and Diamond Ring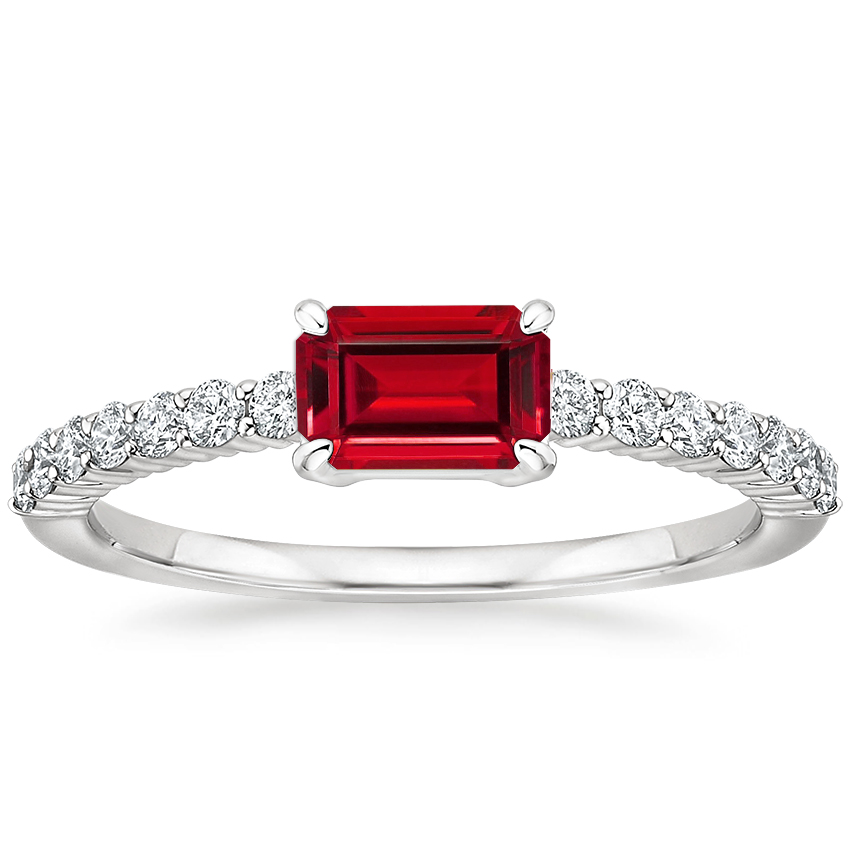 Leos born in July will love to represent their birthstone with this dazzling ring. An emerald-cut lab ruby glistens in the center of this diamond encrusted band.
Solidarity Diamond Pendant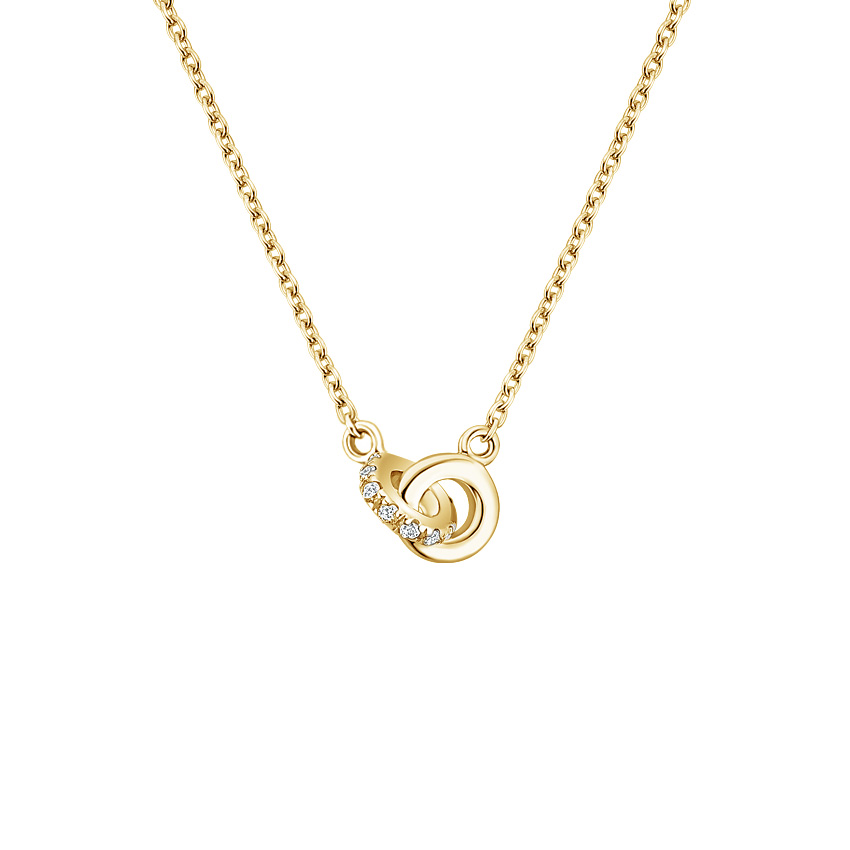 Naturally warm hearted, Leos will gravitate toward the warmth and unique beauty of yellow gold. Strength in unity, resiliency, and hope define this diamond pendant that hangs elegantly from a lustrous cable chain. 
Silver Teardrop Peridot Pendant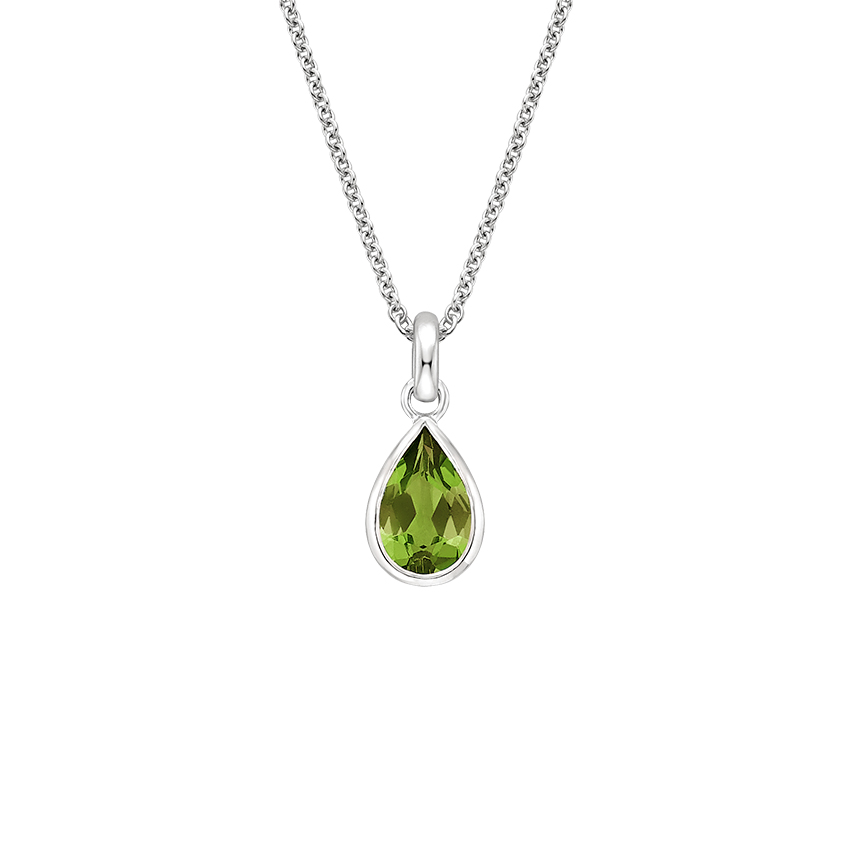 If you are looking for a piece of unique jewelry for the Leo in your life, (even if that is you!), August peridot birthstone jewelry makes the perfect gift. A pear-shaped peridot rests within a bezel setting with an open back to allow maximum light to reach the gem. This reversible pendant can be worn on either side making it the perfect option for everyday wear. 
Peridot and White Enamel Halo Stud Earrings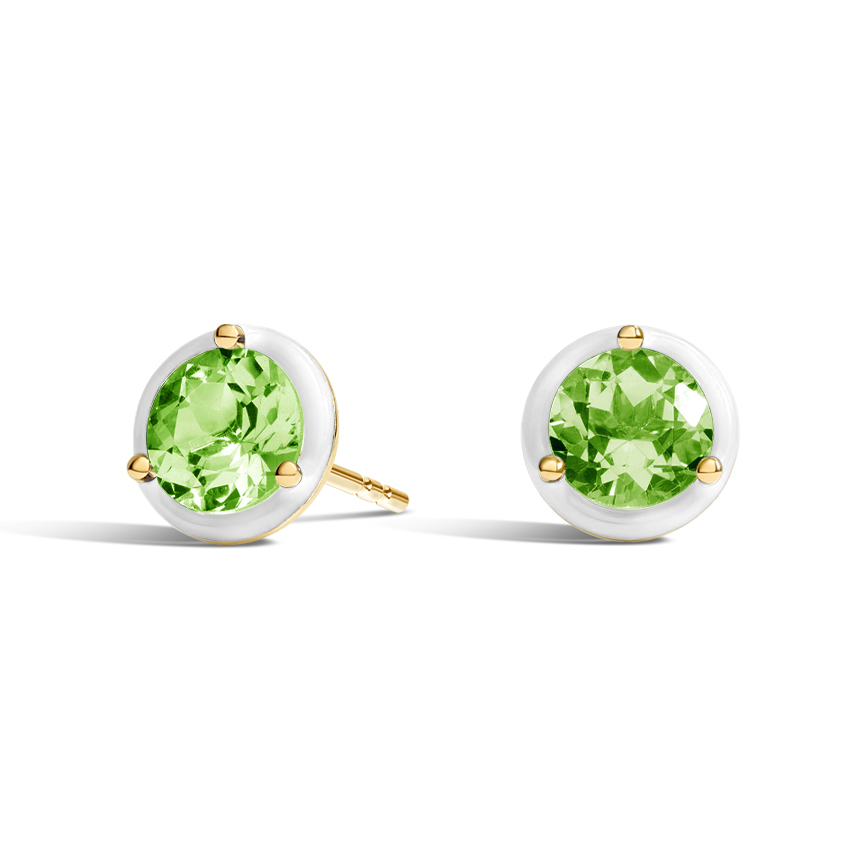 An eye-catching halo of white enamel surrounds a glistening peridot in these sophisticated yet practical gold earrings.
Our enamels are applied entirely by hand and to the highest standards of craftsmanship. Once each piece is completed, it is individually inspected for excellence and cured in a furnace for five to six hours, producing a bright, eye-catching final design.
Olivetta Diamond Ring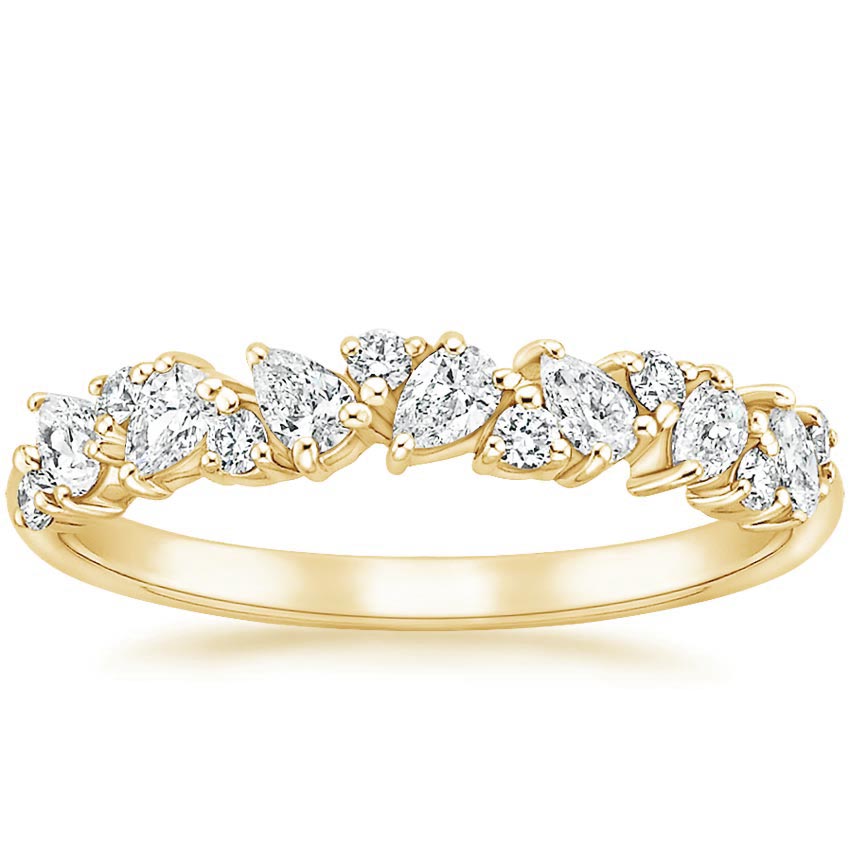 Leos like to be perceived as elevated and sophisticated, so sleek yet uncommon diamond jewelry is the perfect choice for celebrating their ambitious and commanding personalities. This beautiful ring evokes femininity and romance with scattered round and pear-shaped diamonds that shimmer along the top of the band. 
Arista Eternity Diamond Ring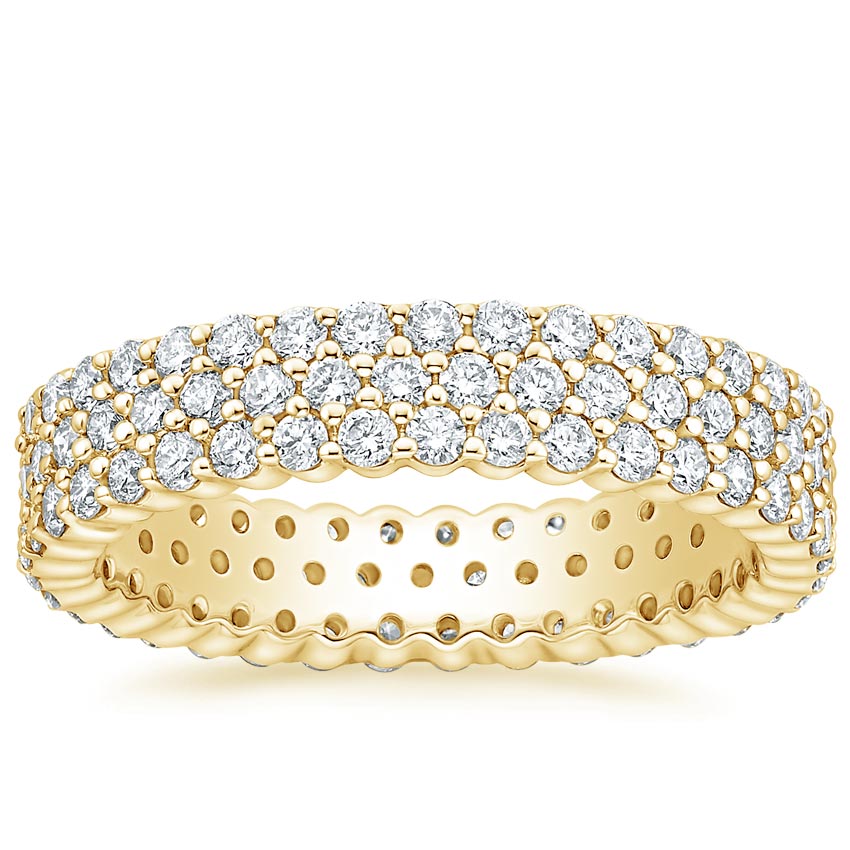 This show-stopping ring features over one hundred pavé set diamonds for a striking, shimmering design that wraps the finger in an aura of light. 
Large Diamond Hoop Earrings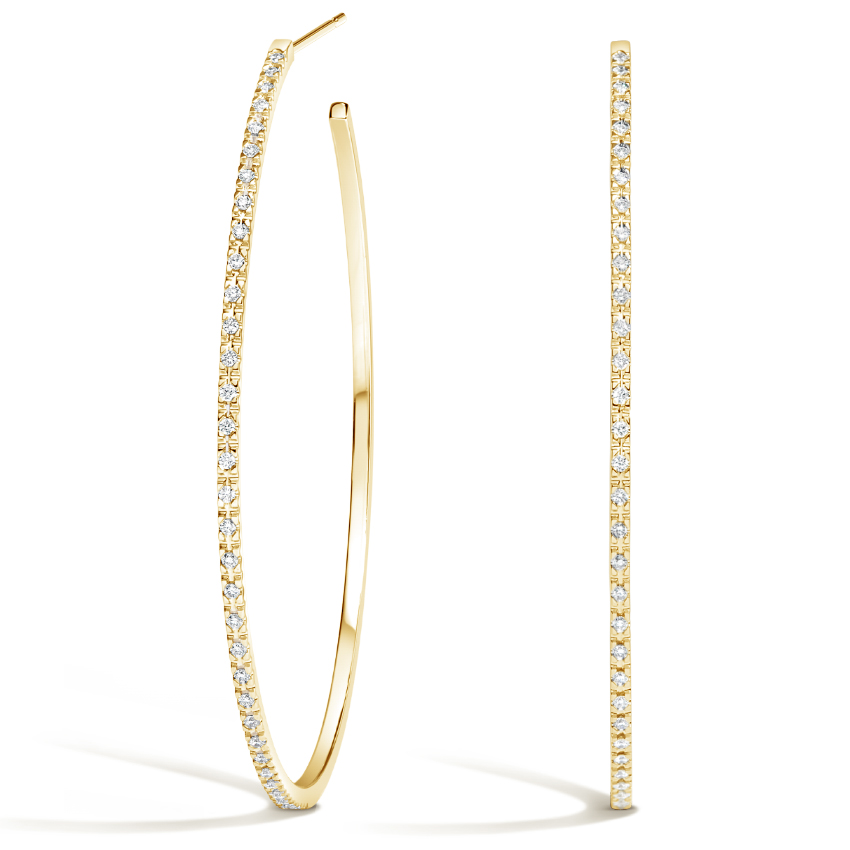 Classic large hoops are accented by diamonds for perfect every day wear.
Optica Diamond Ring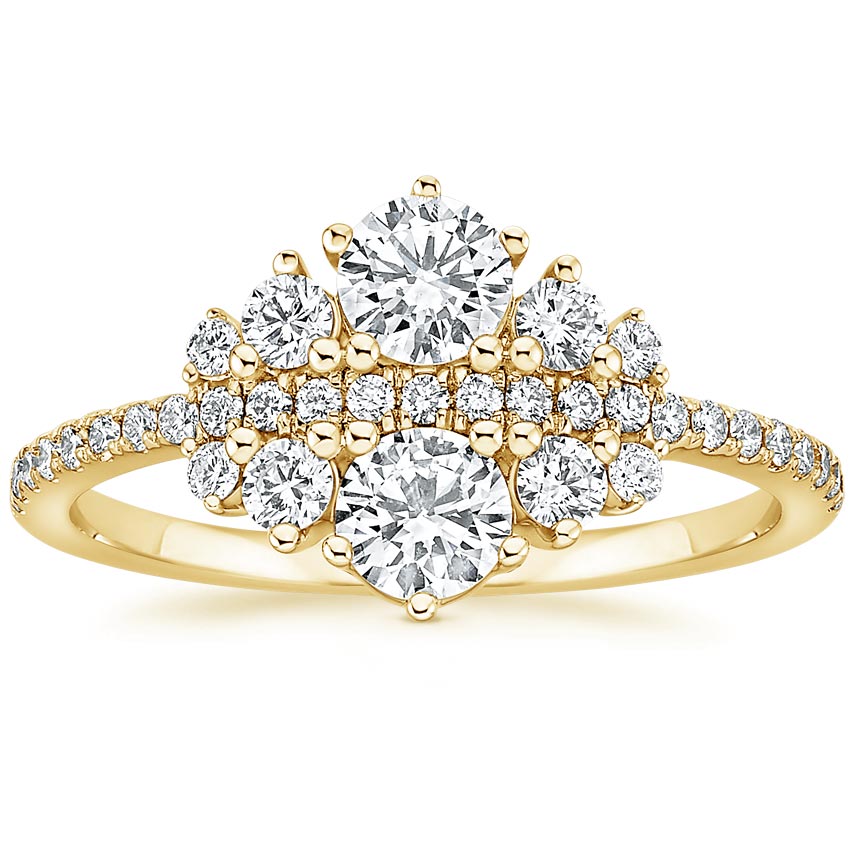 Rows of mirrored diamonds gently taper in size along a scalloped pavé-set band that adds a hint of traditional glamour to this unique style.
Final Thoughts
Which look is your favorite for Leos? Let us know your favorite styles in the comments below or on our Facebook, Twitter, or Instagram!