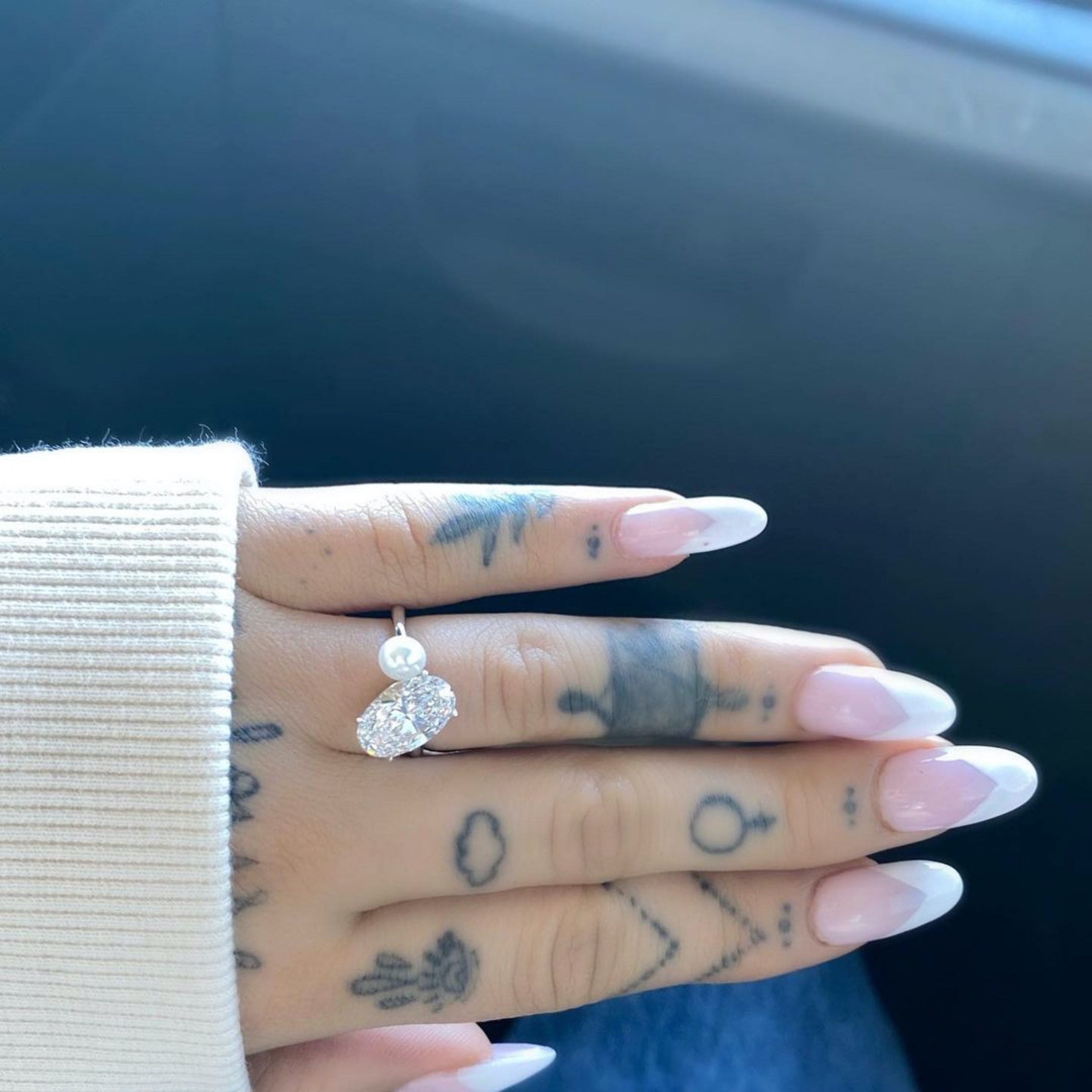 Celebrity engagement rings are both aspirational and inspirational when it comes to the types of rings we add to our Pinterest boards and wish lists. Because of this, celebrity rings are great indicators for which diamond ring styles will be the most loved for the next few years. In fact, many engagement ring styles worn by celebrities remain popular and in vogue for much longer than the celebrity marriages themselves!
To celebrate some of our favorite celebrity rings throughout time, we've rounded up the famous ring styles we think are the most breathtaking, unique, or timeless.
What are the most popular engagement rings?
Of course, celebrities' have their own unique styles and preferences, but we've still seen some strong celebrity engagement ring trends in the past few years. For example, we've seen many celebs sporting elongated fancy shaped diamonds – such as oval, pear, and emerald diamonds – in the past few years. While reading this list you'll notice that emerald diamonds, in particular, are well-loved by celebrities. Because of their length to width ratios, these styles are elongating and flattering. More and more celebs are also opting for colored diamonds or gemstones for a unique pop of color that gives a vintage inspired twist to a classic halo, three stone, or solitaire ring.
Do celebrities wear their engagement rings?
While most celebrities do continue to wear their engagement rings after receiving them, many appear to be flexible about switching out and upgrading from their original style. Special occasions like award shows are also opportunities for celebrities to partner with stylists and jewelers to wear spectacular gems that are not part of their everyday wardrobe. Victoria Beckham is an example of a celebrity who has cycled through multiple rings throughout their marriage. Victoria has publicly worn at least 15 different stunning rings from her husband David Beckham since he proposed to her in 1998. The former Spice Girl is particularly fond of colored gems and has worn a marquise cut yellow diamond, a pink champagne halo diamond, a large cushion cut emerald, a stunning red ruby, a substantial blue oval sapphire, a cabochon moonstone, and more.
The Best Celebrity Engagement Rings
Grace Kelly
Grace Kelly's clean and beautiful engagement ring has set the standard for beautiful diamond rings for decades, and you'll see echoes of her ring's design in many of the other celebrity rings on this list. Prince Rainier III of Monaco first presented the Hollywood star with an eternity band set with diamonds and rubies in an homage to the colors of the flag of Monaco. During their engagement he changed it for the stunning Cartier ring she is known for. The 10.48 ct. emerald cut engagement ring is set in a classic Art Deco inspired three stone ring setting and flanked by two baguette side stones. You can see glimpses of the ring in High Society, the last movie Grace filmed before retiring to be princess of Monaco.
Ariana Grande
While we did love Ariana's approximately 8 ct. pear halo diamond ring from Pete Davidson, her ring from Dalton Gomez is even more unique and romantic. The singer's stunning toi et moi style ring features an approximately 5 carat oval diamond set at an angle along with a lustrous pearl. The pearl may likely hold particular sentimental value for Ariana, since her grandmother had previously had a ring made for her from one of her late grandpa's pearl tie pins. Many of Ariana's fans have speculated that the pearl in her engagement ring is the same pearl from her grandfather's pin.
Jasmine Tookes
The supermodel's stunning oval solitaire ring could not be more on trend. Yellow gold, solitaires with delicate bands, and elongated oval diamonds are all incredibly in demand this year. Her approximately 7 ct. oval diamond is absolutely breathtaking, making it on our list of favorite celebrity rings of all time.
Lily Collins
Lily's unique ring features a bezel set rose cut cushion diamond in a textured gold ring with tapered shoulders. Rose cut diamonds are an antique style with old-world charm, while her bezel setting gave the ring organic and modern freshness. The style of gem cutting gives her center diamond an almost glassy transparent quality, leading many to speculate that it was a gemstone instead of a diamond before her jeweler confirmed the details of the ring.
Kim Kardashian
Kim and Kanye don't do anything halfway, and Kim's dazzling diamond ring is no exception. Her first engagement ring, a 15 ct. elongated cushion cut diamond, is reportedly worth around four million dollars! Several years later, Kanye presented her with another diamond ring, this time set with a 20 ct. emerald cut diamond. This second ring was famously stolen from Kim at gunpoint while she was in her hotel room for Paris Fashion Week, along with about 10 million dollars' worth of other jewelry. The robbers were not apprehended, and if they were able to sell the ring it would surely be worth more than its face value due to its famous previous owner.
Meghan Markle
The Duchess of Sussex is another famous figure who has had two different engagement ring styles. Prince Harry first proposed with a classic yellow gold three stone ring featuring a center cushion diamond from Botswana and two heirloom accent diamonds from his mother, Princess Diana's, personal collection. During their engagement, the couple reset the stones in a slightly more modern three stone design with a dainty pavé band. Choosing a diamond from Botswana reflects Prince Harry and Meghan's shared commitment to social and environmental responsibility. Botswana diamond mining has contributed to transforming Botswana into one of Africa's most prosperous countries, and Botswana diamond mines are dedicated to minimizing their environmental footprint.
Scarlett Johansson
The Black Widow actress has received a few engagement rings in her time, but the one from her husband Colin Jost is perhaps the most interesting and unique. In fact, her rings appear to have gotten more visually unique with each engagement. Her first ring from actor Ryan Reynolds was a traditional yellow solitaire with a round diamond, her ring from French journalist Romain Dauriac was an intricately haloed Art Deco inspired ring, and the SNL star bought his future bride an approximately 11 ct. light brown elongated oval (almost pear shaped) diamond set on a curved black ceramic band. Scarlett's ring is totally one-of-a-kind but does follow one trend – third marriage rings tend to be in unique styles the bride actually likes vs. what they believe they "should" wear.
Jennifer Aniston
Jennifer's ring from her marriage to Brad Pitt featured a swirling halo of diamonds that wrapped around the petite round diamond in the center, in a style not unlike our Venus Diamond Ring setting. The coiling design was meant to be a symbol of eternity, but their relationship famously ended in 2005 when Brad filed for divorce to marry his Mr. & Mrs. Smith costar Angelina Jolie. In 2015, Jen married actor Justin Theroux, who presented her with a whopping 8 carat emerald cut diamond. The two have since separated, but Jen made tabloid buzz again at the 2020 Golden Globe awards for wearing a large Art Deco inspired ring on her left ring finger a few days after taking a romantic vacation with film director Will Speck. The two have not announced their engagement, but many tabloids are speculating that this may have been the debut of her third stunning engagement ring!
Blake Lively
Pretty in pink, Blake Lively's stunning blush colored diamond ring has been a trend setter for celebs and non-celebs alike. In fact, her beautiful oval diamond ring inspired another ring on this list! Before her engagement and marriage to Justin Bieber, Hailey Baldwin tweeted "If my ring isn't as big as Blake Lively's, I don't want to get married." The ring Hailey received is, in fact, a similar stunning oval to Blake's. Blake's gorgeous pale pink diamond ring is set in rose gold with a micro-pavé diamond band for all over sparkle.
Lady Gaga
Lady Gaga is known for her attention-grabbing style as well as for wearing opulent gems – including the famous Tiffany Diamond necklace, which includes a 128 ct. yellow diamond and over 100 carats of glimmering accent diamonds – so her partners have a high bar to meet for engagement ring style. Although their engagement only lasted a little over a year, we doubt people will ever forget Lady Gaga's heart shaped engagement ring from actor Taylor Kinney. Taylor chose a show-stopping heart shaped diamond set on a delicate pavé band, which some have estimated weighs in at 6 carats. In 2018 Lady Gaga announced her engagement to Christian Carino while sporting an approximately 7 ct. pink sapphire halo ring. The halo of her pink ring is estimated to have 3 to 4 carats worth of round brilliant diamond accents, giving a floral appearance to her large pink sapphire.
Princess Diana & Kate Middleton
This royal blue sapphire ring has been making headlines for decades by being worn by both Diana, "The People's Princess", and her future daughter-in-law, Kate Middleton. In fact, this might be one of the most recognizable pieces of jewelry in history. Princess Diana's blue sapphire ring caused some controversy within the royal family when she chose it. Diana was given the option to choose from a selection of royal jewels or rings from the crown jeweler Garrard. She chose her ring from Garrard, but it was one of the styles that was featured in their catalog, meaning that anyone could buy the same style. The idea that commoners could potentially have access to the same types of jewels as the royal family apparently did not sit well with Diana's in-laws. The ring is comprised of a 12 ct. oval sapphire surrounded by a halo of 14 white diamonds set in an 18K white gold band, and was inspired by a brooch Prince Albert had asked Garrard to create for Queen Victoria. Almost three decades after Diana first debuted the sapphire ring, Prince William announced his engagement to Kate Middleton with his late mother's ring. William shared that he chose to use his mother's ring as a way to bring together the two most important women in his life.
Amal Clooney
Longtime bachelor George Clooney proposed to international human rights lawyer Amal Alamuddin with a classic platinum three stone diamond ring set with a 7 ct. emerald cut diamond flanked by baguette diamonds. Since their engagement in 2014, we've seen quite a few celebrities choose similar three stone ring styles and anticipate this classic and sleek style will be a favorite for years to come.
Angelina Jolie
It's no surprise that one of the most iconic couples of the 2000s, Brangelina, also had one of the iconic engagement rings. Brad Pitt proposed to Angelina Jolie in 2012 with an Art Deco inspired ring that reportedly cost $500,000. The ring features a large emerald cut diamond flanked by custom cut cascading trapezoid and baguette side stones that encircled her finger. Angelina's ring is the ideal example of a custom ring design, made to suit her specific style and fit her finger perfectly.
Jennifer Lopez
We are now in the renaissance of #Bennifer, one of the most famous celebrity portmanteaus of all time, but until recently Jennifer Lopez was engaged to baseball star Alex Rodriguez. Like many of the other celebrities on our list, Jennifer received a jaw-dropping emerald cut diamond for her solitaire engagement ring. The enormous ring is the largest she's received throughout the years, estimated to be approximately 15 ct. and worth 1.4 million dollars. However, now that Ben Affleck and J.Lo are back together, the 6.1 ct. pink diamond ring Ben proposed to her with in 2002 is now reportedly worth nearly $12 million. Many believe that Jennifer's pink ring from Ben also influenced the spike in popularity pink diamonds and gemstones have had in the past decade or so.
Mariah Carey
When pop diva Mariah Carey got engaged to Australian billionaire James Packer, he presented her with a 35 ct. emerald diamond ring reported to be worth $10 million. After their split in 2016, the couple reached a settlement that agreed that Mariah would keep the massive diamond ring. However, a few years later she reportedly sold the ring for a rumored $2.1 million to a Los Angeles jeweler in order to clean out "emotional and material baggage" from her past. Today she is hardly ever seen without her signature butterfly diamond ring from Van Cleef & Arpels, which symbolizes her independence as well as one of her favorite albums that she's created.
Paris Hilton
The heiress got engaged to businessman Carter Reum while vacationing on a private island this year just before her birthday. This is Paris' fourth engagement (it's estimated that she's received over $10 million worth of engagement rings!), and everything about her latest custom design is extremely on trend. Her stunning ring is a three stone setting featuring a large emerald cut center diamond flanked by trapezoid accent diamonds. There are also twinkling hidden diamond accents around the ring's gallery.
Jessica Biel
Jessica's ring from husband Justin Timberlake has a vintage inspired beauty. The ring features stunning surprise details including a double halo of pavé diamond accents, a hidden halo under the basket, metal scrollwork around the center halo, and two round aquamarines set in halos that flank the center stone. Hidden and surprise details are a beautiful way to add special meaning or details to your ring that can only be viewed up close. The halos of accent diamonds also make her center cushion cut diamond appear larger and add to the overall brilliance of her ring.
Elizabeth Taylor
You can't talk about celebrity jewelry, or celebrity marriages, without talking about Elizabeth Taylor. Elizabeth was engaged ten times, married eight times (twice to Richard Burton), and was known for the legendary collection of gems she received from her spouses and suitors throughout her life. In addition to stunning rings, Elizabeth was also proposed to with other fine jewelry. When Eddie Fisher divorced his wife Debbie Reynolds for Elizabeth, in what was a major Hollywood scandal, he asked her to marry him with a 40 ct. diamond bracelet rather than a conventional ring. While she was still married to Fisher, Elizabeth met the great love of her life on the set of the movie Cleopatra: Richard Burton. Burton asked the still-married Elizabeth to marry him with a platinum Bulgari brooch set with an approximately 19 ct. emerald gemstone. Five years into their marriage, Richard Burton gave Elizabeth one of the most famous diamonds in the world. The Krupp asscher cut diamond he presented to her is now known as the Elizabeth Taylor diamond and weighs in at 33.19 carats. Despite its large size, she was reported to wear the ring almost every day of their marriage.
Hailey Baldwin Bieber
As mentioned above, Hailey's large oval engagement ring was likely inspired by Blake Lively's oval diamond from Ryan Reynolds. Whether Justin saw her tweet or just knew his girlfriend's taste, Hailey ended up getting her dream ring! Her yellow gold oval ring is estimated to be between 6 and 10 carats and worth approximately $500K. For her wedding ceremony and photos, Hailey nested her oval solitaire between two curved diamond bands. Curved or contoured bands are a great way to stack wedding or anniversary rings around a large center stone and still achieve a comfortable flush fit.
Mary Kate Olsen
It's no surprise that the fashion designer's ring is incredibly chic, unique, and vintage inspired. The Olsen twin married French banker (and half brother to the former President of France) Olivier Sarkozy in 2015. Her one-of-a-kind Cartier ring features a round diamond surrounded by a halo of sapphires. The yellow gold setting has twisting ropes of gold leading up to a basket that blooms around the center diamond like a dazzling flower.
Emily Ratajkowski
"Square cut or pear shaped, these rocks don't lose their shape!" Emrata's knockout toi et moi style engagement ring features not one but two dazzling diamonds – a princess and a pear cut. "Toi et moi" means "you and me" in French and gives special sentimental meaning to an engagement ring. With Emily Ratajkowsi and Ariana Grande choosing this style in the past few years, we expect to see more celebs with toi et moi rings in the future.
Katy Perry
With its striking pink center stone and sparkling halo of diamonds, Katy Perry's engagement ring is true to her, embodying the colorful and unique style that she's become known for. Katy Perry and Orlando Bloom got engaged on Valentine's Day 2019 with an adorable flower inspired ring set with what appears to be a vivid pink ruby or sapphire.
Sofia Vergara
The Modern Family star's sensational ring from her husband Joe Manganiello boasts an approximately 7 carat cushion diamond framed by a delicate halo of pavé diamonds and a dainty diamond accented band. Elongated cushion diamonds are a beautiful and classic choice for halo settings.
Jamie Chung
Jamie's halo diamond engagement ring has a diamond accented split shank band that creates a unique double banded X shape. Her wedding band is a sculpted Crescent Wedding Ring from Tacori, and she has since added a custom gold contoured band that adds rays of light to the overall look of her bridal stack.
Beyoncé
Of course, Beyoncé deserves a ring fit for a queen! It's no surprise that Queen Bey sports one of the highest valued diamonds in the world. Like Jamie, Beyoncé wears a pavé diamond split shank setting. Her large emerald diamond weights in at 24 carats, and it's reported that Jay-Z paid approximately $5 million for the ring back in 2008.
Zoe Saldana
We love a unique gemstone engagement ring, and Zoe's is absolutely spectacular! Her three stone ring is set in either white gold or platinum and features a glowing green pear cut emerald. Pavé diamonds accent the band and surround the center gems in a halo of light. Two trillion shaped accent diamonds flank her stunning center emerald. Three stone rings with unique fancy shaped accents, like trillion diamonds, are growing in popularity, and we expect to see more people choosing this style in years to come.
Olivia Wilde
Another celebrity with a beautiful green ring is Olivia Wilde. Although she appears to no longer be wearing the ring after her split from ex-husband Jason Sudeikis, we will always love this vintage ring. The round center diamond of her gold ring is surrounded by a halo of what appear to be baguette cut natural emeralds. Although she and Jason didn't know the exact history of her ring, they did know that it passed through Paris in 1921. When he proposed, Jason told Olivia he bought the emerald ring to match the green of her eyes.
Kristen Bell
Dax Shepard and Kristen Bell are one of Hollywood's favorite quirky power couples, and Kristen's singular ring reflects their fun and edgy vibe. Her center 3 ct. emerald cut diamond is a unique brown color that pops against the platinum of her setting. Delicate beads of metal milgrain surround the center gem and the ten accent diamonds that flank the center diamond.
Sophie Turner
A modern celebrity love story, the Game of Thrones star and Jonas brother began dating in 2016 after Joe slid into Sophie's Instagram DMs. From the beginning, their relationship has been the epitome of cool modern Millennial style, from their secret Las Vegas wedding at A Little White Wedding Chapel officiated by an Elvis impersonator to Sophie's sleek ring. Her ring is made of a glimmering pear diamond that appears to be floating between two dainty pavé diamond bands.
Jenna Dewan
Steve Kazee took to Instagram stories to share the details of the process for designing Jenna's custom ring saying, "When I first started to look at engagement rings for Jenna I knew I wanted something unique. It had to be unique. It had to be representative of who Jenna is. It has to be as beautiful as her." Jenna's gold ring has scattered diamonds along the band and surrounding the center oval diamond that Kazee says are "representative of the Pleiades constellation" as well as the desire to the have the ring "echo the cosmos." The ring was also designed sustainably, which, of course, we heartily approve of!
Final Thoughts
Do you have a favorite celebrity ring on the list? How about a ring you think we should have included? Let us know on our Instagram, Facebook, Twitter or in the comments below!