Virtually unlimited budgets, constant pressure to look flawless, and unbridled access to all that the beauty and fashion industries can offer: the life of a celebrity requires being on top of all the latest trends, so it stands to reason that the rest of us look to celebs for everything from hairstyles to make up to clothing.
Likewise, when considering what type of engagement ring to buy, it can be helpful to take a peek at the fingers of celebrities for inspiration. Take a look at some of our favorite celebrity inspired Brilliant Earth engagement rings.
The "Eco-friendly" Engagement Ring
"Going green" is an oft-heard phrase these days, and while it may not conjure an image of a flashy celebrity engagement ring, eco-friendly rings are becoming quite popular with both celebrities and women in the know. As we become increasingly aware of the impact our choices and activities have on the environment, the options we have for living a "greener" life have expanded. It is now possible to proudly wear your commitment to both the love of your life and the preservation of the environment with a green engagement ring.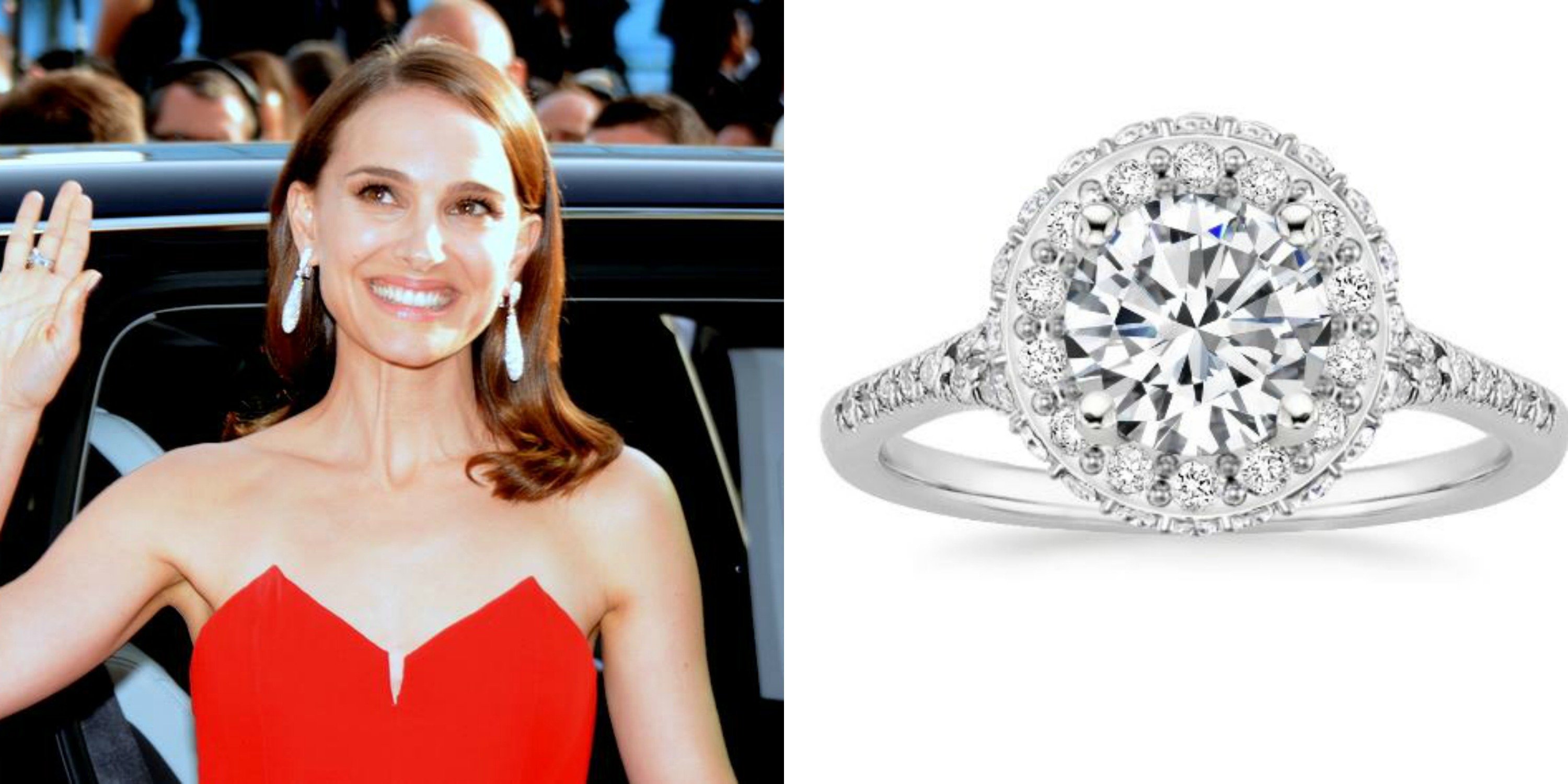 PHOTOGRAPH BY GEORGES BIARD, DISTRIBUTED UNDER A CC-BY 2.0 LICENSE.
Actress, activist, and vegan, Natalie Portman, does just that with her recycled platinum engagement ring. Her extraordinary ring features a 4-carat antique round center stone surrounded by a double halo of pavé diamonds.
Celebrity Trend: Antique Engagement Rings
Antique engagement rings are an up-and-coming trend and celebrities are naturally at the forefront. Antique rings offer one-of-a-kind beauty – each antique ring is unique and evokes the romance of a bygone era.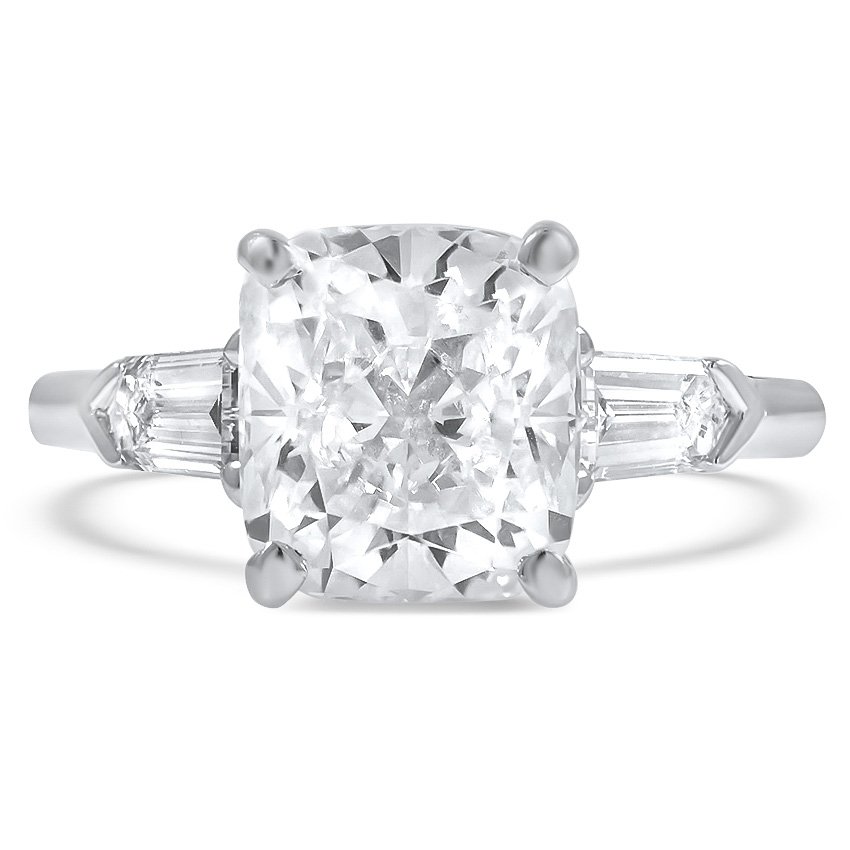 A decade after Michael Douglas gave Catherine Zeta-Jones her astonishing 1920s marquise diamond ring, it remains one of the most recognizable celebrity engagement rings. It features a 10-carat center diamond encircled by 28 smaller diamonds.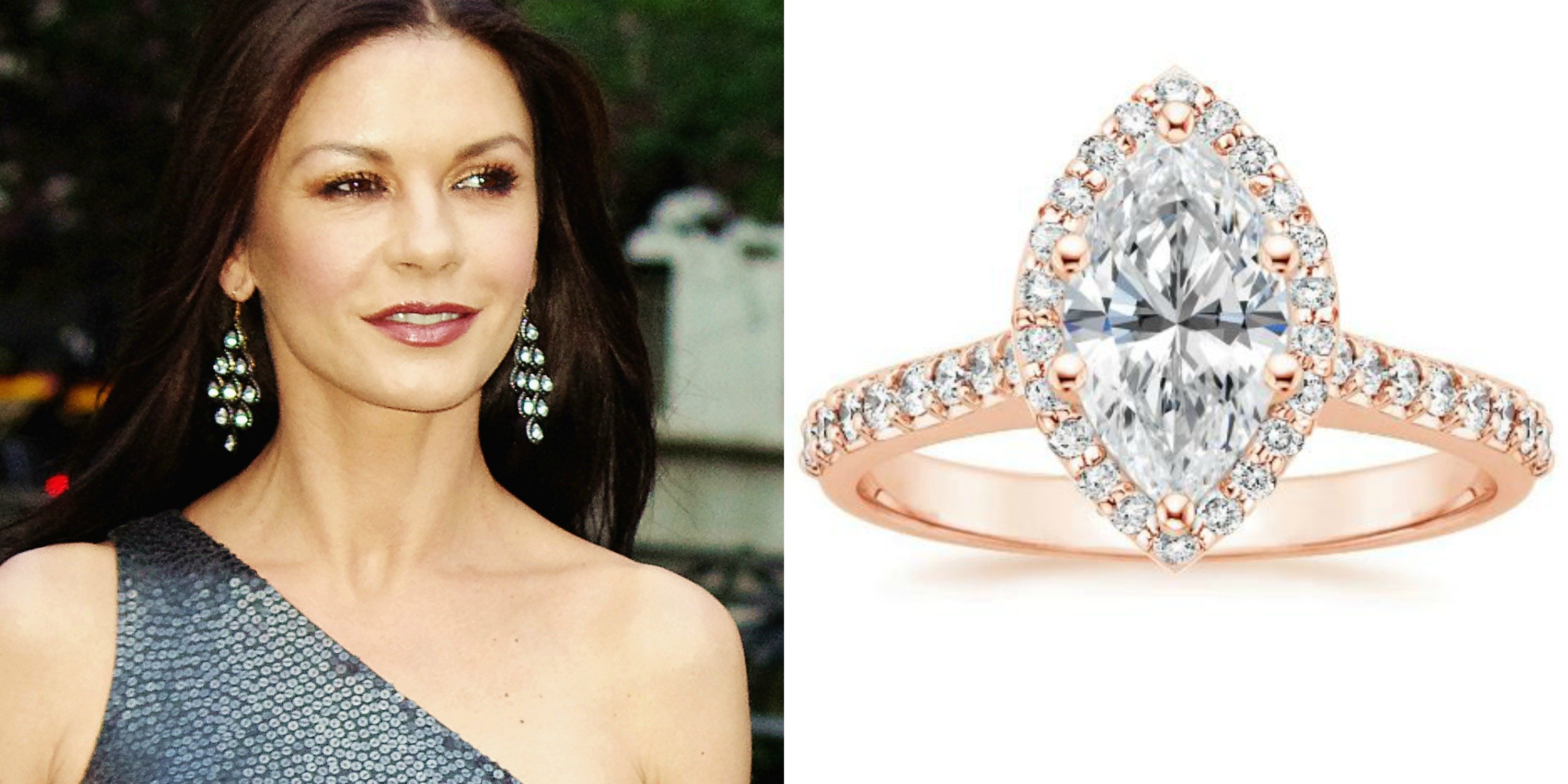 PHOTOGRAPH BY DAVID SHANKBONE, DISTRIBUTED UNDER A CC-BY 2.0 LICENSE.
Model and actress, Milla Jovivich's, antique engagement ring is a true original. The 19th century ring combines yellow, pink, and white diamonds set in yellow gold for a vibrant, avant-garde display of color.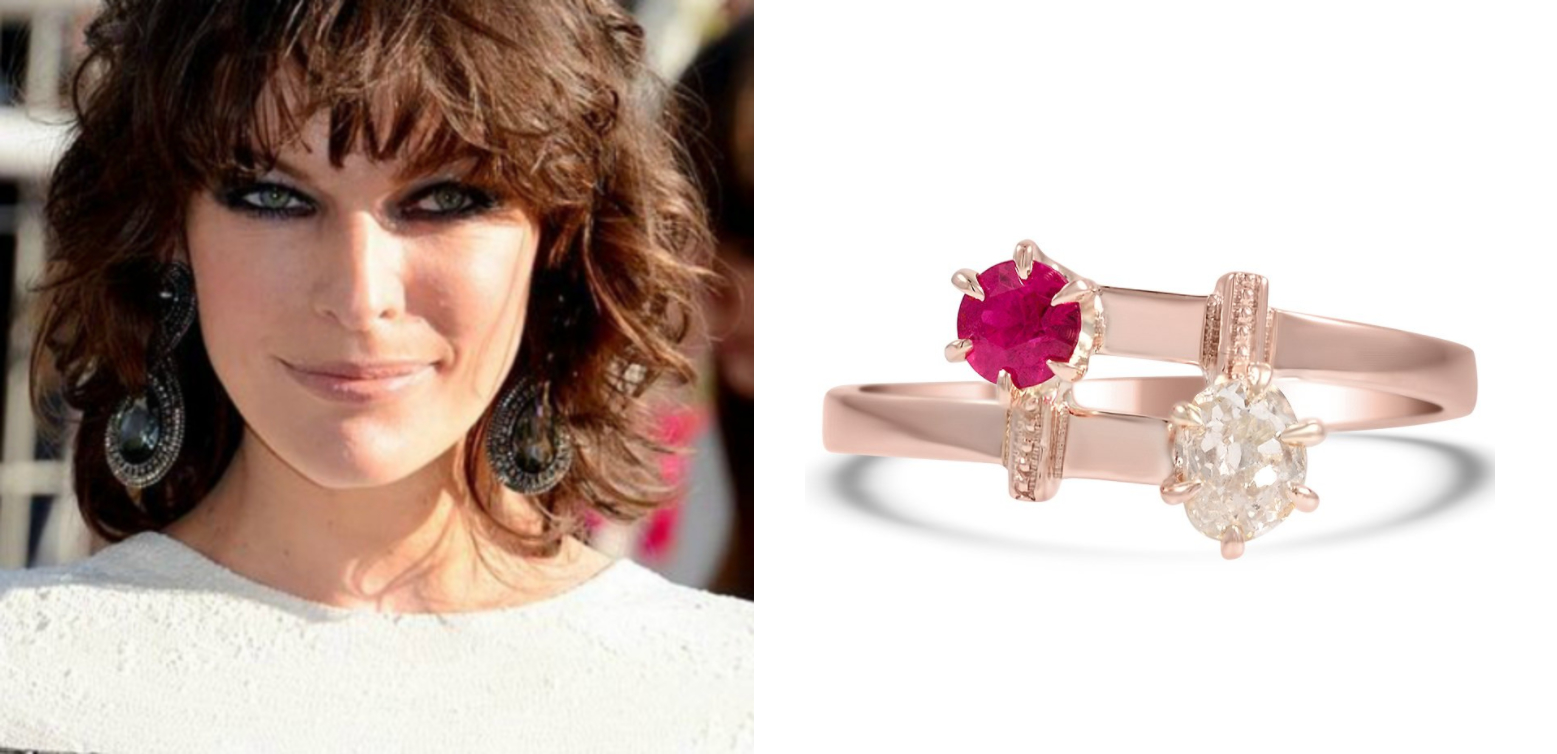 PHOTOGRAPH BY GEORGES BIARD, DISTRIBUTED UNDER A CC-BY 2.0 LICENSE.
Impressed by the unique yet timeless quality of antique engagement rings? Bookmark our one-of-a-kind antique ring collection to see the latest antique rings as they arrive.
Halo Engagement Rings
It comes as no surprise that halo rings are incredibly popular among celebrities. Their glamorous design – a center gemstone surrounded by a "halo" of smaller accent diamonds – packs an impressive visual impact.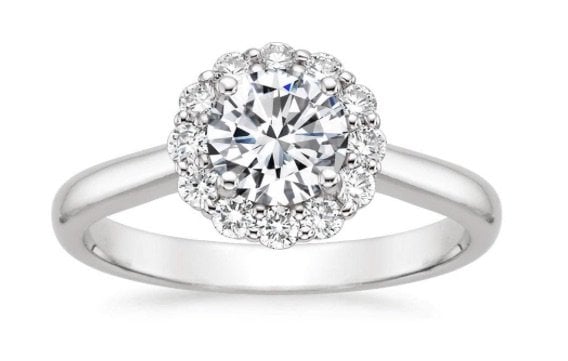 Halo engagement rings can feature both diamonds and sapphires; in fact, the most widely recognizable halo ring has an elegant sapphire as its centerpiece. Have you guessed whose it is? Here's a hint: it used to belong to Princess Diana. The halo ring that now graces Kate Middleton's royal finger is a round 18-carat oval sapphire set in white gold.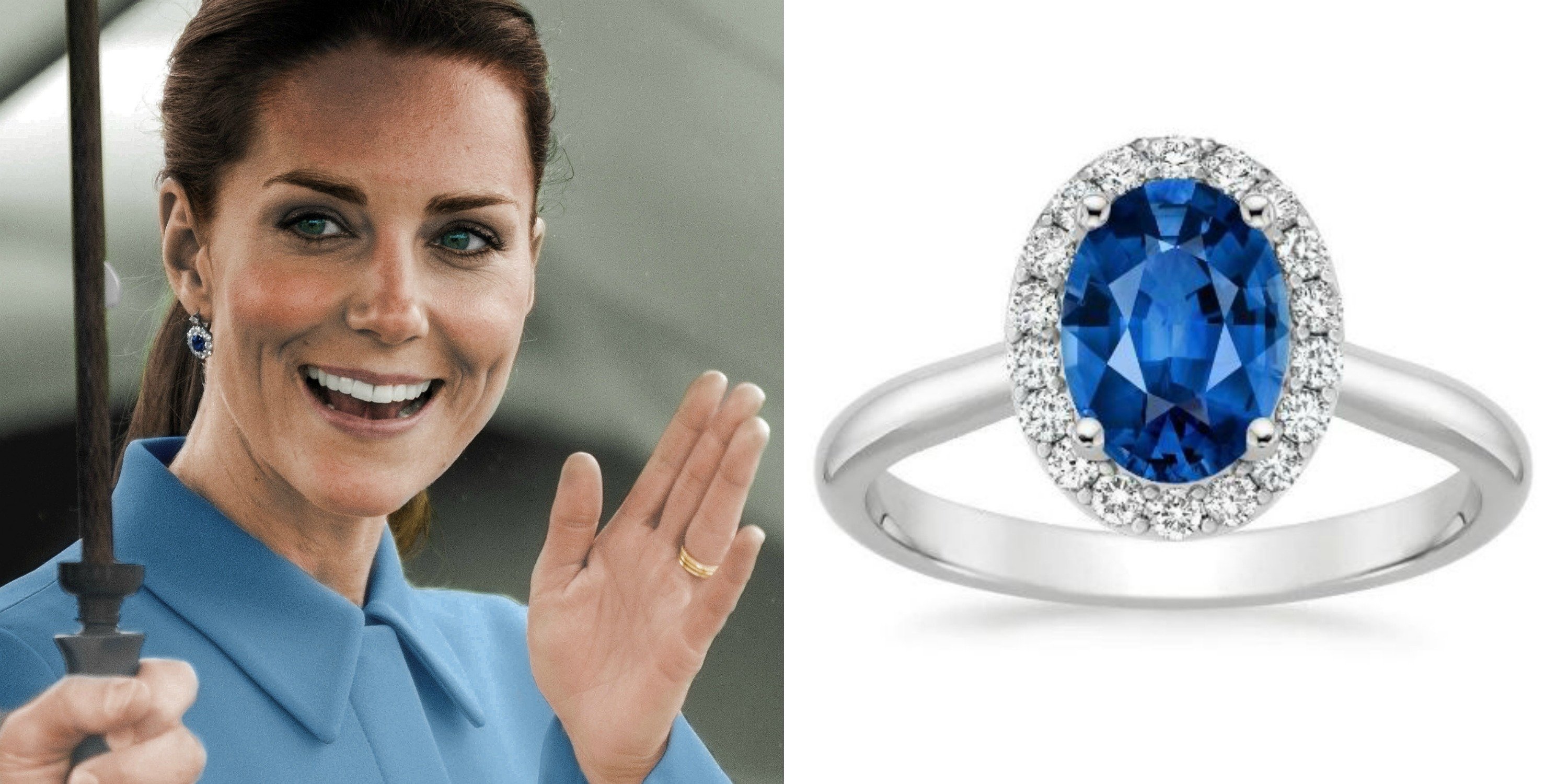 PHOTOGRAPH BY RICKY WILSON, DISTRIBUTED UNDER A CC-BY 2.0 LICENSE.
Jessica Biel's engagement ring, a gorgeous emerald-cut diamond encircled with a halo of pavé diamonds, was carefully selected by her superstar husband, Justin Timberlake. It has both antique and modern elements, and even includes subtle touches of aquamarine, Jessica's birthstone.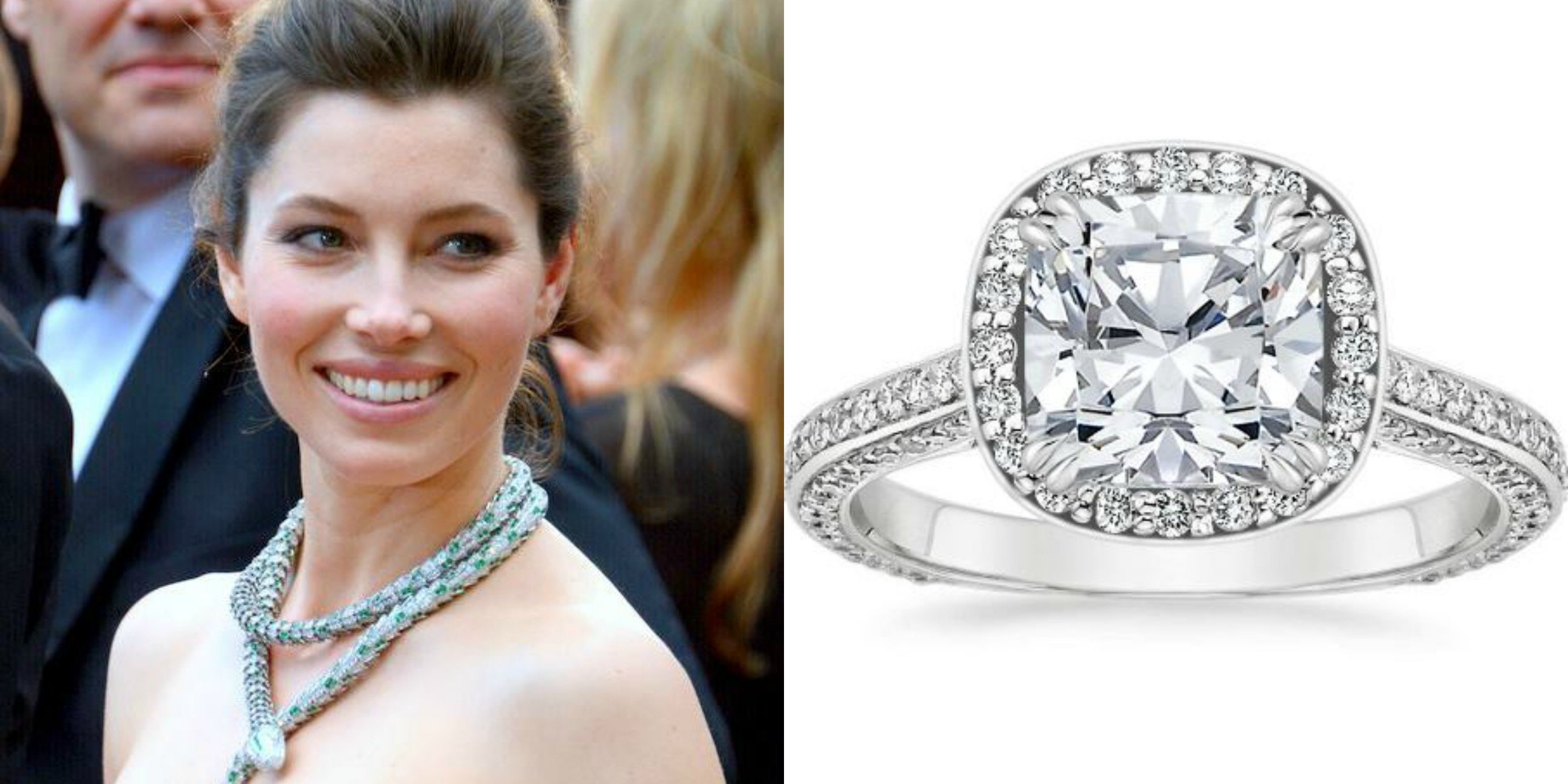 PHOTOGRAPH BY GEORGES BIARD, DISTRIBUTED UNDER A CC-BY 2.0 LICENSE.
For those inclined toward the elegant brilliance of a halo engagement ring, we recommend the dazzling styles in our Halo Collection.
Colored Diamond Engagement Rings
Celebrities like to stand out from the crowd, and a vibrantly colored diamond engagement ring is a popular choice for those who want to express their individual style.
Not one, but two American Idol alums have massive yellow canary diamond engagement rings, both custom designed by Johnathon Arndt. Kelly Clarkson's yellow diamond is square and Carrie Underwood's is round, but both are surrounded by a halo of diamonds, and set on a band with – you guessed it – more diamonds.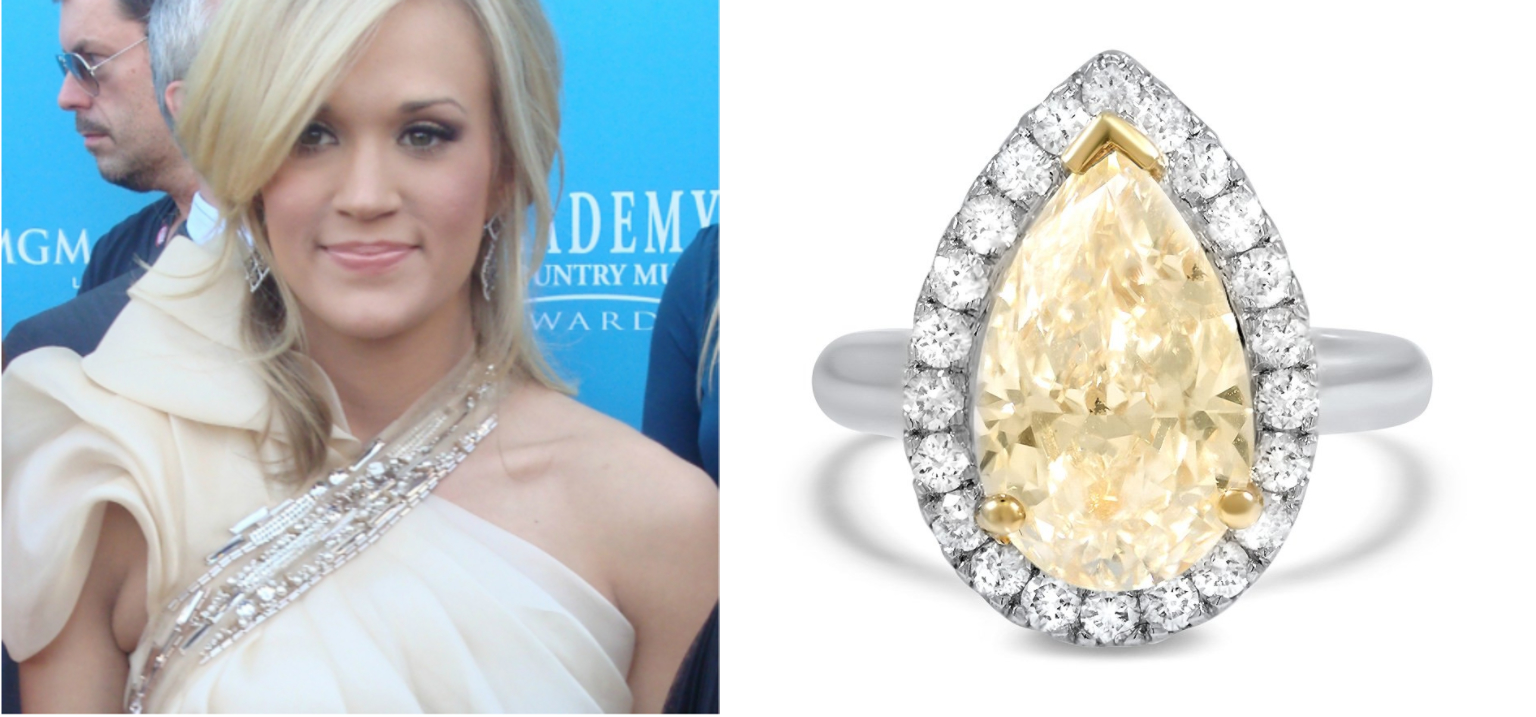 PHOTOGRAPH BY KEITH HINKLE, DISTRIBUTED UNDER A CC-BY 2.0 LICENSE.
Colored Gemstone Engagement Rings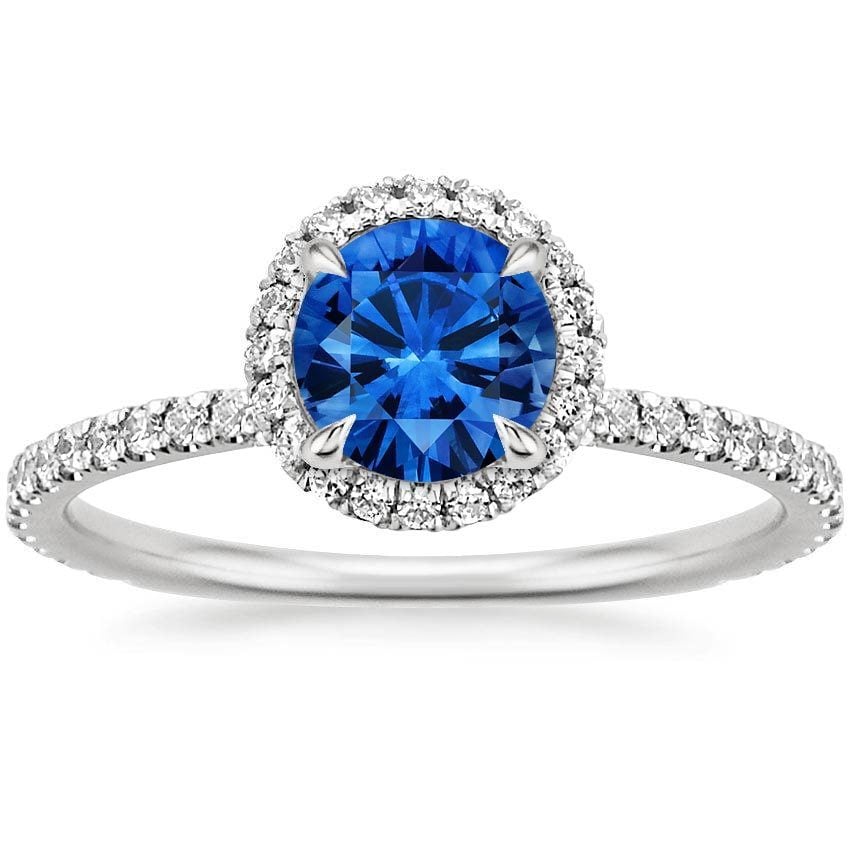 Did you know that having a diamond as the center gemstone in an engagement ring is a relatively recent tradition? Throughout history, different types of gemstones were commonly selected to be the centerpiece of engagement rings.
Both Jessica Simpson and Facebook mogul Mark Zuckerberg's wife, Priscilla Chan-Zuckerberg, were presented with beautiful ruby engagement rings. Jessica's ring features a 4-carat, oval-shaped ruby flanked by two diamonds, and is a nod to her July birthstone. Priscilla's custom designed three stone engagement ring features two diamonds on either side of a vibrant center ruby.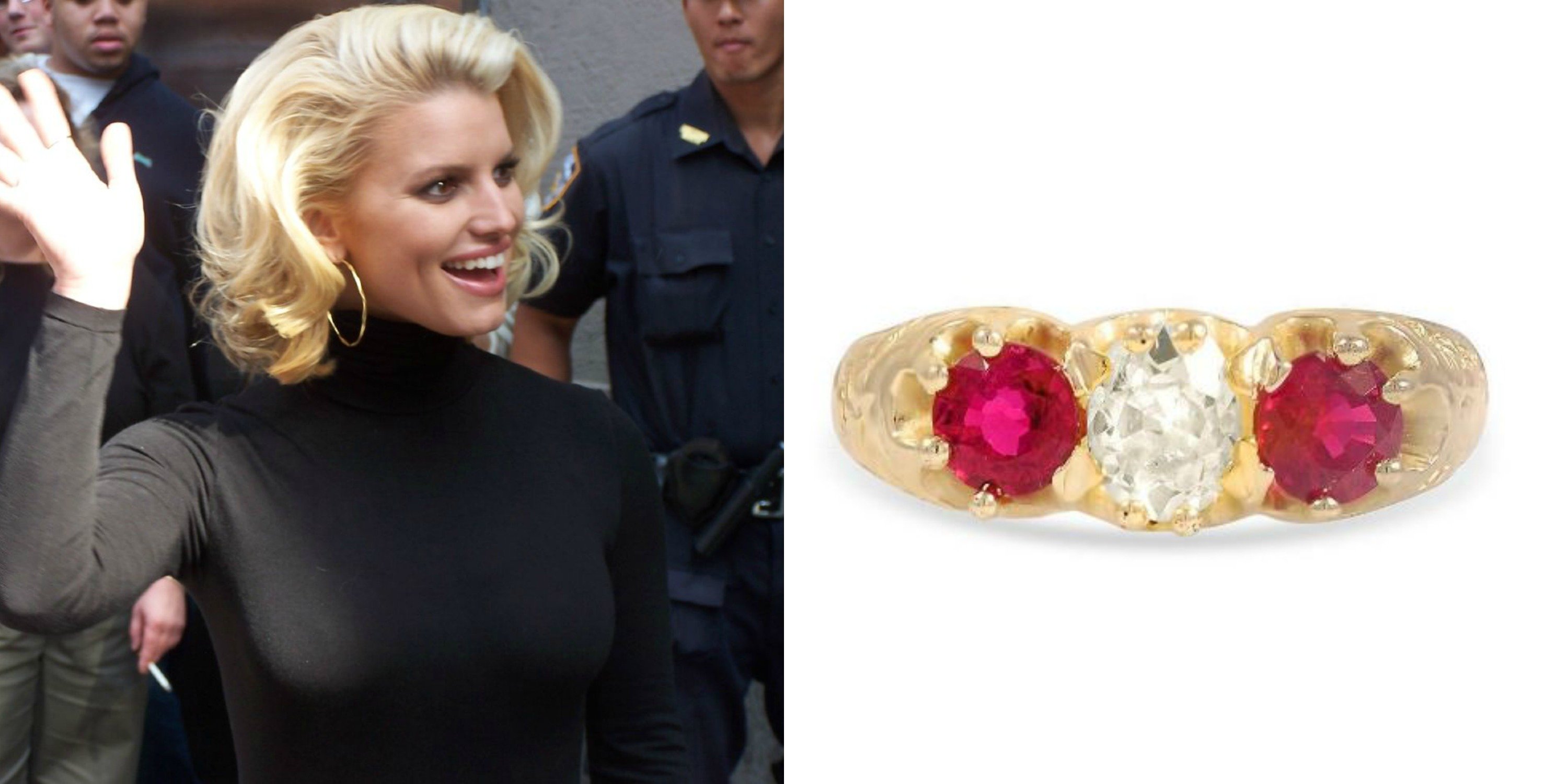 PHOTOGRAPH BY DENNIS, DISTRIBUTED UNDER A CC-BY 2.0 LICENSE.
Sapphire engagement rings are a popular and distinctive alternative to traditional diamond engagement rings, and actor Javier Bardem is wise to the trend. He presented Penelope Cruz with an alluring vintage ring featuring a 3-carat oval sapphire surrounded by diamonds.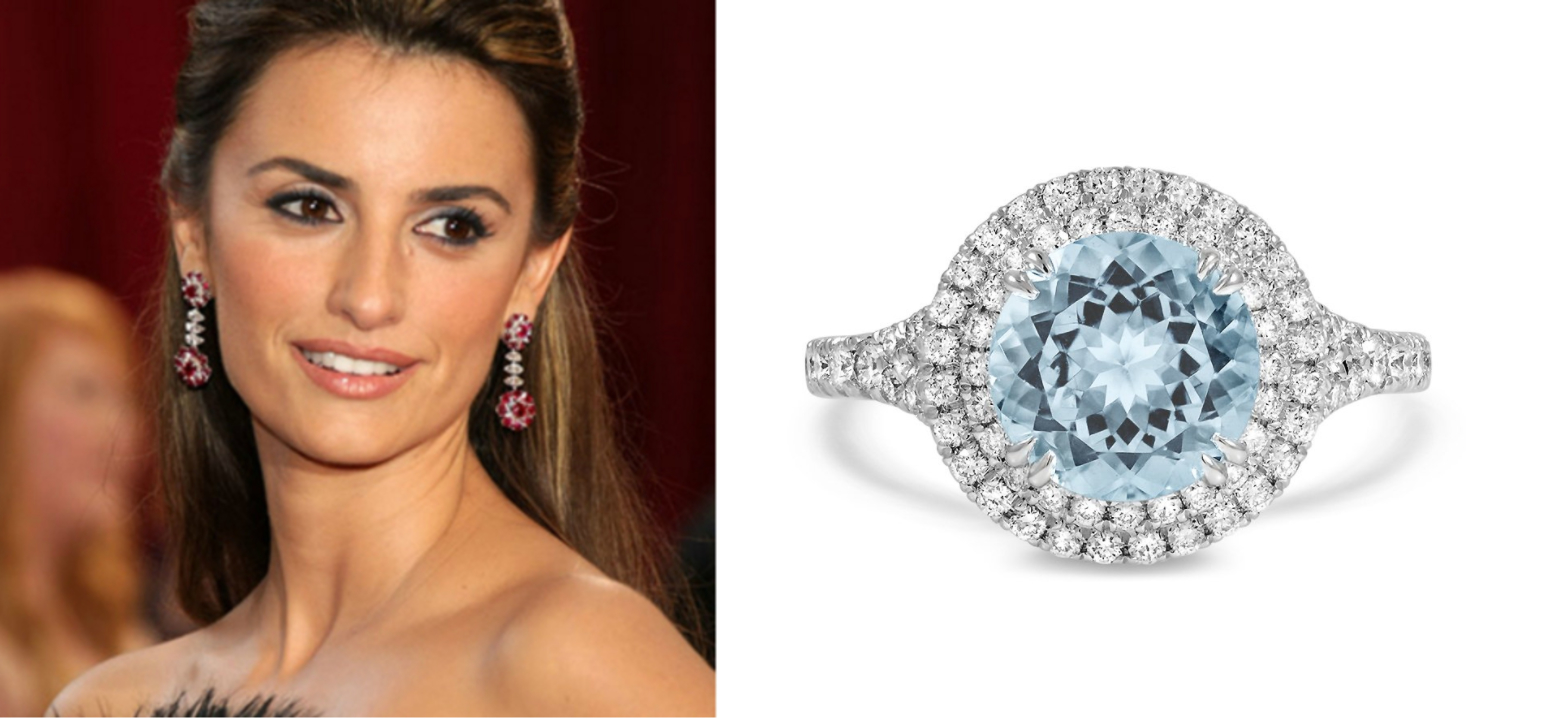 PHOTOGRAPH BY JOELLE MASLATON, DISTRIBUTED UNDER A CC-BY 2.0 LICENSE.
We take many style cues from celebrities, and you may not need to look any further than Hollywood for your perfect engagement ring inspiration. At Brilliant Earth, we offer a wide variety of beloved styles that achieve a timeless take on sought after celebrity engagement rings.
Final Thoughts
Which celebrity style is your favorite? Let us know in the comments below, or on our Twitter, Facebook, or Instagram!