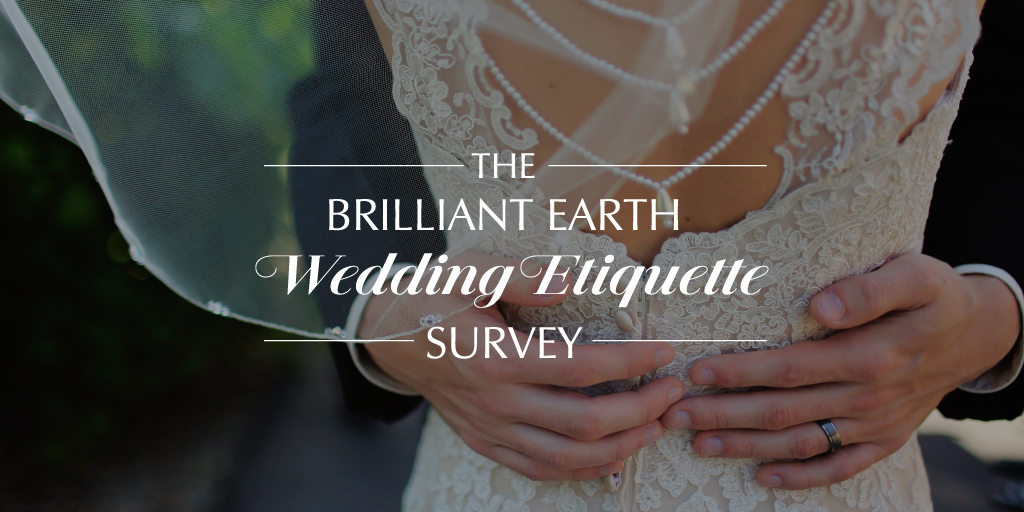 There are about a million questions that arise in the months before a wedding. Do I need a ring to propose? Who should be included in the bridal party? How will the wedding be paid for? Navigating these decisions can be overwhelming!
Many of the answers to these questions used to be set in stone by strict etiquette rules. However, 21st century couples are breaking from traditional norms. We surveyed Americans to uncover which rules they felt were made to be broken and which have stood the test of time. Find the most intriguing takeaways below!
Rules of Engagement
Before a wedding, there is usually some form of a proposal. For many, the idea of a proposal conjures up thoughts of someone down on one knee with a ring in their hand. But, does a ring always need to come before the proposal, or is it better for the couple to decide on a ring together after the question has been popped?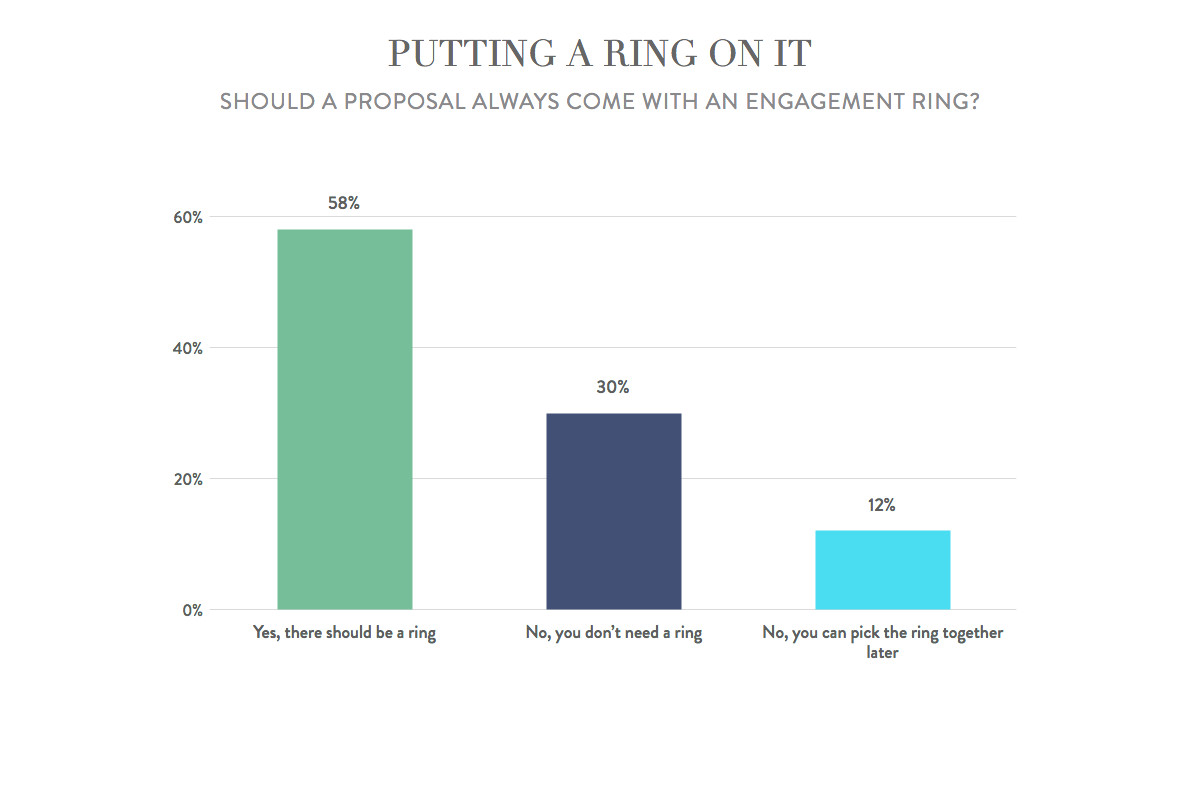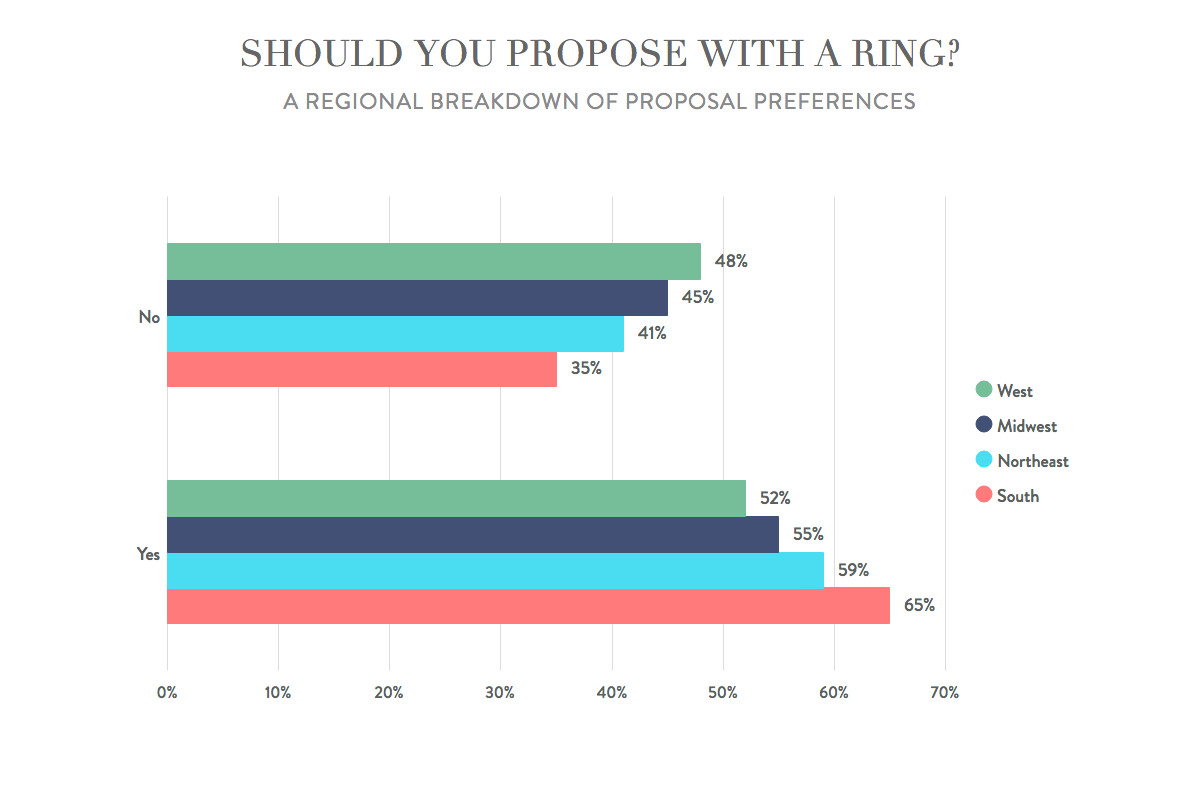 The majority of respondents (58%) still believe that there should be a ring in the proposer's hand, but those in the West were the most likely to say that a ring could come later.
Once you've got the ring (whether it's during the proposal or after), should you wear it at all times?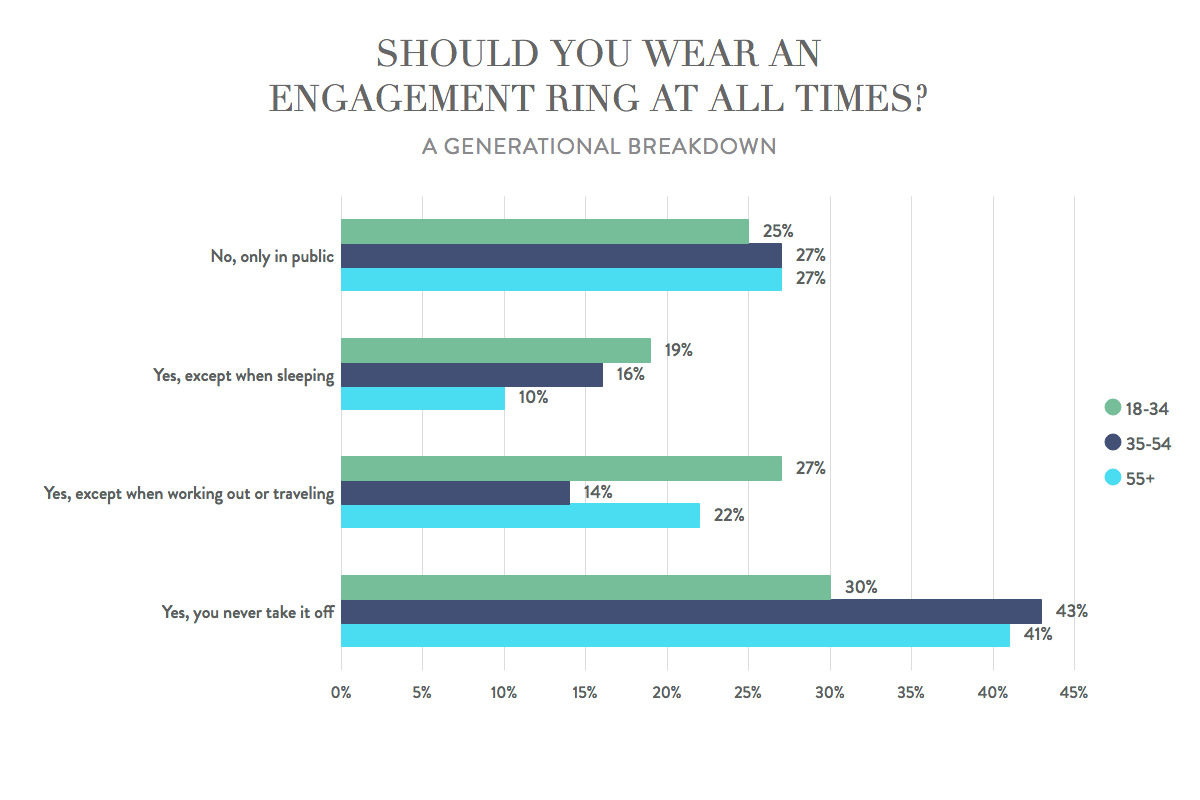 Those aged 35-54 were 1.4 times more likely than millennials to say you should never take off your ring. Millennials, however were the most likely to believe that it's okay to take off your ring while sleeping, working out, or traveling.
Knowing that most Americans would prefer for their significant other to "put a ring on it" when proposing, it's important to know what guidelines should be used when purchasing a ring. Do people still prefer a traditional diamond ring, or would they rather use a colored gemstone or a diamond simulant?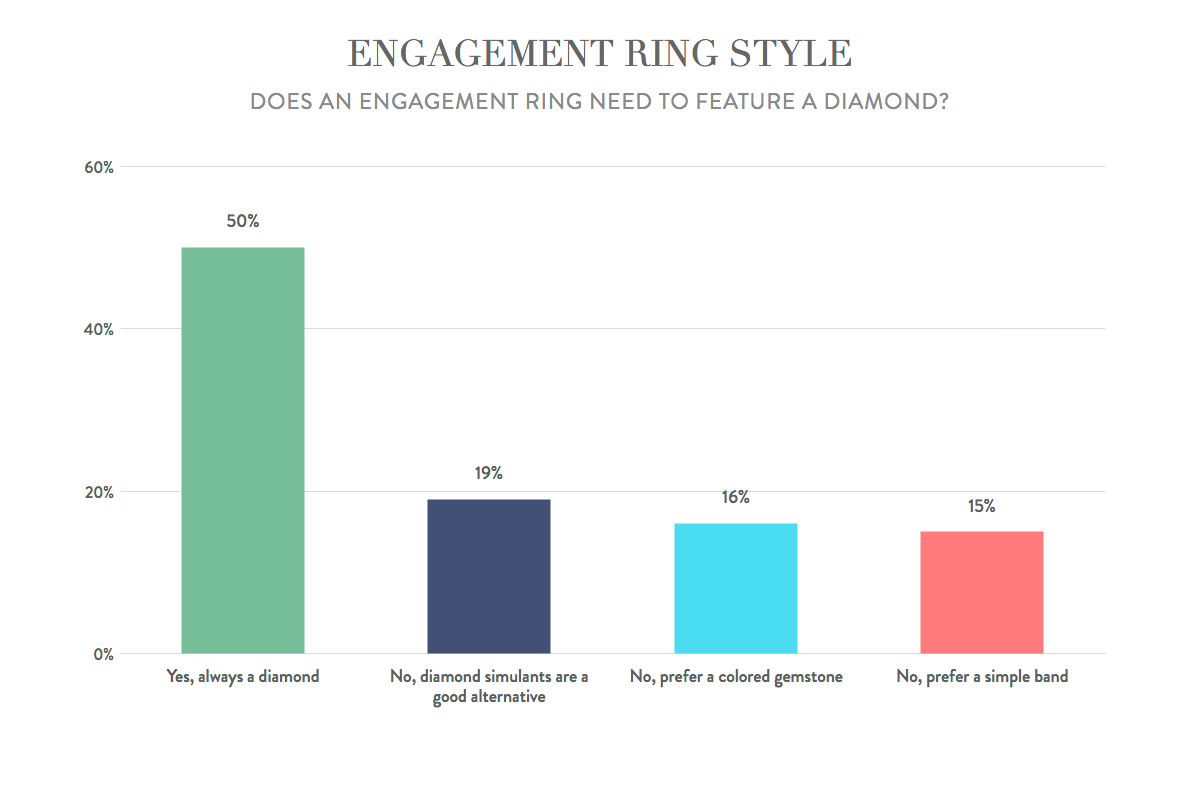 While a traditional diamond is still the most popular choice when it comes to shopping for an engagement ring, we were excited to see rising interest in unique choices, like colored gemstones, diamond simulants, and bands! We've seen this trend echoed over the past year, as more and more couples are opting for more non-traditional rings that reflect their personal style.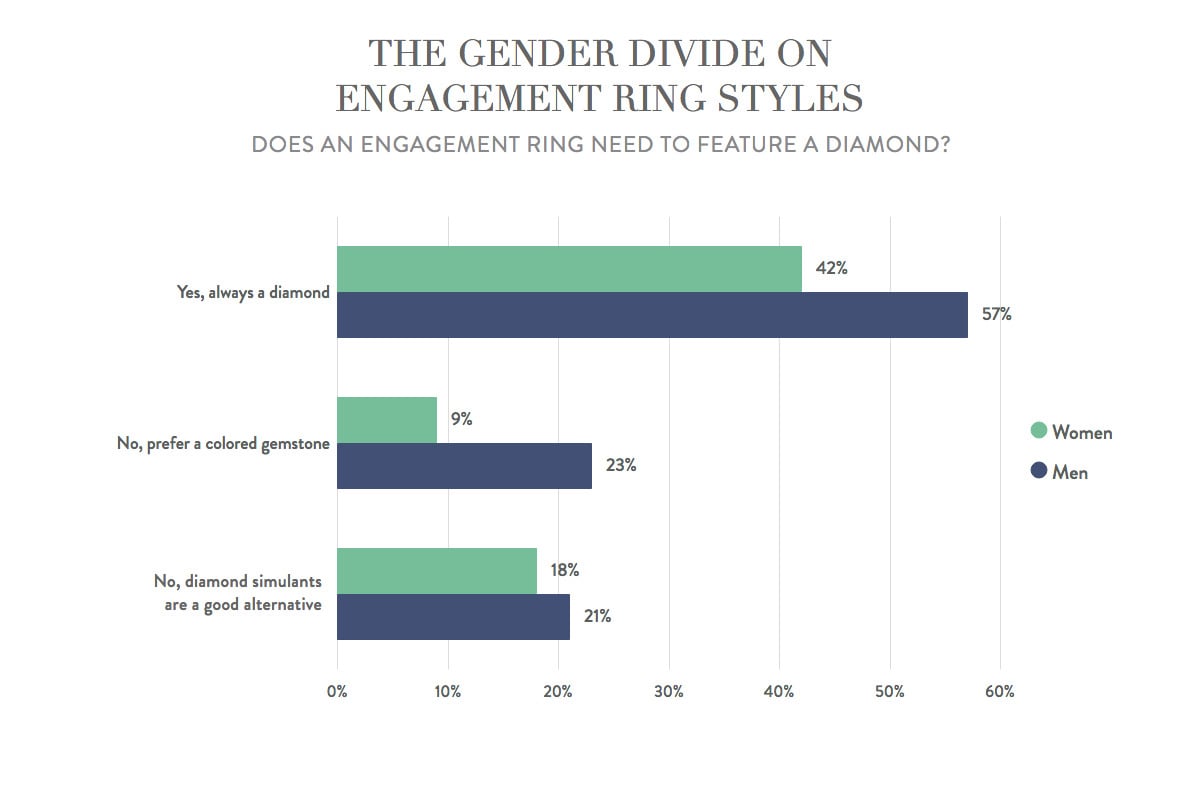 However, men seem to be much more willing to feature a colored gemstone or a diamond simulant in an engagement ring.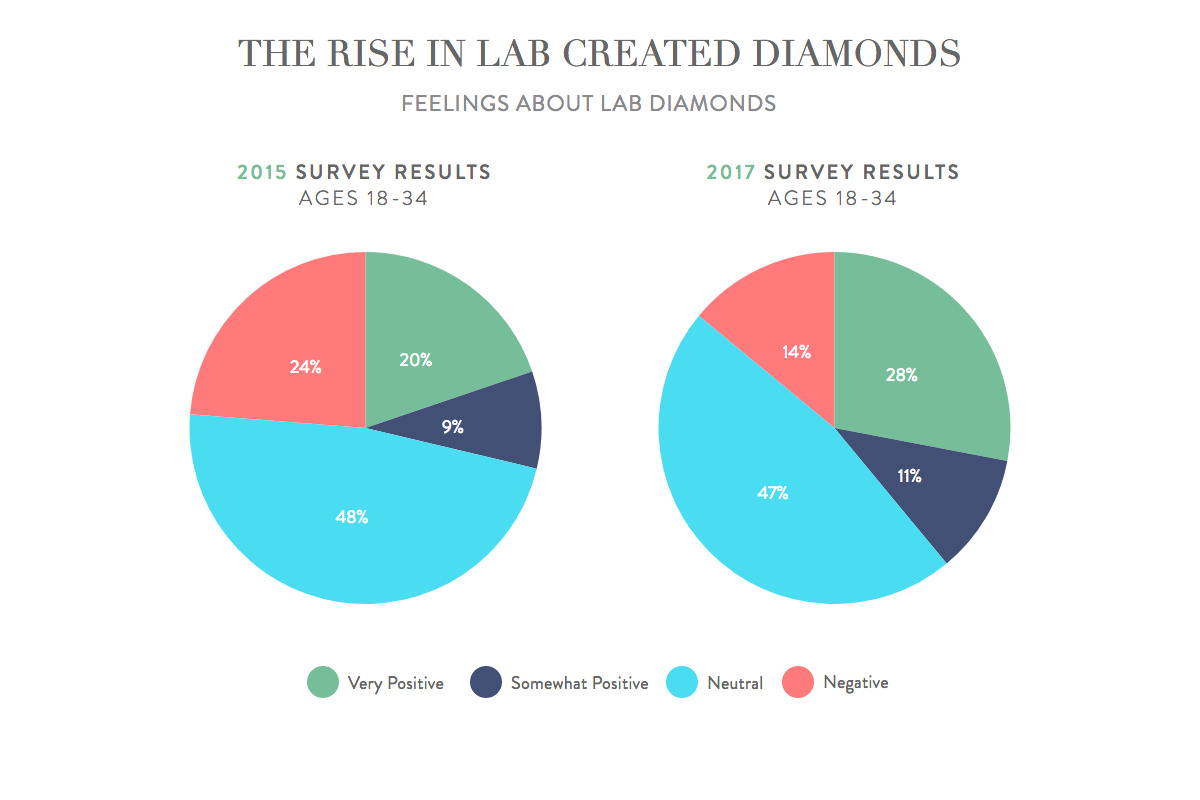 Feelings towards lab created diamonds are also improving significantly, especially in millennials. In fact, millennials are 1.4 times more likely to have very positive feelings about lab diamonds than they were in 2015 and 1.7 times less likely to have negative feelings about diamonds created in a lab.
Planning for the Big Day
After your partner says "yes", it's time to start planning for the big day. This is when more etiquette rules really come into play. For instance one of the bigger dilemmas often faced, if one of your friends recently asked you to be in their bridal party, do you have to return the favor?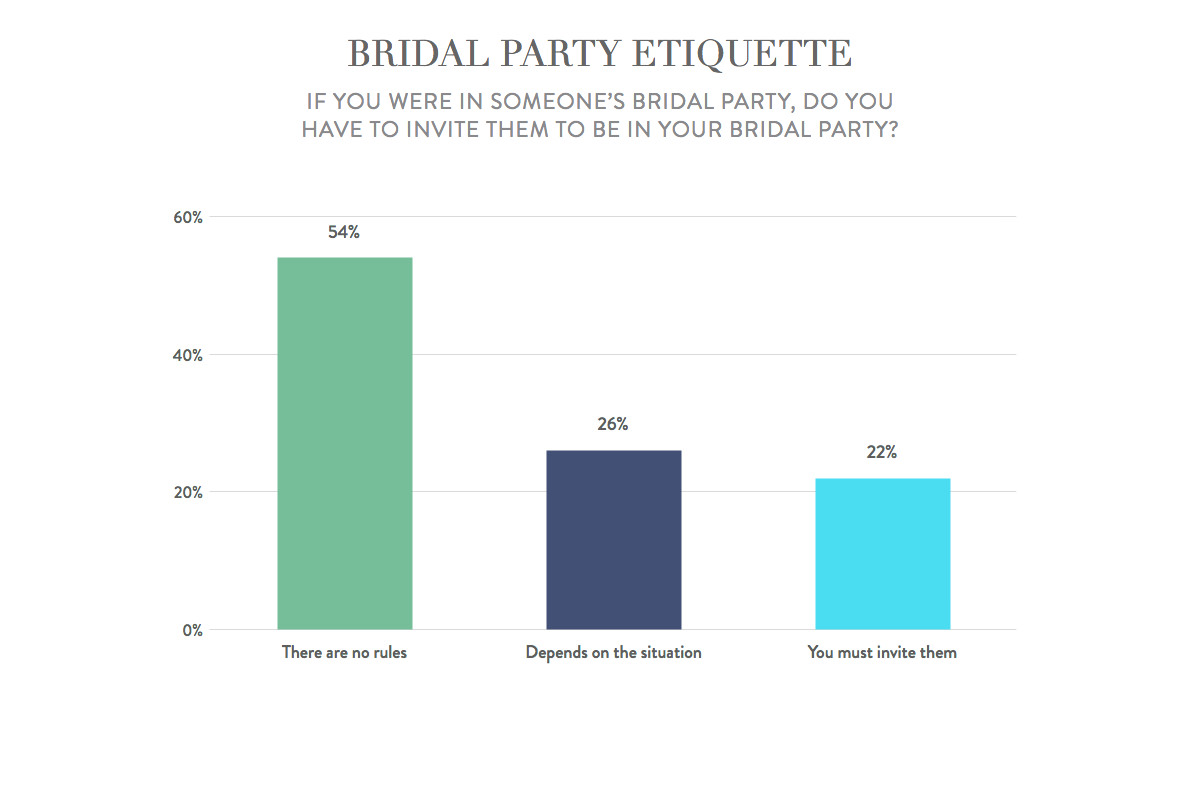 54% of Americans believe that there are no rules when it comes to planning your bridal party, but 22% still believe that you would have to invite your friend to be part of your bridal party if you were asked to be a part of theirs.
What about paying for the wedding? Money can be a touchy subject and while tradition says that the bride's parents should foot the bill, many couples are breaking from this etiquette rule.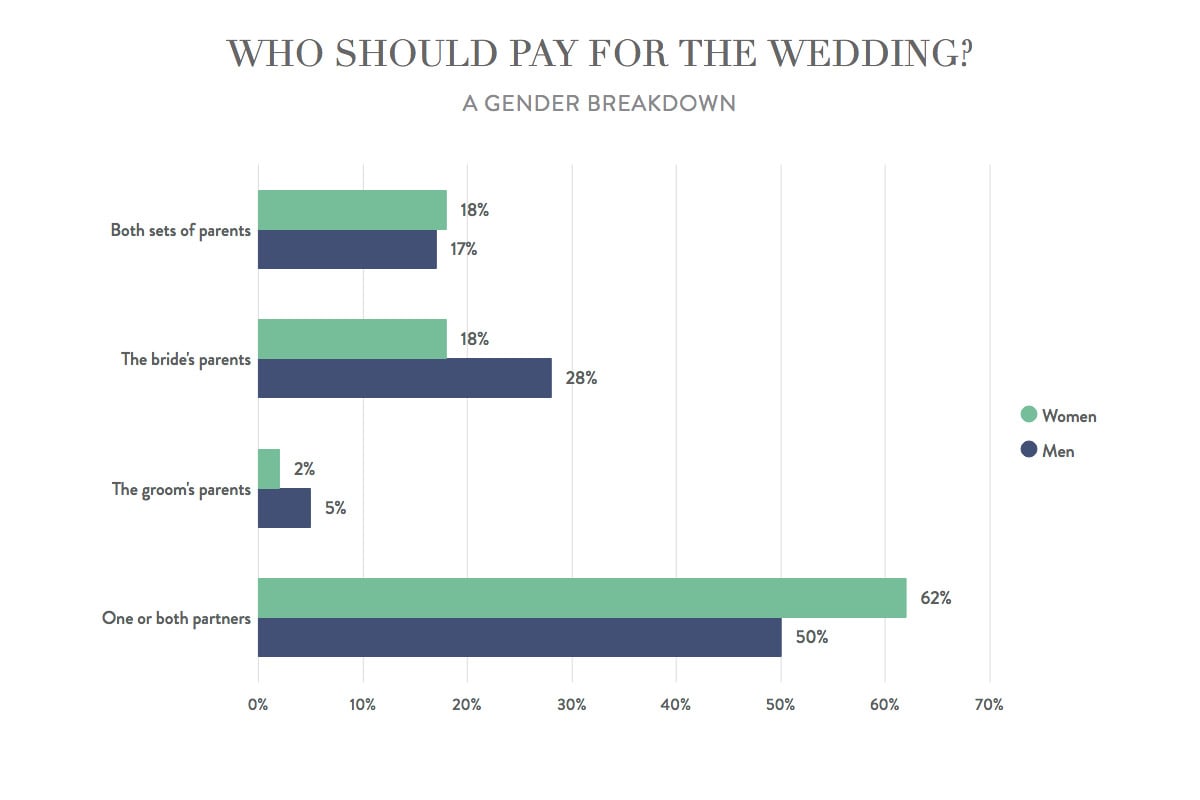 In fact, most couples are paying for their own wedding (either individually or as a partnership). Men were 1.6 times more likely to stick to the belief that the bride's parents should pay, but close to a quarter of respondents felt that both sets of parents should foot the bill.
Etiquette for Attendees
Sure, most of the etiquette rules fall on the bride(s) or groom(s), but attendees should also worry about considering what is proper. While some rules seem to be pretty well known (such as not wearing a white dress as a guest), others prove to be a bit trickier (such as how much to spend on a gift).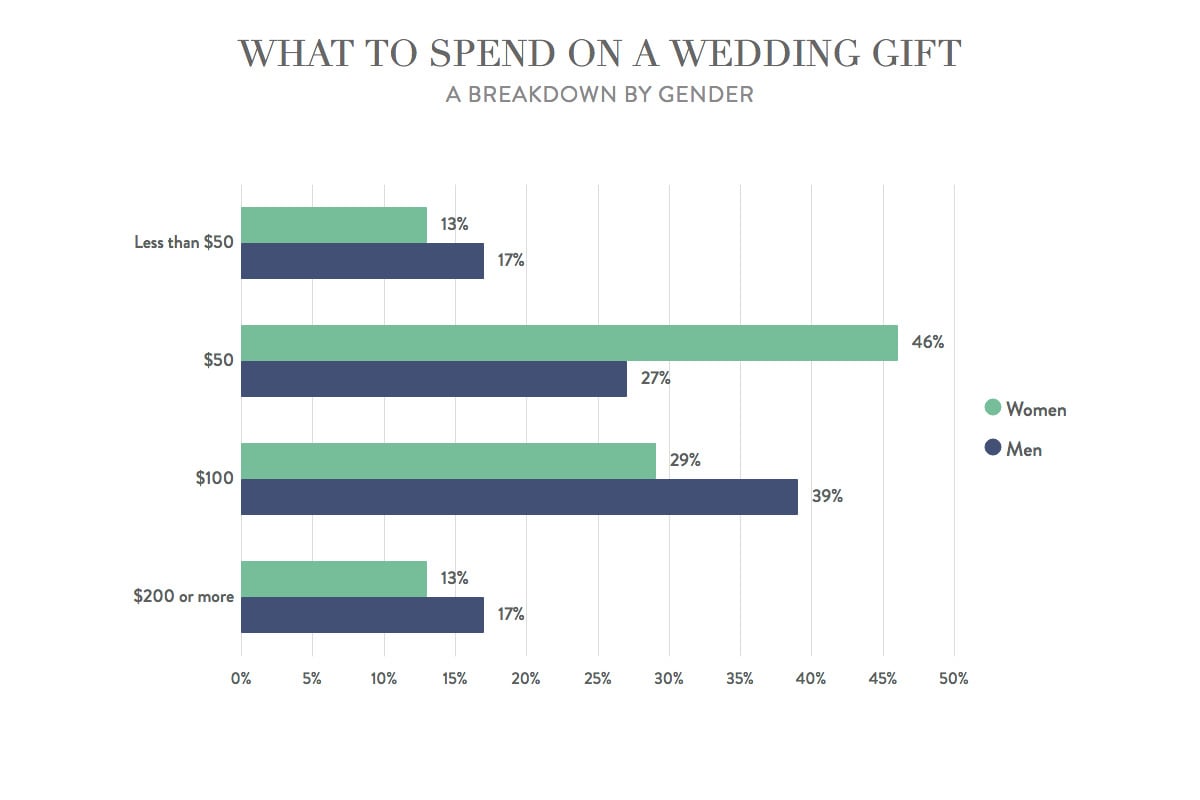 As it turns out, men were 1.3 times more likely to spend $100 or more on a gift. The majority of women feel that $50 is an appropriate amount.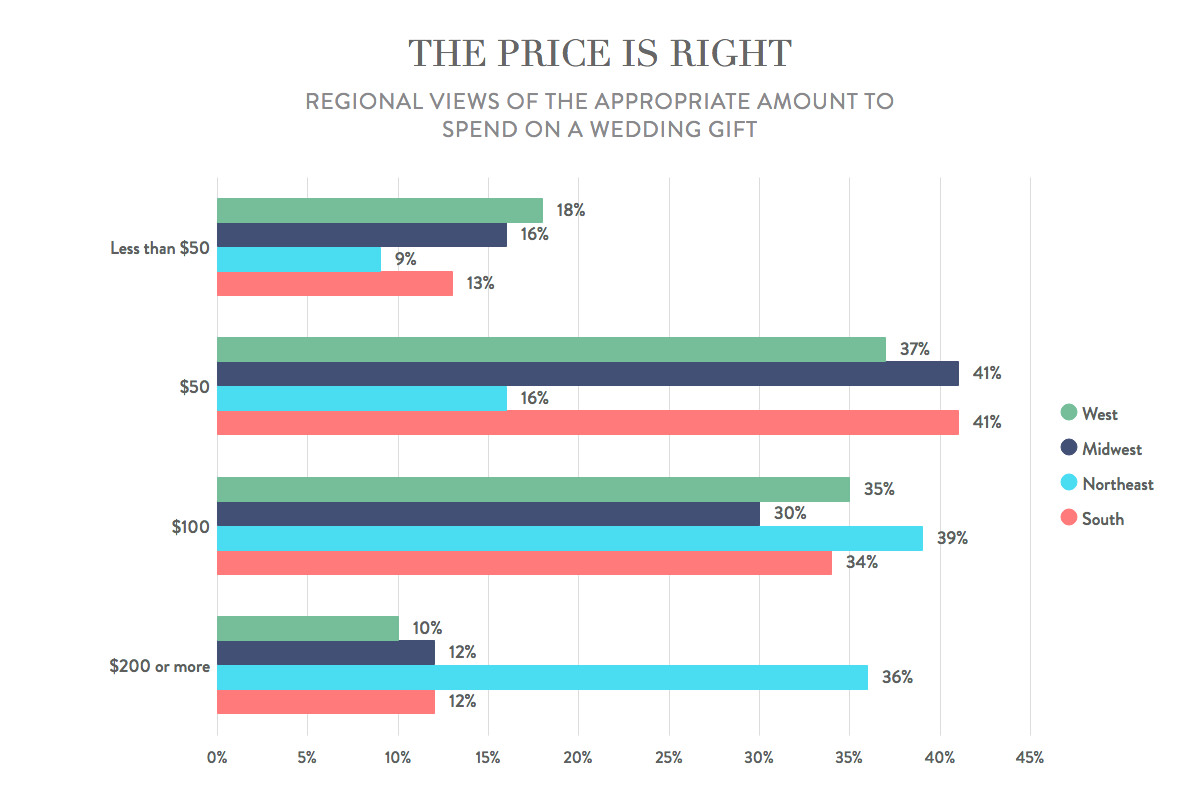 Other big spenders can be found in the Northeast, where respondents were 3.6 times more likely to say that $200 is the appropriate amount to spend than those in the West.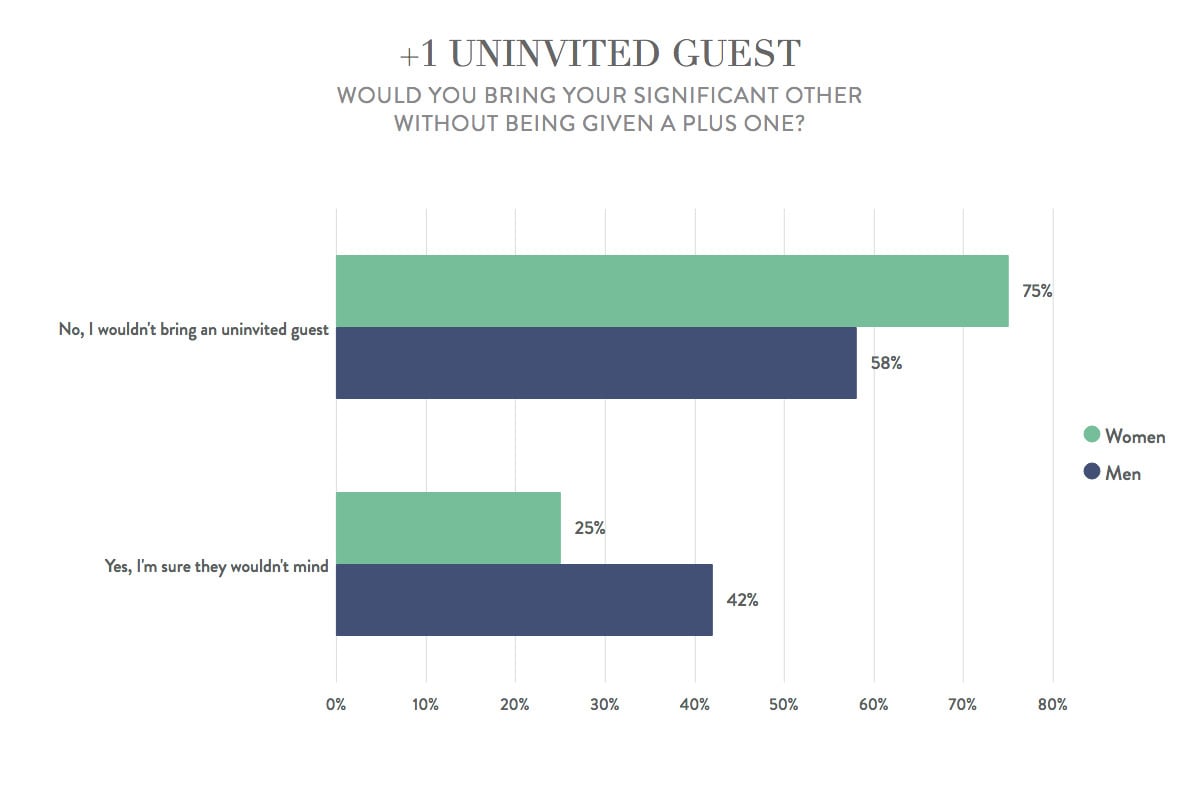 While men seem to be more giving with their wedding gifts, they don't mind breaking the rules of attendance. Males were 1.7 more likely to say they would bring their significant other without having been given a plus one.
Social media is a whole new territory when it comes to rules of etiquette! With many of us posting our every move, it can be hard to know where to draw the line. Is it okay to create a story on Instagram as the couple says their I do's?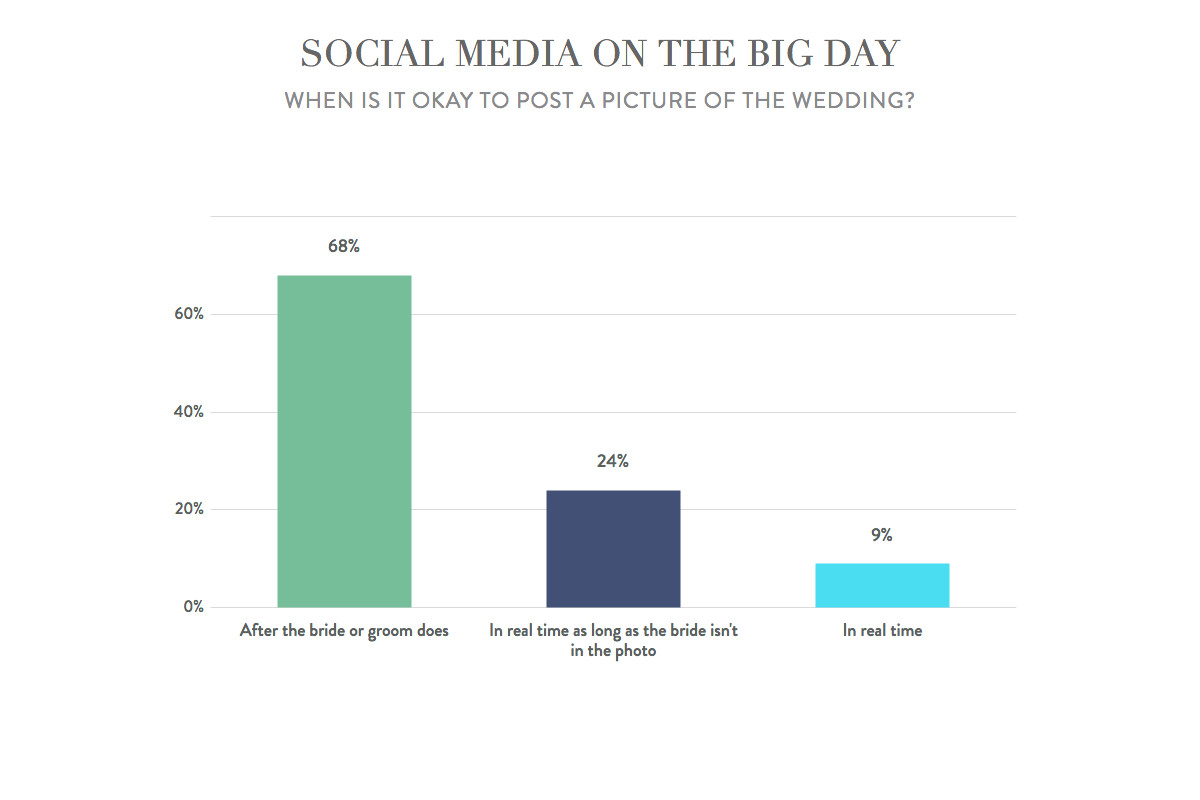 9% of respondents believed it was okay to post a picture of the wedding in real time, but 68% think it's only okay to post your pics once the bride or groom has shared on social media.
Final Thoughts
Do you follow all of the etiquette rules when it comes to a proposal, planning a wedding, or attending the nuptials? Let us know in the comments below or share your opinion with us on Instagram, Twitter or Facebook!