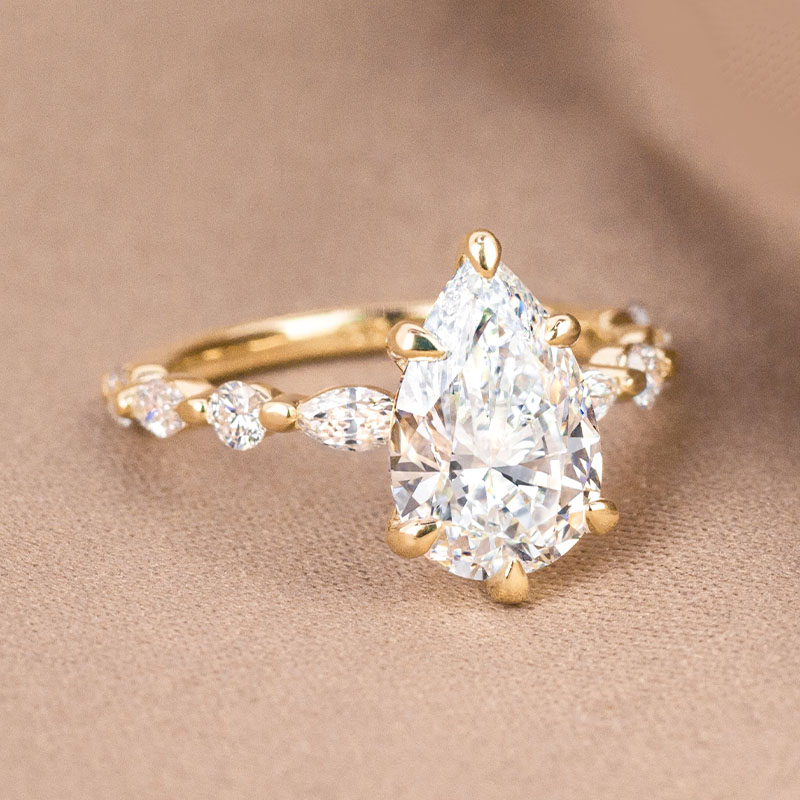 It is no secret – Instagram is one of the best places to explore engagement ring trends and collect inspiration for your dream engagement ring.
Fancy shaped diamond rings have been one of the hottest engagement ring trends for the past few years – especially pear diamonds. With their graceful curves and flattering elongated shape, it's no wonder that pear diamond rings are so beloved. Pear diamonds marry the dazzling beauty of a round brilliant cut diamond with the distinctive style of a marquise diamond. Their elongated surface area can also make them appear larger than a round diamond of the same carat weight. Pear diamonds speak for themselves in a solitaire setting, or sparkle harmoniously with a halo setting or other accent diamonds.
With that in mind, we have scrolled through our Instagram feed and rounded up our most loved pear diamond engagement rings to serve you some inspiration. Read on to discover our most popular pear diamond engagement rings according to Instagram!
7. Secret Halo Diamond Ring
6.9k likes
View this post on Instagram
Our Instagram audience is loving engagement rings featuring hidden diamond accents, like the sparkling hidden halo pictured here. This elegant engagement ring features a glittering hidden halo of diamonds that wraps around the center gem making the ring sparkle from every angle.
6. Versailles Diamond Ring
7.2k likes
View this post on Instagram
Fancy shaped diamond accents add a unique sparkle to any engagement ring. This Instagram favorite engagement ring setting features alternating round and marquise diamonds that create an alluring pattern along the band. We anticipate elongated fancy diamond accents will remain a popular choice for years to come!
5. Gramercy Diamond Ring
9k likes
View this post on Instagram
Three stone engagement ring settings have captured the heart of our Instagram audience, especially when paired with a fancy shaped diamond. This style's romantic meaning and unique look compliments the graceful curves of a pear diamond to make a strikingly beautiful engagement ring.
4. Nouveau Diamond Ring
9.3k likes
View this post on Instagram
Reminiscent of the Art Nouveau era, this artistic ring features shimmering pavé diamonds that form a chevron-shaped band above the center gemstone. The Nouveau setting is the perfect match for a pear center stone.
3. Mixed Metal Waverly Diamond Ring
12.3k likes
View this post on Instagram
When looking through our most loved pear engagement rings on Instagram, it is clear that pear diamond center stones and delicate halos are a winning duo. This sparkling halo setting features beautiful pavé diamonds that glimmer along the 18K white gold halo paired with a 14K rose gold band, making this ring truly spectacular.
2. Waverly Diamond Ring
16.2k likes
View this post on Instagram
With how perfectly this setting highlights a beautiful pear diamond, it is no surprise that this is the second time the Waverly Diamond Ring appears on our list! This customer favorite setting pairs effortlessly with any pear diamond and sparkles from every angle, with diamond accents adorning the band and encrusting the gallery. If you are loving the look, our full collection of halo diamond engagement rings is sure to serve you more dazzling inspiration.
1. Lumiere Diamond Ring
16.5k likes
View this post on Instagram
A modern twist to a classic solitaire: diamond accents that peek out from under the center gem add something truly special to the Lumiere. If you love the look of a simple solitaire but are wanting some added sparkle, our collection of hidden diamond accent engagement rings is sure to hold your perfect match.
Final Thoughts
Do you agree with our followers? Let us know which Brilliant Earth engagement ring is your favorite! Let us know on our Instagram, Facebook, Twitter or in the comments below!