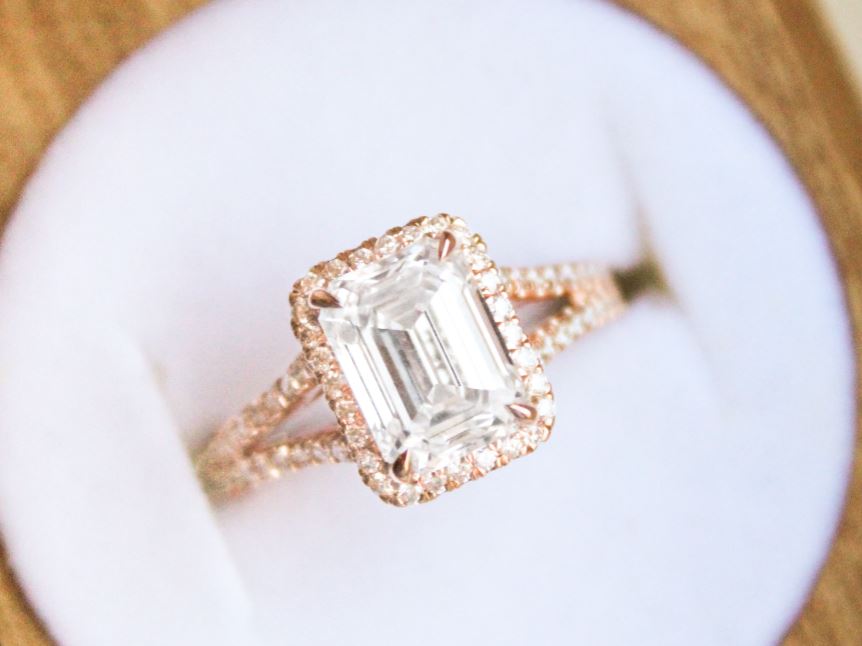 Marked by a band that elegantly splits into two delicate strands of precious metal to frame the center gem, split shank engagement rings offer a look that's as on-trend as it is classic.
What is a Split Shank Engagement Ring?
A split shank engagement ring features a band that splits into two as it reaches the ring's center gemstone. This creates two open spaces that gracefully frame the center gem. A split shank design gives a modern flair to a classic solitaire setting. The double band also gives an opportunity to add additional sparkling diamond accents to an engagement ring setting.
Split Shank Diamond Engagement Rings
Reverie Ring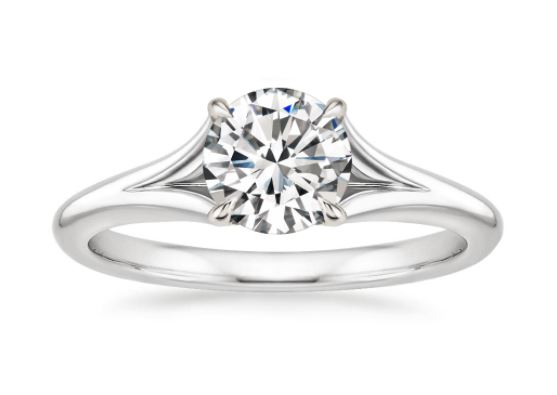 At once feminine and contemporary, this ring divides into graceful ribbons of precious metal that intertwine and embrace the center gemstone, securing it with claw prongs.
Odelia Diamond Ring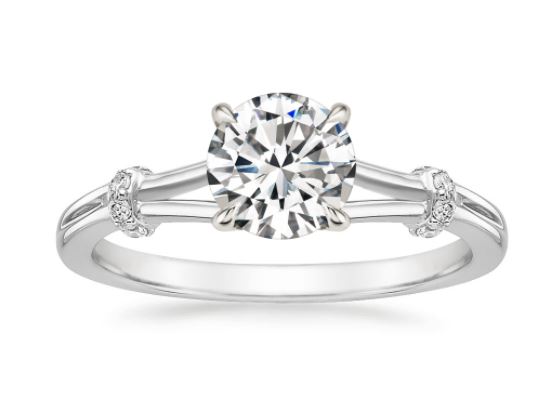 Bands of sparkling pavé diamonds wrap around the shoulders and encircle the gallery, creating a radiant look in this alluring split shank design.
Duet Diamond Ring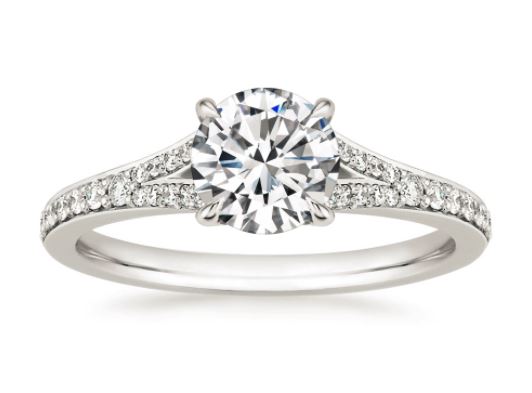 This diamond embellished band parts at the shoulder to embrace and secure the center gemstone with elegant claw prongs. More diamonds encircle the gallery, creating shimmer from every angle
Split Shank Halo Engagement Rings
Harmony Diamond Ring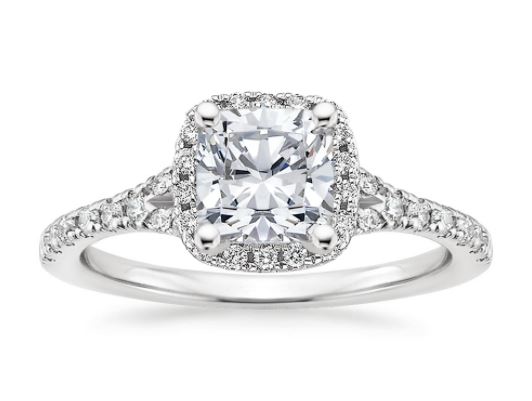 A glittering softened halo of diamonds surrounds the center gem in this elegant setting. A scalloped pavé split-shank band adds a stylish, dazzling effect.
Serendipity Diamond Ring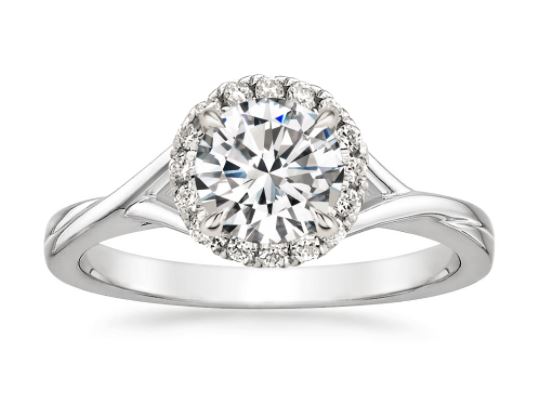 This artfully sculpted ring features ribbons of precious metal effortlessly extending into a graceful split shank setting. A scintillating halo of scalloped pavé diamonds surrounds a center gem set with claw prongs, creating a feminine yet contemporary look.
Circa Diamond Ring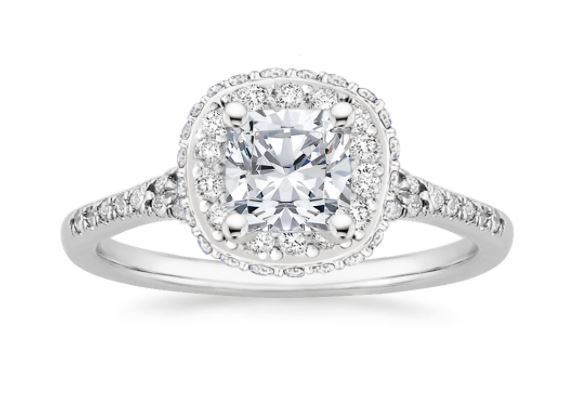 The diamonds on this ring's gallery and slight split shank band create an effect of magical shimmer.
Fortuna Diamond Ring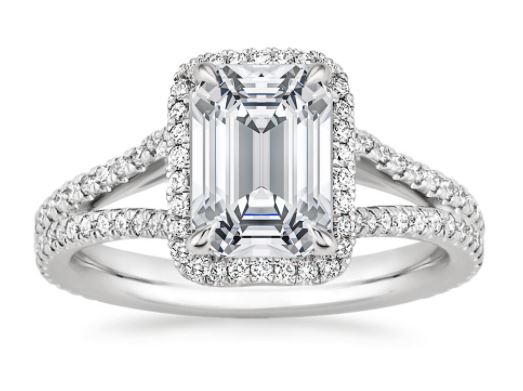 A halo of diamond accents curves gently around the center diamond in this distinctive ring. Two rows of pavé diamonds sparkle on the contemporary split shank band, while a surprise row of diamond accents on the bridge completes this glamorous look
Entwined Halo Diamond Ring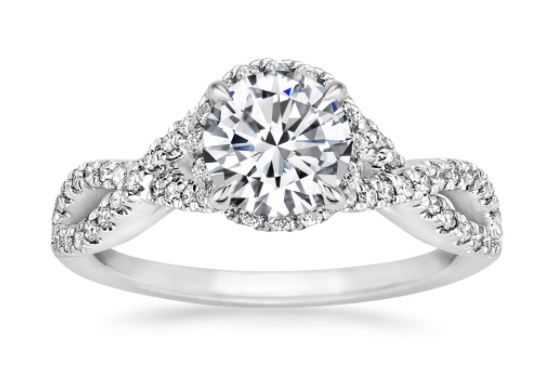 Twisted vines of scalloped pavé diamonds leads to a delicately recessed halo around this ring's center gem. Stunning diamond accents flow down the gallery for added brilliance.
Azalea Diamond Ring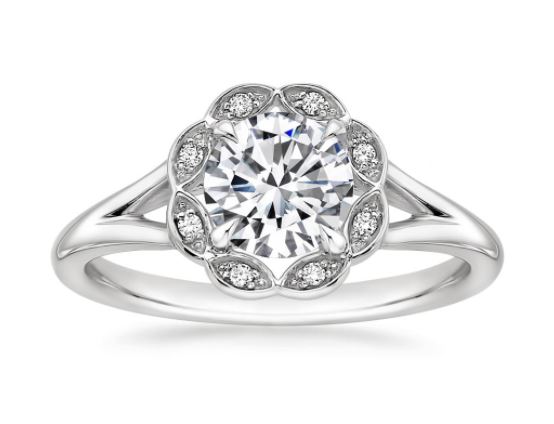 A halo of scintillating diamonds in marquise-shaped frames embraces the center gem in this exceptional ring. The precious metal band delicately splits underneath the halo for an alluring look.
How to Match Split Shank Rings with a Wedding Band
Finding a wedding band to match with your split shank engagement ring can present a pain-point for some brides. However, pairing a wedding band with your split shank engagement ring can not only be super easy, but also fun! For those looking for a perfect match, we offer complementary wedding band and contoured ring pairings for many of our split shank engagement rings. But we also encourage couples to get creative and choose whichever wedding band they love the most – embracing small gaps can create an on-trend look. If you have something specific in mind, our jewelry specialists are happy to help bring your unique vision to life with our custom design process.
Reverie Bridal Set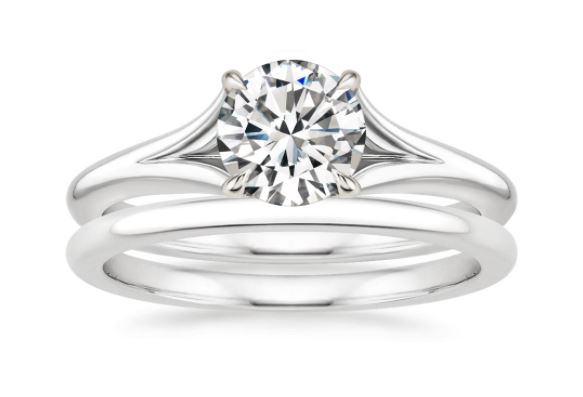 This delicate wedding band rests beautifully against the Reverie Ring, and has a rounded inside edge for increased comfort.
Fortuna Diamond Bridal Set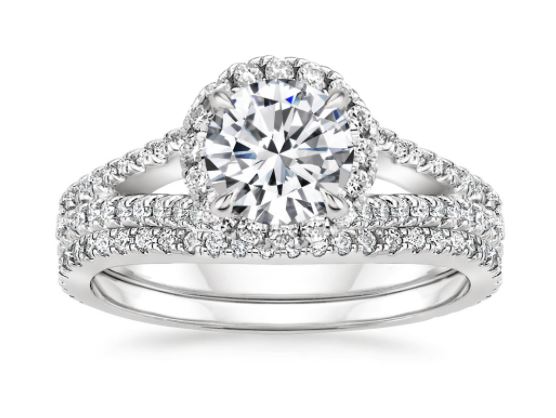 This contoured wedding ring is made to order to fit perfectly with the Fortuna Diamond Ring.
Entwined Halo Diamond Bridal Set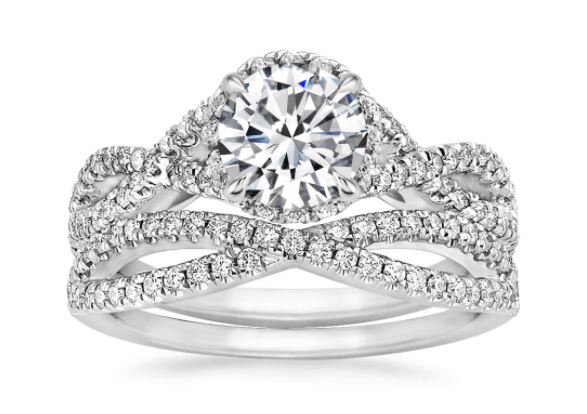 This dazzling matched set features twisted vines of French pavé diamonds leading to a delicately recessed halo around the center gem. The stunning wedding ring features two entwined ribbons of scalloped pavé diamonds for a look of radiance
Final Thoughts
Do you love split shank settings? Which one of these gorgeous rings is your favorite? Share with us in the comments below, or on our Facebook, Twitter, or Instagram. We'd love to hear from you!