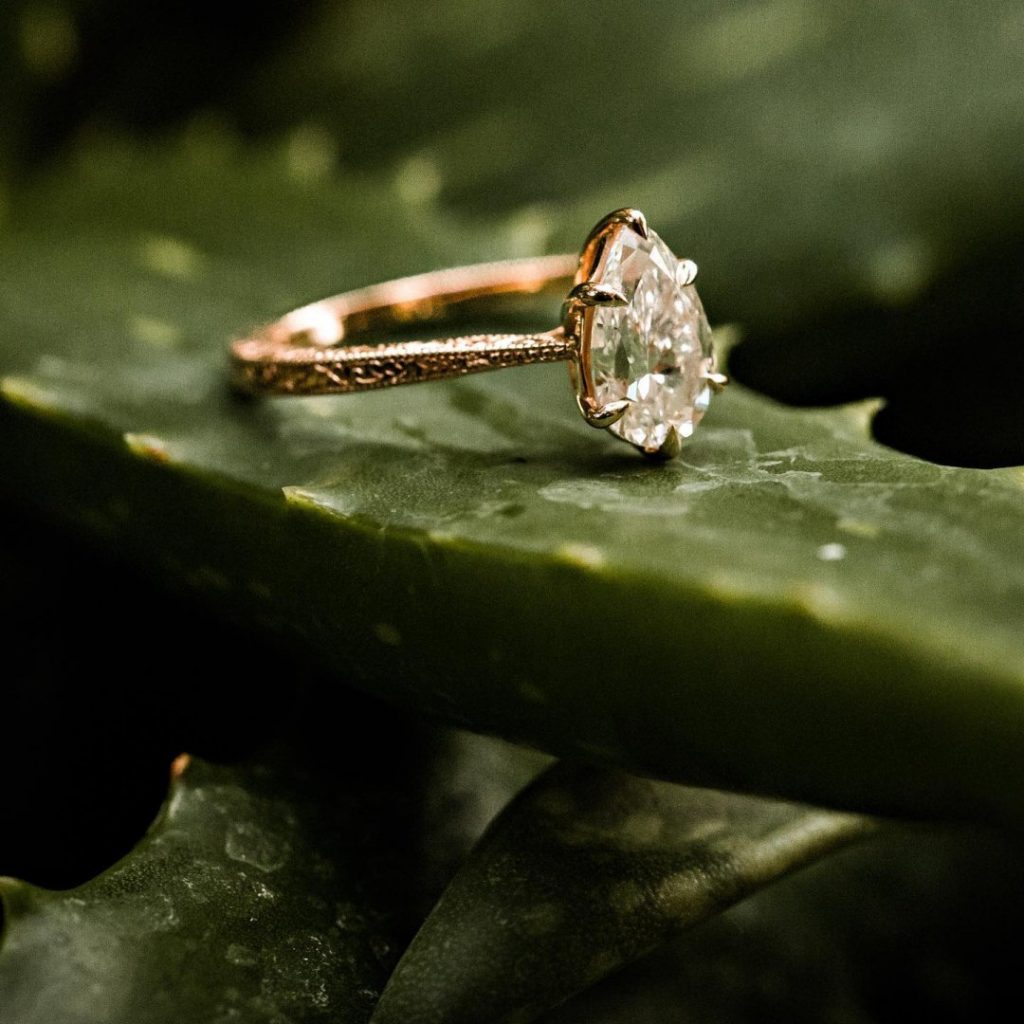 As antique, vintage, and vintage-inspired engagement rings continue to soar in popularity, there has been more interest in a special design element, filigree, which is often included in antique designs. Filigree rings offer a delicate, lacy beauty and a decidedly vintage aesthetic. Many brides and grooms love the combination of unique detail and femininity in filigree rings, and this special design element may be perfect for you.
What is Filigree?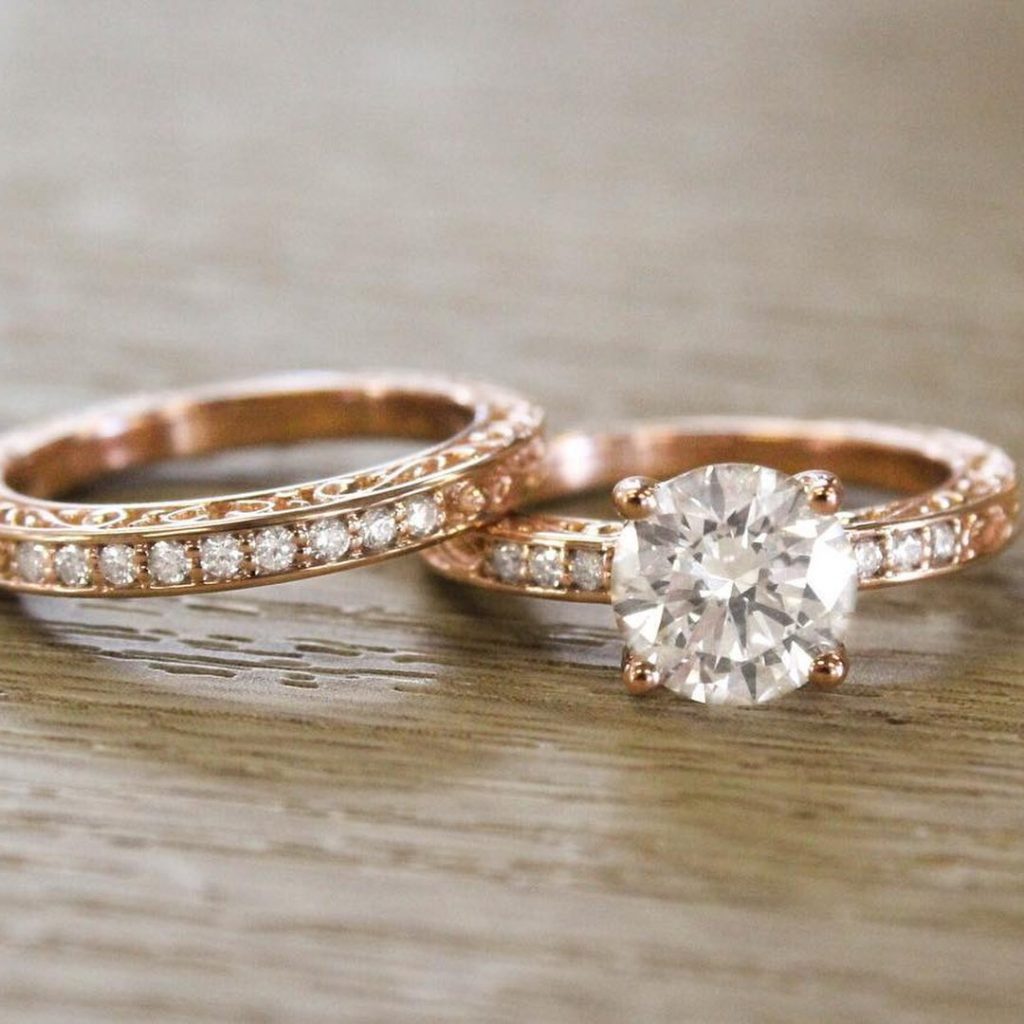 The term filigree is used to describe any intricate ornamental design formed out of metal. But in the jewelry world, filigree has a very specific meaning: A delicate embellishment in which fine, pliable threads of precious metal—white, yellow, or rose gold as well as platinum — are twisted or curled into designs and then soldered onto jewelry. Often these designs are gorgeous scrollwork and other intricate motifs that create a wonderfully lacy look on engagement and wedding rings. Although the designs can be similar to those seen on hand engraved jewelry, filigree is in some ways the opposite technique to engraving. While engraving involves sculpting or carving away at a piece of jewelry for decorative effect, filigree is a process of laying metal embellishment on top of a piece.
History of Filigree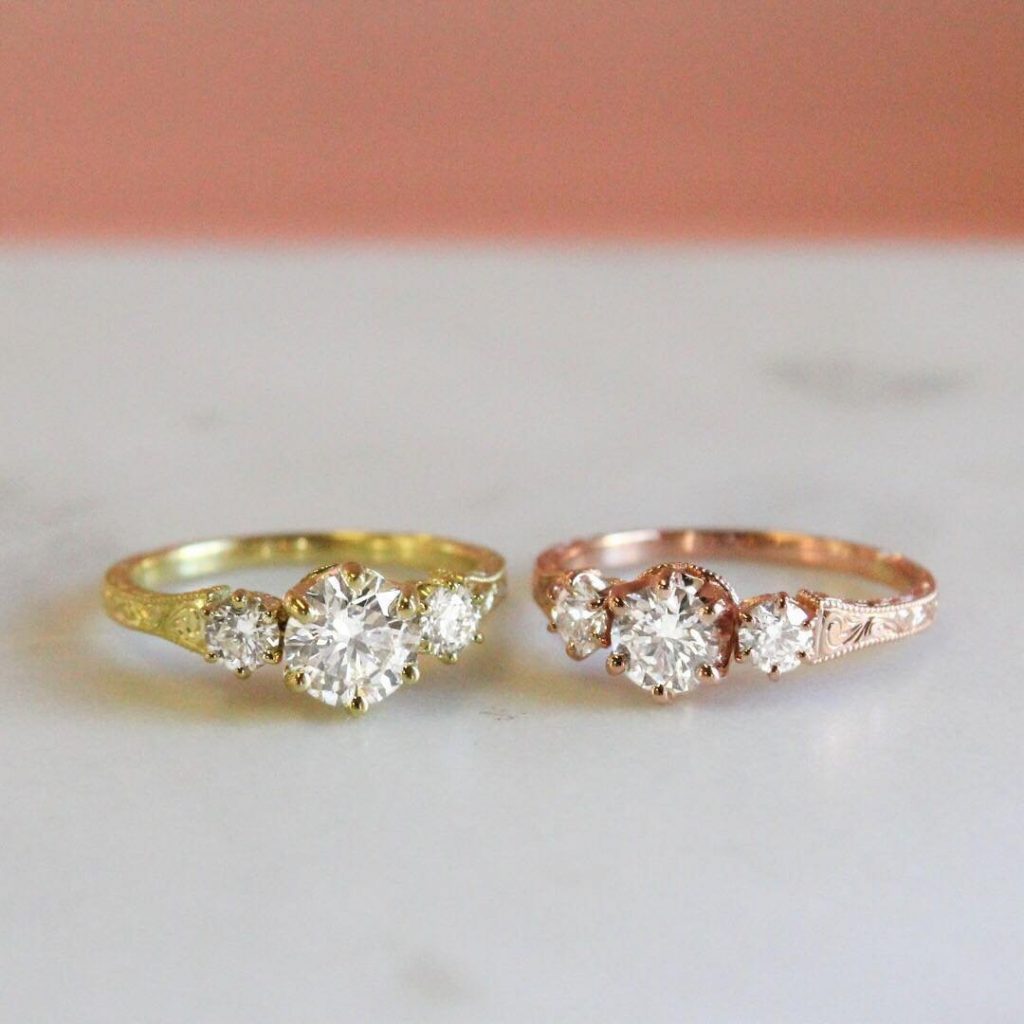 The word "filigree" is derived from the Latin words filum, which means thread or wire, and granum, which means seed.  Filigree is an ancient art form, found on jewelry left by the ancient Greeks, Etruscans and Mesopotamians, at least as far back as 3000 BC. It has adorned jewelry in cultures around the world, including India, Egypt, the Mediterranean and Northern Europe. Filigree became very popular in jewelry at the turn of the century, and is frequently seen in jewelry from the Edwardian era, when delicate, curving designs fit with the romantic, feminine aesthetic of the day. Filigree was created out of platinum for the first time during the Edwardian period, because advances in metalwork make it possible to sculpt platinum on a small scale. We also see it in Art Nouveau and Art Deco-era jewelry. Delicate scrollwork, floral motifs, swirls, and Celtic symbols are all frequently rendered in this precious metal adornment.
Filigree Engagement Rings
If you crave an engagement ring featuring filigree embellishment, you can choose between a new vintage-inspired ring, a one-of-a-kind antique, or a custom ring with filigree work created just for you.
Modern Filigree Rings with Vintage Style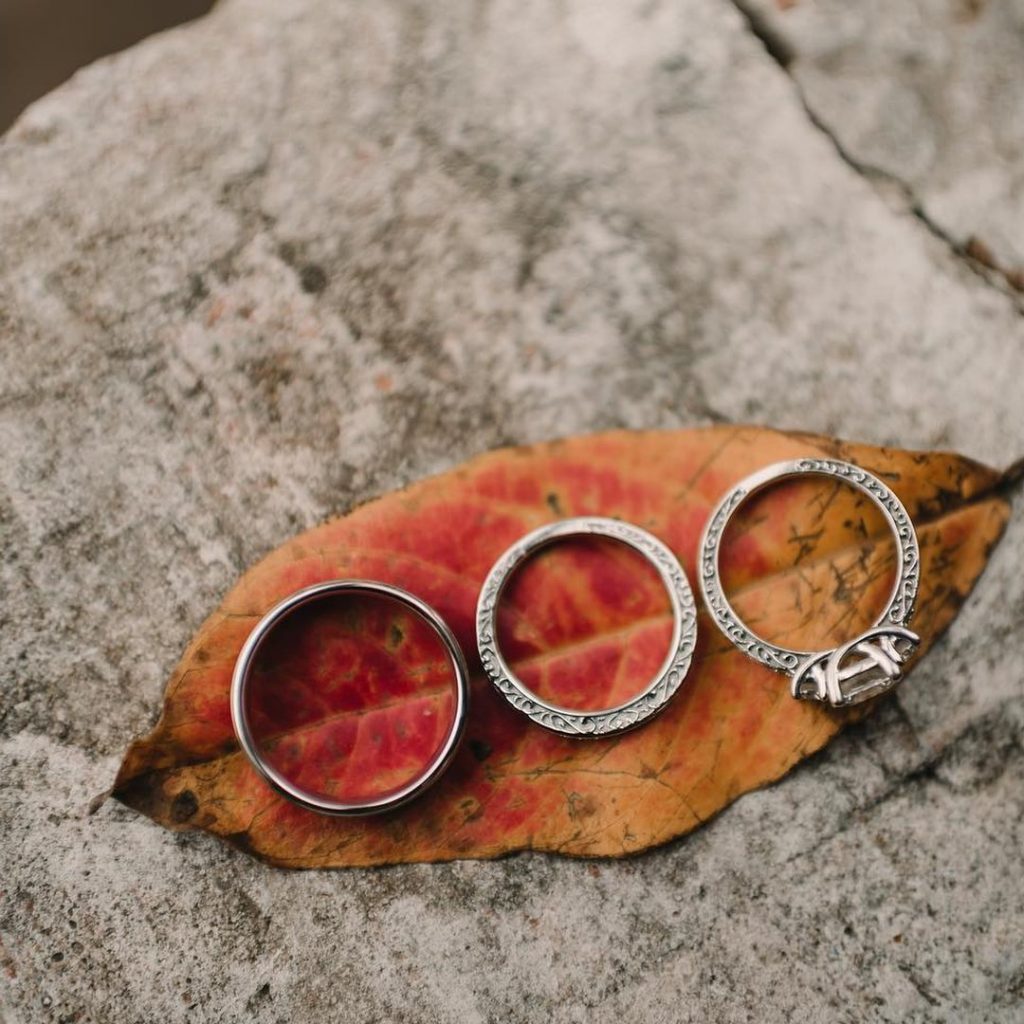 Brilliant Earth's Antique Inspired Collection features new engagement rings with vintage inspired details, including filigree. The Antique Scroll Three Stone Trellis Diamond Ring features filigree embellishment and can be made to showcase an exquisite, ethical diamond or sapphire of your choice. This ring is beautifully complemented by the Delicate Antique Scroll wedding ring.
One-of-a-Kind Antique Filigree Rings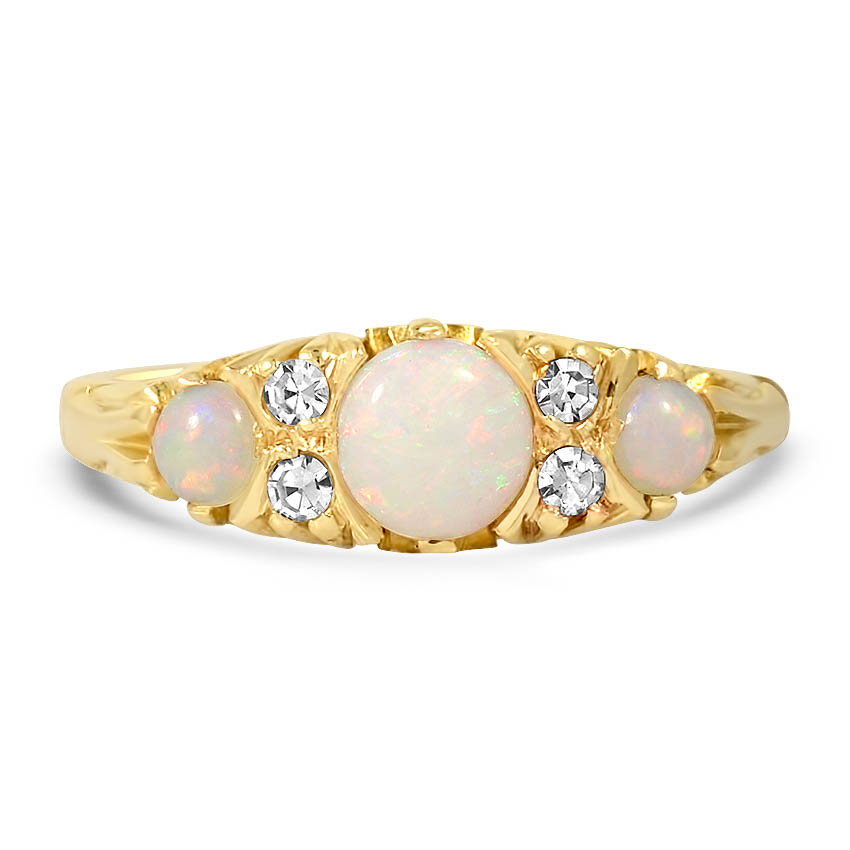 The filigree found on antique rings is exquisitely beautiful. Our collection of authentic antique jewelry frequently features filigree engagement rings, hand-selected by our jewelry experts in our one-of-a-kind antique collection. The rings in this collection are unmatched in their uniqueness and offer a distinctive and romantic link to the past. Choose a filigree ring from this collection and be continuously inspired by its timeless, one-of-a-kind beauty.
Custom Design a Filigree Ring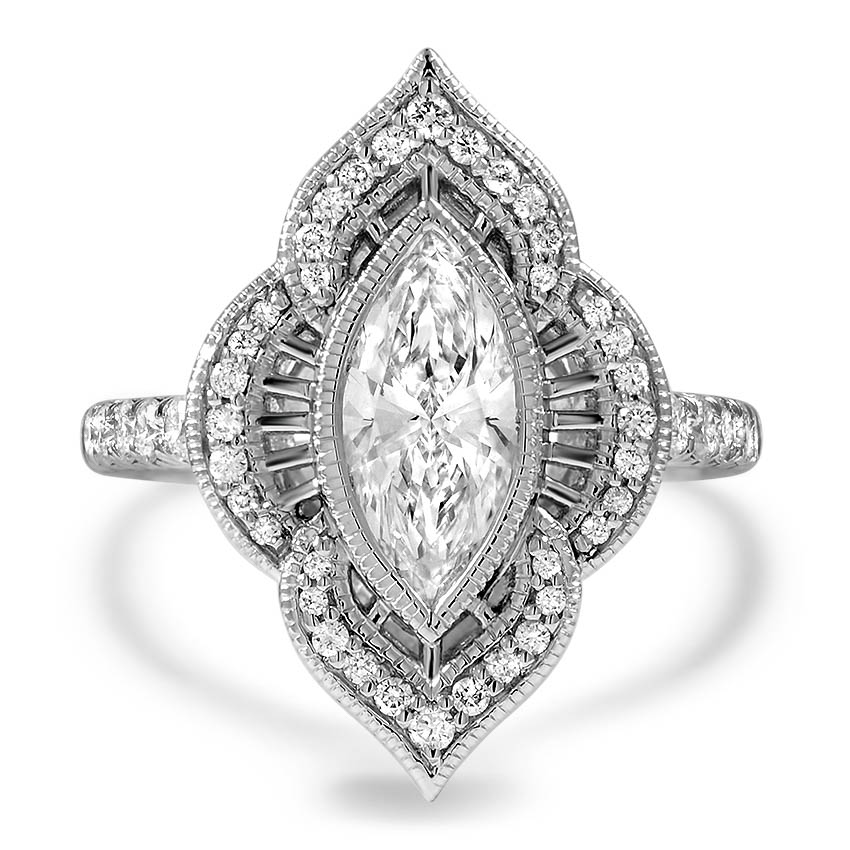 Many customers choose to work with our custom design experts to create a completely unique custom ring design. If you are moved by the look and feel of filigree rings and other vintage-inspired elements, consider combining your vision with the expertise of our designers by designing something completely yours. Replicate an antique or marry a modern aesthetic with details from the past to create a filigree ring that you will love forever.
Filigree Jewelry
Filigree embellishment is definitely not limited to engagement rings. You'll often find it on ornate antique pendants, and our recycled sterling silver Florentina pendant features a beautiful filigree flower and scroll design, with a glittering bezel-set diamond and the center.
Final Thoughts
Do you love the look of filigree?  What's your favorite feature of antique, and antique-style, jewelry?  Let us know on Facebook or Twitter or in the comments section!