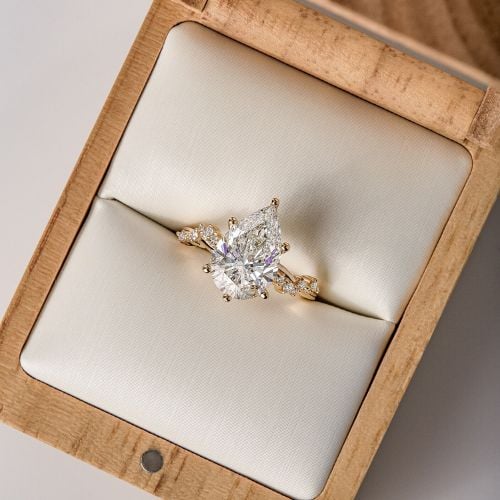 Teardrop diamonds, also commonly known as pear shaped diamonds, are a stunning fusion of the traditional round brilliant and marquise diamonds.
Marquise shaped diamonds are oval diamonds that come to a point at the top and bottom. When you combine the cut of a round with the cut of a marquise, the stunning result is a diamond with one rounded end and one pointed end, creating the stunning teardrop.
Why are teardrop diamonds so unique?
This elegant diamond shape is perfect for an engagement ring for so many reasons! Here are a few:
Qualities to Look For in a Teardrop Diamond
When searching for your perfect teardrop gemstone, there are a few important characteristics to keep in mind! Remember to look for…
1. Even Shoulders & Symmetry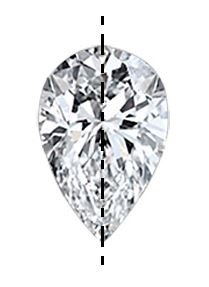 When looking at a teardrop diamond from above, the rounded edge of the diamond should be even. If one side of the edge is sloped more than the other, it decreases the value of the diamond. Similarly, the point of the teardrop should fall directly in between the two rounded edges. In other words, if you folded the diamond in half lengthwise, the point of the diamond should be right on the folding line (see image).
2. Proper Sparkle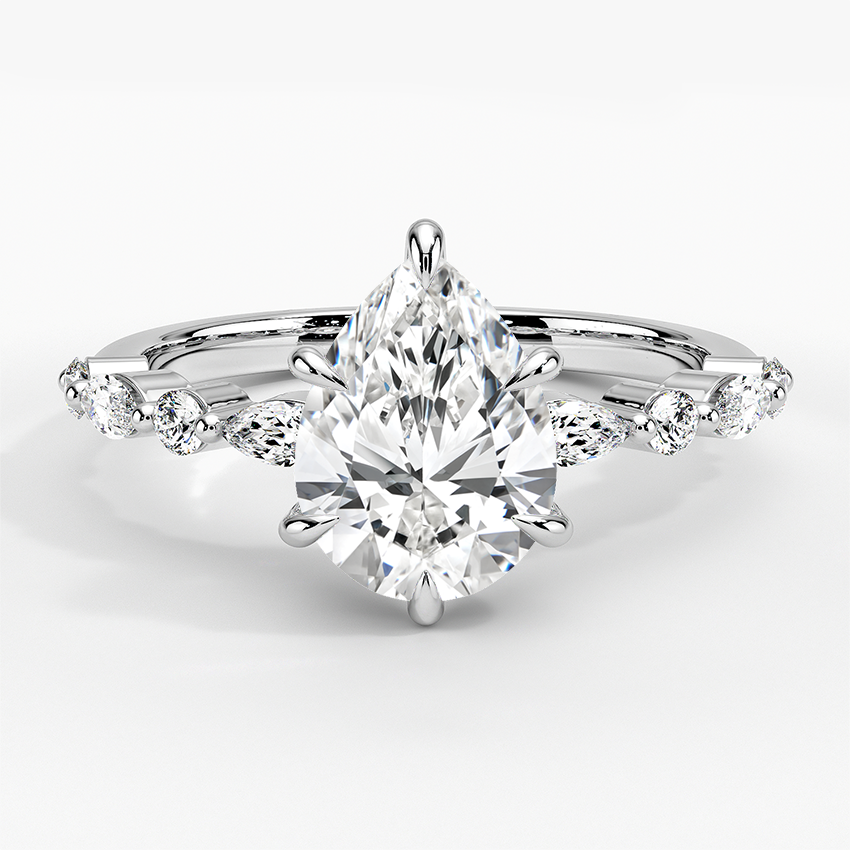 Because these diamonds are modified round brilliants, they should retain all of the sparkle and grandeur of the round brilliant diamond. Occasionally a dark "bow-tie" shape will appear in the center of the rounded half of the diamond. Make sure that your teardrop diamond doesn't have this imperfection!
3. Good Length to Width Ratio
Length to width ratio refers to how long a diamond is compared to how wide. If the width of your pear shaped diamond is 1, it is generally agreed upon that the ideal length is about 1.4 to 1.7 times that. This ratio creates the perfect shape for your engagement ring! To help visualize this concept, remember that the ideal round brilliant diamonds have a length to width ration of 1.
How to Wear a Teardrop Engagement Ring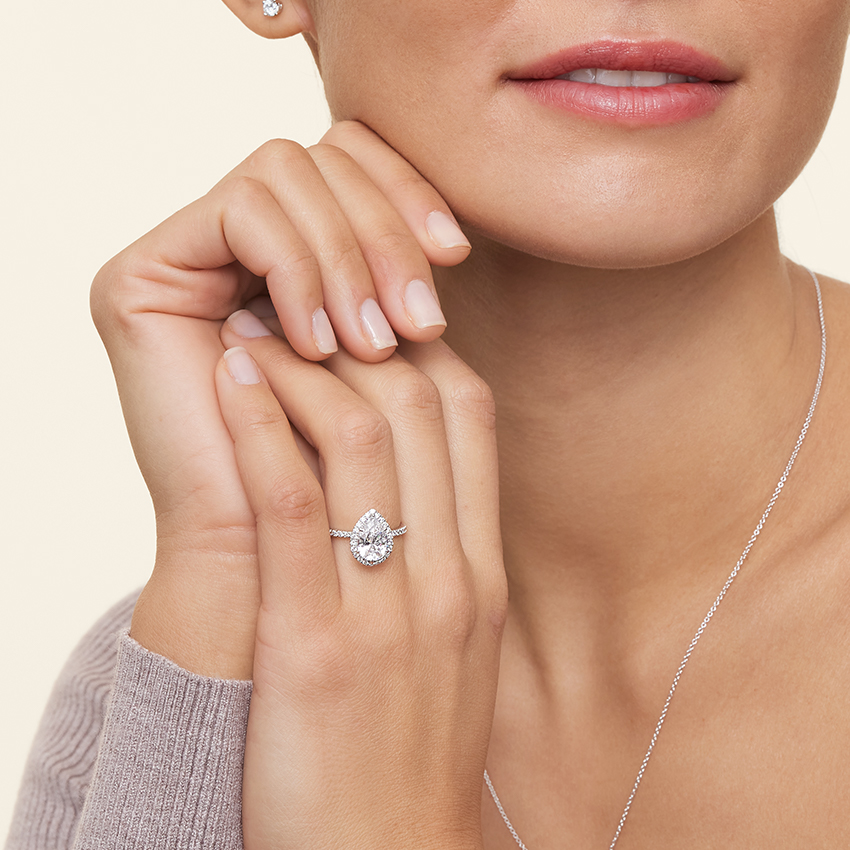 Many newly engaged women receive a teardrop diamond ring and have no idea how to wear it. Are you supposed to wear it with the tip of the pear pointing toward you or away from you? While technically you can wear the ring whatever way you want, it's most commonly worn with the tip of the diamond pointing toward your fingernails. When you raise your hand to look at the diamond, it should look like a falling teardrop. Wearing the diamond this way helps to elongate your fingers!
Popular Teardrop Diamond Rings
Teardrop engagement rings must include an angled prong that protects the pointed tip of the diamond. If you are looking for a setting that shows off the unique shape of the diamond, a simple solitaire is a great choice. Halo, three stone, and diamond accented bands also beautifully highlight the unique beauty of a pear diamond.
Secret Halo Diamond Engagement Ring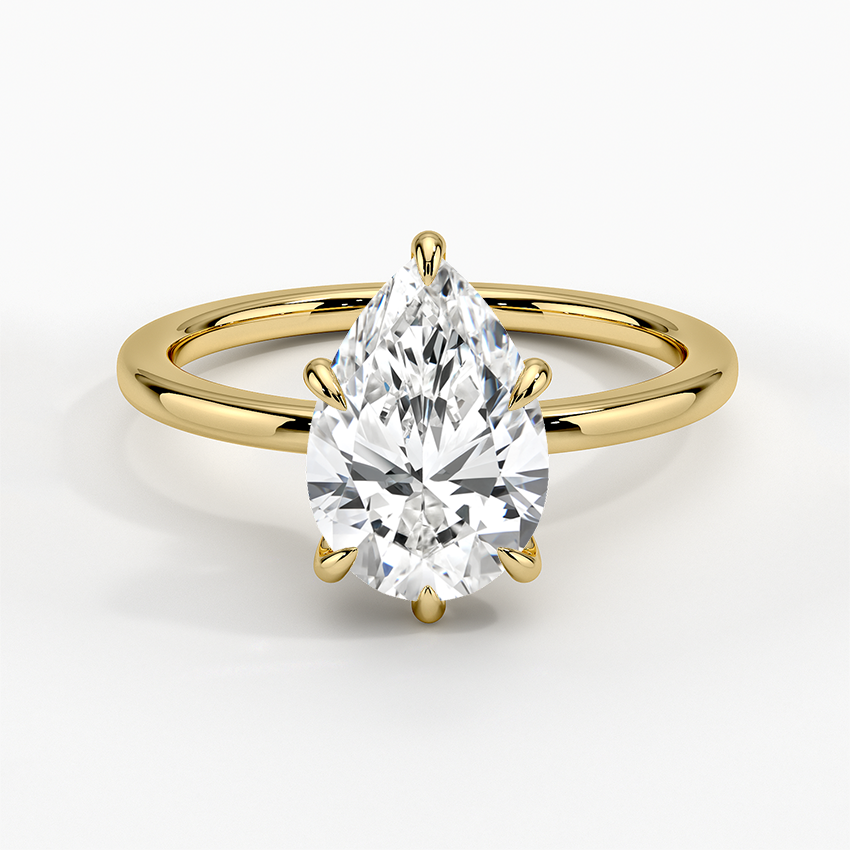 This elegant engagement ring features a glittering hidden halo of diamonds that wraps around the center gem while a petite band complements the gallery for a chic look.
Fortuna Diamond Ring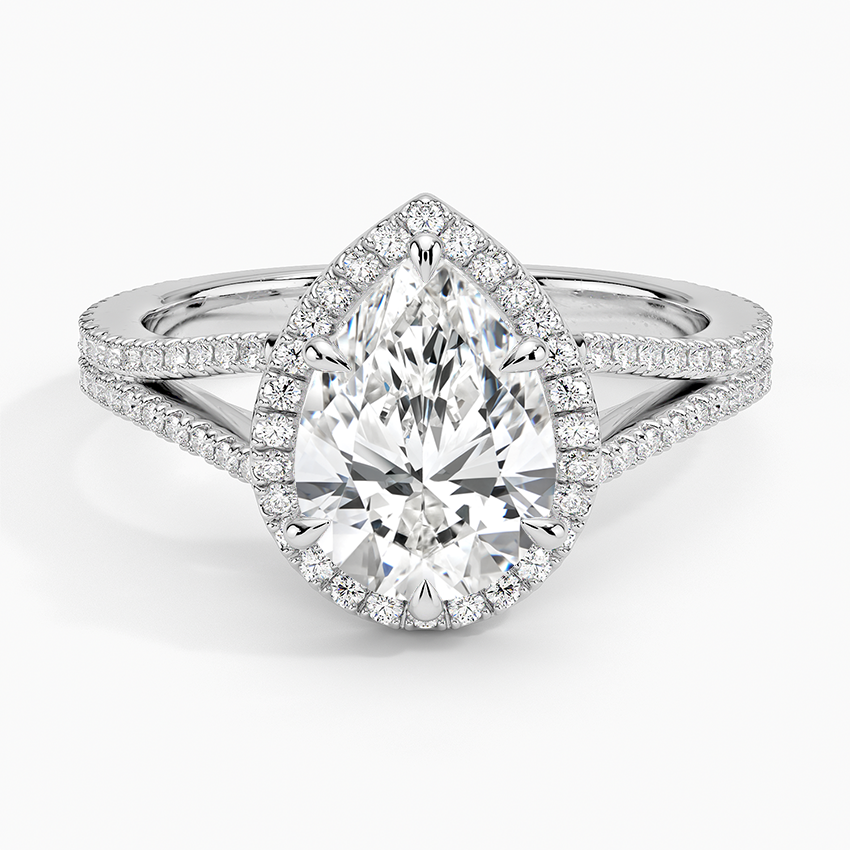 This exceptional setting features a halo of diamond accents that curves gently around the center gem for a distinctive look. Two rows of pavé diamonds sparkle on the contemporary split shank band, while a surprise row of diamond accents on the bridge completes this glamorous look.
Luxe Viviana Diamond Engagement Ring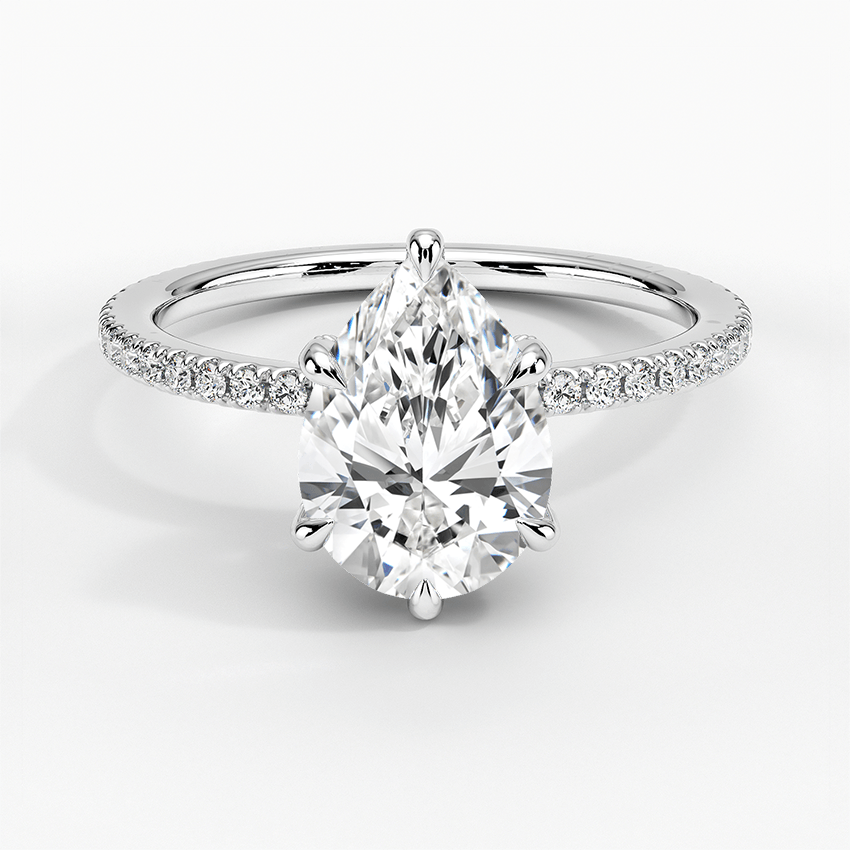 This classic engagement ring features sparkling scalloped pavé diamonds that extend three-fourths of the way around the ring. A diamond adorned gallery and graceful claw prongs embrace the center gem.
Colorful Teardrop Engagement Rings
To make your teardrop engagement ring even more special, choose a pear shaped colored gemstone! Stunning pear shaped sapphires can be found in every color of the rainbow. Any pear shaped gemstone or colored diamond would make a beautiful centerpiece to an engagement ring.
Petite Twisted Vine Diamond Ring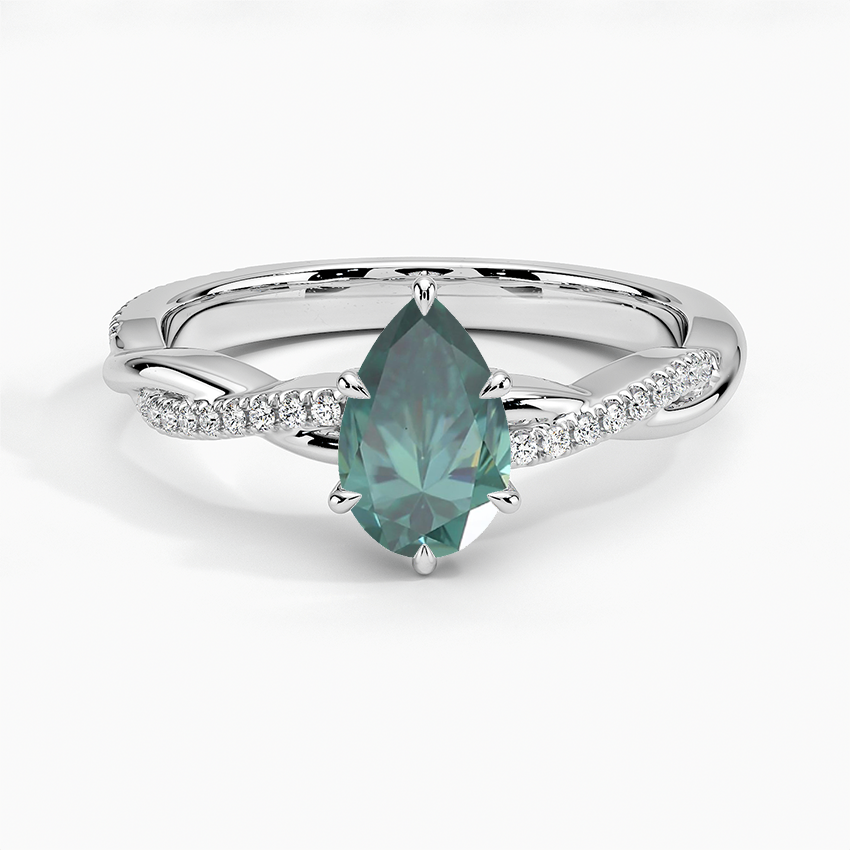 This beautiful ring, set here with a teal pear moissanite, features a shimmering strand of pavé diamonds entwined with a lustrous ribbon of precious metal.
Secret Garden Diamond Ring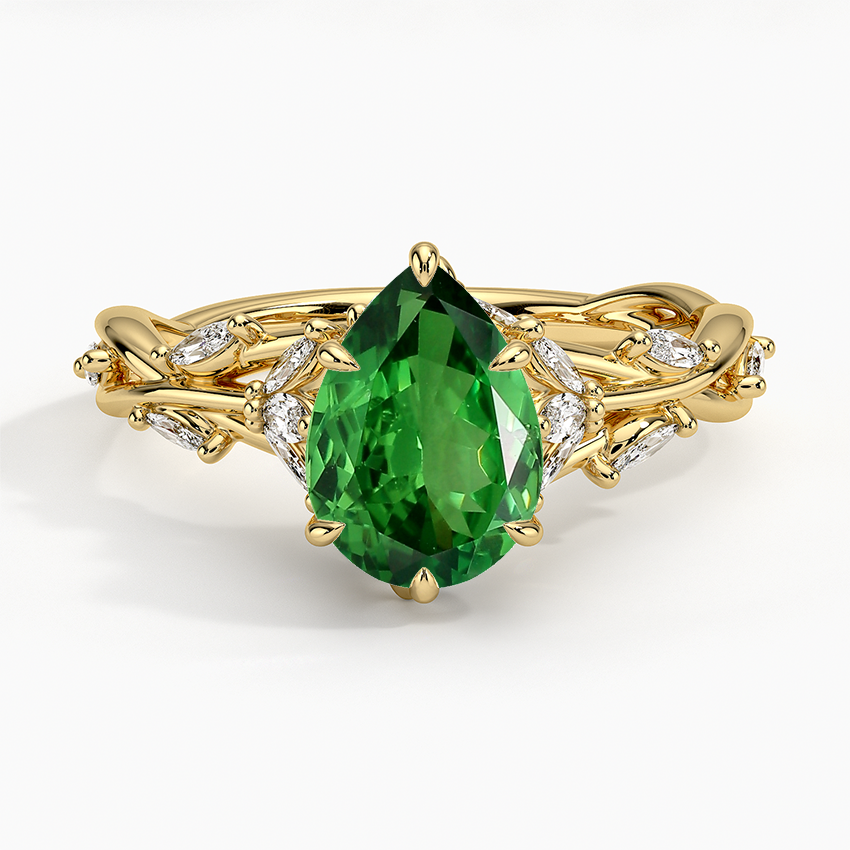 Set with a green garnet, glistening marquise-shaped diamond buds rest on whimsical vines of precious metal winding towards the center gem for a look of natural elegance.
Chamise Diamond Ring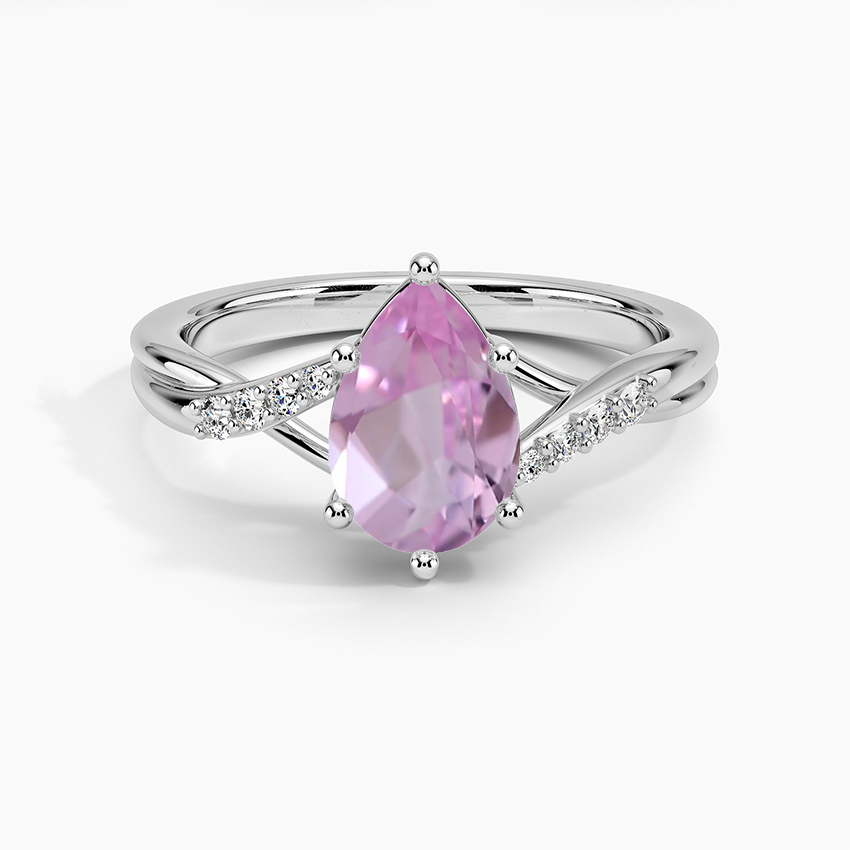 Ribbons of precious metal entwine around a pink pear sapphire in this elegant setting. Tapering diamond accents on each side add a delightful shimmer
Rings with Teardrop Diamond Accents
Pear shaped diamonds make lovely center gems, but they can also be used as unique diamond accents! Set one pair shaped diamond on either side of your center gemstone (with the tips pointed away from the center) for a gorgeous, unique setting. This style has gone royal: Princess Maxima of the Netherlands received a gorgeous engagement ring from Willem-Alexander that features an oval shaped orange diamond with two pear shaped diamonds on either side. Pear diamond accents can also make a beautiful addition to wedding or anniversary rings, adding unique sparkling detail.
Adorned Opera Diamond Engagement Ring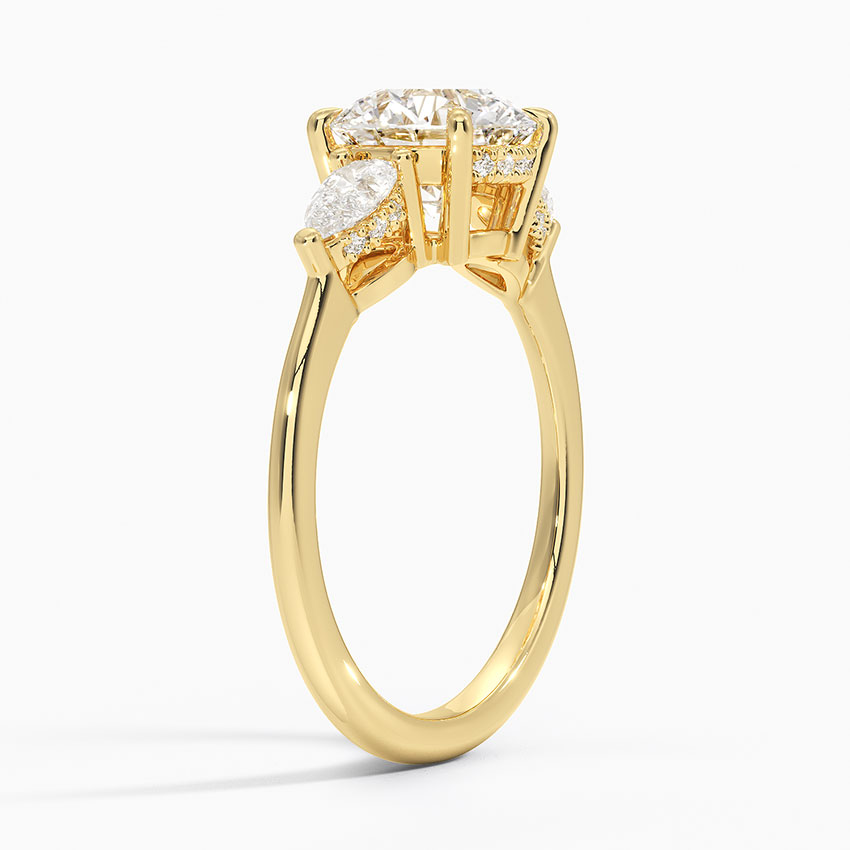 Captivating pear-shaped diamonds brilliantly frame the center gem in this classic three stone ring with surprise hidden accents along the gallery wire. The petite band gently tapers and secures the gems in a basket setting.
Perfect Fit Three Stone Pear Diamond Engagement Ring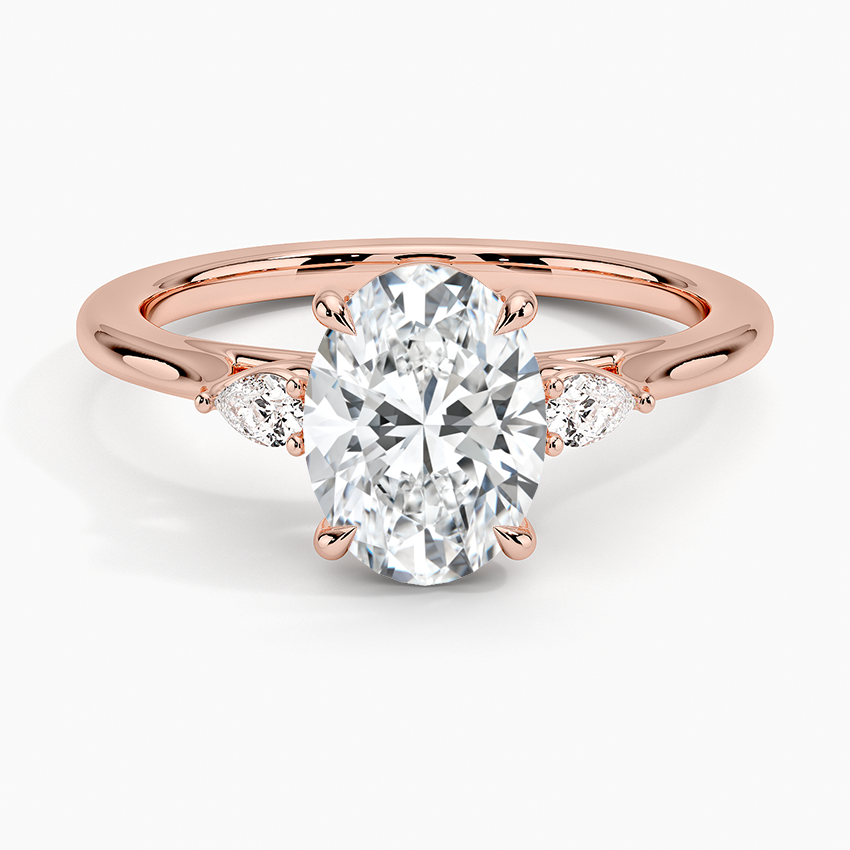 Two shining pear-shaped diamonds are set at either side of a dazzling center gemstone in this classic three stone setting made with an integrated head to allow any wedding band to sit perfectly flush.
Tacori Sculpted Crescent Eternity Pear Diamond Ring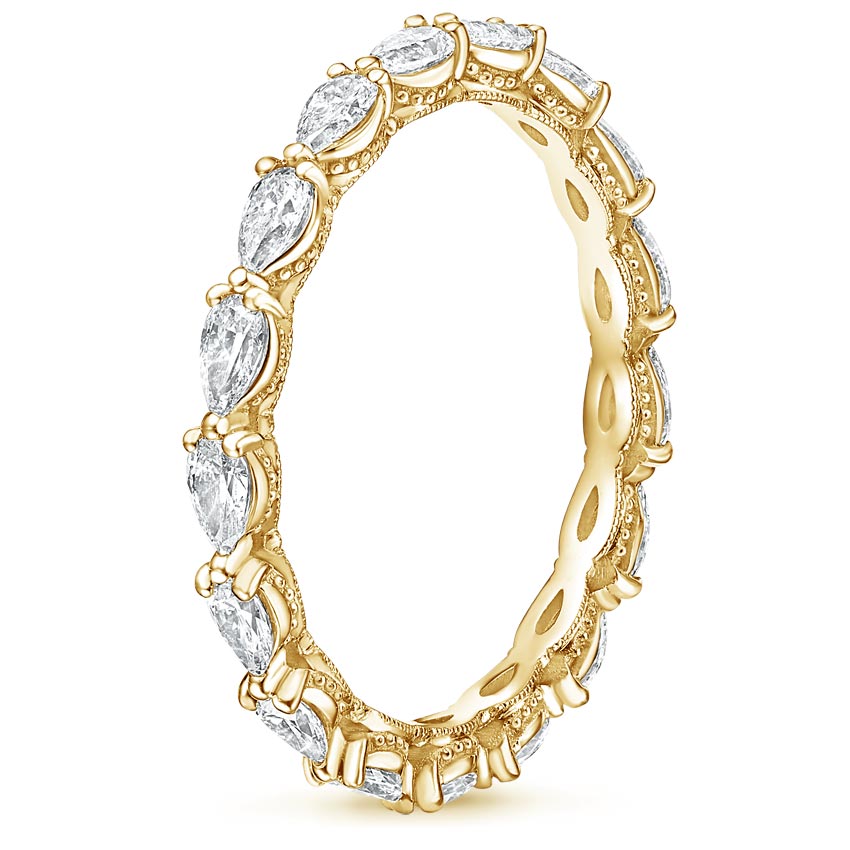 Pear diamonds wrap all of the way around this eternity ring for a unique, elevated look while milgrain detailing along the inner edge adds classic beauty.
Agave Diamond Ring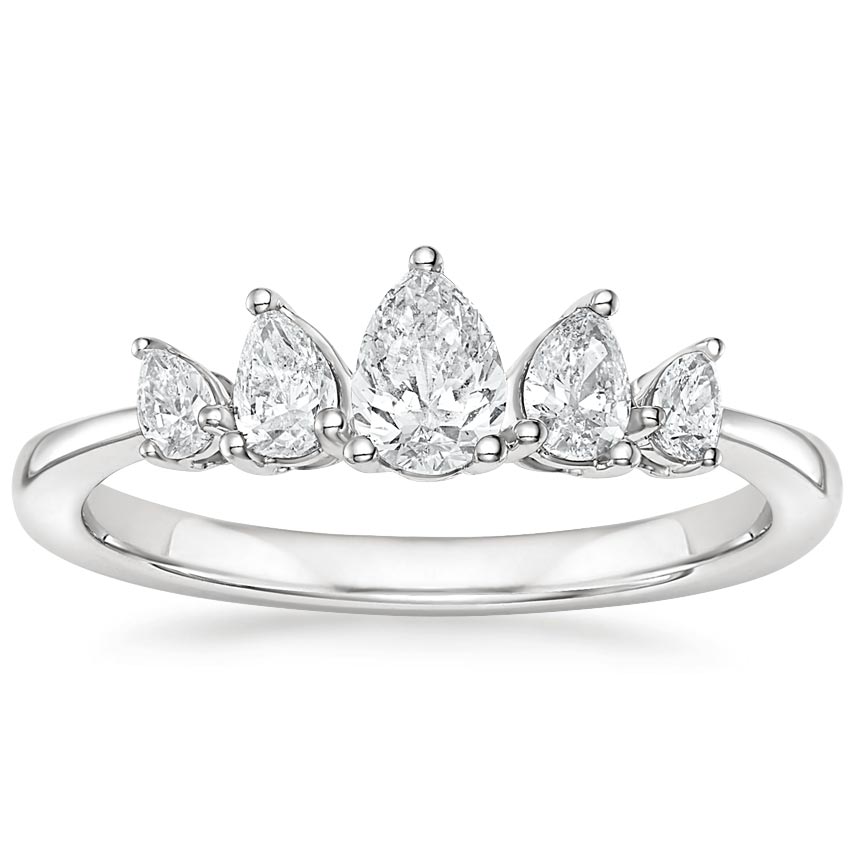 Glistening pear diamonds are reminiscent of delicate petals in this unique and subtly nature-inspired design.
Olivetta Diamond Ring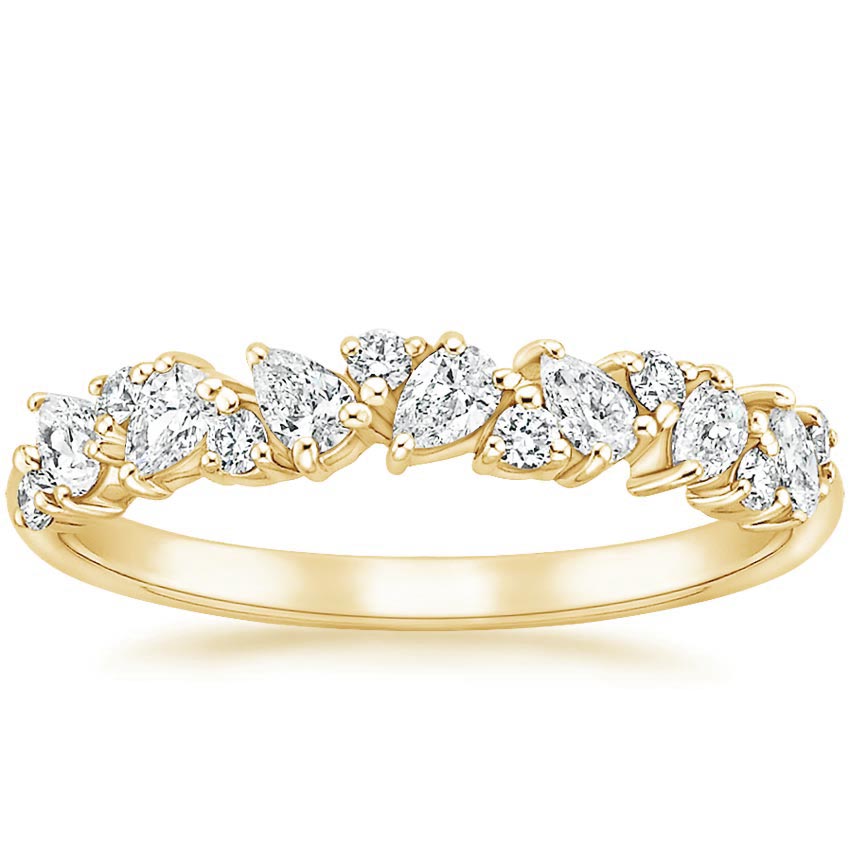 This beautiful ring evokes femininity and romance with scattered round and pear-shaped diamonds that shimmer along the top of the band.
Famous Teardrop Rings
Princess Maxima isn't the only famous woman to have received a teardrop engagement ring! The diamond diva herself, Elizabeth Taylor, received a 69.42 carat pear shaped diamond from Richard Burton. The ring was so big that even Liz couldn't handle it on her finger! She couldn't let it go, however, so she turned this stunning gem into a pear shaped diamond necklace and continued to show it off.
A historically famous ring (which was recently auctioned off for almost one million dollars) also features pear shaped diamonds. In the late 1800s, Napoleon Bonaparte gave his love, Josephine, a stunning sapphire and diamond engagement ring. The two pear shaped stones face the opposite direction, creating a stunning sense of symmetry. If you adore this gorgeous piece of history, consider a custom designed replica!
Final Thoughts
Pear shaped engagement rings feature stunning elegance and lasting style. Do you love pear shaped diamonds? Let us know on Facebook, Twitter, or in the comments below!