Sapphire and Colored Gemstone Issues: Labor
For small scale and artisanal sapphire miners, uncertainty can be a way of life. Gemstone yields are uncertain and sporadic, and many days can pass before a gemstone of any significant value is unearthed. This can lead to unsteady incomes and unstable livelihoods. A new model of mining cooperatives is emerging with small scale miners sharing profits for a more stable livelihood. Unfortunately, most countries have yet to embrace fair labor practices for their small scale independent miners.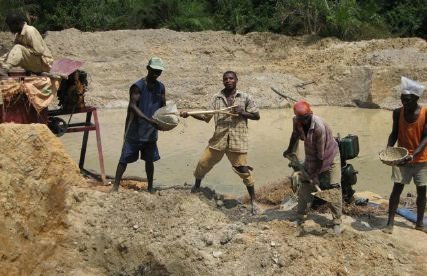 In Madagascar, where rich deposits of sapphires were discovered just a decade ago, a Wild West economic situation has led to dangerous working conditions and a highly unregulated industry. Allegations of child labor and abuse have also marred the gemstone trade in Madagascar. Children have been used for their small size and agility, often required to climb into small holes in extremely dangerous situations to see if gemstones are present.
Illegal mining activities are commonplace, often found in locations with poor safety standards. Injuries are common, caused by dangerous conditions including falling shards and rocks, collapsing pits, and underground fires, which can cause smoke inhalation. Little to no access to health care services exacerbates these dangerous working conditions. Most countries have yet to embrace fair labor practices in sapphire mining.
Minimal regulation in sapphire mining can also lead to spread of disease and water shortages. Clean water for drinking can be affected by sedimentation, while standing water found in open mine pits can potentially breed mosquito populations that increase malarial diseases.