Three years ago, Charles Taylor was sentenced to 50 years in prison for using diamonds to finance a tragic civil war in Sierra Leone. Taylor's trial was a landmark in the fight against blood diamonds. His conviction sent a message to all future warlords: use diamonds to fund war, and you could be held criminally accountable.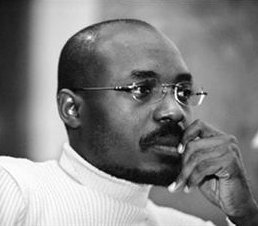 This month in Angola, another trial involving blood diamonds is taking place. But the man on trial, Rafael Marques de Morais, isn't a blood diamond warlord. He's a heroic journalist who exposed how Angola's ruling generals are stealing the country's diamonds and permitting atrocities against residents of diamond mining communities. Marques has been accused of defaming the very generals who themselves should be put on trial for their crimes.
What exactly did Marques allege about the generals that has them so ruffled? The defamation charges against him stem from a book he published in 2011 titled Blood Diamonds: Torture and Corruption in Angola. The book details how many of Angola's senior generals have financial stakes in Angola's diamond industry and how they use the Angolan army to protect diamond-rich land from unlicensed miners. It describes, for instance, how Angolan soldiers intentionally buried 45 miners alive; how they summarily executed 22 miners by gunfire; and how soldiers regularly demand bribes, torture local residents, or beat them with the flat side of a machete. In total, the book documents over 100 murders and more than 500 instances of torture in Angola's Lundas region during a two-year period.
The types of abuses Marques describes have been reported by news organizations such as The Wall Street Journal and were recently caught in a disturbing video that was posted online. The violence in Angola, Africa's third largest diamond producer, has also been an open secret in the diamond industry for years. Regrettably, the trade group that represents the diamond industry has mostly chosen to pretend that the violence doesn't exist. And the Kimberley Process (KP), the global certification scheme set up to stop blood diamonds, hasn't taken action either. Because the KP limits the definition of "conflict diamonds" to gems that finance war, it is reluctant to do anything about government violence, or violence by private security firms, in diamond mining regions.
Maybe the most telling sign of how the KP ignores violence and corruption in Angola is the identity of the country that now leads the KP: Angola. That's not a typo. Of the 81 countries that comprise the KP, Angola is the country that participating governments elected in December to serve as Chair for 2015.
This brings up what may be the craziest part of the Marques trial. It's not just that Marques is innocent and his accusers are guilty. It's that the Angolan government, led since 1979 by dictator Jose Eduardo dos Santos, has gone ahead with the trial at the same time that it presides over the world's supposed blood diamond watchdog. The government's move is both hypocritical and gutsy (or maybe foolish). It might be expected that the Angolan government would do whatever it could, during its year as KP Chair, to avoid reminding the world of its own blood diamond problem. Instead, it is betting big that nobody cares about Marques or the impoverished residents of mining communities being killed and tortured. In fact, when Marques showed up to begin his trial, prosecutors slapped him with 15 more defamation charges on top of the nine previously lodged against him.
What we hope is that Angola's government has miscalculated and that its strategy backfires. Already, it's very clear that Angola's government won't be able to convict Marques without the international community taking notice. On the eve of his trial, Marques received a prestigious award in London, and more than 30 NGOs and free speech groups wrote an open letter asking the Angolan government to drop the charges. Nick Kristof recently wrote about Marques in his New York Times column, and a writer for JCK, a jewelry industry publication, has called the trial "an embarrassment in the making" for the KP. Marques's trial has been temporarily suspended to allow him to prepare to defend himself against the new charges. It resumes this Thursday. As the trial proceeds, perhaps Marques will be able to use it as a stage to explain to the court, and the public, the truth about Angola's diamonds.
A lot is at stake. If the Charles Taylor trial was a clear victory in the fight against diamonds tainted by war, this trial's legacy has yet to be determined. Ultimately, the trial could be a setback in the struggle for a responsible jewelry trade if it has a chilling effect on truth-tellers like Marques, and if it convinces the diamond industry that the media will give it only a light slap on the wrist for selling diamonds tarnished by government violence. Or, this could be the moment when the diamond industry and the KP are so embarrassed that they realize, at last, that business can't continue as usual—that war isn't the only source of violence in the diamond trade and that every diamond mined in violent conditions is a blood diamond.