If you've ever seen the movie Blood Diamond, you may remember the depiction of child soldiers—the gangs of boys converted into machine-gun toting killers. The war takes place in Sierra Leone, the location of one of the worst blood diamond wars in history. It is believed that by the time the 11-year war ended in 2002, at least 10,000 children served as soldiers, assisting both government and rebel forces.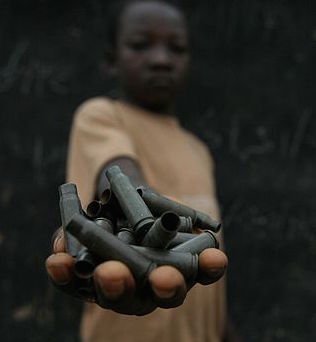 Africa's latest diamond-fueled conflict may have recently reached the same tragic milestone. According to a report by Save the Children, there could be 10,000 children under age 18 acting as members of armed groups in the Central African Republic. Since December 2012, when a diamond-funded Muslim militia overran the country's capital, the Central African Republic has been wracked by violence. One factor driving violence between Christian and Muslim groups is the struggle for control of the country's abundant natural resources, including diamonds and gold.
The report does a good job explaining the variety of circumstances that lead children to become soldiers. Some children are abducted. Others join because they need food, shelter, or some way to survive. Others join to protect their community or to avenge the loss of a loved one. The report tells the story of Jules, age 12, (not his real name), who joined a Christian militia after a Muslim militia killed his older brother. "When there was fighting, I fought using weapons and knives and machetes," says Jules, whose mother found him at a militia base and brought him back to his family.
Militia groups in the Central African Republic and in other countries find that children make good soldiers for a few reasons: they are compliant, they don't demand salaries, and some can handle weapons as easily as adults. The report notes that children in the Central African Republic assist the militias in other roles too: cooking food, spying on enemies, and carrying military equipment or supplies. Some children in the militias are also sexually exploited, the report states.
Regardless of the circumstances, any use of children to fight wars is a human rights violation. Children who serve in militias are being deprived of their right to education and love. Some children die. Many suffer lasting physical and emotional scars. For all these reasons, international law considers it a war crime for children below the age of 15 to participate in hostilities. According to Save the Children, some militia members in the Central African Republic are as young as eight years old.
The good news is that aid groups have managed to get some children out of the militias. In May, UNICEF announced that it had managed to free 1000 child soldiers. But children may be joining the militias faster than they can be freed. There were about 2,500 child soldiers in the country at the start of the conflict, far fewer than the estimated 6,000 to 10,000 today.
The problem of child soldiers in the Central African Republic is of course related to the conflict itself—a conflict for which there may be no quick solution. We believe that the diamond industry could do its part by creating a more robust international system for tracking diamonds and weeding out conflict gems—something beyond the ineffective Kimberley Process. As long as the conflict continues, however, aid groups and the United Nations, together with the Central African Republic's government, must do what they can to prevent the recruitment of child soldiers, demobilize them, and reintegrate them into communities.
For Jules, at least, there is hope. He is eager to be a student again. "Now I want to work, I want to learn and go back to school," he says.