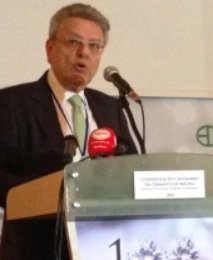 Diamonds may be forever, but not diamond industry leaders. The longtime president of the World Diamond Council (WDC), the group representing the global diamond industry, officially left his job at the end of June. But before stepping down, he took a long look back that, while insightful in some ways, reminded us of how frustratingly blind the diamond industry can be.
Eli Izhakoff, in one of his final public appearances as WDC president, last month gave a speech in Angola celebrating Angola's progress on conflict diamonds. A bloody, diamond-fueled civil war raged in Angola for 27 years, ending in 2002. Izhakoff told of how the Kimberley Process (KP), the international diamond certification scheme launched in 2003, helped bring order to Angola's diamond sector and how the country's diamond business since then has grown and prospered. "It has been my honor to be associated with the diamond sector in Angola, as it has to have been associated with the diamond sectors in other parts of Africa," he said.
Izhakoff has guided the WDC since the early 2000s, when the WDC was founded to represent the diamond industry in tackling the conflict diamond problem. Izhakoff's perspective is informed by his long experience. He understands how bad Angola's civil war was, and he's right to celebrate the war's end. But wait – did Izhakoff actually say it has been his "honor to be associated" with Angola's diamond sector? Marking the end of the war is one thing, but that doesn't mean he should come to Angola, attend an event hosted by Angola's diamond companies (the event was a conference celebrating 100 years of diamond mining in Angola), and say he feels honored to be associated with the Angolan diamond trade.
At that point, someone should have tapped Izhakoff on the shoulder and reminded him:  Angola's diamonds are still some of the bloodiest diamonds on earth.
Angola's Bloody Diamond Sector
More than 10 years after Angola's civil war, Angola's diamond fields remain a place of violence and suffering. The current violence dates to the period immediately after the  war, when the richest diamond lands were turned over to private mining companies with financial ties to Angola's powerful army generals. This setup has been a recipe for corruption and violence. Together with private security firms, Angolan army soldiers have been beating, torturing, and killing the impoverished artisanal diamond miners who try to mine on company lands without legal permission.
Between June 2009 and March 2011, Angolan journalist Rafael Marques documented more than 100 murders and the torture of more than 500 people in just two mining towns. In one instance, according The Wall Street Journal, Angolan soldiers intentionally buried alive more than 45 diamond miners. In addition, the Angolan army has been using brutal tactics to expel migrant diamond miners from the neighboring Democratic Republic of Congo. Human Rights Watch monitored the border expulsions between Angola and Congo between March 29 and December 31, 2011. During that time, it recorded 12,647 instances of physical abuse, including torture, and 3,370 instances of sexual violence among 55,590 diamond miners expelled by the Angolan army.
Izhakoff has to be well aware of these problems. On June 6, only two weeks before Izhakoff's speech in Angola on June 20, a German human rights organization released a report that describes the violence in Angola's diamond industry and the power that Angolan army generals wield over it. Izhakoff must also be aware that Marques, the Angolan journalist, has sought to hold Angola's generals responsible for their crimes by filing a criminal complaint against nine of them – but that instead of pursuing the case, the government of Angolan dictator José Eduardo dos Santos recently filed criminal defamation charges against Marques. International NGOs fighting for freedom of the press have rallied to Marques's aid.
Izhakoff did state in his speech that there should be strong support in all countries "for the principle that diamonds should in no way be directly associated with acts of violence." He added that this idea "should resonate most clearly in a country like Angola, which knows first-hand the pain and difficulty that are byproducts of conflict." But he said nothing specifically about the violence happening very close to where he spoke. The main thrust of his speech was to praise Angola's diamond sector. (A video of his speech is available here and here is the full text.)  How could he come to Angola and be so muted about the violence?  Why was he so willing to praise Angola's diamond trade?
Izhakoff's Mistaken Theory of Change
We can only guess. It could have had to do with the forum; having decided to attend an event hosted by Angolan diamond leaders, Izhakoff would have found it awkward to speak critically. It could have been his desire not to spotlight the violence that still plagues diamond mining at a time when he wants to emphasize the progress under his leadership. It could be that Izhakoff, his judgment clouded by memories of Angola's civil war, isn't very shocked by the current violence. Or, perhaps Izhakoff just doesn't have the appetite for challenging the Angolan diamond industry. Angola is the world's fifth biggest rough diamond producer, with exports valued at $1.1 billion in 2012.
All these are possibilities. But we also suspect that Izhakoff's reticence reflects a mistaken belief about the best way to bring about change. Izhakoff's past statements suggest that he has convinced himself of the danger of calling too much attention to violence in diamond mining. In Izhakoff's view, dwelling too much on the negative could harm the diamond industry's reputation, hurt diamond sales, and leave people in diamond-producing countries worse off.
In a speech at last December's KP meeting, for instance, Izhakoff warned that if the KP or the diamond trade began differentiating between diamonds mined under different ethical standards – which is very much what Brilliant Earth does by offering beyond conflict free diamonds – then consumer confidence would be undermined. "And if that happens," Izhakoff warned, "then the potential of the diamond to serve as an agent for economic and social progress will be damaged – across the board, in all countries that diamonds are mined and processed."
We think this logic is exactly wrong. The thriving diamond jewelry industry, worth $71 billion in 2011, is robust enough to tolerate a lot more scrutiny. Indeed, more consumer awareness is exactly what's needed to push the industry to improve ethical standards, create a better reputation, and increase long-term sales. Izhakoff's idea of change – leaving it to the diamond industry to clean its dirty laundry behind closed doors – is a formula for no change happening at all, or change that is agonizingly slow.
Leading the WDC isn't an easy job. By all accounts, Izhakoff has done his job with professionalism and skill, managing to earn the respect of his peers. Under Izhakoff's leadership, the WDC has even agreed that the KP's definition of "conflict diamonds" needs to be expanded to include all diamond mining tied to violence. But we also think that the diamond industry's leader shouldn't talk about reform in the abstract and then minimize violence and corruption where it occurs. The industry's leader shouldn't say he feels honored to be associated with the Angolan diamond sector when people in that sector are being tortured, raped, and killed.
We wish Izhakoff well as he moves on. And we hope that the WDC's next leader, Avi Paz, feels secure enough about the strength of the diamond industry to chart a new course.