Diamond Accents
Many of our fine jewelry pieces are adorned with sparkling diamond accents. Like other Brilliant Earth gems, these small diamonds are mined with respect for people and the environment. Although diamond mining in many countries is plagued by violence and serious labor and environmental abuses, we use diamond accents that originate from ethical sources.
Our Beyond Conflict Free Diamond Accents
We source our diamond accents from suppliers who can demonstrate that their diamonds come from ethical origins.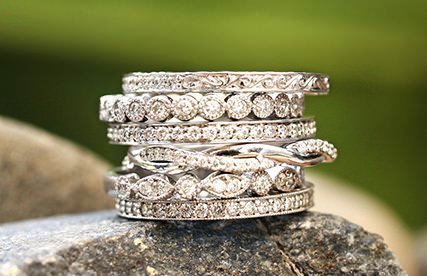 These countries include Canada, Botswana, Namibia, Russia, and South Africa.
Labor And Environment
Our diamond accents are untouched by labor abuses such as child labor and forced labor. In addition, our accents are mined in countries which are committed to beneficiation and provide quality jobs to hundreds of thousands of people. For instance, in Russia, the average wage at a diamond mine is more than twice the average Russian salary. More than two thirds of the workforce in the Russian city of Mirny, in northeastern Siberia, is employed in the diamond industry. Our diamond
accents are untouched
by violence and
serious human
rights abuses. We believe that of all diamond-producing countries, Canada, Namibia, and Botswana have adopted high labor and environmental standards. Canada has some of the most rigorous labor and environmental laws in the world. Namibia and Botswana have put in place impressive safeguards to protect workers and the environment. Labor and environmental standards in South Africa and Russia are steadily improving and are far above the standards in diamond mining countries that do not meet our
standards, such as Angola or Zimbabwe.
Economic Development And Community
Diamond mining boosts economic development in the countries that produce our diamond accents. In Botswana, Namibia, and South Africa, diamond revenues have helped to raise living standards and fund investments in education, health, and infrastructure. In the Yakutia region of northeastern Russia, diamond mining accounts for about half the tax revenue collected by the regional government. Canadian diamond mines contribute significantly to the Canadian economy and have formed strong partnerships with local Aboriginal peoples who have legal agreements in place which govern the mines and their relationship with the local population.
Traceable Canadian Diamond Accents
Our diamond suppliers obtain diamond accents from a limited group of countries and mines that meet our beyond conflict free standard. Because of their small sizes and how they are integrated to form matched sets, it is challenging to track and identify an exact country or mine of origin for each diamond accent. We can, however, upon request, create many of our fine jewelry pieces adorned with diamond accents exclusively from Canada. Please contact us if you would like to request exclusively Canadian diamond accents when we create your personalized fine jewelry piece.
Browse our engagement rings with diamonds.