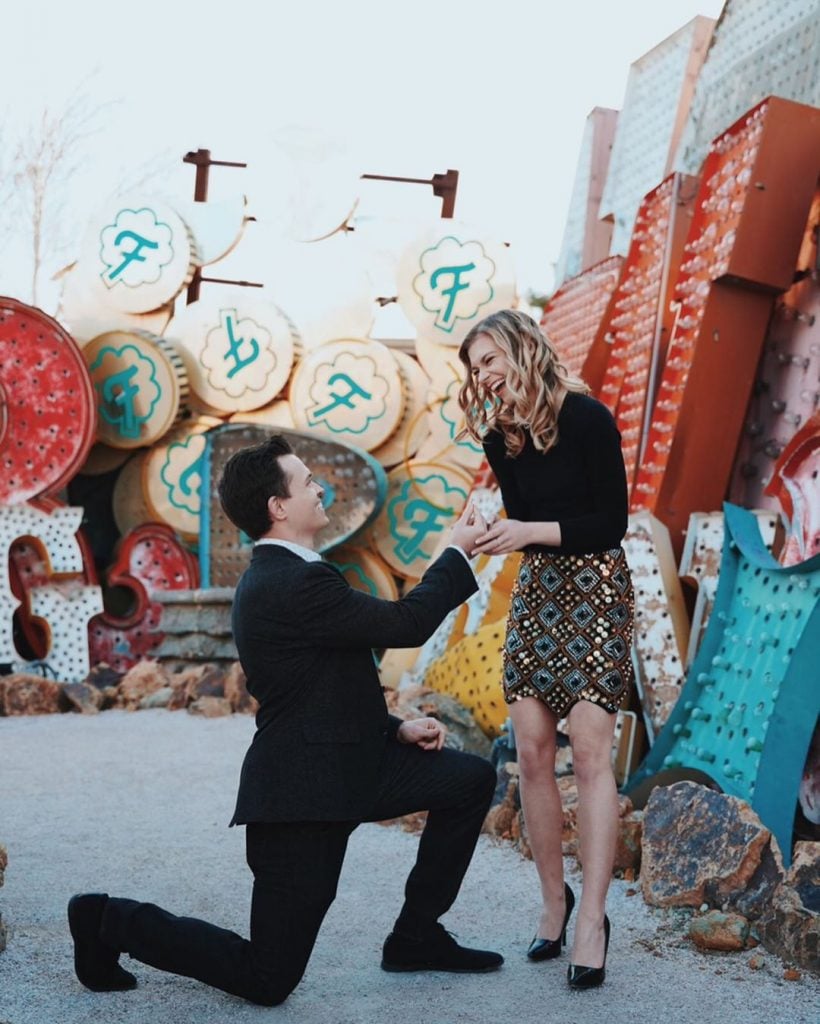 Instagram @blondiexlix and @cody.legge, photography by @thaisvieiraphotography
Say "cheese!"
With engagement season well under way, couples are looking for ideas to make their engagement photos as beautiful, flattering, and memorable as possible. To help inspire you as you strike a pose, we've pulled together some tips for taking memorable engagement photos you'll treasure for years to come!
Work with Where You Are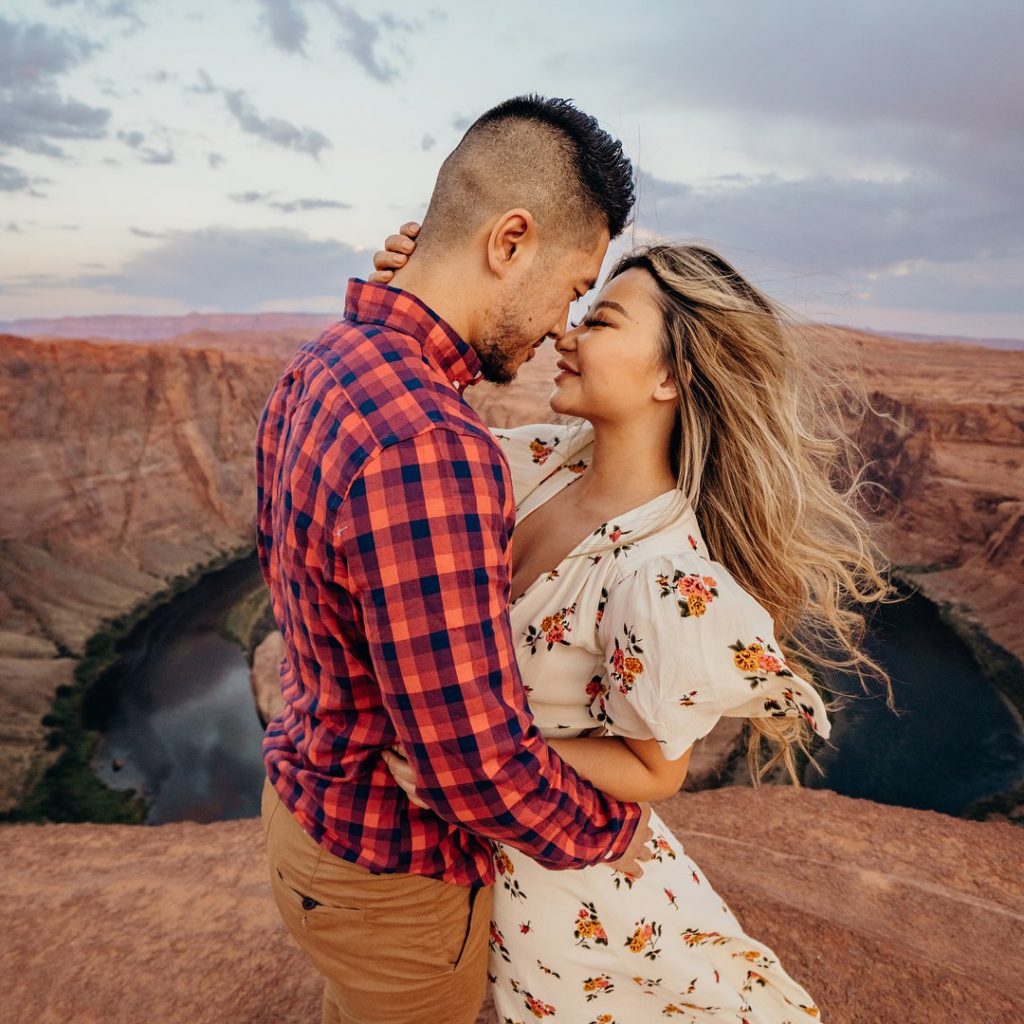 Instagram @darlingcoco
Wherever you live, there are sure to be spots – either out in nature, near a city skyline, against an interesting mural, or others – that offer a naturally dramatic and unique backdrop. These places are usually free for anyone to access and can add extraordinary visual interest to your photos. For example, in the picture above, with her hair and dress billowing in the wind and dramatic view of the Grand Canyon in the background, this engagement picture looks like the stunning cover of a romance novel!
Find Your Light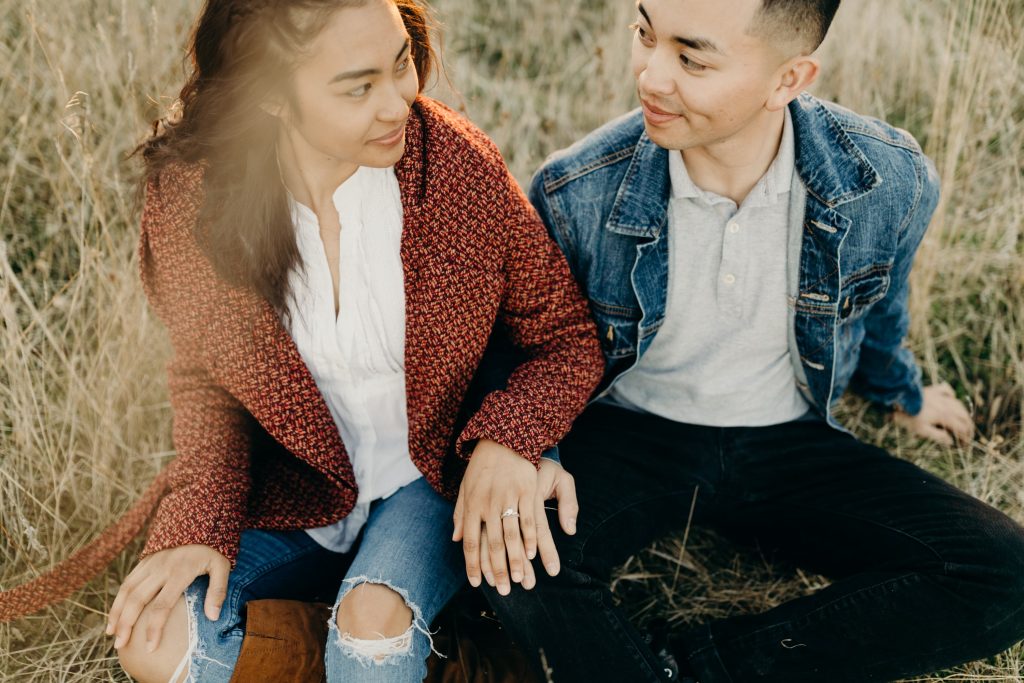 Instagram @jsnfst and @m.bltzr
When it comes to gorgeous pictures, natural light is your best friend. "Golden Hour," when the sun is still low in the sky during sunrise or right before sunset, gives off a flattering golden light that makes your skin glow and looks stunning in pictures. Although it may not seem like it, moody weather and overcast days are also great for picture-taking. Cloudy skies give off a clean, bright light that illuminates without making you squint against the sun.
Coordinate Without Being Matchy-Matchy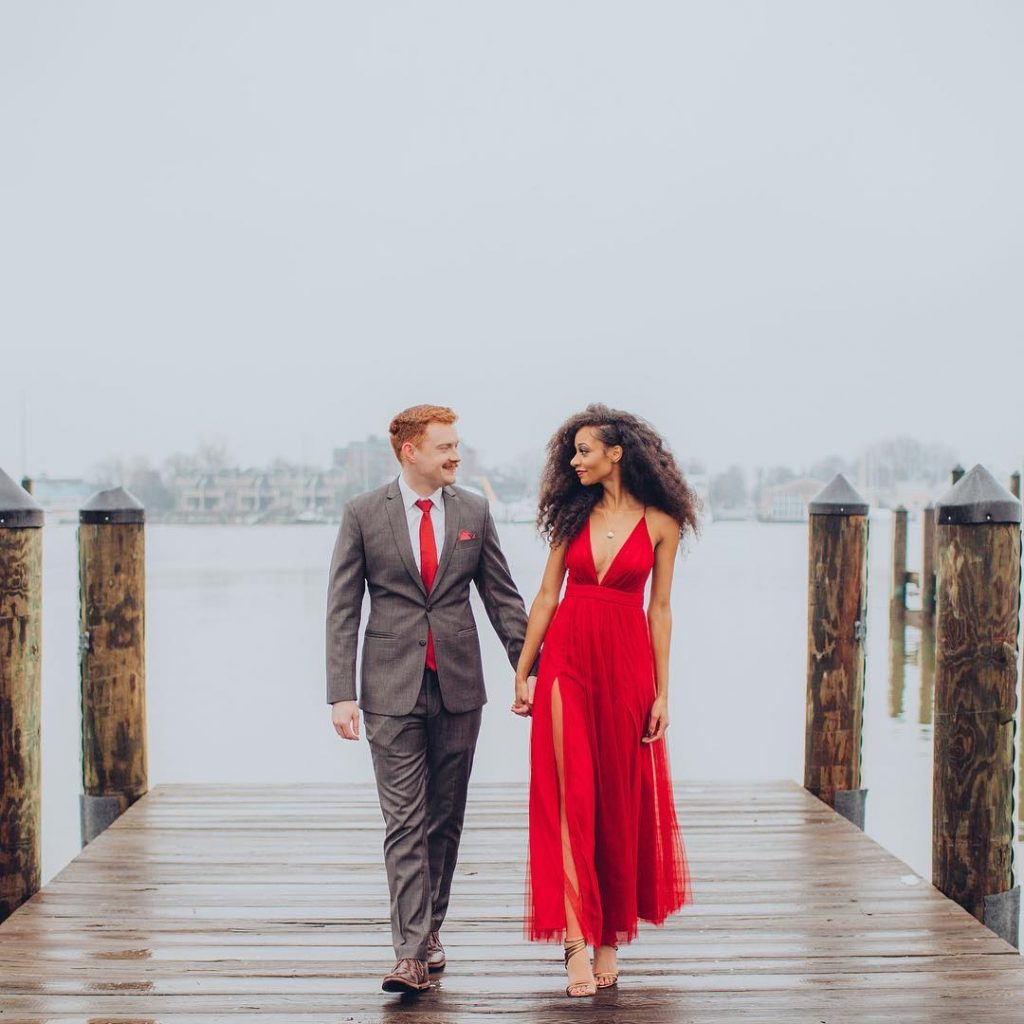 Instagram @jazzyairelle photography by @madeline.pere
It can be tempting to try and match perfectly with your partner for pictures, but subtle coordinating is often more effective than dressing like twins. Accessories in the same color as your partner's suit or dress show an overarching theme without being too monochromatic. Colors that complement or are analogous to each other are another great way to give your ensembles a sense of coordination. For help knowing which colors complement each other best, look at a color wheel online! Colors that are directly opposite of one another on the color wheel are complementary, and colors that are directly next to each other are "analogous" – which basically means those colors are in the same "family." If you are set on wearing something similar (for example, you are both drawn to wearing black), try mixing it up with one of you wearing a pattern as opposed to a solid color, or adding in contrasting accessories.
Embrace a Candid Camera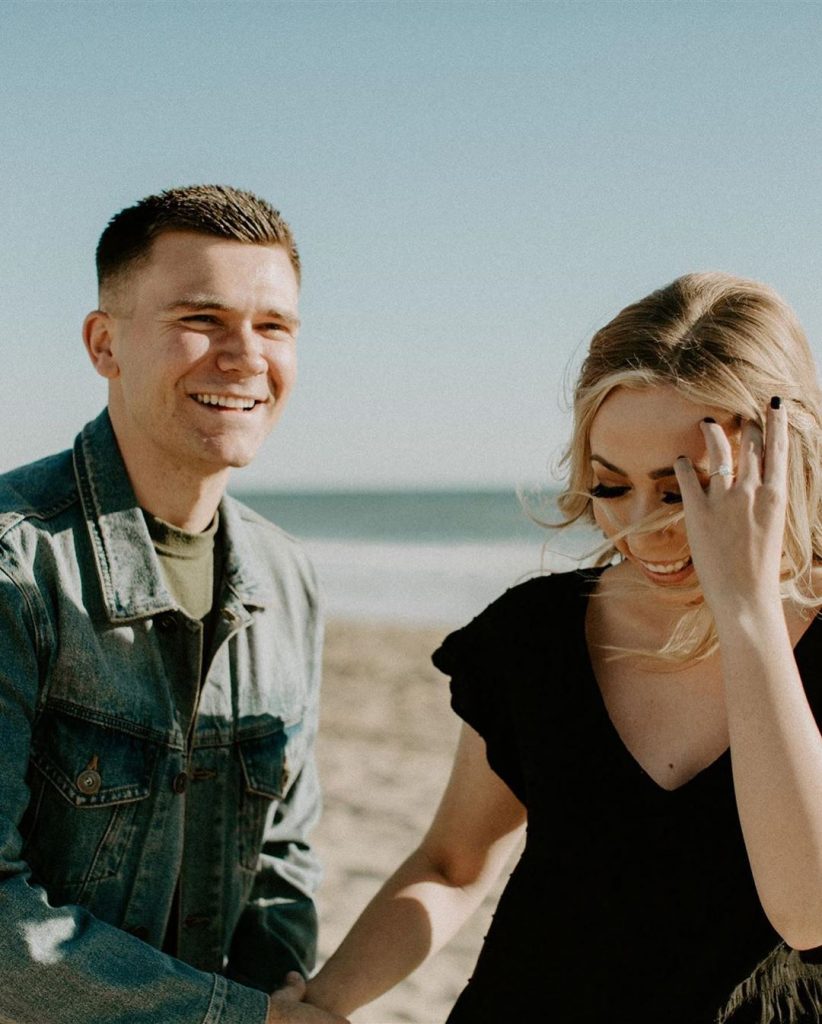 Instagram @morganklawrence and @jleclair95, photography by @carlie.miya
It's very likely that some of your favorite pictures will be the ones you weren't quite prepared or posed for, capturing moments where the two of you are laughing, flirting, and looking more at each other than at the camera. Let your photographer know you are interested in capturing candid moments, so they know you are comfortable with them taking sneaky shots of you and your partner in more natural moments between poses. Nowadays, it's even becoming more and more popular to have a photographer hidden somewhere nearby during the actual proposal to capture truly candid shots of the moment the question is popped!
Use Props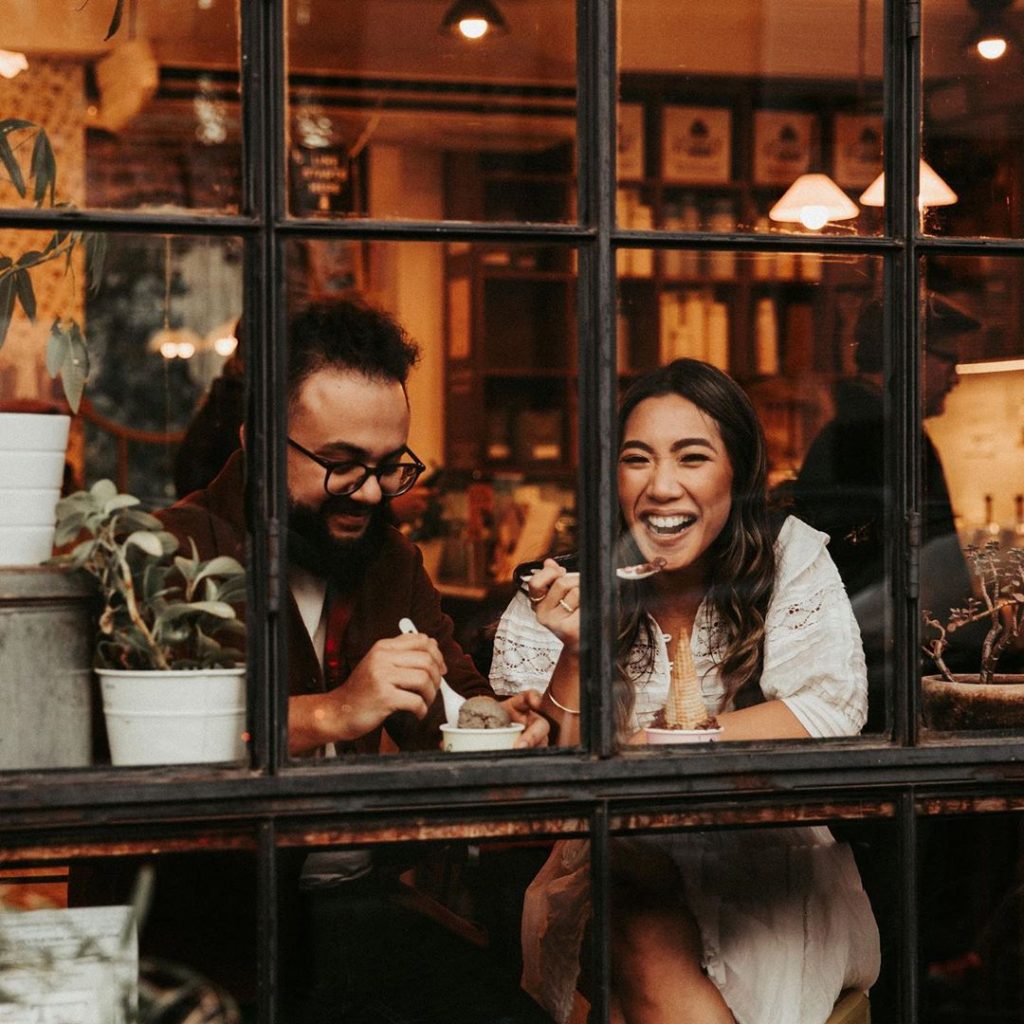 Instagram @meihwu and @drew_morgan__, photography by @amyanstatt
For people who aren't used to being in front of the camera, it can sometimes feel awkward to pose for engagement pictures. You might find yourself asking, "What am I supposed to do with my arms?!" To which we would reply: give yourself and your fiancé/fiancée a low-key activity to do while your photographer snaps away. Choose something that you and your partner like to do together, like the adorable couple in the picture above eating ice cream in an atmospheric dessert shop.
Show off That Bling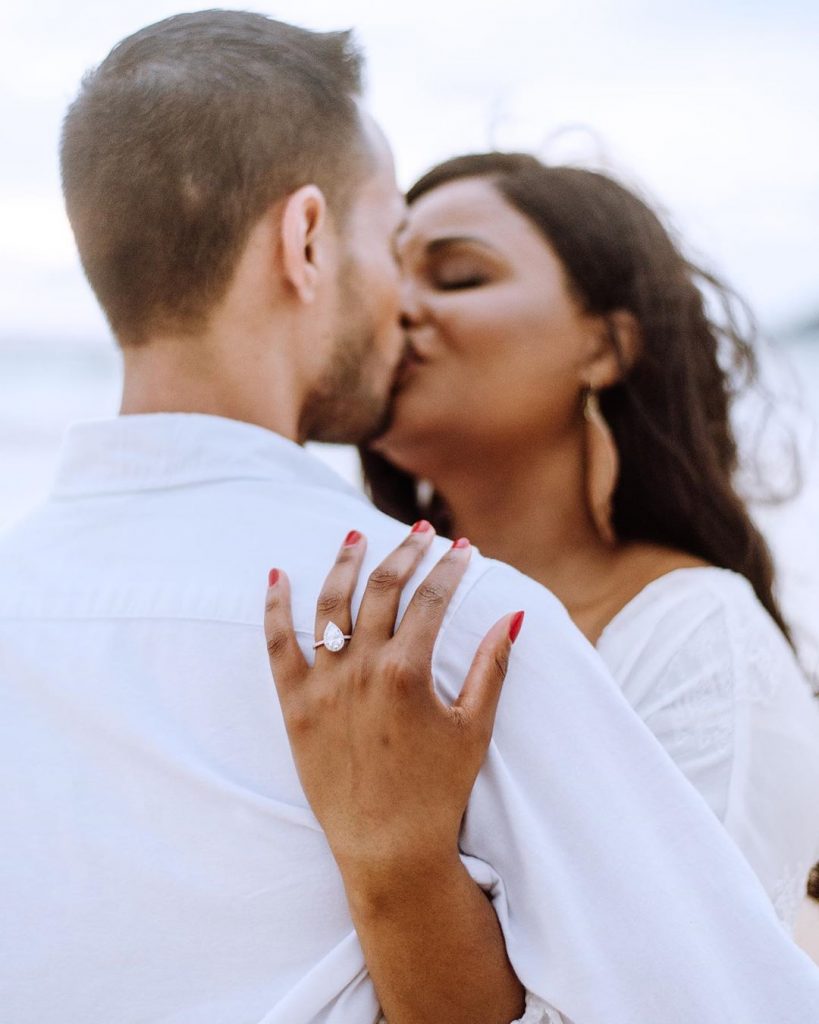 Instagram @homesoffcentral and @thedann89, photography by @thailand_wedding_photographer
When it comes to your engagement pictures, showcasing your relationship is much more important than showcasing your ring, but many couples like to get pictures that include their engagement ring as a symbol of the commitment they are making. Poses like the one above are a great example of how to include your ring in the picture while still looking natural and focused on each other. Draping your arm over your partner's shoulder, tenderly touching their face with your ring hand, or placing your hand over their heart are all sweet ways to show off the ring while still focusing on each other in the picture.
Interact with Each Other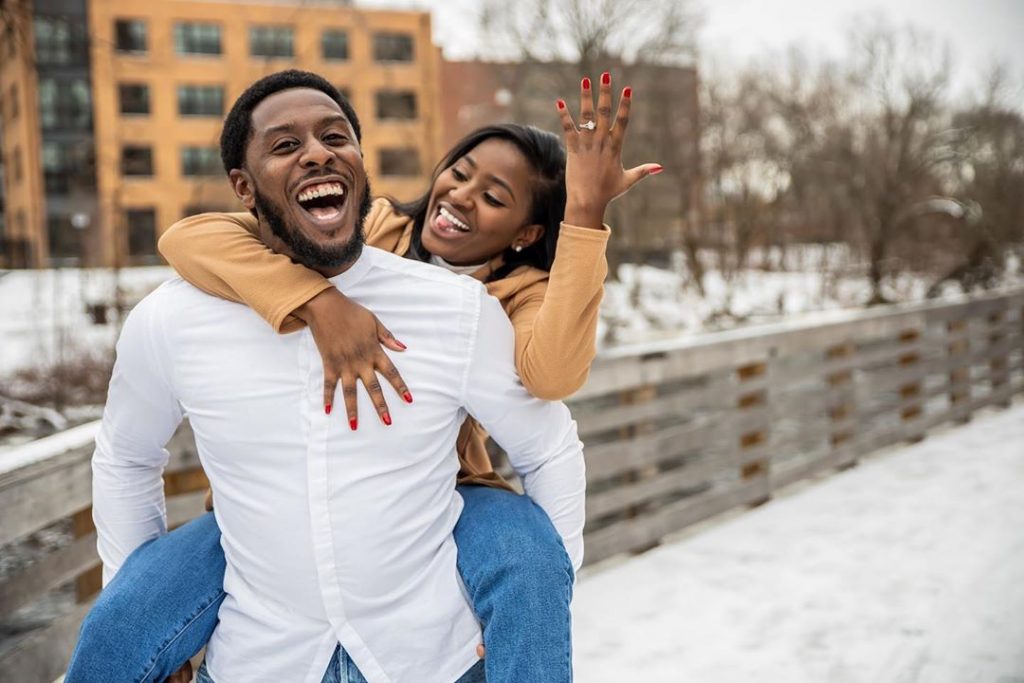 Instagram @adeleeee__  photography by @rj.visuals_ 
Although all your friends and family will enjoy these pictures, your engagement pictures are most importantly for you and your partner. You want the pictures to reflect who the two of you are as a couple. Throughout the shoot, interact with each other as you normally would – whatever that means for the two of you. Silly pictures where the two of you are laughing, kissing, or being goofy may turn out to be some of your favorites. On the flip side, don't feel pressured to act out of character for pictures. Not a PDA couple? That's okay too! If you are being asked by your photographer or others to act more touchy-feely than you are comfortable with for pictures, feel empowered to say "no" to certain poses. It sounds obvious, but if you aren't comfortable, then you won't look comfortable in your pictures.
Enjoy Your Natural Habitat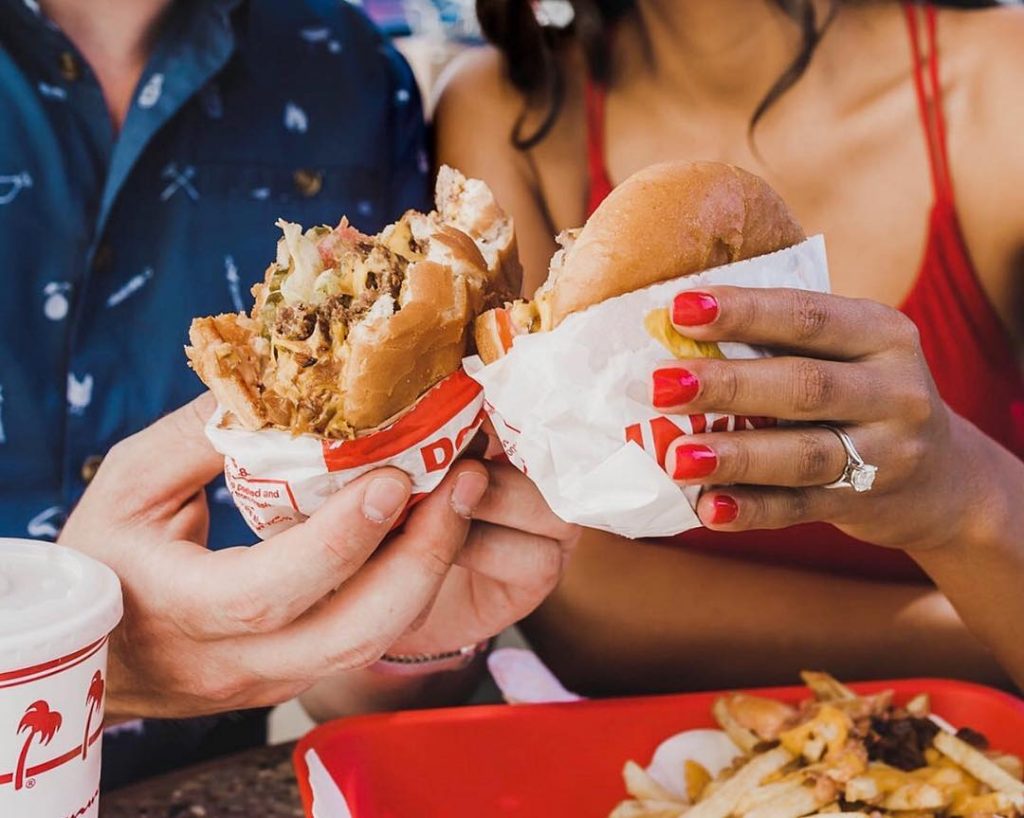 Instagram @loveandlensflare photography by @simplywanderingphoto
You don't need to go full glam to have beautiful engagement photos. Feel free to have your pictures taken in the places where you and your partner actually spend time together, even if that's something as simple as going to In-N-Out to get cheeseburgers like the couple in the picture above. While these professional pictures represent a big moment in your lives, it doesn't mean they can't be lighthearted and fun! The more unique the pictures are to you two as a couple, the more of a kick your friends and family will get out of seeing them.
Revisit the Spot Where You First Met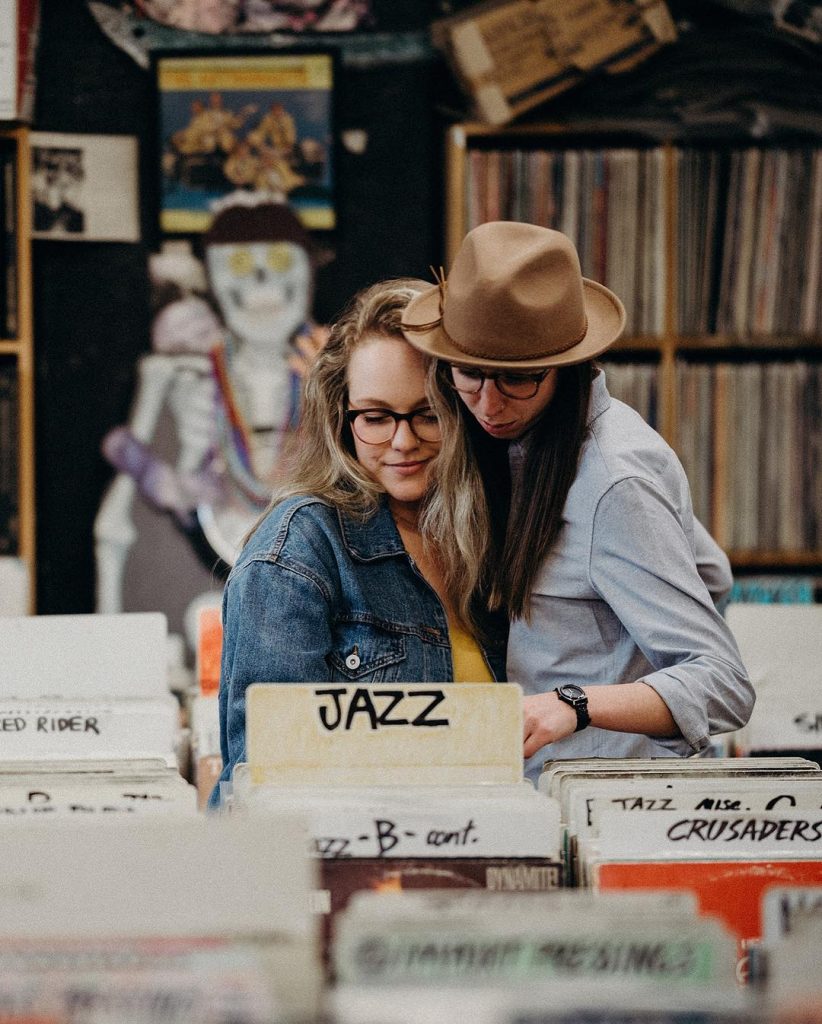 Instagram @vjesss and @kelseybryanna_ photo by @jojulia
In a similar vein, having your pictures taken in a place that has significant meaning to your history as a couple can be a memorable way to celebrate this next milestone in your relationship. Going back to where you had your first date or to where your proposal took place adds an extra special touch to your engagement pictures.
Serve Some Drama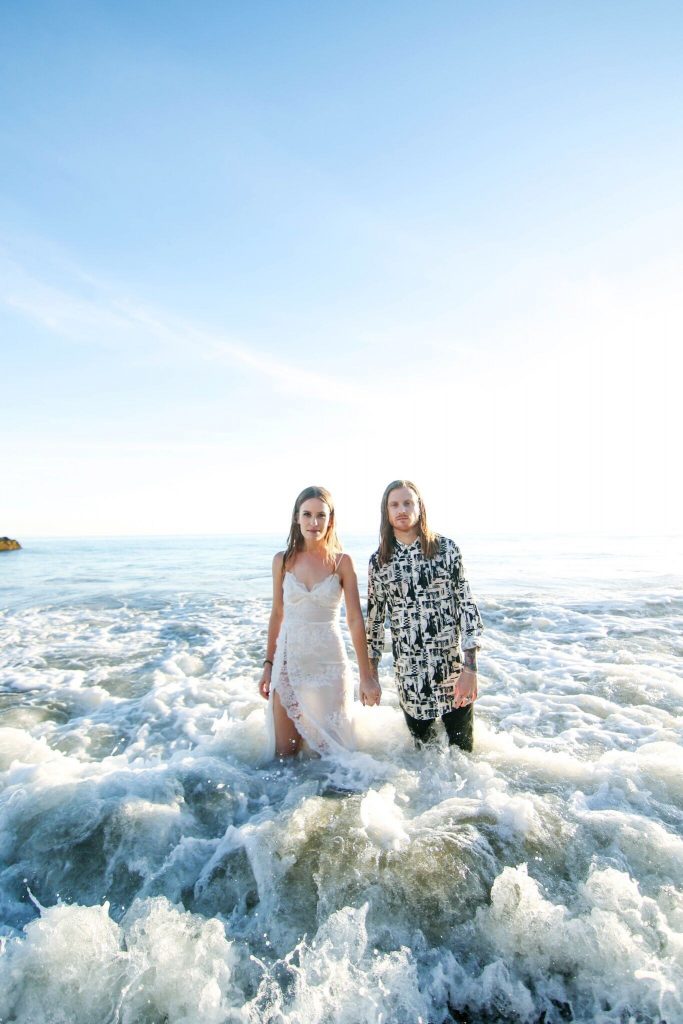 Instagram @tarinadoolittle
You'll only take these pictures once as a couple, so why not pull out all the stops? It's truly your day so be as over the top as you want! Bring the drama however you'd like, be that with fancy outfits, colorful smoke bombs, fireworks, or crashing waves. Going all out for your pictures is sure to make them memorable and frame worthy.
Use Some Smoke and Mirrors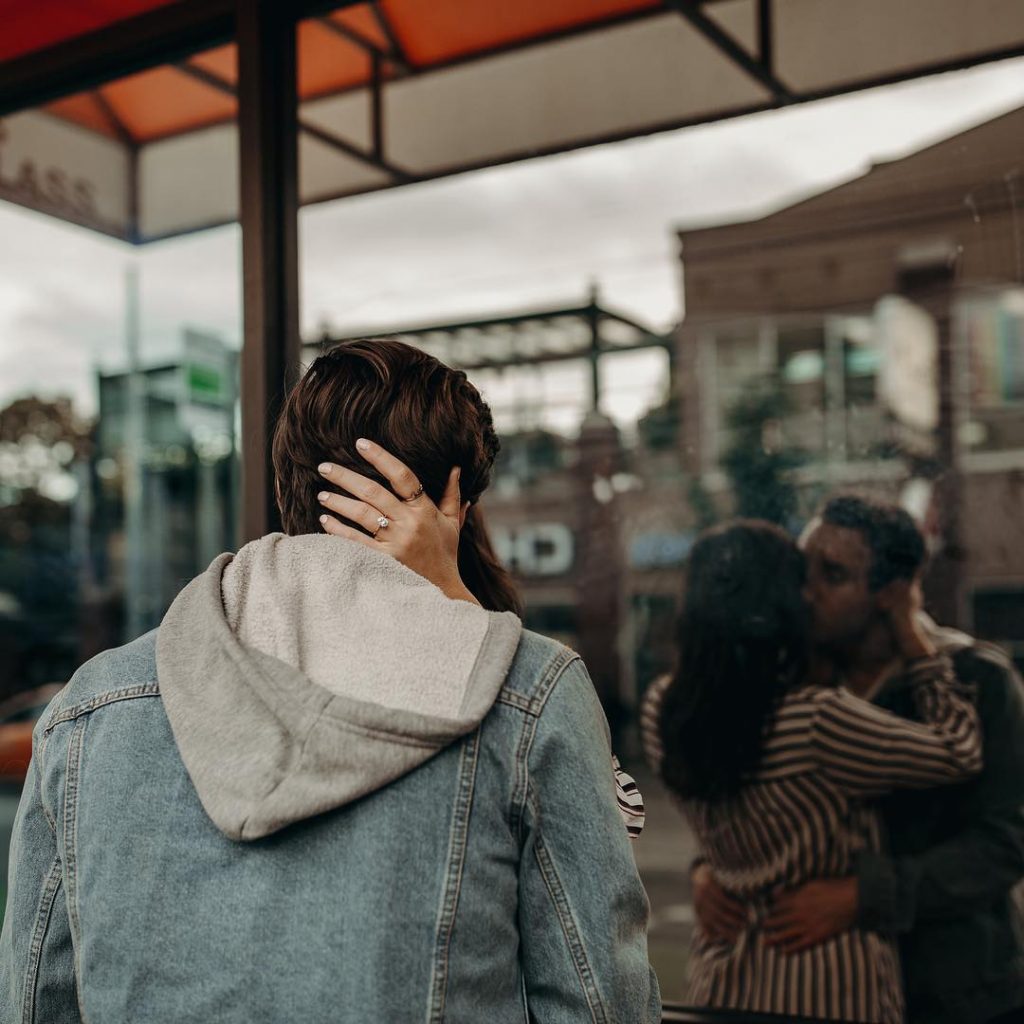 Instagram @meganellames and @justintaylorpratt
Another creative way to get unique shots is experimenting with perspective. For example, you can take pictures of your reflections in mirrors or windows to get multiple angles of the same scene. Other photography tricks like forced perspective (a way to make things look closer or farther away), overlay portraits, light leaks, and more will add an artistic touch to your photos.
Don't Shy Away from Color
Instagram @racheltkang and @rhuebs, photography by @alegleibermanphoto
Think about how color will play into your photos. Try to pick outfits in colors that will complement (or contrast) your background and that will flatter both you and your partner. That said, don't be afraid to choose colors that will pop and grab attention! The couple in the picture above paired her scintillating green emerald engagement ring with a silky pink dress that makes the vibrant green of her ring pop even more. The result is totally eye catching and a beautiful use of color for their engagement pictures!
Enjoy the shoot!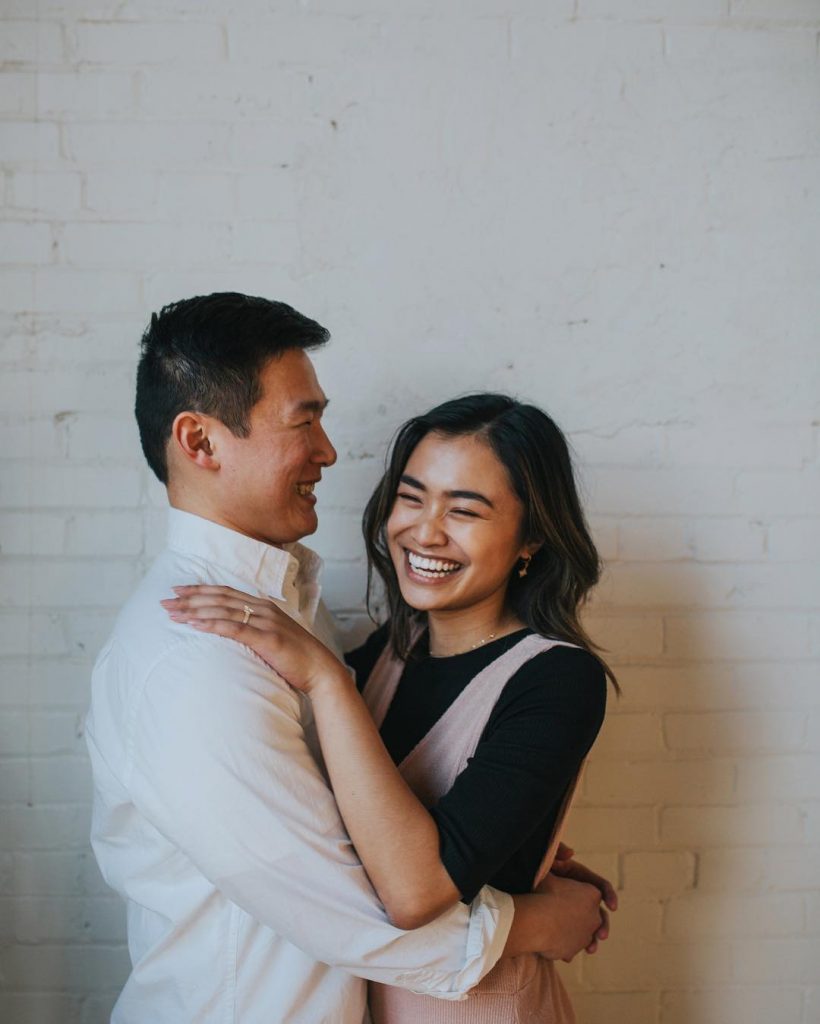 Instagram @jonavimusic and @zoulander, photography by @ashleehuff
Finally, the most important thing you can do at your engagement photo shoot is relax and have fun! Taking these pictures is not supposed to stress you out or turn into a big ordeal. Before the photoshoot, shake out your jitters, crack some jokes with your partner, and prepare to have fun staring lovingly at each other for an hour or two.
Final Thoughts
What are some of your favorite engagement picture trends? Let us know on our Instagram, Facebook, Twitter, or in the comments below!