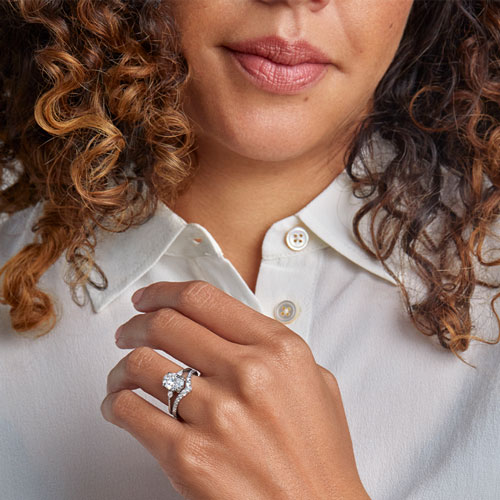 We get it: it might feel less romantic to find your forever on the internet. And the whole direct-to-your-door engagement ring thing is still a relatively newer concept. But trust us. It's still completely possible (and actually easier and maybe even cheaper) to get a unique, ethically sourced engagement ring online. So ?— is shopping for an engagement ring online right for you? Here's everything to consider with online engagement rings.
Can you get an engagement ring online?
Yes! Shopping online for engagement rings offers the quickest browsing experience with the widest variety of gemstones, settings, and diamond cuts. Sure, you may have to delete your browser history if the proposal is intended to be a surprise, but the internet instantly grants you all the research you'll ever need (we suggest you start with our diamond buying guide). You also don't have to sacrifice an individual expert's advice just because they're not next to you. If you feel better with your purchase being guided by a shopping assistant, you can make a virtual appointment to learn about and even "try on" rings.
At Brilliant Earth, our physical jewelry stores are rapidly expanding, so we most likely offer in-person appointments in your area. Come on by and we'll help you choose your partner's dream engagement ring.
Is it safe to order rings online?
If you leave here with anything today, we want to reassure you that purchasing an engagement ring online is safe.
So, if you're here to solidify your choice, great news. You can visit our Frequently Asked Questions and Brilliant Earth reviews for tell-it-like-it-is, nitty-gritty honesty from people who bought online engagement rings. When you want to massage your fears, perusing those resources is a free, couch-friendly way to understand your options.
The overall satisfaction should help release any anxiety you have about placing an order sight unseen or tracking the delivery of purchase of this magnitude (in both time and budget). You can also confirm that any potential damage done to the ring during shipping has solutions, from full refunds to warranted repairs. You'll also see that those are rare, worst-case scenarios.
We understand that in-person evaluation feels more authentic (especially when the jeweler is there with all those fancy tools to validate your purchase and ego). We get it. It's nerve-wracking to want to get your proposal just right. You can contact us directly to clarify any questions or soothe any lingering doubts.
Is it cheaper to buy engagement rings online?
It can be! It's easier to price compare when all you have to do is open a tab or sort by a filter. You can apply gift certificates simply and efficiently. With the reference code sent straight to your email, there's no chance of leaving a gift card laying around to spoil your surprise. All that being said, how much you should spend on a ring is a personal choice between you and your partner.
Can you return an engagement ring you purchased online?
In certain cases. While online engagement rings themselves don't have to sacrifice true quality and craftsmanship, there's the unlikely possibility of manufacturing defects. Even on a certified diamond.
At Brilliant Earth, we offer 30 day returns, except if your purchase is engraved.
Shopping for rings online won't cheapen your engagement experience (except the cost). That is to say, they're not any extra prone to additional wear and you're not getting a lower-quality product. Online engagement rings are the real deal. An engagement ring is a connective symbol of binding love, a reminder that you're entering a new stage of your lives. We take fine jewelry seriously. But things happen. And if they do, we'll do what it takes to make it right.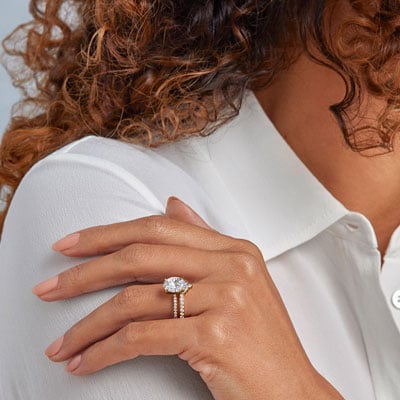 What to Consider When Buying an Engagement Ring Online
You'll have to decide if the joint experience of looking together feels less special behind a screen. When you're trying to ensure you're on the same (web)page, does it feel more flat and practical to scroll vs. dynamic and buzzy in a live store? If you're long distance, sharing links can be the handiest option (minus actual hands).
Are you willing to sacrifice that sneaky excitement of shopping for a secret? Even if online means you no longer have to find the time (and excuses) to keep it hush-hush?
Are you worried about doing it all yourself? You can use our chat feature. You know that little green bubble on the bottom right of the page? That's where you can get real-time help without making an appointment or calling.
Pros of Buying an Engagement Ring Online
Keep all your research, payment, tracking, and shipping info in one tidy place. No receipts or post-its.
Revisit your browsed engagement rings to save your favorites, including all of their product information. It's a lot less to remember.
There's less pressure to make a purchase when you're home alone (or together with your partner). Some people find it stressful to be monitored in a jewelry store or feel guilted into pulling the trigger on a purchase.
Skip the hassle of venturing to a store and shop in comfort. It's all on your phone or laptop.
Sort by top-rated purchases and read reviews to know you're getting the best product possible (or what to watch out for).
Sort by specialty refinements, like a lab diamonds search. You can be sure that your ring purchase is limiting your carbon footprint and free from conflict and mining.
Sort by price from the privacy of your home. You can browse your range at your leisure without feeling insecure. Your spend limits are your business (though affordable engagements rings are nothing to be ashamed of).
Sort by the setting, cut, and style of ring that you and your partner have your eye one. Even though shopping for online engagement rings expands your options (by a whole lot), the search can feel less overwhelming when you're able to focus on your preferences.
Online, you're not limited to the jewelry in the store. This includes the ability to create a custom engagement ring design from scratch. A bonus if you choose this route? It's easy to find inspiration on another tab and monitor your budget as you design.
Pros of Buying an Engagement Ring In-Store
Make it more memorable and add a sense of occasion by shopping for your engagement ring in person. For all their convenience and similar shopping features, online engagement rings don't capture the same thrill of an in-person hunt. Finding the right ring in the atmosphere of a store can stir that early excitement of celebrating your love. And having an expert on stand-by can help it feel less stressful. If you bring a friend, family member, or your partner, it can be a fun and emotional shared experience that you'll always remember.
You can go with your partner to get the ring sized. An engagement ring is one of the biggest purchases of your life, so it's ideal when it fits just right the first time. The perfect fit in the moment will make your love feel like a match made in heaven.
Experience the ring in person. Witness the radiance and translucency with your own eyes, rather than hoping it matches up with its picture online. Eyeballing the true size and color can help you determine if it's right for your partner. You also won't be as surprised by any inclusions or asymmetry or other variations. The details will be in front of you, ready to assess.
Get ideas for what you want later. Even if you end up purchasing your engagement ring online, you can narrow down your options by learning about rings firsthand, like whether you gravitate towards a certain period of design or specific shade of gold.
Try stacking rings. In person, you can get a better visual of how multiple rings fit together.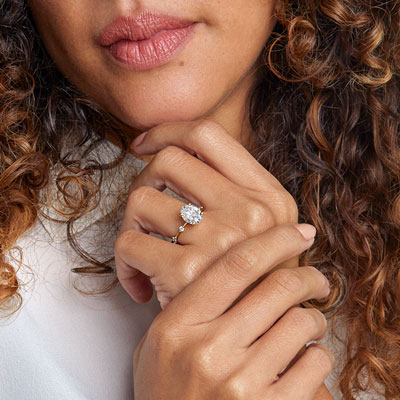 How to Buy an Engagement Ring Online
Do Your Research

We encourage you to explore your resources. And as an online retailer, we offer a ton of them. At Brilliant Earth, education guides are a click away to help you understand the history of settings and aesthetic and durability of gems, as well as their cuts aka shape. For example, inform your opinion of natural vs. lab created diamonds (or for that matter, moissanite vs. diamonds). Know the realistic maintenance and longevity of a stone given your lifestyle demands. It can factor into your choice of platinum vs. gold bands, for instance. There's a lot to learn to extend the life (and love) of your engagement ring.
You don't have to learn it all in a day, or alone. Our team is also happy to chat about our customer service policies and appointment options. Customer care is always available with an online retailer, 25/7, making after-hours questions about financing options or ring care easy to address.
Again, you can always see if one of our brick-and-mortar Brilliant Earth stores is nearby to cheerfully assist you.

Make a List of Priorities

Make the most informed decision possible so you feel comfortable and confident in your online engagement ring purchase. All those shopping details we just mentioned? A lot of it can be boiled down to the 4 Cs of diamonds: color, cut, clarity, and carat (we'd also like to suggest care a second time).
Setting designs can be the difference between a ring appearing dramatic and vintage, classic and simple, contemporary and edgy. Know what your partner expects and deserves.
Does your partner have any additional wants? Sustainability, for example? What would make your partner most proud to wear their ring? You know, besides being worthy of your eternal love. Consider their ethical standards.

Schedule a Virtual or In-Person Appointment

Scheduling a virtual appointment is optional, but not required to purchase a ring. We want to provide you every convenience and reassurance for a decision this big, including the possibility of a virtual try-on.
Not to toot our own horn, but Brilliant Earth offers an online experience AND a brick-and-mortar experience. So, if purchasing an engagement ring online isn't the right avenue for you, then that's totally fine. You can visit our showroom for the red carpet treatment.

Design Your Dream Ring

With online ordering, you have the truly unique experience of building your engagement ring yourself. You can always consult one of our jewelry experts, or rely on your imagination as the expert.

Online Engagement Ring FAQs
How far in advance should I start looking at engagement rings?
When you're shopping for engagement rings online, you'll want to purchase at least three months in advance. This far ahead of your proposal, you'll have time for resizing, refunds, exchanges, and all of those unforeseen potentials. See our guide to how to buy an engagement ring for more tips.
How do I figure out ring size if I'm buying an engagement ring online?
You can borrow one of your partner's rings (for their left-hand finger; that's important) and try it on for size to estimate. A jeweler can also assist you in measuring if you have a rough (but ideally accurate) estimate of your partner's finger in comparison to yours. You can also find sizing charts and tips in our ring size buying guide.
Are there different payment options for buying an engagement ring online?
Brilliant Earth offers flexible payment options, including payment plans for eligible customers. See our guide on how to buy an engagement ring on a budget for additional financing tips. We're here to help you bring home the perfect proposal.
Final Thoughts: Online or In-Store, Which is Right for You?
A huge part of shopping for an engagement ring is ambiance. You have to feel out what makes sense for you (and your partner, if they want to be a part of the shopping journey). When you're ready to browse online options, you can start shopping engagement rings at Brilliant Earth.