June 26, 2016 marked the one-year anniversary of Prop 8 being struck down by the Supreme Court.
At Brilliant Earth, we celebrate love of all kinds and were thrilled that same-sex couples were finally granted the right they always deserved. As Supreme Court Justice Anthony Kennedy wrote in the Supreme Court ruling, "The nature of marriage is that, through its enduring bond, two persons together can find other freedoms, such as expression, intimacy, and spirituality. This is true for all persons, whatever their sexual orientation."
As more LGBTQ couples discuss tying the knot, it's interesting to see which engagement and wedding trends stick and which are deemed irrelevant. We conducted a survey of couples to see which customs were embraced by the LGBTQ community and which may be fading. Here are a few of our findings.
Saying Vows & Exchanging Rings Are Traditions that Endure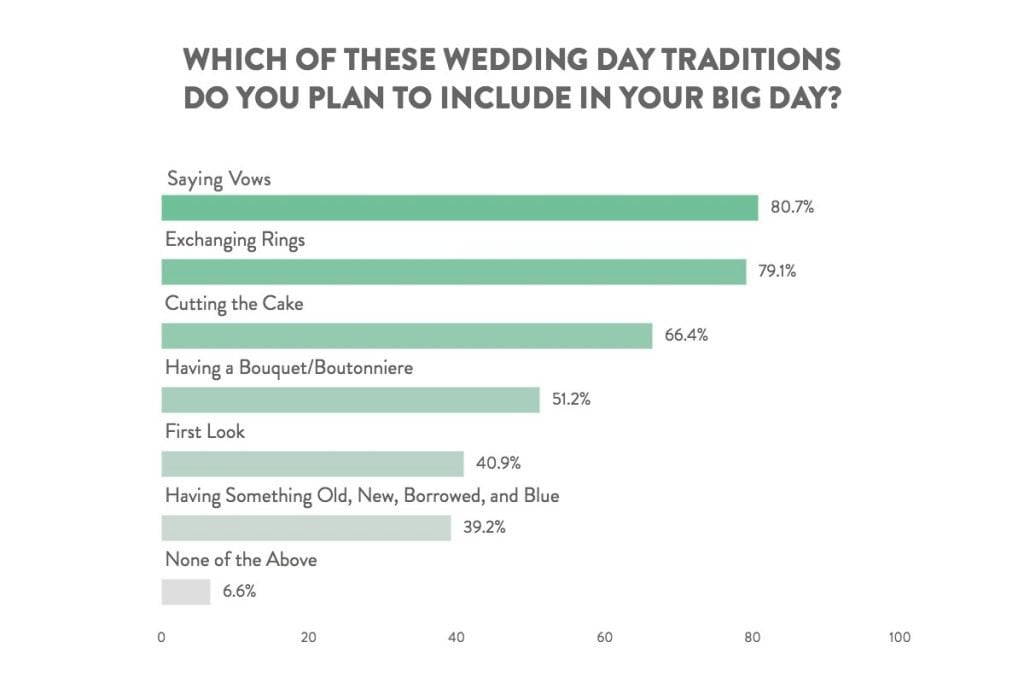 The Takeaway: 8 out of 10 of couples who identify as members of the LGBTQ community plan to exchange rings and say vows when they get married, though women significantly favored exchanging rings over men (86% vs 70%). There are many ways LGBTQ couples can display their personal styles when choosing wedding jewelry, whether forging new traditions or participating in classic ones. See some of our favorite engagement and wedding ring ideas for LGBTQ couples.
Older Couples are Less Likelyhttp://www.brilliantearth.com/gay-and-lesbian-ring/ to Wear Rings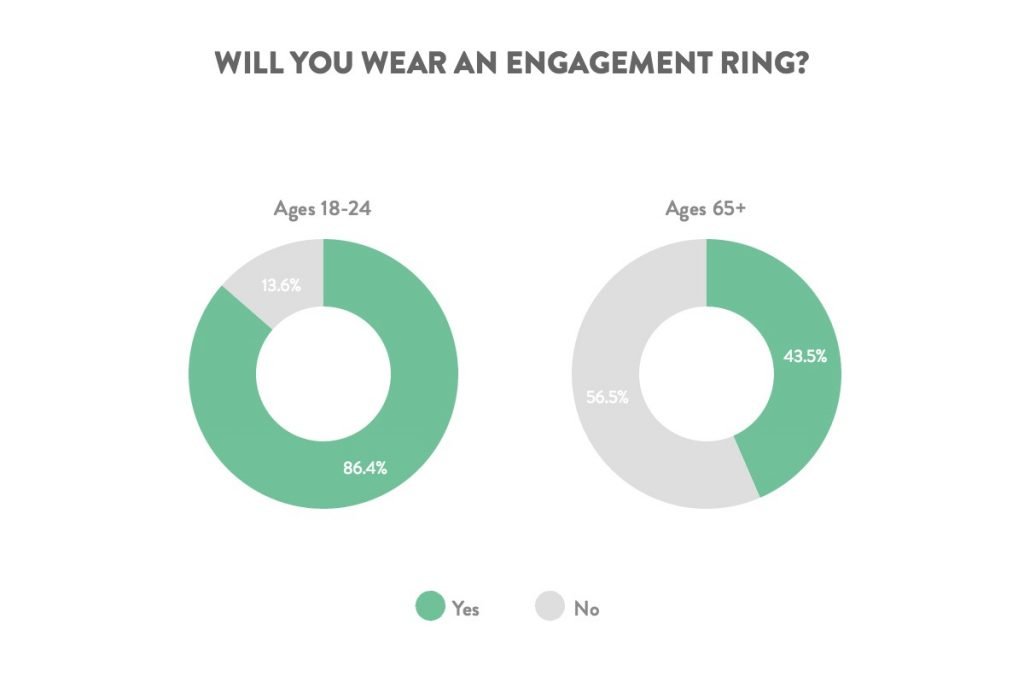 The Takeaway: If you assumed older couples were more traditional – you may have guessed wrong! It turns out that less than half of older LGBTQ-identifying couples want to wear any engagement ring at all, while more than 85% of those 18-24 will have at least one partner wear an engagement ring.
The Male/Female Gemstone Divide is Strong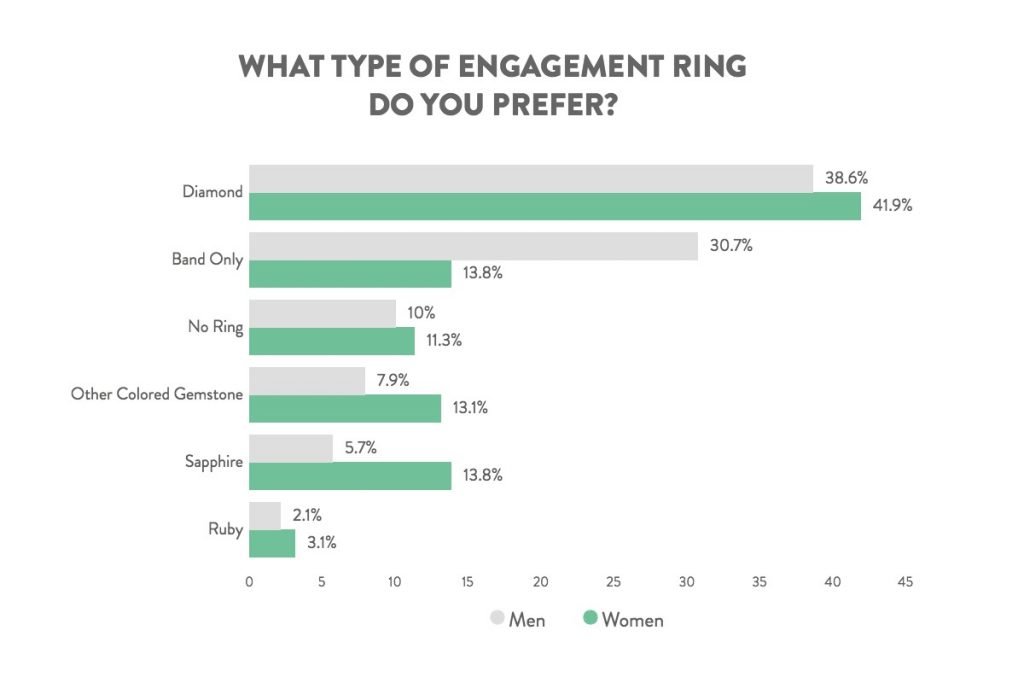 The Takeaway: Diamonds rule the engagement ring scene with around 40% of both men and women anticipating giving or receiving a sparkling diamond. Those who identify as female are 15% more likely to feature some sort of precious gemstone in their ring than males, while men are considerably more likely to opt for a plain band.
Ethical Sourcing is Key When Shopping for a Ring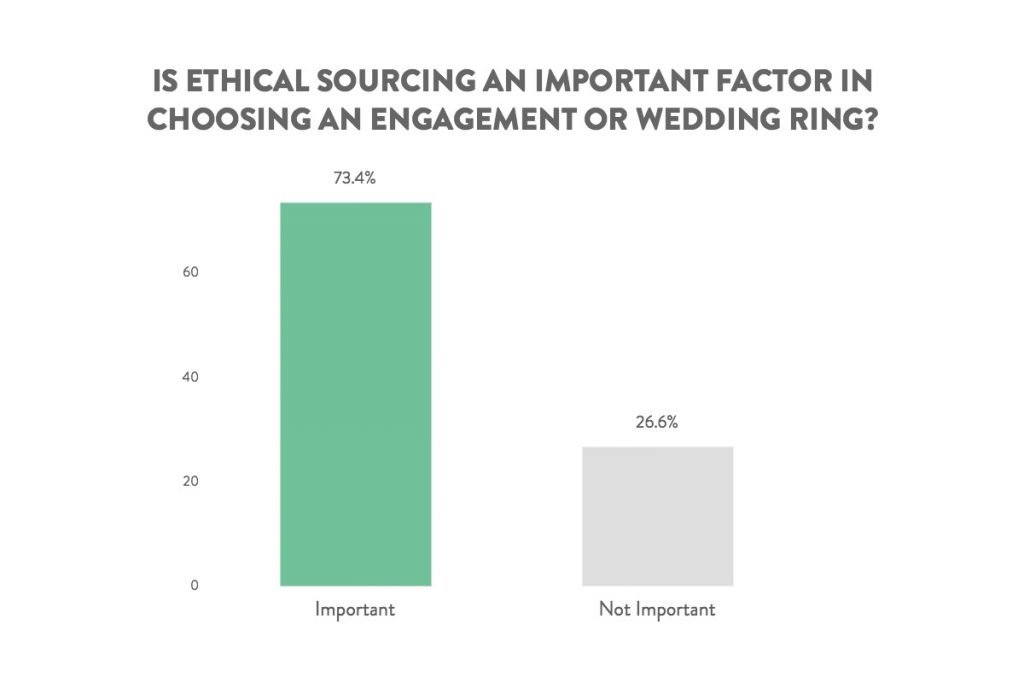 The Takeaway: Across all age ranges, ethical sourcing was a key consideration, with about 3 out of 4 respondents saying it's important that their ring is ethically sourced. Respondents 35-44 years old were most likely to say ethical sourcing was important (83%).
Urbanites Prefer Smaller Weddings than Suburbanites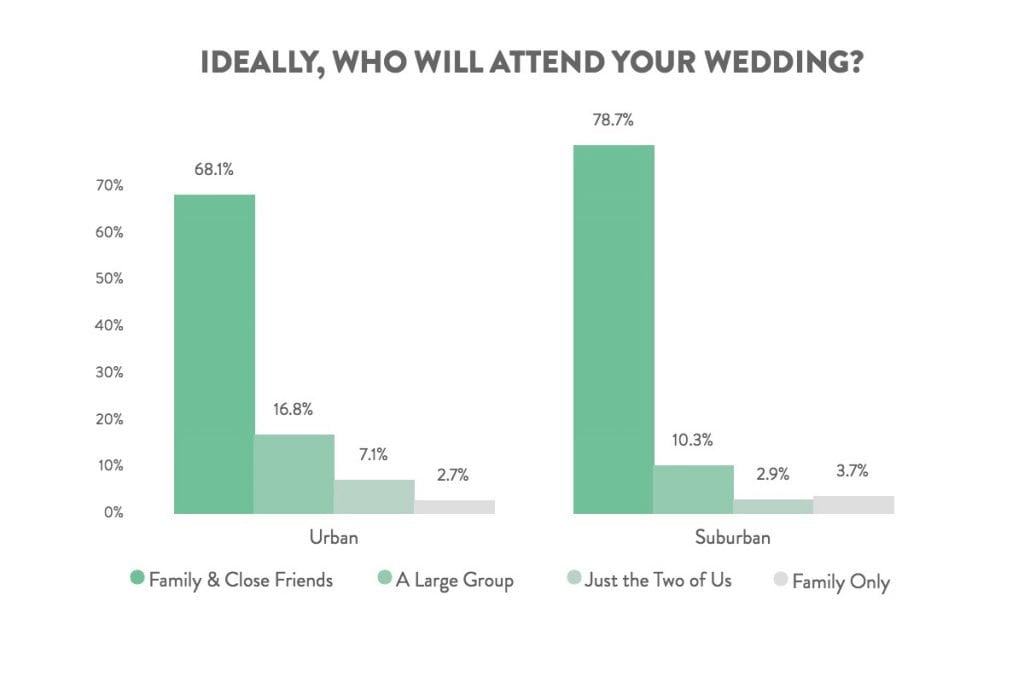 The Takeaway: Among all survey respondents, nearly 75% preferred a wedding consisting of just "family and close friends" over a smaller or larger celebration. Interestingly, this statistic varies significantly with respondents' living style – 7% of people who live in cities preferred "just the two of us," whereas less than half of suburbanites responded the same, instead trending towards more inclusive wedding celebrations.
Older Couples More Likely to Embrace Modern Wedding Day Trends Such as the "First Look"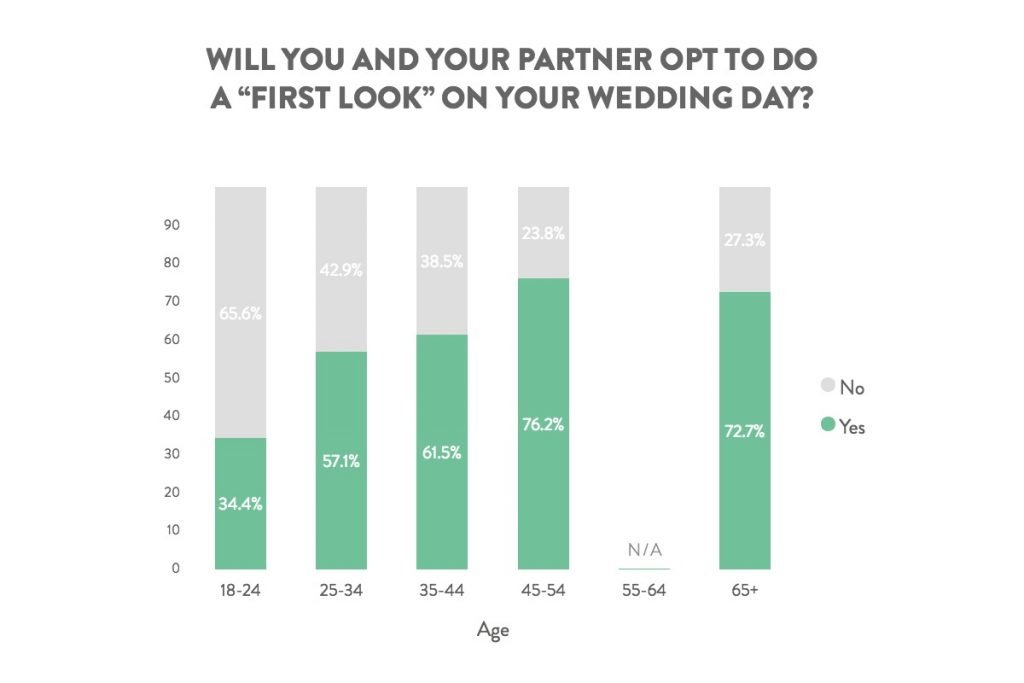 The Takeaway: Older LGBTQ individuals are more likely to eschew the wedding day tradition of not seeing each other before the ceremony – 75% those 45-65+ were open to seeing each other before the ceremony, while only 35% of those 18-24 plan to peek.
Gender Influences Attachment to Wedding Day Gestures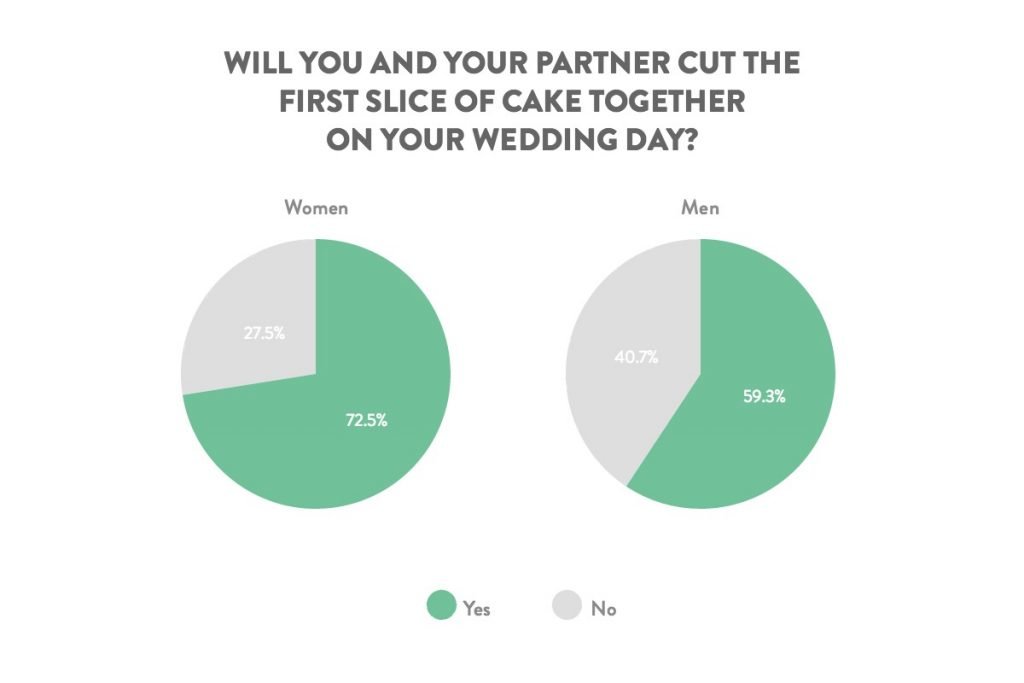 The Takeaway: Women are more likely to want to incorporate traditional gestures in their wedding. For example, 72.5% of women plan to have a "cut the cake" moment with their spouse, while only 59.3% of men surveyed want to do the same.
---
This data was collected through Google Surveys. Poll results indicate significant findings from a randomized sample of participants.