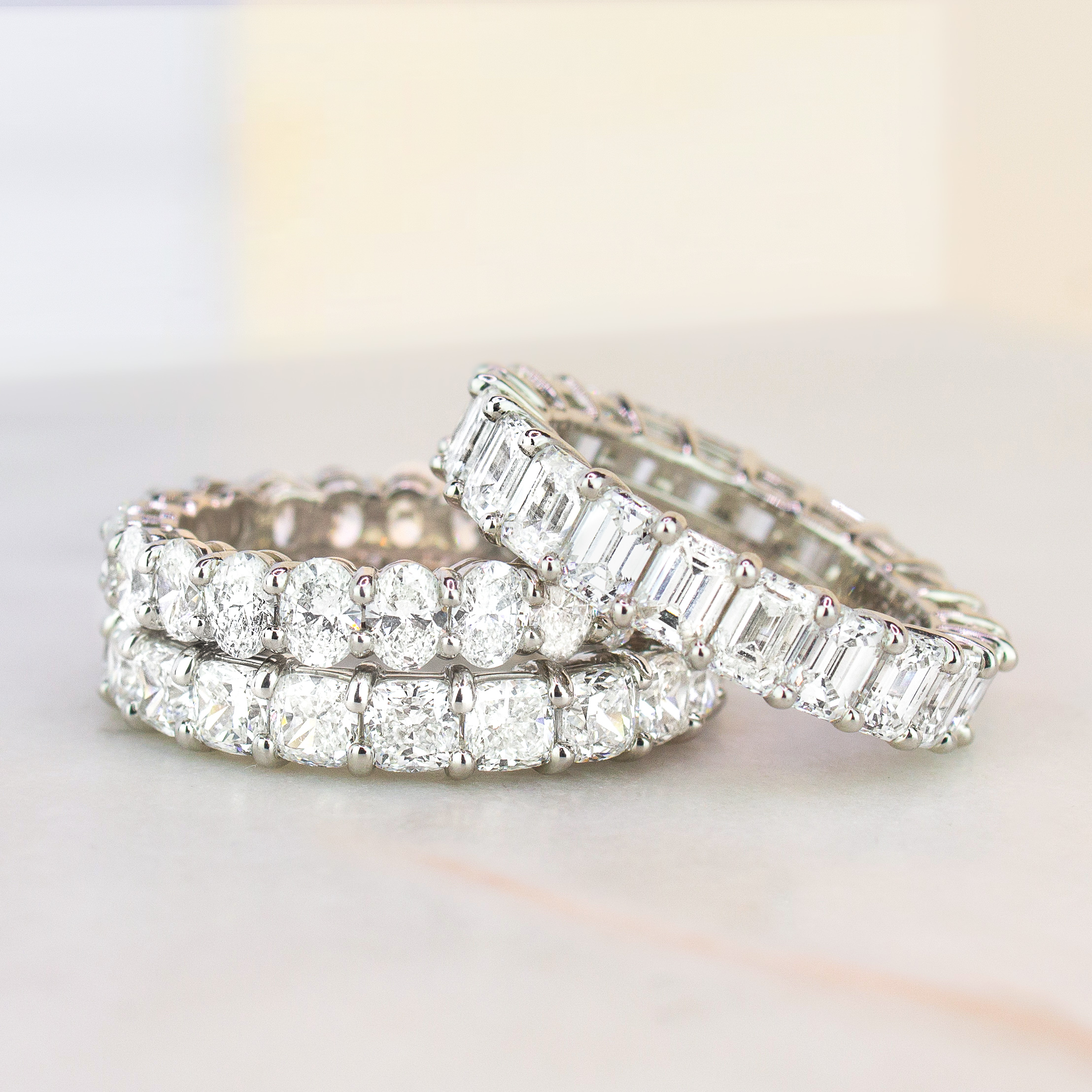 Although we love traditional engagement rings (of course!), we are also big fans of using sparkling diamond bands as engagement rings.
Diamond wedding bands or anniversary rings can be a great option for an engagement ring, especially for people who like to keep things simple or who have a particularly active lifestyle. Since diamond bands don't feature an elevated center diamond or gemstone, your ring is much less likely to catch or snag on things as you go about your day – making it an excellent choice for medical professionals, fitness buffs, or anyone else who uses their hands a lot in the course of their daily lives.
A diamond wedding band is also a more cost-effective engagement ring choice for couples who want sparkle now and budget to upgrade to a diamond or gemstone engagement ring later. For example, diamond eternity bands can often offer 2, 3, or 4 carats worth of diamond brilliance for less than a diamond engagement ring of similar weight would cost.
Diamond bands also make it easy to create an elegant stacked look by adding wedding and anniversary bands as you reach those important relationship milestones. Glamour icon Audrey Hepburn wore wedding bands with channel set diamonds as her engagement rings – her fiancé gave her one in white gold and one in yellow gold so she could rotate her rings to match her outfits. Today, Queen Letizia of Spain sports a similar style with a sleek channel set row of baguette diamonds.
Read on to discover some of our favorite and unique diamond wedding bands that can be used as engagement rings!
Versailles Diamond Ring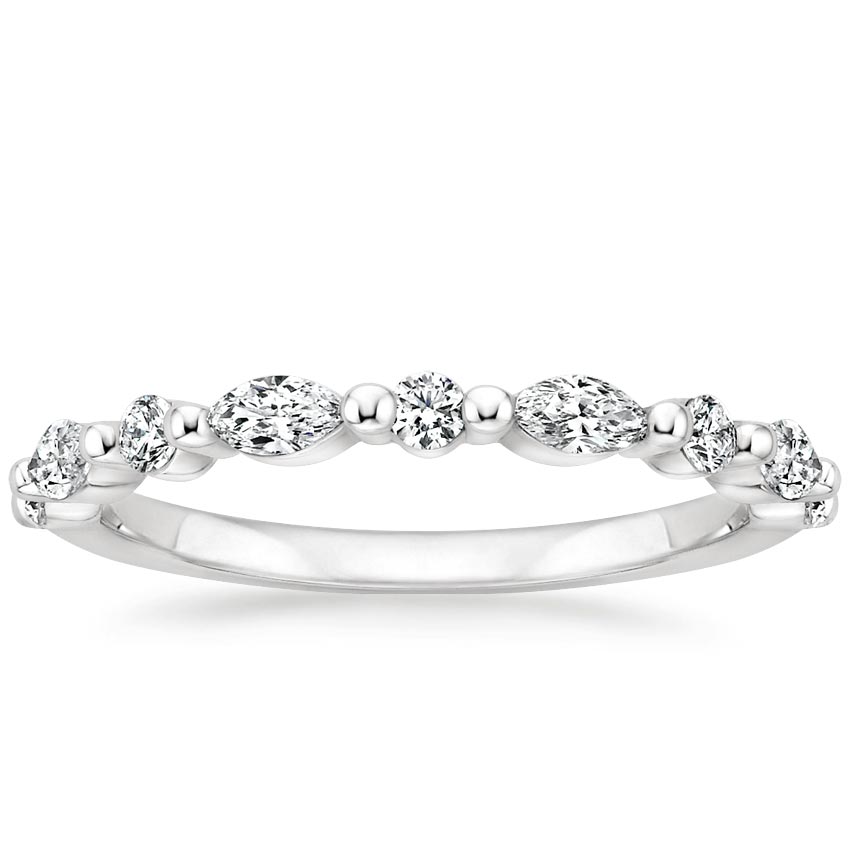 Alternating round and marquise diamonds create an alluring pattern across the top of this chic and distinctive ring.
Petite Twisted Vine Diamond Ring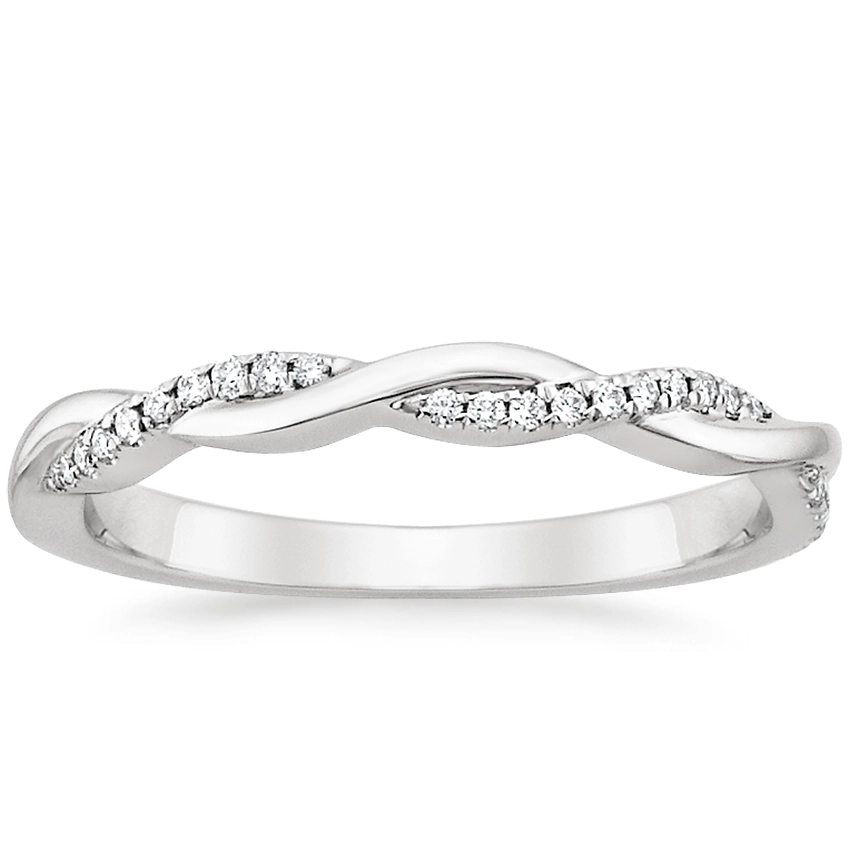 Ribbons of pavé-set diamonds and high polished precious metal appear gracefully woven together in this nature-inspired design.
Monaco Diamond Ring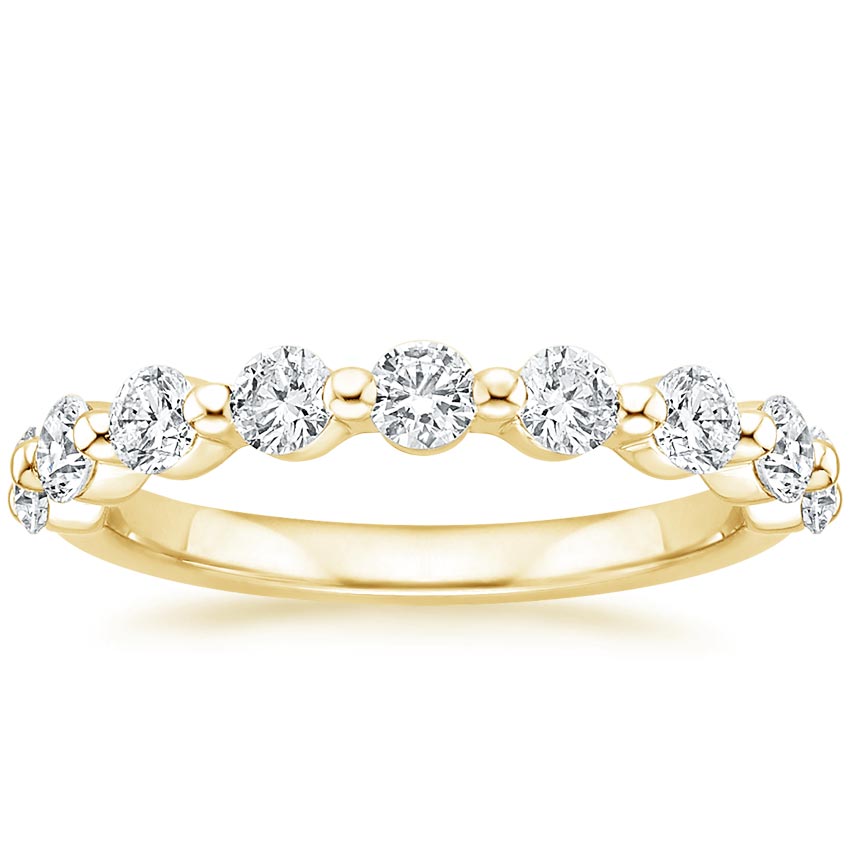 Floating shared prong diamonds shimmer from the top half of this delicate and dazzling wedding band for a spectacular look.
Santorini Eternity Diamond Ring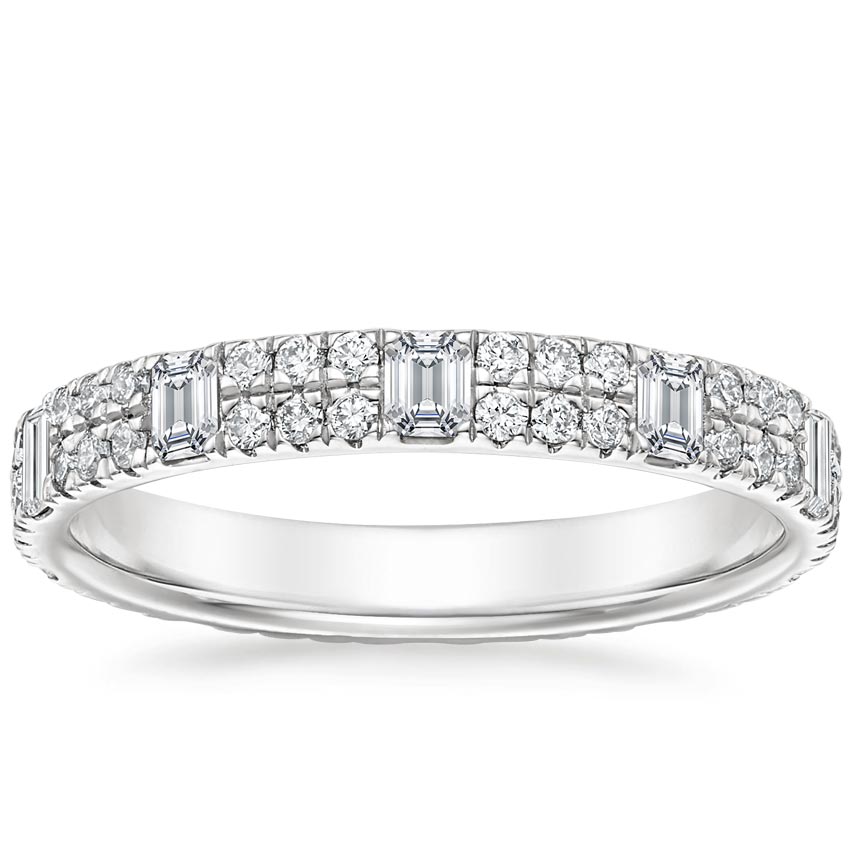 Emerald cut diamonds are spaced evenly across this modern band while round diamonds rest in two shimmering rows between them. Perfect as a statement piece worn on its own and easily paired with other rings in a glamorous stack, this design is sure to catch the light and the eye.
Channel Set Baguette Diamond Ring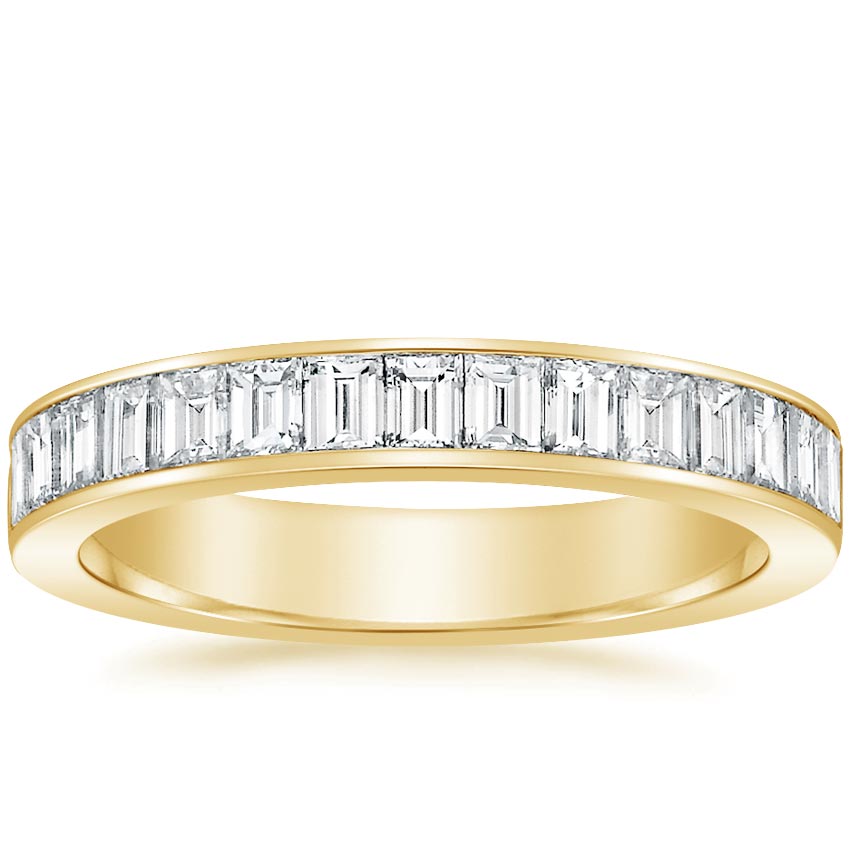 This stunning band features a row of baguette cut diamonds secured in a channel that extends halfway down the shank for eye-catching sparkle.
Sweeping Ivy Diamond Open Ring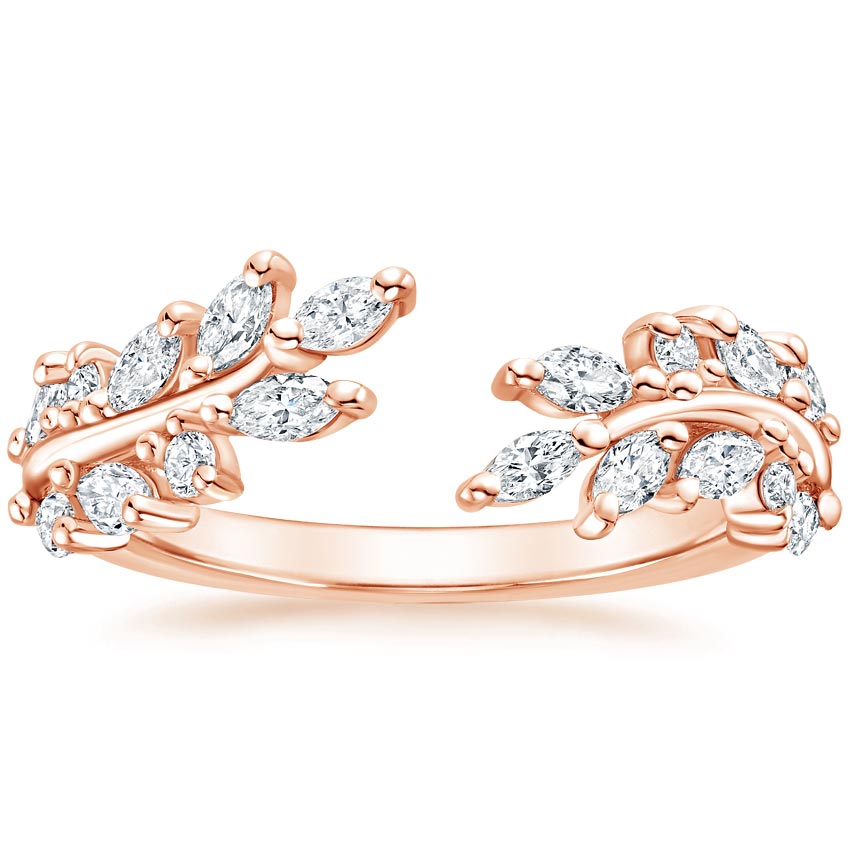 Inspired by the splendor of nature, a glistening vine of diamonds sweeps around the finger in this extraordinary open ring design.
Helia Diamond Ring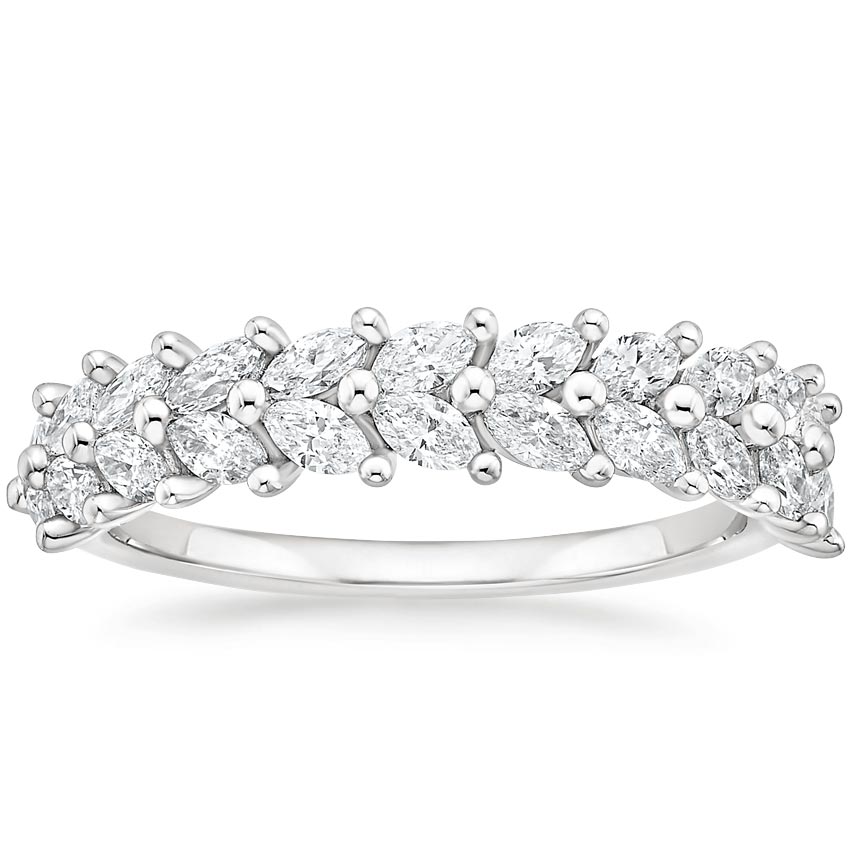 Two rows of marquise diamonds in an interlocked pattern wrap half of the way around the band in this shining, unique style.
Petite Vera Diamond Ring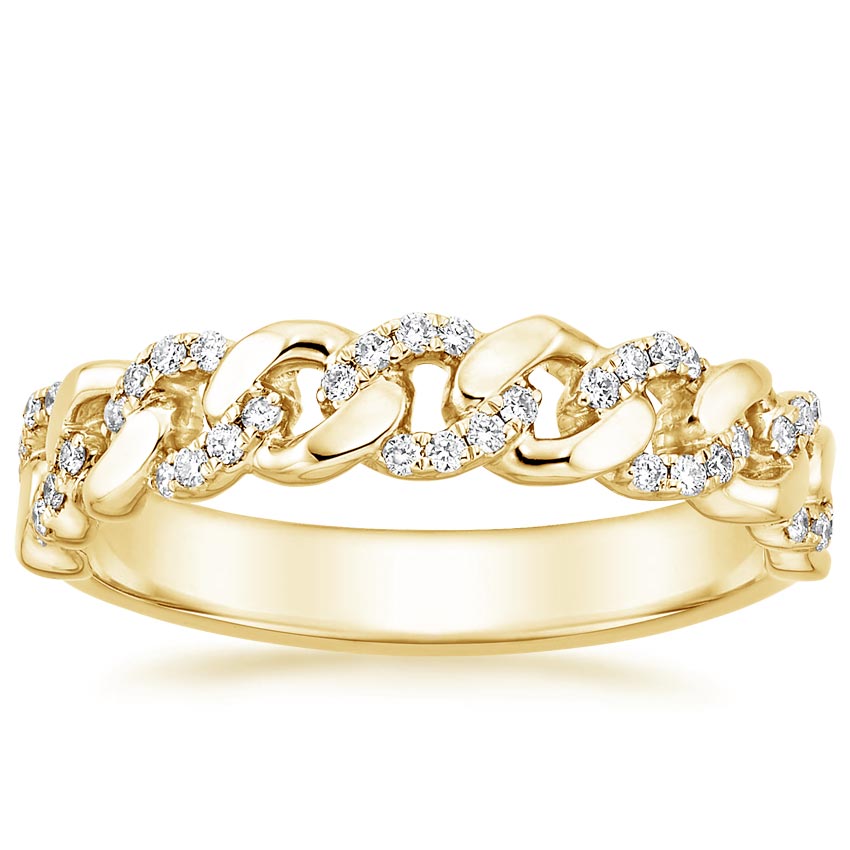 Perfect on its own or paired with other rings in a chic stack, this trendy diamond-accented link chain ring is a fabulously unique fashion statement.
Celtic Knot Diamond Ring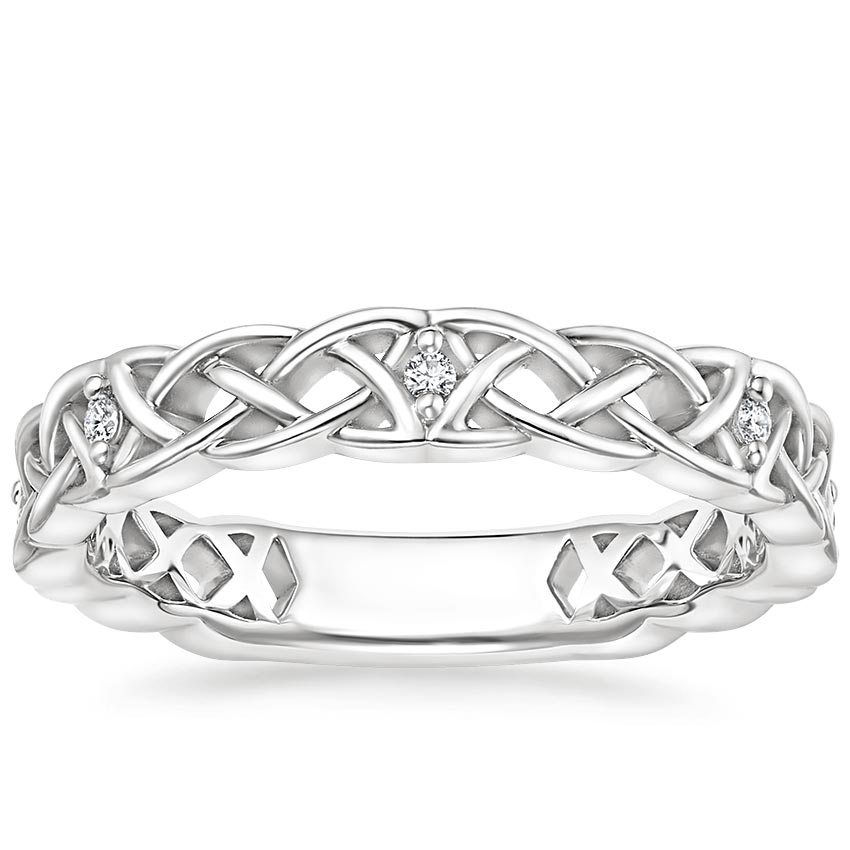 A striking symbol of strength and eternal love, this Celtic knot ring is accented by diamonds and is equally as beautiful as it is meaningful.
Bezel Emerald Cut Eternity Diamond Ring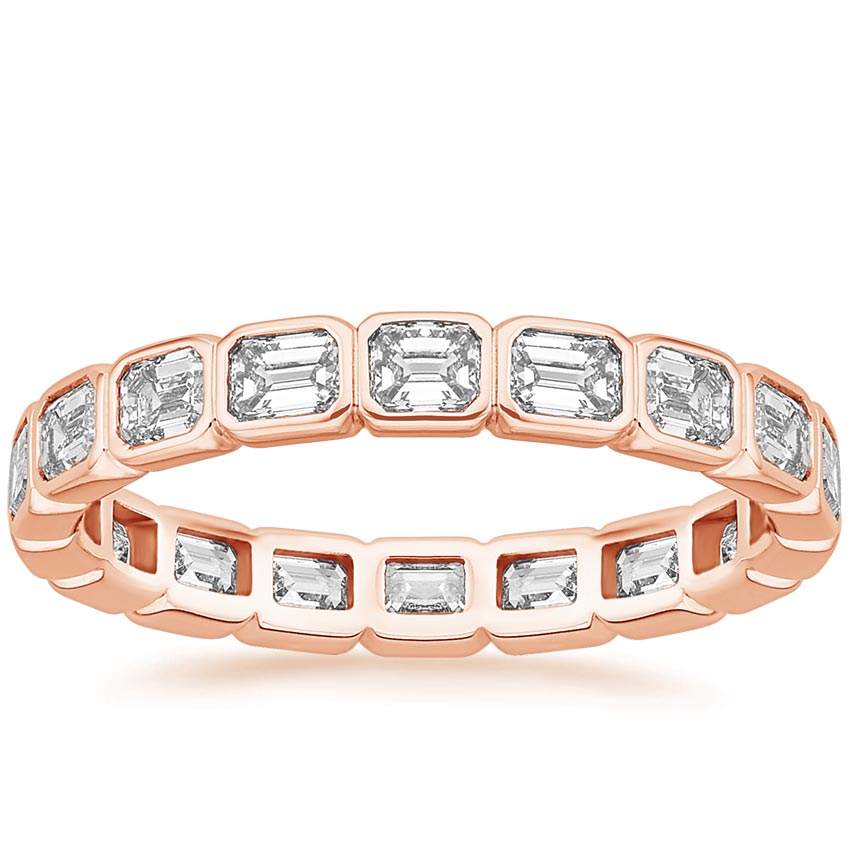 Striking emerald-cut diamonds wrap all of the way around this eternity band that is as glamorous as it is chic and trendy. Perfectly stackable and easily worn on its own, this ring is sure to catch the light and the eye.
Rosada Rose Cut Diamond Ring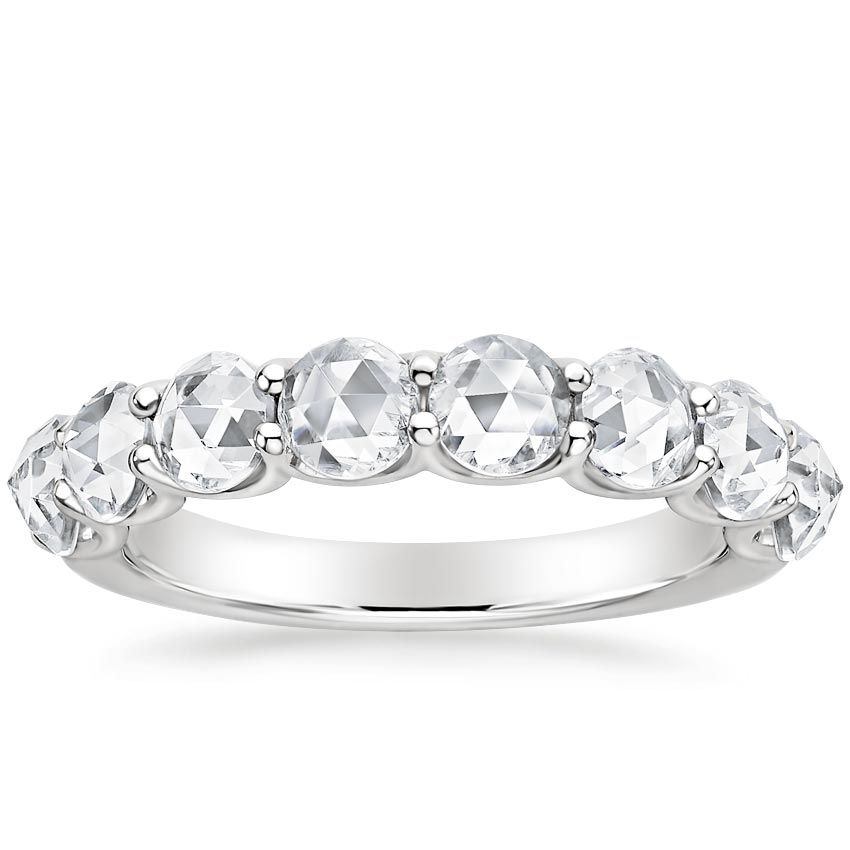 This classic, elegant ring features eight rose-cut diamonds set in delicately sculpted shared prongs.
Genevieve Diamond Ring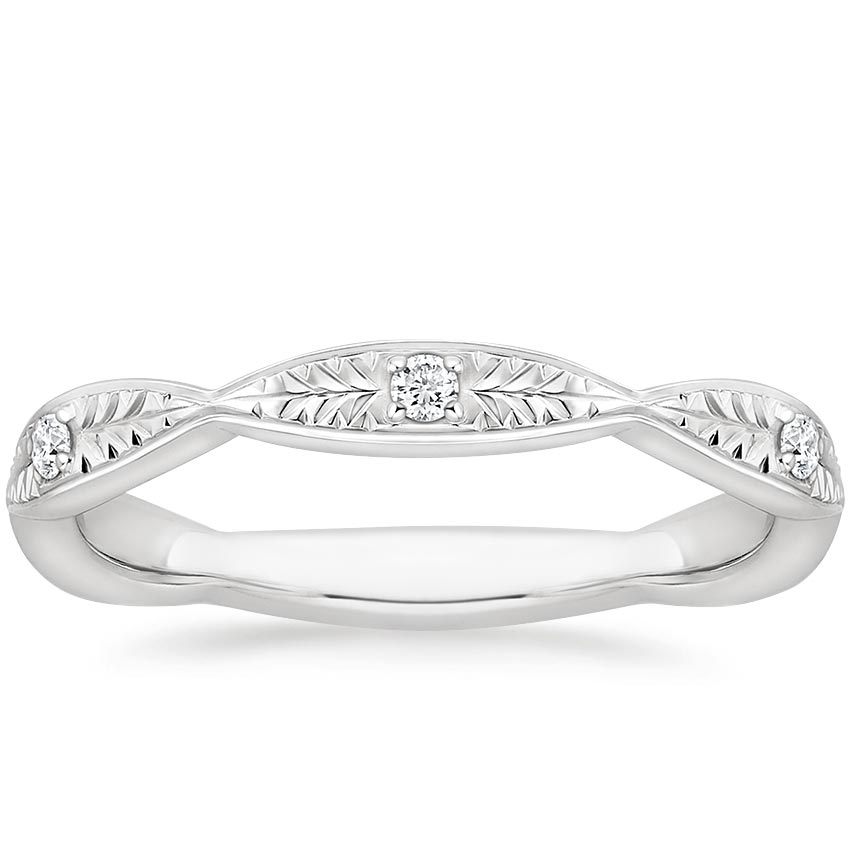 This lovely wedding band features round diamond accents pavé set into lustrous, precious metal. Flanked by sculptural, leaf-like hand engraving, these diamonds shimmer with enchanting, eye-catching light. A sizing bar allows for comfort and future adjustments.
Nova Diamond Ring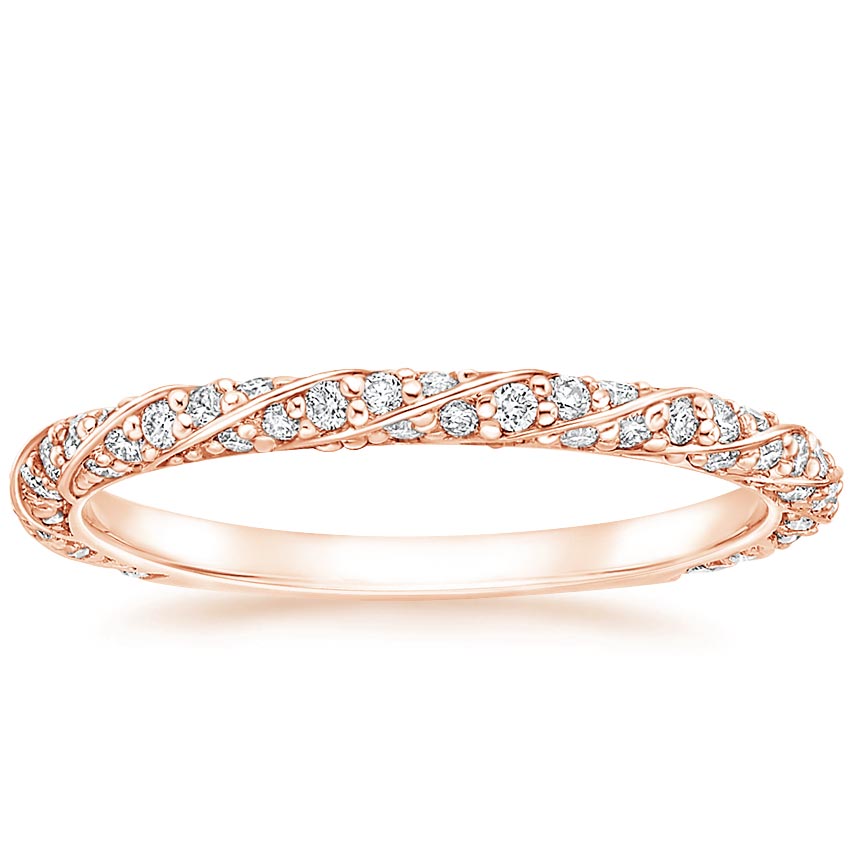 Ribbons of metal and pavé diamonds twist down three-fourths of the band in this captivating and enchanting ring.
Oval Eternity Diamond Ring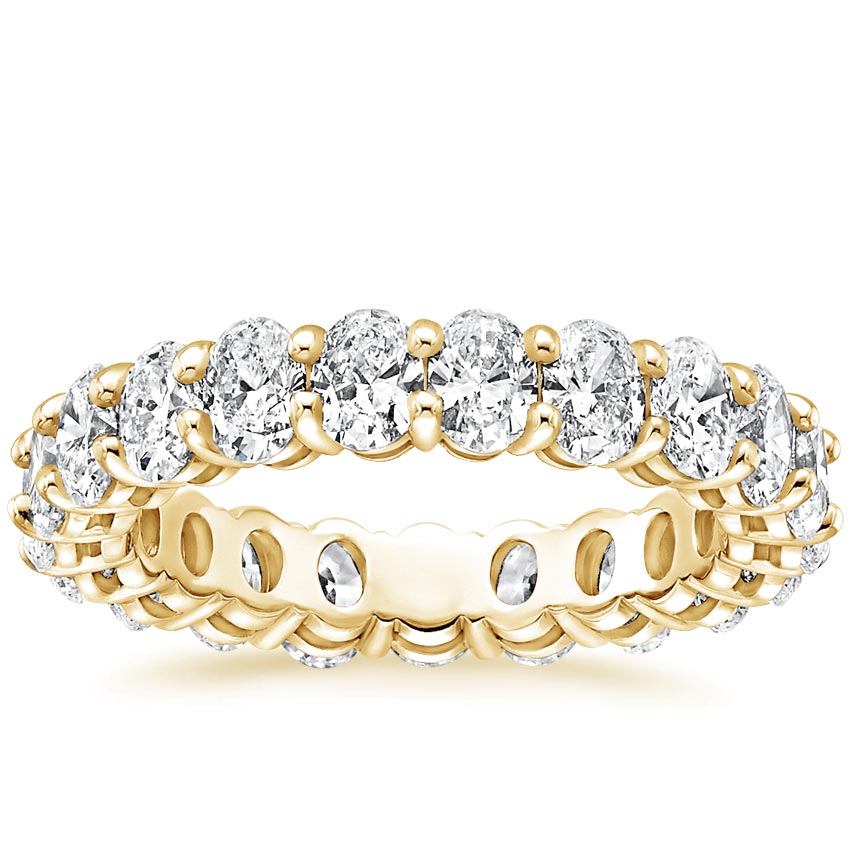 This stunning ring features prong-set oval cut diamonds that encircle the finger for a timeless, eye-catching look.
Arista Eternity Diamond Ring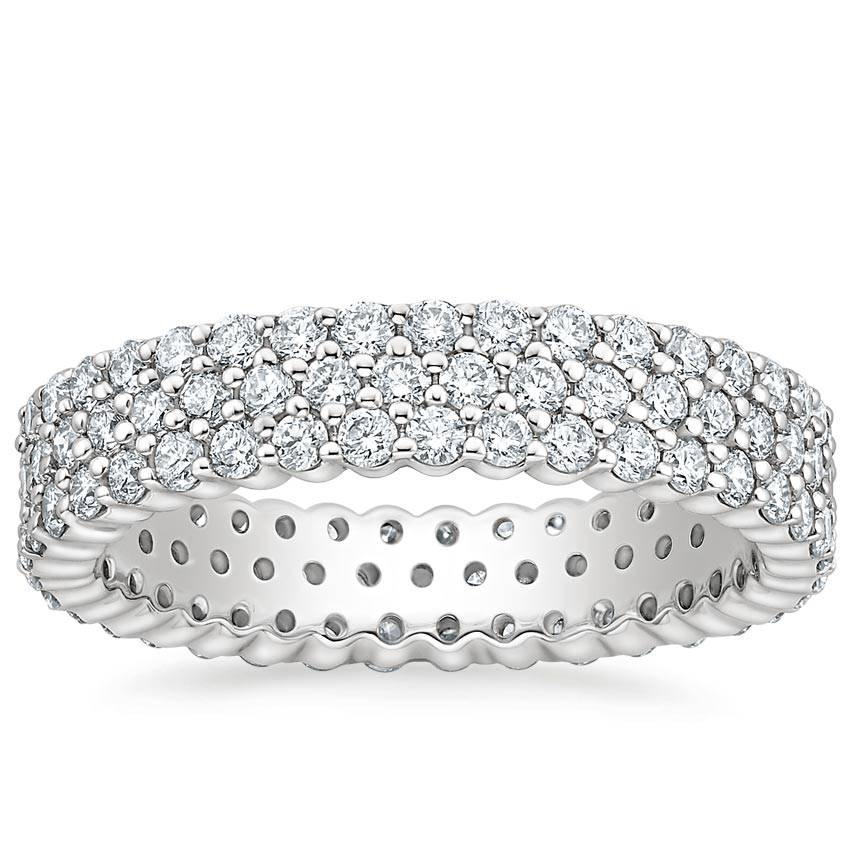 This show-stopping ring features over one hundred pavé set diamonds for a striking, shimmering design that wraps the finger in an aura of light.
Luxe Valencia Diamond Ring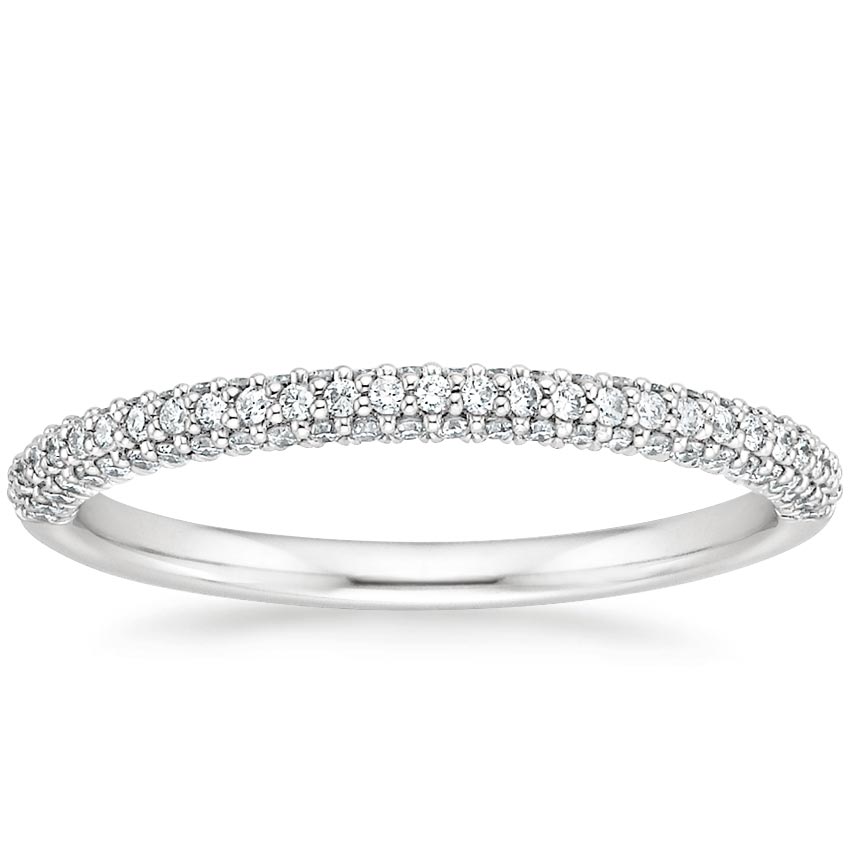 Micro-pavé diamonds sparkle three-fourths of the way around this petite and glamorous domed band, making it the perfect ring for any special occasion.
Rita Diamond Ring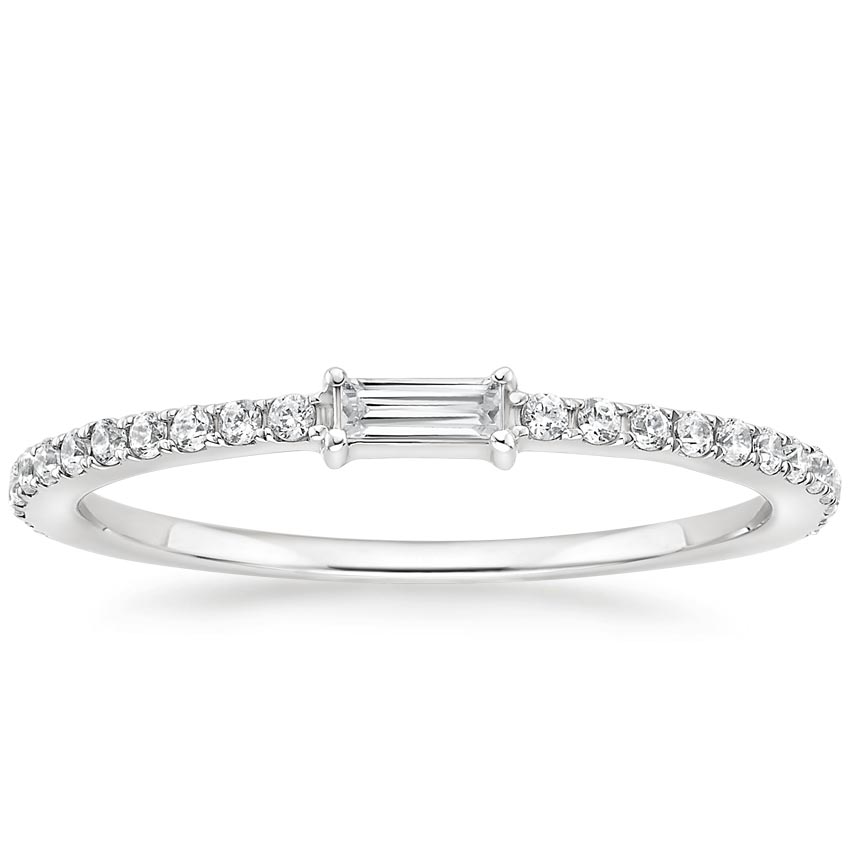 Classic yet chic, this diamond ring makes the perfect addition to any stack.
Leona Diamond Ring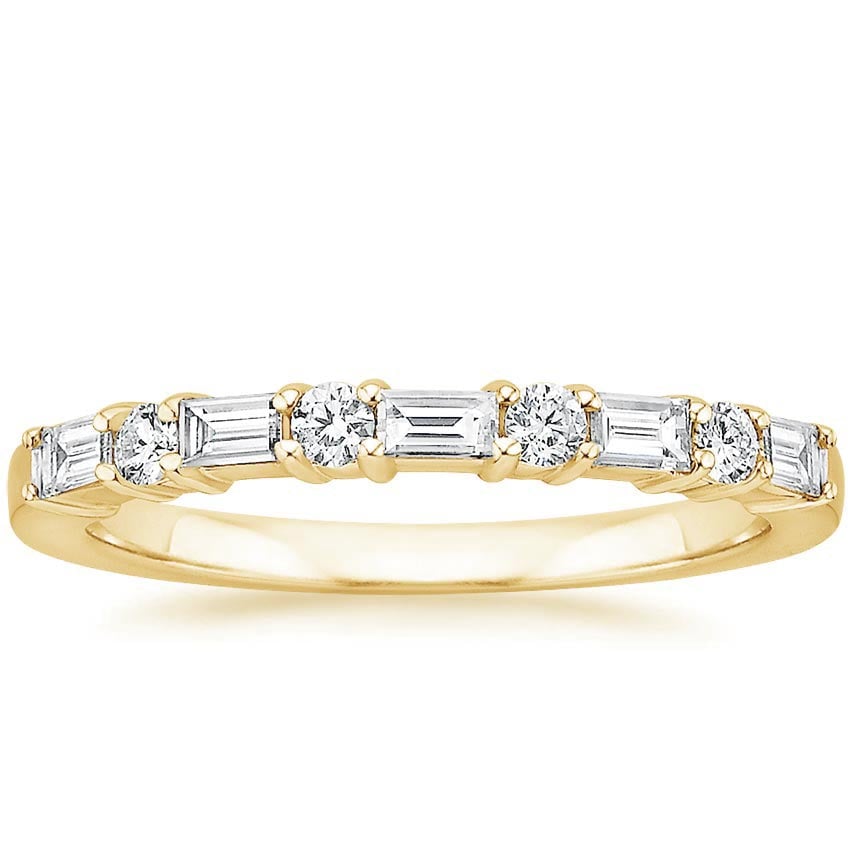 This vintage-inspired ring features shimmering diamond baguettes alternating with round diamonds for an eye-catching look. The delicate, high polish band adds distinctive appeal.
Lina Baguette Diamond Ring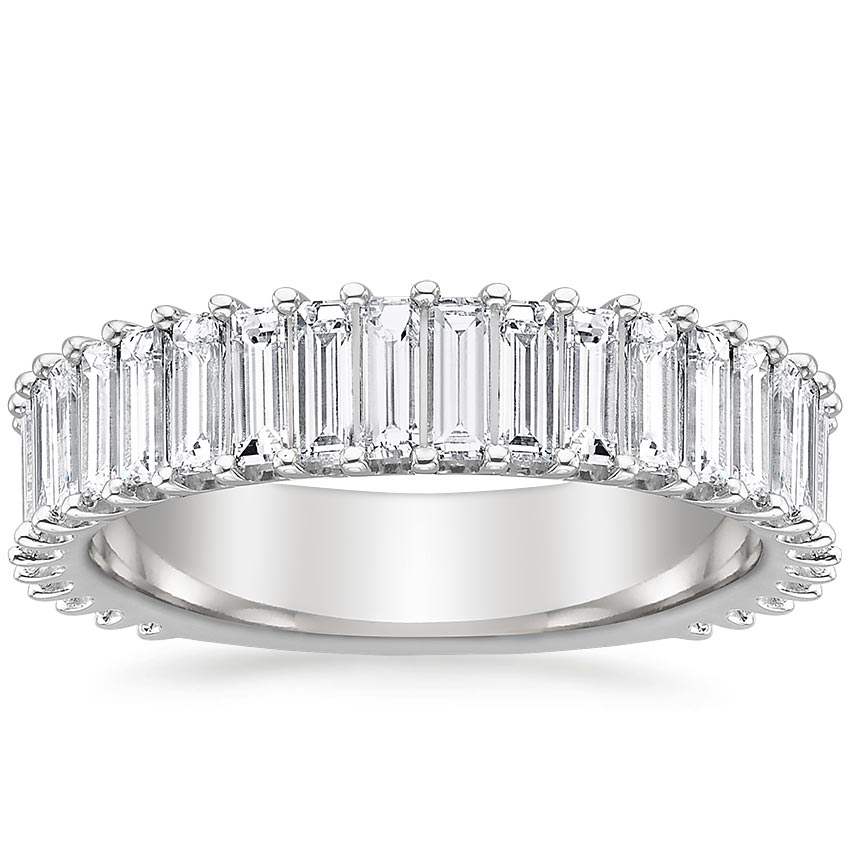 Shining baguette diamonds are vertically set in this modern ring and wrap three-fourths of the way around the band for a sophisticated look with a comfortable fit.
Étoile Diamond Ring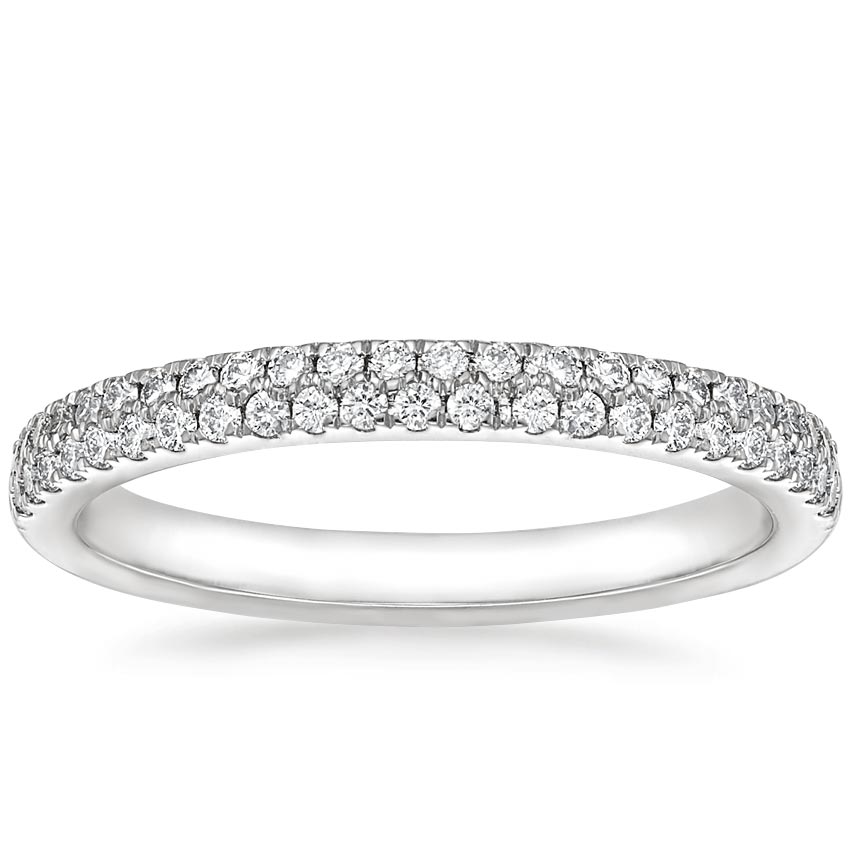 A double row of scalloped pavé diamonds glistens across the top of this stunning ring. The band has a rounded inner edge for increased comfort.
Final Thoughts
Would you wear a wedding band as an engagement ring? Let us know your favorite styles in the comments below or on our Instagram, Facebook, Twitter.