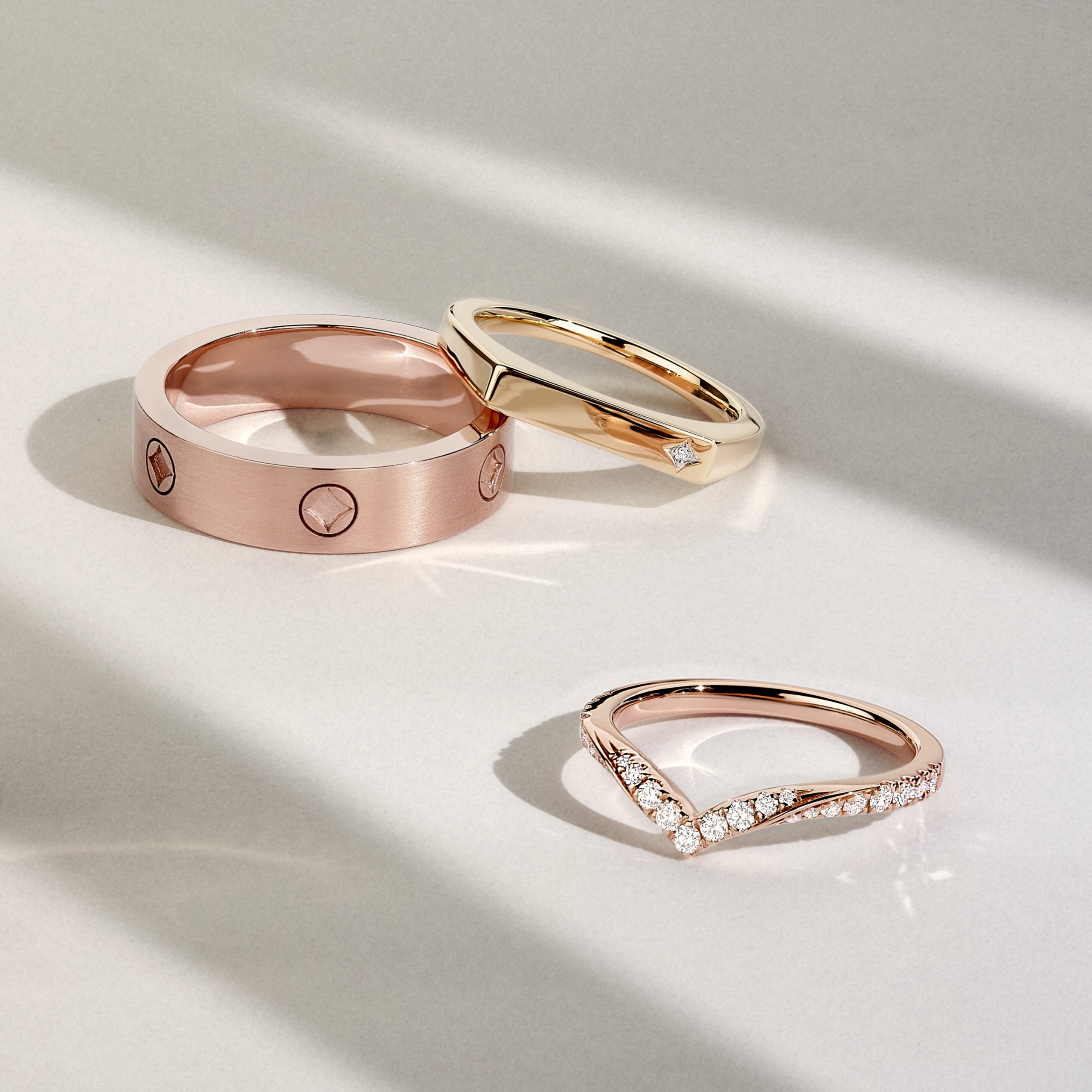 When it comes to their wedding day, today's couples are opting for more personalized and special elements – and this most definitely includes their wedding rings. From alternative metals to intricate diamond designs — the options are nearly endless when it comes to selecting your unique wedding bands. Whether you are shopping for wedding rings or looking for some inspiration to add to your Pinterest boards, read on to discover 15 original wedding band ideas perfect for non-conventional couples – and the traditions behind them.  
Who buys the wedding bands? 
It's no secret that most proposers purchase the engagement ring, but who buys the wedding bands? The short answer is there are no strict rules when it comes to purchasing wedding rings. Ultimately, the decision is up to the couple. Whether you split the cost, surprise your partner, or one partner purchases the rings while the other covers a different wedding expense, the best course of action is to come to an agreement that best supports your relationship.  
Do wedding rings have to match? 
While tradition may state that wedding bands must match, many couples are opting for more personalized designs that suit their individual style. In the end, your wedding choices should always be based on what feels right for yourself and your partner. 
How and where to buy wedding bands
With endless options to choose from when selecting your unique wedding rings, the task may seem overwhelming. Our Find My Matching Wedding Ring tool can help with your decision by allowing you to visualize your engagement ring paired with any Brilliant Earth wedding ring to find your perfect match. Our Virtual Try On feature also allows you to virtually try on any of our unique wedding rings from your phone. Our Jewelry Specialists are also ready to lend their expertise in a personalized appointment to help you find your dream wedding rings – virtually or in person! 
Unique Wedding Band Ideas For Women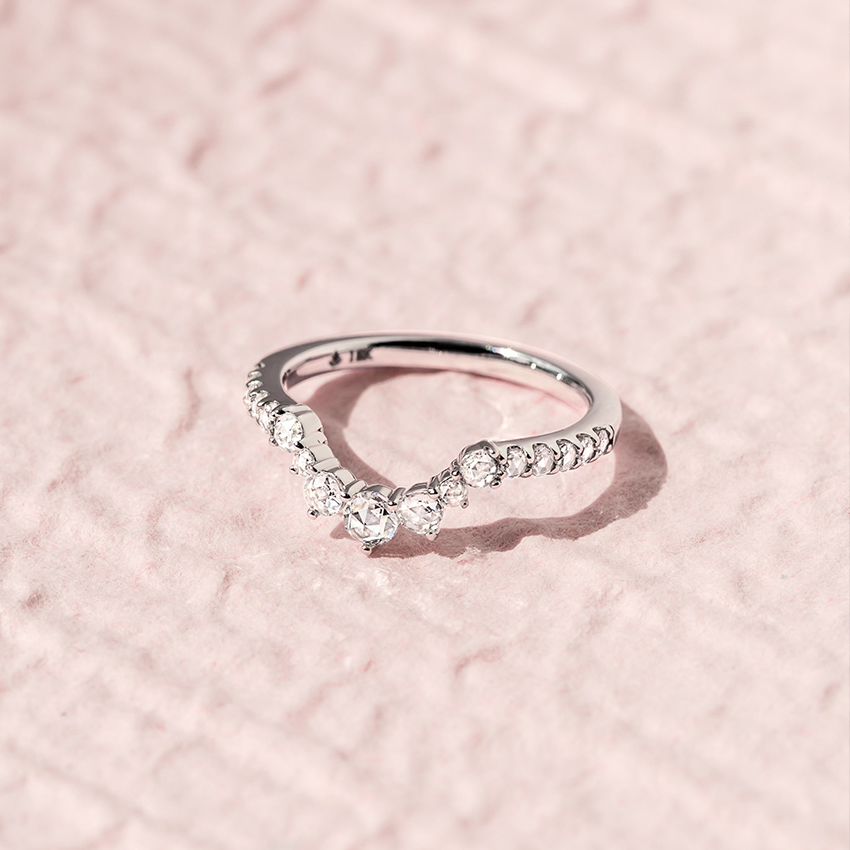 We've put together some of our favorite original wedding ring designs to inspire you to find your perfect ring style. With their sparkling diamond detailing, intricate metalwork, and striking silhouettes, these wedding rings are great alternatives for the non-traditional bride. 
Luxe Belle Ring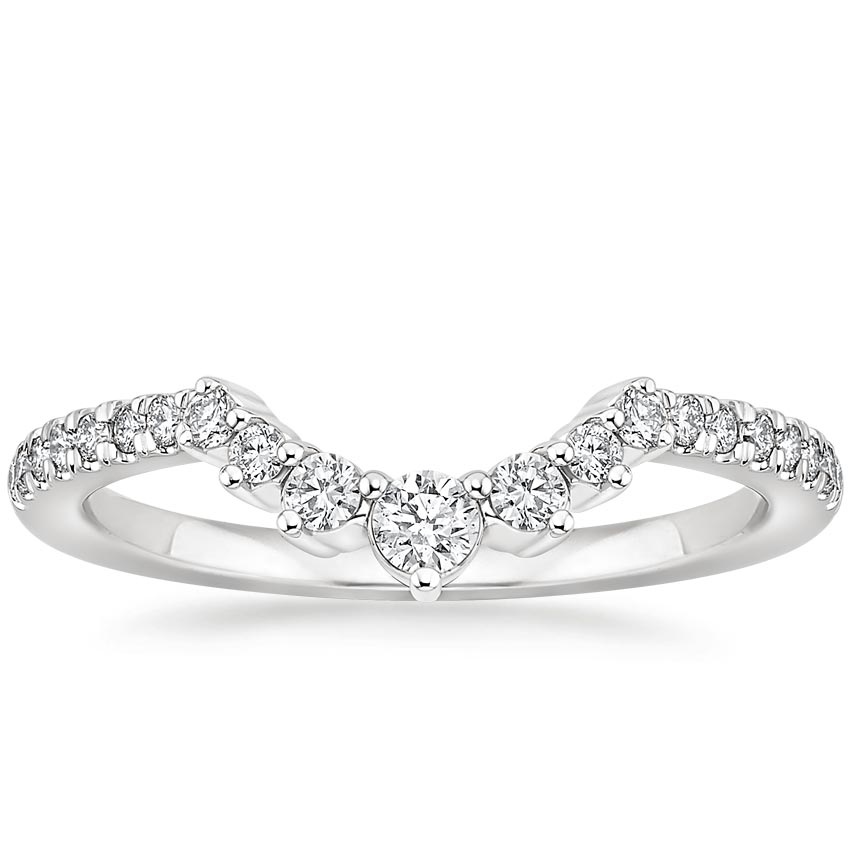 Curved and contoured wedding rings embrace your engagement ring in a unique way and pair well with many engagement ring settings – especially fancy shaped diamonds. A graceful curve of sparkling diamonds adds glamour to this pavé design. 
Tiara Ring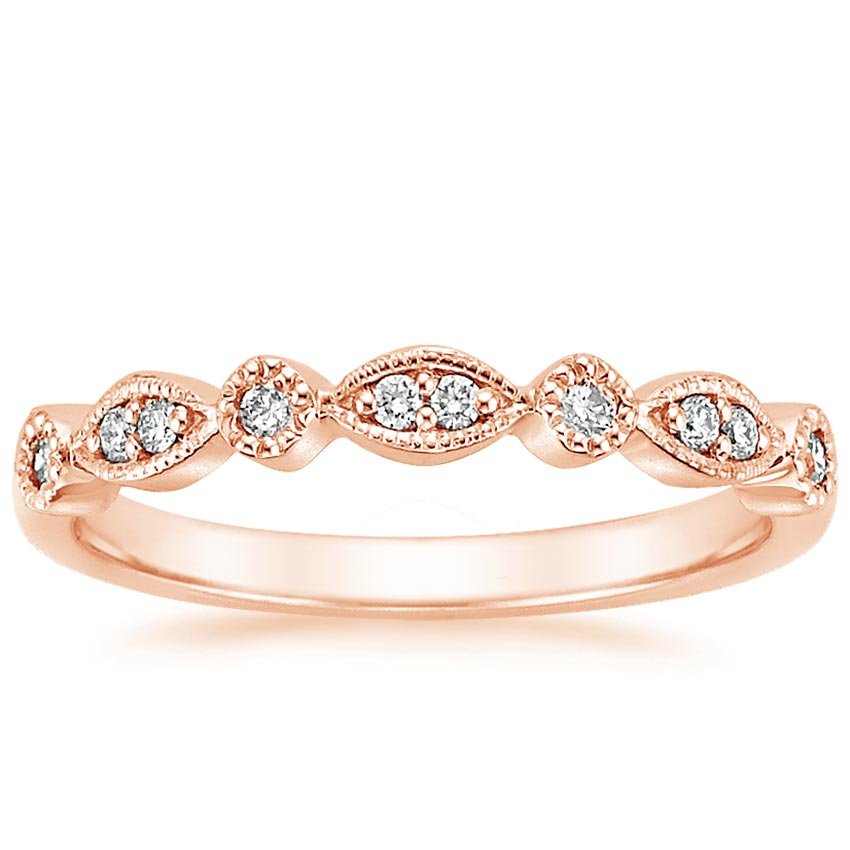 Vintage inspired wedding rings are heirlooms in the making. This delicate ring achieves a romantic, antique look with alternating round and marquise-shaped settings encompassing one-third of the shank. 
Luxe Sia Ring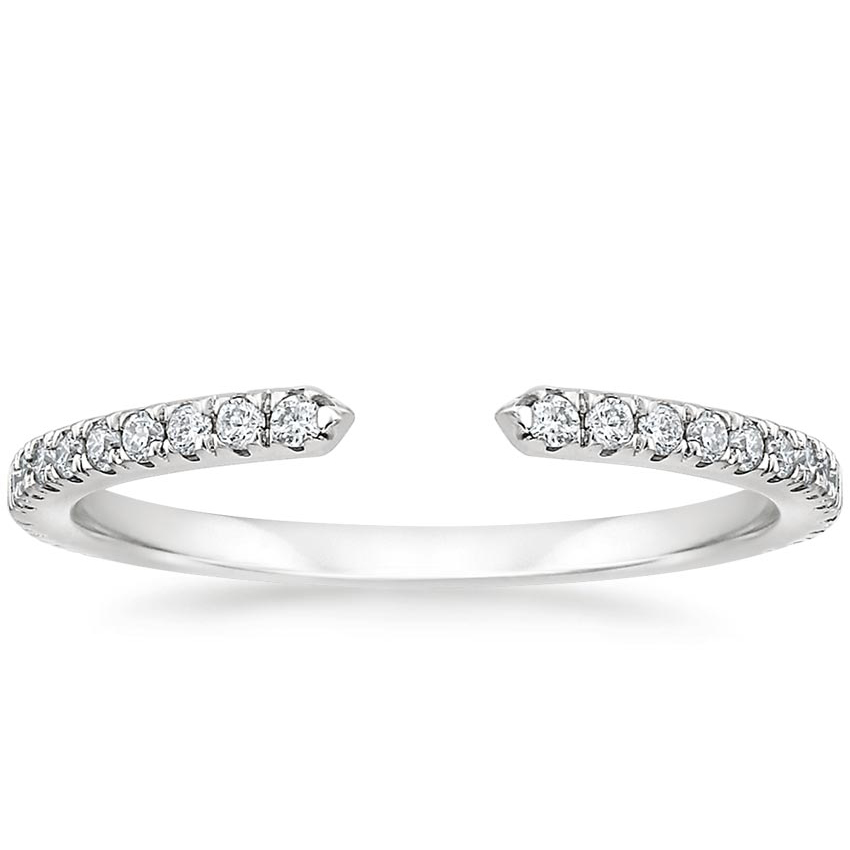 This petite diamond ring features scalloped pavé diamonds in elegantly sculpted prongs that extend three quarters of the way around the band. The open design allows the ring to sit flush and pair well with many engagement ring styles. 
Aimee Ring
 Sophisticated and alluring, this ring features glistening diamonds spaced elegantly half-way around a precious metal band. 
Olivetta Ring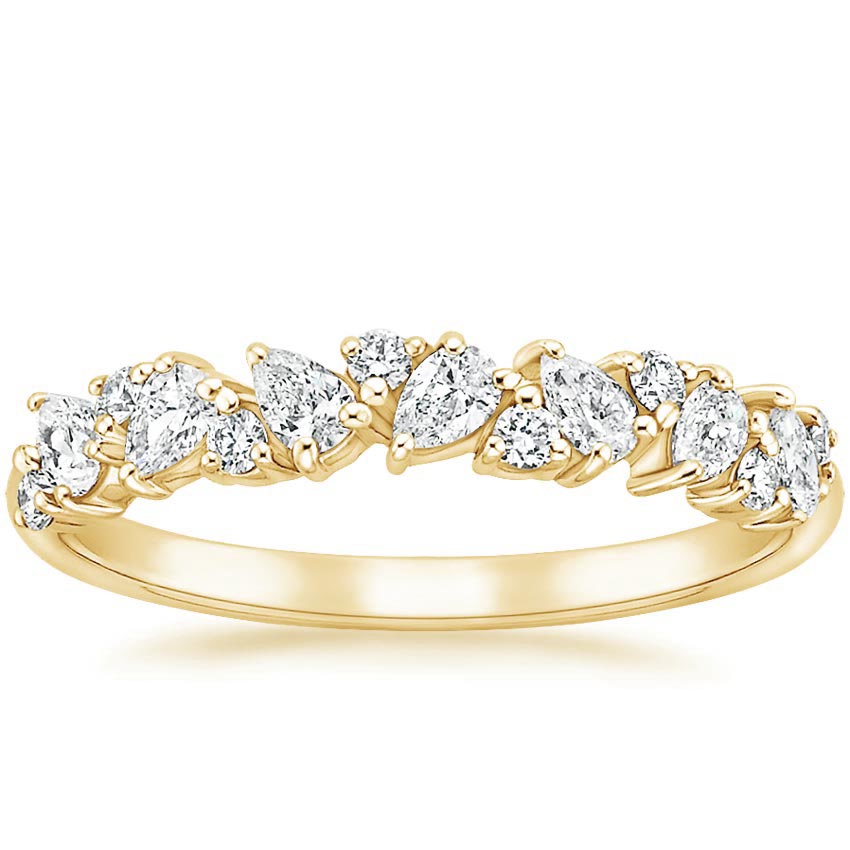 Looking for standout sparkle? This beautiful ring evokes femininity and romance with scattered round and pear-shaped diamonds that shimmer along the top of the band. 
Crown Diamond Ring Stack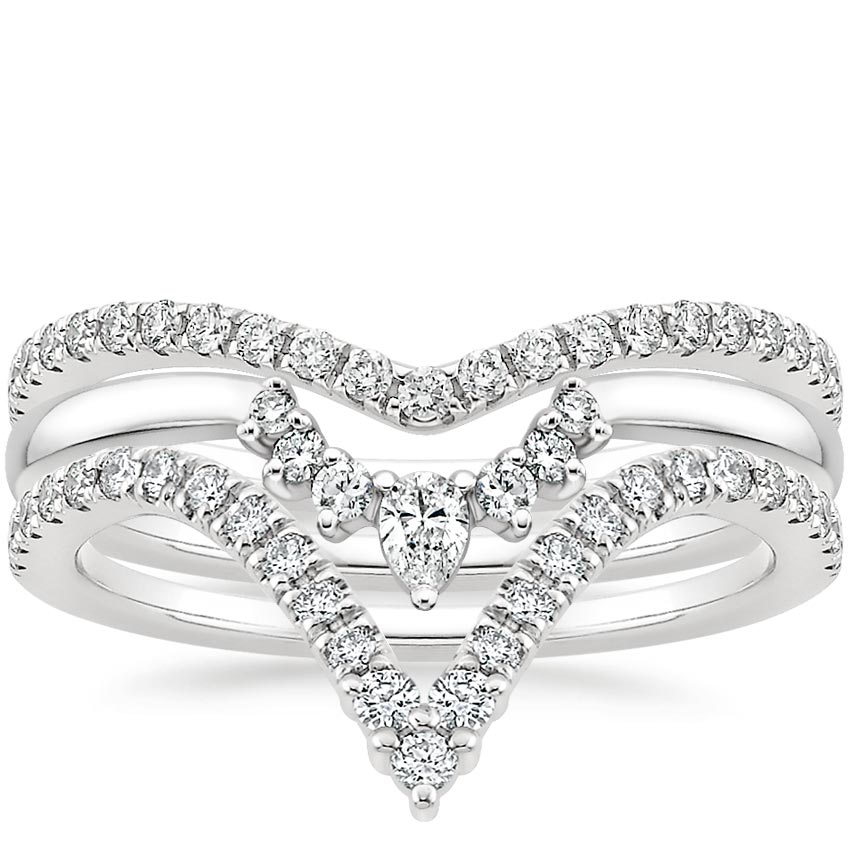 While a traditional bridal set consist of a wedding band and one engagement ring, some brides are opting for a stacked or nested bridal look that allows for infinite styling options and extra sparkle. Three rings comprise this gorgeous stack for a lustrous, shimmering look. 
Unique Wedding Band Ideas For Men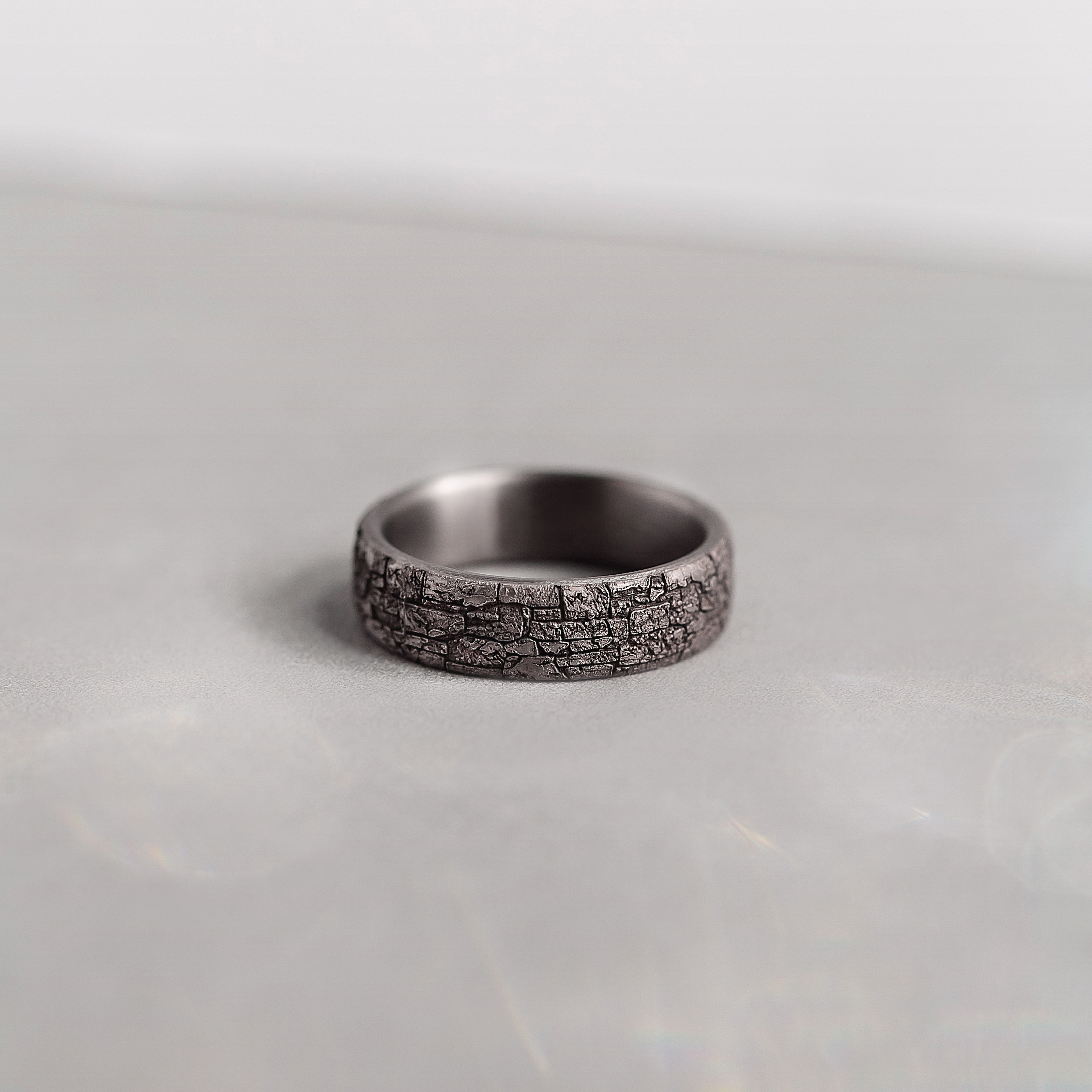 All eyes on him with our collection of unique wedding bands for men. From alternative metals to unexpected textures – read on to discover some of our favorite unique original wedding rings for men.  
Jett Ring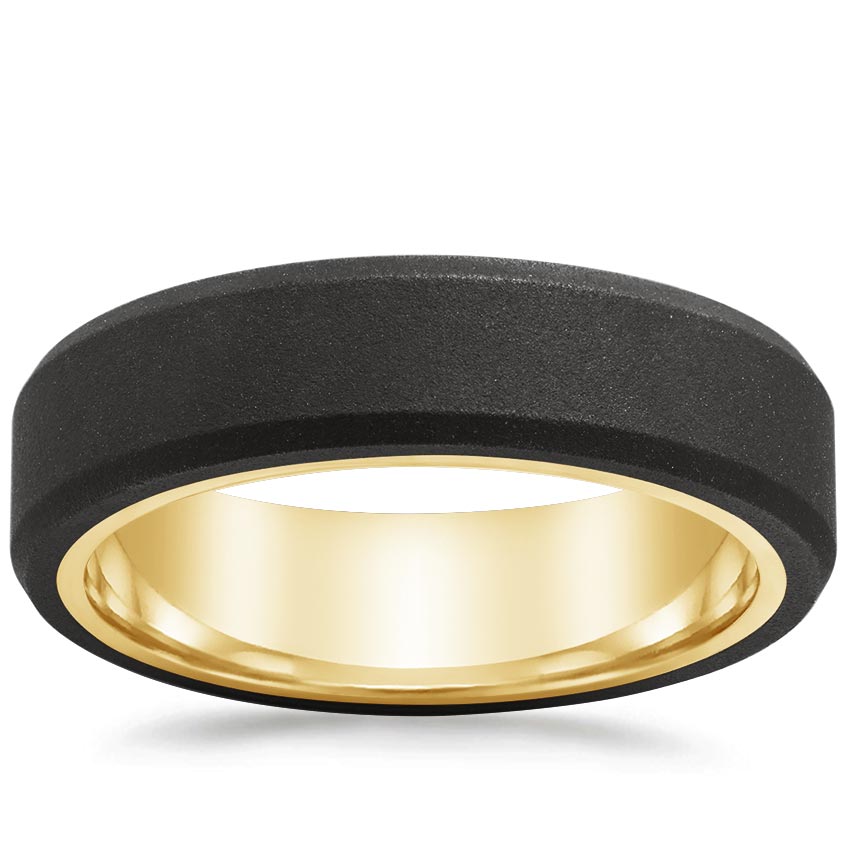 Alternative metals like tantalum, tungsten, and meteorite are becoming increasingly popular choices for men's wedding rings. This mixed metal wedding band features a raw black tungsten exterior complemented with your choice of yellow, rose, or white gold for an elevated, contemporary look. 
Summit Ring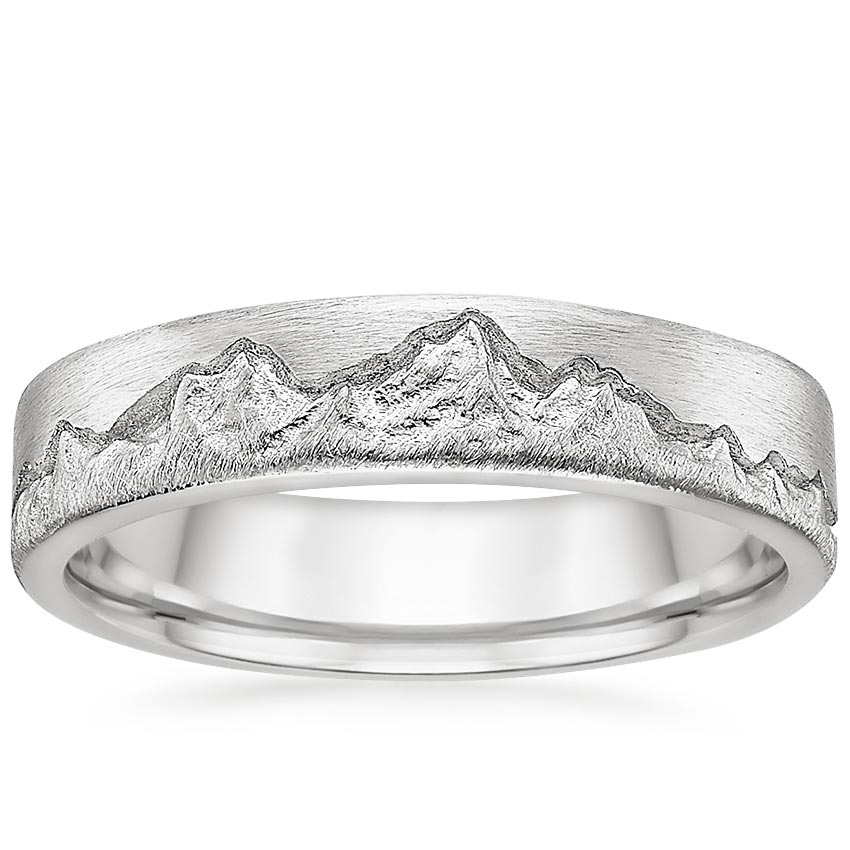 A breathtaking landscape of Mount Everest adorns a brushed-matte band in this unique, nature-inspired wedding ring.  
Endeavor Ring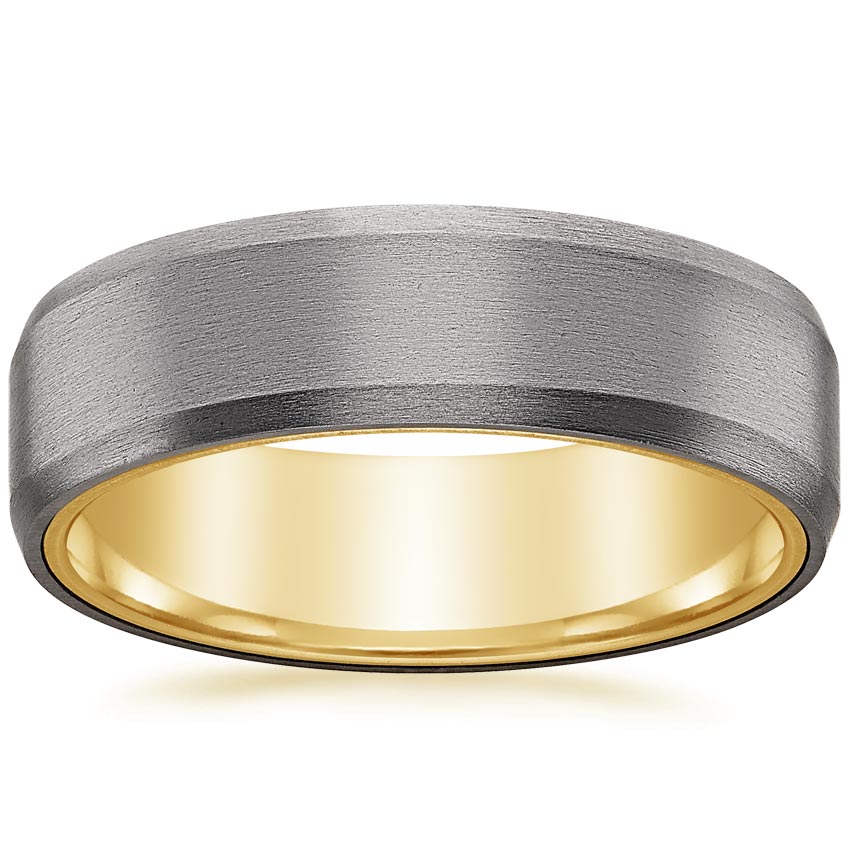 A sophisticated beveled edge adds classic appeal to this contemporary mixed metal design that features a satin-finish Tantalum exterior with a sleek gold interior for a polished look. 
Cuzco Ring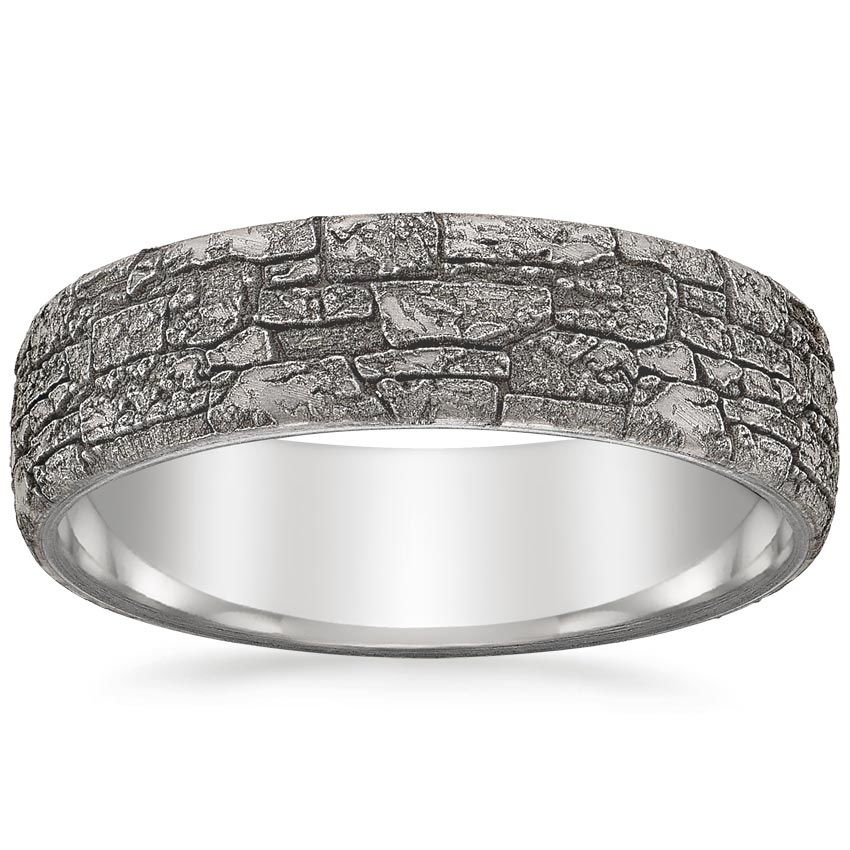 This unusual wedding ring design features a stone wall-like exterior texture in Tantalum for an eye-catching, trendy design. A high-polished gold inner band provides sleek comfort in this mixed metal ring. 
Magnus Ring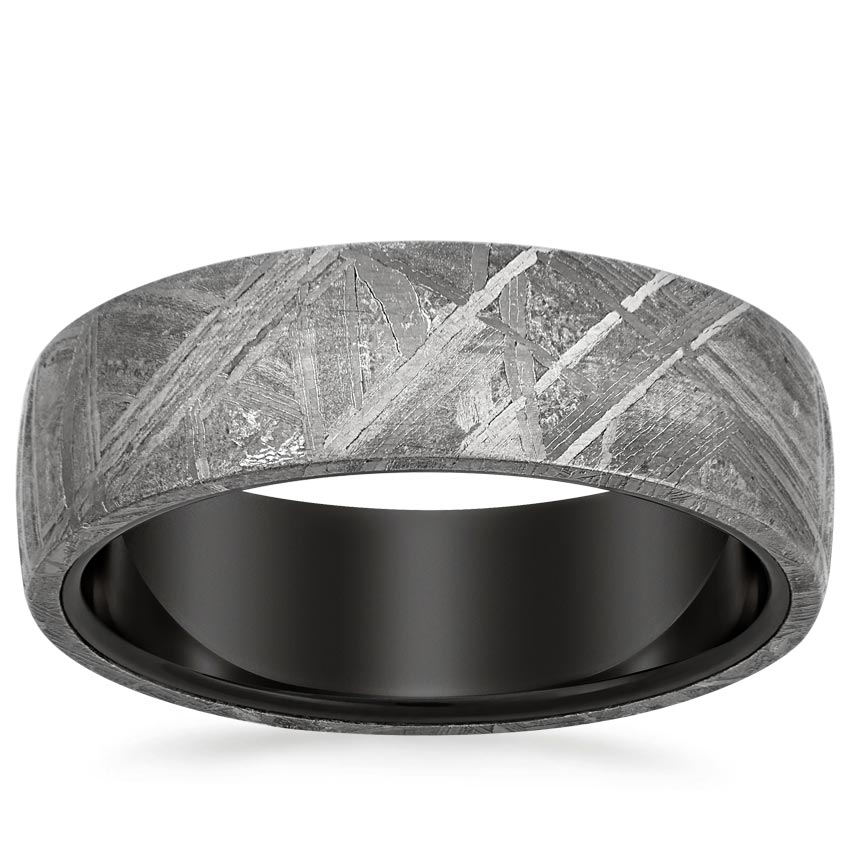 No two meteorite rings are the same, making this ring a distinctive choice for a wedding band. This modern take on a classic band features a meteorite exterior balanced with a black tungsten interior for a unique and bold look. 
Unique Matching Wedding Band Sets For Couples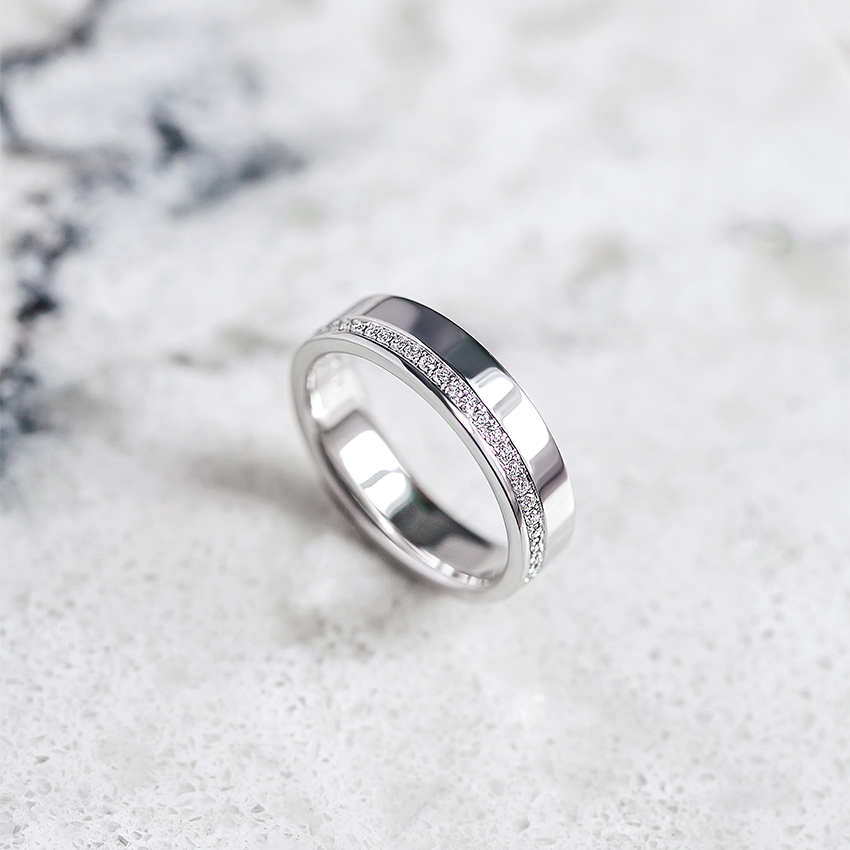 While we're all about bending the rules, there is something special about following tradition. For couples looking to have matching wedding rings – we have rounded up some of our favorite gender-neutral wedding band styles for couples that are sure to make you want to say, "I do." 
Austin Ring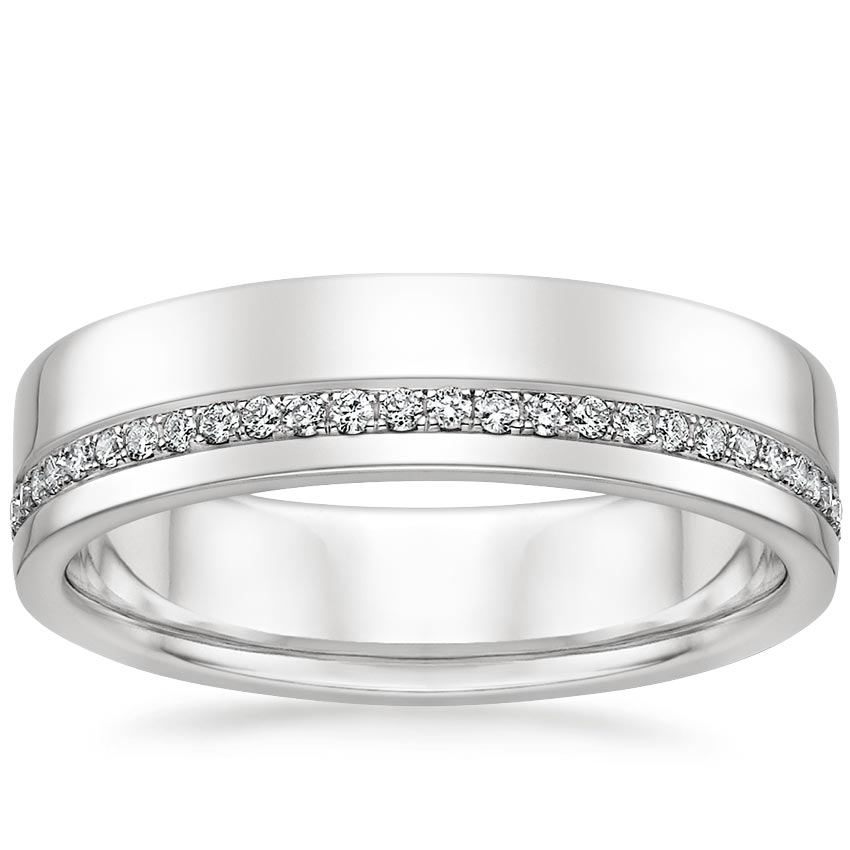 Our Rings for Everyone Collection of gender-neutral rings celebrates each unique form of love and seeks to blur the lines of traditionally feminine and masculine styles. This contemporary ring features an asymmetrical diamond groove that extends half of the way around the high polished band.  
Apollo Sapphire Ring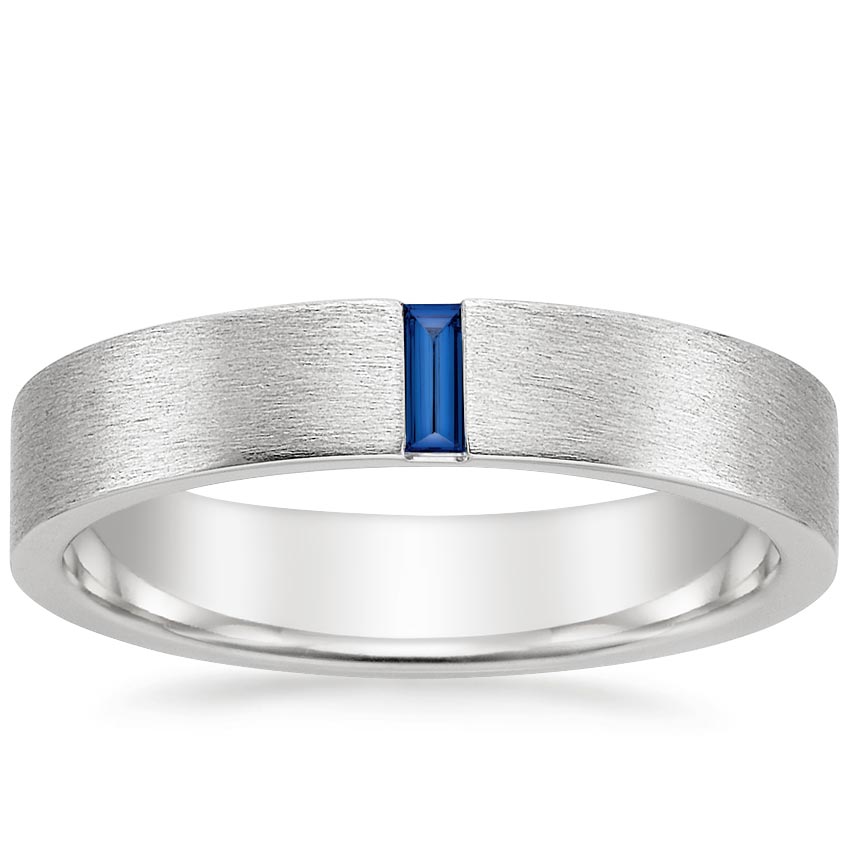 Gemstone wedding rings add the perfect pop of color. This modern wedding band features a vertical baguette sapphire set against a matte brushed finish for a defining look. 
Apex Ring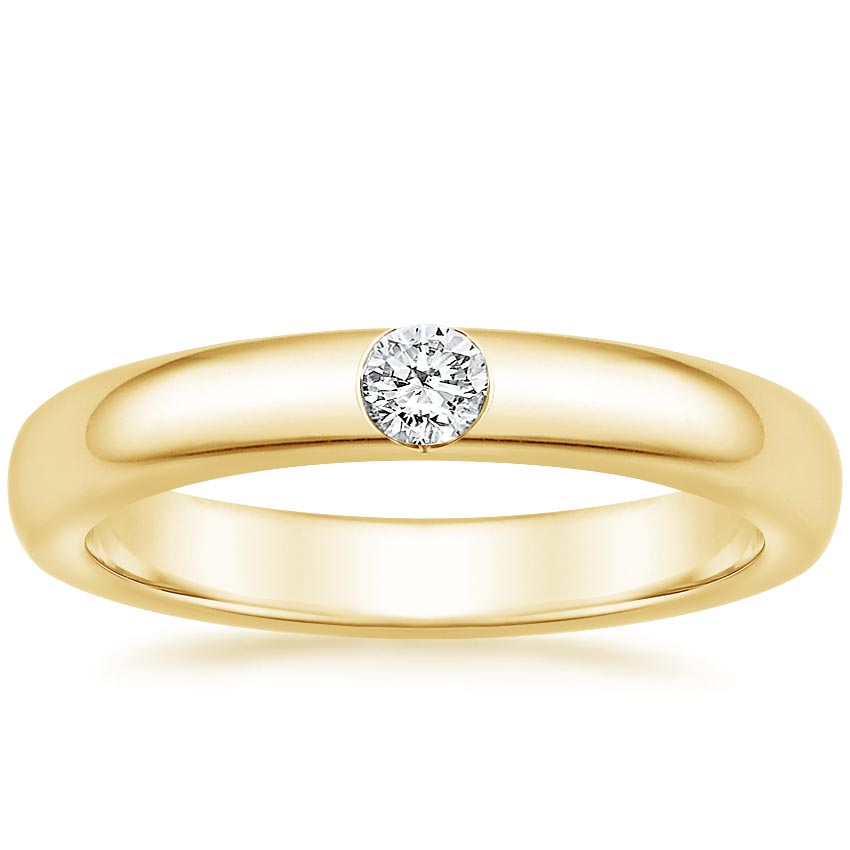 This striking band features a shimmering diamond flush-set at its center. Eye-catching and unique, this ring is sure to command attention. 
Rae Diamond Ring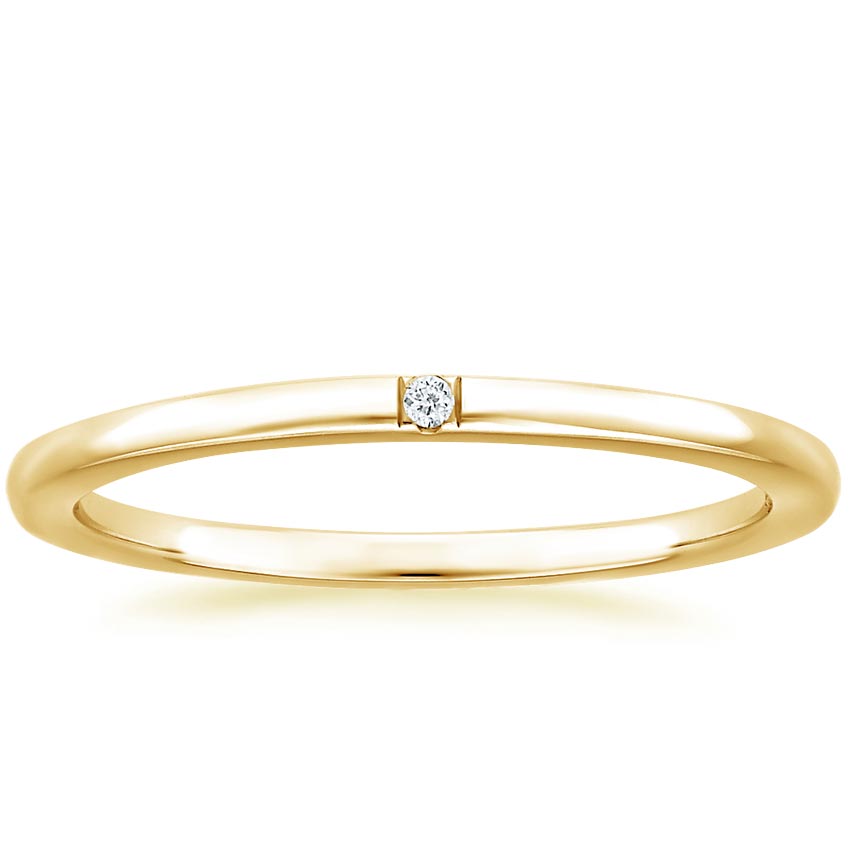 For the minimalist couple – a single diamond sparkles within a band of precious metal in this sleek and elegant ring. 
Final Thoughts
Which original wedding ring style would you choose? Let us know on Instagram, Facebook, Twitter, or in the comments section below!