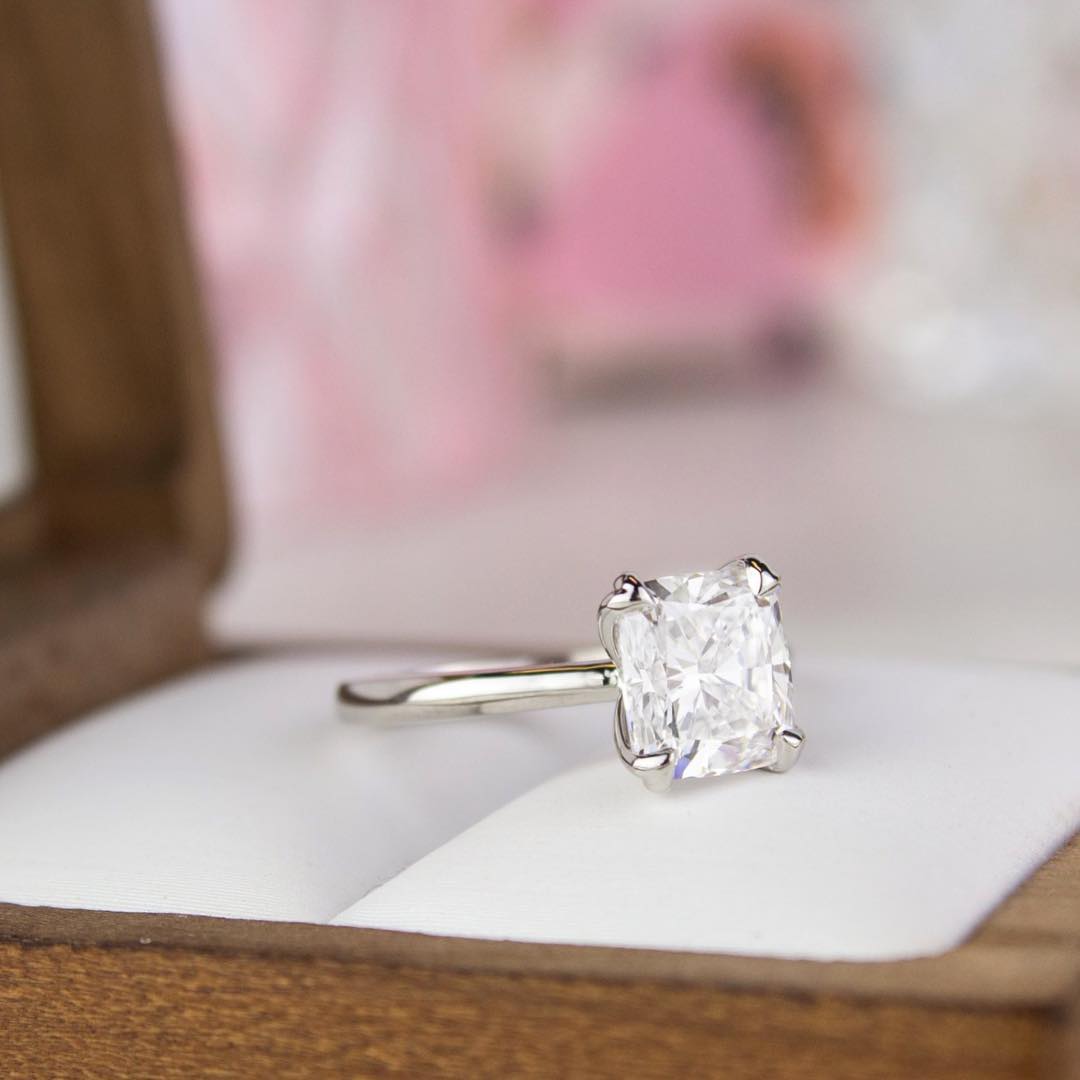 A diamond solitaire is the quintessential engagement ring. Although other engagement ring settings rise and fall in popularity, a solitaire ring is a classic with constant, unwavering appeal. Fans of the solitaire engagement ring love its clean lines, and the fact that the diamond or other center gemstone is the dazzling focal point, with no smaller gems to distract from it.
History of Solitaire Engagement Rings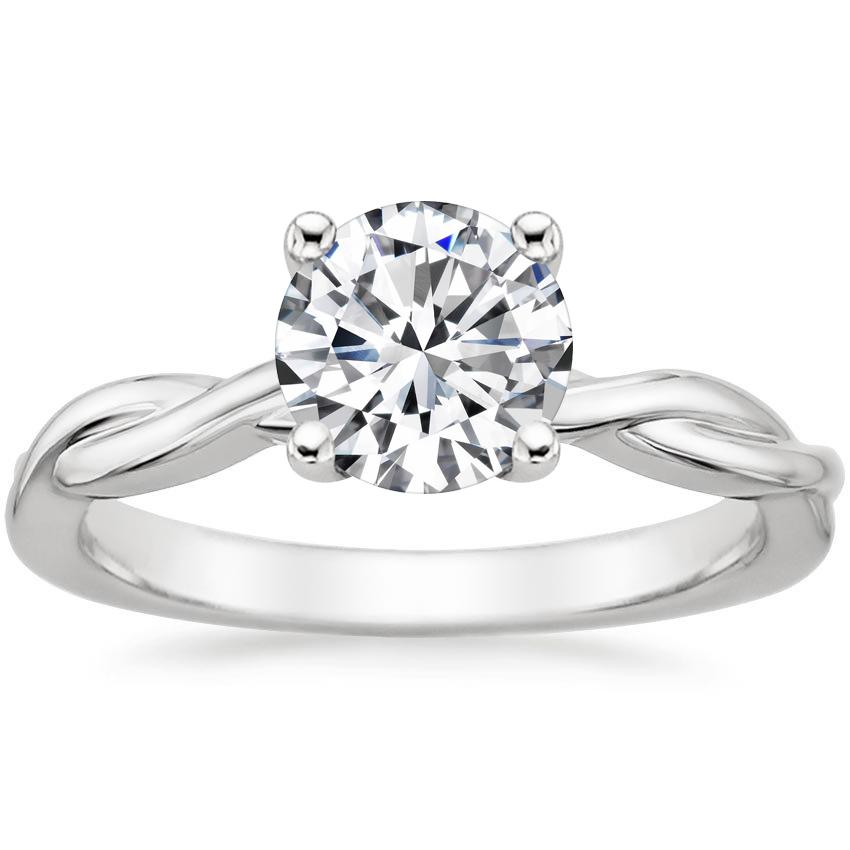 Many people trace the origins of the modern engagement ring back to 1477, (when Archduke Maximilian of Austria proposed to Mary of Burgundy with a ring set with diamond flecks in the form of an M). Others contend that the tradition goes back much further—to cavemen weaving rings out of grass to claim their mates and Egyptians buried with rings made of silver or gold wire wrapping the third finger on their left hand, which connects to the heart via the vena amoris (the love vein). But with the arrival of the Tiffany-style diamond solitaire ring in 1886, diamond engagement rings changed proposals and engagements—and how we think about both—forever. The first diamond solitaire ring broke with the past by lofting a single beautiful diamond above a delicate precious metal band. This design featured the center gemstone prominently and allowed for maximum light play and sparkle. Until then ring designs had emphasized intricate settings, so it was a shift to place the attention on a single glittering gemstone.
Reasons to Love Solitaires
A solitaire engagement ring is the definition of classic, and offers elegant beauty that never succumbs to trends. They highlight the magnificence of your diamond or gemstone, and look great with both modest sized diamonds and the most sizable gems.
Choosing a Diamond for a Solitaire Ring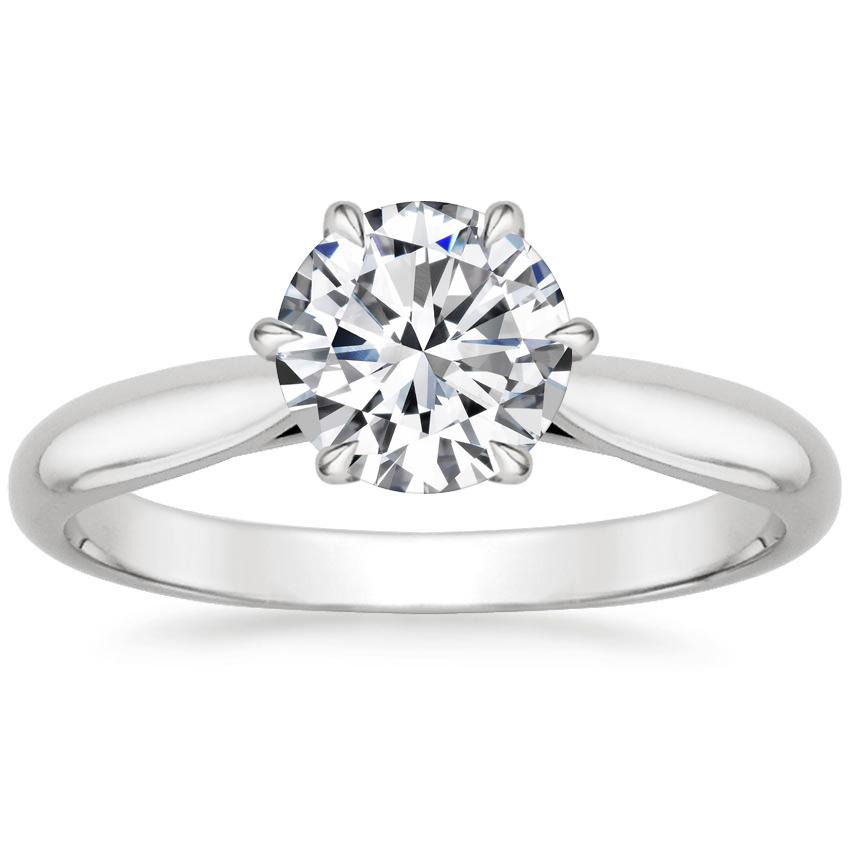 A solitaire engagement ring places the center diamond—or other gemstone—squarely in the spotlight. For that reason, it's extra-important that you choose a gem that balances size and quality within your budget, and a shape will that help you achieve the perfect balance. Although round brilliant shaped diamonds are the most popular choice for solitaire rings, due to their classic look and fiery brilliance, keep in mind that other shapes make beautiful solitaires and usually offer more value. Square princess cut diamonds have a brilliance similar to that of round cuts, and are the second most popular shape. We adore marquise, oval, and pear shaped diamonds because they sparkle like rounds, but their distinctive oblong shapes elongate fingers, creating a graceful look that can make your overall carat weight appear higher. If you prefer straight, clean lines you might prefer a solitaire featuring a princess, asscher, or emerald cut diamond. Emerald and asscher cuts are less sparkly, but they highlight a diamond's clarity, and because of the way they are cut they often give the appearance of having higher carat weight than they do. For help selecting your perfect gem and solitaire setting, contact one of our jewelry experts at any time for assistance.
Different Solitaire Settings and Styles
There are many style and setting options within the realm of solitaire engagement rings. The most popular choice is still the Tiffany-style setting, with a carefully selected single diamond set with four or six prongs atop a delicate precious metal band. These settings maximize the amount of light that hits your center gem, showing off its brilliance. However, some women prefer a ring with a lower profile, like a bezel-set solitaire. Both types of settings are beautiful in their own way. Yes, solitaire rings are elegantly simple in design, but that doesn't mean they're all the same. These rings can be classic, modern or utterly unique. These are the six basic categories of solitaire ring styles:
Classic Solitaire Rings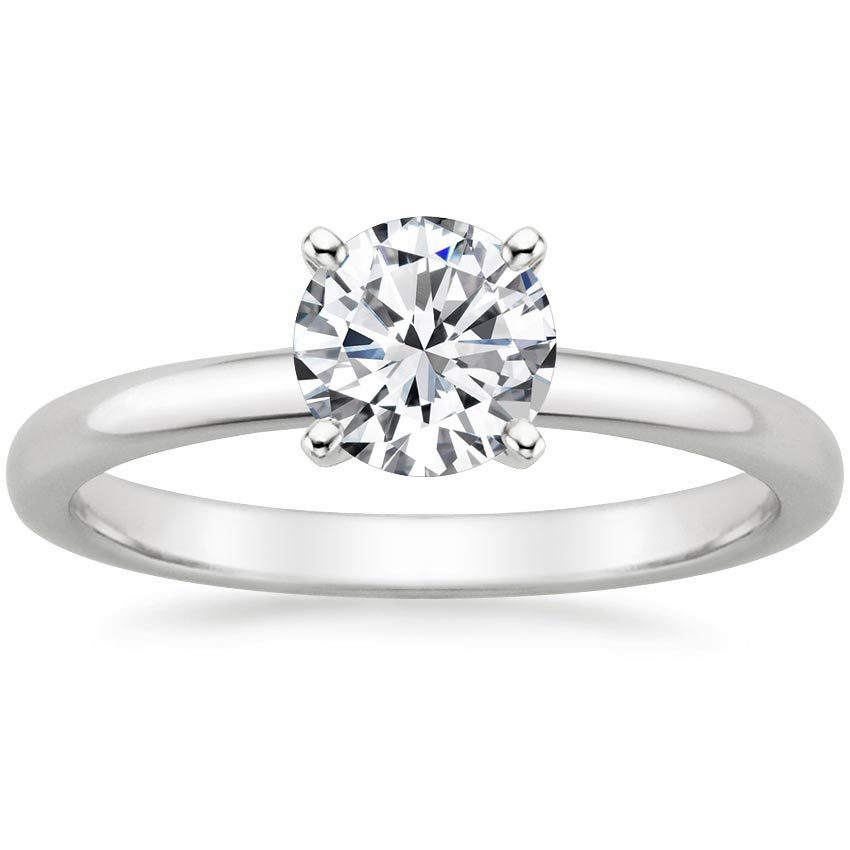 The most popular choice is still the Tiffany-style setting, with a dazzling single diamond—most often a round brilliant diamond or a princess cut diamond—set with four or six prongs atop a delicate precious metal band. True traditionalists swoon for our 18K White Gold 2mm Comfort Fit Ring.
Classics with a Twist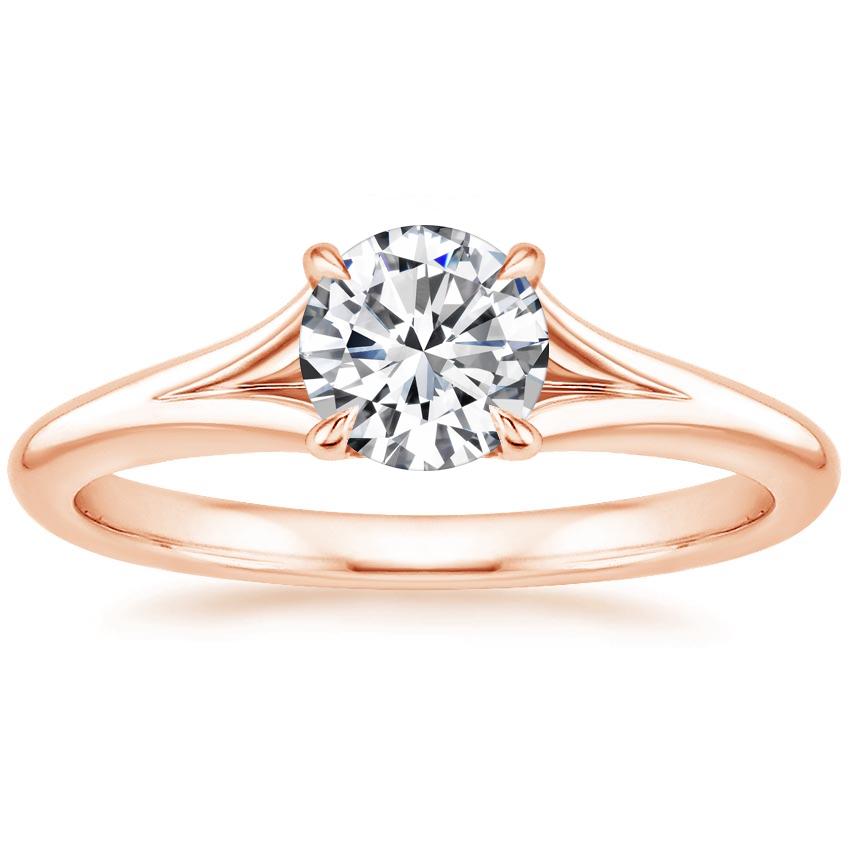 If you crave a classic solitaire that's ever so slightly unique, consider changing the diamond shape—you might consider an emerald cut diamond, a pear shaped diamond, or a cushion cut diamond. Another option is to select a sapphire or a colored diamond for the center gem, or you might choose rose gold instead of the more expected white and yellow golds.
Contemporary Solitaires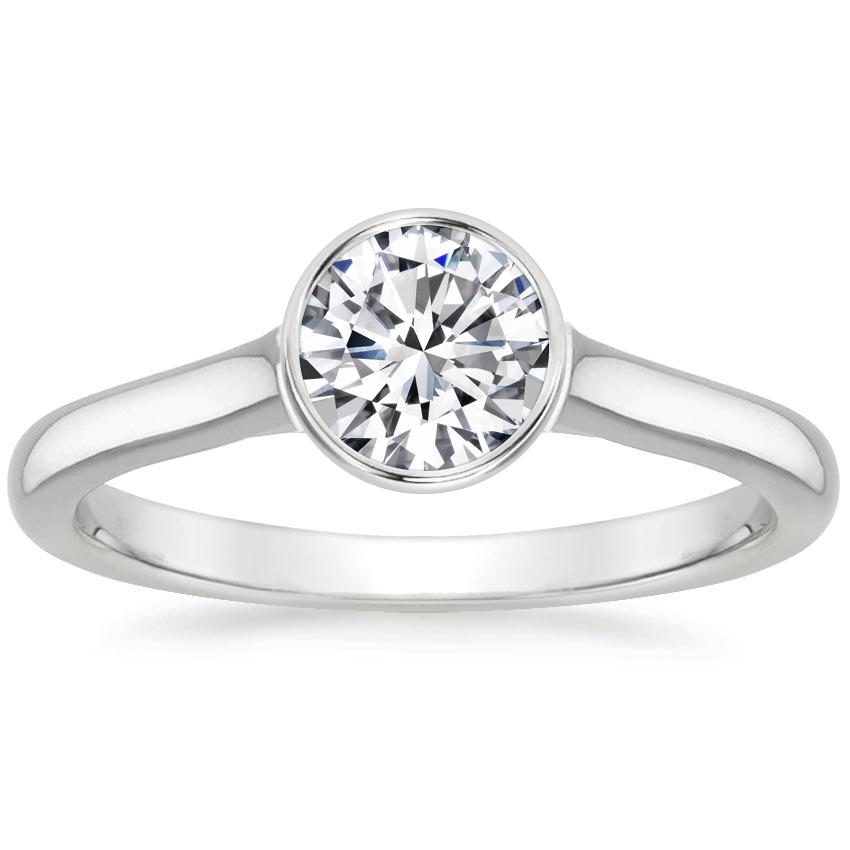 If you want a more contemporary look, opt for a sleek bezel setting, like our Luna Ring. Or choose a solitaire engagement ring style with a wider band, such as our sleek and chic Marina Ring.
Unique Solitaire Designs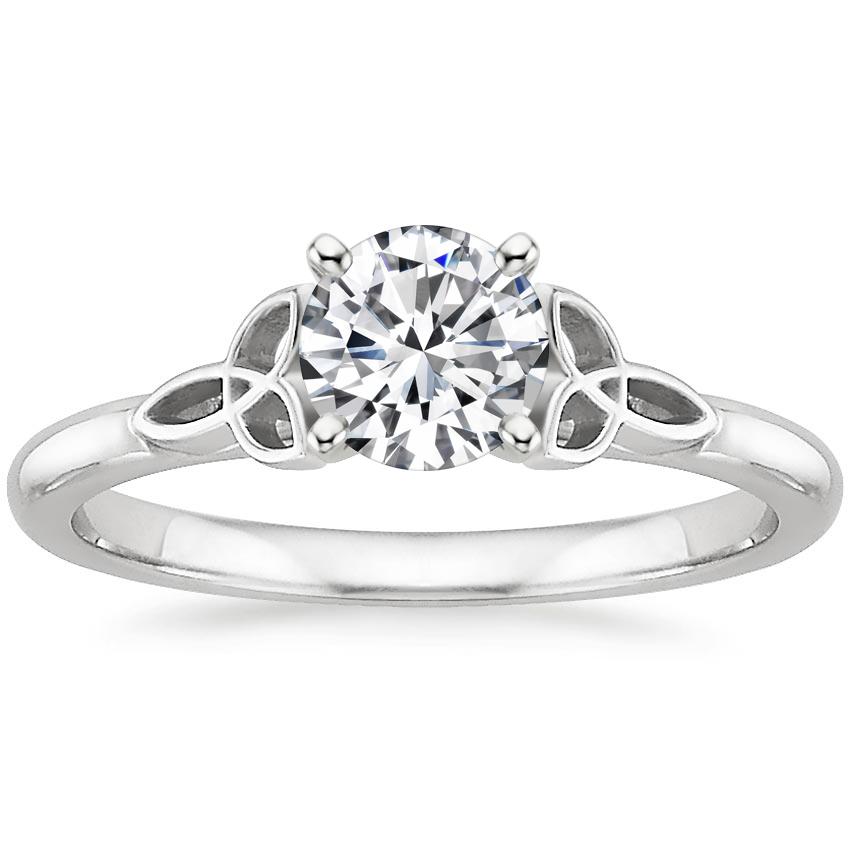 For a solitaire ring that puts a truly contemporary spin on this classic style, consider a ring with a curving band, such as our Grace Ring. Those looking to honor their Irish heritage may choose a solitaire in a Celtic Love Knot design.
Nature-Inspired Designs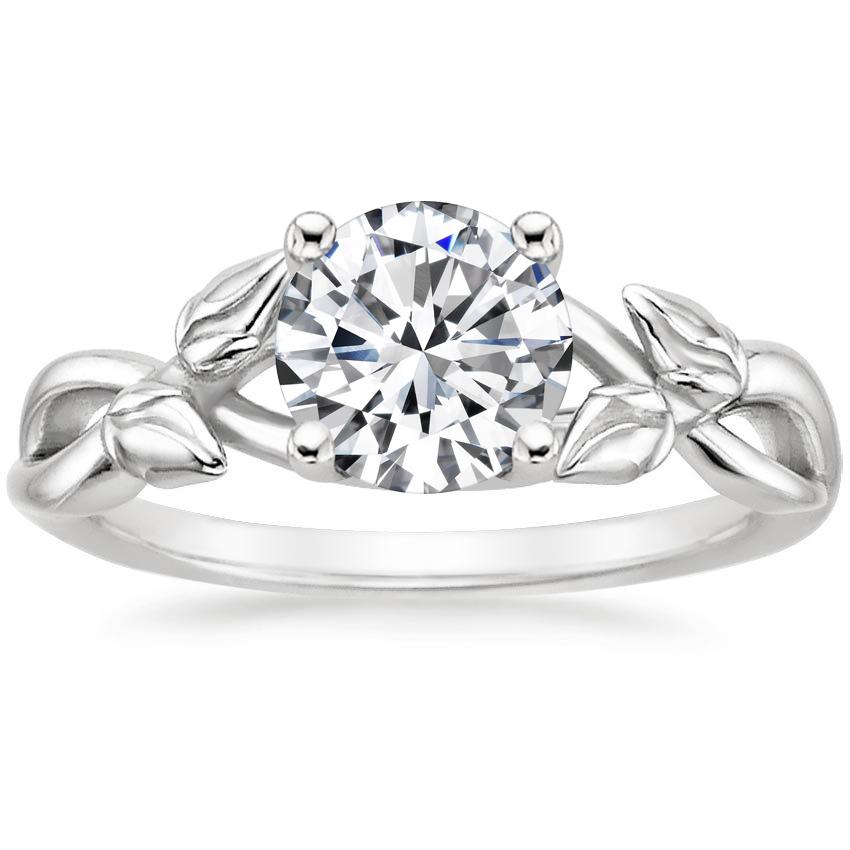 Often couples who love the outdoors are attracted to solitaire engagement rings with nature-inspired designs, such as our Budding Willow and Elodie rings.
Antique Styles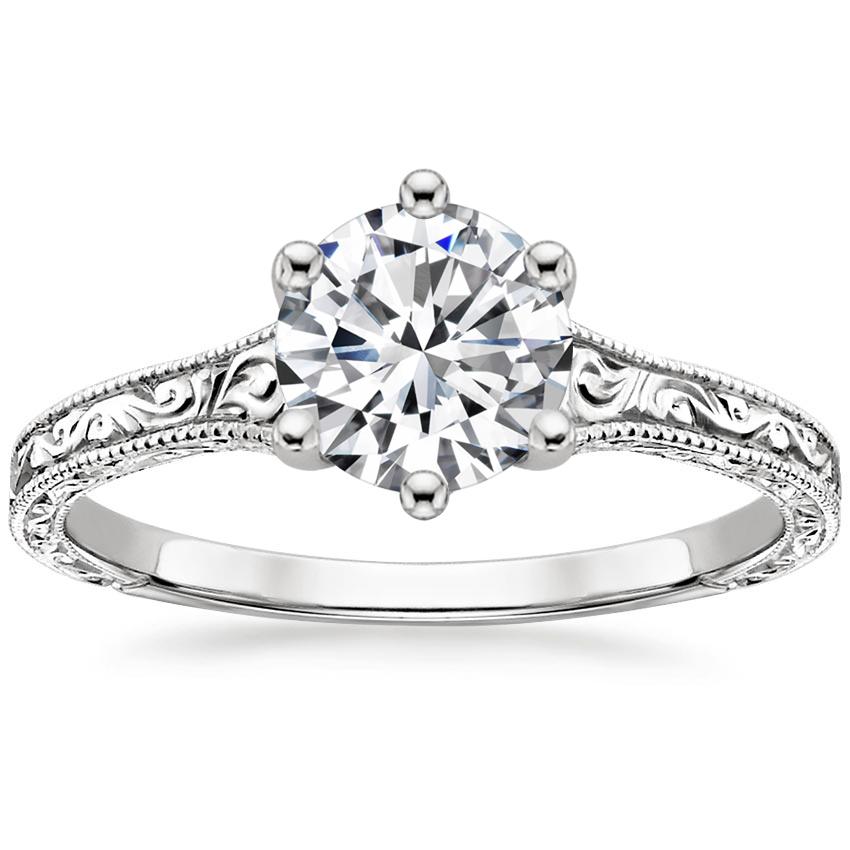 Our vintage-style solitaires feature antique details like hand engraving and delicate milgrain detail on the bands, creating a stunning backdrop for a center diamond. The Hudson ring is one of our most sought after antique-inspired styles. However, if you are interested in a true antique ring, consider choosing a one-of-a-kind solitaire from a past decade. Many of these solitaires feature lacy filigree, and incredibly unique features that you won't find anywhere else. These details enhance the beauty of the center diamond.
Pairing a Wedding Ring with a Solitaire Engagement Ring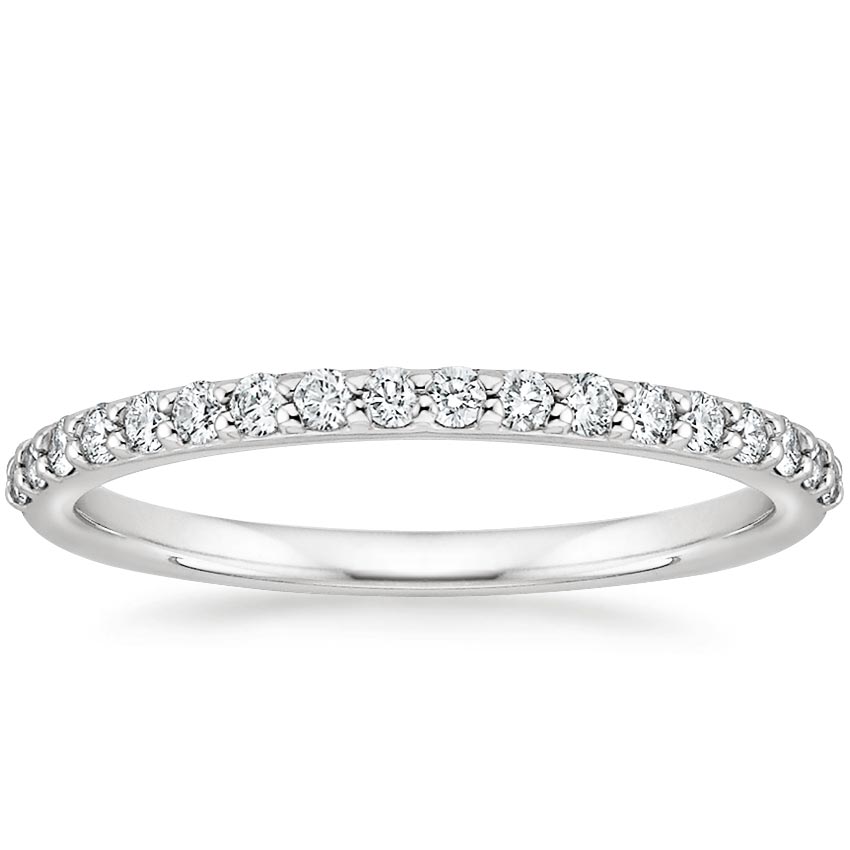 Because of their clean lines, solitaire rings marry well with almost any wedding band. If you receive a solitaire as an engagement ring and decide you want a little extra sparkle, pair it with a wedding band featuring diamond accents or other precious gems. You may even choose to add more glittering rings to that third finger, by celebrating a special anniversary with an anniversary ring, or marking the birth of a child with a diamond band.
Final Thoughts
You can't go wrong with a proposal that includes a stunning diamond solitaire engagement ring. With a rich history and an everlasting style and meaning, solitaire engagement rings are the purest representation of your love, intentions, and eternal commitment.