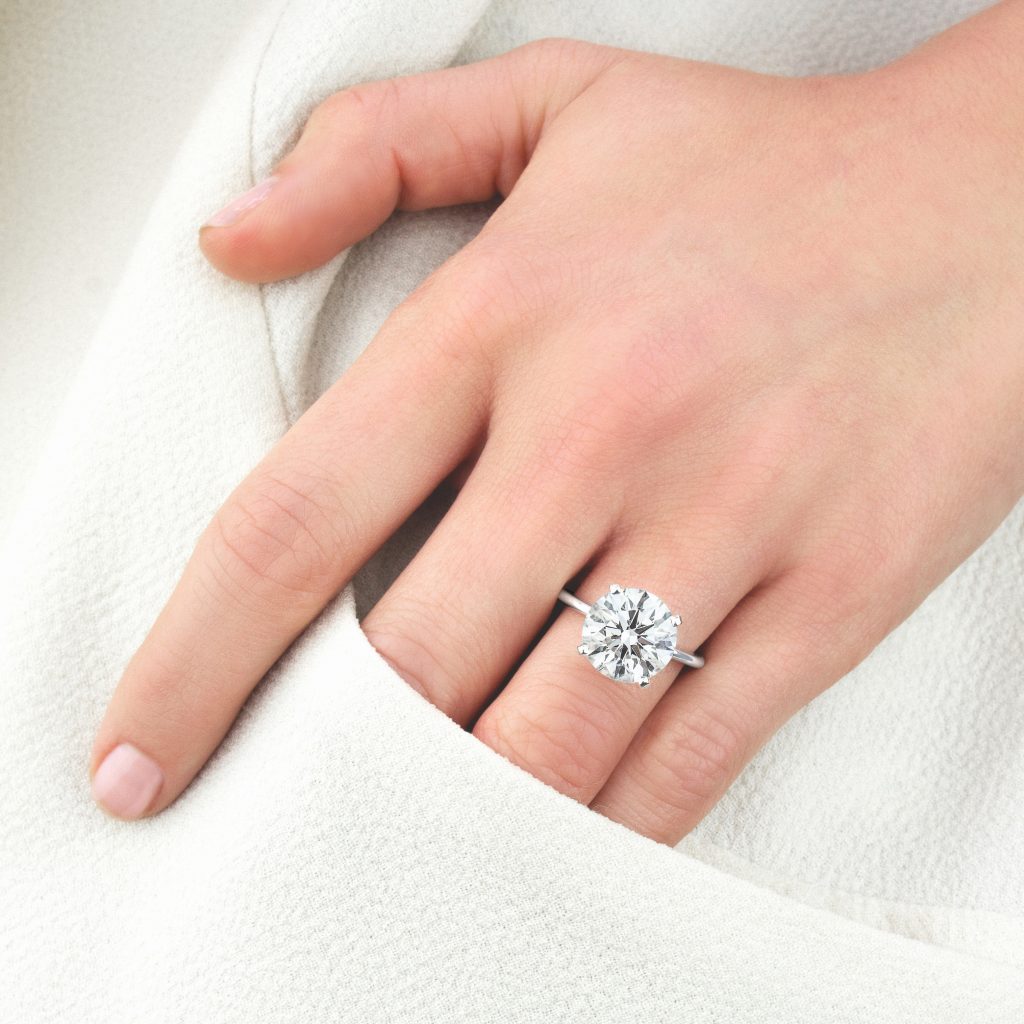 Classic, elegant, timeless – it's no wonder that solitaire engagement rings have remained one of the most popular ring styles for over a century.
What is a Solitaire Engagement Ring?
Solitaire settings feature a single diamond, which allows your diamond's brilliance to be the focal point of your ring. The enduring simplicity of solitaire rings also means they can accommodate a wide variety of diamond shapes and sizes. Round diamonds are the classic choice for solitaire engagement rings, but fancy shaped diamonds like cushion, oval, pear, radiant, and emerald cut are popular options as well. 3 carat solitaire diamond rings or larger sizes look stunning and make an engagement ring a true statement piece, but a diamond doesn't have to be that large to make an impact!
Elements like metal color and intricate details can give a solitaire ring a distinct look, unique to the wearer's personal style. Rose gold solitaire engagement rings make for a look that's at once vintage and modern in feel, and the warm metal color looks striking against many skin tones. From finishing details like elaborate filigree, hand-engraving, and milgrain to modern split shank, cathedral, and nature-inspired settings, a solitaire ring can be whatever you want it to be. The style, color, details, and diamond shape are up to you!.
To celebrate these classic beauties, we've rounded up some of our most popular solitaire engagement ring settings.
Four-Prong Petite Comfort Fit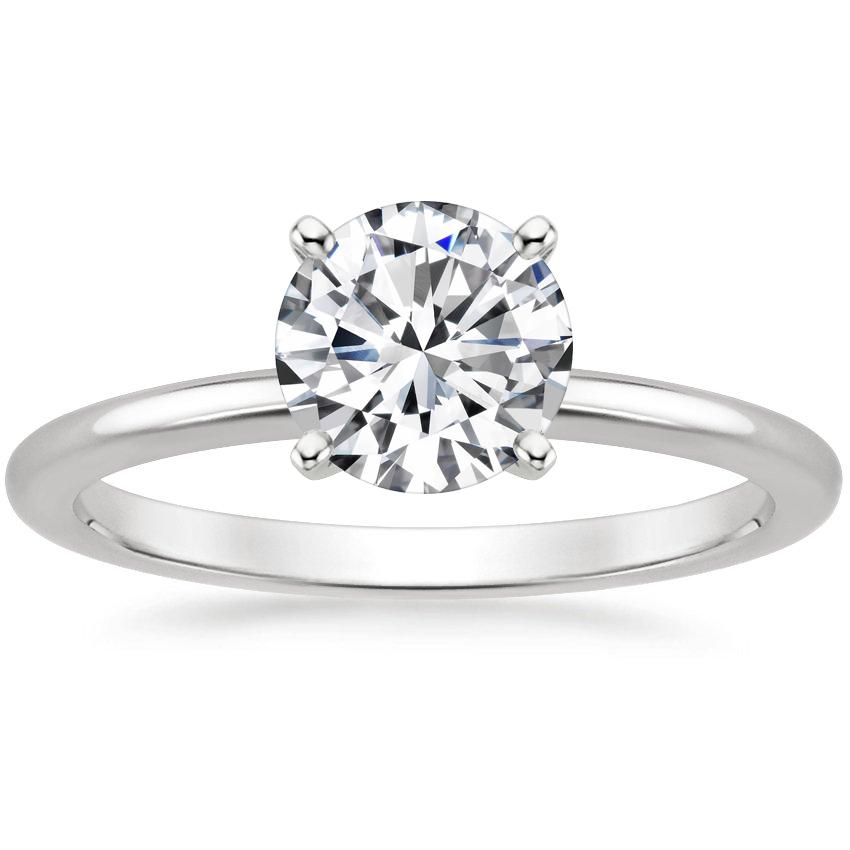 Classic and sleek, this solitaire ring features a band with rounded edges for optimal comfort – making it an ideal ring for everyday wear. Round solitaire engagement rings like this are about as classic as you can get! The subtle prongs of the Four-Prong Petite Comfort Fit ring also create a blank canvas to show off your diamond to its full advantage.
Elodie
The elegant claw prongs of the Elodie Ring securely cradle your diamond or gemstone in an open basket for a chic variation on a time-honored style. Additionally, gold solitaire engagement rings are a popular choice for the way warm yellow gold makes the center diamond pop and sparkle.
Reverie


A contemporary take on a classic hit! The Reverie Ring's ribbons of precious metal divide into a split shank to elegantly embrace the center stone.
Esme
The Esme Ring features six claw prongs, providing even more security for the center solitaire diamond. The delicate band serves to make the diamond appear even larger.
Entwined Celtic Love Knot
Just because solitaires feature a single stone, that doesn't mean they can't be unique and highly detailed! The Entwined Celtic Love Knot Ring features delicate loops that have no start or finish, symbolizing eternal loyalty, friendship and love.
Luna
Bezel settings like the Luna Ring feature a thin band of precious metal encircling the center diamond, creating a perfectly smooth edge and keeping the gem secure. The slight elevation of the bezel in the Luna Ring allows for even more light to pass through the diamond, allowing for maximum sparkle.
Twisted Vine
Shining twists of high-polished precious metal accentuate the brilliance of the center stone in the nature-inspired Twisted Vine Ring.
Caliana
Beauty blossoms in the nature-inspired Caliana Ring. The gentle taper of the band further accentuates the center diamond, giving it the appearance of a delicate bloom. In keeping with the floral theme, rose gold solitaire engagement rings with their warm and rosy tones are a popular choice for those looking for something unique.
North Star
The North Star is the brightest star in the Ursa Minor constellation and has famously guided explorers and sailors for centuries as it stays fixed in place, pointing north. The compass-point claw prongs of the North Star Ring allow your diamond to be the star of the show by navigating the eye straight to its sparkling center. Princess cut solitaire engagement rings also have all the sparkle of round brilliant cut diamonds, with a little more geometric interest, which works perfectly in a setting like the North Star ring.
Final Thoughts
Which of these solitaire rings is your favorite? Let us know on Instagram, Facebook, or Twitter, or leave us a comment below!