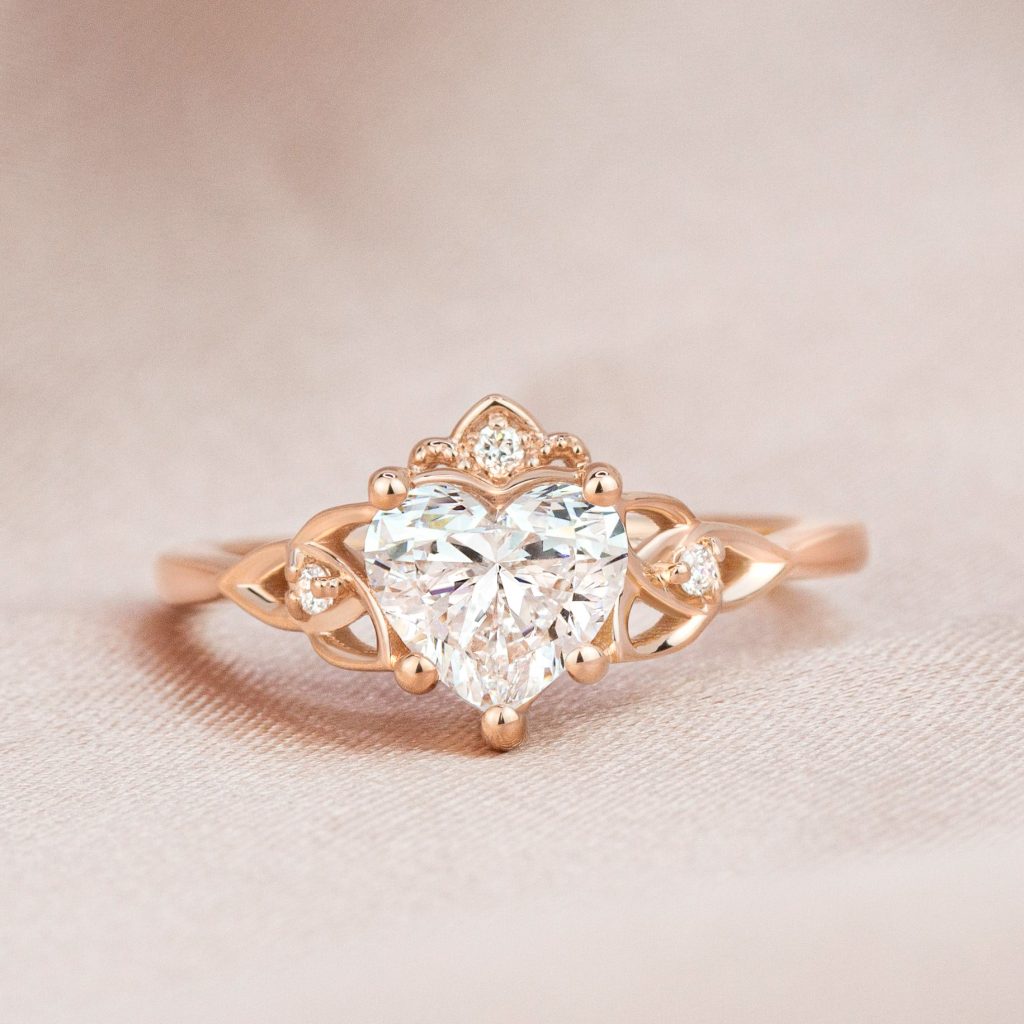 You don't have to be from the Emerald Isle to love Irish engagement rings. These beautiful, detailed rings are overflowing with history and symbolism, making them highly sought after for their enchanting appeal.
Irish engagement rings encompass a wide array of designs, from the knots and braids of the ancient Celts to the more recent style of Claddagh rings. If you are looking for a ring that symbolizes enduring love, these Irish rings are the perfect choice.
There are two main styles of Irish engagement rings. The first is the ever popular Claddagh ring. This ring can be worn four different ways throughout a lifetime, and they make beautiful family heirlooms. The second style features mesmerizing Celtic knots. These knots are looping and infinite, representing an endless path or never-ending love. These styles are beloved as engagement rings because of their romantic symbolism and charming designs.
Claddagh Engagement Rings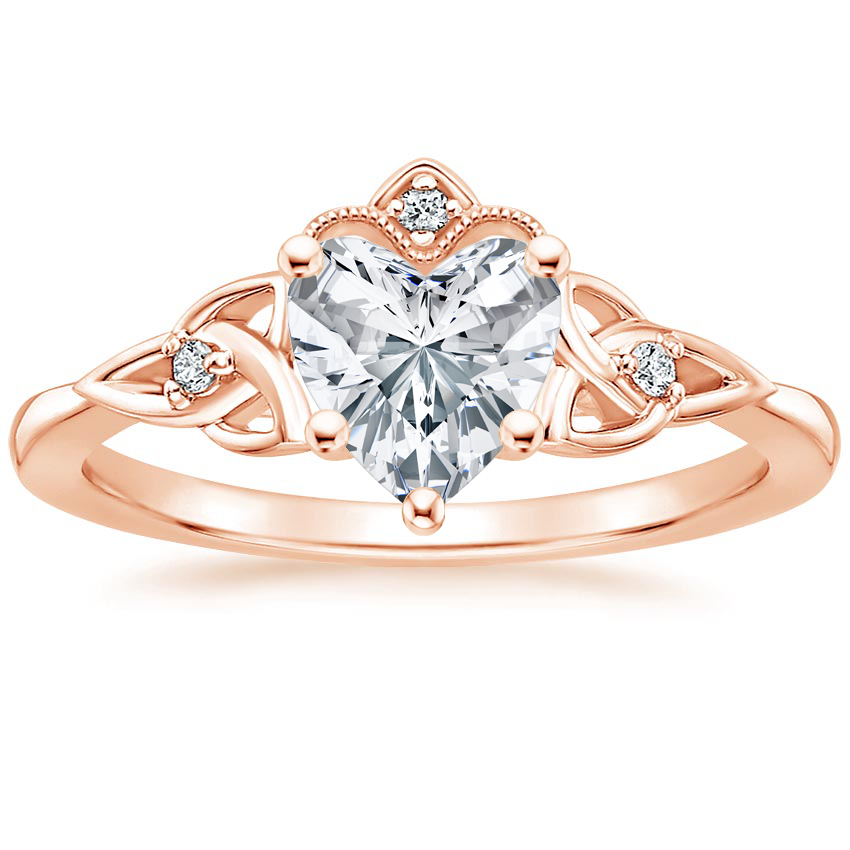 Though rings with Claddagh-type elements have reportedly been in existence for thousands of years, the traditional Claddagh ring was rumored to be created in 1700 by a young Irish man by the name of Richard Joyce. Joyce supposedly learned his trade of crafting fine jewelry overseas, but returned home to Ireland to marry his sweetheart and set up a jewelry shop selling the first Claddagh rings.
There are quite a few legends such as this, so jewelry experts continue to disagree on the Claddagh ring's true origin. For the foreseeable future it will remain shrouded in mystery, making Claddagh rings even more desirable.
Claddagh rings follow a simple style guide. At the top of the band, two hands clasp a heart, and on top of that heart is a crown. Once again, what these three images symbolize is not official, but this ambiguity allows you and your partner to create your own meaning.
Claddagh Ring Styles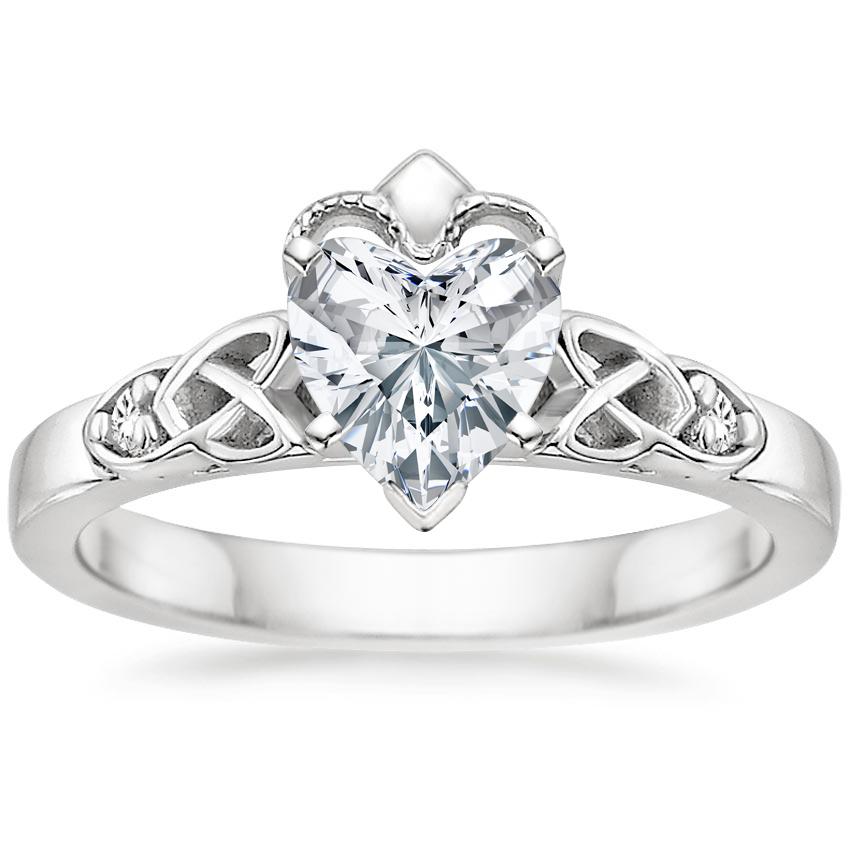 Simple Claddagh rings are made of precious metal and commonly include milgrain detailing around the crown. Both men and women opt to wear Claddagh rings, though the style is most popular among women.  If you want a bit of sparkle added to the ring, you can incorporate diamonds and gemstones in a variety of ways. Turn your Claddagh into an elegant solitaire diamond ring by replacing the heart with a round or heart shaped diamond or colored gemstone.
How to Wear a Claddagh Ring
Those who understand how Claddagh rings work will glance at your finger and make assumptions based on how you are wearing your ring. There are four options: single, in a relationship, engaged, and married. There's no "it's complicated" option, so you'll have to leave that for Facebook! As can be expected, wearing the ring on your right hand indicates that you are either single or in a relationship. If the crown is pointing toward you, it means you are single. If it is pointing away from you, it means you are in a relationship. When the ring is worn on the left hand, the crown pointing toward you means that you are engaged, and away from you means that you are married.
If you are going to give or receive a Claddagh engagement ring, make sure that you are in the know!
Celtic Knot Engagement Rings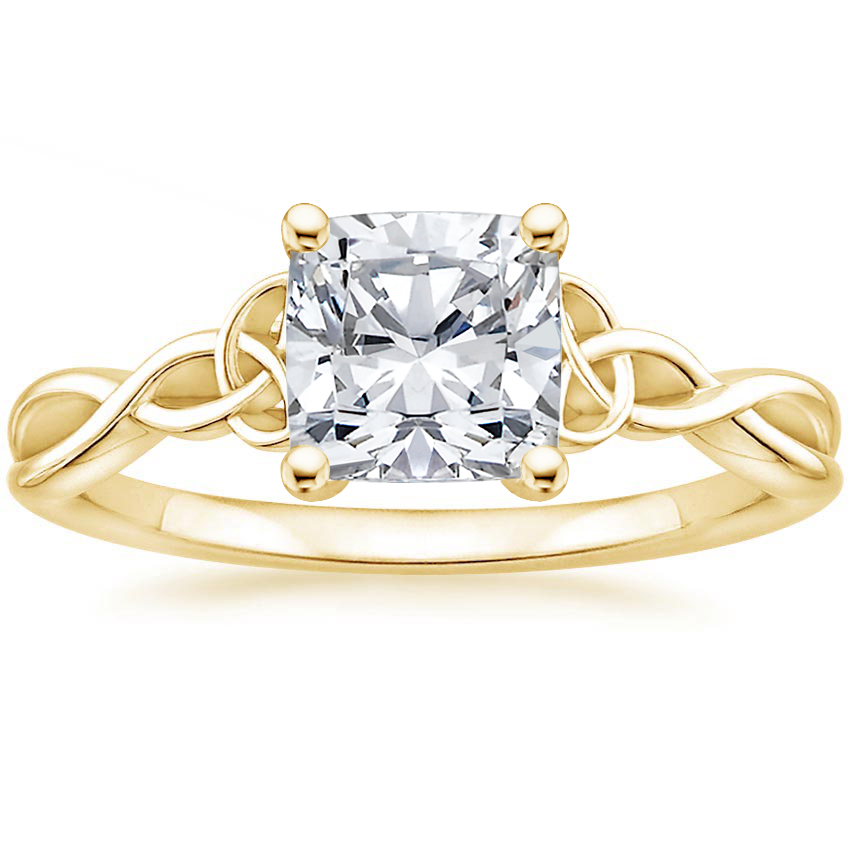 Used primarily as decoration by the ancient Celts in Insular Art (the art produced in the British Isles in the centuries following the fall of the Roman Empire), these endless knots were typically used as adornments in Christian books and statues, such as the Book of Kells. These symbols have come to represent the nation of Ireland, and they have made their way into the hearts (and onto the rings) of millions worldwide.
Simple Celtic Knots
A beloved Celtic knot called the trinity knot is a simple looping pattern that comes to three points and forms a triangular shape in the middle. Those three points have been said to represent a variety of things, such as earth, air, and water; life, death, and rebirth; and the Father, the Son, and the Holy Spirit. Like the Claddagh ring, you can allow the three points to stand for whatever forces are most meaningful to you. For your engagement, they could possibly represent the past, present, and future of your relationship.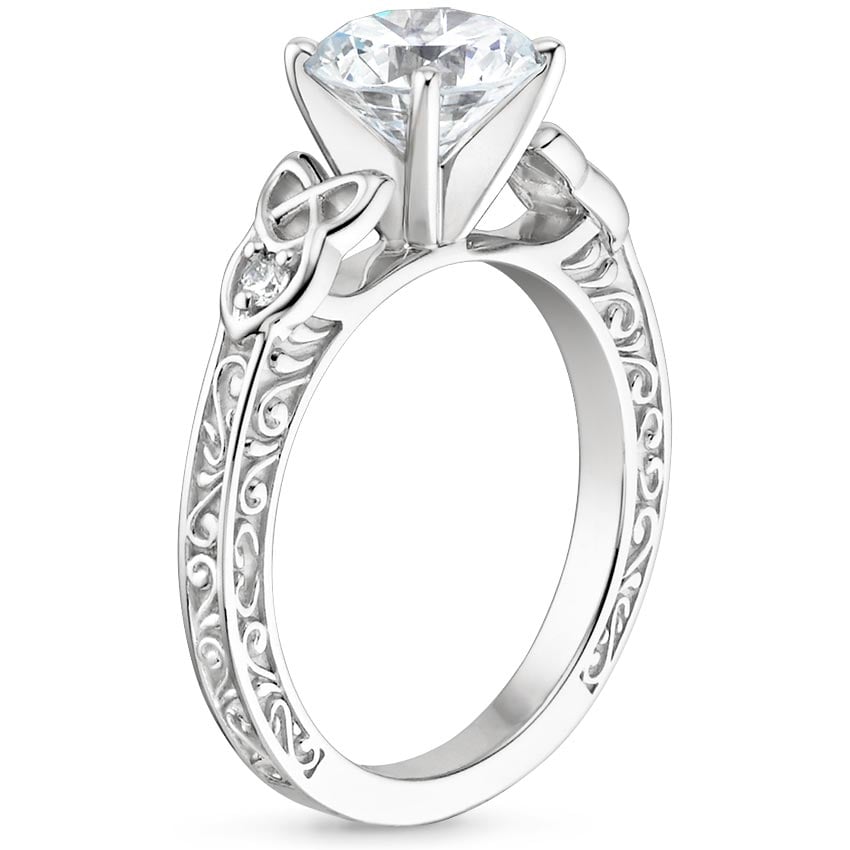 Braided Celtic Knots
Beautiful and complex, braided knots are perfect for the shank (the band) of the ring. They take the traditional eternity ring—a ring with a design that continues around the ring's entire circumference—and take it to the next level by making the design itself represent infinity. If you choose a strand from the braid and follow it around the ring, you will never encounter an end.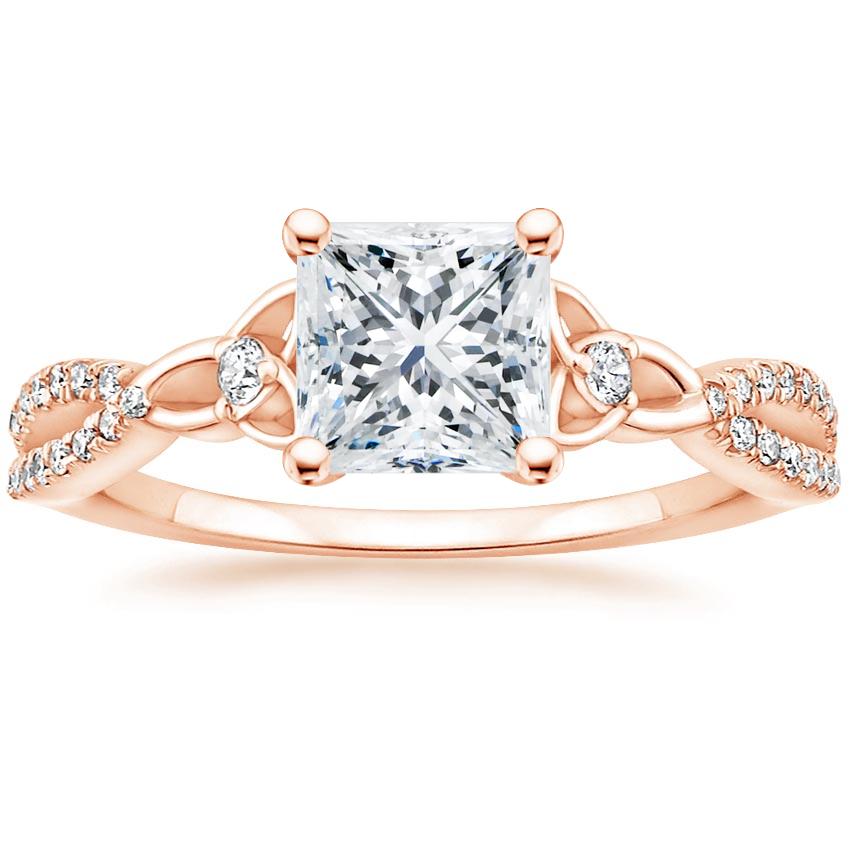 The History and Tradition of Celtic Knots
The Celtic knot symbolizes the union of two people in love. It's believed that people used the knot as decoration on wedding bands in Ireland, Scotland, and Wales during the 17th century. The design became popular by Queen Victoria when she had her wedding rings engraved with intertwined knots.
Types of Celtic Knot
There are many types of Celtic knots, including single interwoven lines and three-dimensional forms. The most widely known today has no beginning or end; it's repeated in both directions until the ends meet. A Celtic knot is known as a "love knot," and it symbolizes eternal love — two forever intertwined together, no matter what happens in life.
Cultures that Embrace the Celtic Knot
The Celtic knot is common today in many cultures, such as India, which signifies the connection between male and female deities. In Africa, it represents unity and balance between man and woman. People also refer to Celtic Knots as trinity knots, a common symbol of Christians and pagan heritage.
Custom Irish Engagement Rings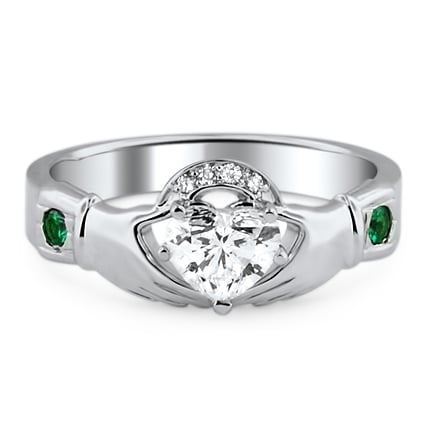 If you have a unique vision of your perfect Irish engagement ring, you may want to work with a custom jewelry design expert to bring that vision to life! For Claddagh rings, a popular option is adding a heart shaped diamond or colored gemstone to the center. You can line the entire ring with diamonds, or put very small ones in the crown. A beautiful option would be to create a pave heart, the small diamonds creating a solid expanse of sparkle. Many pay homage to Ireland by including stunning green emeralds in the ring, representing the island's beautiful green pastures.
If you prefer Celtic knots, try drawing your own knot that we can wrap around the band or highlight at the top. This is a great way to express your creativity! Brilliant Earth's custom design experts will be happy to make your dreams a reality.
Alongside the shamrock and the harp, Celtic knots and Claddagh rings have become representative of Ireland. If you are looking for a way to express fidelity and eternal love, Irish engagement rings are the way to go!
Final Thoughts
Do you love Irish engagement rings? Tell us why on Instagram, Facebook, Twitter, or in the comments below!