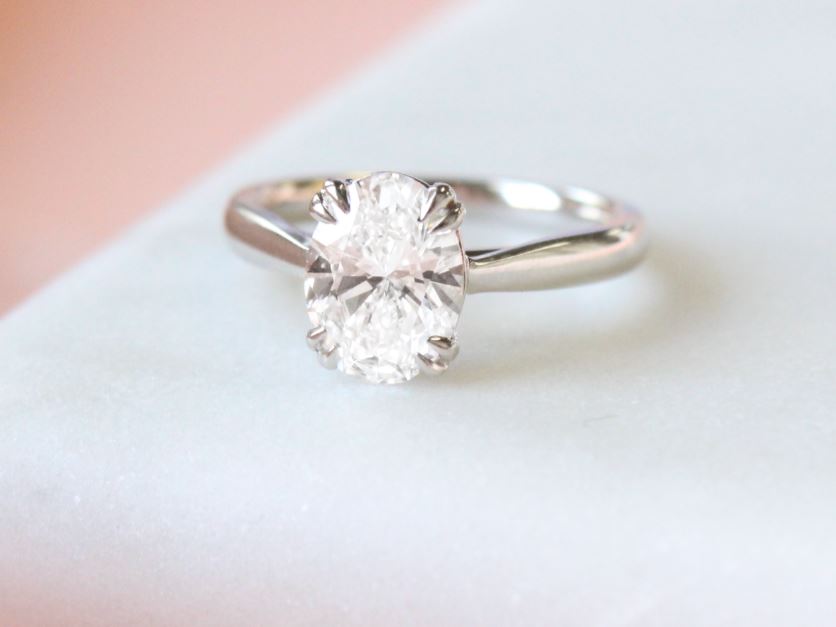 Finding the person you want to spend the rest of your life with is a huge deal. Once you decide you are going to propose, choosing a ring is the next big step for many couples. While we are firm believers that the value of your ring does not come from the money spent on it, we also understand that this purchase is an important investment.
Money plays a major role in determining which ring to propose with. Deciding on a budget early can allow you to fully explore all your options when it comes to center gem characteristics and ring designs. Contrary to what you may have heard, there are no rules when it comes to selecting the right price point for your engagement ring. What's most important is that you're comfortable with how much you are spending!
So what can you really get on a $5,000 budget? Here's what our jewelry specialists say:
$5,000 Diamond Engagement Rings
Optimize the 4 Cs
You can get a beautiful diamond on a $5,000 budget, typically in the 1 carat range. In order to choose which of the Four Cs to prioritize, take time to consider what is most important to you: size or rarity.
Size: To maximize carat weight, our jewelry specialists suggest staying in the G-I range for color. When it comes to cut, Very Good or Ideal will be best for this budget. For clarity, SI1 and VS2 are both smart options. The SI1 measurement means that inclusions might not be visible to the naked eye but can be seen under 10x magnification. The VS2 measurement means that inclusions typically cannot be seen by the naked eye and are very difficult to see under 10x magnification.
Rarity: In many cases, rarity might be more important to the customer than size. If so, our jewelry specialists recommend selecting a diamond in the F-G color range, with an ideal or super ideal cut, and VS2 or above for clarity.
Select a Solitaire
A solitaire setting affords you the flexibility to better focus the majority of your budget on the diamond. Solitaires can be just as distinctive as rings featuring diamond accents. Milgrain detailing, prong type, metal type and more can all work together to result in an utterly unique look.
Choose a Fancy Shape
Another way to maximize carat weight is by opting for a fancy shape. The same amount of carat weight can appear larger in an oval or pear shaped diamond than in a round diamond.
Embrace Diamond Accents
If you love the look of a big diamond, but are also focused on maximizing one of the other 4 Cs, opting for a more elaborate design, like a halo setting, is a nice way to add more sparkle to your ring and make the stone appear even larger.
Consider a Lab Created Diamond
Lab diamonds offer excellent value, and are slightly more affordable than natural diamonds of comparable size and quality. They are also a great option in terms of sustainability, since they are ethically grown with minimal environmental impact.
Get Colorful
In brilliant colors and stunning cuts, colored gemstone engagement rings are a distinctive way to celebrate your love.
If you like the look of colored gemstones, such as sapphire, emerald, or morganite, selecting one as the centerpiece of your engagement ring will offer you tons of flexibility. This option allows you to maximize size without sacrificing rarity or a more elaborate setting design. From a striking solitaire setting to a gorgeous halo with diamond accents, you'll have no trouble finding something that perfectly suits your taste. Read our sapphire guide to learn about sapphire characteristics and how to select a sapphire that's perfect for you.
Opt for Vintage
Many couples choose to begin their future with a vintage ring from the past. Unmistakable quality and beauty are among the many reasons why antique rings are well-suited for engagements. Their one-of-a-kind nature is something no other category can compete with at this price point. Vintage rings reflect the spirit of their eras as well as the vision of the artisans who designed and produced them. No two rings are exactly alike, adding to their appeal. Visit our Antique and Vintage Ring Guide to learn more about these treasures from the past.
For even more ideas, browse our $5,000 engagement rings and $10,000 engagement rings recently purchased by our customers and get inspired to create your own!
Final Thoughts
It's possible to find your dream ring while still being mindful of your price point. Purchasing an engagement ring can be daunting, but our jewelry specialists are happy to assist with any of your questions along the way. Let us know what your favorite piece of advice was on our Twitter, Facebook, or Instagram, or in the comments below!