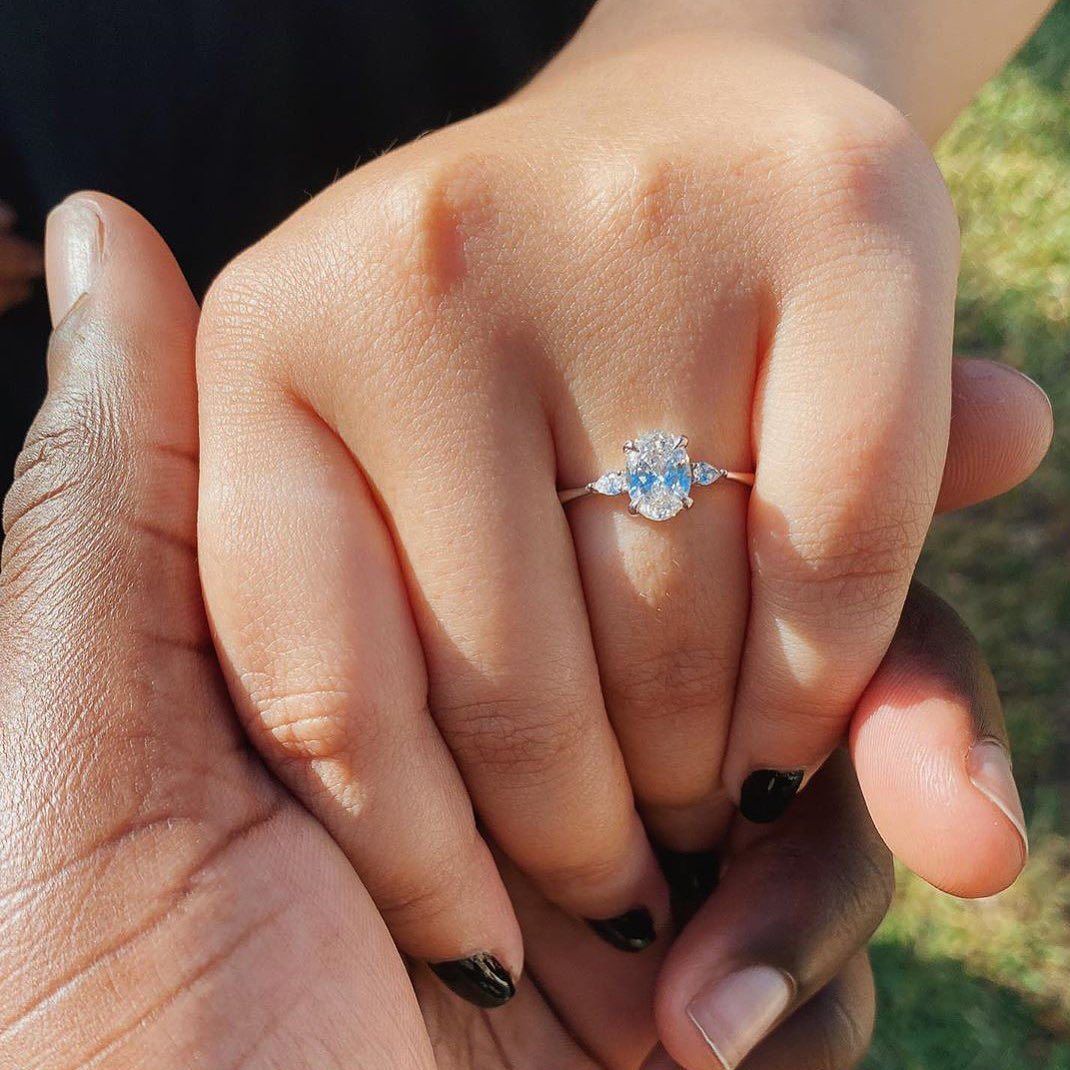 When it comes to buying their dream engagement ring, the number one factor for many shoppers is how to find an affordable engagement ring that fits within their budget.
While there is an old adage that says an engagement ring should cost at least two months of your yearly salary, that is simply not true – nor is it a practical option for many people! It's much better to find something you and your partner love within a budget you feel comfortable with.
To help new engagement ring shoppers budget for their engagement ring, we've pulled together ten tips to help you get started.
1. Do Your Homework
Do a little research to see how much an average engagement ring in the style you prefer costs in order to set your expectations. Of course, rings featuring large, high-quality natural center diamonds will be the most expensive. Certain precious metals will also cost more than others based on factors like durability and rarity. When considering your engagement ring budget, look at the cost of long-term care and not just the initial price. For example, platinum is typically more expensive than white gold, but it also requires much less long-term maintenance than white gold and is a naturally hypoallergenic option, meaning that despite the initial price difference it might still be the best choice for you. A simple internet search for engagement rings will give you a good starting point for how much certain styles cost on average.
Speaking to a jewelry specialist in a low-pressure environment can also help you set your expectations and give you a good idea of how to set your budget. Our jewelry experts are always happy to provide diamond, gemstone, and ring setting information, as well as budgeting tips! You can reach them through the text chat on our site, in a live video chat, or in person at one of our showroom locations.
2. Decide What is a "Must Have"
When budgeting for an engagement ring, it's important to create a list of which characteristics are most important to you for your ring and where are areas that you can compromise. For example, a little bit of color or "warmth" in a diamond will be less apparent in a yellow gold or rose gold ring setting, so those choosing a warm toned metal don't necessarily need to choose a perfectly icy white D color diamond to get the look of a white diamond.  Another instance where couples might compromise on their diamond is the diamond's clarity. Small inclusions will be less visible to the naked eye (without the help of magnification) in an ideal brilliant cut diamond since this style reflects and bounces back light rather than showcasing a diamond's depths. Because of this, a diamond that lists small inclusions on its paperwork may still be "eye clean" when you see it in person. One diamond quality we recommend never compromising on, however, is the diamond cut. This is because a diamond's cut directly determines the overall beauty and brilliance of your diamond. From precious metal type, ring style, diamond carat weight, shape, color, and brilliance, talk with your partner about which elements matter the most to them and begin your planning from there.
3. Sparkle From More Than One Angle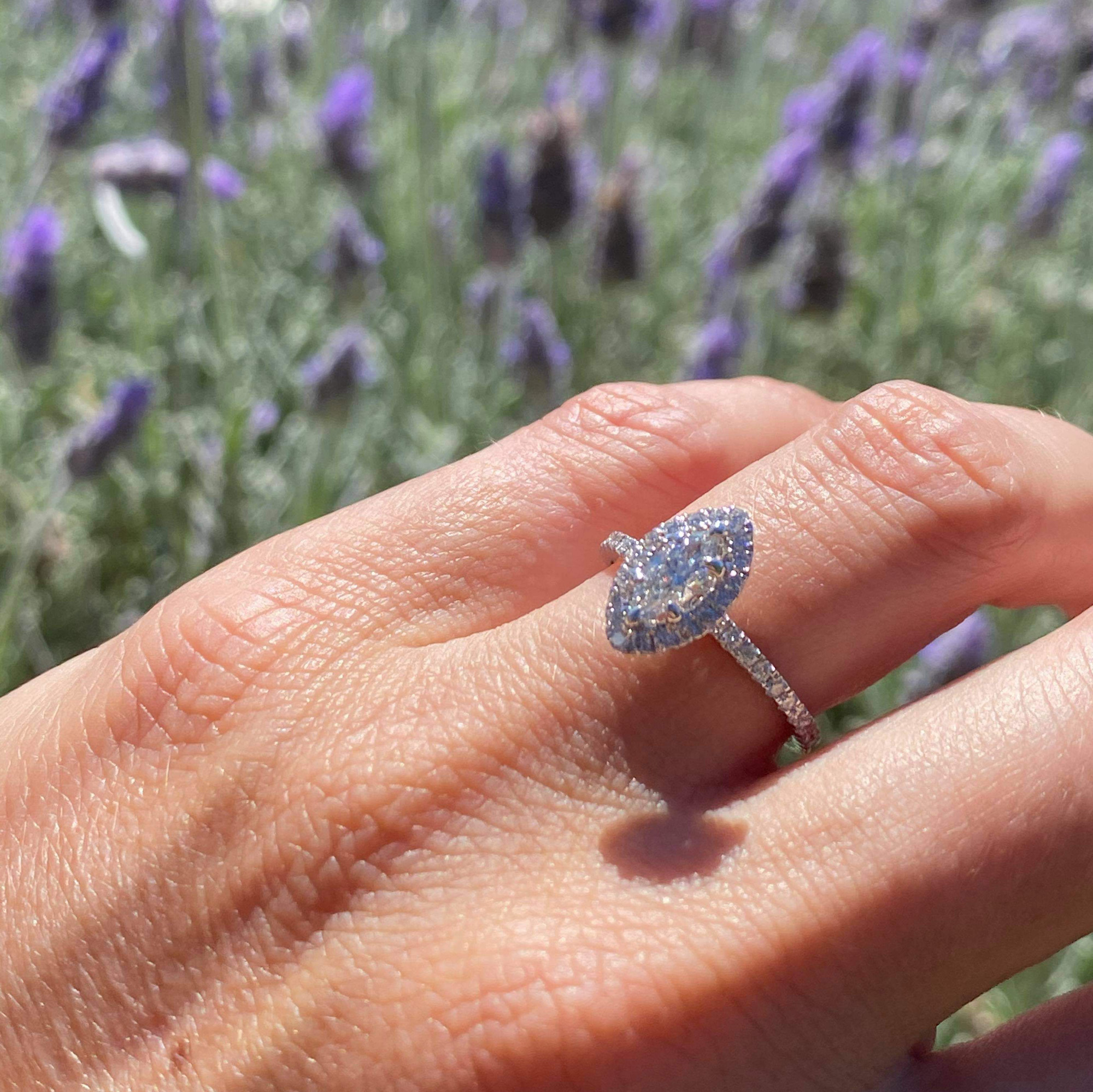 Many couples want their center diamond to be show-stopping while still coming in under a certain budget. One way to create an affordable diamond ring that is still dazzling is choosing a ring setting that will help add to the overall sparkle of your look. Styles like three stone rings, halo rings, or pavé set bands will add more brilliance to your ring and can make a modest center stone appear more impactful. Diamond halos in particular can create an optical illusion that makes your center diamond appear larger. Other unique details like metal beading, a twisting band, or hand engraving can also add to the visual interest and beauty of your ring without dramatically increasing the overall price.
4. Offset Your Diamond Size
When shopping for a diamond, consider looking at carat weights that are close to, but not exactly, whole numbers. For example, a 0.96 ct. oval diamond is going to look extremely similar in size to a 1 ct. oval diamond but will likely cost less. Carat is a unit of a measurement that measures weight, not length or dimension, so two diamonds of slightly offset carat weights can still look virtually identical based on how they carry their weight.
5. Look for Something Fancy
As mentioned above, carat is a measurement of weight and not dimension. If you think about body types, two people can have the exact same weight but look different based on their height and natural shape. The same is true for diamonds! Some fancy shaped diamonds are going to be elongating and hold their weight in a way that takes up more surface area than a classic round brilliant diamond will. Opting for elongating fancy shapes like ovals, marquise, pear, and elongated radiant diamonds can make the diamond you choose appear to take up more space than a round diamond of comparable carat weight.
6. Consider a Lab Diamond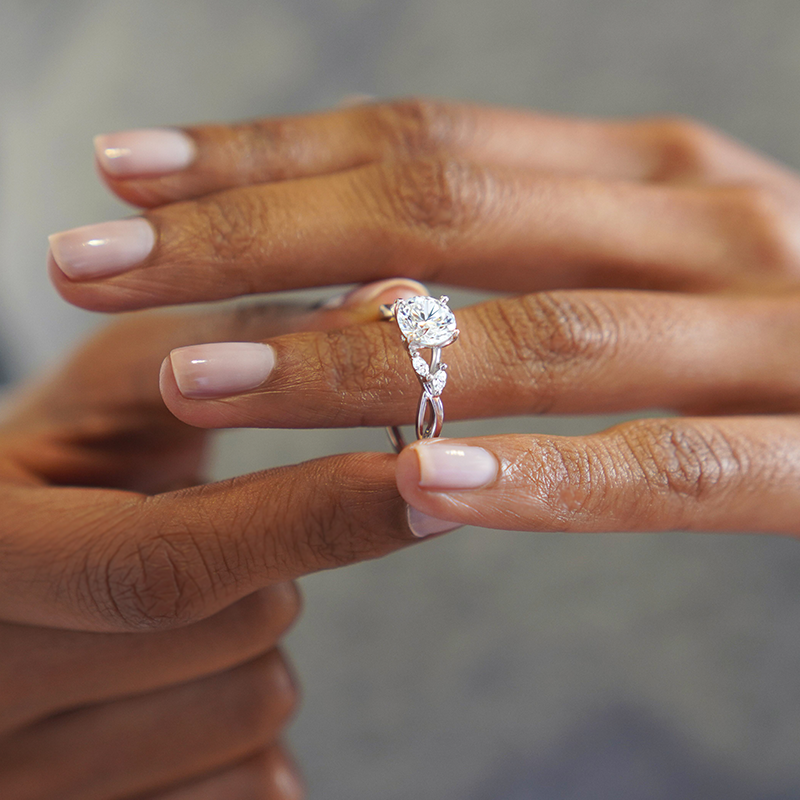 Lab created diamonds are an excellent choice for couples who want to get a larger center diamond that still fits within their budget. Lab grown diamonds are real diamonds and have the same physical, chemical, and optical properties as naturally mined diamonds. Other than gemologists or jewelers using special equipment, no one looking at your ring will be able to distinguish whether you've chosen a lab created or a natural diamond. However, because they are slightly easier to source, lab diamonds usually cost less than naturally mined diamonds of comparable quality and carat weight. Center diamond carat weight can be one of the biggest contributors to the cost of your engagement ring, so lab diamonds are a great choice for couples who want to get the best price they can and are set on getting a specific carat weight.
7. Consider a Center Gemstone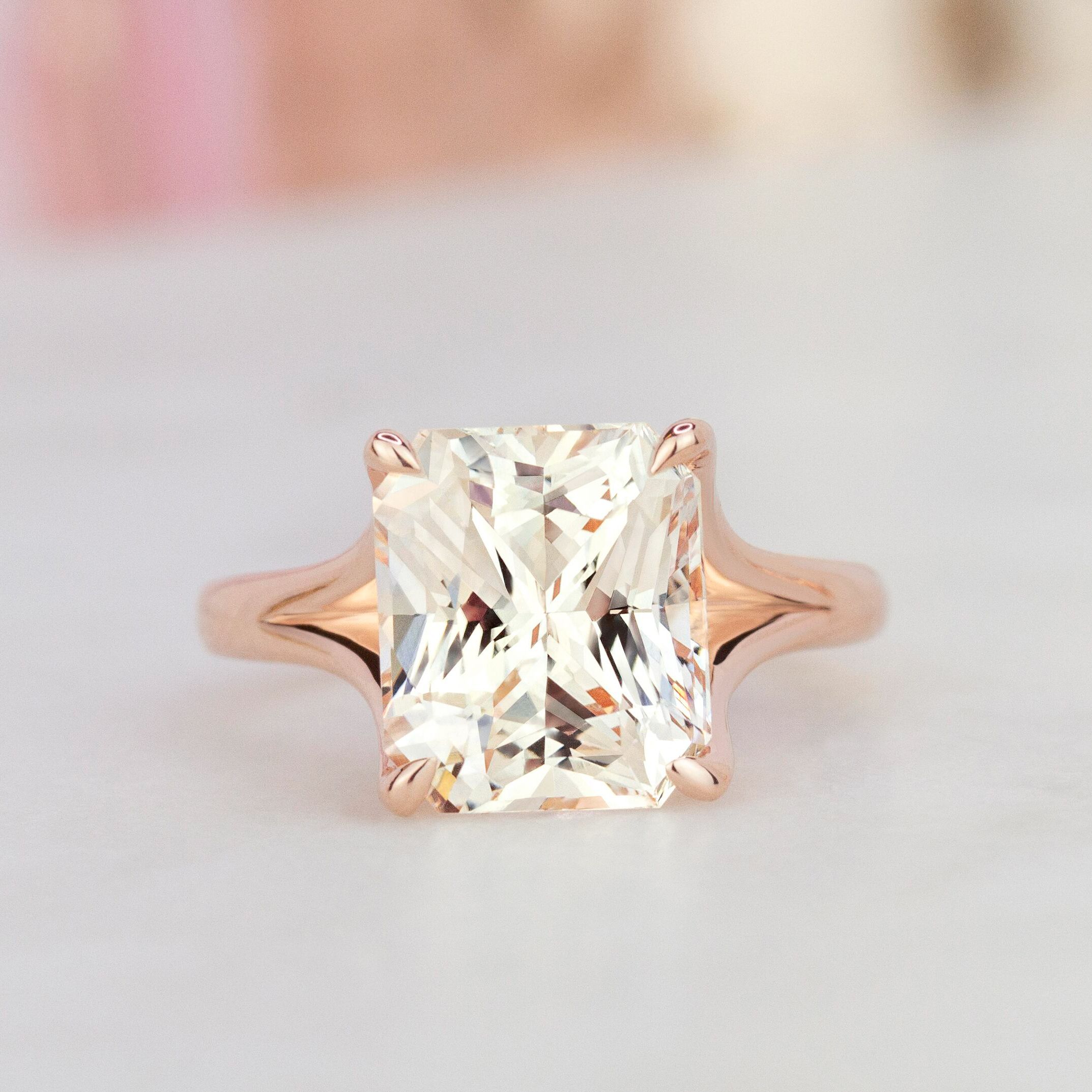 Gemstone engagement rings are are a beautiful and increasingly popular choice. Gemstones are typically significantly less expensive than comparably sized diamonds, making them an excellent budget option for engagement rings. When choosing a gemstone for an engagement ring, we highly recommend selecting a stone that will still be hard and durable enough for everyday wear. While gems like moonstones and opals are on trend at the moment and come in at much lower price point than diamonds, they are very soft stones and are better suited to fashion rings rather than an engagement ring you want to wear every day for the rest of your life. Additionally, gems like aquamarines and morganites are also fairly soft and prone to becoming cloudy over time. For beautiful and durable diamond substitutes for engagement rings, we recommend moissanites, sapphires, and rubies.
Moissanites have a similar look to diamonds and still rank highly on the Mohs scale of mineral hardness. While they may have a similar white look to diamonds, Moissanites do have a different kind of brilliance due to their faceting. These gemstones exhibit more of a flashing rainbow effect than diamonds do, which many people love. Moissanite is also less expensive per carat than many other gemstones, meaning couples can get a large moissanite for significantly less than they would pay for a comparably sized diamond.
Sapphires and rubies are both from the Corundum mineral family and rank 9 on the Mohs Scale of Hardness. While most people are familiar with royal blue sapphires, many may not know that sapphires come in virtually every color. Other popular sapphire colors include teal, lavender, pink, peach, yellow, and even white! For those who love the idea of a colored gemstone engagement ring, sapphires and rubies are excellent choices.
8. Consider No Center Stone at All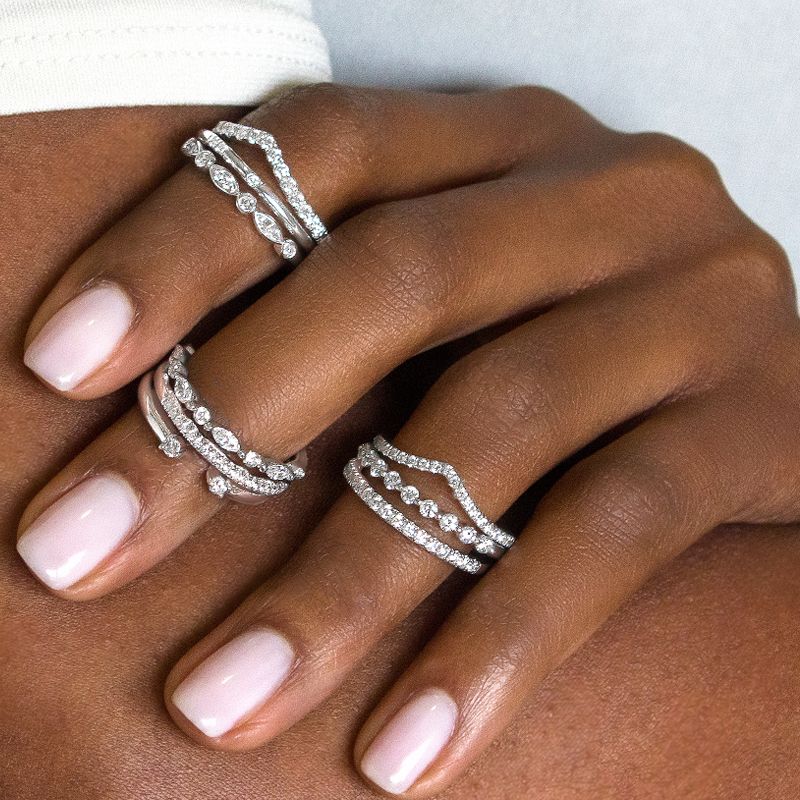 Another way to make an engagement ring more affordable is to opt for a diamond band that does not feature a center diamond or gemstone. Eternity rings, five stone rings, or other diamond bands can give you quite a luxe and sparkling look without the additional cost of a center diamond. Some couples prefer this style because no raised center stone means that their ring is less prone to snagging or knocking against things. These styles are also easy to stack flush with other bands, such as future wedding or anniversary rings.
9. Opt For An Online Vendor
We might sound biased saying this, but it's true! Research shows that brick and mortar locations can cost anywhere between 20-100% more than trusted online sellers. Reputable online jewelers will also have much more variety and inventory than a typical brick and mortar seller. Having more of a selection will always mean that there are more choices for you, and therefore more opportunities for you to find something you love within your set budget. Looking to an online seller is one of the best ways to get the most value for your diamond engagement ring. If you are nervous about buying your engagement ring online, keep in mind that most established online jewelers will have a return policy. Brilliant Earth offers complimentary 30-day returns and 60-day resizes if you don't love your ring or end up needing a different size. We also have showrooms around the US where you can see ring settings and diamonds in person before ordering online.
10. Choose The Right Payment Plan For You
Just like many other large purchases, it's normal to not pay the entire cost of an engagement ring all at once. At Brilliant Earth, we offer flexible payment options to help facilitate a stress-free shopping experience.
Affirm Financing:
With Affirm Financing you can choose from multiple monthly repayment plans with starting rates as low as 0% APR for well qualified buyers. Special financing up to 36-months is also available. This financing option is quick and easy – just fill out a few pieces of basic information for a real-time decision on the amount of financing you are approved for.
Wells Fargo Financing:
With your Wells Fargo Jewelry Advantage® credit card you can enjoy no interest if your purchase is paid in full within 12 months. This particular financing option is subject to credit approval and minimum monthly payments are required. Additionally, this financing option is available to our US customers only.
Layaway:
Brilliant Earth also offers layaway payments for both US and international customers. After an initial deposit, our layaway plan allows you to make monthly payments on any purchase. Sales tax on orders will be calculated based on the tax rate in effect the date your order ships.
You can learn more about our flexible payment options on our website or get more information from one of our jewelry specialists by using the live chat on our site, calling us at 1.800.691.0952, or sending an email to info@brilliantearth.com.
Final Thoughts
Have more questions about how to find a beautiful and affordable engagement ring? Let us know in the comments below or on our Instagram, Facebook, or Twitter!