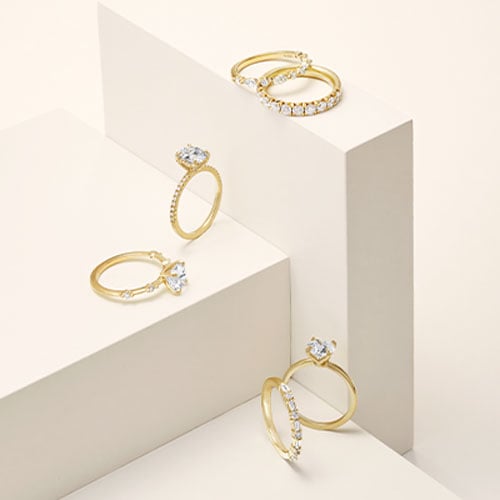 Shopping for engagement rings and wedding rings can be stressful, confusing, and time-consuming. Read on to ensure you're making a smart, practical decision that factors in average cost, style, and budget while enjoying one of the most special moments in your journey as a couple. And if you're wondering 'how much money should you spend on a ring?'- let's dig in on how to figure it out.
What's the Difference Between an Engagement Ring and a Wedding Ring?
Engagement rings usually feature a diamond or unique gemstone center stone. They're the ring traditionally proposed with! The engagement ring purchase process should be a carefully considered but exciting occasion – whether you're surprising your partner or picking out the ring together.
Wedding rings are purchased in addition to the engagement ring. As a rule of thumb, people wear wedding rings underneath the engagement ring and also on the left ring finger. Wedding rings are traditionally purchased for both partners in the relationship and are the rings used during the wedding ceremony to symbolize your commitment whether you're eloping, celebrating with friends and family, or throwing a destination wedding.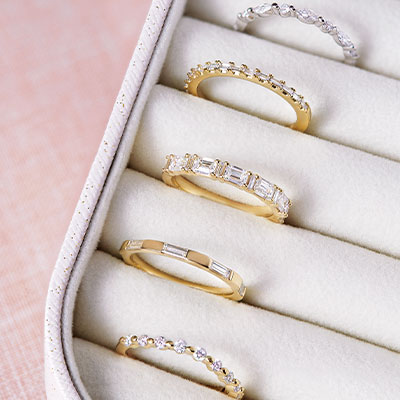 How Much Should You Spend on an Engagement Ring?
Engagement and marriage are among the most special moments in life. It's a tremendous landmark to propose, tie the knot, and begin building a life with your significant other. This process can be stressful, however, especially if you're debating on how much to spend on an engagement ring. Are you supposed to spend one months' salary or three months' worth? What is the national average in terms of purchase price? While these are important factors to consider, and we'll cover them in this article, it's also important to focus on and remember how exciting it all is rather than getting wrapped up in tradition and societal rules.
Purchasing the engagement ring will be one of the largest chunks of money you spend when preparing to get married. Most people only buy a diamond engagement ring once in life so terms like cut, color, carat, clarity, metal type, and fair trade are often mystifying as they aren't something we usually consider in daily life. As these are major factors that will affect the price of your ring, let's walk through them: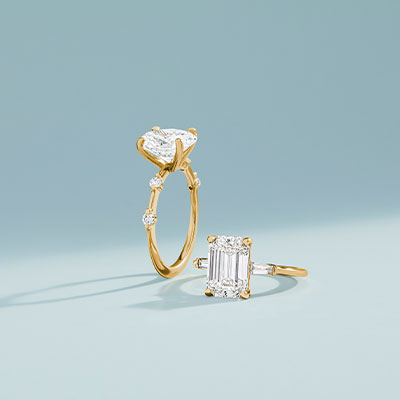 Does the Center Stone Affect the Price of an Engagement Ring?
Another important factor that will affect the price of your engagement ring is the type of center stone you choose:
Natural diamonds: choosing a natural diamond will come at the highest cost as they are sourced from the Earth.
Lab diamonds: a lab diamond center stone looks the same as a natural diamond to the naked eye, but they come at a much more affordable price point – generally about 30% less than natural diamonds of the same quality.
Colored gemstones: the price of colored gemstones ranges greatly but in most cases are much more affordable than either a lab or natural diamond – especially if the gemstone is lab created itself.
When determining how much to spend on an engagement ring, it's important to consider the above factors to make the appropriate choice. Prices range greatly, but hitting the sweet spot between excellent cut, color, clarity, carat for diamonds will yield the price that's right for you. If you're drawn to a colored gemstone (for both their beauty and their price point) ensure that its internal qualities are excellent. Whether you're spending your life's savings or making a practical choice, ensure that the style of the ring will excite your partner enough to treasure it for a lifetime.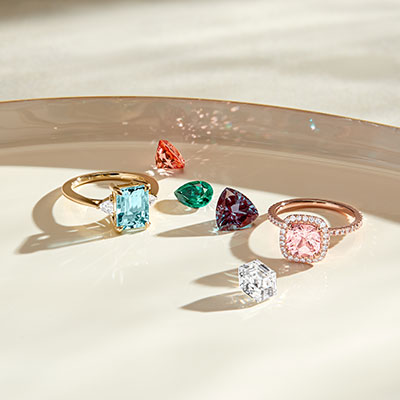 The Salary Rule Myth about Engagement Rings
The salary rule states that two months salary is the best answer to the 'how much money should you spend on a ring' question. Another version of the rule says that its traditional to spend three months' salary. In reality, neither of those rules stem from any sort of esteemed tradition.
In fact, until the 1930s, people used many different types of rings, and spending varied widely, but this changed with a De Beers advertising campaign. The company controlled 60% of diamond output around the world and sought to boost diamond sales during the Great Depression, which they did by implying that a diamond was the way to get your love to say yes. From there, the rule remained that a diamond should cost a months' salary until the 1980s. De Beers launched a new advertising campaign insisting that two months' salary is the way to a woman's heart, and the tradition changed accordingly.
However, people have happy marriages with diamond rings of every price range, all the way from two weeks' salary to three months and beyond. Rather than sticking to ironclad rules and tradition, average spending on wedding rings tends to reflect the times and economic conditions. In 2014, a survey of newlyweds that World of Wedman commissioned indicated that only 10% of diamond rings had a price of two-months' salary – there is no exact calculator to determine the cost of a typical engagement ring – prices are always in flux.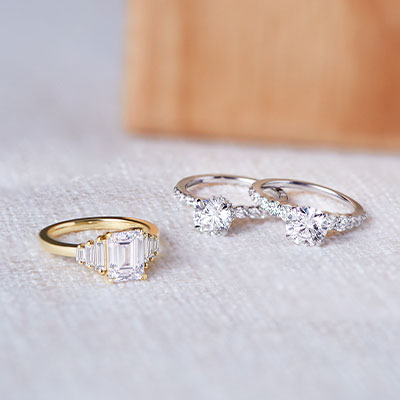 What is the Average Cost of an Engagement Ring?
Today, the average price of a wedding ring ranges between $3,000 to $5,000. This means that while most people purchase rings priced between $3,000 and $5,000, plenty of people purchase rings that are both below and beyond that price.
One way to reap the rewards of a large purchase is to buy your ring from an online retailer with a credit card. If you're responsible enough to pay it off in a timely manner, it may be the best way to pay for your ring – that way you'll receive points or rewards your card offers and hopefully offset some of the costs.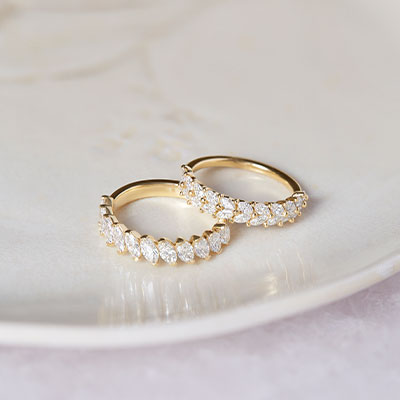 How Much Should You Spend on a Wedding Ring?
Wedding rings can be significantly less expensive than engagement rings as they typically do not feature large center stones. Styles do vary in price, however, from simple plain metal bands that are more affordable to large diamond eternity rings that can get quite pricey. There's certainly a large range on how to answer the how much money should you spend on a ring question.
For wedding bands, it's a good idea to think about style versus how much you should spend – the most important questions to consider are: what is the style of wedding ring that my partner will like? Which wedding band will match with my partner's engagement ring? For example, if you chose a solitaire engagement ring, your partner may want to add more sparkle to their stack by choosing a diamond-accented band. If the engagement ring is already quite luxe, a simpler band may be of want.
How Much Should You Spend on a Man's Wedding Ring?
A man's wedding band is as important as a woman's engagement and wedding rings. Typically, a men's wedding ring ranges in price from $1,000 – $2,500 but this can vary depending on style and metal type. Plain gold rings tend to be on the lower end of the spectrum, while platinum rings with diamond or gemstone accents tend to have a higher price point.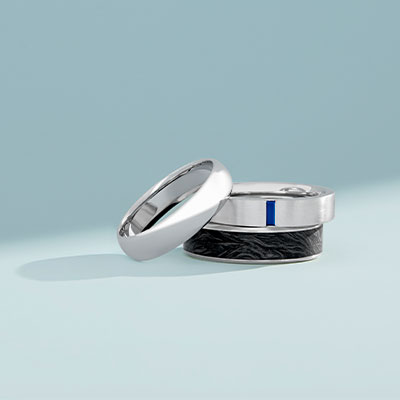 Why Choose Brilliant Earth? Ethical Sourcing and Sustainability
Before 2003, as many as 25% of all diamonds came from conflict zones that featured child labor and civil war. That figure has dropped to 10%, but even supposedly legitimate retailers still use loopholes to avoid new restrictions. With most jewelers, it's impossible to know where your diamond has really come from and how ethical it really is.
At Brilliant Earth, we take measures to track our diamonds back to the source and ensure true fair trade across our entire supply chain. A diamond ring is  a symbol of love, and shouldn't be tainted by unethical mining that diamond companies tolerate to improve their profit margins. You can count on your Brilliant Earth wedding ring being as pure and genuine as the love that underpins your marriage itself.
Now that you've had some food for thought on the 'how much money should you spend on a ring' question, explore our collection of diamond wedding and engagement rings today to find the perfect match for the one you love.