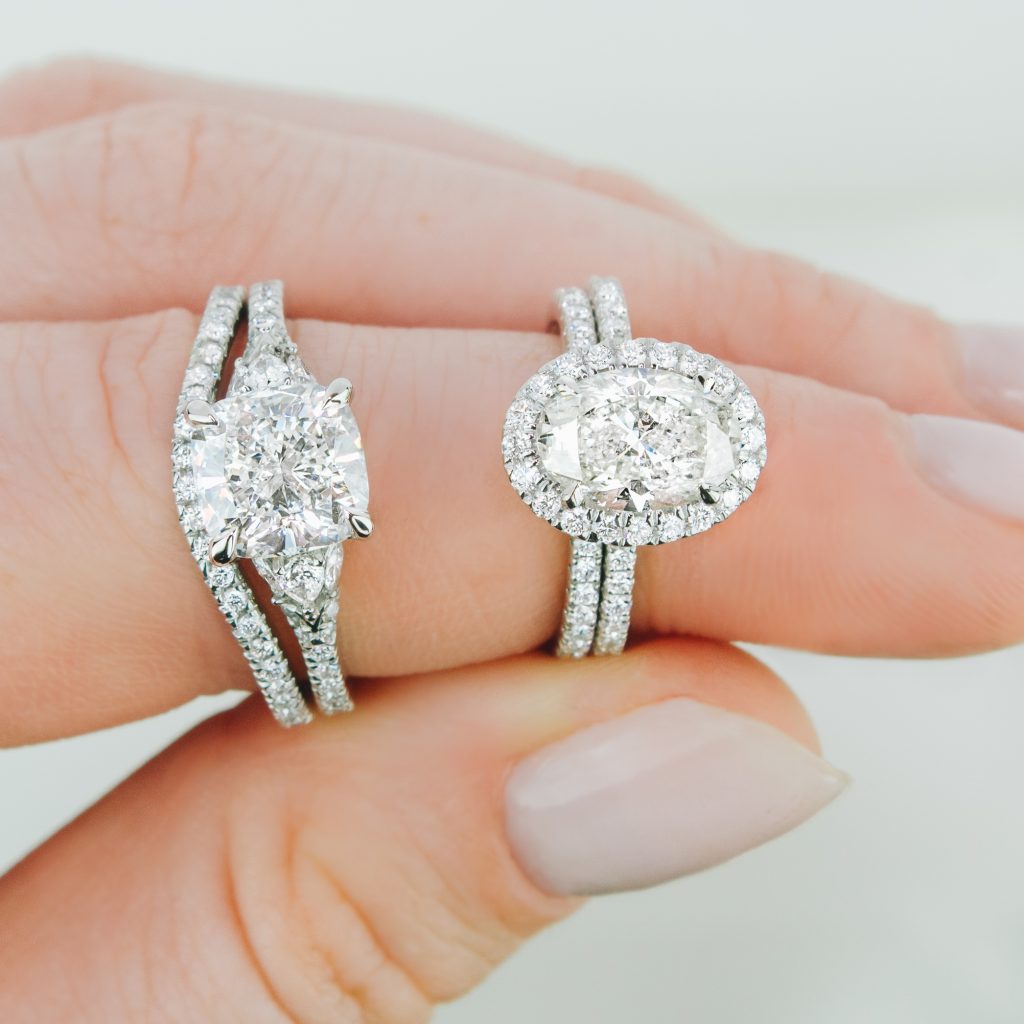 Although grown by scientists instead of created in the earth's crust, lab diamonds are absolutely real diamonds—they display the same chemical and optical properties as natural diamonds.
Even expert gemologists can't tell the difference with the naked eye, but just for fun we're offering you the chance to guess. The engagement rings on this page either feature a lab grown or natural mined center diamond. See if your instincts can determine which is which! Learn more about lab diamonds.
Classic Round Lab Diamonds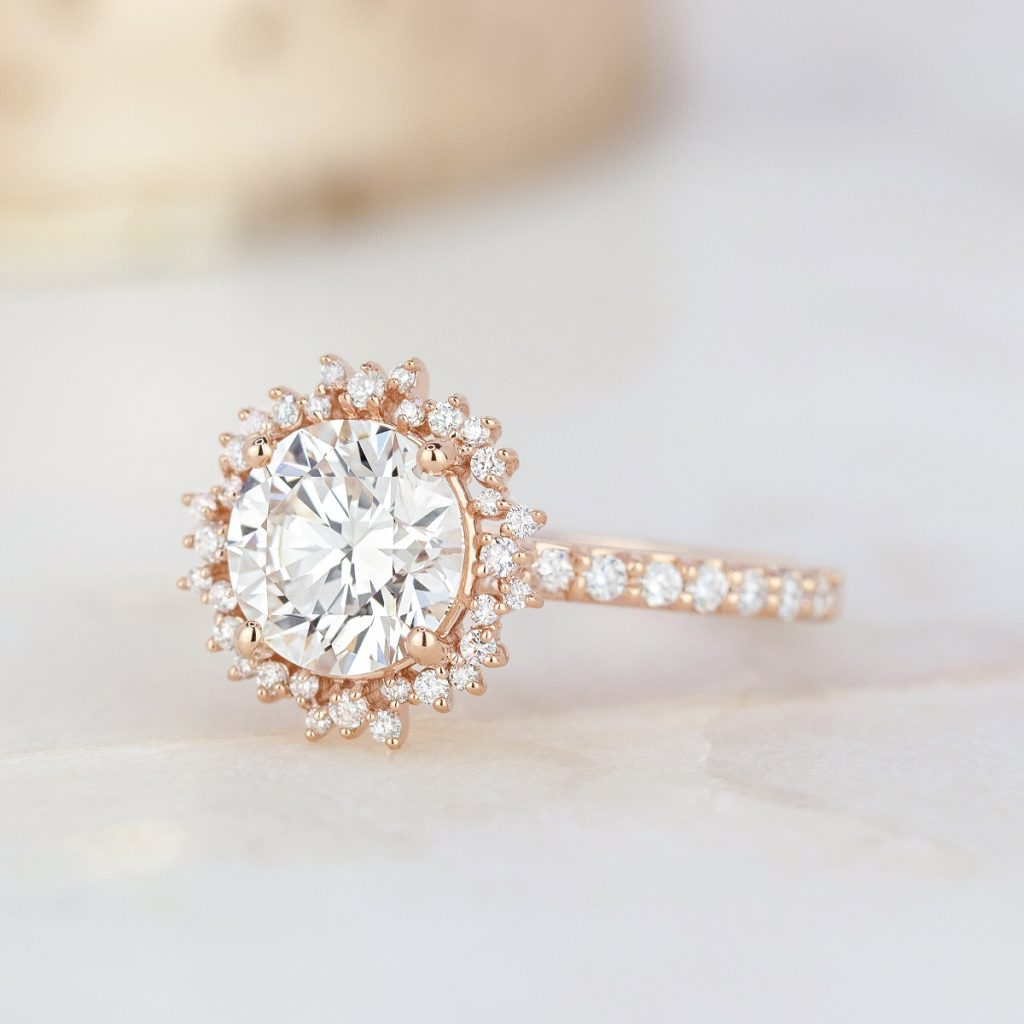 If you're looking for a lab grown diamond in a classic round brilliant cut, you're in luck, because we have an expansive selection of round lab diamonds. When the process of growing a diamond was first invented, labs were only capable of creating small diamonds, but today you can purchase lab diamonds in large sizes well over 3 carats! (This picture of our 14K rose gold Twilight Diamond Ring features a naturally mined round diamond.)
Lab Diamonds in Fancy Shapes & Colors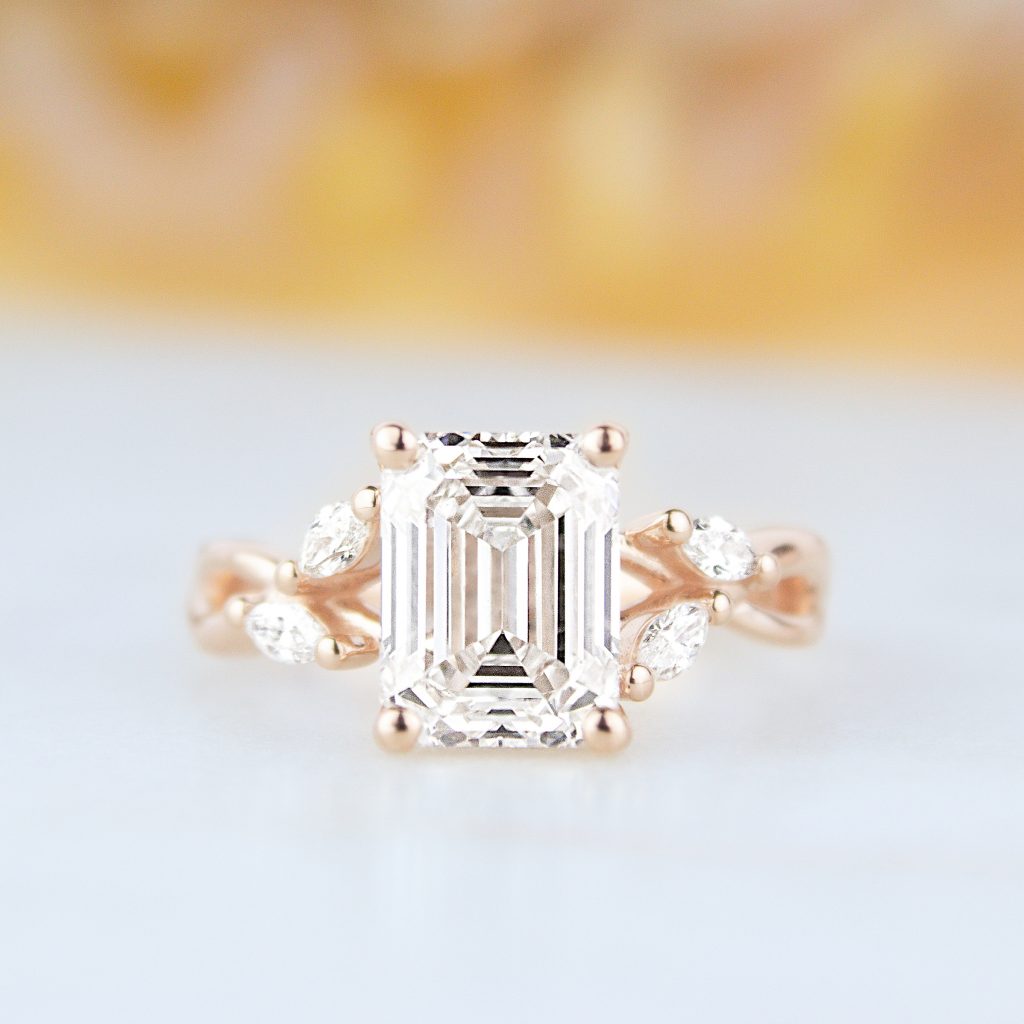 Lab diamonds are also available in a variety of shapes including emerald, oval, cushion, radiant, pear, marquise, princess and asscher. If you love colored gemstones, consider a lab created colored diamond in fancy shades like yellow, pink, blue, and orange. (This is our 14K rose gold Willow Diamond Ring set with a lab created emerald diamond.)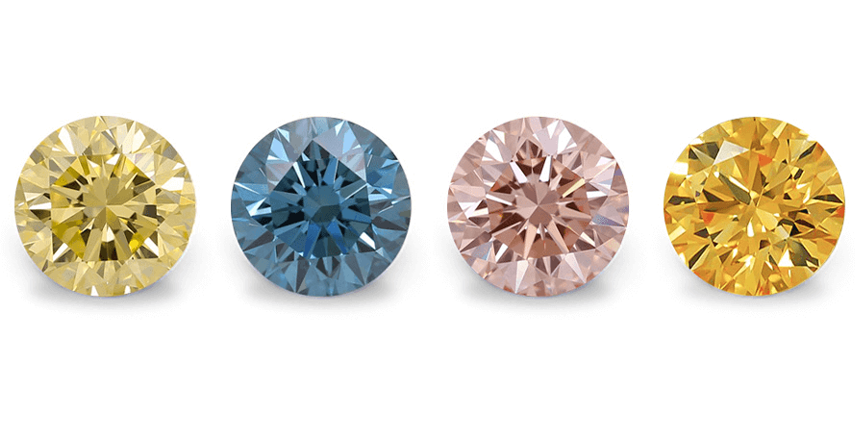 Lab Diamonds with Lab Created Accents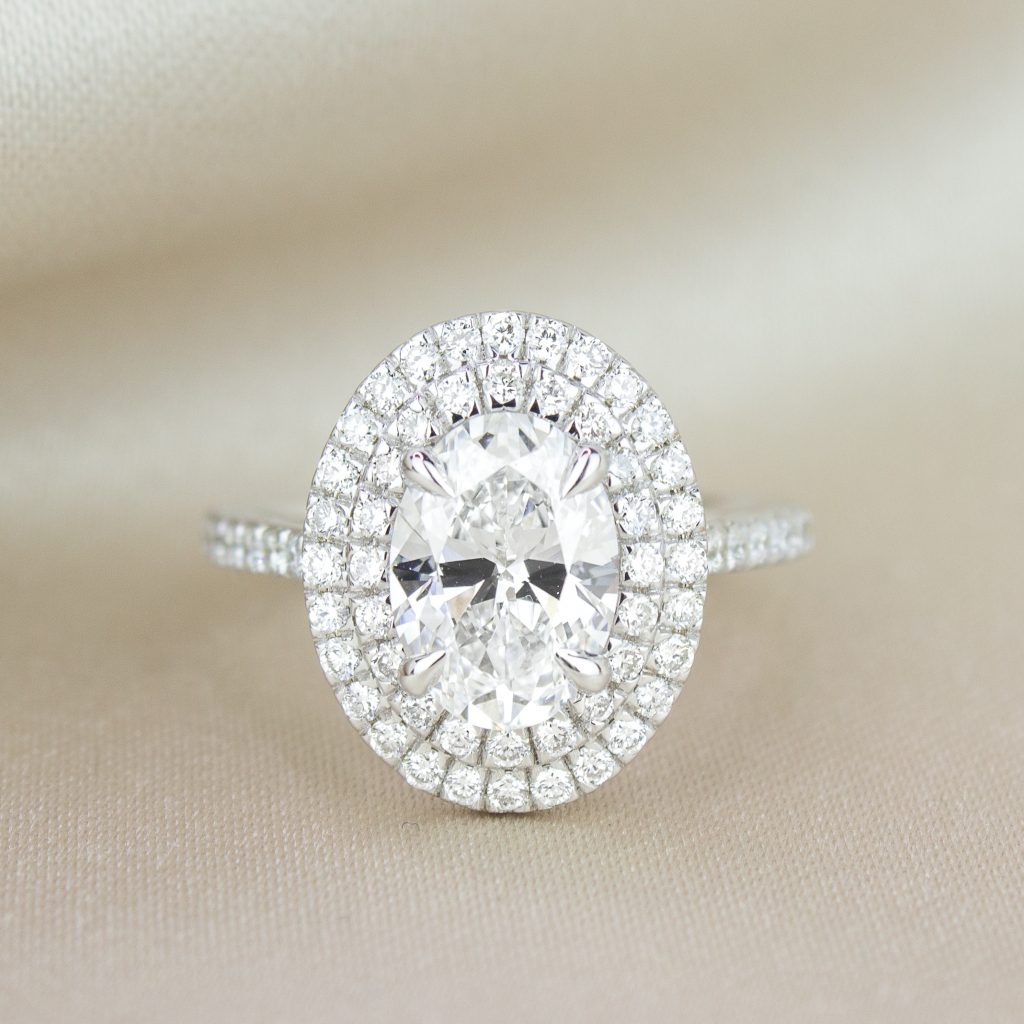 If you'd like your ring to feature lab created diamonds or gemstones, you can have a lab diamond set in a ring featuring lab accent diamonds. We also offer wedding bands set with lab created gemstones and diamonds. (This 18K white gold Soleil Diamond Ring is set with an oval lab created diamond with lab diamond accents.)
Natural Diamonds vs. Lab Grown Diamonds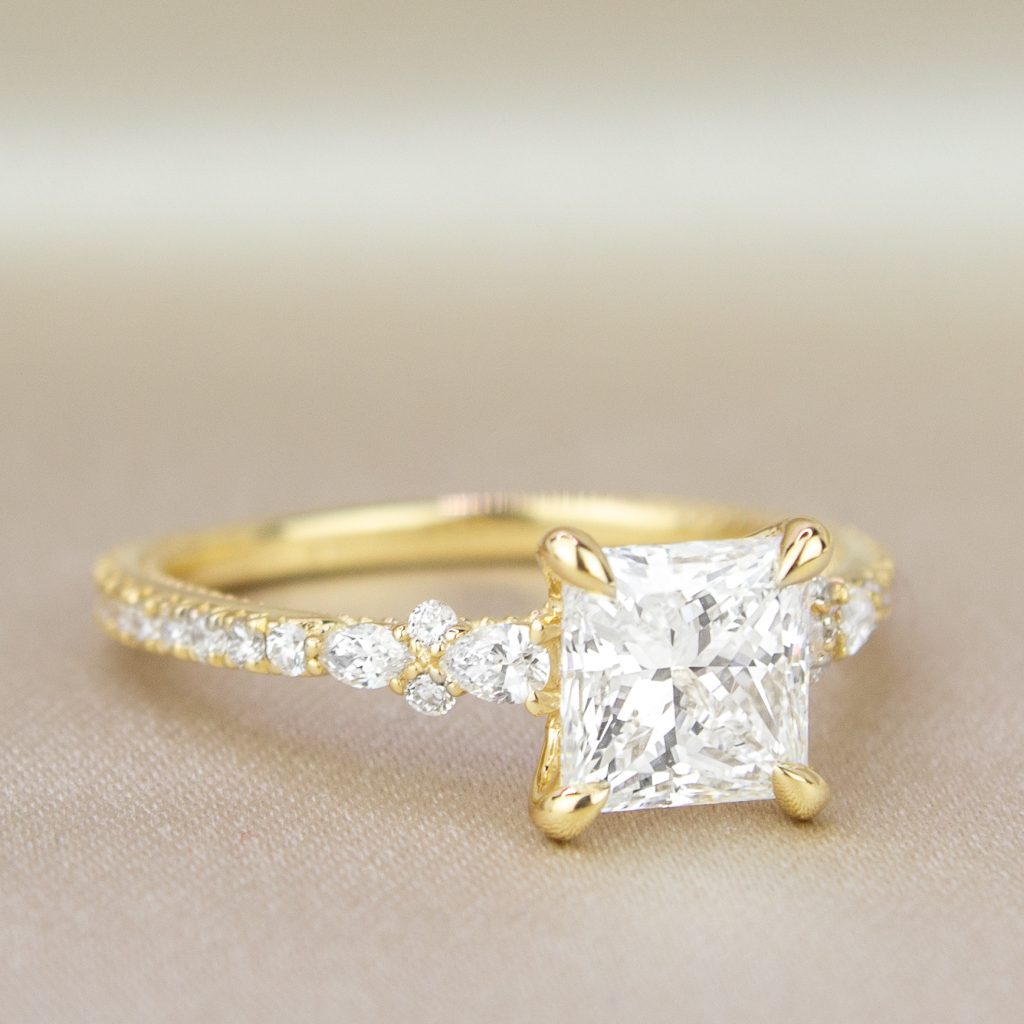 If you couldn't tell the lab diamonds from the natural ones, we're not surprised—and if you could you're just a lucky guesser! Lab diamonds are created in high-temperature, high-pressure chambers that reproduce the conditions in the earth's crust. The result is carbon atoms arranged in the structure of a diamond crystal and diamonds that are every bit as magical as the ones created naturally millions of years ago and mined today. (Our 18K yellow gold Primrose Diamond Ring set with a natural princess diamond.)
Attractive Prices
Lab diamonds usually cost about 30% less than natural diamonds of comparable size and quality. But these diamonds are every bit as luxurious as their natural counterparts, since their dazzling beauty and durability are the same. It is important to know that there's a big difference between lab created diamonds and diamond simulants, such as cubic zirconia and moissanite. These simulants are not made of the carbon crystals, and do not possess the same brilliance as diamonds. For that reason, simulants sell at much lower prices than lab created diamonds.
Final Thoughts
Browse our collection of lab created diamonds, and if you don't find what you're looking for do not hesitate to contact us and we can help you source your ideal diamond.
Do you wear a lab diamond engagement ring, or would you? Let us know on Facebook or Twitter, or in the comments section!