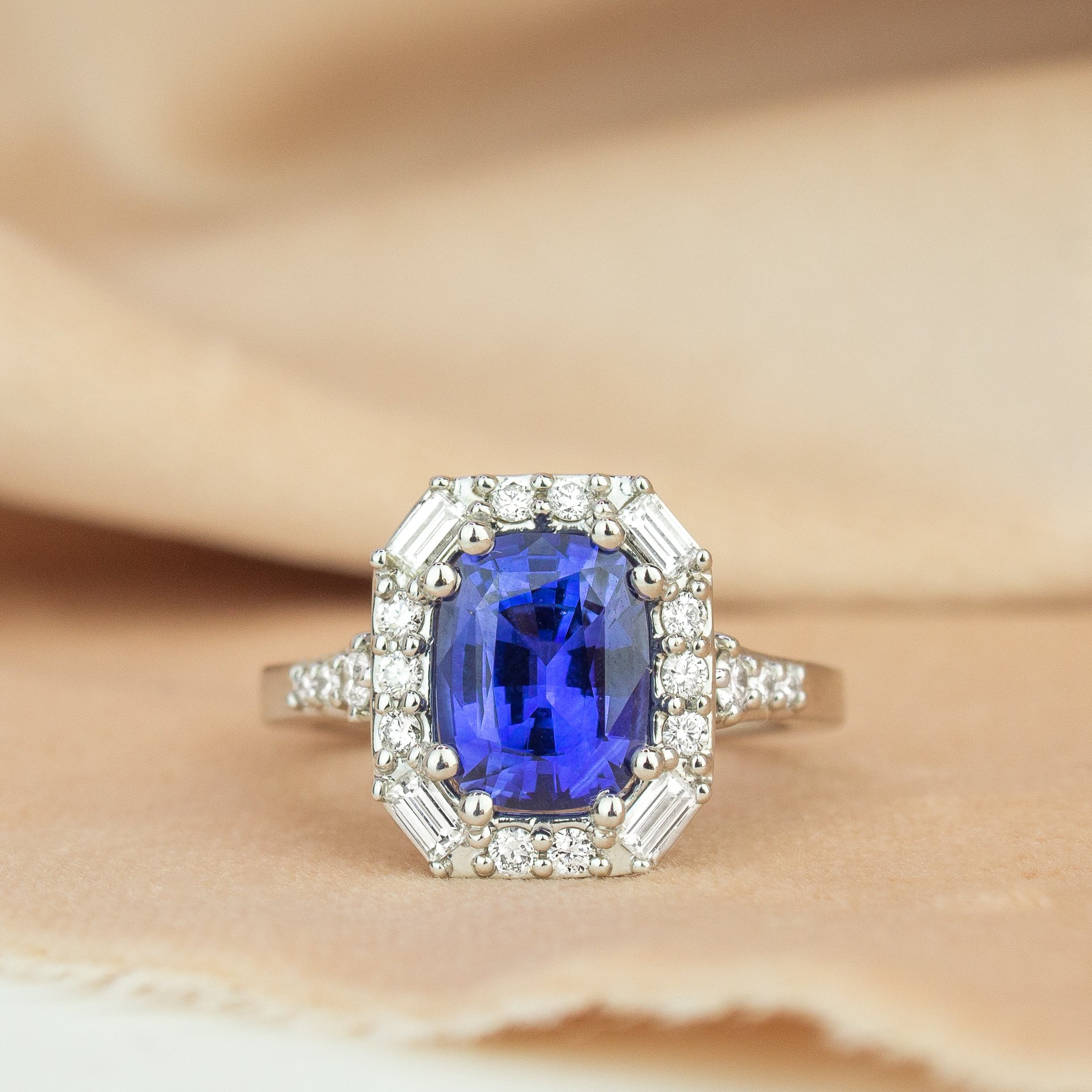 From home décor to clothes to fine jewelry, vintage designs are increasingly sought after. What's old feels new, timeless, and romantic, especially when it comes to an antique or vintage-inspired ring. Add a vibrantly colored sapphire, and it might just become the ring—the one that you cherish forever.
Sapphire rings have been treasured for centuries, and it's no mystery why. Sapphires are extremely hard, durable gems, making them perfectly suited for everyday wear. They come in a variety of gorgeous colors, including pink, yellow, and, of course, blue. These brilliant colors are stunning when paired with the delicate craftsmanship of antique and vintage-inspired rings.
History of Sapphire Engagement Rings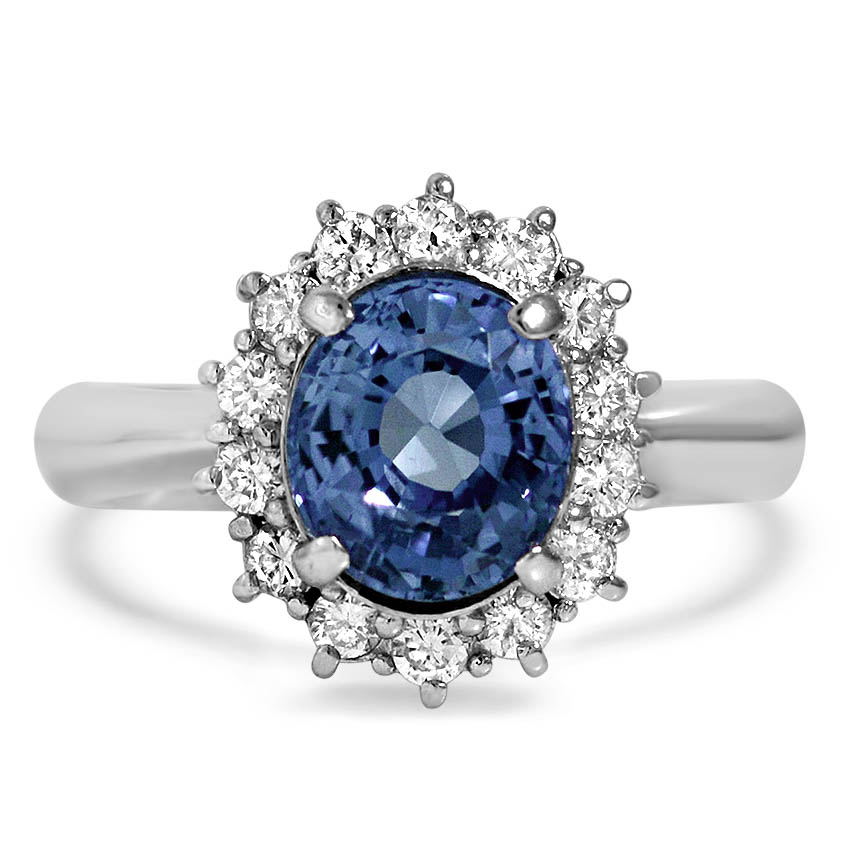 Treasured since antiquity, sapphires were some of the first gems to be cut for the purpose of personal adornment, and were originally the favored gemstones for engagement rings. The sapphire has always been a symbol of fidelity and sincerity, and thus is a meaningful choice for an engagement ring or an anniversary gift. Engagement rings featuring sapphires were quite popular during the Victorian era, when center sapphires were often surrounded by smaller diamonds to create a floral effect.  By the twentieth century diamonds became the most frequently seen center gemstone for engagement rings, but sapphires never went out of style, whether as center gems or as accents on rings with diamonds at the center. In engagement rings from the Art Deco era you'll frequently see sapphires used as graphic accents in rings with glittering diamonds and geometric designs.
Famous Antique Sapphire Rings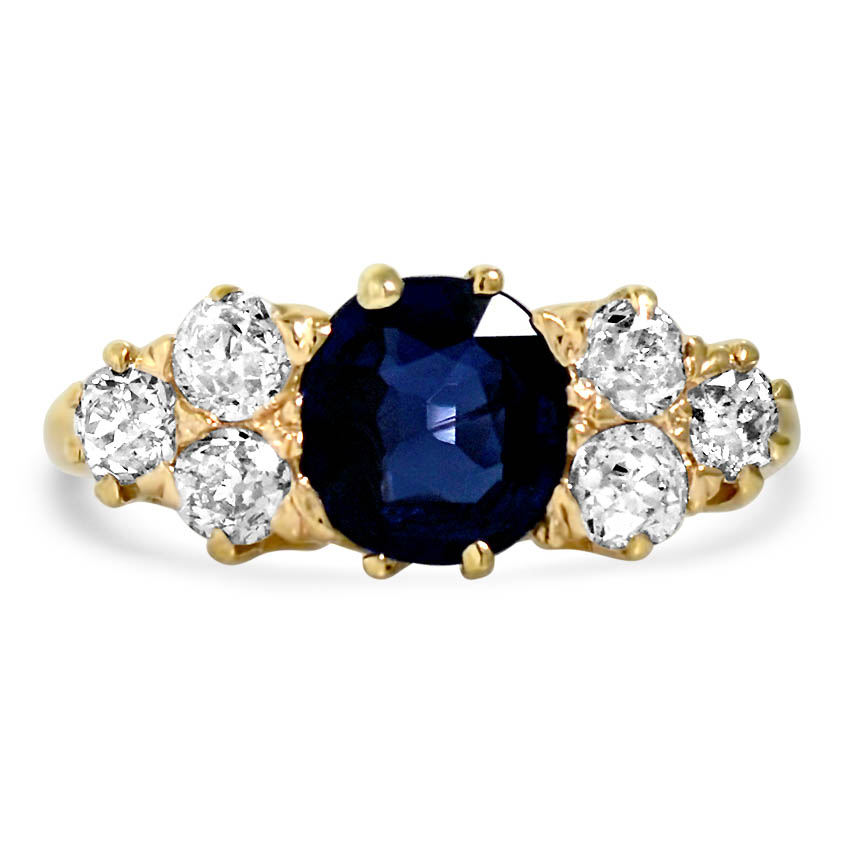 Perhaps the most famous sapphire engagement ring in history is the one that French Emperor Napoleon gave to his beloved Josephine in 1796. The ring, which sold at auction for close to a million dollars last year, features a pear-shaped sapphire next to a pear-shaped diamond, on a simple gold band.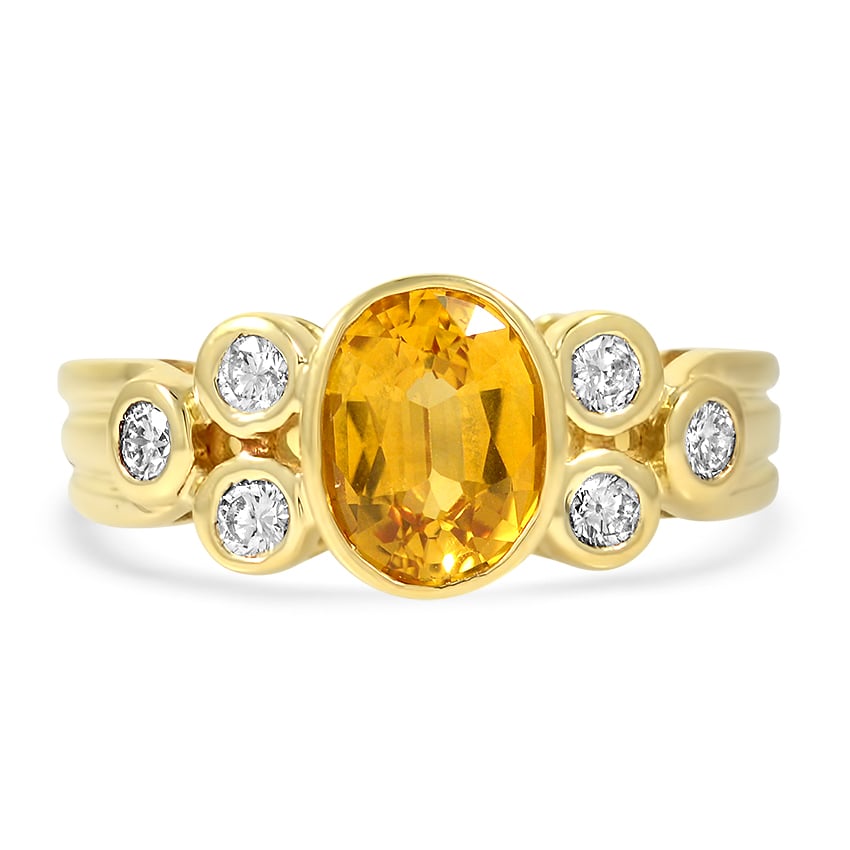 What do you get when you pair the elaborate artistry of an antique-inspired ring with the alluring blue of a sapphire? Classic, chic sophistication fit for a princess. Princess Diana's stunning sapphire halo engagement ring brought sapphire engagement rings back to the forefront of public attention in the 1980s, and it is now proudly worn by Princess Catherine. This royal ring has caused a resurgence in the popularity of richly hued deep blue sapphires.
Actress Penelope Cruz is another famous beauty with an antique sapphire engagement ring. Not unlike Princess Catherine's, her ring features an oval sapphire surrounded by diamonds. Designer Mary Kate Olsen also wears an antique ring (rumored to be an engagement ring) featuring a halo of sapphires around a center diamond.
Antique Sapphire Rings Today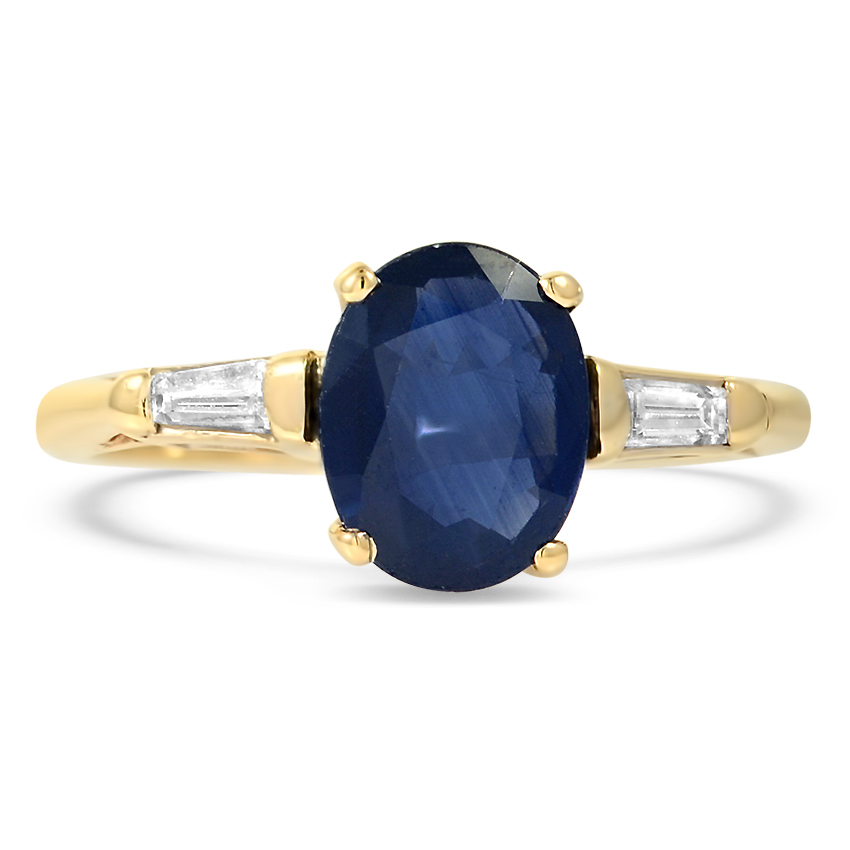 Our antique and vintage rings are unique, often one-of-a-kind, treasures that are beloved for their exquisite, old world craftsmanship, intricate embellishment, and distinctive beauty. If you are shopping for an antique engagement ring, know that those featuring sapphires make a great choice because sapphires are very durable. Sapphires are the hardest gemstone other than diamonds, meaning they are nearly impossible to scratch, chip, or break.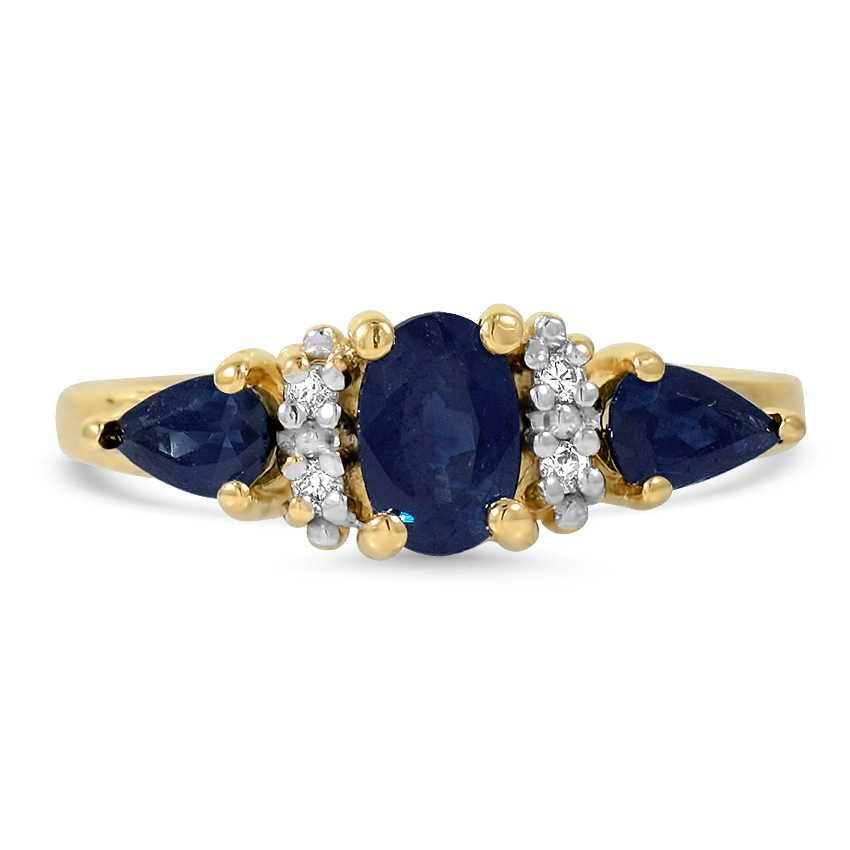 Sapphires are also very stable, meaning they can withstand exposure to heat, light, and many chemicals. So if you select a sapphire ring from a past century you can rest assured that your sapphire has lasting heirloom quality.
Vintage-Inspired Sapphire Rings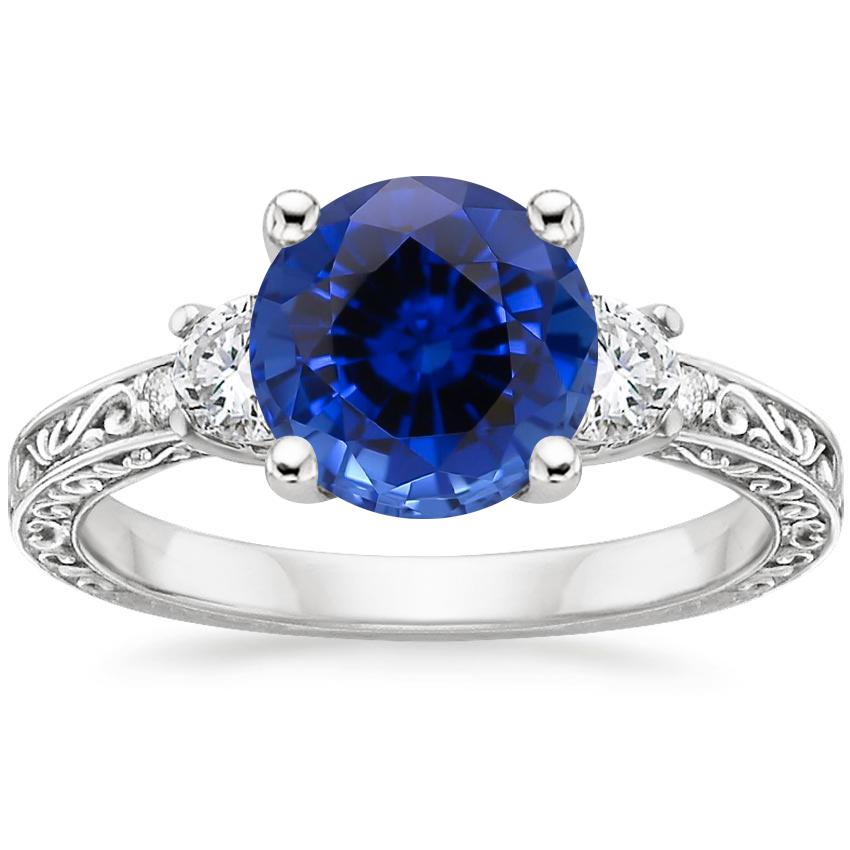 Love the distinctive antique look but prefer to purchase a new engagement ring? Our Antique Inspired Collection features rings with details including filigree, milgrain, hand engraving and pavé gemstone accents. These rings have a romantic antique feel but can be created for you and delivered to your doorstep within weeks. Any of the rings in our collection of antique-inspired styles can be made with an ethically sourced sapphire as the center gem. And although deep blue is the most classic sapphire color, we offer gorgeous yellow and pink sapphires as well. Richly colored sapphires look especially beautiful in settings with vintage details.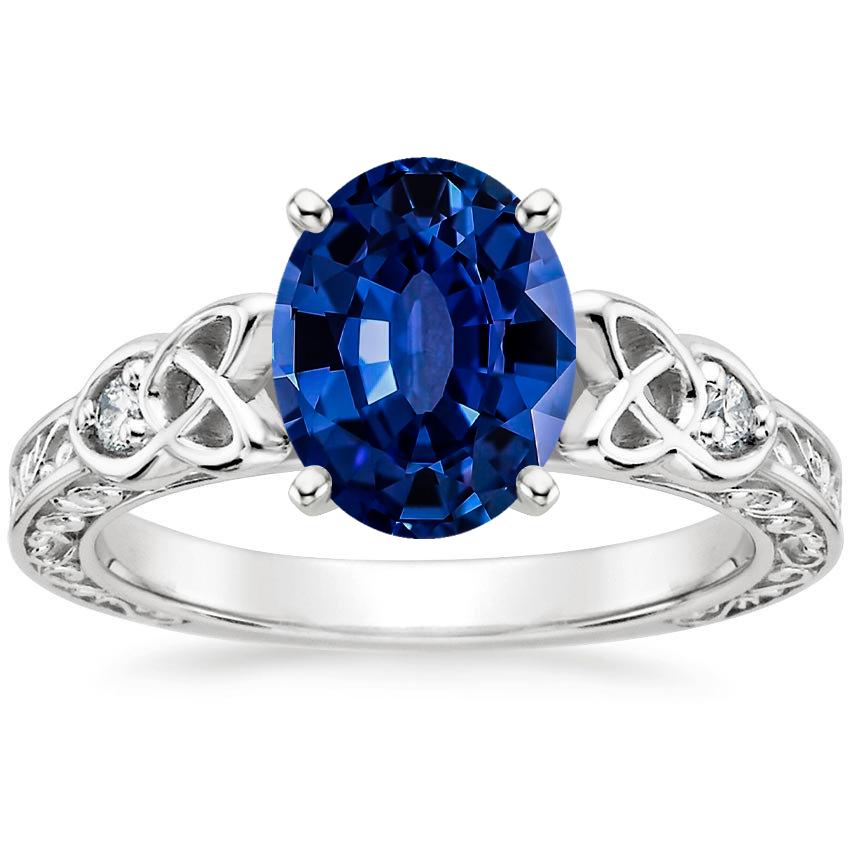 In addition to antique-inspired engagement rings, we offer wedding rings that combine sapphires with vintage details. Our Vintage Sapphire and Diamond Ring is one wedding band with a decidedly vintage feel, which would pair well with an antique or antique-inspired engagement ring.
Vintage Sapphire Engagement Rings and New Wedding Rings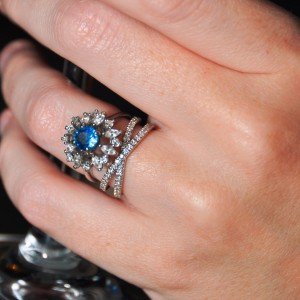 Sometimes women who are attracted to vintage engagement rings worry about how these unique rings from the past will pair with a modern wedding ring. We always assure these customers that there are myriad ways to match a vintage ring with a modern one. If you are curious about how to do this, read our previous blog post on the topic, How to Pair a Unique Estate Ring with a Wedding Band. Look at the photo above to see how one recent customer paired a vintage sapphire engagement ring with our Bisou wedding ring—a chic and distinctive pairing that works beautifully!
Final Thoughts
Antique and vintage-inspired sapphire rings continue to increase in popularity as modern couples turn to the past to represent their love in a distinctive way. Antique rings are always an ethical and eco-friendly choice, since no new mining is required to create these pieces. Brilliant Earth has a carefully curated and constantly updated collection of  vintage rings. Bookmark our New Arrivals page for the first look at these one-of-a-kind rings.
Do you love antique sapphire engagement rings?  What is your favorite style?  Let us know on Facebook or Twitter, or in the comments section!