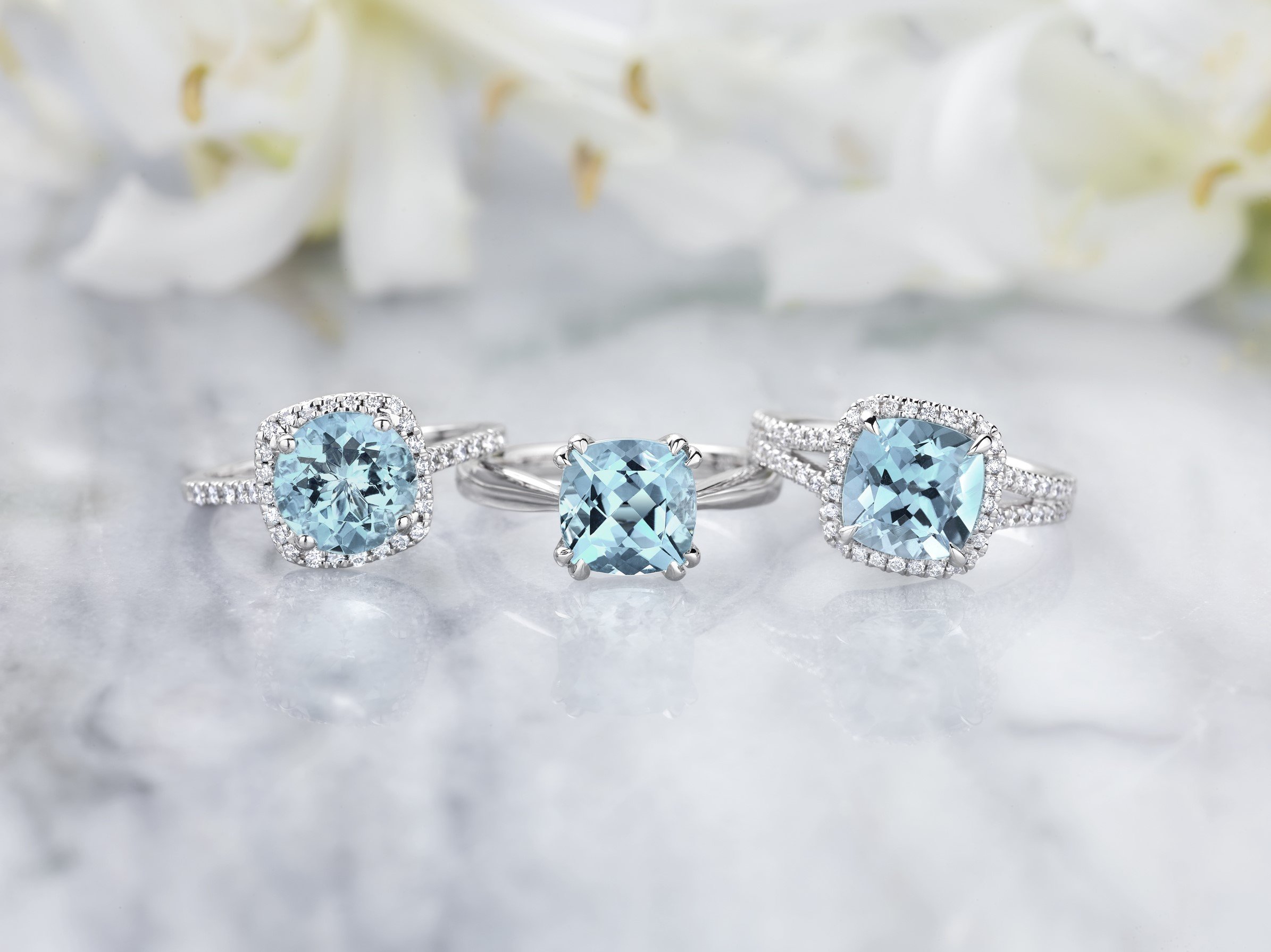 There's something about aquamarines. Possibly because they marry the classic color blue with some of the lovely transparency of diamonds, or because their breathtaking beauty comes at a more gentle price than that of diamonds or sapphires, vintage aquamarine engagement rings have been especially sought after lately.
Aquamarine means "water of the sea," a name which originated in the early 1700s, around the start of the Georgian era. These gorgeous gems are part of the beryl family of minerals, which also includes emeralds. Aquamarines come in colors ranging from the palest blue to dark blue-greens.
The aquamarines in vintage engagement rings are often emerald or oval cut, and can be found in a wide range of settings. Not linked with a specific decade or design era, you can find vintage aquamarine engagement rings from every design period from the Victorian era straight through to recent decades. If you love aquamarine rings, check out these eight vintage beauties:
The Brock Ring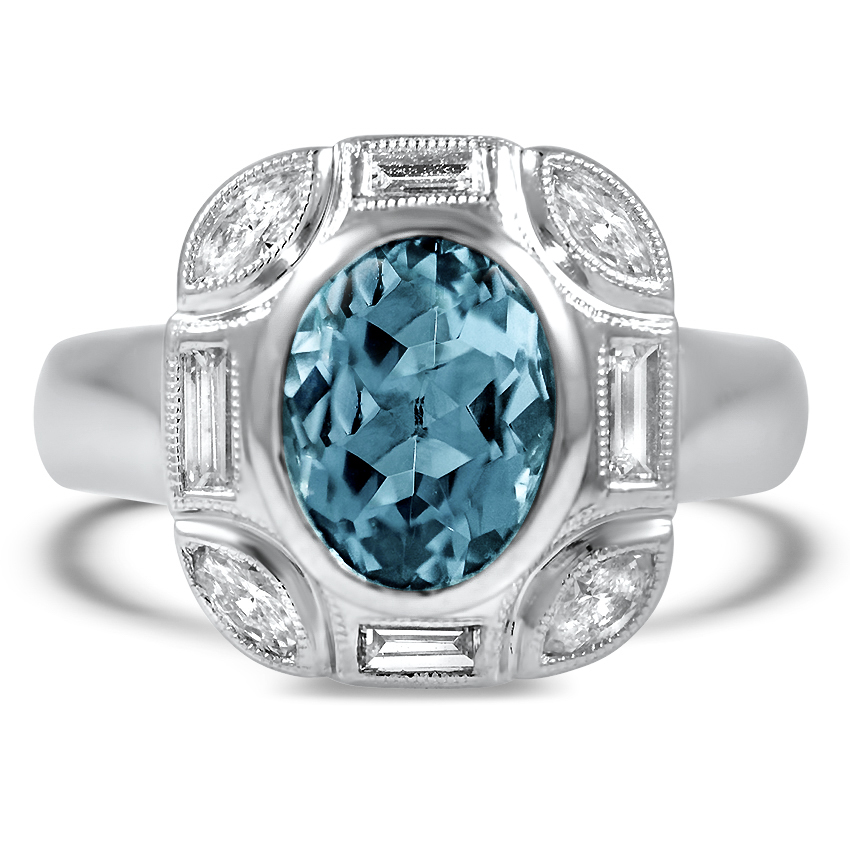 The glamorous Retro era Brock Ring features an aquamarine accented by beautiful baguette and marquise shaped diamond accents.
The Somes Ring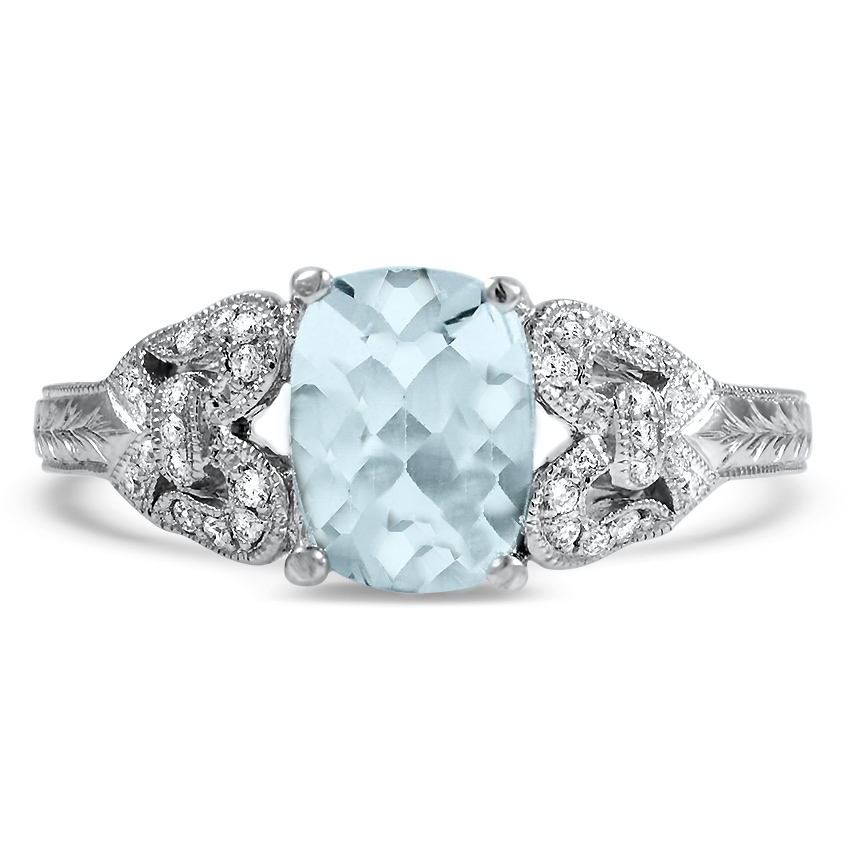 The exquisitely detailed  Somes Ring features a center aquamarine surrounded by delicate milgrain work, hand engraving, and diamond accents.
The Nolita Ring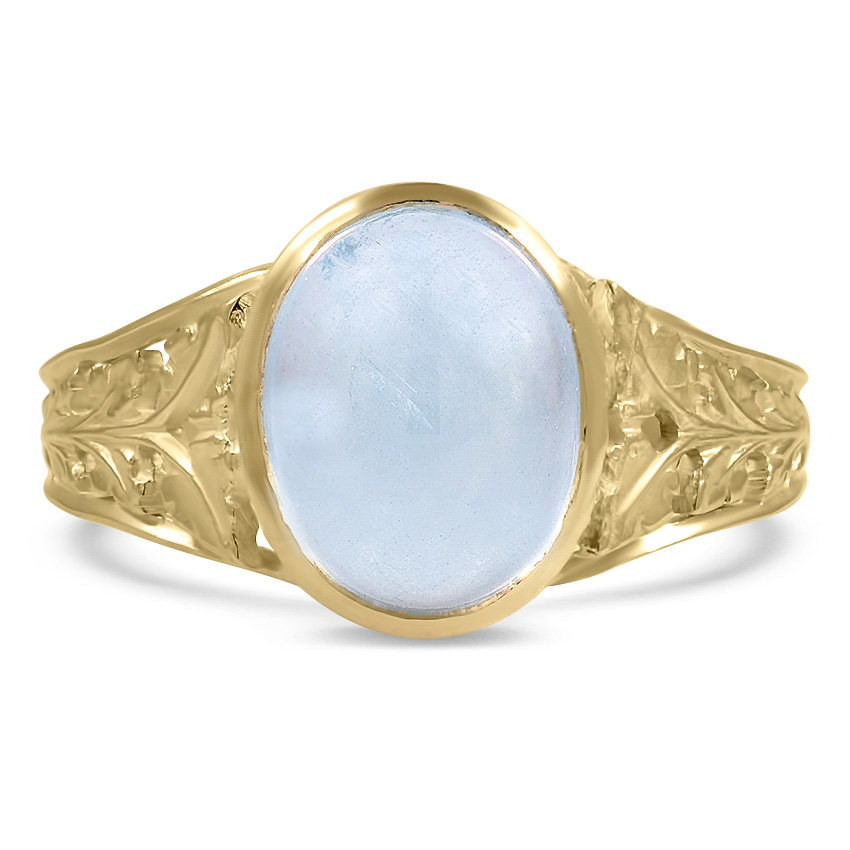 A glistening aquamarine cabochon rests at the center of the uniquely sculpted nature-inspired Nolita Ring.
The Caramel Ring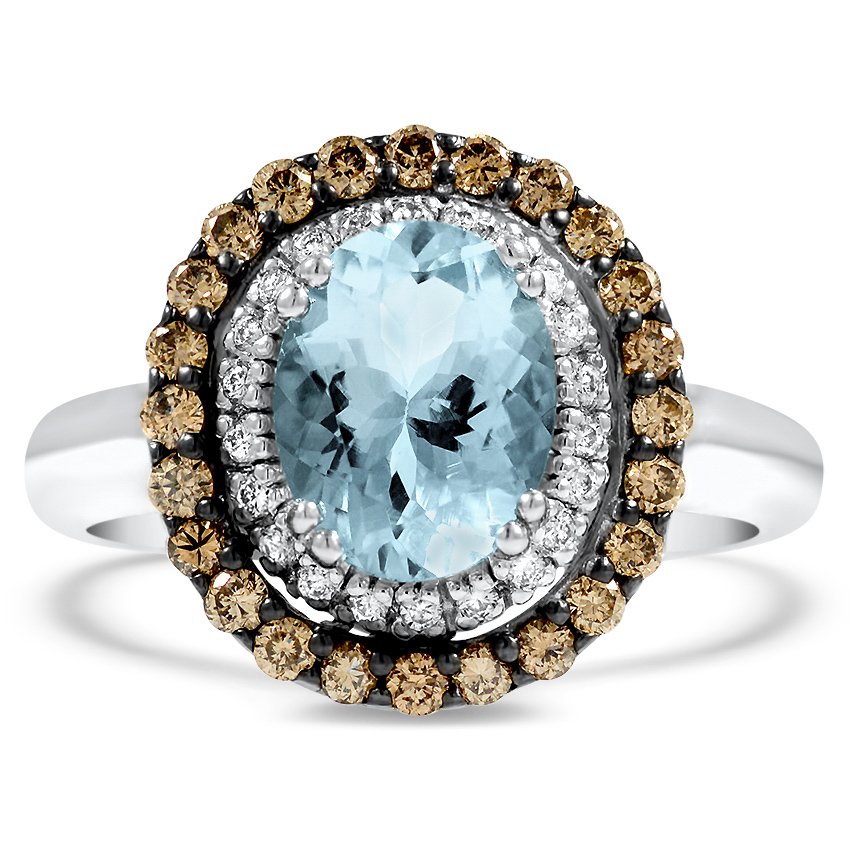 A glistening oval-shaped aquamarine is surrounded by a double halo of round brilliant diamonds and black rhodium plated champagne colored diamonds for a truly one-of-a-kind look
The Rosamond Ring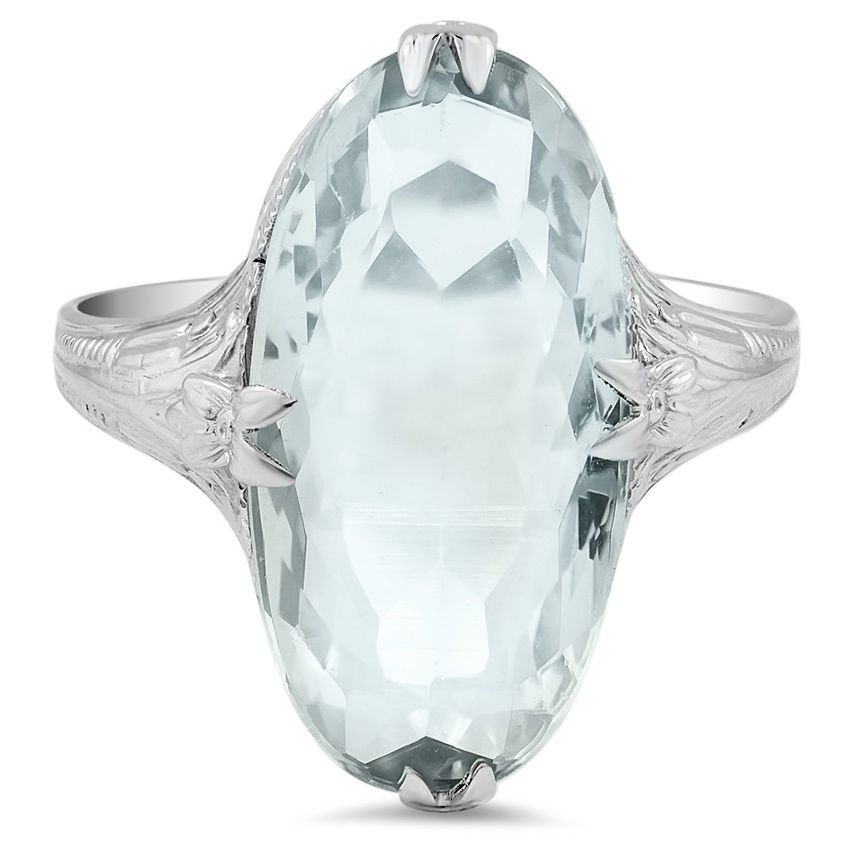 Floral engravings, delicate milgrain, and a glistening oval-shaped aquamarine make the Art Deco Rosamond Ring positively stunning.
The Hempstead Ring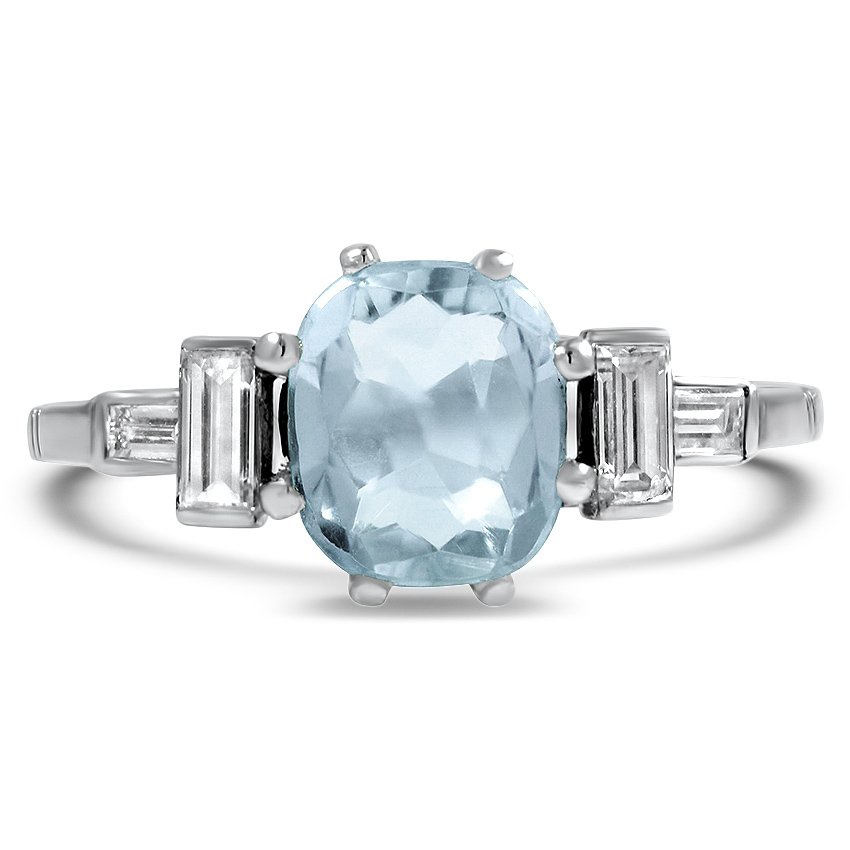 A glistening aquamarine rests between baguette cut diamonds in the Art Deco-era Hempstead Ring.
The Kristsan Ring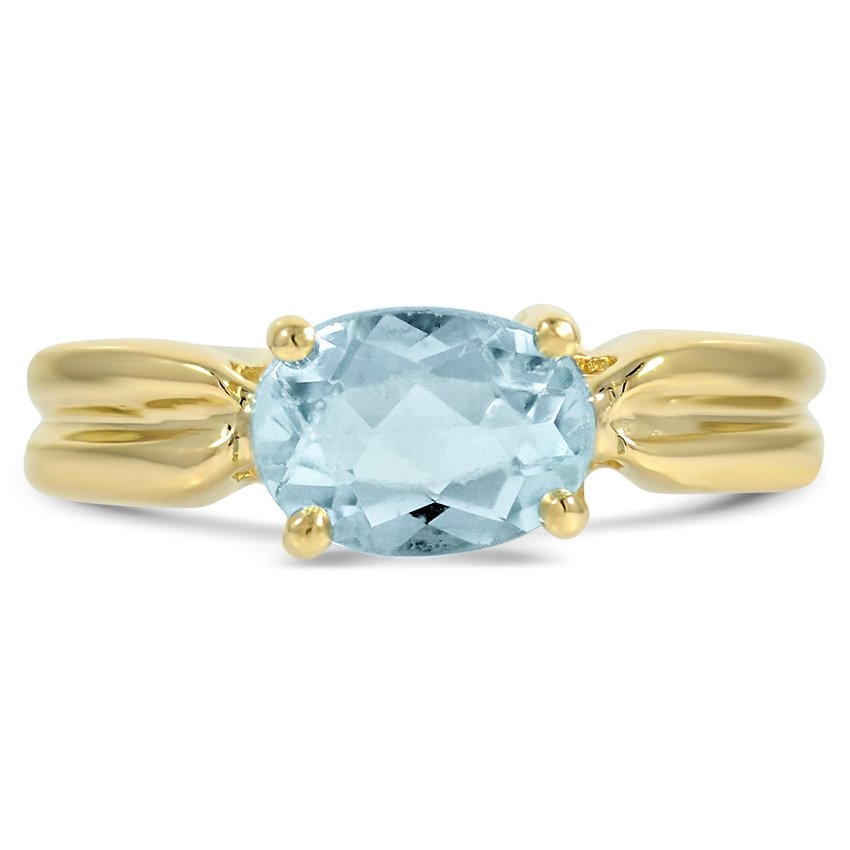 An oval-shaped aquamarine is set east-west in this chic and sophisticated Retro-era ring.
The Sonnett Ring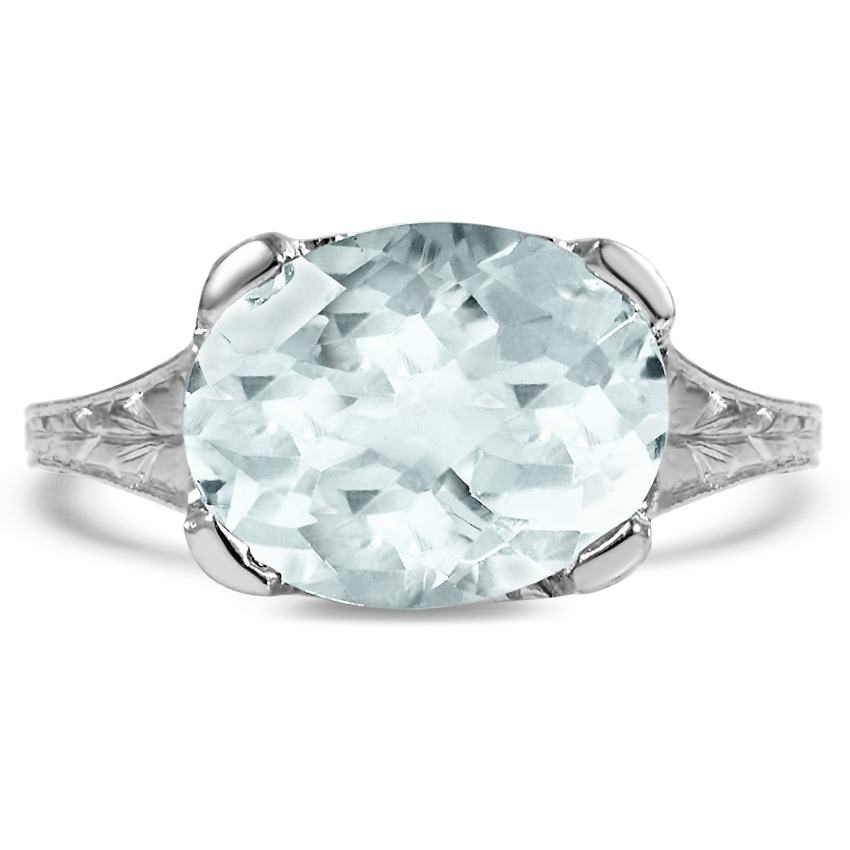 Incredible floral engravings and a glistening aquamarine make the Edwardian-style Sonnet Ring a stunning vintage find.
Final Thoughts
Which of these vintage aquamarine engagement rings do you think is the most exquisite? Let us know on Instagram, Facebook or Twitter, or in the comments section! Not looking for something vintage? Explore our new collection of preset aquamarine engagement rings!