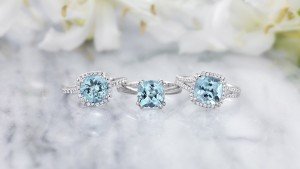 There's something about aquamarines. Possibly because they marry the classic color blue with some of the lovely transparency of diamonds, or because their breathtaking beauty comes at a more gentle price than that of diamonds or sapphires, vintage aquamarine engagement rings have been especially sought after lately.
Aquamarine means "water of the sea," a name which originated in the early 1700s, around the start of the Georgian era. These gorgeous gems are part of the beryl family of minerals, which also includes emeralds. Aquamarines come in colors ranging from the palest blue to dark blue-greens.
The aquamarines in vintage engagement rings are often emerald or oval cut, and can be found in a wide range of settings. Not linked with a specific decade or design era, you can find vintage aquamarine engagement rings from every design period from the Victorian era straight through to recent decades. If you love aquamarine rings, check out these eight vintage beauties:

The Anisha Ring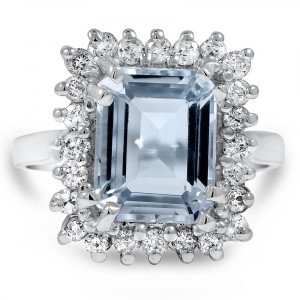 The glamorous Retro era Anisha Ring showcases an emerald cut aquamarine surrounded by a halo of twenty four round brilliant diamond accents. The raised gallery allows the beauty of the center gemstone to really shine.

The Vanyua Ring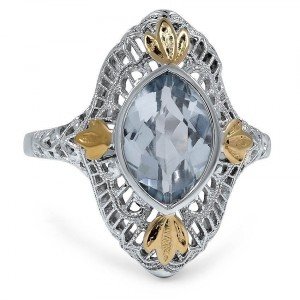 The exquisitely detailed Edwardian era Vanyua Ring features a marquise shaped aquamarine surrounded by delicate milgrain work and selectively gold plated floral details.

The Renatta Ring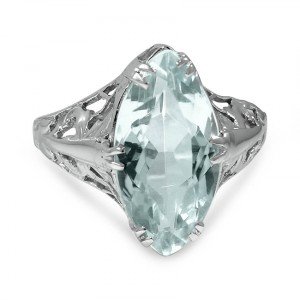 The Renatta Ring exudes graceful Edwardian era beauty. An elegant marquise shaped aquamarine takes center stage in a delicately detailed platinum claw prong setting.

The Ivette Ring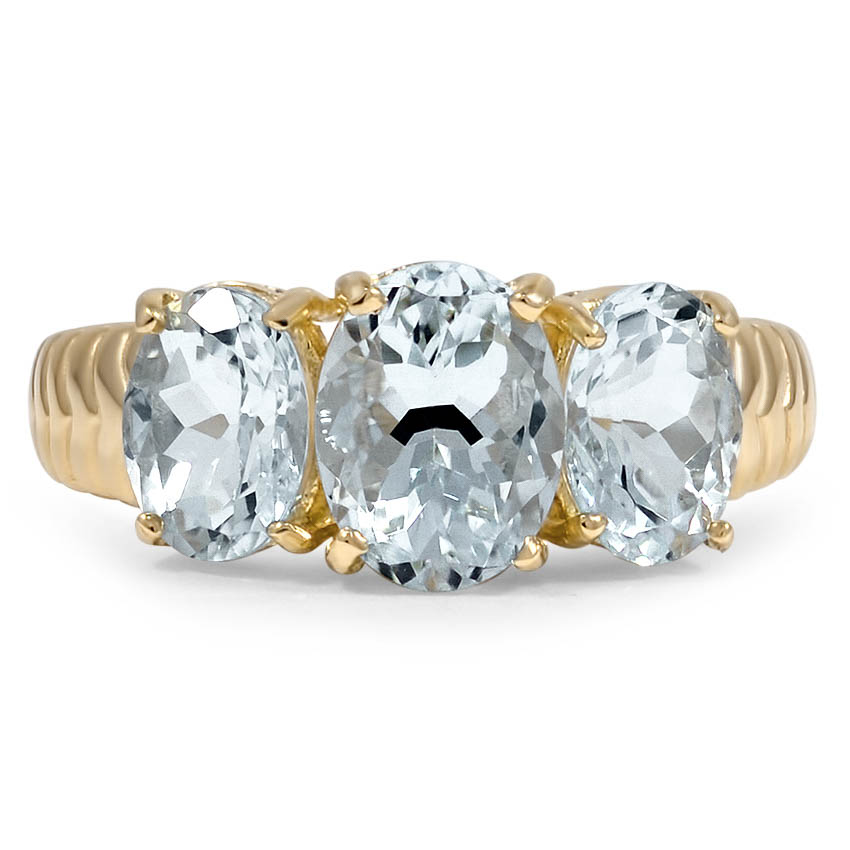 The Ivette Ring is a classic and romantic three-stone design with distinctive style. Three oval aquamarines are accented by warm yellow gold and chic engraving on the band.
The Xaria Ring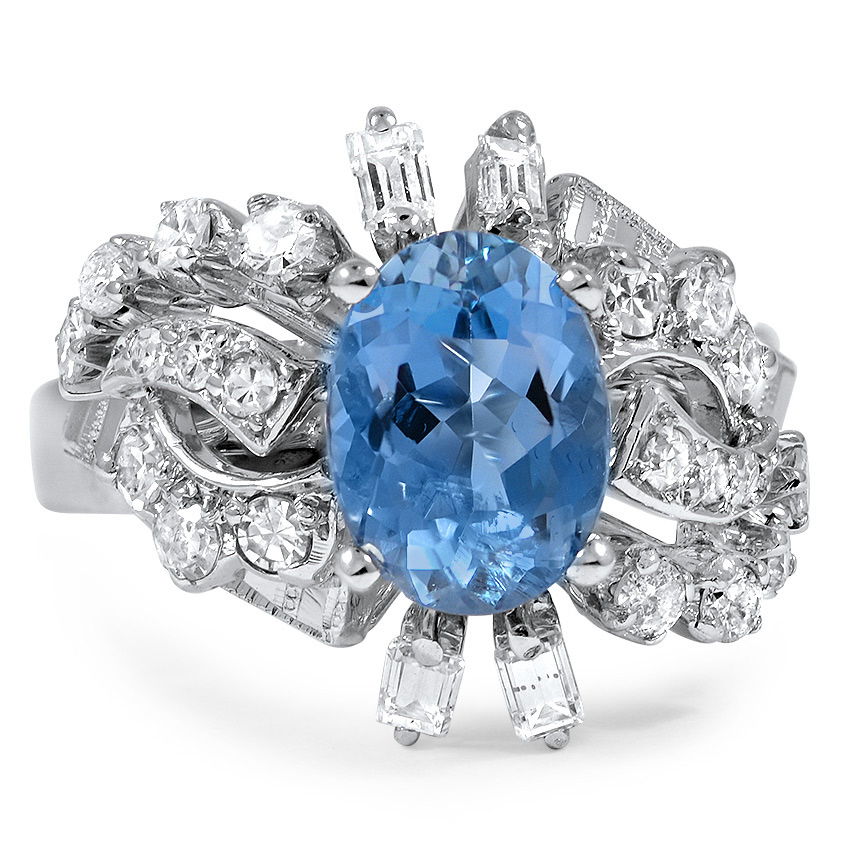 With the exuberant glamour of the Retro era, the Xaria Ring surrounds an oval azure aquamarine with four diamond baguettes and twenty single cut diamonds in a swirling, asymmetrical setting.
The Eilene Ring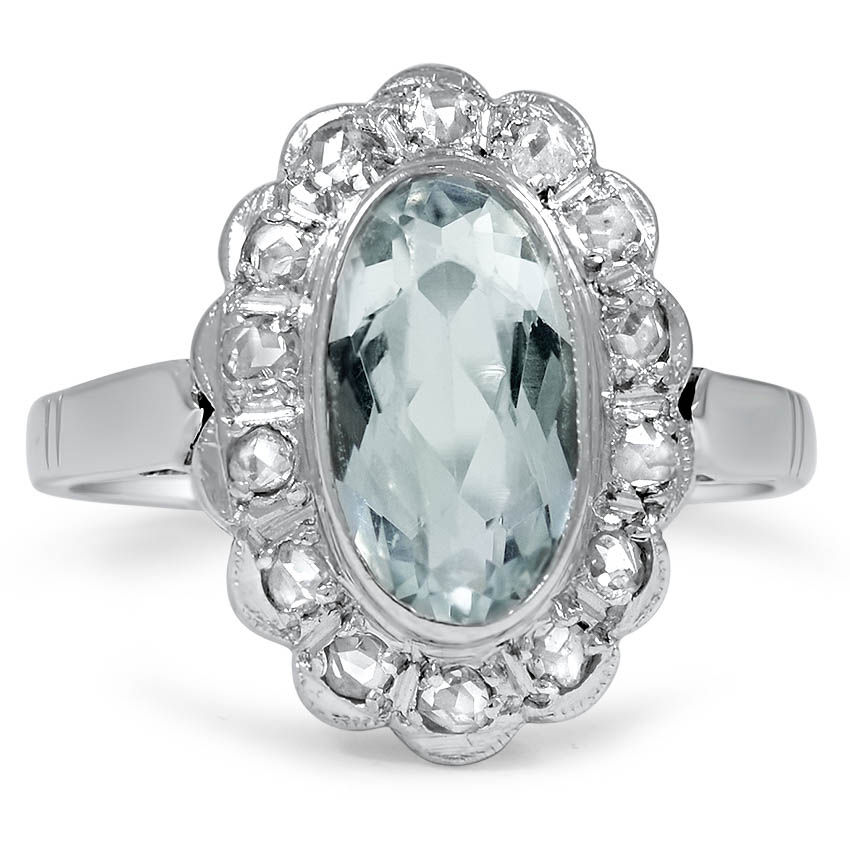 An exquisite beauty from the Art Deco era, the Eilene Ring features an oval cut aquamarine accented by a halo of quintessentially antique rose cut diamonds.
The Sulema Ring
The Sulema Ring beautifully exhibits the style of the Victorian era. A halo of thirteen lustrous seed pearls surrounds an oval aquamarine in a yellow gold bezel.
The Bettie Ring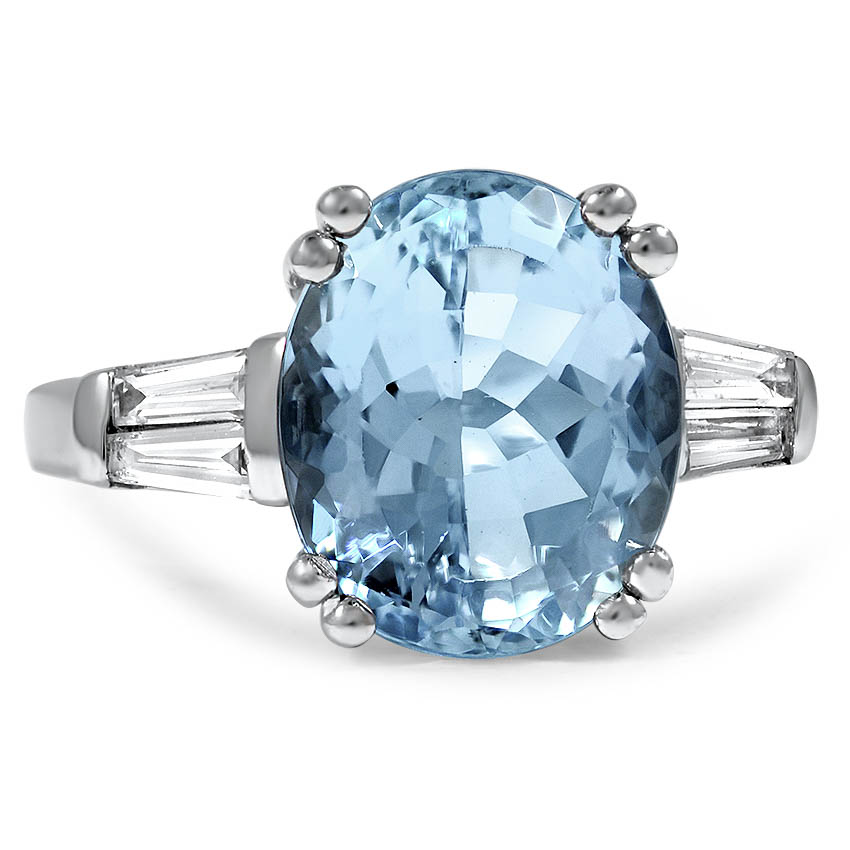 With its breathtaking oval aquamarine, the Bettie Ring could be an engagement ring or a cocktail ring. The double-prong setting and tapered baguettes on the shoulders add to the ring's glamorous visual impact.
Final Thoughts
Which of these vintage aquamarine engagement rings do you think is the most exquisite? Let us know on Facebook or Twitter, or in the comments section! Not looking for something vintage? Explore our new collection of preset aquamarine engagement rings!