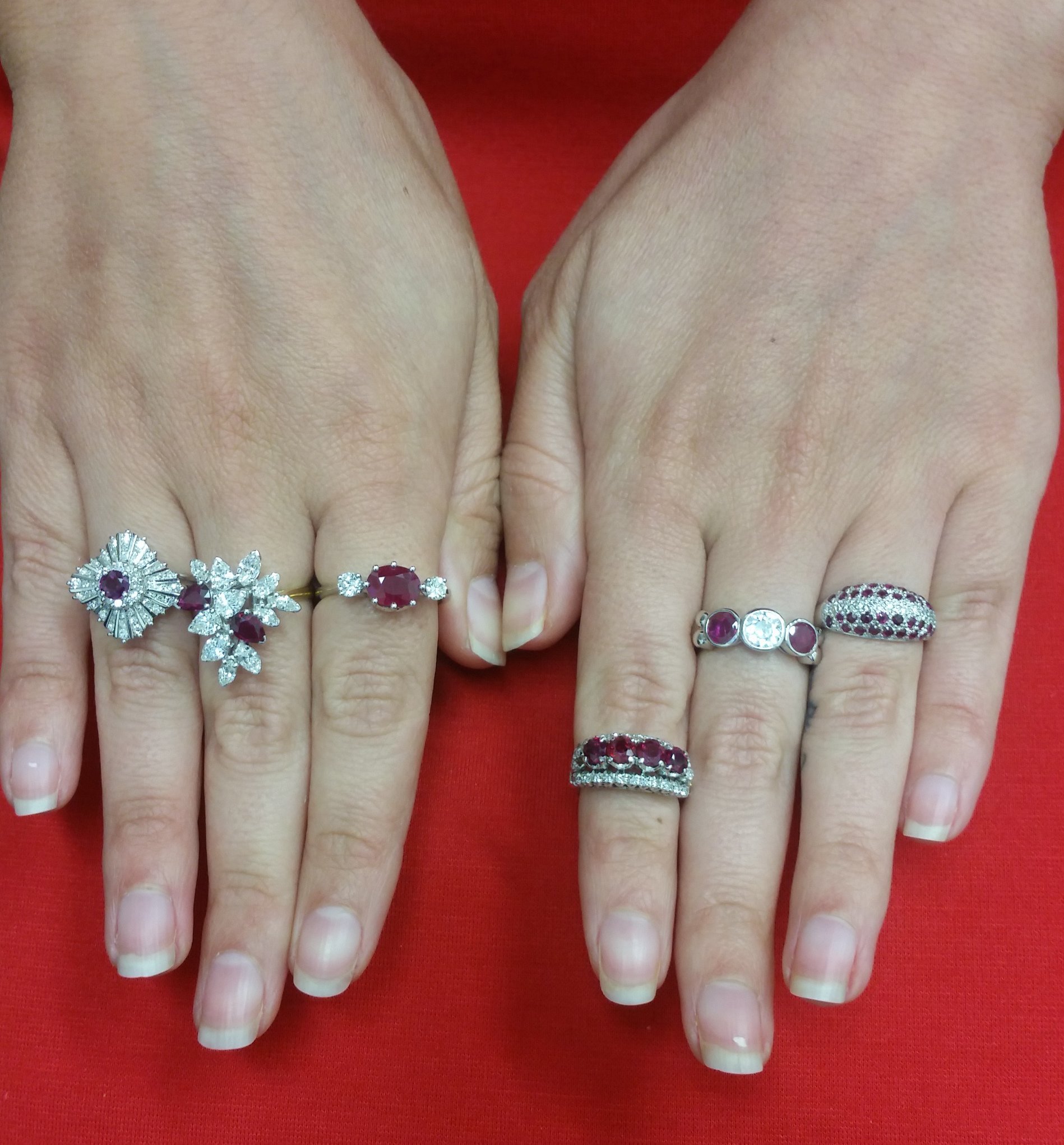 Rubies have been one of the most valued gemstones for thousands of years, both in Eastern and Western cultures. Rubies were valued for their beauty and for the belief that they offered the wearer health, wealth, wisdom, romantic success, and the ability to live in peace with his or her enemies. Because red has long been associated with love and passion, a ruby makes a fitting focal point for an engagement ring.
We do not carry rubies that come from mines in Burma, a country with a serious history of abuses in gemstone mining. Though the US government lifted the official ban on Burmese rubies in October, we believe substantive reform still remains until the country's mines are safe for workers and the environment, and until their profits no longer line the pockets of military cronies.
At Brilliant Earth, we carry antique and vintage ruby engagement rings from as long ago as the Victorian era, as well as from recent decades. In our gallery of unique colored gemstones, we also offer lab created and ethically sourced rubies that can be set in your favorite Brilliant Earth ring setting.
If you are drawn to rubies, we bet you'll fall for at least one of these breathtaking ruby engagement rings:
The Osa Ring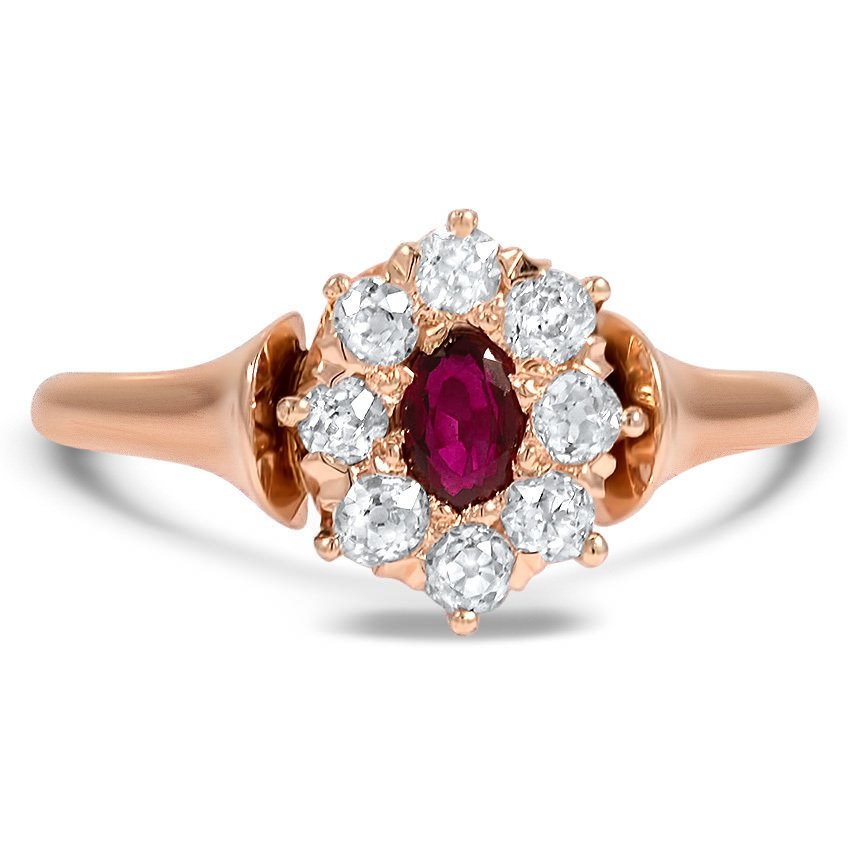 A treasure from the 1920s, the Osa Ring showcases a round synthetic Ruby surrounded by a halo of eight mine cut diamonds. Light, graceful, and elegant, this vintage ring's design truly embodies the Edwardian aesthetic.
The Juana Ring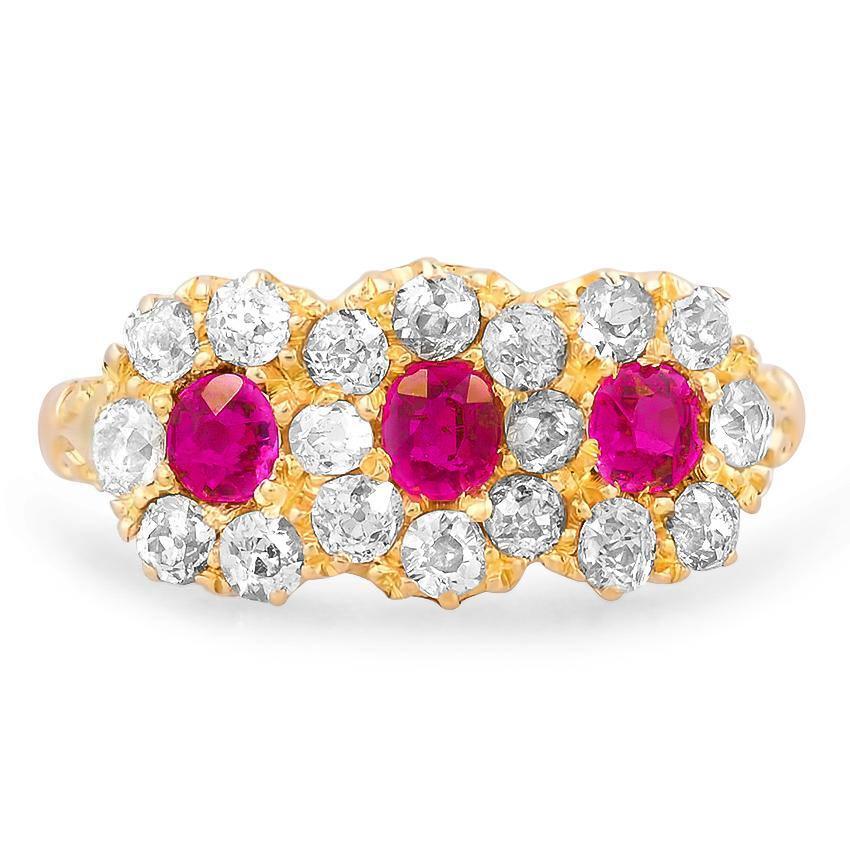 Crafted from luminous 18k yellow gold, this Victorian-era ruby ring features three lovely oval rubies surrounded by brilliant halos of old European-cut diamonds, creating a dazzling look with timeless appeal.
The Vedette Ring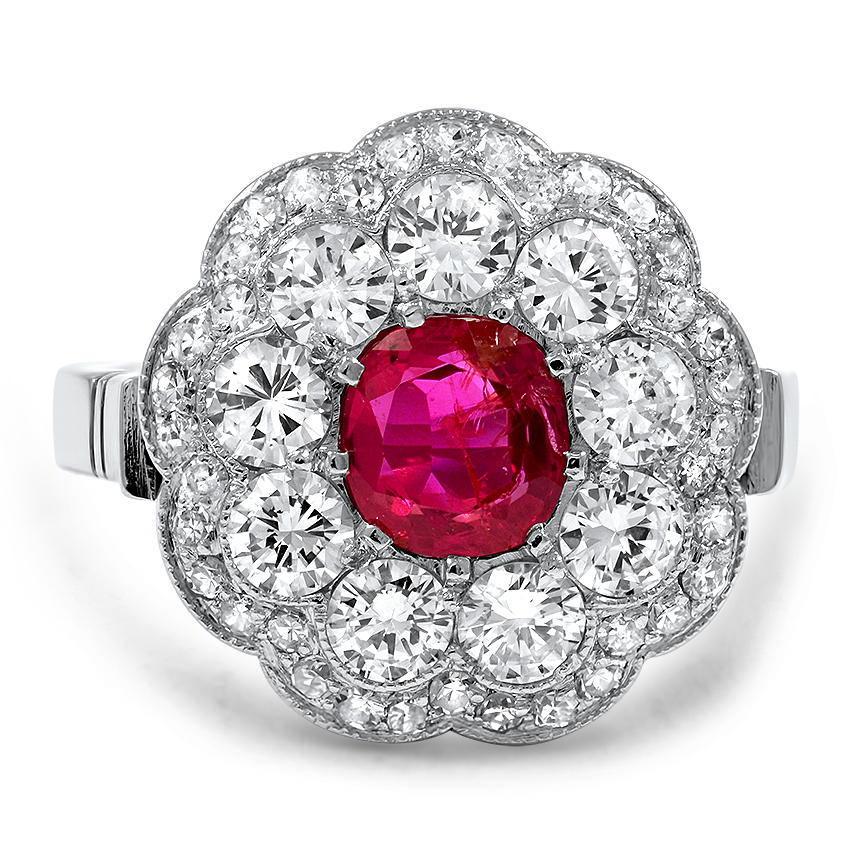 With artistry characteristic of Art Deco designs, the Vedette Ring showcases a cushion-shaped natural ruby surrounded by a magnificent double halo. Set in this impressive platinum setting, larger diamonds sparkle on the inner halo, while smaller diamonds create the outer halo for a truly majestic look.
The Krista Ring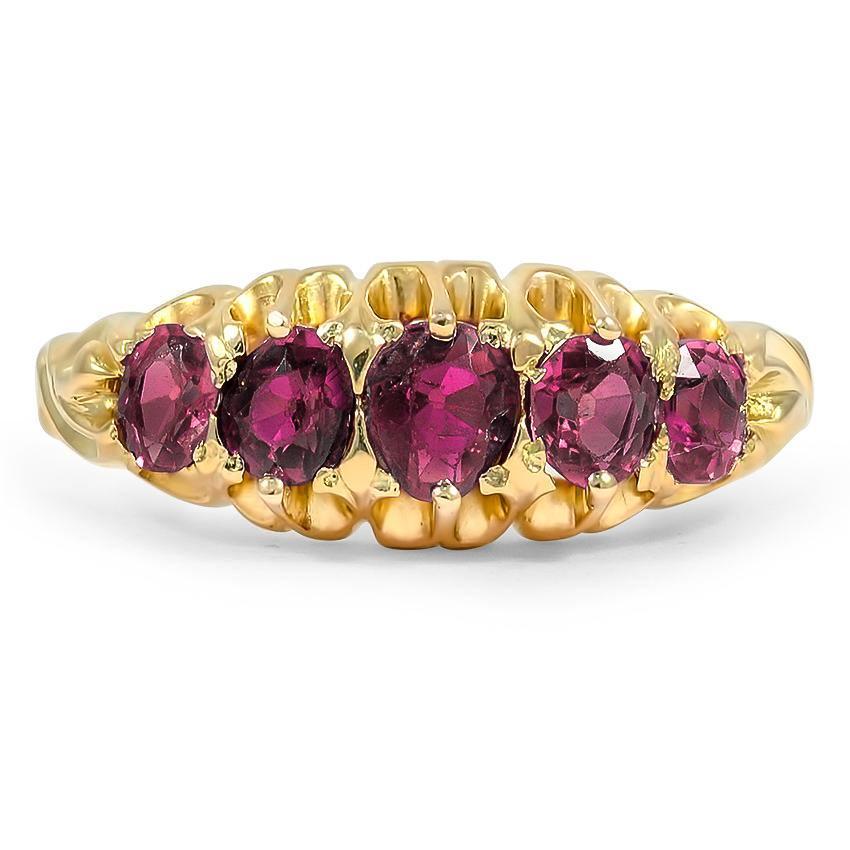 Captivating and unique, the Edwardian-era Krista Ring features an array of five rubies accented by the gleaming shine of its 18K yellow gold setting.
The Kristyn Ring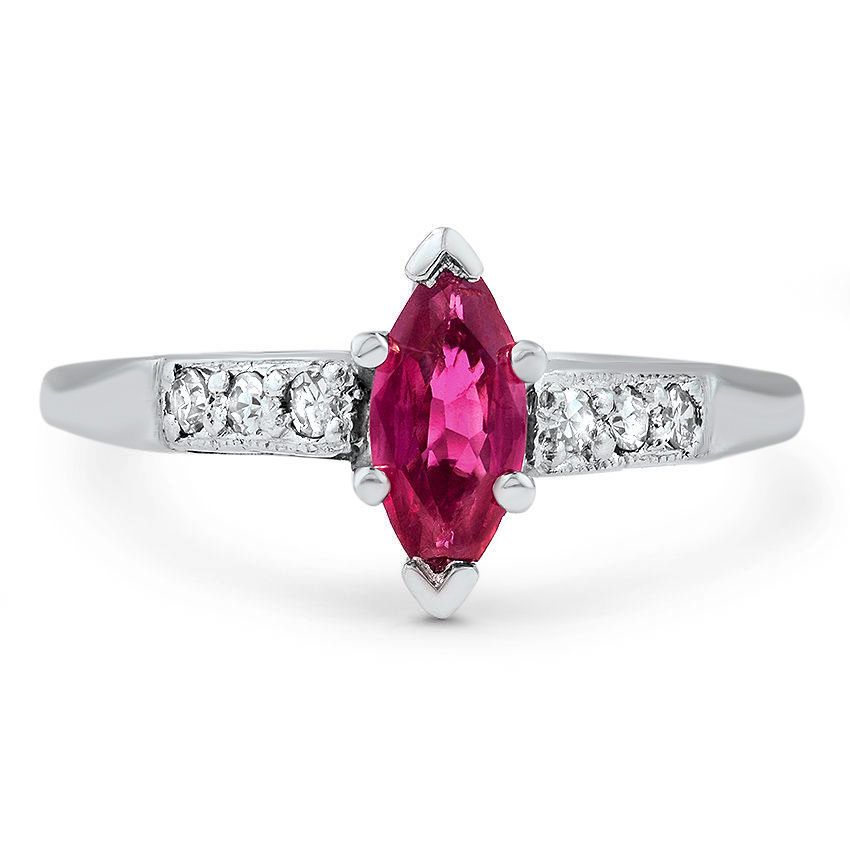 This stunning Art Deco ruby engagement ring boasts a vivid marquise-shaped synthetic ruby set atop a platinum and 12K white gold setting. Three sparkling single cut diamond accents rest on either side of this irresistible piece.
The Leta Ring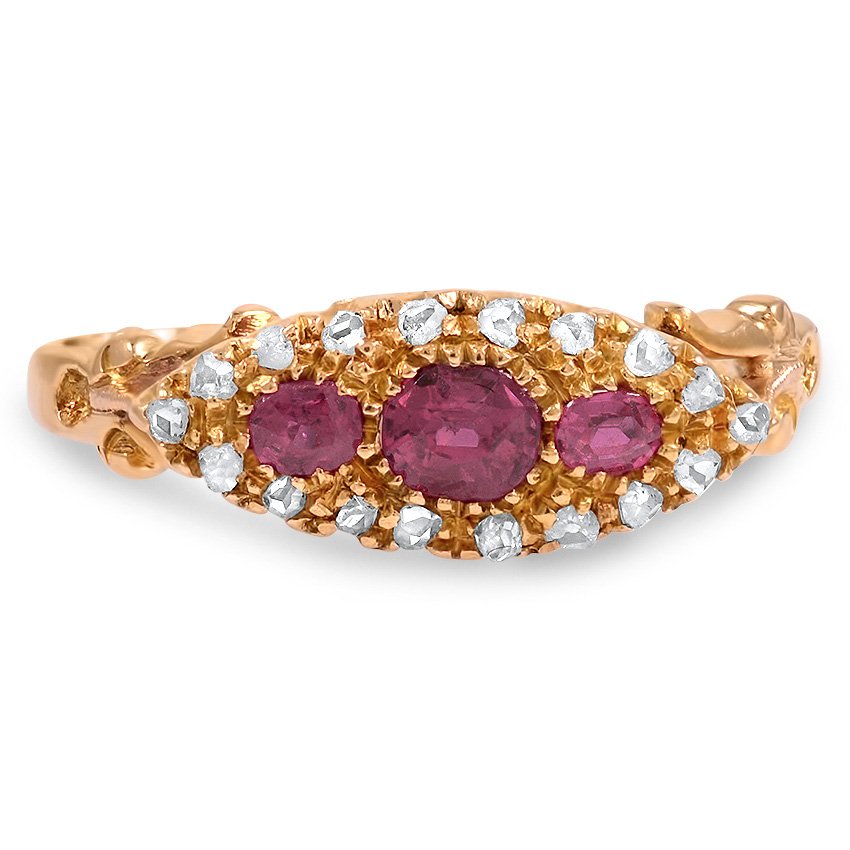 This unforgettable Victorian-era ring features three oval-shaped rubies encircled by shimmering accent diamonds. Delicately sculpted botanic designs along the Leta Ring's shoulders make this piece exceptionally elegant.
The Latoria Ring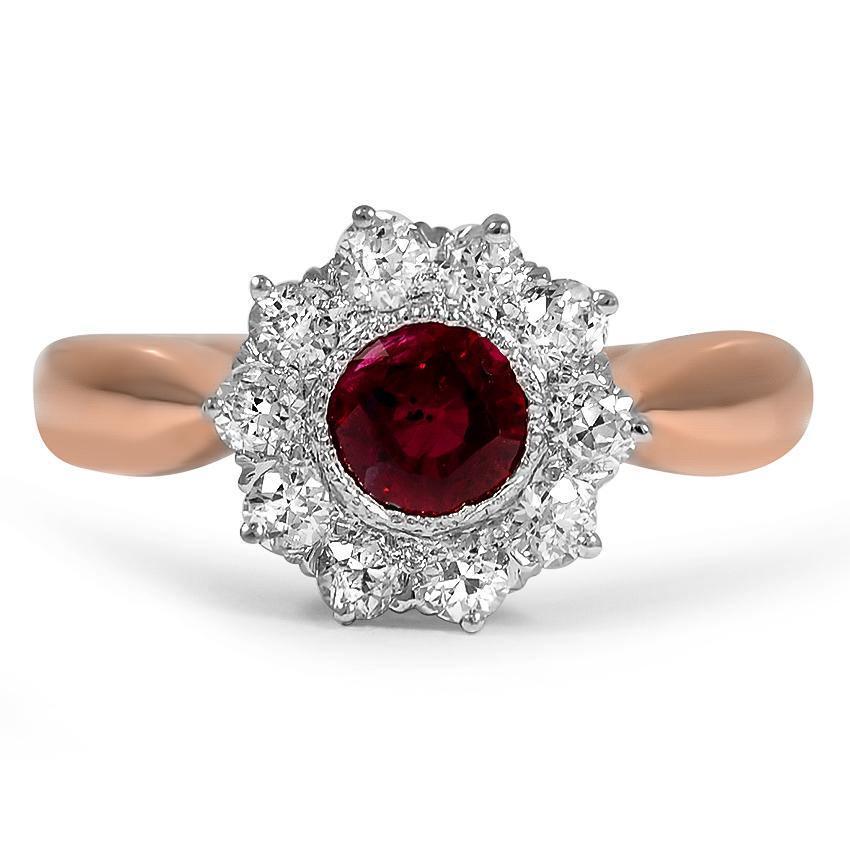 A lovely round natural ruby is surrounded by a halo of diamond accents, reminiscent of a burst of fireworks. The 18k rose gold shank of this Retro-era piece creates a captivating contrast, adding to the spellbinding qualities of this ring.
Final Thoughts
Do you love ruby engagement rings?  Which of these antique and vintage beauties is your favorite?  Let us know on Facebook, Instagram, or Twitter, or in the comments section!