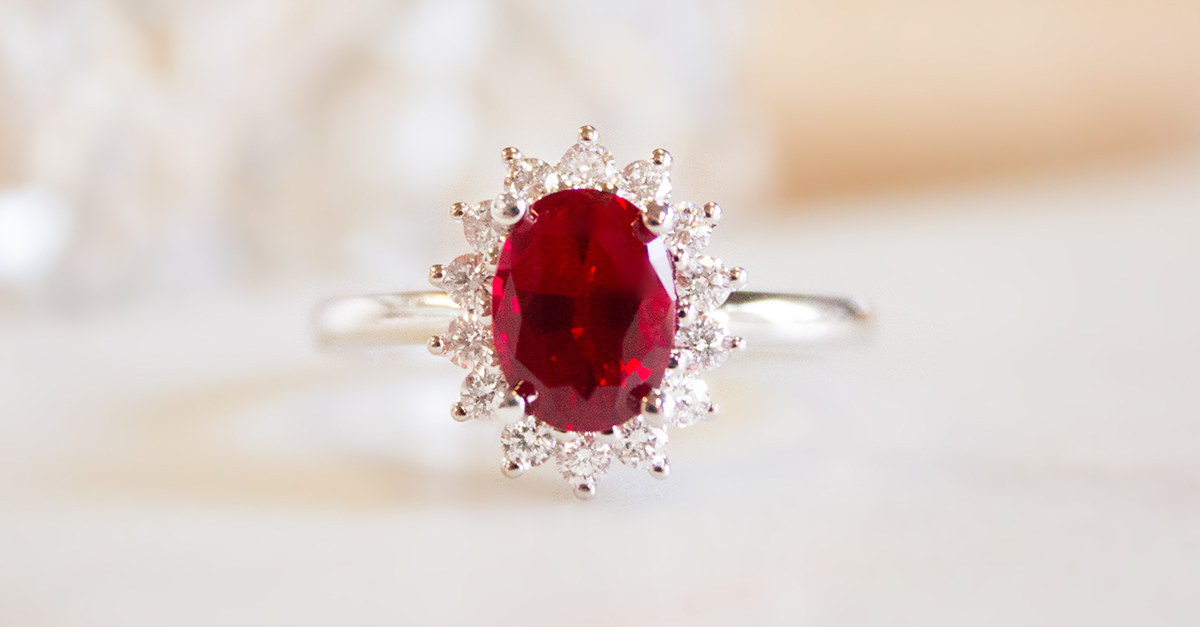 Rubies have been one of the most valued gemstones for thousands of years, both in Eastern and Western cultures. Rubies were valued for their beauty and for the belief that they offered the wearer health, wealth, wisdom, romantic success, and the ability to live in peace with his or her enemies. Because red has long been associated with love and passion, a ruby makes a fitting focal point for an engagement ring. Rubies are also the birthstone for those born in July, making it a great purchase for any July babies in your life!
We do not carry rubies that come from mines in Burma, a country with a serious history of abuses in gemstone mining. Though the US government lifted the official ban on Burmese rubies in 2016, we believe substantive reform still remains until the country's mines are safe for workers and the environment, and until their profits no longer fund violence.
At Brilliant Earth, we carry antique and vintage ruby engagement rings from as long ago as the Victorian era up to recent decades. In our gallery of unique colored gemstones, we also offer lab created and ethically sourced rubies that can be set in your favorite Brilliant Earth ring setting.
If you are drawn to rubies, we bet you'll fall for at least one of these breathtaking ruby engagement rings:
The Zamie Ring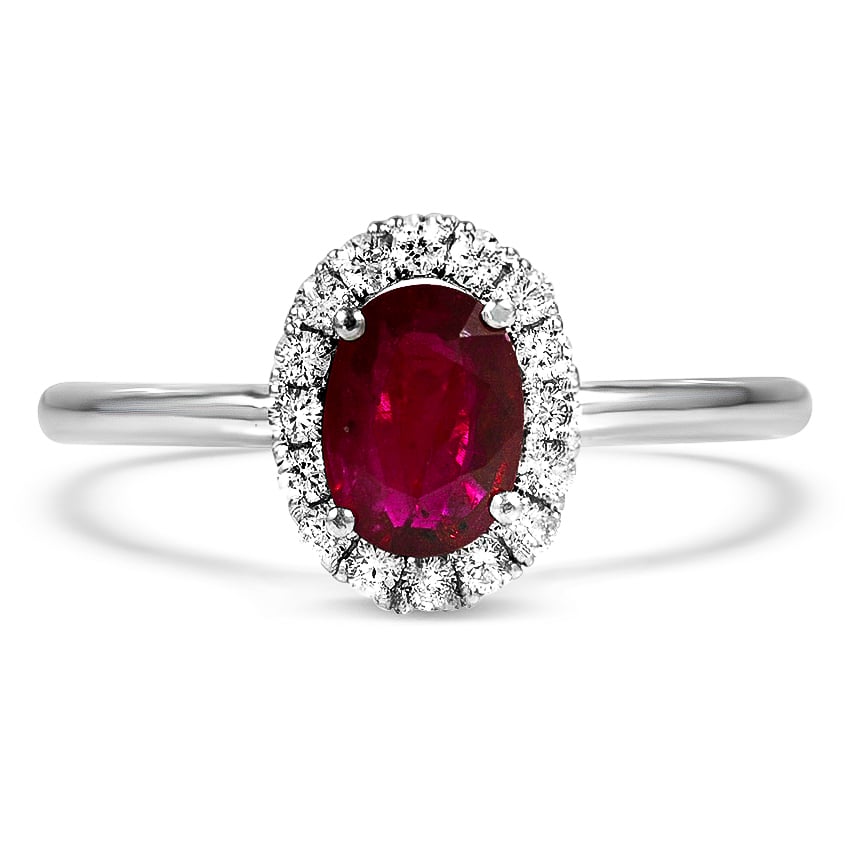 This stunning Modern estate piece features a halo of 16 brilliant cut diamonds that shimmer around a richly colored oval ruby. The lustrous 14K white gold of the band compliments the diamond halo and allows the center ruby to be the focal point of this ring.
The Zedd Ring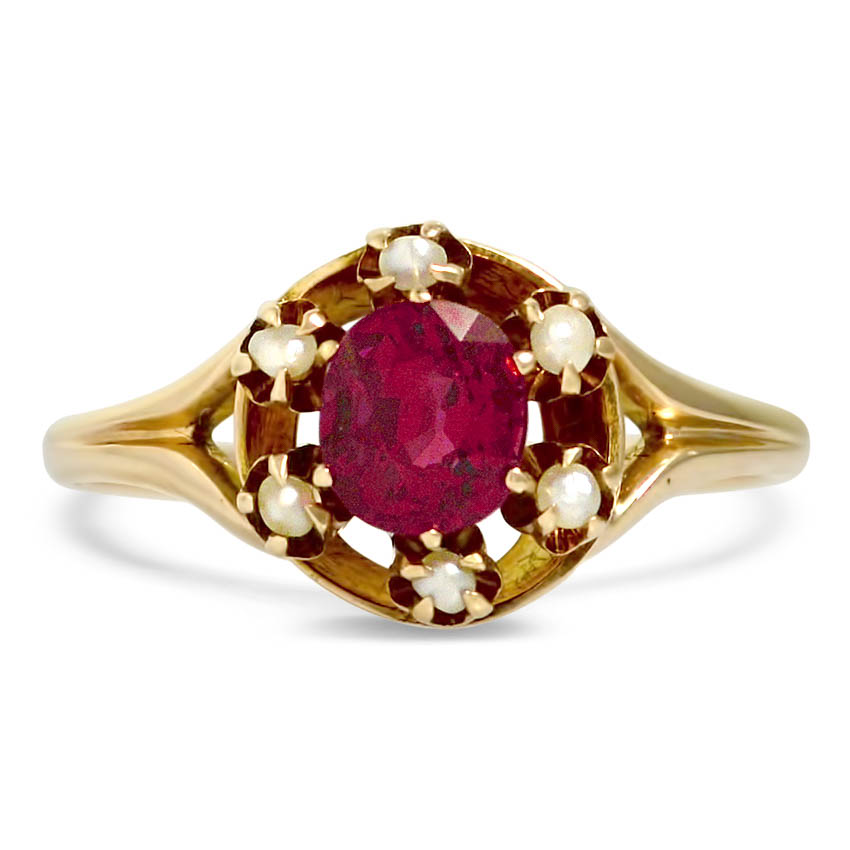 This Victorian ring boasts intricate details from its unique concave halo to its split shank band crafted in 10K rose gold. Delicate seed pearls frame the approximately 1 ct. natural ruby set in the center.
The Kevina Ring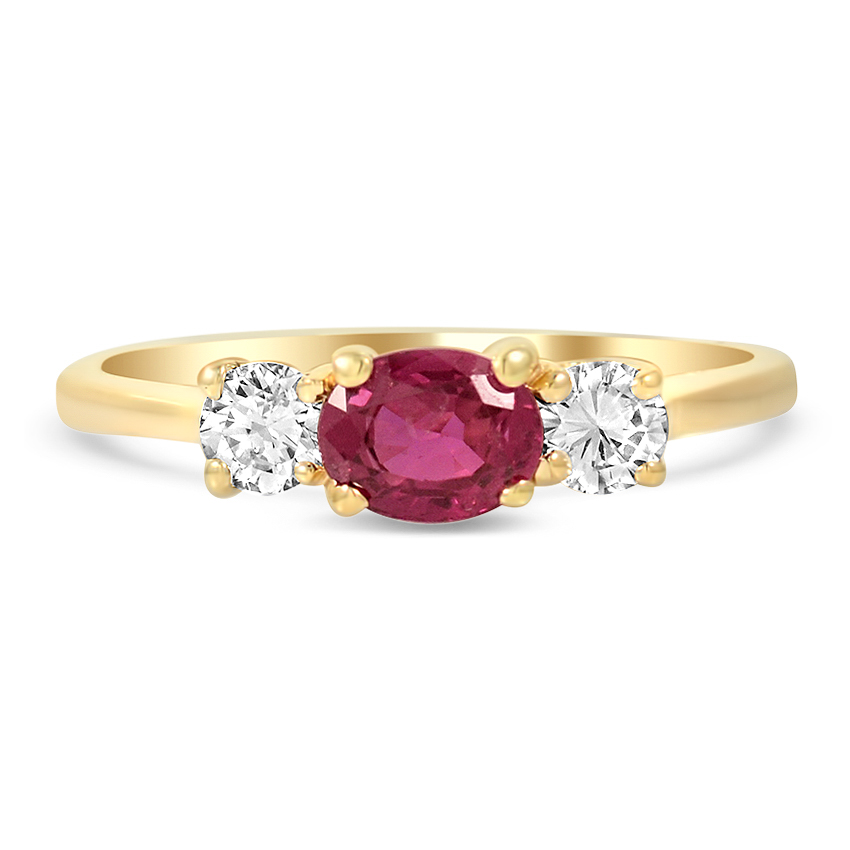 A modern classic, this Modern estate ring offers an oval ruby flanked by brilliant cut diamonds set in a slender 14K gold band. Three stone rings are a popular choice, especially since Prince Harry gave one to Meghan Markle as her engagement ring, for their sentimental symbolism of a couple's past, present, and future.
The Sherah Ring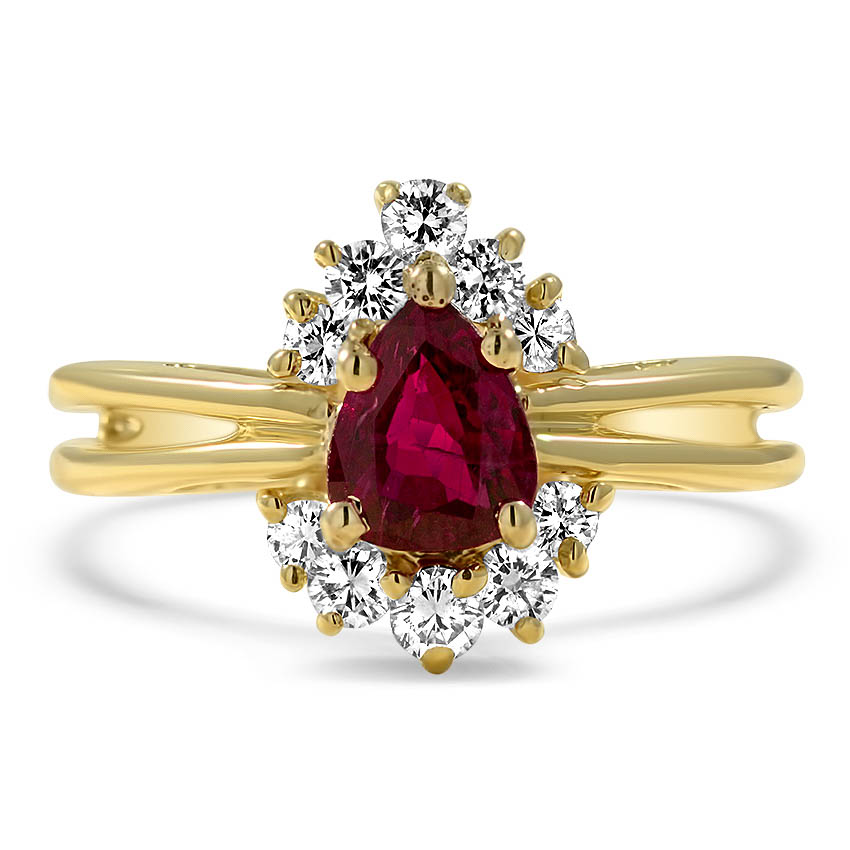 This regal ring is loaded with showstopping details. A richly colored pear shaped ruby at the center is surrounded by brilliant cut diamonds and ribbons of 14K yellow gold.
The Nesta Ring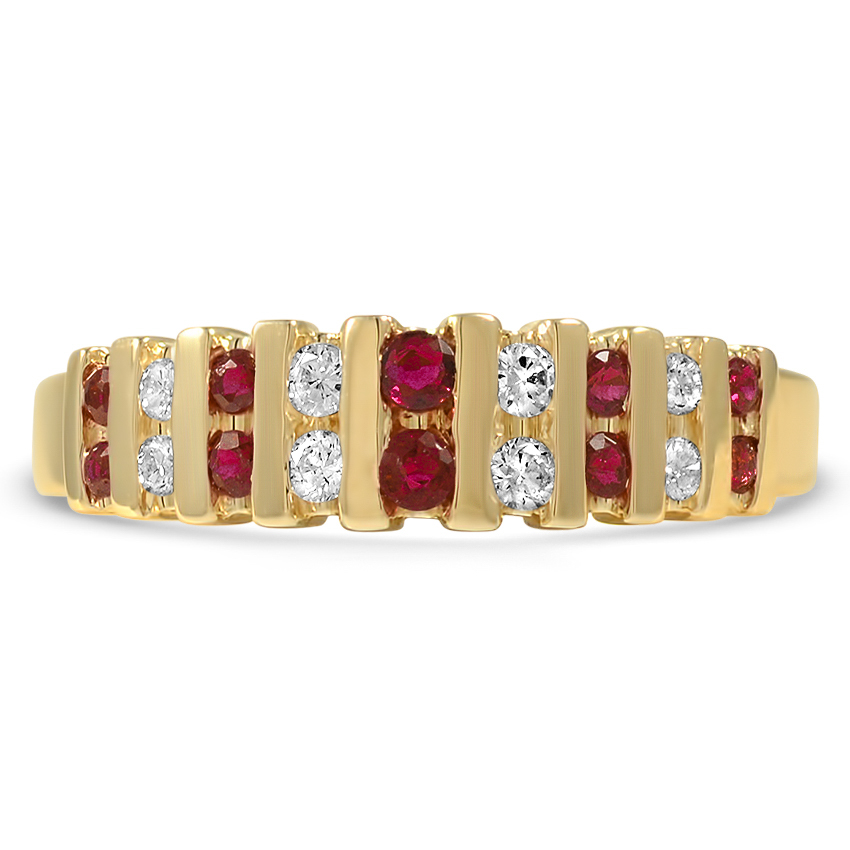 This gorgeous Retro-era engagement ring from the 1940's flaunts repeating vertical rows of brilliant cut diamonds and rubies set between 18K yellow gold bars.
The Verile Ring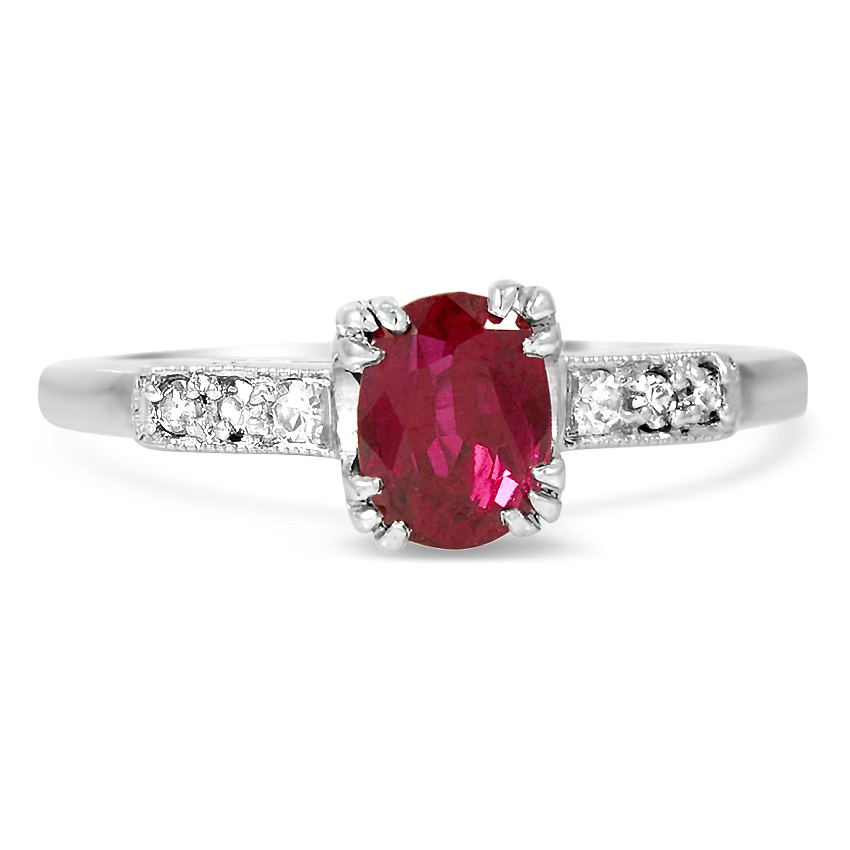 This eye-catching Retro-era ring features an oval ruby set in a shimmering platinum band. Details like decorative call prongs, milgrain, and single cut diamond accents make this ring truly unique.
The Shaw Ring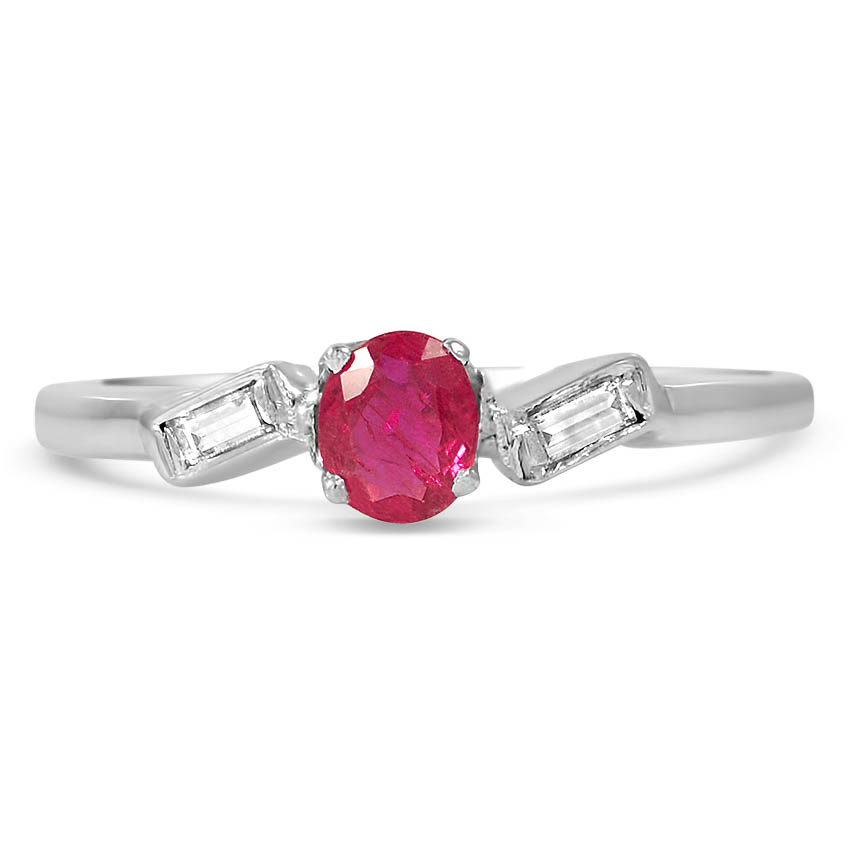 This Art Deco era ring from the 1930's is a simple beauty with a pinky oval ruby at the center of two angled baguette diamond accents. The Art Deco era was stylized by geometric shapes and white gold bands.
Final Thoughts
Do you love ruby engagement rings?  Which of these antique and vintage beauties is your favorite?  Let us know on Facebook, Instagram, or Twitter, or in the comments section!