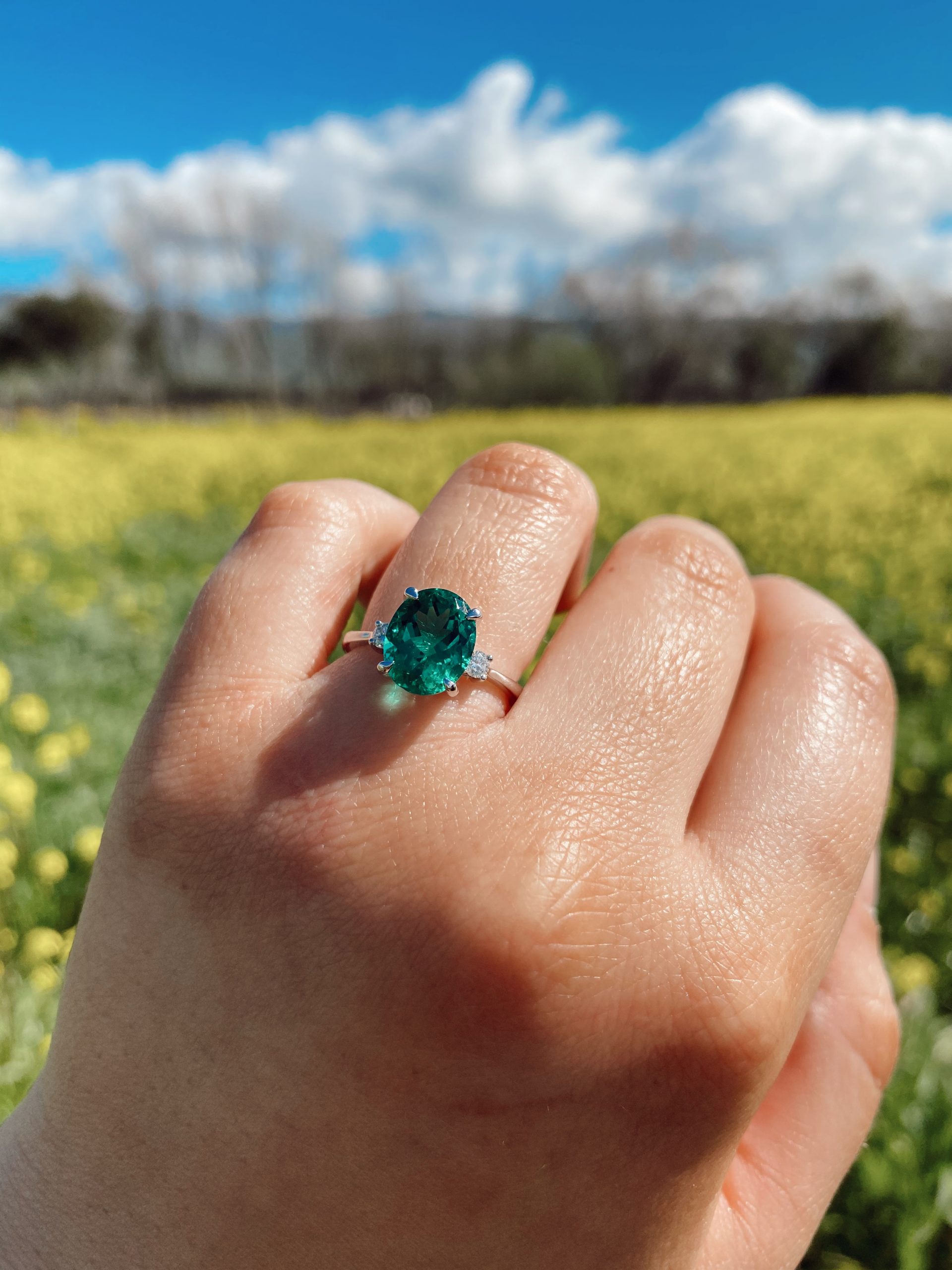 When it comes to an engagement or "just because" ring, why not go green?
Our customers are increasingly opting for vibrant gem center stones that suit their personality and unique sense of style. Green gemstones in particular are having a moment and make a natural choice for engagement ring center stones as the color represents serenity, growth, and new beginnings. Luxe green gemstones have been beloved for centuries by the likes of Cleopatra, Jackie Kennedy, and more recently by celebrities including Halle Berry, Victoria Beckham, and Oliva Wilde. As elegant as they are eye-catching, these gorgeous green gems make for an exciting and uniquely beautiful statement.
Read on to discover some of our favorite green gemstone picks that will ensure your ring stands out!
Emerald
The most well-known and highly prioritized of green gemstones, emeralds make a stunning statement for an engagement ring center stone. Emeralds are a rich green variety of the mineral beryl and radiate vivid and eye-catching color. Hues can range from a vibrant true green to a having a blue undertone and pair impeccably with a variety of precious metals, settings, and other stones. Indian lore states that wearing emeralds can give you the ability to foresee the future and see the truth. It has also been believed that emerald has the power to cure disease and protect against evil! These gorgeous green gems are also the May birthstone and are the perfect choice for anyone born in this spring month. In the past few years, celebrities like Elizabeth Olsen, Jenny Slate, and Alex Guarnaschelli have received stunning emerald engagement rings, proving this style is here to stay.
Green Sapphire
Typically thought of as royal blue, sapphires are also available in green hues from a light sage to deep forest green. In addition to their beauty, sapphires make an excellent choice for an engagement ring center stone as they are among the world's must durable naturally occurring elements, coming in at 9 on the Mohs scale of hardness, which rates minerals on their ability to withstand surface scratching and breakage. Sapphire engagement rings are suitable for everyday wear and hold up marvelously over time. It is often thought that those who wear green sapphire jewelry are encouraging love, thoughtfulness, and peace – making it a marvelous statement for an engagement ring center stone.
Peridot
This vibrant yellow-green gemstone is one of the few gems that only comes in one color, often referred to as "olivine." Peridot gemstones are a wonderful option for those who love green gemstones but are looking for an option at a lower price point than emeralds. Many peridot gemstones resemble emeralds, and it is even widely believed that some of Cleopatra's famous emeralds were actually peridots! Egyptians called peridot the "gem of the sun," and is believed to bring the wearer confidence, power, and general good luck and health. When set against lustrous white or yellow gold, peridots can show off their fresh, vibrant sparkle. This enchanting green gemstone makes a gorgeously unique choice for an engagement ring. Peridots are also the birthstone for August babies, making them a meaningful choice for anyone born in that month.
Other Green Gemstones
Green Garnet
Traditionally known for its fiery red color, there are several different garnet types which occur in green hues. The deep and rich green hues of green garnets are among the finest of all green gemstones. In fact, garnets embrace the greatest color range of any mineral. Green garnet is a rare variety of garnet that is often referred to as "Tsavorite Garnet." Our current selection of green garnets are primarily from Moyo Gemstones, an organization that supports female miners in Tanzania. Moyo Gemstones empowers female artisanal miners through safer work environments, better mining practices, and improved equity in fair trade markets.
Tourmaline
Green tourmaline, sometimes referred to as "verdelite", can range in hues from deep olive to a pale mint green. The wide spectrum of colors makes green tourmaline one of the most unique green gemstones. Green tourmaline it highly regarded for its healing properties, and like most green gemstones it is associated vitality and energy. This stone pairs marvelously with a variety of precious metals and ring settings.
Green Lab Diamonds
While colored diamonds can be naturally occurring, lab created colored diamonds are often more accessible and affordable. Lab created colored diamonds come in an array of brilliant colors and stunning cuts. Green lab diamonds have all the same physical and chemical properties as a natural diamond and will be visually identical to their natural counterparts. Each lab diamond is unique to you, and no green color is the same as the next. Green diamonds are believed to bring love, good fortune, and prosperity to its wearer. Diamonds are also the most durable gemstone, making green diamonds an excellent choice for an engagement ring or other jewelry you plan on wearing every day.
Final Thoughts
Which green gemstone engagement ring would you choose? Let us know in the comments below or on our Instagram, Facebook, or Twitter!