Art Nouveau Jewelry
As the 20th century was approaching, an imaginative and original style of jewelry-making burst forth from the vibrant European arts scene. The Art Nouveau (literally "New Art") era, lasting from 1890 to 1910, overlapped with the Edwardian and Victorian eras and was relatively brief, though it made a lasting contribution to the meaning of magnificent jewelry. Art Nouveau was actually a broad artistic movement, with one of its key tenets that art should be a part of daily life. Thinking of themselves as artists more than jewelry-makers, Art Nouveau jewelers took extra care to craft exquisite, breathtaking jewelry.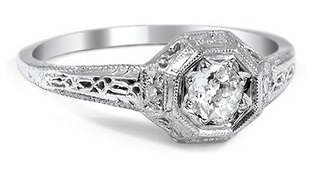 The mood of Art Nouveau jewelry is soft, mystical, and romantic. Pale colors and flowing, undulating curves helped to establish a soothing aura. Victorian and Edwardian jewelers often borrowed ideas from ancient and classical art and architecture. Art Nouveau jewelers, greatly influenced by depictions of nature in Japanese art, looked to the natural world for inspiration. Orchids, irises, lilies, ferns, snakes, dragonflies, and butterflies were all prevalent motifs in Art Nouveau jewelry, as were depictions of the female form.
The established viewpoint during the 1800s had been that a gemstone was the most important element in a piece of jewelry. Breaking from tradition, Art Nouveau jewelers placed more emphasis on settings. This philosophy gave jewelers The mood of Art Nouveau jewelry is soft, mystical,
and romantic. license to experiment with beautiful enameling techniques as well as with different gemstones and materials. Diamonds were used cautiously, while moonstone, amethyst, opal, amber, citrine, peridot, and freshwater pearls became common in Art Nouveau rings and jewelry. Materials such as horn, shell, and copper also were sometimes used, all in pursuit of the jeweler's artistic vision.
Visit our antique ring gallery and browse Art Nouveau engagement rings. Recycled jewelry from past eras offers an ethical and unique alternative for jewelry and engagement rings.