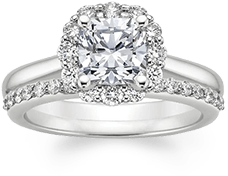 If you want your wedding and engagement rings to fit nicely together but do not feel that they must match perfectly, consider a wedding ring that complements your engagement ring. In these pairings, the engagement and wedding rings play off of one another beautifully.
precious metal
Choose the same precious metal—platinum, 18K, or 14K gold—so that both rings have the same properties and will "wear" and can be maintained in the same way over time.
height, shape & finish
If you decide to include gemstones in your wedding ring, keep in mind the size, shape and setting of the gemstones relative to those in the engagement ring, as well as where on the wedding band the gemstones end. It is best if the diamonds align, or go all the way around, as in a diamond eternity band.
style
If you plan to wear your rings on the same finger, it is best to keep the style and aesthetic similar. For example, if you have a vintage-inspired engagement ring, take a look at vintage style wedding rings. Keep the same in mind with contemporary styles. Classic solitaire engagement rings have more versatility and can be paired with different styles for the wedding ring.