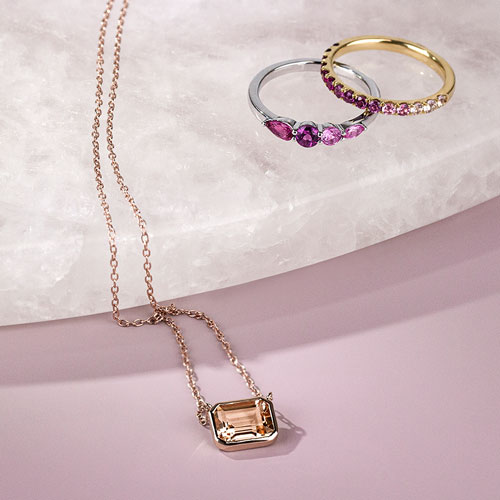 When daydreaming of Valentine's Day, people tend to imagine candy hearts, shiny balloons, fresh flowers, handwritten cards, and chocolate truffles. Here at Brilliant Earth, we choose to commemorate the occasion with jewelry: think shimmering hoop earrings, engraved bangle bracelets, and meaningful, symbolic medallions. Instead of opting for flowers that fade or chocolates that all too quickly disappear, we recommend celebrating your one-of-a-kind love with a special piece of Valentine's Day jewelry crafted to be cherished from the day you gift it and forevermore.
What Does Gifting Jewelry Symbolize?
Generally, gifting jewelry symbolizes that your love is timeless. While other Valentine's Day offerings are more ephemeral, fine jewelry is durable enough to be worn throughout the years. At a more granular level, jewelry for Valentine's Day can symbolize many things. An engraved necklace with your initials can mean that you're always with the wearer, close to their heart. Earrings set with diamonds confirm that your love is as strong as the most solid of gemstones.
Is Jewelry a Good Valentine's Day Gift?
Jewelry gifts are an excellent choice for Valentine's Day. Sparkly, meaningful, wearable, and lasting, gifting a piece of fine jewelry is a sure-fire way to ensure your giftee feels both celebrated and loved. Arguably, receiving jewelry on Valentine's Day is the best gift there is.
Jewelry Gift Ideas for Her
From classic items like diamond studs and tennis bracelets to ultra on-trend fashion rings, the options are nearly endless when it comes to jewelry gift ideas for her. Celebrate February 14th by choosing a piece of jewelry that reflects her personal style – if she's boho, choose something trendy or nature-inspired, if she's all about the glam, go for a luxe, awe-inspiring design.
Certified Lab Created Diamond Tennis Bracelet (2 ct. tw.) in 18K White Gold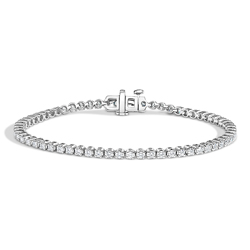 As classic as can be, this lab diamond tennis bracelet features lustrous links that wrap the wrist in an aura of light.
North Star Diamond Pendant in 14K Yellow Gold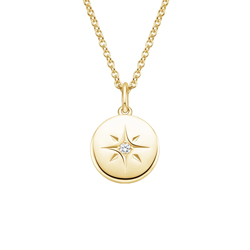 Prove that she's your north star with this effortlessly on-trend, diamond-accented design.
Solitaire Garnet Stud Earrings in Silver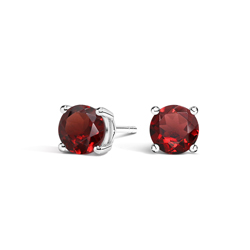 Traditional yet colorful, these garnet stud earrings symbolize all things romantic with their striking red hue. While garnet is the birthstone for January, choose studs that represent her birth month for a truly meaningful gift.
Jewelry Gift Ideas for Him
Jewelry for men is, thankfully, back in vogue. So, this Valentine's Day, gift him with something special, meaningful, and wearable. Choose a pair of stud earrings if he has his pierced or opt for an everyday item like a necklace or bracelet that'll elevate his look. If you have an event coming up, add a pair of cufflinks to his wardrobe that he can wear again and again.
Zeke Curb Chain Necklace in 14K Yellow Gold
Classic curb links create an effortlessly everyday look in this chain necklace.
Homme Black Onyx Cufflinks in Silver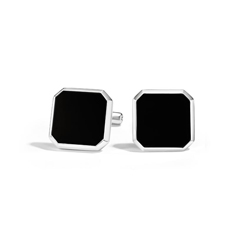 Cufflinks up the ante on any upscale outfit.
Milo Rope Chain Bracelet in 14K White Gold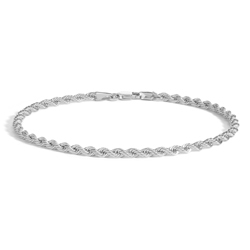 Bracelets are an excellent way to elevate any look and a great entry-level move for someone who doesn't typically wear jewelry.
Top 10 Valentine's Day Jewelry Gifts
1. Diamond Jewelry
Diamonds are February 14th's best friend. After all, there's no better way to demonstrate the strength of your love than gifting the strongest stones on market. Diamond jewelry comes in many forms, from everyday hoop earrings, on-the-daily accented chain bracelets to artistic creations and bold statement pieces. Our selection ranges from sleek and simple to luxe, glamorous designs – choose a piece that represents the one-of-a-kind couple you're in.
2. Gold Jewelry
We've said it once and we'll say it again – go for the gold. Representing all things luxurious, gold jewelry makes for a special, from-the-heart Valentine's Day gift. Ranging in tones from white, yellow, or romantic rose, our gold designs are stylistically varied enough to delight any giftee.
3. Personalized Jewelry
Personalized jewelry adds an extra level of meaning to any piece of fine jewelry. Add an inside joke you and your partner share to a bar necklace, inscribe your initials on a disc medallion, or gift a cuff bracelet engraved with a sweet saying for a meaningful and completely unique look.
4. Heart Shaped Jewelry
There's no gift that comes more from the heart than a piece of heart shaped jewelry. These designs utilize the most symbolic shape of them all to craft jewelry that truly represents and embodies love. Opt for a solitaire lab diamond heart necklace, a heart shaped charm adorned with pavé diamonds, or a diamond heart bracelet to wear your heart on their sleeve.
5. Lockets
Lockets have been gifted for centuries, often with a photograph or symbolic trinket placed inside. These age-old designs symbolize something you want to keep and cherish always – like your one true love – making them the perfect Valentine's Day jewelry idea.
6. Pink Jewelry
We think that seeing the world through rose tinted glasses is a good thing! And rose gold jewelry is the equivalent. With designs that range from delicate and understated to bold and luxe, gifting anything rose gold is always a good plan to celebrate the day of love.
7. Diamond Stud Earrings
Classic, timeless, effortlessly chic – diamond stud earrings are the perfect Valentine's Day gift. Not only will your significant other be in awe when they open your present, they'll be able to treasure a pair of diamond studs for their lifetime – wearing them again and again. Instant heirlooms, diamond studs are crafted to be passed down for generations to come.
8. Necklaces
Necklaces can range in style from dainty and sweet to edgy and on-trend. They all have a few things in common though: they're incredibly versatile, stack well, are wildly popular, and will keep your gift – and by proxy, you – close to your partner's heart.
9. Bracelets
Let your partner wear your heart on their sleeve with a meaningful bracelet meant to wrap the wrist in shimmering, lustrous light. Tennis bracelets have become especially popular in recent years, as well as cuffs, bangles, and chain bracelets that never go out of style.
10. Earrings
Earrings are one of the best gifts to receive on any holiday – not just Valentine's Day – because they are incredibly versatile. You can dress a pair of hoops up or down (or wear them all day every day), diamond studs can be worn with any outfit, and luxurious drop earrings are always red carpet ready.
How Much Should I Spend on Valentine's Day Jewelry?
How much you spend on Valentine's Day jewelry is completely up to you – spend only what feels right. Our top Valentine's Day gifts range in price from $75 to $10,000, which is quite a large range. Likely you will already know what you are comfortable with spending, so stick to that while treating your partner to something special that you know they'll adore.
Tips for Buying Jewelry for Valentine's Day
1. Diamonds – Do Your Research
We recommend getting to know the 4 C's of diamonds prior to purchasing any Valentine's Day jewelry. Research your diamonds' cut, color, clarity, and carat, as well as read through our Diamond Buying Guide to ensure that your stone matches the shape, quality, and characteristics that you're looking for. It's also important to understand the differences between a lab grown diamond and naturally mined diamond – make sure you're aware of which you're purchasing before you purchase it. Lastly, you'll want to ensure where and from whom your diamond originates. Our diamonds (and gemstones) are all ethically sourced – through purchasing with us, you contribute to a more ethical, sustainable, and compassionate jewelry industry.
2. Know Their Ring Size
Figuring out your partner's ring size can be tricky and it's something you ideally want to get right the first time around (especially if you're proposing on Valentine's Day!). We recommend reviewing our ring size guide as well as requesting a ring sizer to determine sizing correctly.
3. Consider Their Personal Style and Lifestyle
Last but not least, don't forget to consider what your partner's style and lifestyle are. If they typically wear minimal, dainty jewelry, don't opt for something too loud. If the opposite is true, and they do love a statement moment, treat them to something truly spectacular. The same goes for lifestyle – if they're very active, choose a durable metal (like gold or platinum) over more easily tarnished types (like silver).
Valentine's Day Jewelry FAQs
What are the most popular Valentine's Day gifts?
The most popular gifts for Valentine's Day are flowers, chocolate, and (best of all) jewelry. The top jewelry designs gifted for Valentine's Day are earrings, necklaces, and bracelets.
What are traditional gifts for Valentine's Day?
Traditional gifts for Valentine's Day are fresh flowers, chocolates, balloons, and handwritten cards. At Brilliant Earth, however, we prefer something a bit more sparkly than traditional: fine jewelry.
Is jewelry an intimate gift?
It can be. Depending on the status of your relationship and the meaning behind the jewelry design (is it a locket with a picture of you two inside it?) the intimacy level can shift. Jewelry can also just be a playful, fun, and sparkly way to show you care.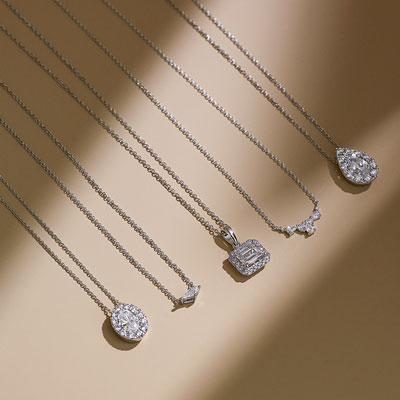 Final Thoughts
Valentine's Day is a day to pause, cherish, and celebrate your love. While we may opt for sparking jewelry over more traditional gifts – don't forget to shower your partner (and yourself) with anything and everything they deserve – flowers, chocolate, cards, earrings, necklaces, bracelets, or maybe even that ring. Happy Valentine's Day from us to you!