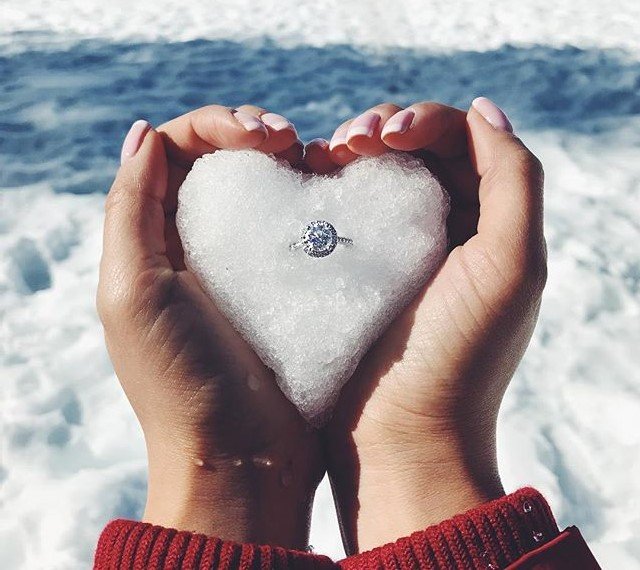 Whether or not you are in a relationship, Valentine's Day is the perfect opportunity for us all to celebrate our love for love.
To help us capture the holiday spirit and get our warm-and-fuzzies going, we gathered six unique proposals from around the web sure to melt all of our hearts. Who knows, these unexpected proposals might just spark some ideas for a Valentine's Day proposal of your own!
Trailer-Made
Matt has always told his girlfriend Ginny that their love story would "make the movies jealous". He took that sentiment to a whole new level by surprising her with, quite literally, a blockbuster proposal. Planned to perfection, Ginny joins with Matt's brother to catch what she thinks will be a casual Saturday night movie. When the trailers start to play, she soon knows this is no typical night!
Night of Surprises
After hearing that his girlfriend Summer is keen to his proposal plan, Jordan decides to mix things up. He expertly keeps her on her toes all night during their romantic evening of reminiscing, while also creating new memories. We applaud him for his improvisation skills!
Love is in the Air
Pilot Ryan's creative proposal idea is definitely one to remember. Ryan's girlfriend Carlie is tricked into thinking their aircraft is going to crash. As she reads the emergency checklist, her panic quickly turns to relief followed by pure joy when she realizes Ryan is proposing!
Welcome Home!
After being apart for 3 weeks, Riccardo is greeted with a heartfelt video montage from Fillipo. The video includes clips of the couple's friends and family from all around the world. Warning: this sweet proposal might just make you cry the happy tears.
Music Video Magic
For Sam's proposal, he enlists the help of his musician cousin Matty Mac to pop the question to his girlfriend Jessica in the most romantic way. Thinking she is only acting in a music video, Jessica is completely stunned when Sam gets down on one knee. Filmmaker Domenick Cionotta perfectly captures the moment for us to see.
Fairy tale Proposal
This fairy tale proposal looks straight out of a Nicholas Sparks novel. Skip ahead to 4:30 for the best part, where Mat plays for Kylie a heartwarming compilation of Disney scenes to help him express his feelings to her. The scenery and weather further add to the dreamy enchanted-forest-feel of this proposal.
Final Thoughts
Which proposal video was your favorite? Do you have a unique proposal story of your own? We'd love for you to share with us on our Facebook, Instagram, Twitter, or in the comments below. Make sure to browse our engagement rings for even more proposal inspiration.