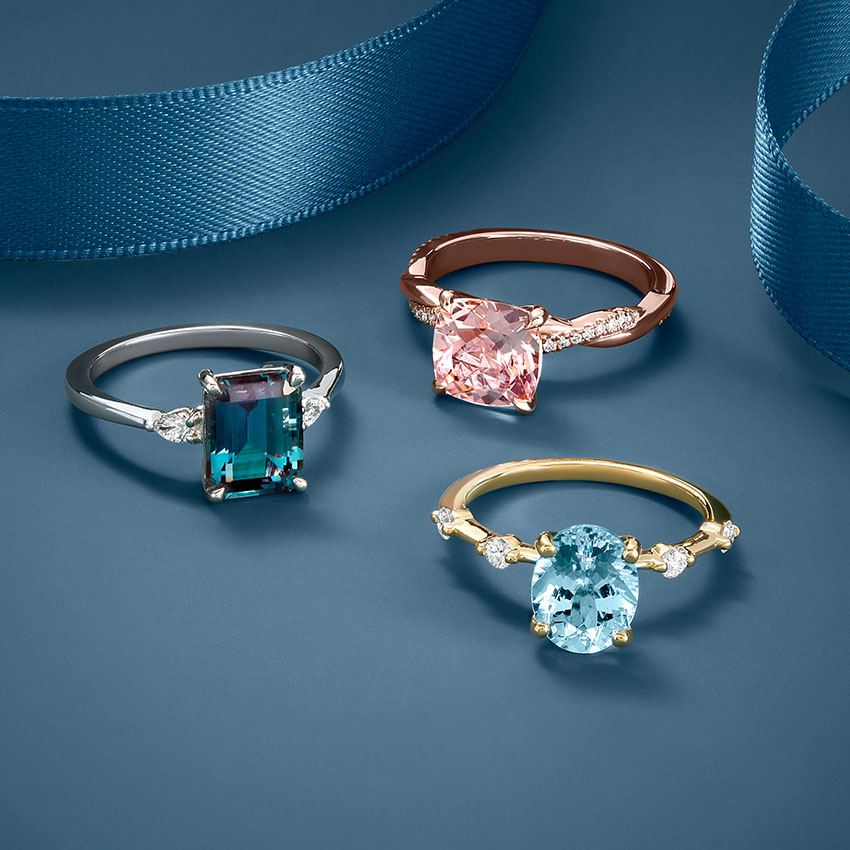 A center diamond is by no means a requirement for a beautiful engagement ring. 
Distinctive engagement ring styles featuring non-diamond center stones are becoming an increasingly popular engagement ring trend. Many brides are opting for a pop of color by choosing a vibrant gemstone as their center stone which makes a stunning and unique expression of their love. Gemstones such as sapphire, emerald, and morganite are especially rising in popularity and beloved by celebrities and trendsetters alike. At Brilliant Earth, we are excited to offer a broad range of non-diamond engagement rings that are sure to make a stunning and colorful statement. 
Most Popular Non-Diamond Engagement Rings 
The most popular non-diamond engagement rings are those that are both beautiful and hold up very well to everyday wear. Most engagement rings are worn daily and rarely taken off, and some gemstones stand up to daily wear and tear better than others. For those that live an active lifestyle and want a lower maintenance gemstone ring, a sapphire engagement ring is an ideal choice. Sapphires score very highly (a 9 out of 10) on the Mohs Scale of Hardness, which rates minerals on their ability to withstand surface scratching. In fact, one of the only things that can scratch a sapphire is a diamond (and we cannot imagine a scenario in which that would happen in your daily life!). Learn more about the care and cleaning of all types of gemstones in our guide to caring for gemstone rings.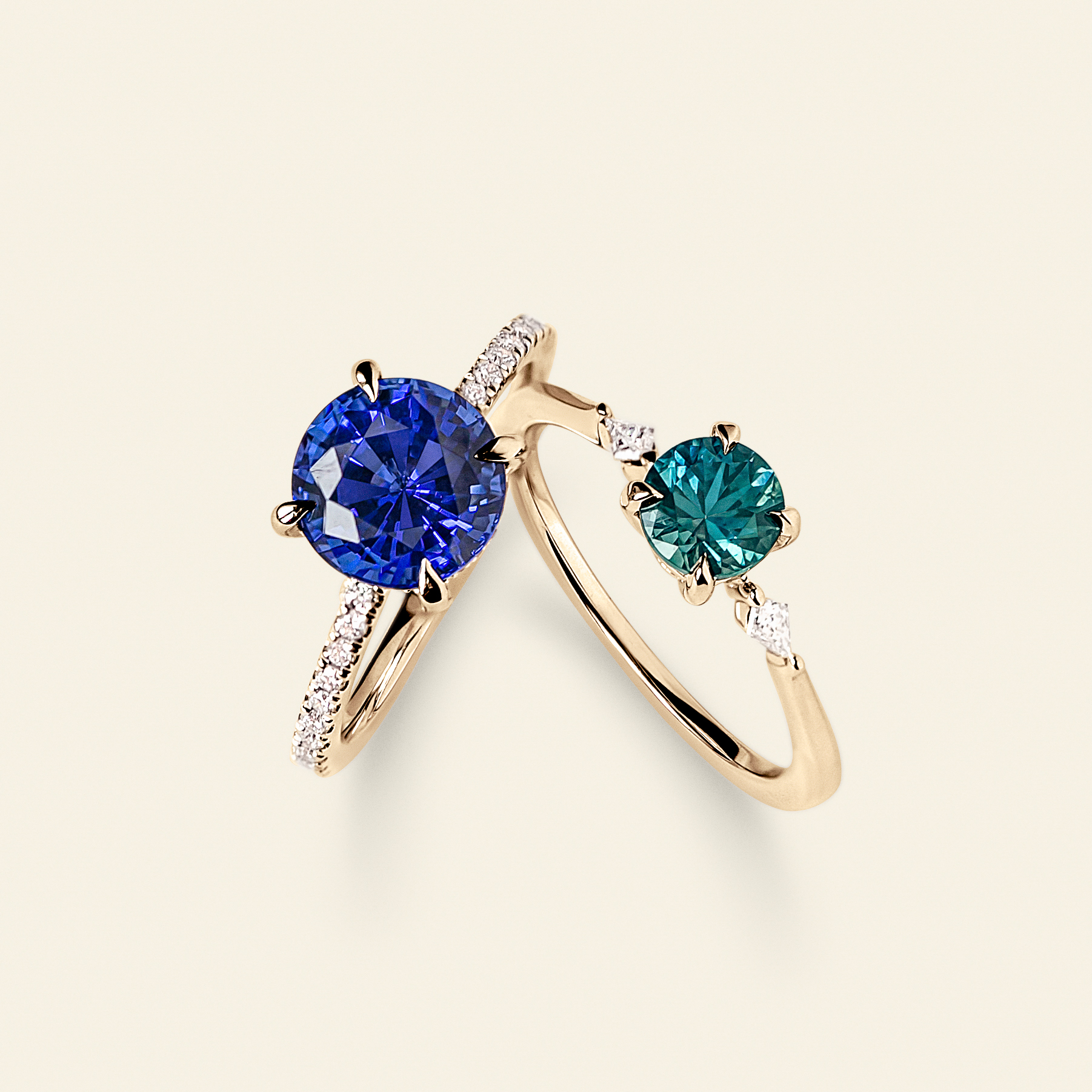 The most popular sapphire color is rich royal blue, most recently made famous by the sapphire and diamond engagement ring worn by Kate Middleton, and originally worn by Prince William's mother Princess Diana. Brilliant Earth offers an extensive collection of sapphire engagement rings. You can also create your own sapphire ring on our website by first choosing your unique sapphire, selecting a ring setting, choosing a metal type, and then seeing your ring come to life by using our Virtual Try On Feature. 
While we commonly think of sapphires as being blue, they come in a wide array of colors including yellow, white, pink, green, teal, peach, and red. Along with colorful gemstones, diamond simulants are also becoming an increasingly popular engagement ring trend. Although they have different chemical, optical, and performance properties than diamonds, white sapphires are a prized diamond simulant loved for their bright, white brilliance and extreme durability.  
Discover some of our favorite sapphire engagement rings below! 
Sapphire Aria Diamond Ring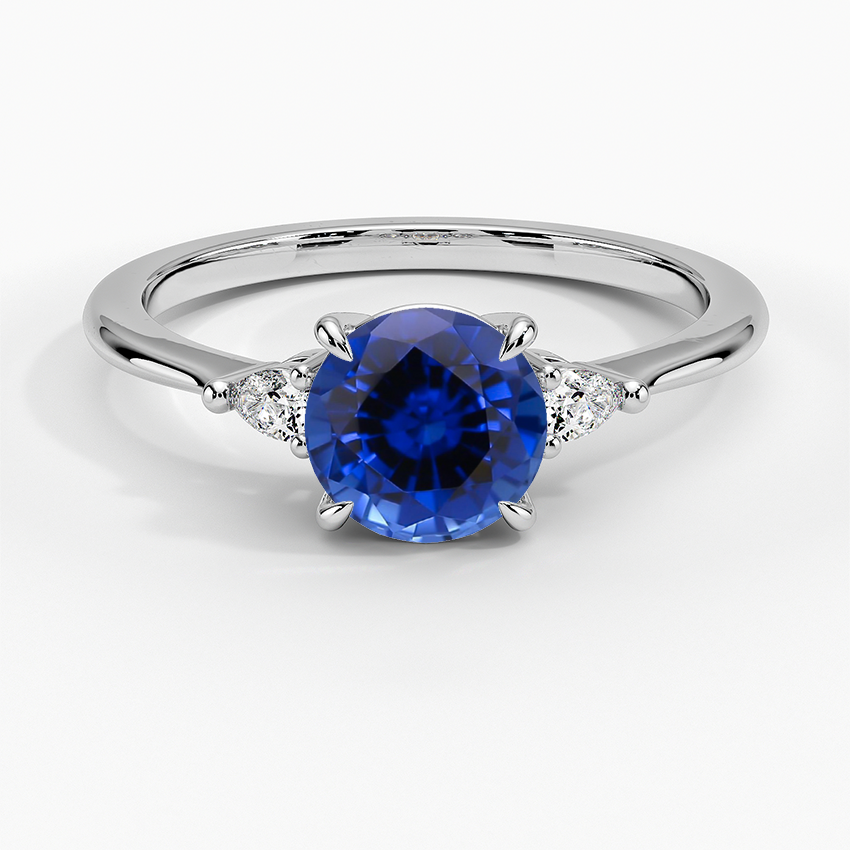 Classic simplicity defines this delicate white gold setting, which features a thin, precious metal band that gently tapers towards a pear-shaped diamond accent on each side of the center gem.
Sapphire Nadia Diamond Ring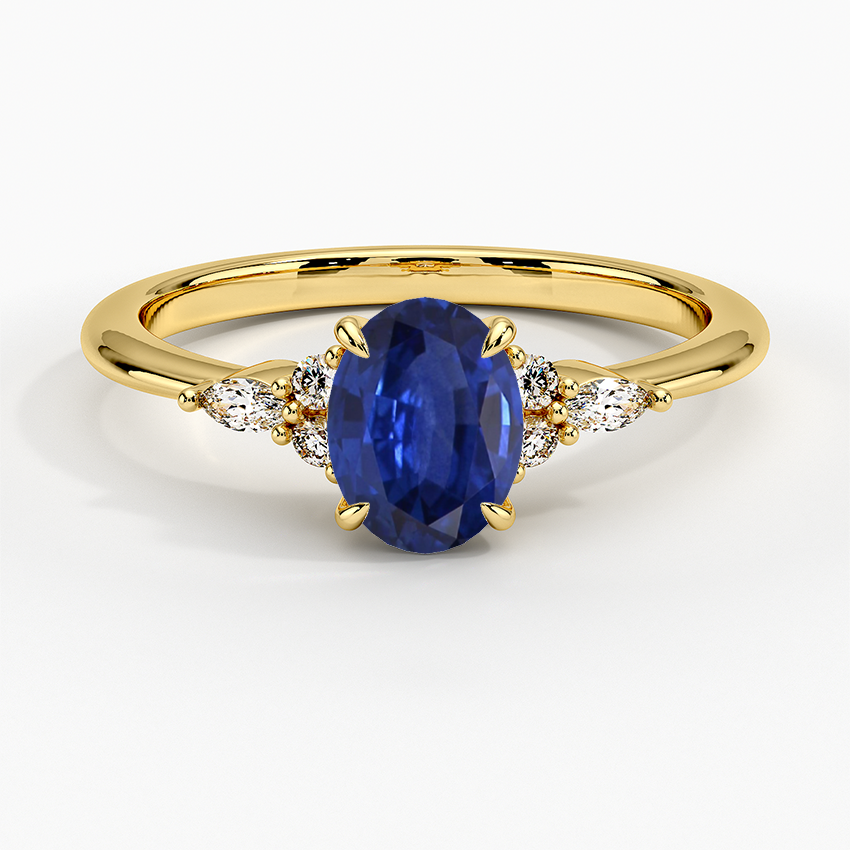 This elegant ring features a dazzling cluster of round and marquise-shaped diamonds that rest upon the shoulders of the gently tapered band. The center gem is held by four claw prongs as it sits upon a slightly open gallery. 
Sapphire Waverly Diamond Ring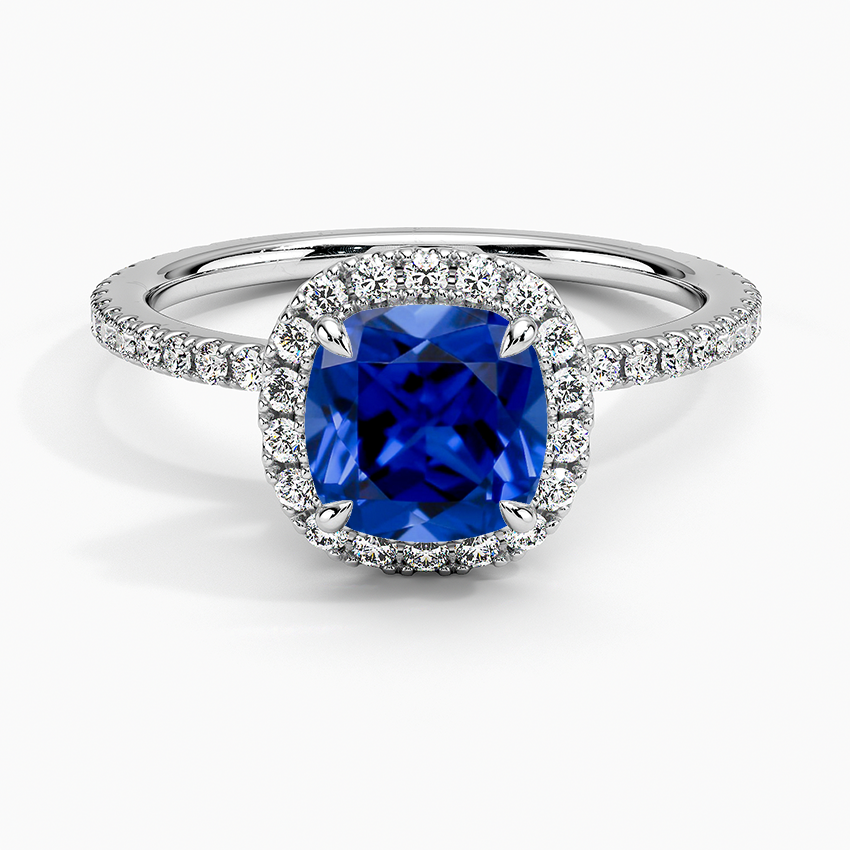 This sparkling halo setting features beautiful scalloped pavé diamonds that encircle the center gem and adorn the band. A diamond-encrusted gallery makes this ring truly spectacular. 
Sapphire Versailles Diamond Ring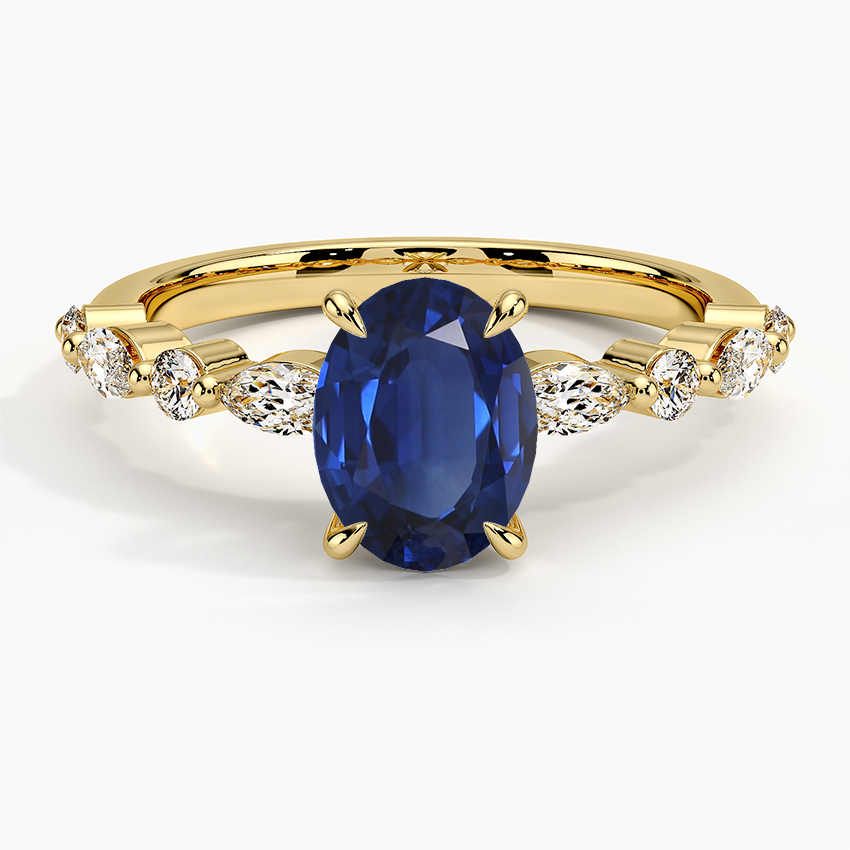 Alternating round and marquise diamonds create an alluring pattern in this chic and distinctive engagement ring. 
Sapphire Demi Diamond Ring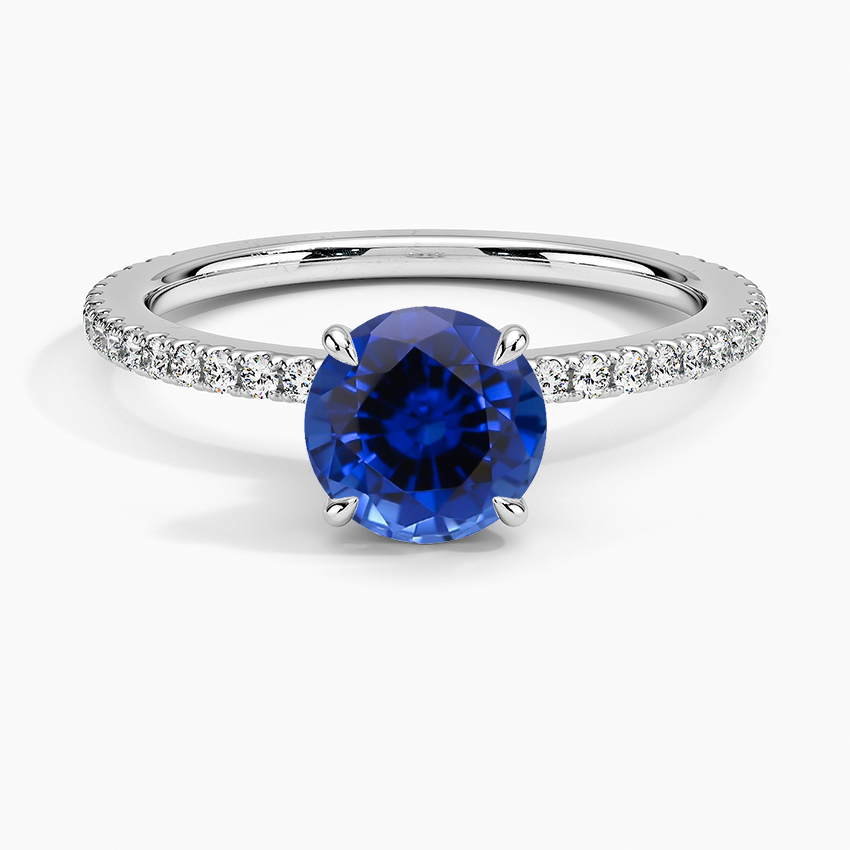 This elegant white gold engagement ring features a glittering hidden halo of diamonds that wraps around the center gem. A petite band complements the gallery for an elegant, chic look 
Antique-Style and Art Deco Non-Diamond Engagement Rings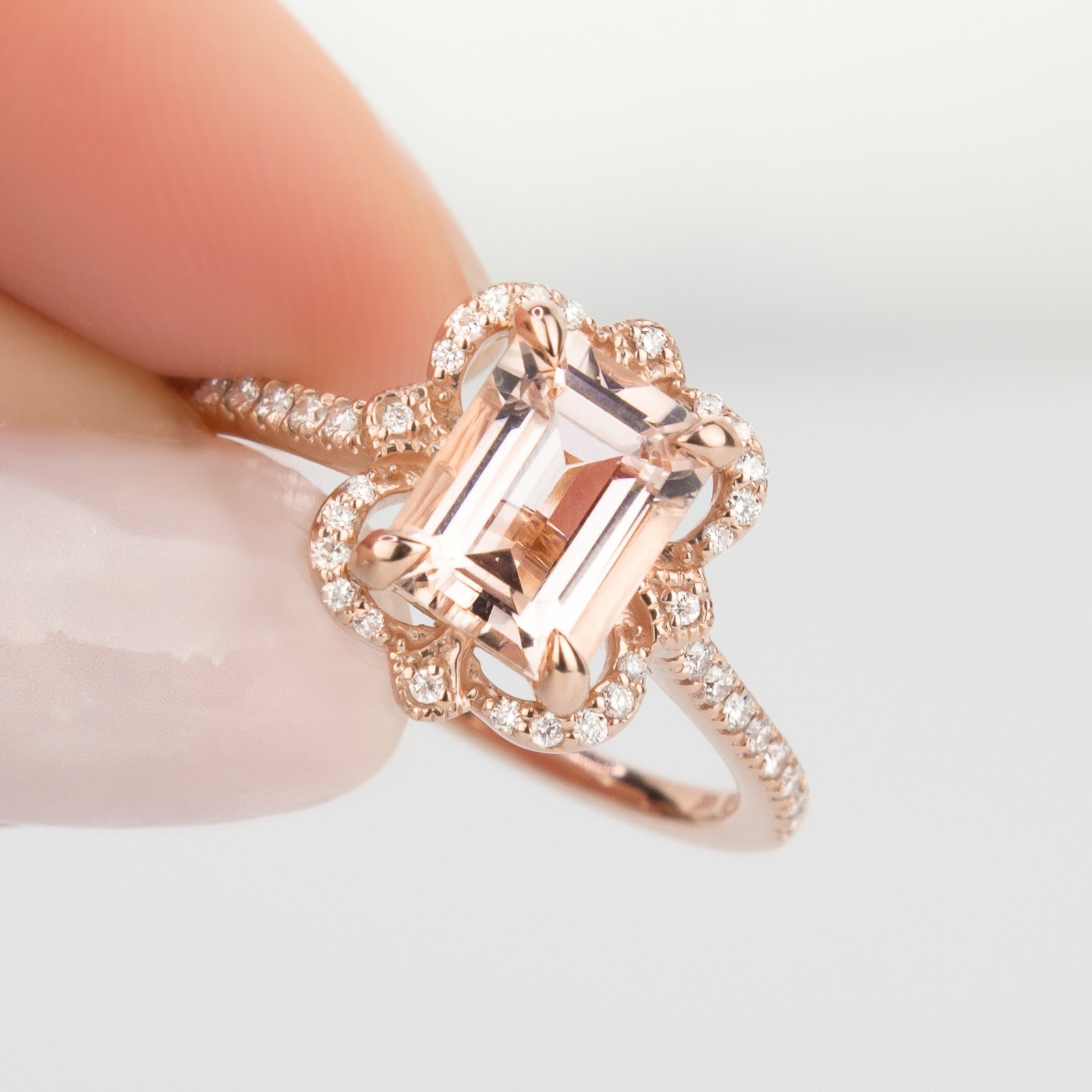 Inspired by the charm of the past, our selection of vintage inspired engagement ring settings are the perfect match for creating an heirloom worthy gemstone engagement ring. Whether through delicate, Victorian-inspired filigree designs or bold Art Deco styles, vintage inspired settings are made to be paired with colorful center gemstones such as rubies, emeralds, garnets, aquamarines, sapphires, topaz, and more. In the Victorian era, sapphires and other colored gemstones were frequently the focal point of engagement rings, and rings from the Art Nouveau era often feature dreamy center gems such as moonstone, amethyst, citrine, opal, and pearl. Choosing an antique style engagement ring is an excellent way to inspire the charm of the past. 
Famous Non-Diamond Engagement Rings
Colorful gemstone rings have been beloved by celebrities and royalty for decades. Perhaps one of the most famous pieces in jewelry history, Kate Middleton's royal sapphire engagement ring that was previously worn by Princess Diana has been making headlines for decades. Vibrant green, emerald engagement rings have also been a popular celebrity pick, some of the most notable being Zoe Saldana's spectacular pear cut emerald engagement ring and Olivia Wilde's Art Deco emerald stunner. Jessica Simpson's three stone ruby engagement ring was chosen for the ruby's symbolic meaning. Red stands for love and passion while the ruby is also her birthstone. Celebrity engagement rings are a great place to start if you are looking for some gemstone engagement ring inspiration to add to your Pinterest boards.  
Diamond Bands as Engagement Rings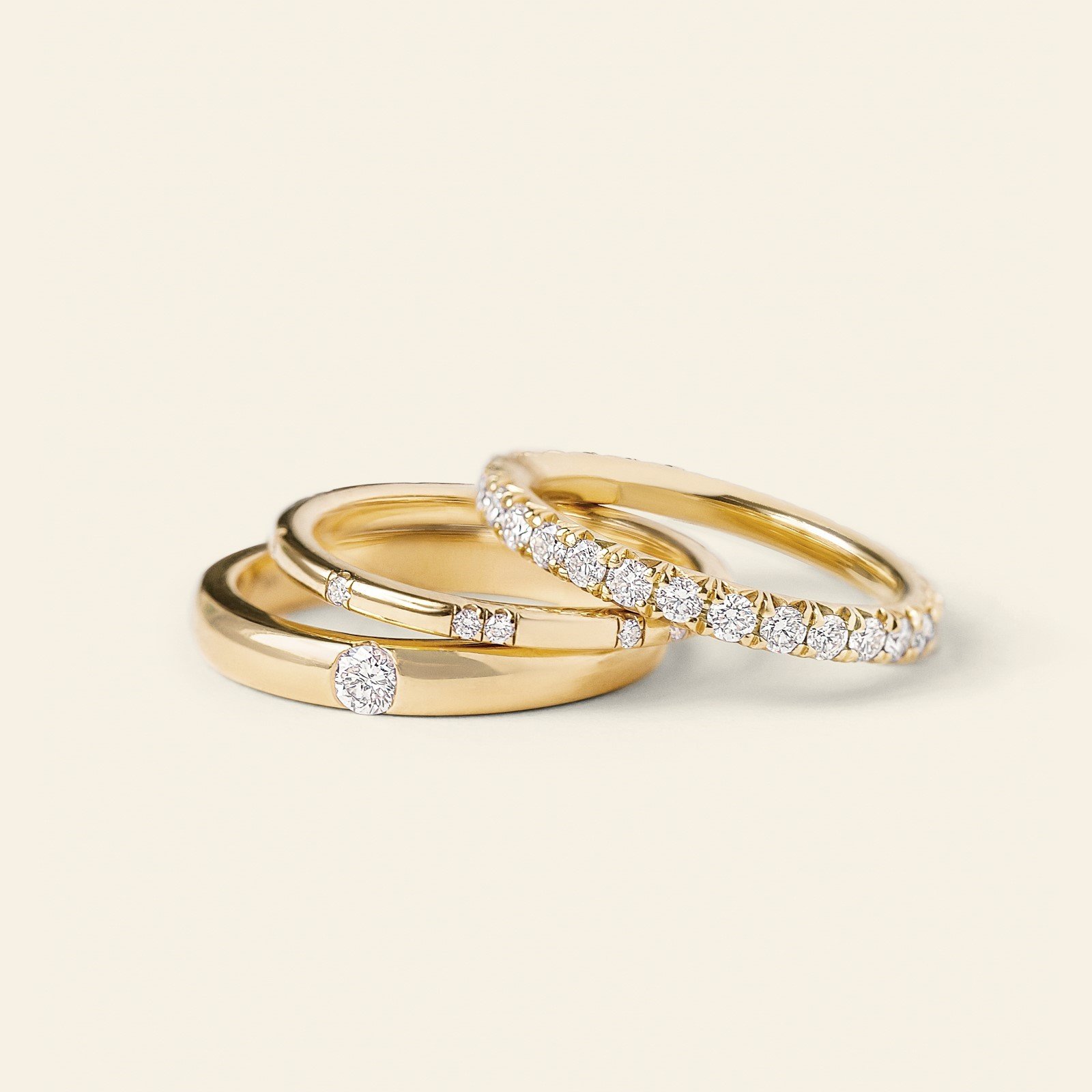 If you love diamonds but simply do not want a traditional diamond ring with a prominent center gem, consider a ring that features multiple diamond accents but no large center diamond. Another popular bridal trend is diamond stacking rings. Consider opting for a diamond eternity band, which you can turn into a ring stack as you add your wedding band and commemorate future special occasions (anniversaries, babies) with diamond bands. Discover some of our favorite diamond bands below! 
Luxe Versailles Diamond Ring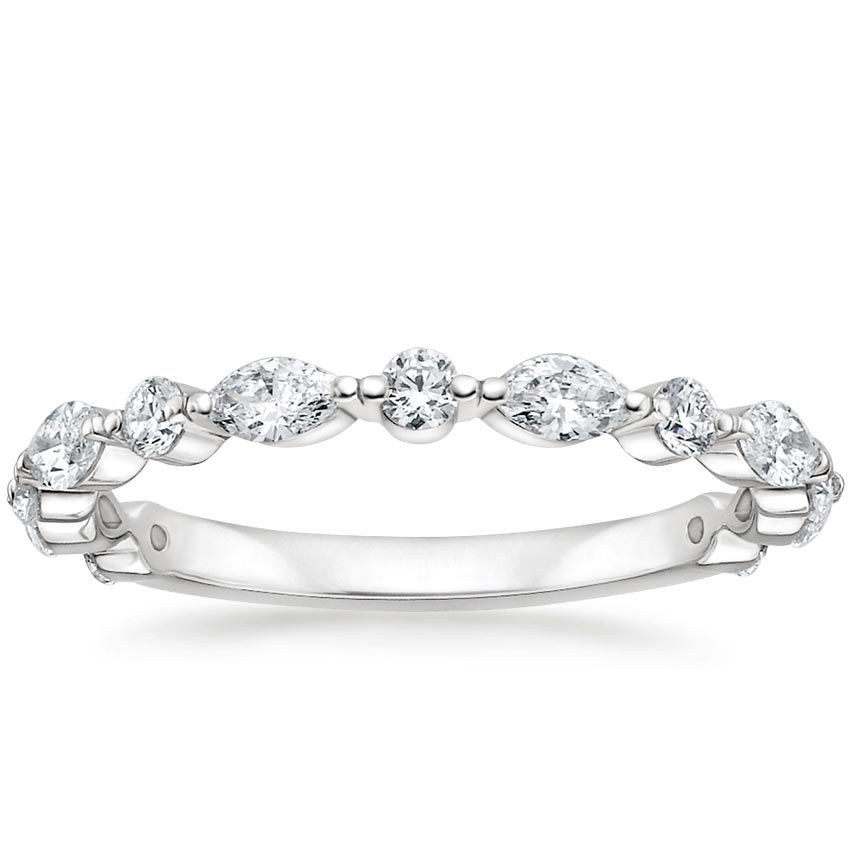 Alternating round and marquise diamonds wrap three-fourths of the way around the band creating an alluring pattern in this chic and distinctive ring. 
Sienna Diamond Ring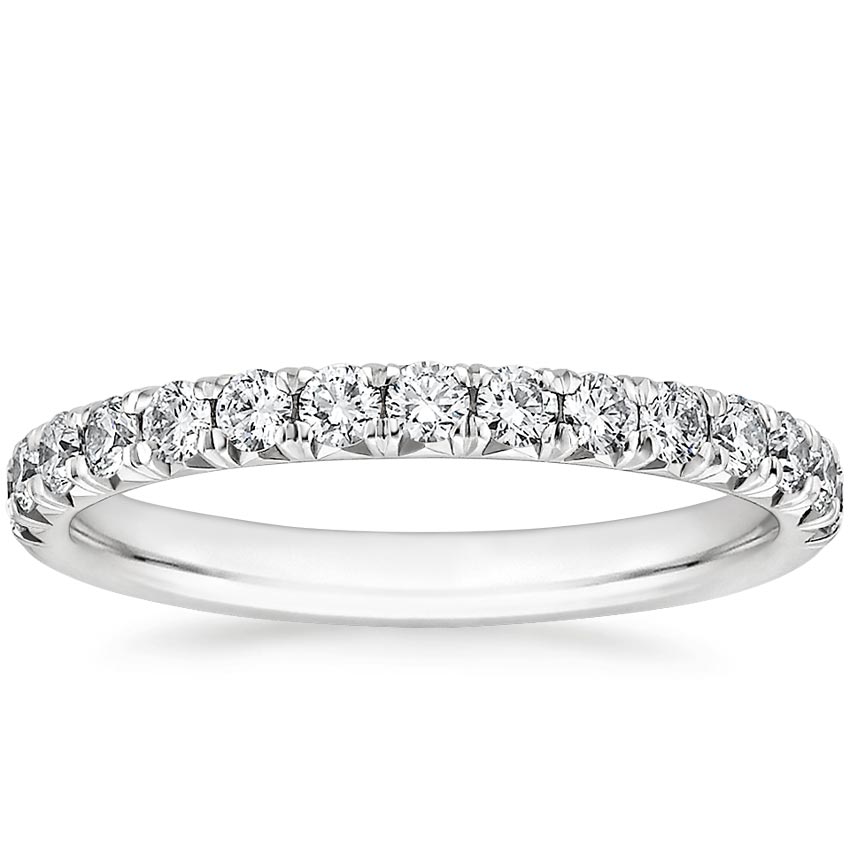 This luminous ring is adorned with glittering French pavé-set diamonds that extend halfway around the finger, making it the perfect wedding or anniversary band. 
Olivetta Diamond Ring
This beautiful ring evokes femininity and romance with scattered round and pear-shaped diamonds that shimmer along the top of the band. 
Riviera Eternity Diamond Ring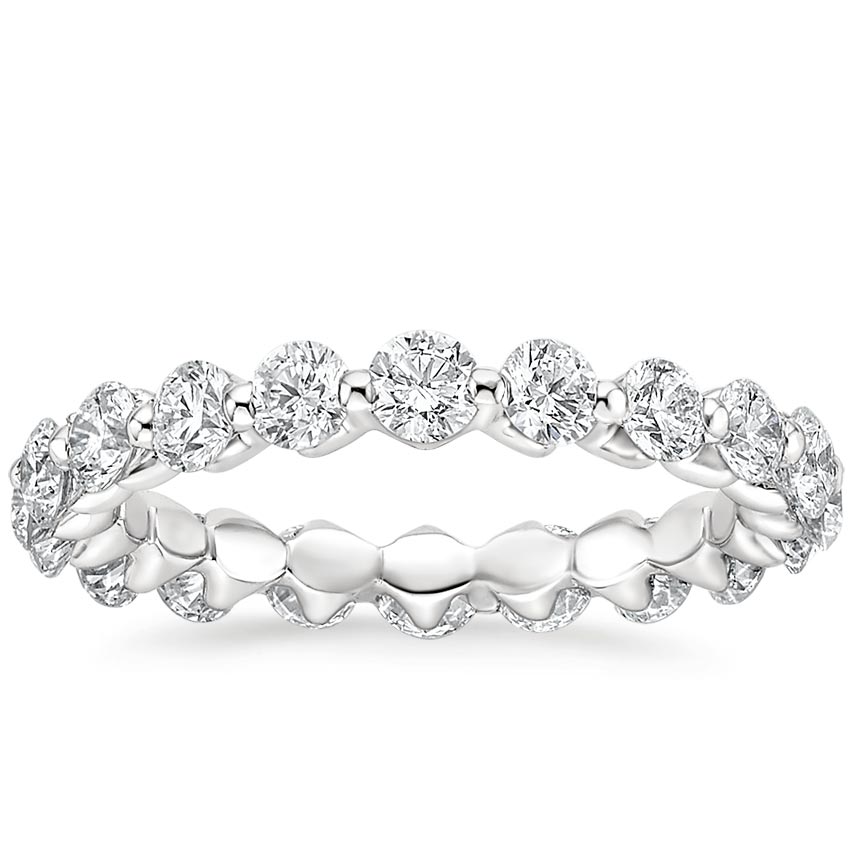 Floating shared prong diamonds shimmer all the way around this delicate eternity style wedding band for a spectacular look. 
Gemma Diamond Ring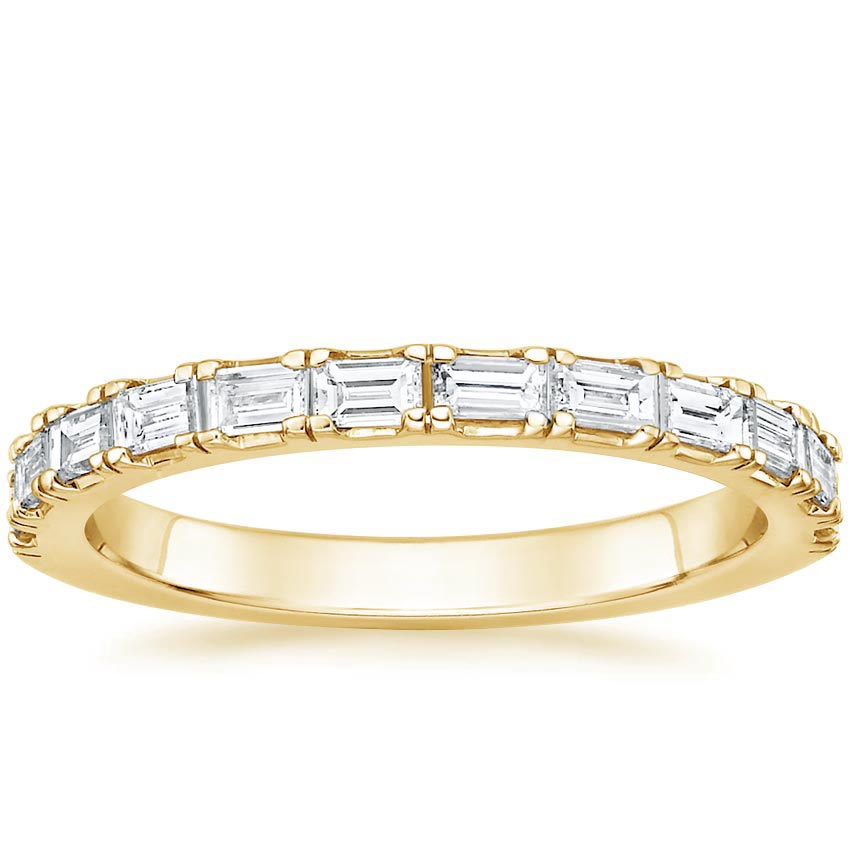 Baguette diamonds in a scalloped pavé setting glimmer along the top half of this ring while the delicate, high polished band completes the look of timeless elegance. 
Non-Diamond Rings with Diamond Accents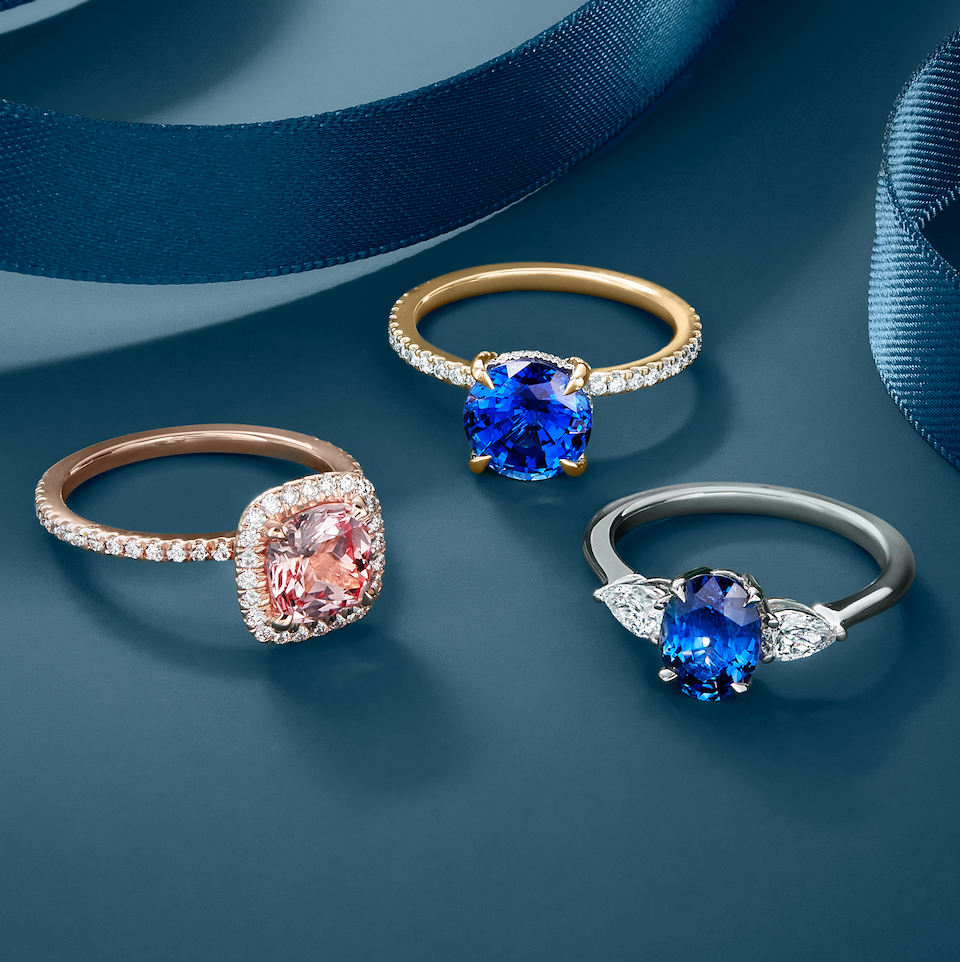 If you like the idea of having some diamonds in your engagement ring but want a colored gemstone as the focal point, consider accentuating the center gemstone with diamond accents. For example, a halo style, which encircles the center gem in glittering diamonds, is a breathtaking way to highlight a sapphire or other center gem. Or you might choose to add side diamond accents or pavé diamonds in the band. Three stone settings are also a timeless way to add some extra sparkle to your engagement ring.  
Affordable Non-Diamond Engagement Rings
Aside from being a unique engagement ring choice, non-diamond engagement rings also offer excellent value. Many couples love that they can purchase a non-diamond ring at a lower price point and get a larger gemstone and more look for less! With so many wedding expenses on the way, selecting a non-diamond engagement ring can be an especially appealing choice. 
Here are a few of our favorite non-diamond engagement rings under $2,500.  
Moissanite Petite Shared Prong Lab Diamond Ring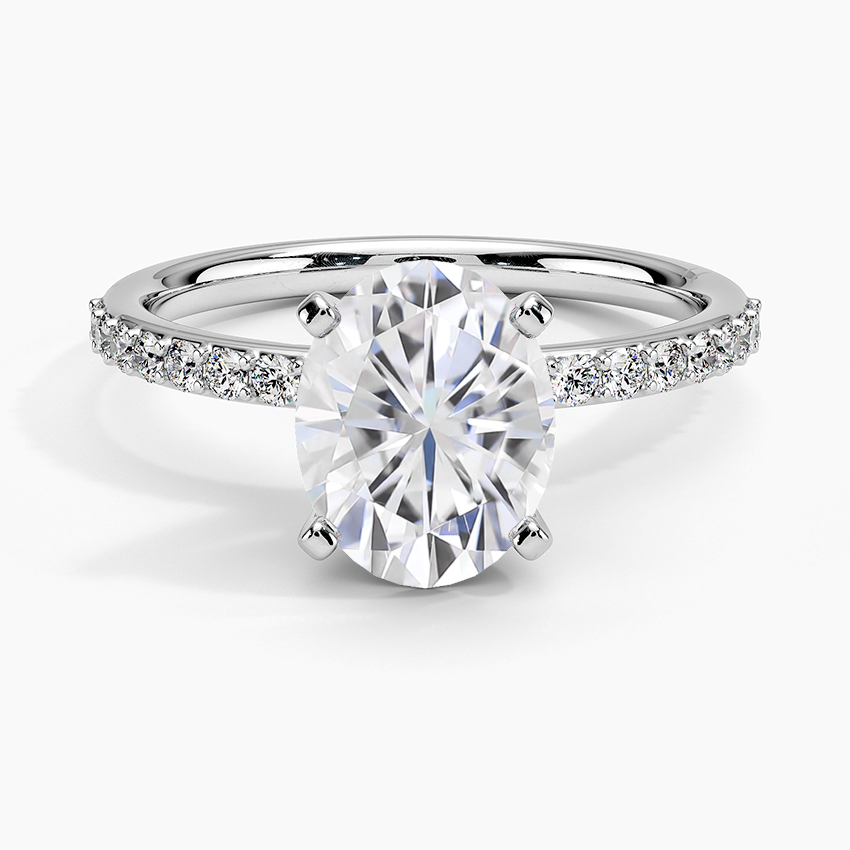 This dainty ring features sheer sparkle that extends halfway around the ring. The center gem appears to float above the delicate band. 
Aquamarine Luxe Viviana Diamond Ring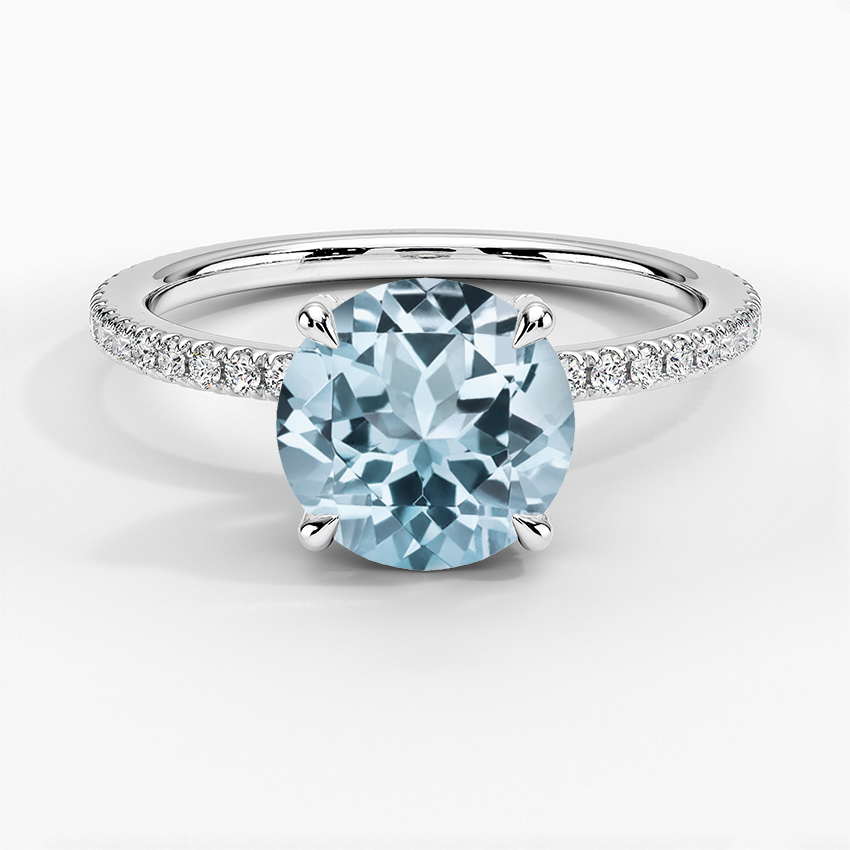 This classic engagement ring features sparkling scalloped pavé diamonds that extend three-fourths of the way around the ring. A diamond adorned gallery and graceful claw prongs embrace the center gem. 
Morganite Selene Diamond Ring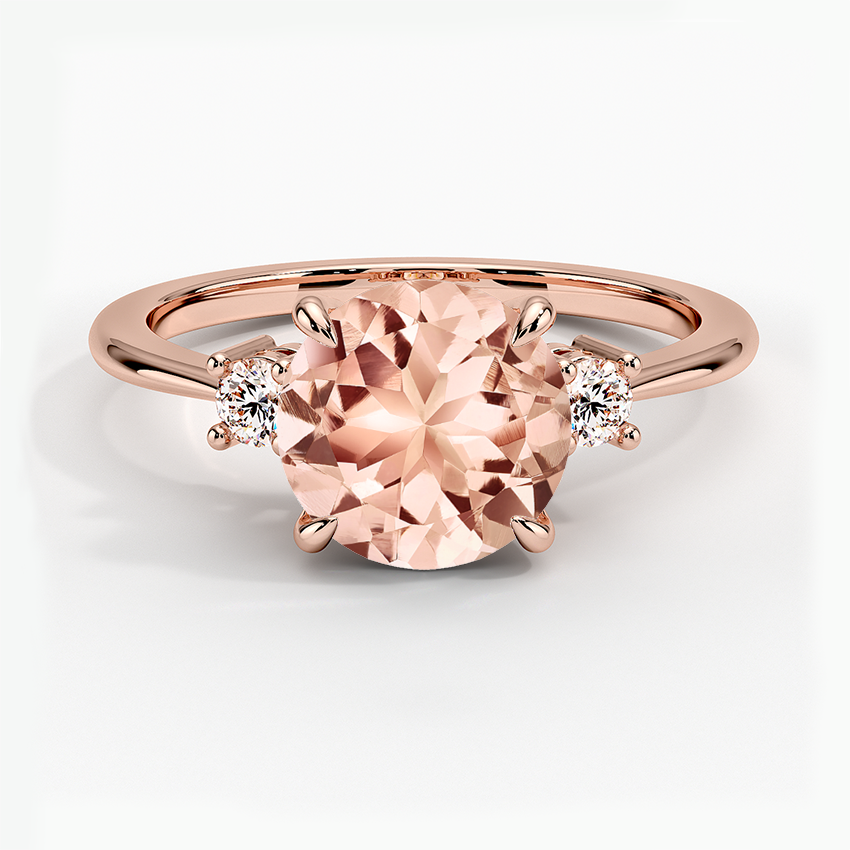 Classic simplicity defines this delicate setting, which features a thin, precious metal band that gently tapers towards a diamond accent on each side of the center gem (1/10 total carat weight). 
Emerald Petite Elodie Ring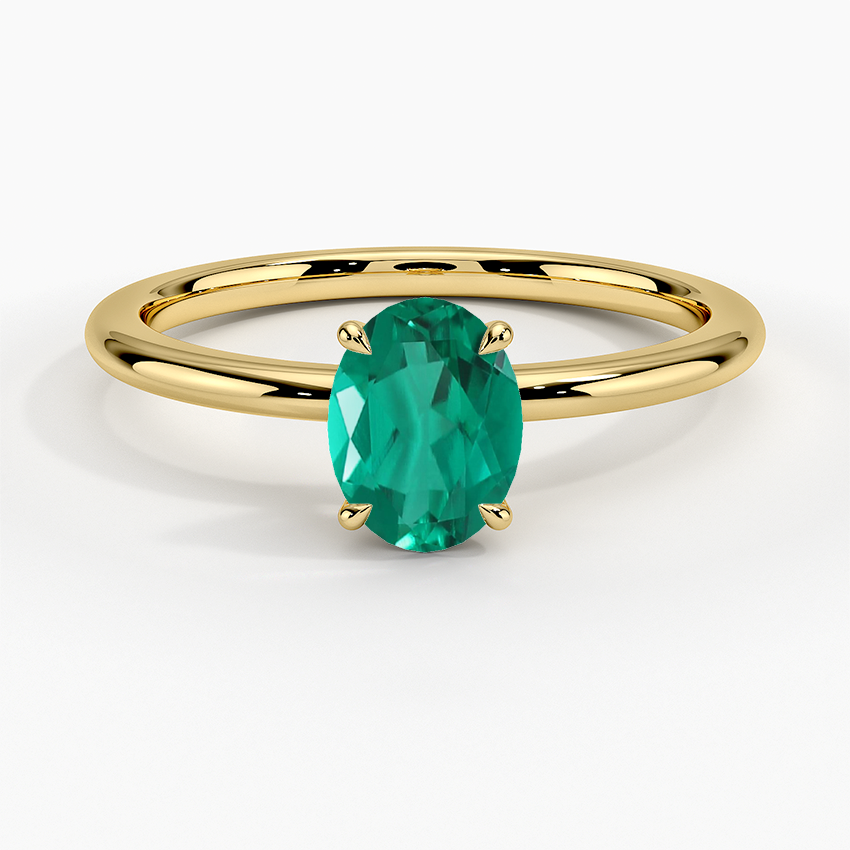 This elegant solitaire features an open basket with claw prongs that cradle the center gem. The petite band adds to the sleek, classic look of this ring. 
Non-Diamond Engagement Ring FAQs
Can you have an engagement ring without a diamond? 
A center diamond is by no means a requirement for a beautiful engagement ring. Sapphires are the most popular gemstone chosen for a non-diamond engagement ring. Beloved by celebrities and royalty throughout history, sapphires add a stunning pop of color to any engagement ring while offering unmatched durability. 
What is a good alternative to a diamond? 
If you love the look of a diamond but are looking for a cost-friendly alternative, some of the most popular choices for diamond alternatives are simulants such as moissanite, white sapphire, and cubic zirconia. Moissanites especially are loved for their brilliant, fiery sparkle, durability, and value.   
What is a non-engagement ring called? 
A promise ring is a form of non-engagement ring that is given as a gift and suggests your commitment to your partner. From your promise of a future engagement to a romantic gesture of your love and commitment, promise rings can mean any number of things.  
Final Thoughts 
Would you consider choosing a non-diamond engagement ring? Do you have a favorite center gemstone other than diamonds? Let us know your thoughts on Facebook or Twitter or in the comments section below!