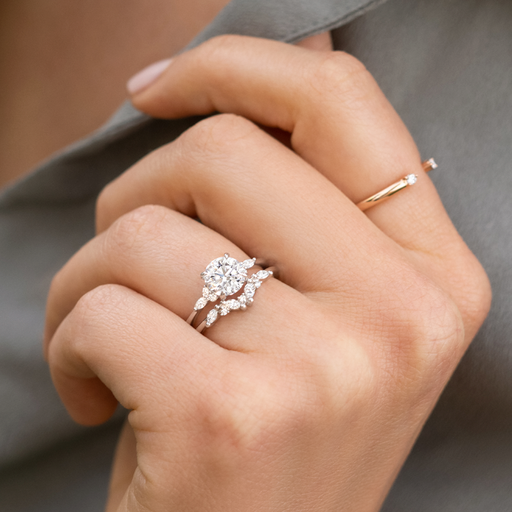 When it comes to rings with dazzling diamond accents, there are virtually endless opportunities to combine diamond shapes for a look all your own.
While round diamonds continue to be one of the most classic diamond accent shapes, fancy diamond accents are quickly rising in popularity. Fancy cut diamonds, simply put, are diamonds in any shape other than round. From sleek step cuts to sparkling geometric diamonds, learn more about some of the trending fancy diamond accents we're loving!
Baguette Diamond Accents
After round brilliant diamonds, baguette diamonds are one of the most classic choices for accent diamonds on an engagement ring or wedding band. Because of this, they are beautiful choices for vintage inspired engagement rings, particularly rings inspired by the Art Deco era or classic Hollywood glamour. Like emerald diamonds, baguette diamonds are step cut, meaning its facets are cut in parallel lines to one another on all four sides. This method of diamond cutting highlights a diamond's exceptional clarity rather than prioritizing sparkle, which makes for a sleek and clean look. While many people note the similarities between baguette diamonds and emerald diamonds, emerald diamonds have slight beveling on the corners while baguette diamonds have unrounded angled corners making them true rectangles. Tapered baguette diamonds are also popular options, particularly in three stone ring settings.
Baguette diamond rings have been beloved by celebrities for decades. Grace Kelly's stunning three stone engagement ring featured baguette diamonds that flanked her 10.48 ct. emerald diamond center stone, and Audrey Hepburn got engaged to actor Mel Ferrer with a platinum eternity band with channel set baguette diamonds. Today, Queen Letizia of Spain wears a channel set baguette diamond ring like Audrey Hepburn's and Amal Clooney sports a style similar to Grace Kelly's tapered baguette ring, proving these classic diamond shapes will always be in style!
Baguette Diamond Ring Settings
Quinn Diamond Ring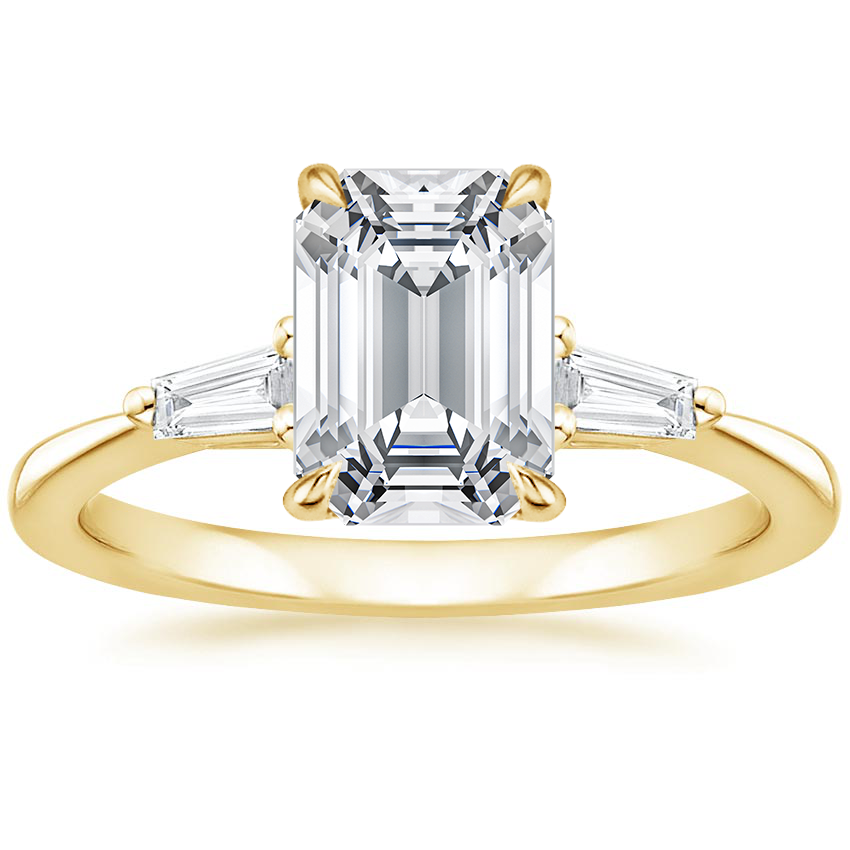 Captivating tapered baguette diamonds are prong set in this elegant ring, brilliantly framing the center gem. With a delicate band, this ring evokes classic beauty.
Harlow Diamond Ring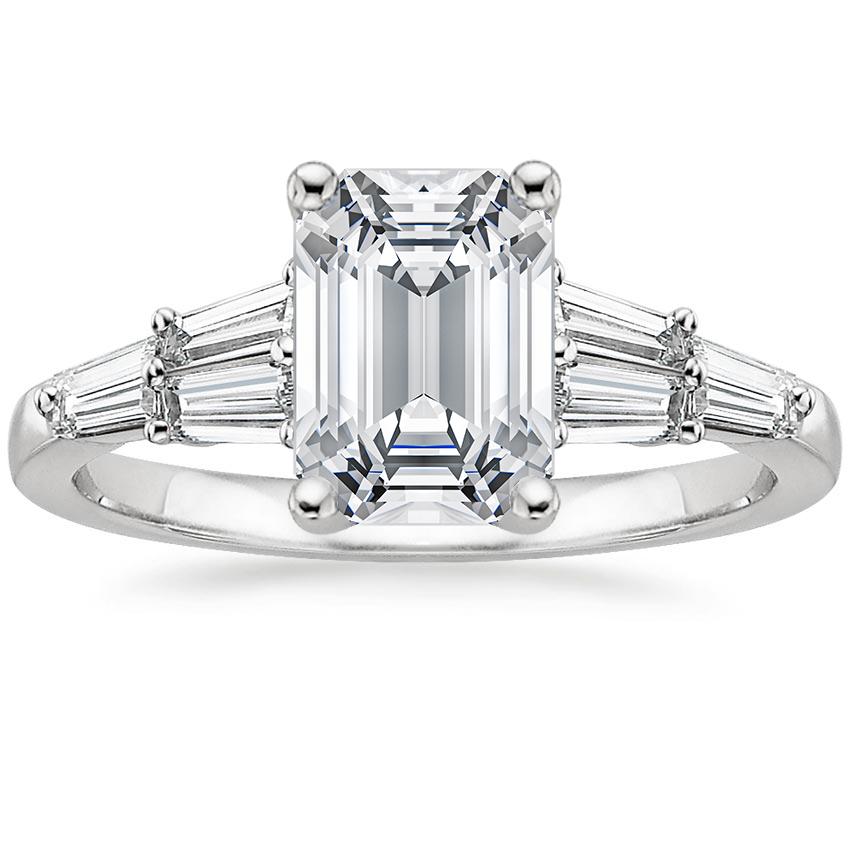 Tapered baguette diamonds adorn the shoulders of this stunning ring, brilliantly framing the center gem and exuding a look of chic sophistication.
Sines Diamond Ring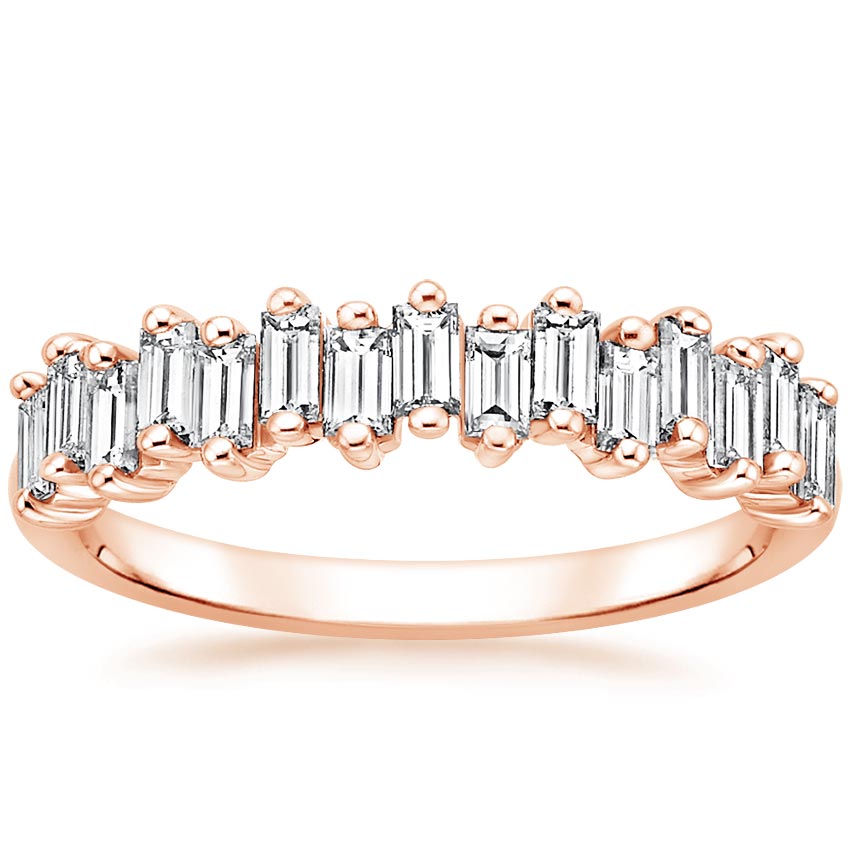 An alternating wave of baguette diamonds dazzle along one third of the band for a modern and lustrous look.
Arabesque Diamond Ring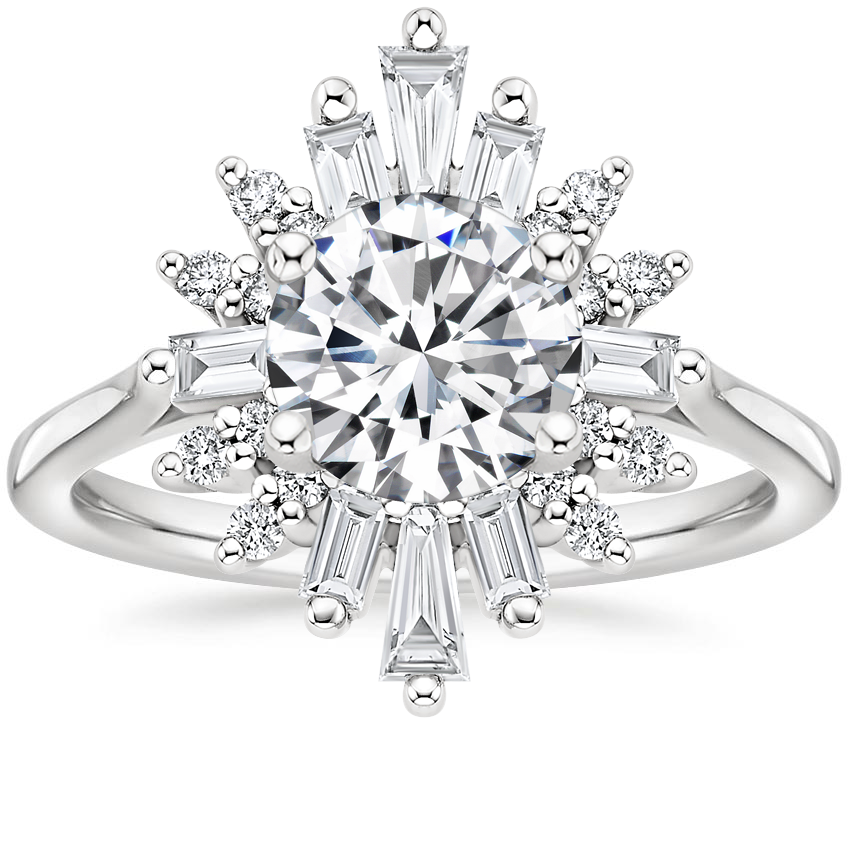 This regal and distinctive ring features baguette and round diamonds that form a unique, striking halo. Cradled by claw prongs, the center gem of this marvelous ring acts as the centerpiece to a north-south facing design that is both comfortable and extravagant.
Gemma Diamond Ring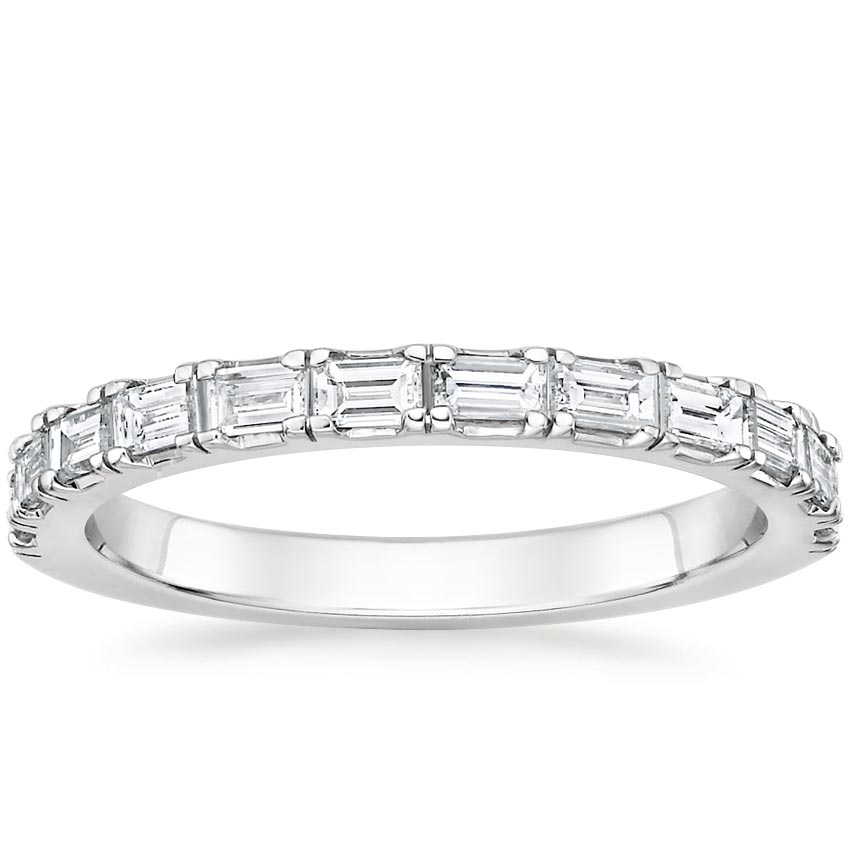 Baguette diamonds in a scalloped pavé setting glimmer along the top half of this ring while the delicate, high polished band completes the look of timeless elegance.
Luxe Tapered Baguette Diamond Ring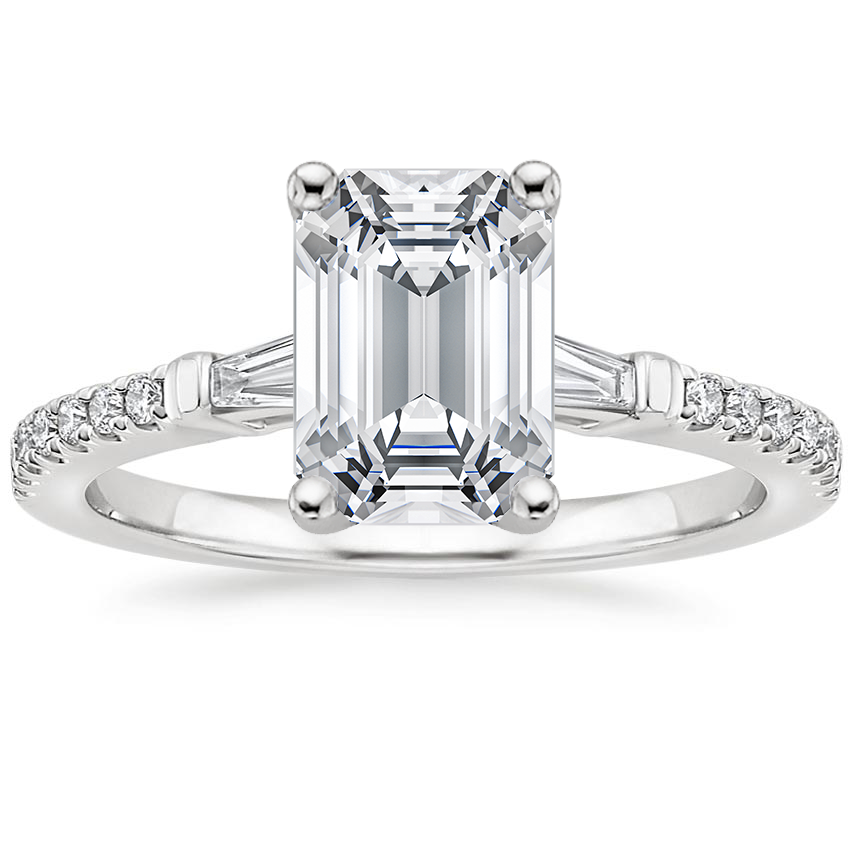 Two beautiful baguettes are set at either side of a stunning gemstone in this elegant, chic ring. Diamond accents continue half of the way around the band for a classic and understated look of glamour.
Pear and Marquise Diamond Accents
Pear and marquise diamond accents are on trend and add unique sparkle to an engagement ring setting. Pear diamonds, also known as "teardrop diamonds," offer graceful curves that are both feminine and sophisticated. The distinctive, oblong shape of a marquise cut diamond originated in the court of King Louis XIV of France and has a romantic history. Louis XIV had the diamond shape created to represent the shape of his lover the Marquise de Pompadour's lips, thus the name "marquise". The marquise diamond is also referred to as the navette, or "little boat," and has stood the test of time.
Today, these beautiful accent diamonds feature in many of our nature inspired engagement ring settings since they can mimic the shape of flower petals, vines, and budding leaves. These shapes also lend themselves to unique diamond cluster designs since they can easily fit together like tiles in a mosaic.
Khloé Kardashian was recently photographed wearing a show-stopping pear diamond ring that featured large pear diamond accents flanking the center gem, and pear diamonds in general have long been a celeb favorite. Victoria Beckham, Cardi B, Sophie Turner Jonas, Ariana Grande, Emily Ratajkowski have all worn stunning pear diamond rings in recent years. We anticipate these elongated fancy diamonds will remain a popular choice for years to come!
Pear and Marquise Diamond Ring Settings
Opera Diamond Ring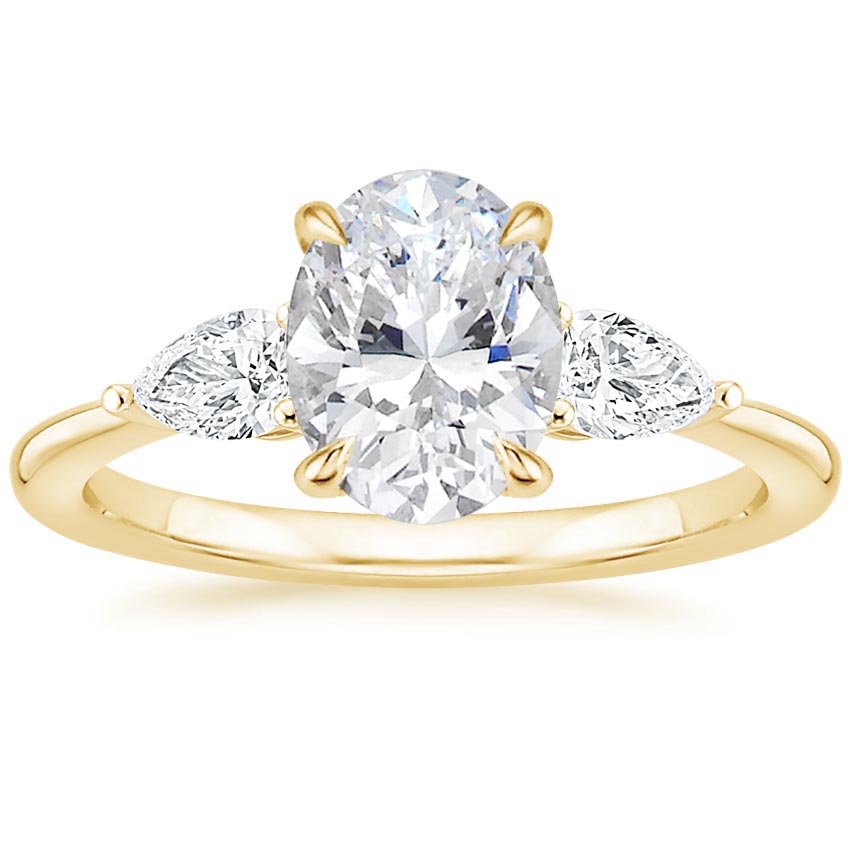 Captivating pear-shaped diamonds brilliantly frame the center gem in this classic three stone ring. The petite band gently tapers and secures the gems in a basket setting.
Versailles Diamond Ring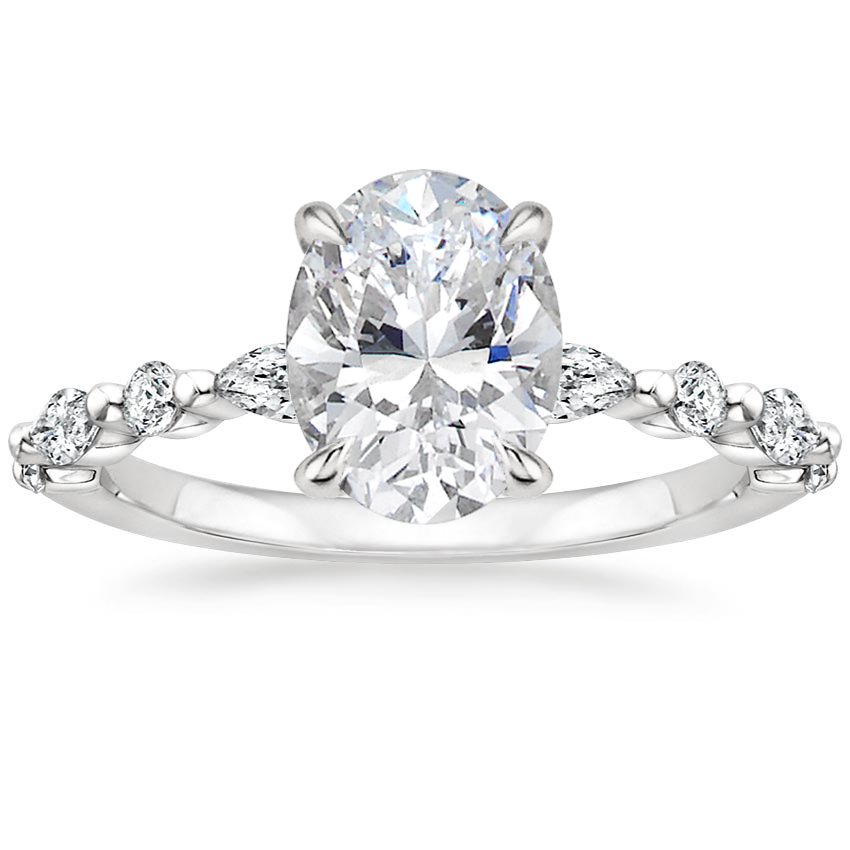 Alternating round and marquise diamonds create an alluring pattern in this chic and distinctive engagement ring.
Yvette Diamond Ring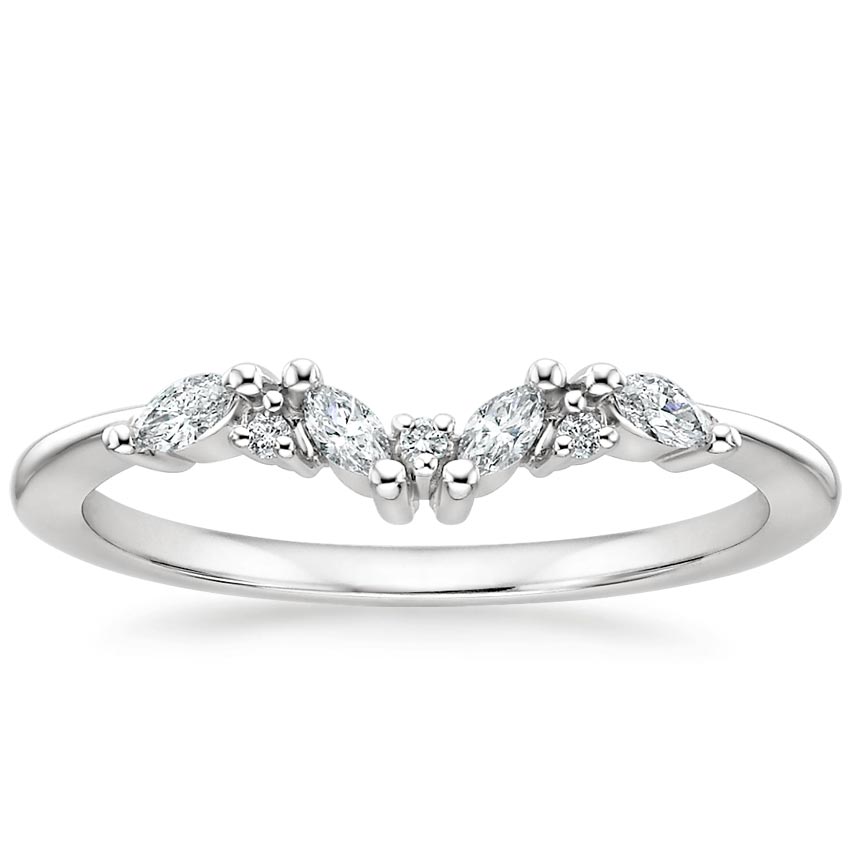 Sparkling round and marquise-shaped diamonds meet at a point in this sleek chevron-shaped ring, perfectly styled to complement an engagement ring, stack with other rings, or wear by itself.
Primrose Diamond Ring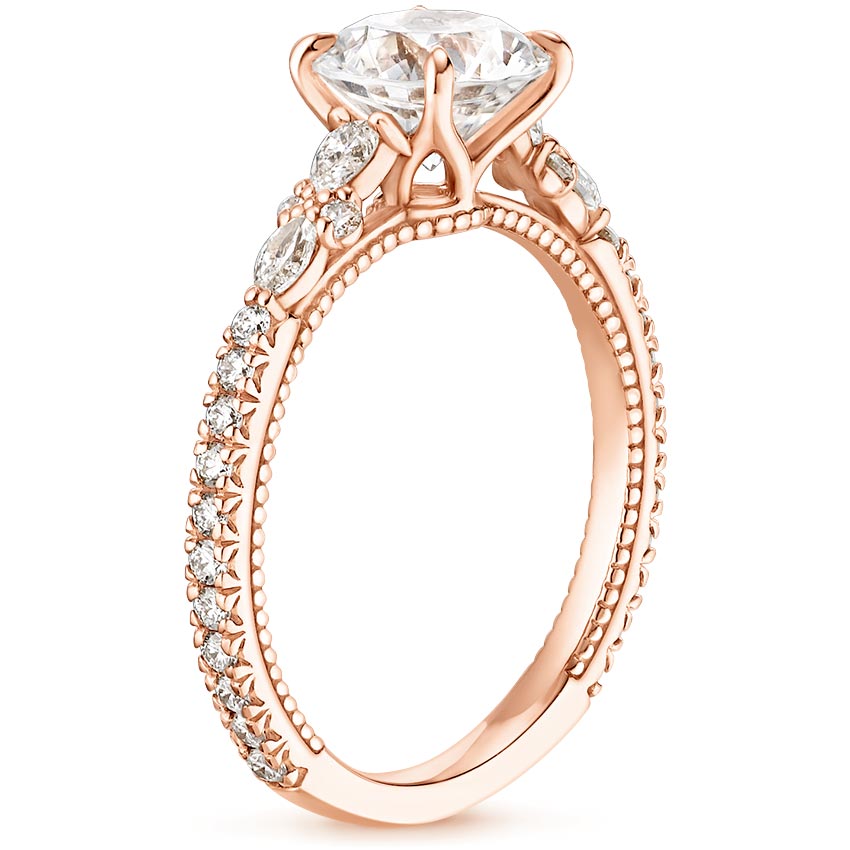 This feminine design features floral clusters that embrace the glistening center gemstone. Beaded detailing adds an air of timeless elegance to the band as it dazzles with French pavé diamond accents.
Mirabelle Diamond Ring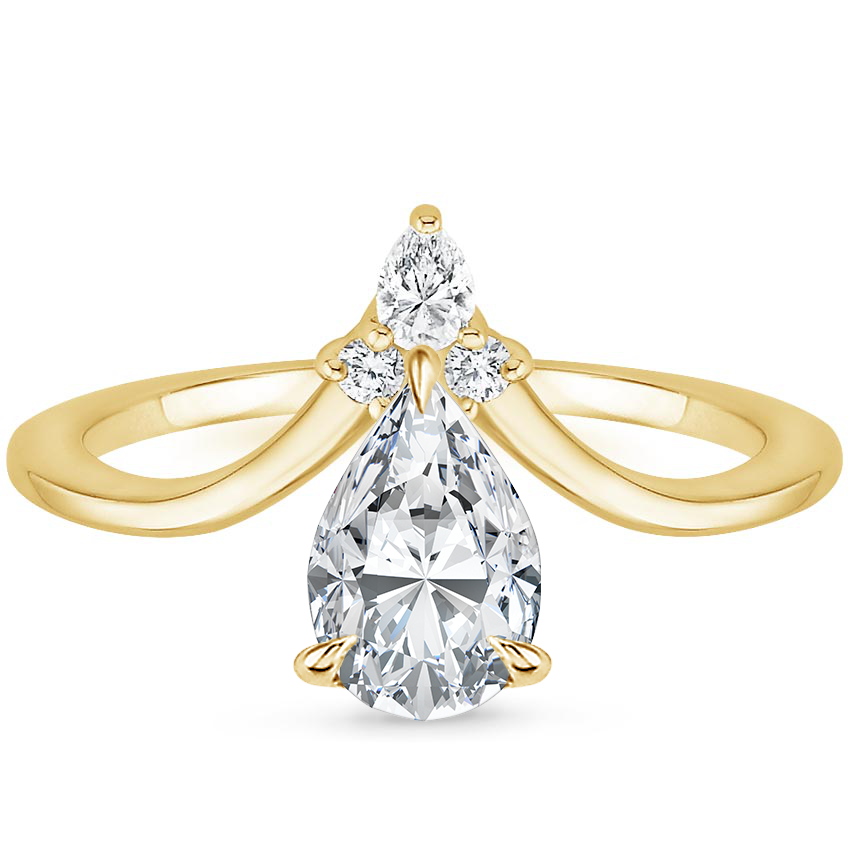 A cluster of diamonds adorn the highest point of the chevron-shaped band in this exquisite ring. Claw prongs delicately hold the center gem, which rests beneath the band for an artistic look reminiscent of the Art Nouveau era.
Winslet Diamond Ring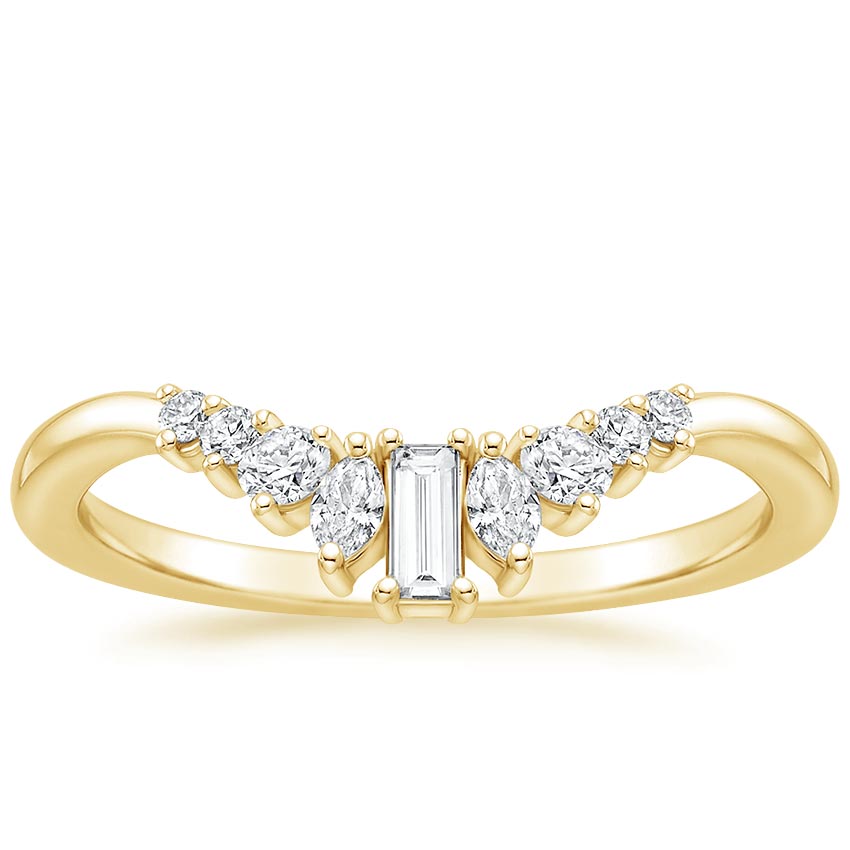 This sleek, crescent-shaped ring features sparkling round and marquise-shaped diamonds that frame an eye-catching baguette diamond. This stunning design is perfectly styled to complement an engagement ring as a wedding band or as part of a nested stack.
Ava Diamond Ring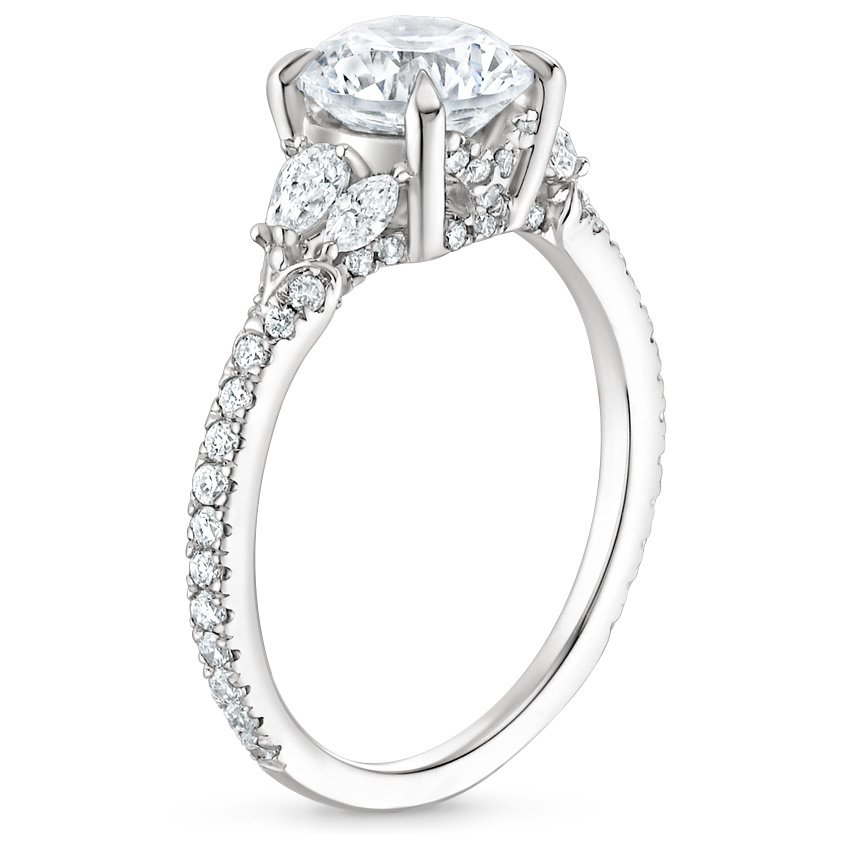 Inspired by the delicate plumage of feathers, this spectacular ring is lavishly layered with pear, marquise, and round diamonds.
Modern Geometric Diamond Accents
Contemporary diamond accents like trapezoids, triangles, and kite diamonds are all rising stars! These modern diamond shapes are particularly popular in three stone engagement ring settings. In the last year, Demi Lovato, Paris Hilton, and Bethenny Frankel have all received stunning three stone engagement rings featuring large trapezoid accent diamonds, proving this style is a growing trend.
Because of their unique shapes, geometric diamond accents are most commonly paired with elongated fancy shaped center stones such as emerald, radiant, oval, marquise, or pear diamonds.
Geometric Diamond Ring Settings
Embrace Diamond Ring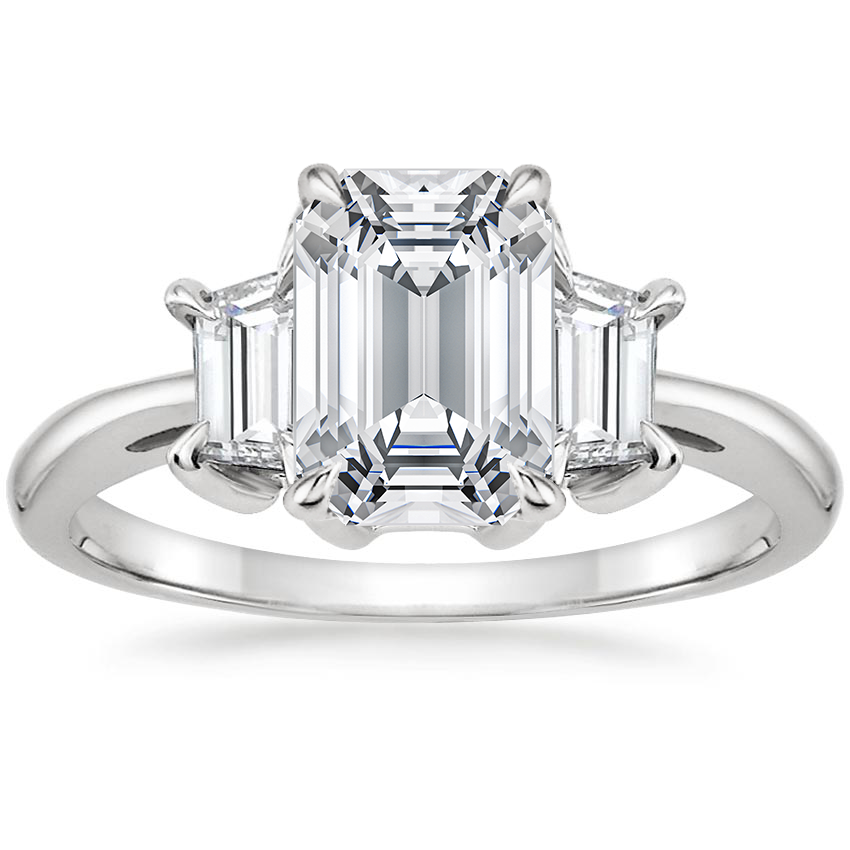 A distinctive trapezoid-shaped diamond sits on each side of the center gemstone in this captivating and contemporary three stone ring.
Esprit Diamond Ring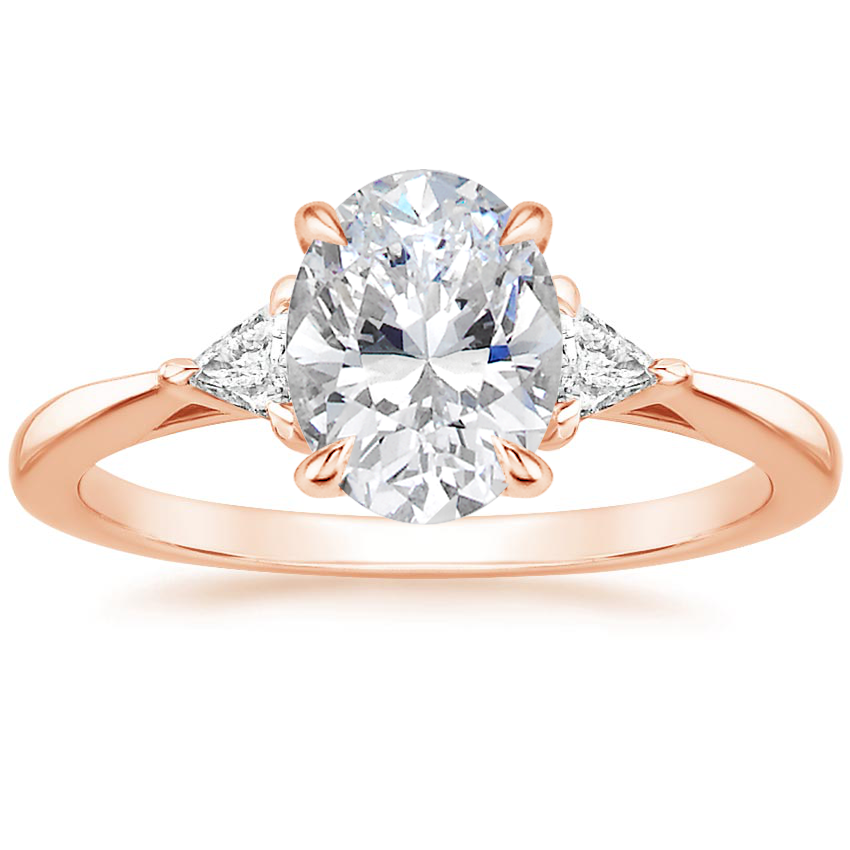 Captivating trillion shaped diamonds brilliantly frame the center gem in this classic ring. The petite band gently tapers and secures the gems within elegant claw prongs.
Cometa Diamond Ring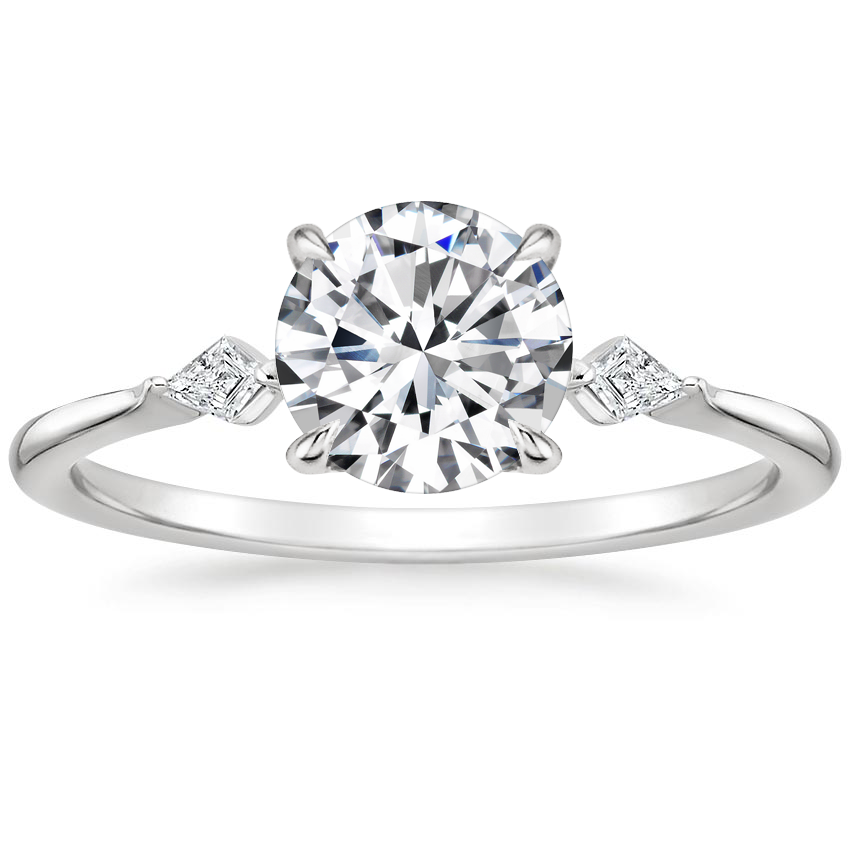 Elegant and chic, this three stone ring features two kite-shaped diamond accents alongside a center gemstone cradled by lustrous claw prongs. The sleek, sophisticated band gently tapers down into a low dome for increased comfort.
Final Thoughts
Which uniquely beautiful accent diamond shape is your favorite? Let us know on Instagram, Facebook, or Twitter, or in the comments below!