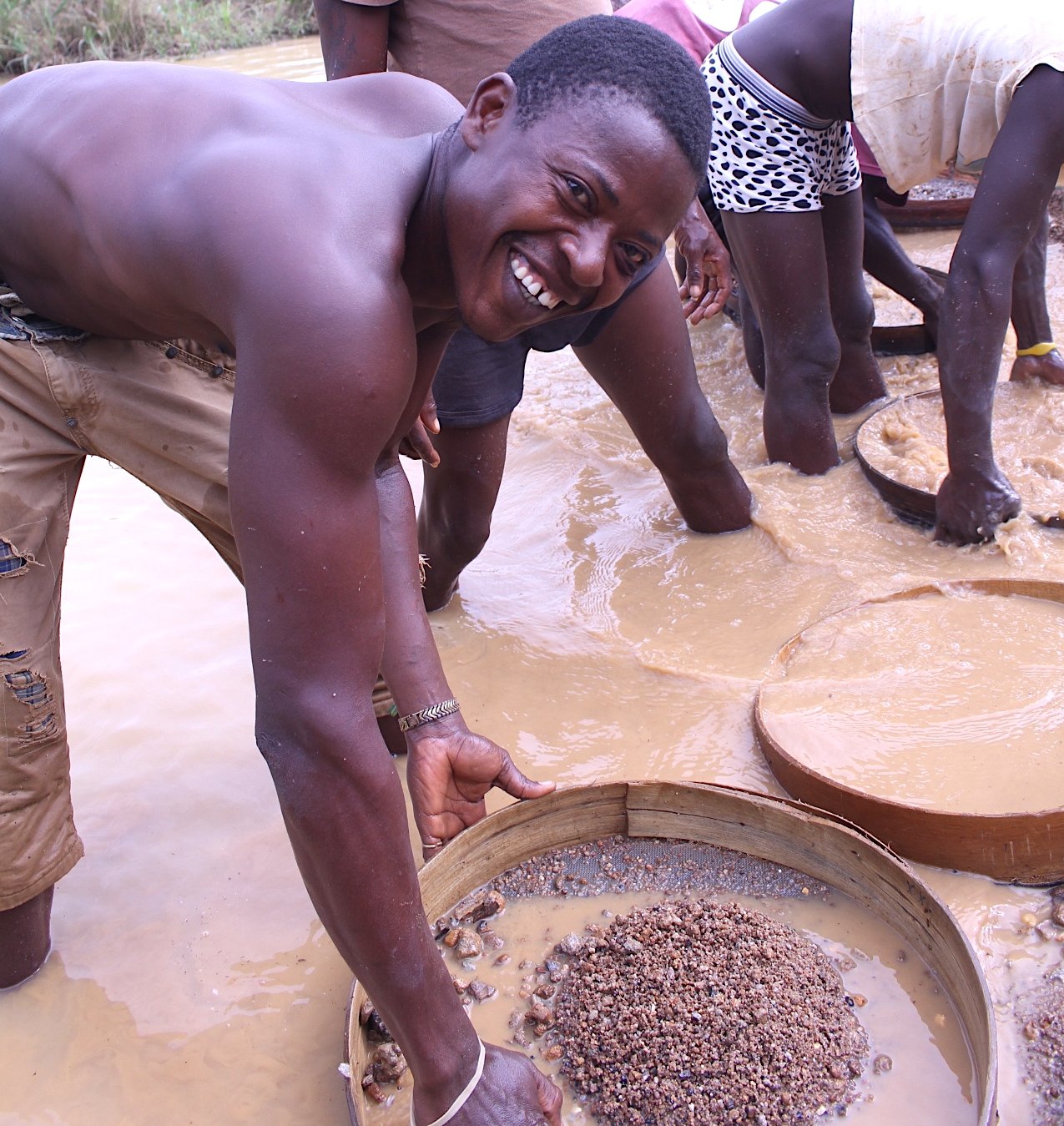 Brilliant Earth is proud to partner with the Diamond Development Initiative (DDI) to provide training in diamond valuation to artisanal diamond miners in Sierra Leone.
A common problem in artisanal diamond mining is that miners do not know what their diamonds are worth. The diamond traders who purchase rough diamonds from artisanal miners are better informed to assess value. Diamond traders often take advantage of this knowledge difference to cheat the miners and pay them only a fraction of the true worth of their gems.
To help address this inequity, Brilliant Earth is funding a month-long program that will educate miners and empower them to obtain a fair value for the diamonds they mine.
About the Program
Ten miners who currently participate in the Maendeleo Diamond Standards program will be selected to receive the training. The miners will take classes from a professional valuator at DDI's offices in Koidu, in Sierra Leone's Kono district.
The program will help miners learn to recognize the key characteristics that determine the quality and value of a diamond. Artisanal miners in Sierra Leone usually estimate a diamond's value by looking only at its size, or carat weight. The program will teach miners to evaluate rough diamonds based on other important factors, such as clarity, color, and shape. "We want to develop the miners' understanding beyond just carat size," says Dorothée Gizenga, Executive Director of DDI. "With this project, and thanks to Brilliant Earth's support, we will create a body of knowledge relating to diamond values that will be available to assist miners with the sale of their diamonds."
The program's impact will go beyond the miners who are trained. After the four-week program, the miners will be encouraged to share their valuation expertise with others in the community. Additionally, some of the miners will be selected to offer formal valuation services to other local miners. Working with DDI's local program manager, who will also receive the training, the miners will regularly evaluate gems that other area miners bring to DDI's office. In this way, knowledge about how to value diamonds will be shared and more miners in the community will have a way to know what their gems are worth. Miners throughout the Kono district could have increased bargaining power.
Another benefit of the program is that it could help break down barriers between local miners and Sierra Leone's national government. Six government officials from the National Mineral Agency will participate in the training program at their own cost. By bringing miners and regulators together in a classroom setting, the program will build mutual understanding between the mining community and the government.
Why It Matters
More than a million artisanal diamond miners in developing countries live and work in extreme poverty. One reason why diamond miners earn so little is that they lack bargaining power in negotiations with diamond traders. Because miners are unable to assess the value of the gems they discover, they often sell their gems to diamond traders at bargain prices. The diamond traders then resell the diamonds at a much higher price, keeping most of the profits.
Empowering and educating local diamond miners is essential to changing the dynamics of the diamond trade. By teaching miners how to recognize the characteristics that determine a stone's value, the program will increase the miners' bargaining power. Miners will obtain a better price for their gems and be paid more fairly for their hard work.