When it comes to simple engagement rings, there's something about them that feels elegant and personal. A low-profile setting or a slim band can inspire gentle sophistication. And with an unexpected color or a unique shape, a simple engagement ring can appear tasteful but eye-catching; modest, yet stylish. Bottom line: Simple can be chic. Don't let anyone tell you otherwise.
Here's what you need to know when shopping for your simple engagement ring.
Why Everyone Loves Simple Engagement Rings
Simple engagement rings are popular for their "less is more" attitude (and they tend to be a little more attainable price-wise, depending on the size of your solitaire center stone). A round cut and a solitaire band pretty much comprise a classic, "old reliable" style when you picture the anatomy of a ring. That iconic silhouette is all you need to indicate your lasting love.
A simple engagement ring is also flexible, fitting seamlessly across generations and attire. An engagement ring with a more demure shine and reserved size can feel intentionally graceful, implying a more refined, elegant aesthetic.
Factors to Consider When Choosing a Simple Engagement Ring
Simple isn't boring. There are ways to take a ring that's delicate and dainty to be a bit more razzle dazzle. Tiny details can make a simple engagement ring more intricate the longer you look. And with a simple engagement ring, it's easy to emphasize a standout, exciting element when the rest doesn't attract attention. So here's what to consider when you're shopping for a "simple" engagement ring to help a little go a long way.
Budget
People tend to think of simple engagement rings as inexpensive, and while cost can indicate quality, you can actually afford a bigger, better stone when you pare back on the cut, clarity, and color. In this way, "simple" can mean an investment, going all-out on one element.
While the average engagement ring costs $5,500, it's up to you how much you should spend on a ring. When "extra" just doesn't describe your nearest and dearest, shop beauty on a budget. For example, if you still want to feel fancy, a twisted band is a solution to elevate a straightforward solitaire ring. A literal "twist" on a classic can be enough to set your ring apart.
Gemstone Type
If you want the brilliant gleam of the diamond engagement ring that's not quite so gaudy, see our diamond buying guide for tips on skimming (like a cloudier gem or a less elaborate cut).
The most popular alternative to a diamond ring (especially when your definition of simplicity is price) is moissanite. In the battle of moissanite vs. diamond, moissanite is essentially a low-cost lab created diamond that's almost as durable and with even more sparkle. However, if you're not trying to mimic the look of a diamond in your simple engagement ring, explore a jewel tone gem like sapphire, emerald, and ruby, or a thoughtful birthstone gem for a truly unexpected diamond alternative.
Metal Type
The design of your engagement ring's band should complement the color and shine of your gemstone (however subdued). To maintain the simple aesthetic, white gold or platinum are muted tones to create a brighter sparkle for a white diamond. And honestly, the simplest engagement ring can be an unadorned band altogether, in which case, you might explore colors of gold, or add a meaningful engraving for flair.
Setting Style
Sometimes it's all about execution. Engagement ring settings can make all the difference in simplicity, because how your gem sits can encourage the appearance that it's still sleek and rare. A solitaire engagement ring is the go-to for a simple ring design because a band and a stone are all you need to express that meant-to-be love. For something a little more distinctive, the bezel setting is the next most popular, offering a prong-less design to showcase a bit more of the gem.
Future Wedding Band
Saving on a simple engagement ring means you can splurge for a knockout wedding ring on the big day (you know, the one you'll wear for all day, every day for all eternity). But you can also echo that beautifully understated approach in both pieces. Decide where you want your dollars to go.
Lifestyle
Lifestyle can affect longevity. So sometimes simplicity means you want all the meticulous and exquisite sparkle of an engagement ring without the added maintenance. Typically, fewer stones mean less dirt, a.k.a less fuss when it comes to cleaning. But scratch-resistant gems like diamonds and moissanite can also add life to your love band. Protective settings can also envelop a stone for couples on-the-go. For tips on preserving any gem, see how to take care of your engagement ring.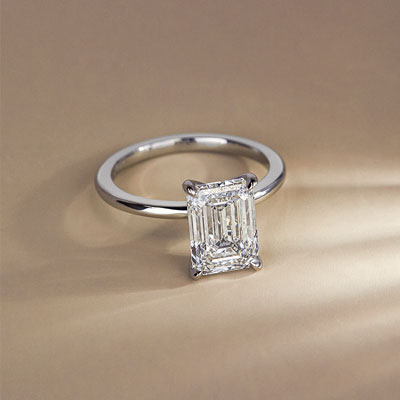 Pros and Cons of Simple Engagement Rings
Pros:
When the size of your engagement ring is less imposing, your ring can be worn every day, in every activity. Just as long as the gem has a higher hardness on the Mohr's scale (some gems are sturdier than others).
A simple engagement ring is easy to pass down as an heirloom. When you opt for classic over trendy, the design is timeless, and it can endure generations of love. Clean and minimal still feels ultra-modern.
On that note, classic doesn't clash. A simple engagement ring is more likely to go with every outfit you own.
Cons:
Simplicity has a stigma of appearing plain or ordinary. But you don't have to be shy as the wearer or apologetic as the buyer as long as you're sure the engagement ring is a sincere reflection of your special someone. Jewelry should be representative of personal preference, and a nod to their style.
Smaller gems tend to imply a low spend. But the flash of the engagement ring doesn't indicate the level of passion (or finances) in your relationship. There's no shame in affordable engagement rings, as long as you and your partner are on the same page about expectations.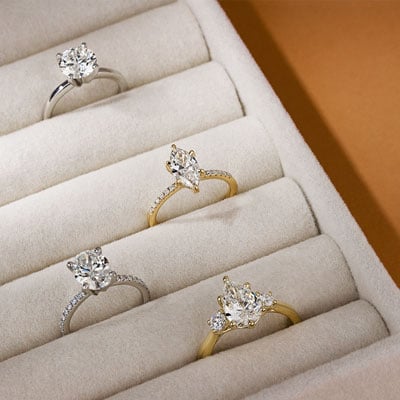 Our Favorite Simple Engagement Ring Styles
Solitaire Settings
Solitaire engagement rings typically have one center stone, proof that it's "simply" untrue that there's no glory in a basic band. The effortless design of a solitaire setting highlights a gorgeous stone so it can pop. A thinner band can also create the illusion of a bigger stone.
Bezel Settings
The subtle metal rim of bezel set engagement rings hugs your gem, keeping it safe, sound, and snag-free. This encasing also situates the gem perfectly in place, so it's less likely to be pried loose by those with active lifestyles.
Hidden Halo Settings
With the type of hidden accent engagement ring, the gem is given a sort of pedestal. Rather than surrounding the middle of your stone, the halo frame sits beneath it. The elevation gives the gem added sparkle (and makes it look bigger). Talk about two birds, one "stone."
Pave Settings
Pave engagement rings have lots of little diamonds along the band, like a stone pathway leading to the boulder that is the center gem (pavé literally translates to paved in French). Lots of light, lots of sparkle. And perfect when you don't want to settle for just one diamond.
Three Stone Settings
Consider a clever arrangement of multiple stones vs. one with a mutli-faceted cut. Flanking your main gem with smaller stones adds complexity and a surprising shape (not to mention more glitter). For a simple engagement ring that's anything but average, choose three side-by-side gems to represent your past, present, and future as a couple. Three stone settings also make for a romantic matching wedding ring set.
10 Stunning Simple Engagement Rings
Petite Twisted Vine Diamond Ring in 18K White Gold with a Round Diamond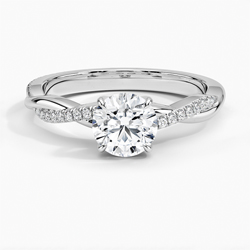 Elegant, sculptural twists create a unique yet simplistic look in this modern yet timeless design.
Petite Elodie Solitaire Ring in 18K Yellow Gold with a Round Diamond
The perfect simple solitaire, this four claw prong ring features a lustrous band of sleek precious metal.
Petite Shared Prong Diamond Ring in 18K White Gold with an Asscher Diamond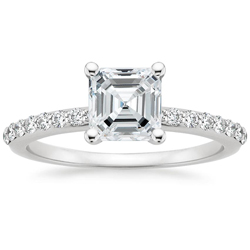 As classic as can be, this shared-prong diamond ring shimmers while bead prongs secure the center stone.
Secret Halo Diamond Ring in 14K Rose Gold with a Cushion Diamond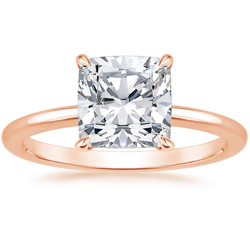 A secret halo of diamonds wraps beneath the center stone of this design, adding a hint of sparkle to an otherwise simple look.
Versailles Diamond Engagement Ring in 18K White Gold with an Oval Diamond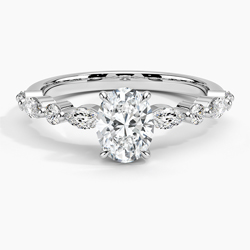 Marquise and round diamonds adorn this ring for a subtly sparkling design.
Twisted Vine Solitaire Ring in 18K Yellow Gold with an Emerald Diamond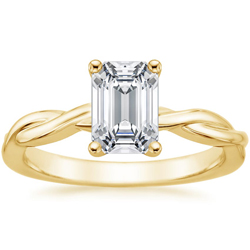 The solitaire version of the twisted style listed above, this ring twists gently in plain, lustrous strands of precious metal.
Luxe Viviana Diamond Ring in 18K White Gold with a Round Diamond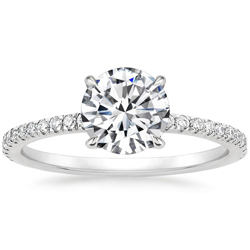 Understated yet shimmering, this ring features small pavé diamonds that adorn the finger with light.
Reverie Solitaire Diamond Ring in 18K White Gold with a Round Diamond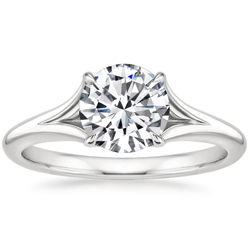 Unique split shanks add textural flair to this otherwise understated look.
Aria Three Stone Diamond Ring in 18K Yellow Gold with an Oval Diamond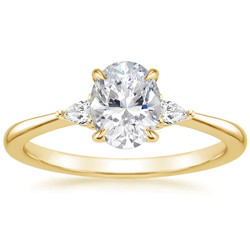 Two shining diamonds rest at either side of the gently tapering band in this simplistic yet elevated ring.
Esme Solitaire Diamond Ring in 18K White Gold with a Round Diamond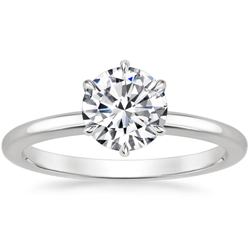 Six sleek prongs add a modern look to an effortlessly timeless, simple design.
Simple Engagement Ring FAQs
What makes an engagement ring simple?
When it comes to the 4 Cs of diamonds, color tends to be the most visually striking. So, while cut, clarity, and carat should all be considered if you're trying to keep things low-key, color should be your priority. You can always opt out of diamonds for a gemstone with a little less oomph. The sentimental value is what's important.
Can I add to my simple engagement ring later on?
It depends! The solitaire setting may allow you to add more stones if the band and budget permit. You can also receive metal credit (money back on your original ring set in gold or platinum) if you choose to change your setting later on. Stackable rings also offer opportunities to build on your original design (maybe even as an anniversary gift). You can design your own ring stack at Brilliant Earth.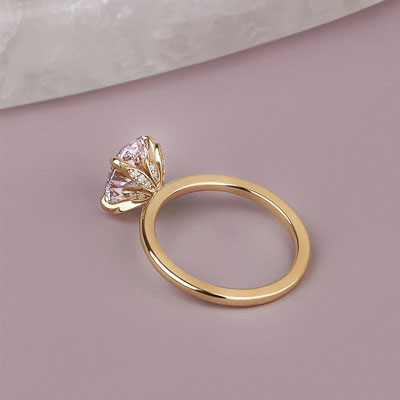 Final Thoughts
Maybe a bold shimmer just isn't you or your partner's style. A soft, vintage look or discreet size can feel like a more genuine representation of your love vs. a disco ball on the finger. No shade to those who prefer the glitz and glam — we're obviously big fans of both and every radiance in between. So, when you want to explore every engagement ring style, shop one-of-a-kind, ethical rings at Brilliant Earth.