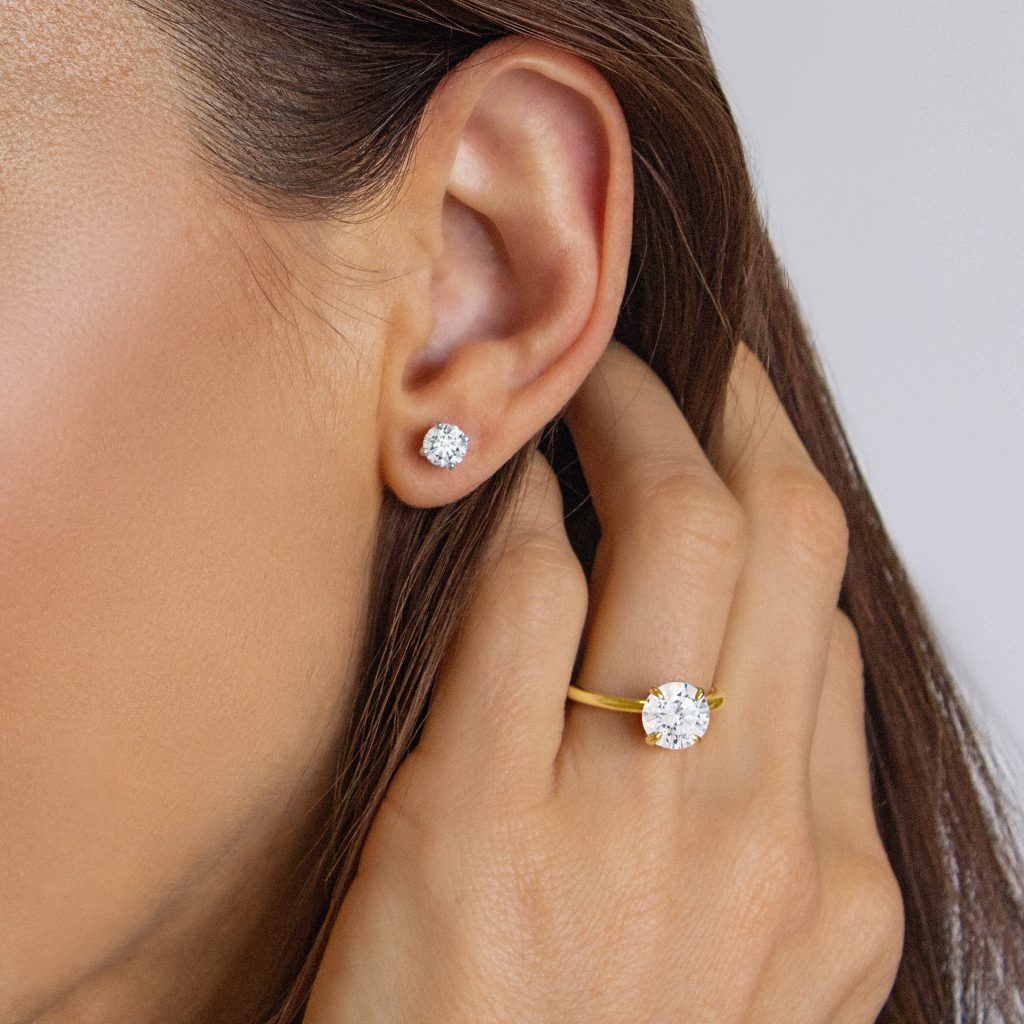 While some people live their lives striving for the intricate and the elaborate, others discover profound beauty in simplicity.
Just look at the spare prose of Hemingway, the large swaths of color in a Mark Rothko painting, or the graceful minimalism of Frank Lloyd Wright's architecture. Like these works of art, a striking diamond in a simple setting or a harmonious three stone ring never goes out of style. But don't be fooled—choosing a simple engagement ring does not mean that you are limited when it comes to design and personalization. A ring can be both elegant in its simplicity and as utterly unique as your relationship.
The Classic Solitaire
The classic solitaire engagement ring enjoys a permanent place high on the list of the most sought after engagement rings. The simple design puts the focus on the center diamond, allowing it to show its fire and brilliance. It is elegant, understated, and the very essence of sophistication.
You may be surprised to learn how many variations of solitaire rings are available. Once you've determined that you want a solitaire ring, you can then search for the style that truly embodies your unique personality. Carefully consider what type of center gemstone you want, then think about details such as setting style, diamond shape, and precious metal. By trying out different pairings, you may just discover that a subtle variation on the classic is exactly what you had in mind, but couldn't find the words to describe. A one carat diamond engagement ring with a solitaire setting is a classic and sophisticated choice.
Four- and Six- Prong Settings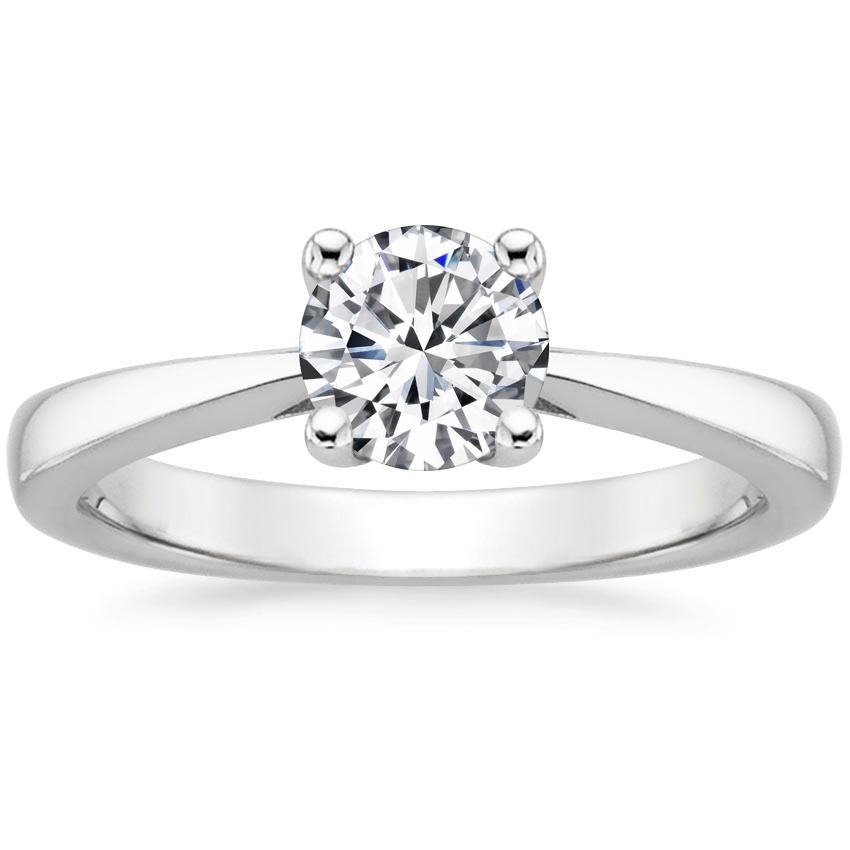 Devoted traditionalists swoon over four- or six-prong solitaire settings. The differences between the two are small, but important to consider. The four-prong setting gives a round diamond a slightly square look and also allows more light to make contact with the diamond, increasing its brilliance. Within four-prong settings you can choose between a standard style and a "compass point" setting, in which the prongs are directly above, below and alongside the center gem, like the four directions of a compass.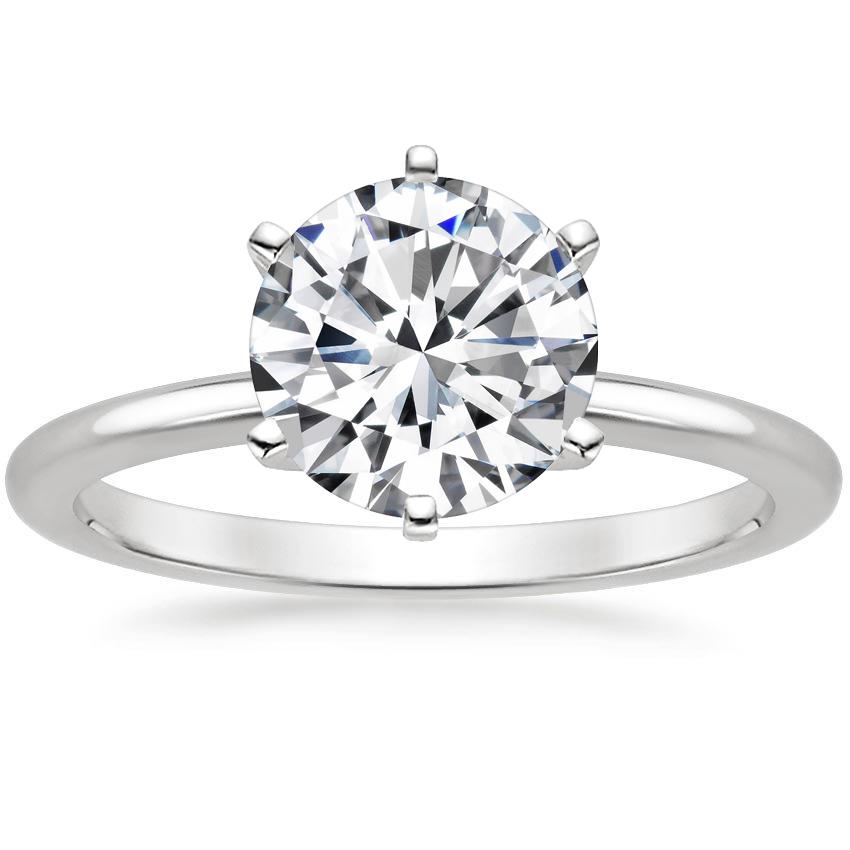 The six-prong setting doesn't allow quite as much light in, but it enhances the round look of the diamond, plus the two additional prongs provide greater security.
Bezel Solitaire Setting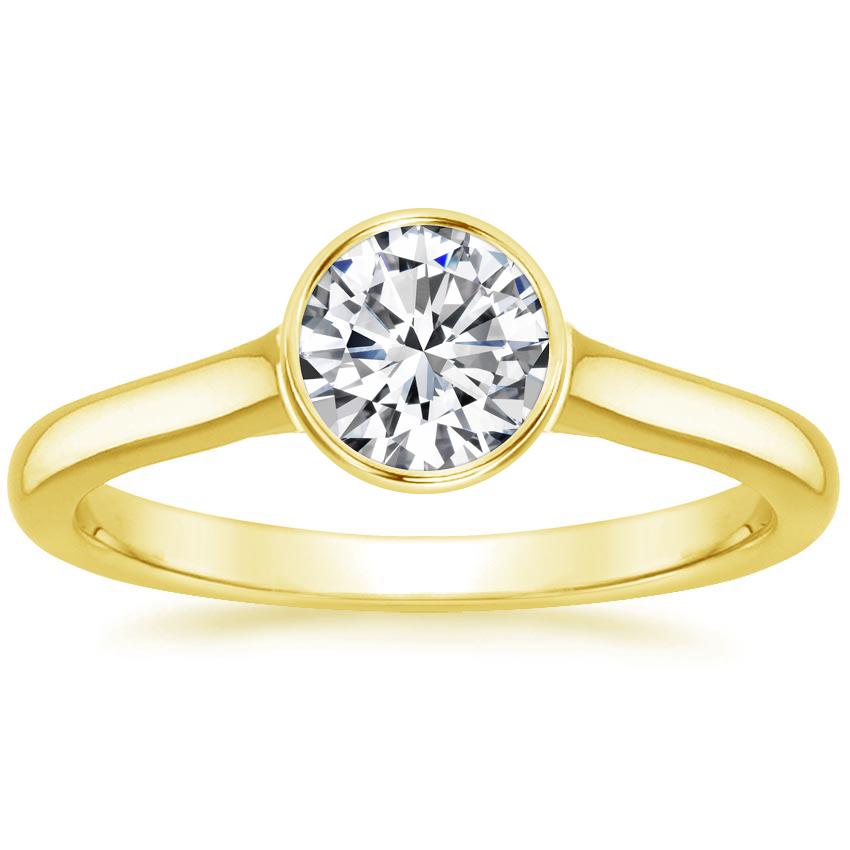 A bezel solitaire setting offers a fresh take on the most classic simple engagement rings. In a bezel setting, there are no prongs, instead a thin band of precious metal surrounds the center gem. It is a sleek, modern way to highlight a diamond. A bezel setting not only provides a perfectly smooth edge, but also keeps the gem secure. Active women who play sports or work with their hands love the durability of a bezel setting, not to mention the lack of prongs that can catch on fabric or hair.
Fancy Shaped Diamonds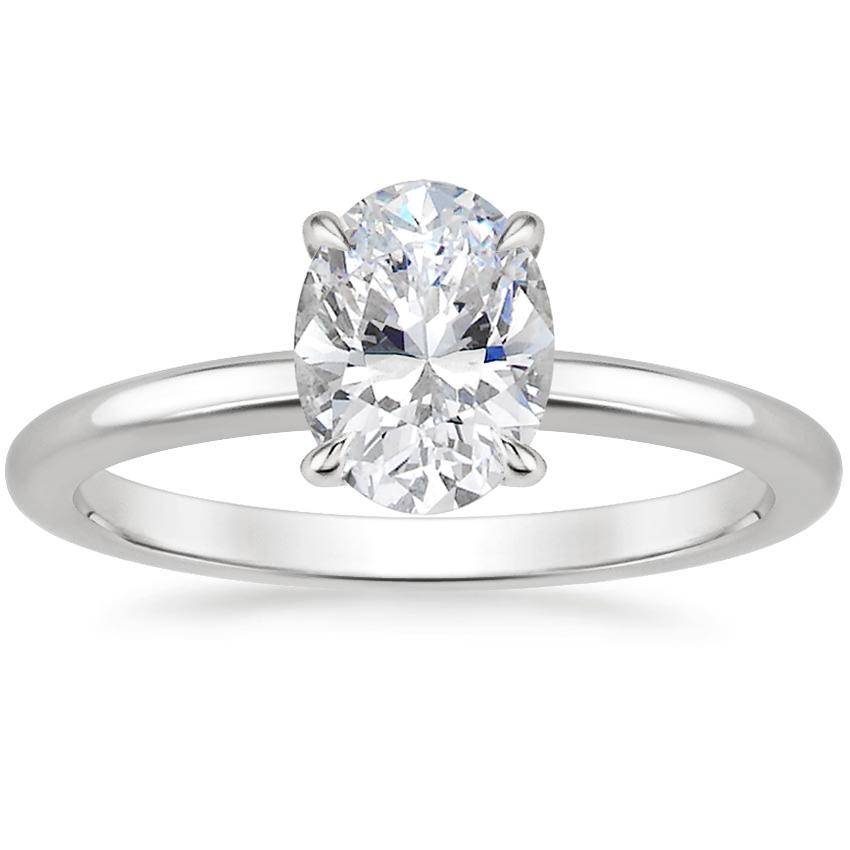 Although we often think of solitaire rings containing round diamonds, keep in mind that one way to add a bit of unexpected glamour to a simple engagement ring is by choosing a fancy shaped diamond. These distinctive diamond cuts, such as marquise, emerald, princess, cushion and asscher, give solitaire diamond rings a fun, unique look.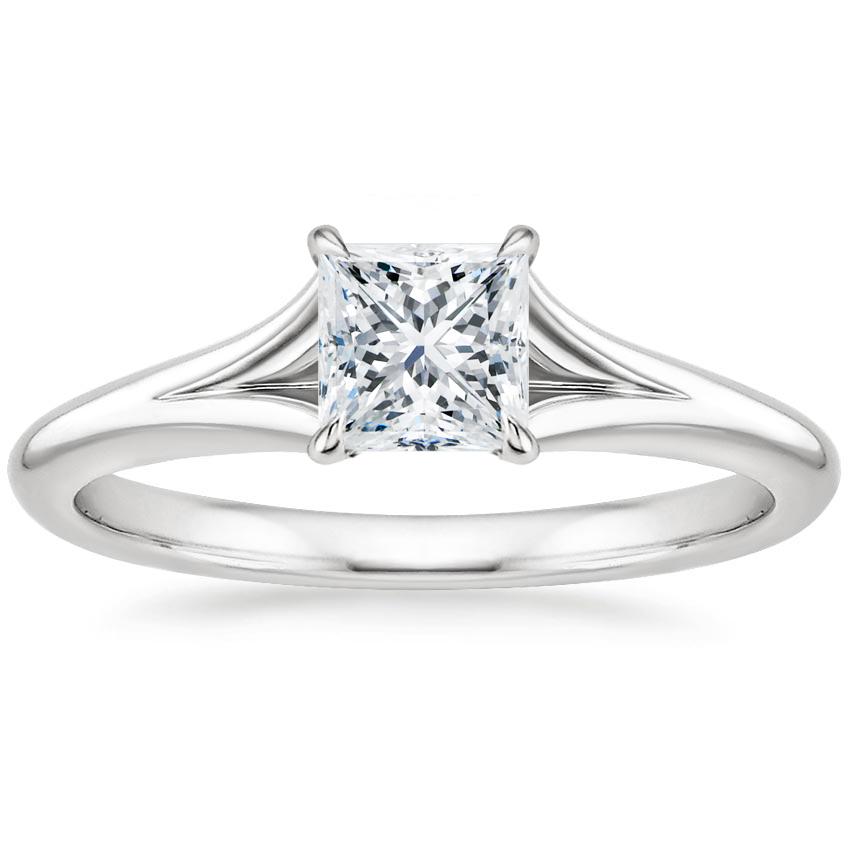 You may recognize some of these diamond shapes from the scores of celebrities who have opted for an engagement ring featuring a fancy shaped diamond—Gabrielle Union's gorgeous ring features a cushion cut diamond center stone, Jennifer Lopez's stunner has a large emerald cut diamond, and Gina Rodriguez's ring stars an asscher cut surrounded by diamond accents — and that's just for starters!
Precious Metal Selection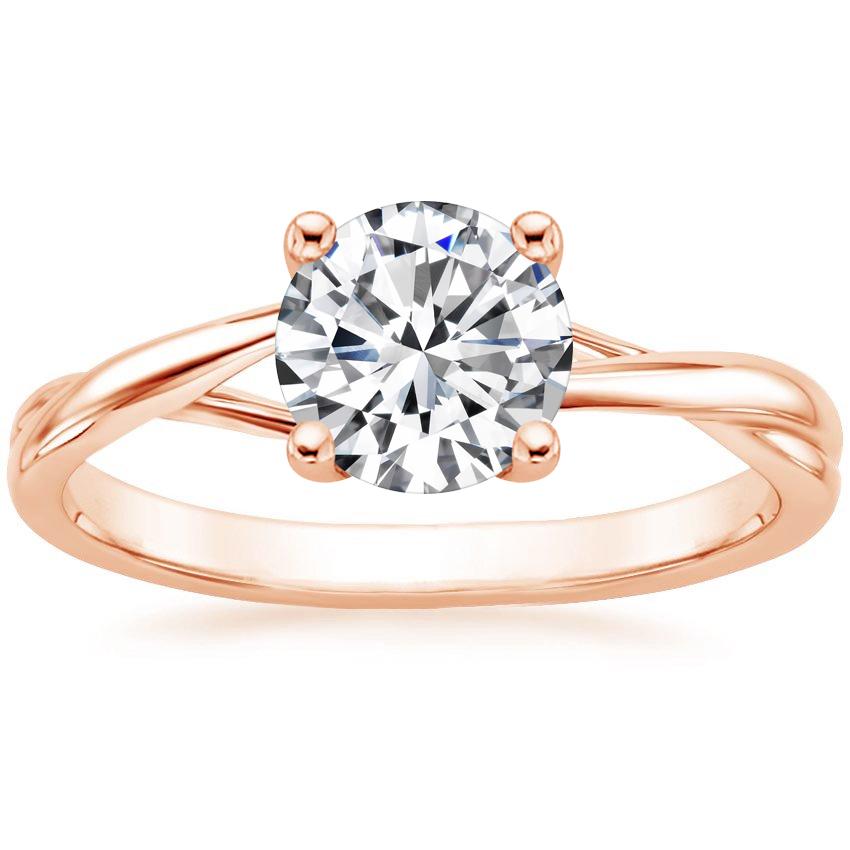 An important decision when it comes to the overall look of your engagement ring is what precious metal you would like—and while that's always true, it's especially so with a solitaire, since the metal band is more on display than in other ring styles. Platinum and white gold are the most popular selections, undoubtedly because these cool shades have a harmonious relationship with the sparkle of diamonds. Yellow gold is a rich, traditional metal that makes your center diamond stand out. More and more women are finding that the warm, pinkish hue of rose gold offers an ultra-romantic vintage feel and flatters many skin tones.
Choosing a Diamond for a Solitaire
The style of ring you choose influences how you should balance the "four Cs" when selecting a diamond. Because the diamond will take center stage, you probably want to choose a diamond with a high-quality cut. A well cut diamond will shimmer with fire and brilliance, and appear even larger than it is. You also want your solitaire to have good clarity, with no internal flaws (or "inclusions") that are visible to the naked eye (at Brilliant Earth all of our diamonds are "eye clean," so clarity is less of a concern if you purchase your ring from us). Finally, with a solitaire the color grade of a diamond is a bit less important relative to other factors. Since there will be no other diamonds alongside it or on the band, your center diamond is guaranteed to be the whitest, brightest one on your hand. (Tip: The contrast of a yellow gold band and a diamond solitaire makes the diamond look extra white.) To learn more about selecting a diamond, consult  our Diamond Education Guide.
Sapphire Solitaires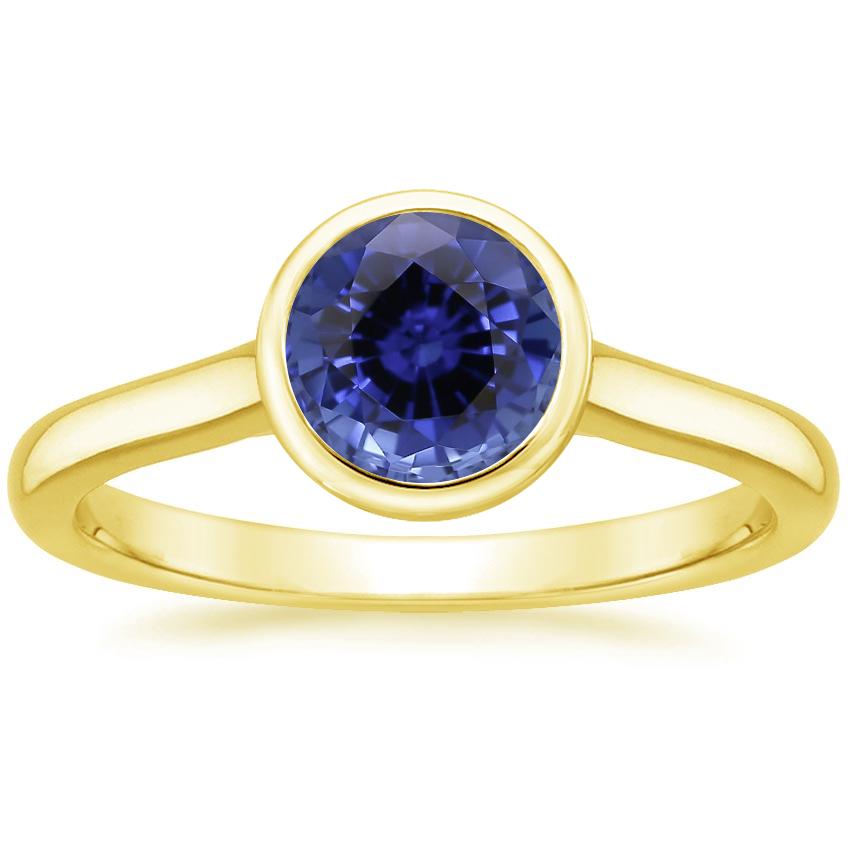 Don't forget that a solitaire needn't feature a diamond!  The bezel-set solitaire Luna ring featuring a vibrant sapphire is among our most beloved styles, and can be created with a pink or yellow sapphire, in addition to the classic deep blue.
Three Stone Simple Engagement Rings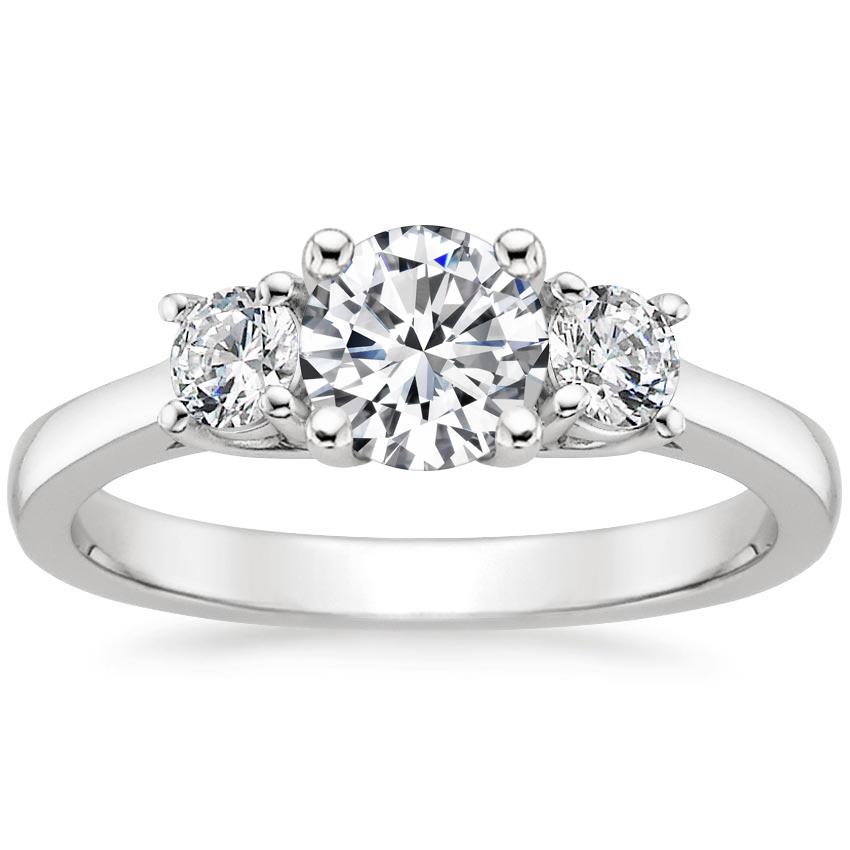 Another sought after option for a simple style  is the three stone engagement ring. This design features a center gemstone highlighted by an accent diamond on either side. In addition to its beauty, a three stone engagement ring is rife with symbolism: the three stones represent a couple's past, present, and future together.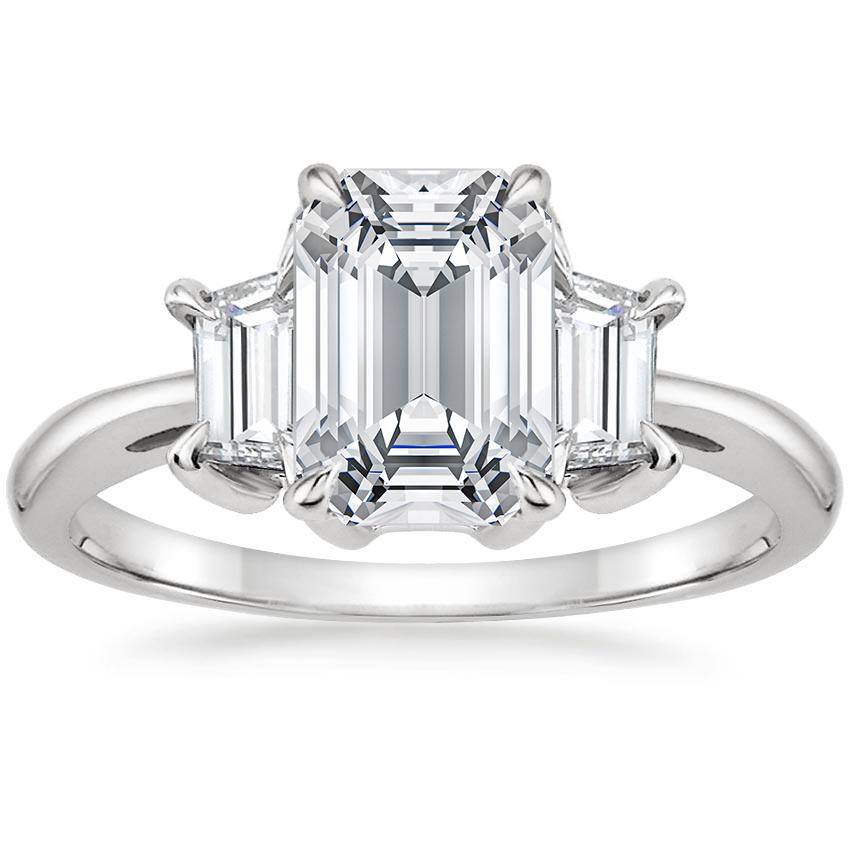 The most classic three-stone ring features three round diamonds, and the center gem is usually slightly larger than the side gems. But the gems in three-stone rings don't have to be round—you could instead choose square princess cut, emerald or oval diamonds, and there are even more possibilities. You can also mix diamonds with colored gemstones in a three-stone design, and combine different gemstone shapes. Jessica Simpson's football player fiancé did just that when he presented her with a ring featuring a center ruby with pear-shaped diamonds on either side.
Diamond Bands As Simple Engagement Rings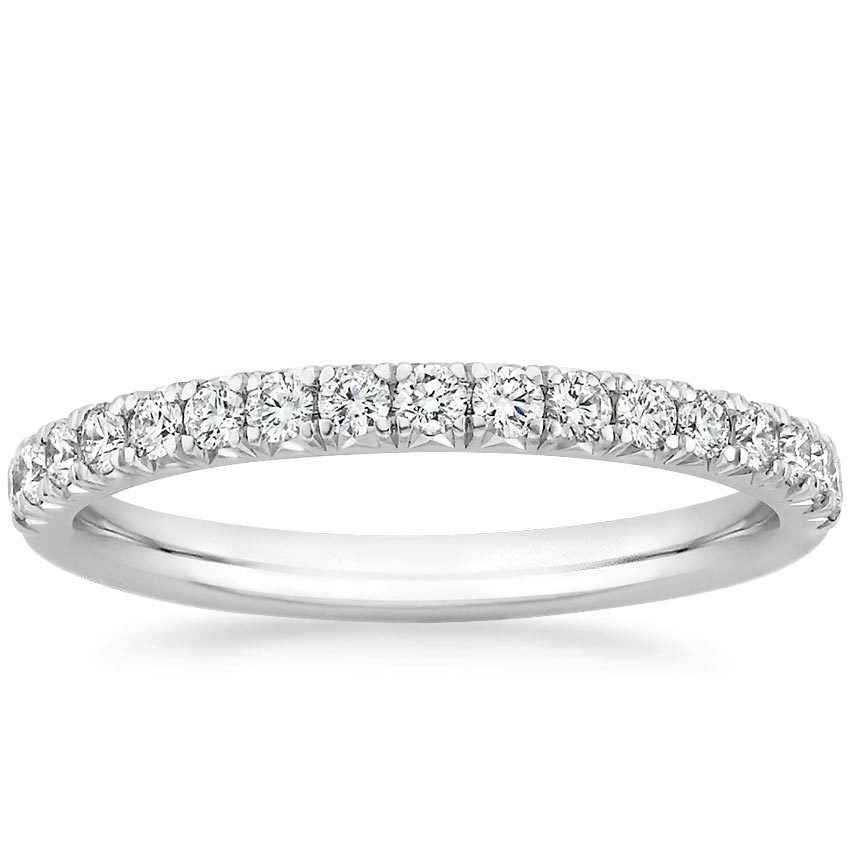 There's certainly no rule that an engagement ring must contain a large center gemstone. Women who crave a simple engagement ring might want to consider wearing a diamond band (more often used as a wedding or anniversary band) as an engagement ring. Most diamond bands stack easily, so your engagement ring would combine well with your wedding band, and with any diamond bands you might add in the future to celebrate life's milestones.
Simple Wedding Rings
When it comes time to choose a wedding ring to perfectly complement your minimalist engagement ring, choosing a simple wedding band design might be best. Here are some of our favorites:
Petite Comfort Fit Wedding Ring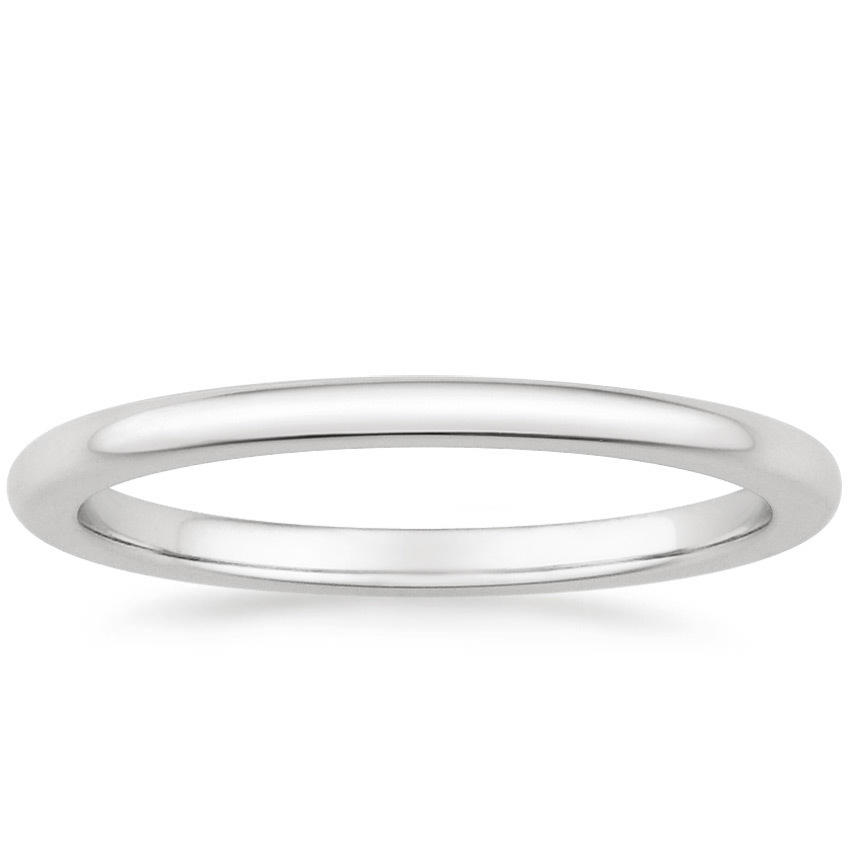 The rounded inside edges of this delicate wedding band provide increased comfort, making for a classic choice with any engagement ring.
Petite Shared Prong Diamond Ring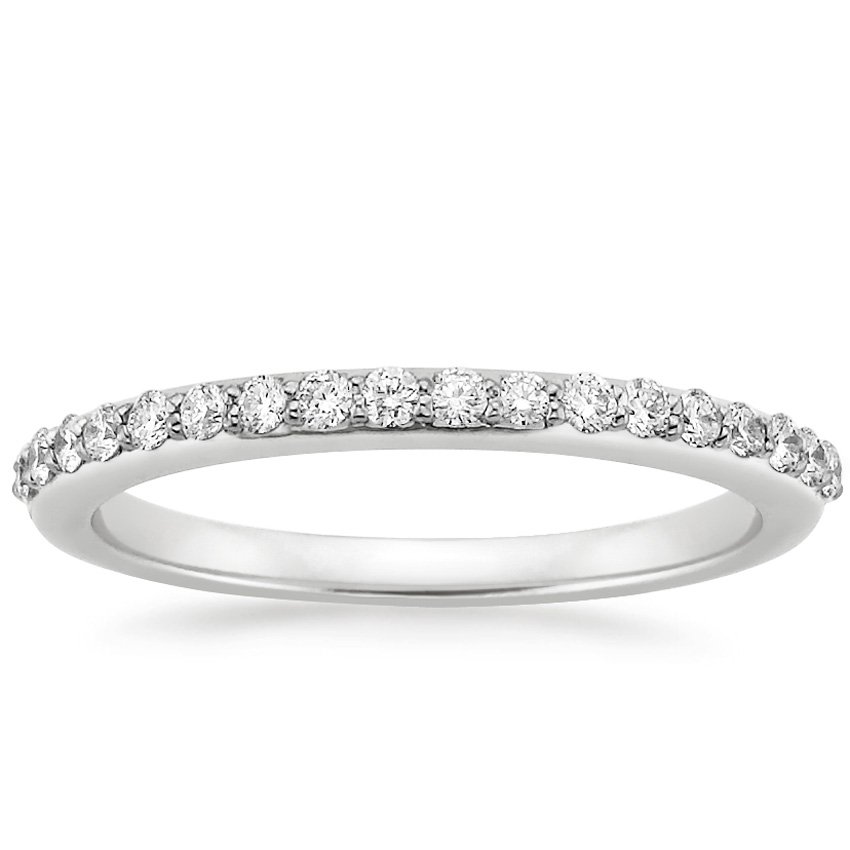 This beautiful band features round diamonds set in delicately sculpted shared prongs reaching almost halfway down the shank for maximum sparkle.
Winding Willow Ring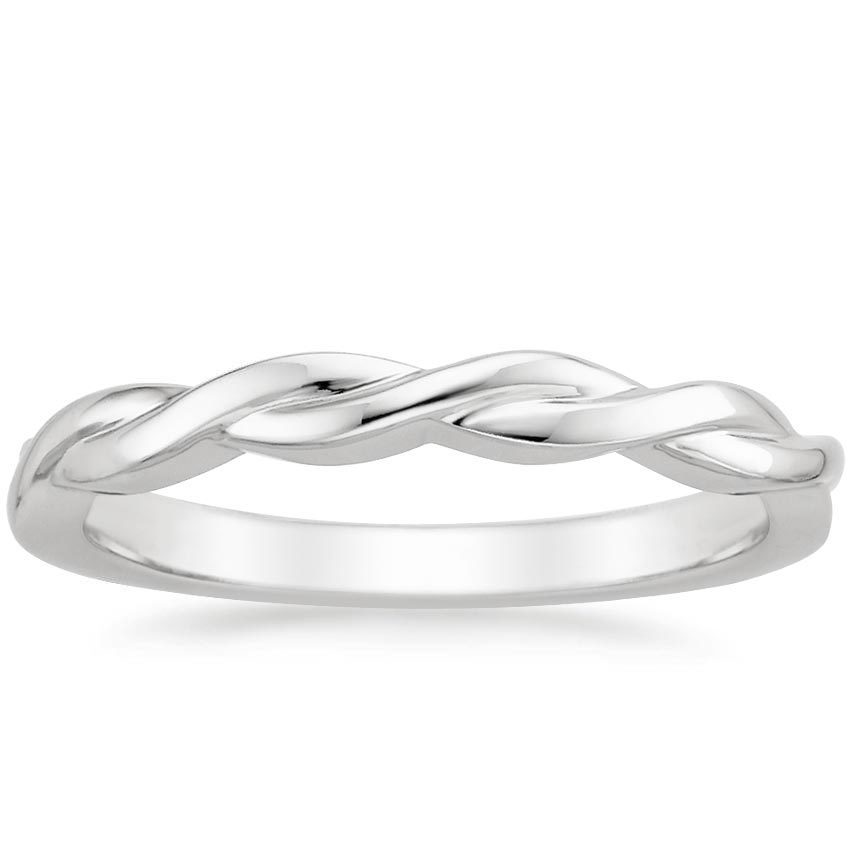 This beautiful nature-inspired ring features delicate strands of high-polish precious metal twisting together to create a beautiful band.
Final Thoughts on Simple Engagement Rings
Which type of simple engagement ring is your favorite? Do you prefer classic one carat diamond rings, stunning two carat diamond rings, or luxe three carat diamond rings? Let us know on Instagram, Facebook , Twitter, or in the comments section!