If you are looking for a distinctive engagement or wedding ring, consider sapphire and diamond rings for a combination that offers unique and breathtaking beauty. The rich color of sapphires combines stunningly with dazzling white diamonds, all set in gleaming precious metal for the ring of your dreams.
Sapphire and diamond rings are ideal for engagement rings, wedding rings, anniversary bands, or any milestone occasion. Read on to learn more about the many gorgeous options for sapphire and diamond rings.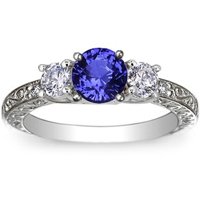 Sapphire and Diamond Engagement Rings
Pair gorgeous sapphires with sparkling diamonds for a high impact engagement ring. You can select a ring that features a sapphire as the center gem, accented by diamonds in the setting, or choose from our collection of diamond engagement rings with sapphire accents.
If you are looking to amplify the distinctiveness of your engagement ring, consider a sapphire engagement ring. Sapphires look great in streamlined, contemporary settings, as well as in vintage-inspired styles and those with a more glamorous aesthetic. Select your favorite size, shape, and color of sapphire, and then pick the setting style that feels right for you.
If you prefer to feature a diamond as the center gem of your engagement ring and want a pop of color, consider settings that include sapphire accents offsetting your diamond. A breathtaking choice in this category is a modern expression of the three stone engagement ring, with a diamond at the center, accented on either side by royal blue sapphires for a captivating look that's all your own.
Sapphire and Diamond Wedding Rings
There are many appealing options for a sapphire and diamond wedding ring, from streamlined and elegant to embellished and glamorous. Browse through our collection of sapphire and diamond wedding rings to see the breadth of options available.
A sapphire and diamond wedding ring can be the perfect matching piece for your sapphire engagement ring, and it can also be an ideal complement to a diamond engagement ring. Or, you can switch it up and pair a sapphire and diamond engagement ring featuring a bold sapphire with a sparkling diamond wedding band for a brilliant wedding set.
Sapphire and Diamond Rings for Other Occasions
Sapphires and diamonds are great for occasions beyond engagements and weddings. Consider a special ring featuring this classic combination for anniversaries, birthdays, or other milestone events. Sapphire and diamond bands are great for stacking, and the variety of styles available make for a fun, elegant, and textured look.
Why Sapphires?
Sapphires are an ideal gemstone choice for engagement and wedding rings, as well as other fine jewelry purchases, because they offer tremendous value and durability alongside their beauty. For jewelry that you will wear everyday, this durability is critically important: you can wear your sapphire and diamond rings with confidence, no matter how active your lifestyle. The value component is also appealing—make the most of your budget by selecting a sapphire ring and get a larger gemstone as a result.
Additionally, the most beloved and popular sapphire color—a rich royal blue—is a glamorous neutral color. And glamour goes with everything!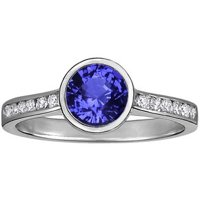 Sapphires in Other Colors
At Brilliant Earth, we carry sapphires in a range of colors, covering most hues in the rainbow. If you love the idea of a sapphire and diamond ring but want something different than royal blue, we invite you to contact one of our jewelry specialists to select from sapphires in yellow, orange, peach, green, purple, or pink. Pair a favorite color with sparkling white diamond accents for an astonishingly beautiful ring.
Final Thoughts
If you're searching for a unique engagement or wedding ring, a sapphire and diamond selection may be perfect for you. Bring your love—and your love of color—to life with a stunning sapphire and diamond ring.