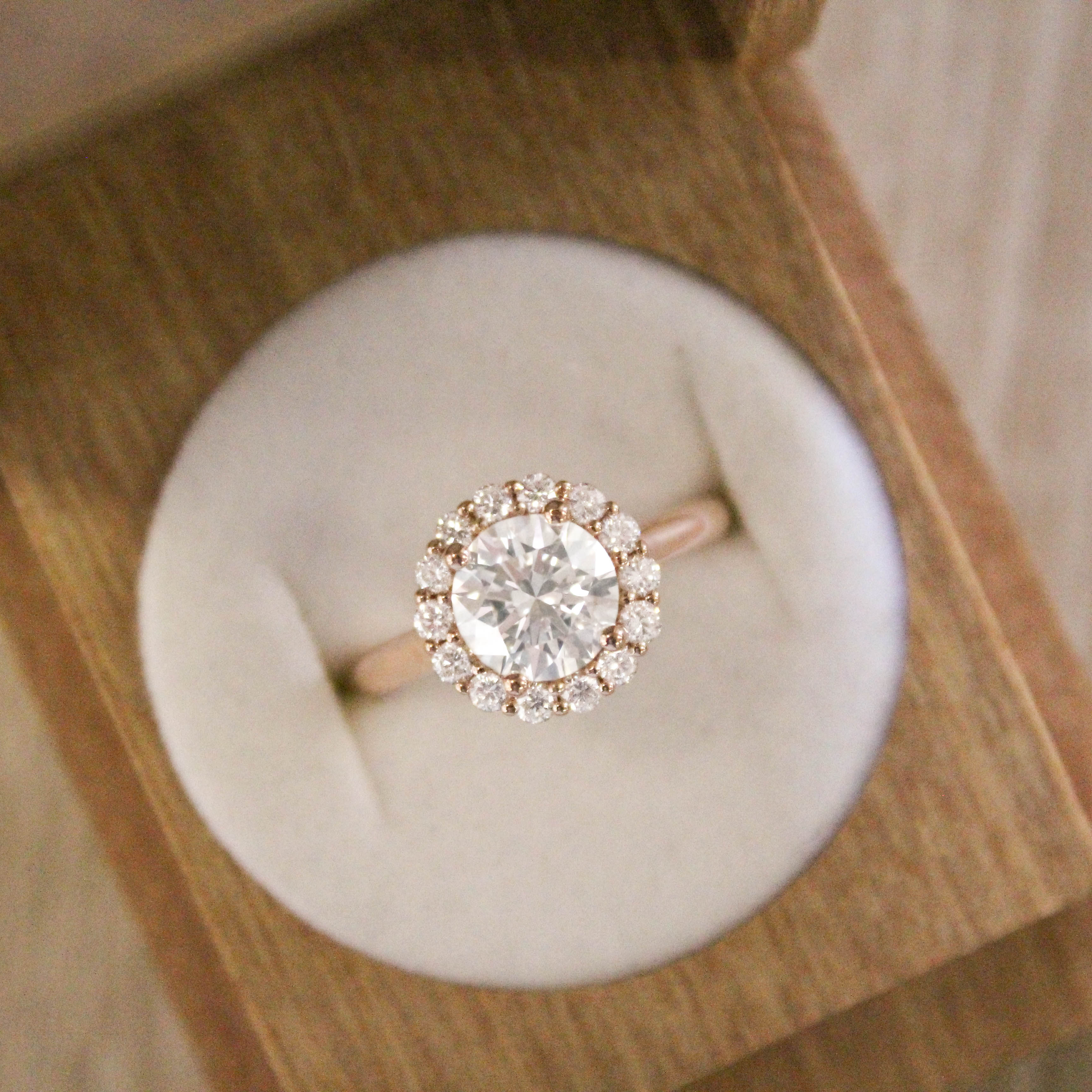 The rose gold trend has been on the rise in engagement rings all year, and there's no sign of it fading in sight.
There are many reasons to be drawn to the blush-hued metal. Its pinkish undertones flatter almost any shade of skin, and it mixes flawlessly with other metal types. We love rose gold engagement rings set with diamonds equally as much as rose gold rings set with colored gemstones, like aquamarine, morganite, or sapphire. This versatile lustrous metal looks gorgeous in vintage, classic, or modern settings.
ROSE GOLD DIAMOND RINGS
We're attracted to rose gold's unique ability to be at once modern and vintage in feel. The lustrous alloy of gold and copper makes for a distinctive choice when it comes to diamond engagement ring settings. Whether in classic solitaire designs, vintage-inspired rings, or glamorous halo settings, rose gold diamond rings stand out from the rest.
Luxe Sienna Diamond Ring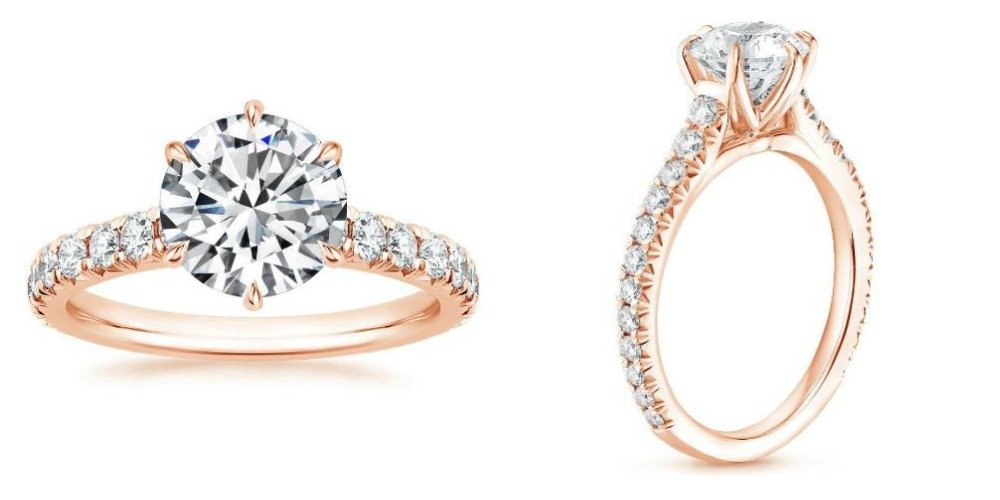 Sparkling French pavé set diamonds sparkle along this ring's gleaming rose gold band. The six-prong setting showcases the brilliance of this ring's center gem.
Caliana Diamond Ring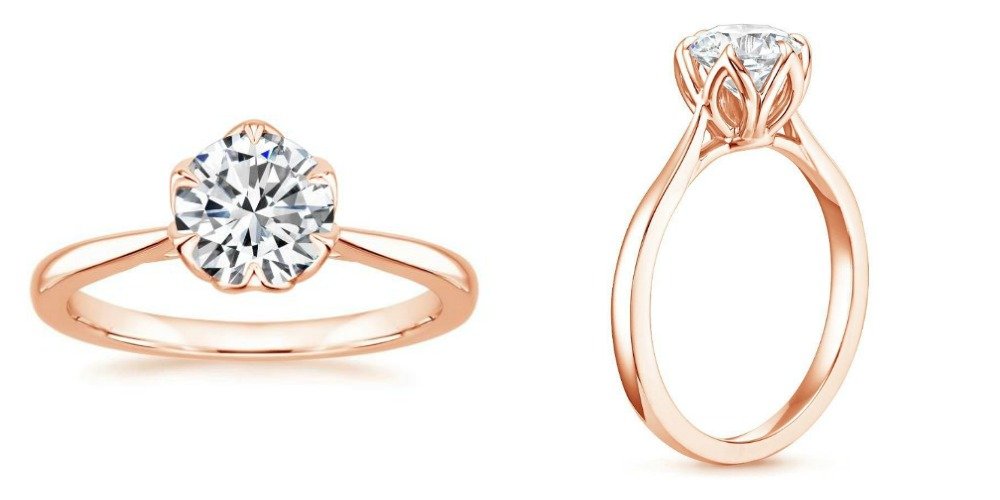 The Caliana Diamond Ring gives a spin on the classic solitaire, featuring an open basket with six elegant leaves that cradle the center stone. This graceful rose gold band's design gently tapers at the top of the shoulders, making for an even more elegant look.
Willow Diamond Ring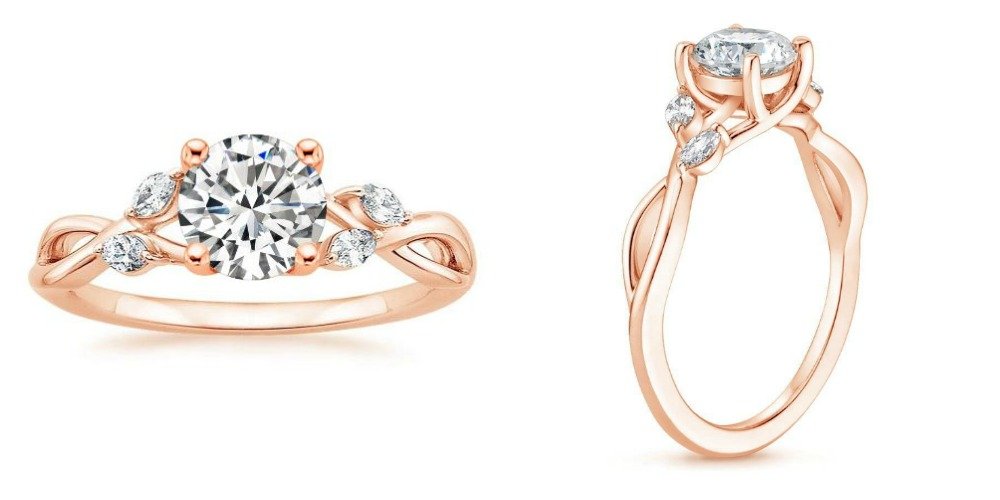 This nature-inspired trellis ring is the epitome of elegance. Wispy vines of 14k rose gold entwine towards lustrous marquise diamond buds, creating a unique yet timeless look.
Floriana Diamond Ring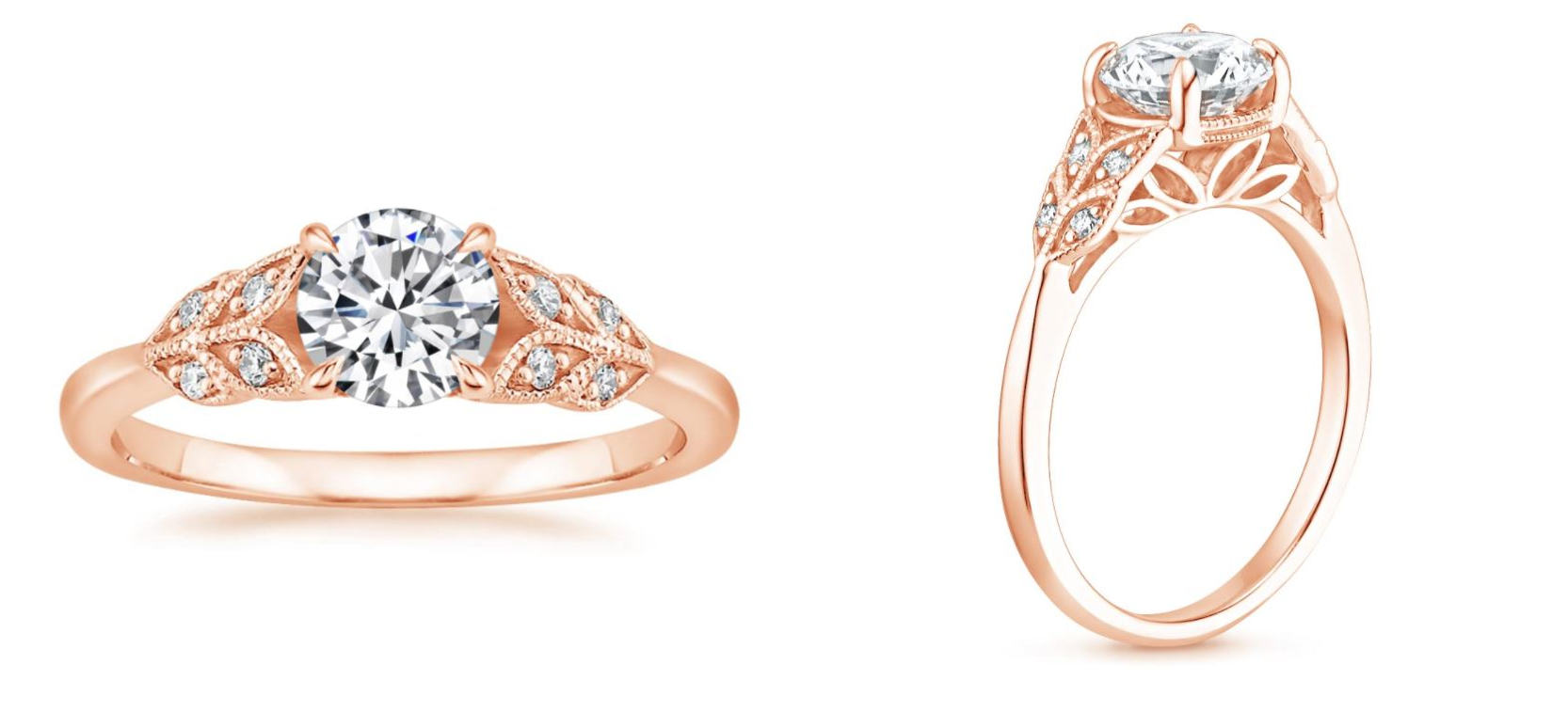 In the beautifully designed Floriana Diamond Ring, pierced fan detailing in the gallery combine with milgrain bordered diamond leaves for a modern look with antique touches.
Petite Twisted Vine Diamond Ring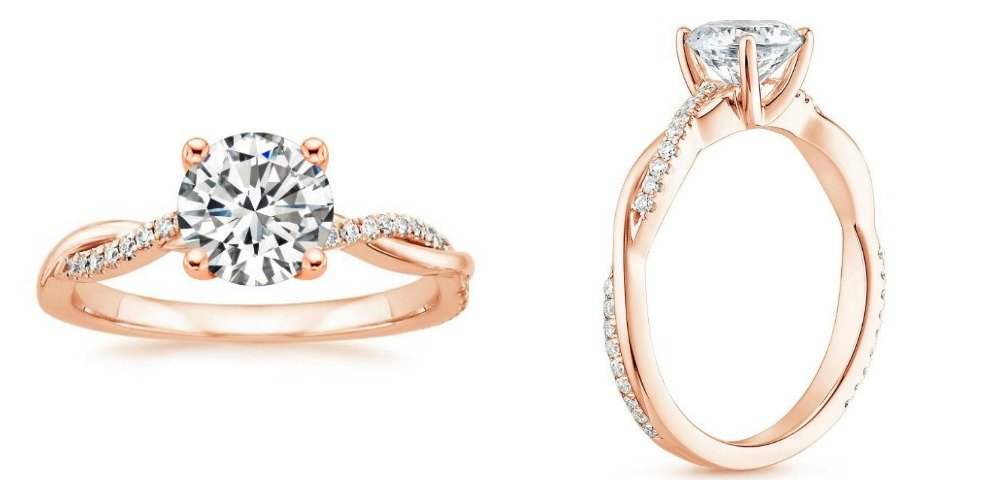 The beautiful Petite Twisted Vine Diamond Ring features strands of diamonds entwined with a high polished ribbon of rose gold, putting a literal "twist" on the classic solitaire band.
Valencia Diamond Ring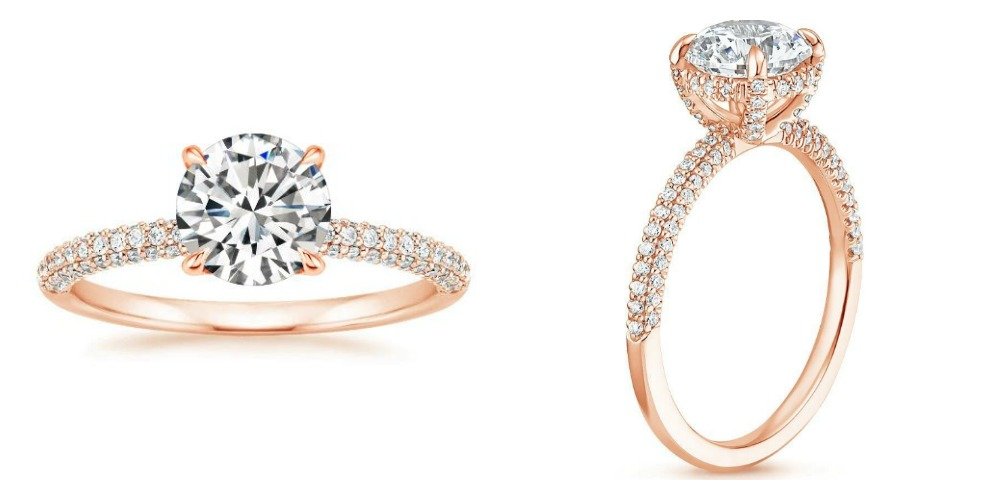 Micro-pavé diamonds shimmer from every angle of this rose gold engagement ring, which also features a diamond adorned gallery and graceful claw-prongs that embrace the center gem.
ROSE GOLD HALO RINGS
Another rose gold diamond ring trend we love is rose gold halo rings. The dazzling look of a center gemstone completely encircled by smaller diamonds is given a vintage-inspired warmth when set in rose gold.
Waverly Diamond Ring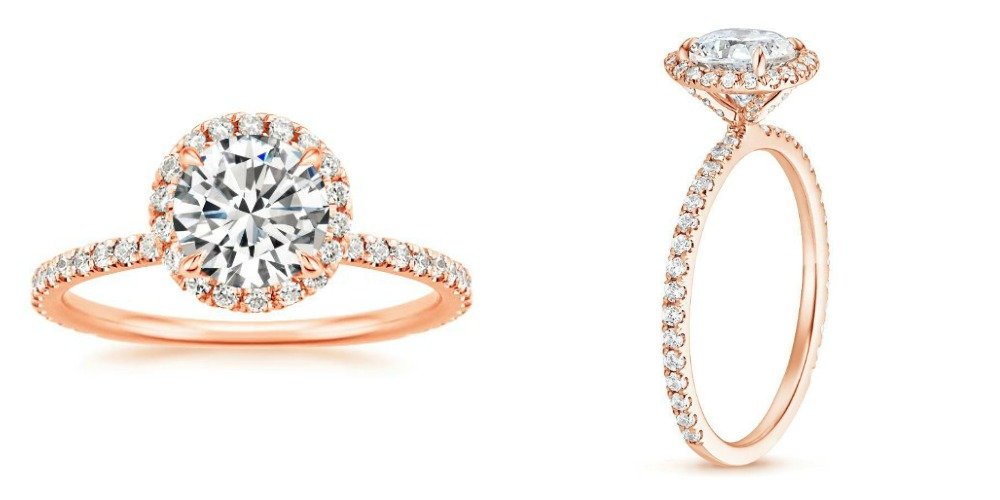 This captivating rose gold setting features claw prongs and scalloped pavé diamonds that encircle the center gem and adorn the band. A diamond-encrusted gallery adds an additional element of interest.
Stella Diamond Ring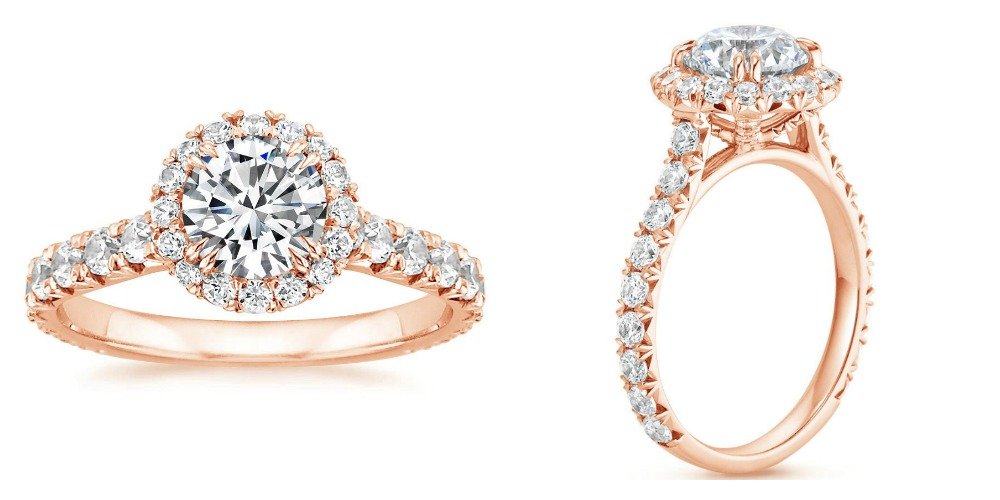 French pavé set diamonds form a stunning halo in this glamorous rose gold ring. Even more dazzling diamond accents adorn the band, adding to its luxe look.
ROSE GOLD MORGANITE RINGS
Morganites are treasured for their alluring clarity and high degree of brilliance, as well as their beautiful warm coloring. Exquisite shades of pink and blush found in morganites are made even more striking when paired with a delicate rose gold setting. The two naturally complement each other, with their captivating blush tones and enchanting shine, making rose gold morganite engagement rings an understandably popular choice.
Morganite Serafina Ring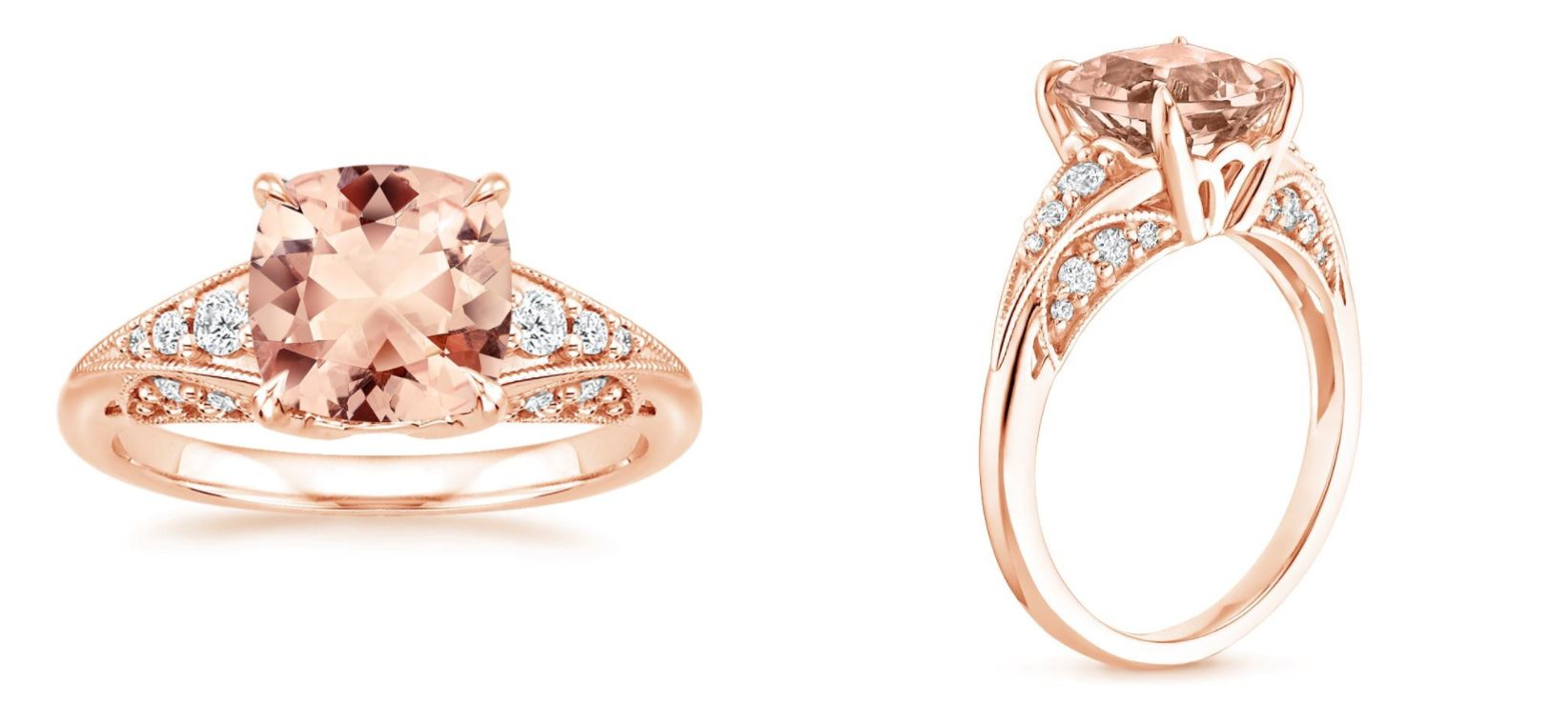 Embellished with milgrain detailing and dazzling accent diamonds, the Morganite Serafina Diamond Ring is a truly special find. The arched details in the gallery add complementary and unique touches.
Morganite Lotus Flower Ring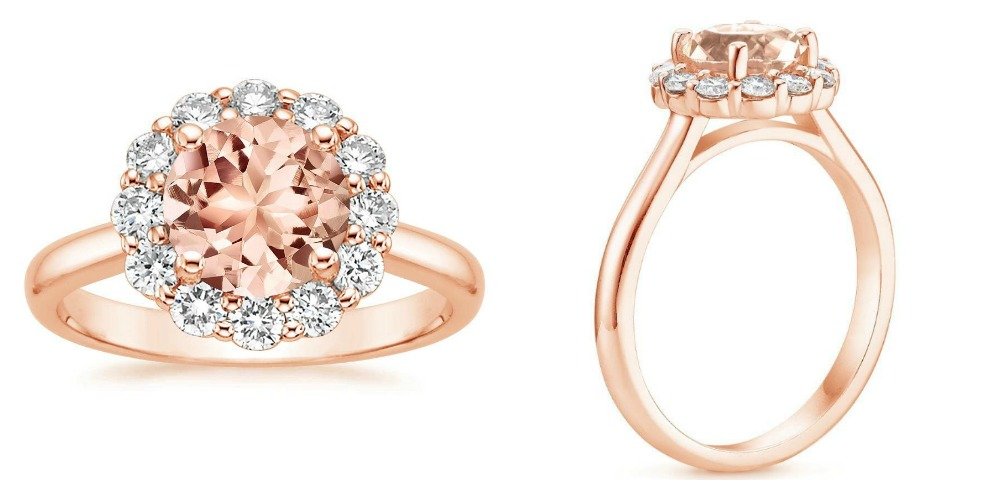 The Lotus Flower Diamond Ring's subtle flower halo design lends itself well to the warm glow given from the both the rose gold setting and its center morganite gem. This exquisite ring offers classic charm while simultaneously being truly unique.
Final Thoughts
Do you like the rose gold trend as much as we do? Which ring is your favorite? Let us know in the comments below, or on our Facebook, Twitter, or Instagram! For more blush-hued inspiration, discover all of our pink engagement rings.